Goodmans 1104DAB review
Cheap and easy are the keywords here. But can this budget DAB micro deliver enough sonic goods to spice up your smaller rooms?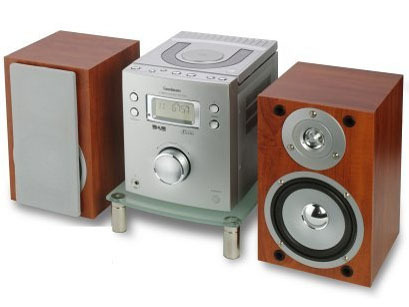 Let's cut to the chase – the 1104 isn't a stunner, and the sound quality isn't going to get Denon's acoustic engineers mopping their sweat-sodden brows. But for under £100 we reckon this micro hi-fi's a bit of a hidden gem.
Sound-per-pound bargain
For its size and price it's packing heat – Goodmans has managed to squeeze in a DAB radio into this pint-sized setup, and with an alarm clock on board, it's a perfect second stereo for your kitchen or bedroom.
Sound quality is equally impressive – the 1104DAB blasts out a powerful dose of your desired tunes with suave composure, and remains distortion-free even at high volumes.
A DAB hand
While it can't match up to the stunning audio definition offered by Pure's Evoke-1 XT, the Goodmans punches out the host of DAB channels with remarkable clarity.
The wood-effect speakers and silver-coloured main unit feel surprisingly hefty and, considering the miniscule price you'll have to fork out, the setup is solid and well produced. And along with the smart looking setup, you'll get a neat glass stand to display your newest hi-fi bargain.
It's simple enough to use, too. Flicking between CD and DAB is a simple one-click operation, and there are a variety of sound settings on offer, ensuring even the grungiest riff remains head-bangingly raucous when the 'rock' setting is selected.       
Frankly, for under £100, you're bagging a five-star bargain. An accomplished micro, boasting DAB and solid build quality.
Money doesn't grow on trees. But if it did, we would recommend you reach up to one of the lowest branches, gather the few notes needed to bag the 1104DAB, and treat your ears to this budget audio massage.
Related reviews