Hitachi P50T01 review
It's got a motorised stand and a gamer-friendly front HDMI port, but is that enough to help this 50in Hitachi plasma put one over on the big boys?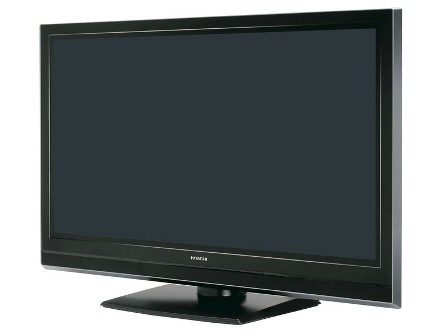 Poor Hitachi. What with the big boys constantly pumping out bigger and supposedly better hi-def TVs chock full of headline-grabbing features it can be hard for less shouty but equally worthy telly names to get the attention they deserve.
But if you're looking to bring some HD goodness into your life you'd be doing yourself an injustice if you didn't check out the latest plasma from a company that, in conjunction with Fujitsu, puts out 200,000 of the blighters every month.
ALiS in Wonderland
Then again, perhaps the P50T01 is a good case in point. Just compare Philips and its crowd-pleasing Ambilight tech to the brand new ALiS technology found in this Hitachi. As far as we can tell it involves some clever combination of horizontal lines of pixels and electrode strips. We think.
But, although it may not raise goosebumps, it means there are fewer of those tiny black lines that run across a typical flatscreen, resulting in better brightness and power efficiency. Not exciting but definitely a good thing.
There's also a front-mounted HDMI socket – a simple feature that'll appeal to most gamers – and a natty motorised stand.
You're almost the best
As for the viewing experience, the Hitachi is up there with the very best when it comes to off-air broadcasts, whether from an analogue or digital signal, and only suffers from the faintest whisper of image noise.
DVDs are great too, particularly via the HDMI input. Colours are vivid and motion is smooth, but there's a little noise where dark colours are concerned and detail levels could be better.
The same, unfortunately, is true of HD material, which means that, despite the Hitachi's talents, it's got to be a solid four-star verdict.
Related reviewsSamsung LE46F71B