Hydrow review
Dip an oar into the Peloton of the rowing world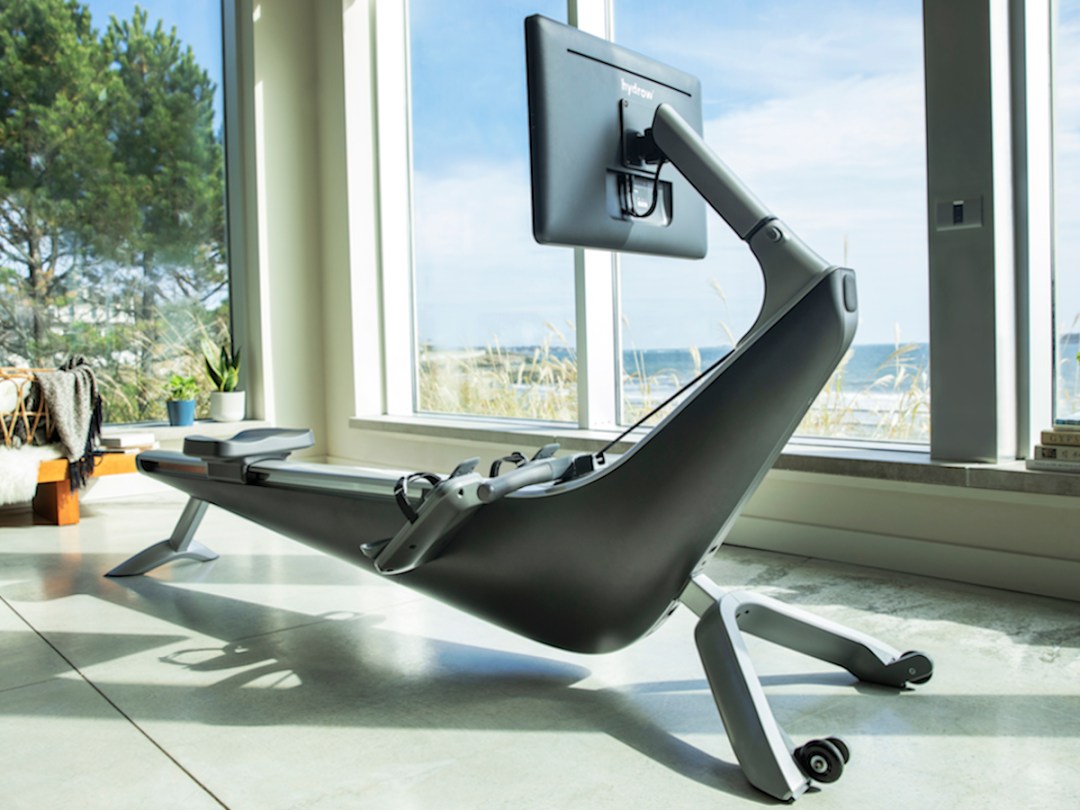 Demand for quality, at-home fitness products is stronger than ever, with more folk swapping the guest bedroom for a makeshift gym or clearing old bags of cement out of the garage to create some sort of sweaty sanctuary to the glute gods.
The arrival of Peleton's innovative bike, and recently a new-fangled treadmill, couldn't have been more perfectly timed. As global lockdowns loomed, the New York-based company was busy creating glitzy virtual workouts, beamed live from a fancy studio to users at home for the most engaging and lifelike exercise classes outside of a commercial gym.
It's only natural that other companies will take this format and adapt it for other existing indoor cardio products. Hydrow is one such example that has bolted a 22-inch touchscreen display onto a sleek rowing machine and encourages users to row along with professional athletes on some of the world's most stunning bodies of water. At £2,295, it feels pretty steep compared to other traditional analogue rowers but could this be the product to bust your indoor fitness lethargy? After all, rowing uses 86% per cent of your muscles with every stroke and does so in a lung-bursting but low impact way.
Design and build: a sleek and handsome machine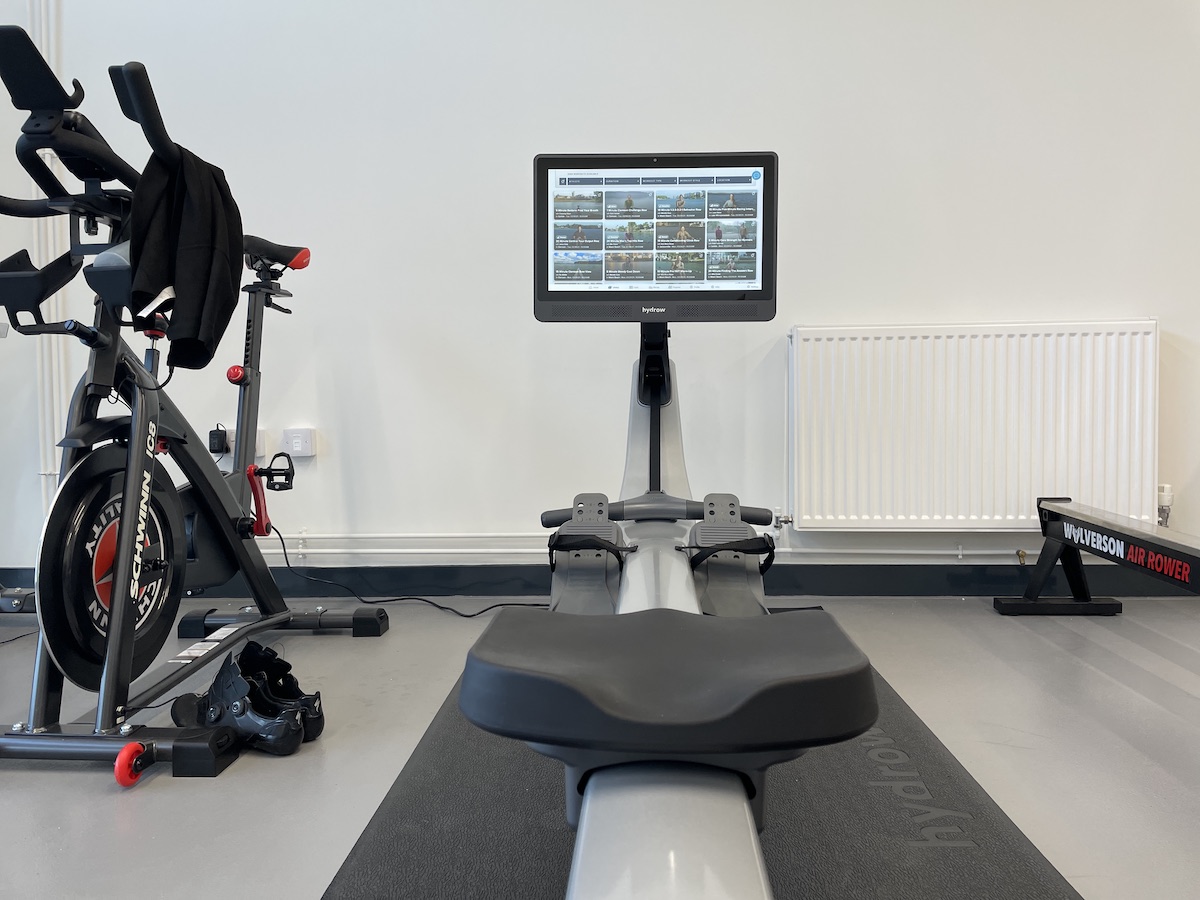 Unlike other indoor rowers, which tend to have bulky fans attached to the end in order to create resistance, the Hydrow features a patented drag system that uses computer sensors and an electromagnetic mechanism to add digitally adjustable drag during workouts.
The additional benefit here is a massive reduction in noise, with a distinct lack of whooshing that other air-assisted rivals suffer from. It's a good thing too, because you'll want to hear what the instructors are saying from the front-facing speakers that come attached to the 22-inch HD touchscreen display.
The frame is cleverly conceived too, featuring smooth lines and contrast metal surfaces to ensure it looks and feels like a premium product. But more importantly, it looks like something you might actually want in your lounge or living room.
Posteriors will also thank the comfort-orientated seat, while the webbing used for both the foot straps and the rowing handle is predictably top quality. Perhaps the biggest issue here is storage because, unlike rival machines, the Hydrow doesn't split and fold, but instead relies on being tipped on its end and fastened to a wall via an optionalUpright Storage Kit.
If you fancy one, you'll need a room that can house something that is 219cm long, 64cm wide and 120cm tall Also, bear in mind it weighs 66kgs should you want to move it regularly.
Features and app: smart fitness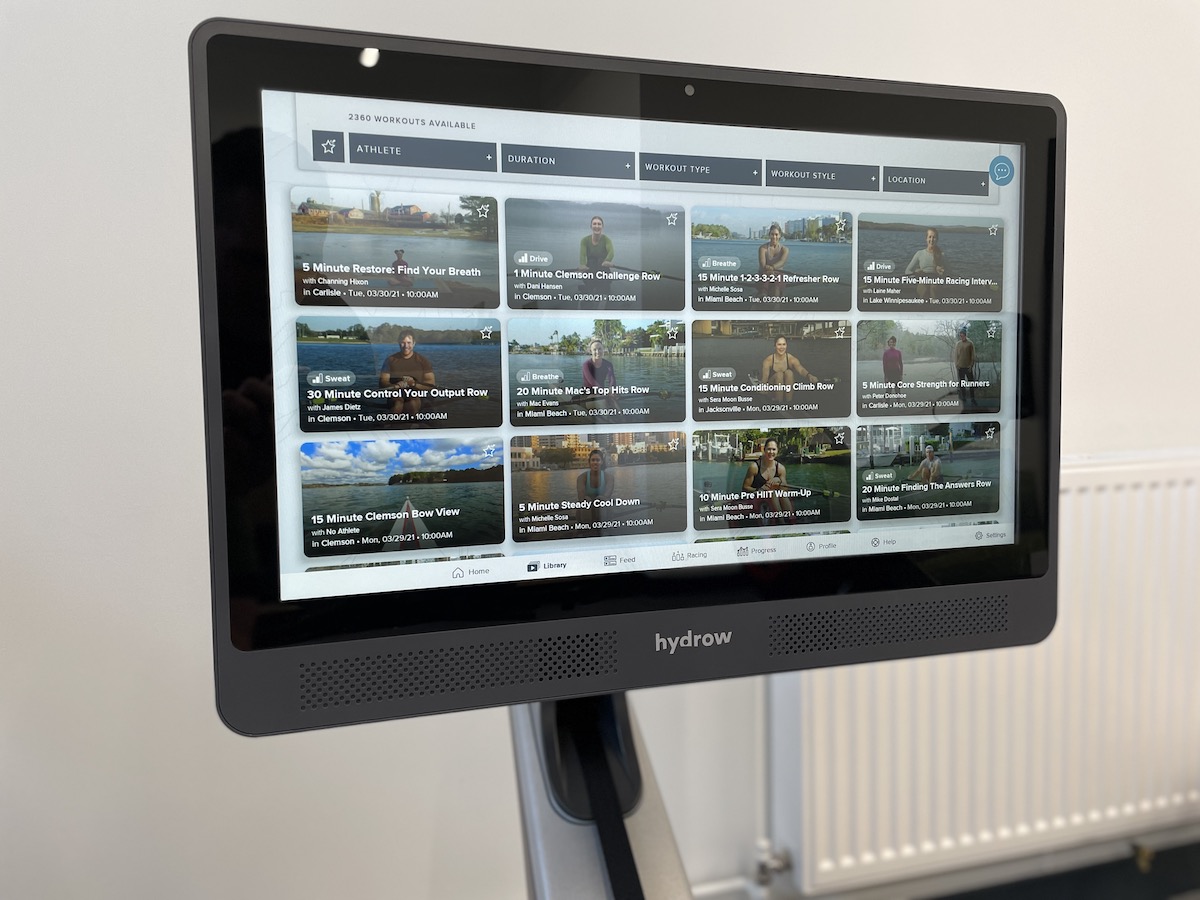 Like Peloton, the Hydrow revolves around its bespoke app platform, which is pre-loaded onto the unit from purchase and requires either a Wi-Fi connection or access to an ethernet cable. Oh, you'll also need somewhere to plug the rower in.
Once set-up, the home screen will recommend workouts or encourage you to explore the various rowing workouts, training sessions and even live classes that are available. It's shockingly similar to Peloton in both its layout and delivery, although Hydrow isn't the only company flexing an "imitation is the highest form of flattery" approach, as a recent Echelon product I tried was near-identical.
You can easily pair a set of Bluetooth headphones or speakers, while Bluetooth-enabled heart rate monitors also easily synch via a tap of a button. In addition to this, there's an accompanying smartphone app, meaning you can take Hydrow workouts with you and even use them with other rowing machines if they have the ability to transmit data via Bluetooth. Just don't expect to get the full gamut of read-outs that the Hydrow machine cleverly delivers throughout a workout.
This app is also great for off-machine fitness, with pilates, strength training and stretch classes all available on demand, while weekly activity, workout stats and achievement badges are all displayed here too, so you can bore your mates with them.
It's also worth noting that Hydrow has teamed up with the charity water.org and the company has committed to donating a chunk of change when you hit certain workout milestones, so you can feel like you're doing your bit while keeping fit.
Workouts: engage your mind (and core)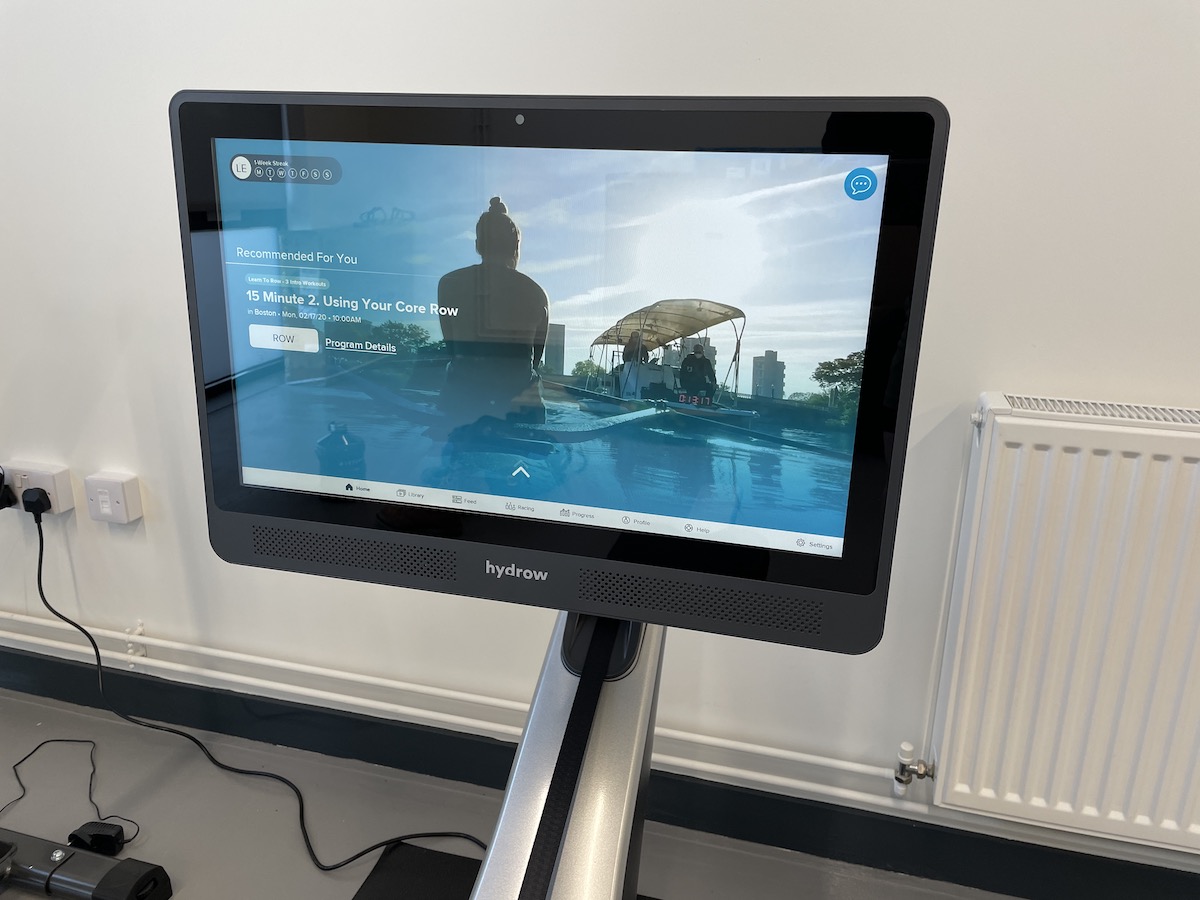 With a mix of live and on-demand classes, there's never a bad time to hop on the Hydrow and get busy. Cleverly, the system automatically directs you to a few training videos when you first get started, which is great for ironing out imperfections in form and learning how to engage the major muscle groups when rowing.
After that, classes are spilt into three categories: Drive, Sweat and Breathe. The former push rowers to the limit and range from intense 10-minute High Intensity Interval Training (HIIT) programmes to massive 45-minute slogs.
If, like us, you've only ever used a rowing machine to warm up on before legs day or simply hopped on to a seat for a quick 500m sprint, engaging in a 30-minute HIIT session with a professional athlete at the helm is nothing to be sniffed at. These Drive sessions are tough and when coupled with a Bluetooth heart rate monitor (you have to provide your own) reveal that many calories are burnt and the heart rate sky rockets during intense bouts.
Sweat sessions also max out at 45 minutes but are designed to build endurance, so eschew some of the more intense intervals, while Breathe workouts are, as the name would suggest, a chance to relax mind and body with some gentle oar dipping.
All of the instructors are credited or professional athletes in their own right, many medal-winning heroes in their field. But it takes some time to find the instructors you get on well with. As with Peloton and other online fitness services, many tend to waffle to fill time, throwing in cliche motivational quotes like they are going out of fashion. I'd also say it's worth filtering classes by musical genre, but the musical engagement isn't quite there.
The instructor tends to be quite busy instructing, dodging things in the water and chatting, rather than winding sessions up and down to the music, like you might in a traditional or virtual studio class.
There is always the option to can the music entirely, which can be nice when taking some of the more chilled out warm-up and cool-down classes, as well as the previously mentioned off-machine strength or stretching sessions. Alternatively, if you don't want the scintillating chat, you can select from the 'Journeys' menu and take a scenic, silent FPV row around somewhere picturesque. It's all designed to add longevity to the machine and ensure it doesn't gather dust when the gyms open again properly.
With that in mind, there's loads to do and Hydrow is certainly far less monotonous than the basic rowing machines I've used. The real world environments even go beyond the virtual studio stuff, where you're just looking at someone on a static rower for half an hour. Someone who happens to be barking instructions at you.
But above all else, the prime motivating factor are the live leaderboards, where your stroke rate and power are calculated by the computer to give an accurate effort output, which in turn sees you climb or fall down an ever-changing leaderboard. Despite a lack of avatars making the Hydrow community feel a bit distant, there's nothing like a weak place on a leaderboard to get you pushing a few extra reps.
However, it is this community element that I feel could really improve and this will likely happen over time. Peloton's live classes feel buzzy and exciting, while the plethora of PelotonMums and Sweat4Gin hashtag groups that have sprung up really bring it to life, as well as allow users to take things onto social to carry on the conversation. Hydrow isn't quite there yet.
Hydrow Verdict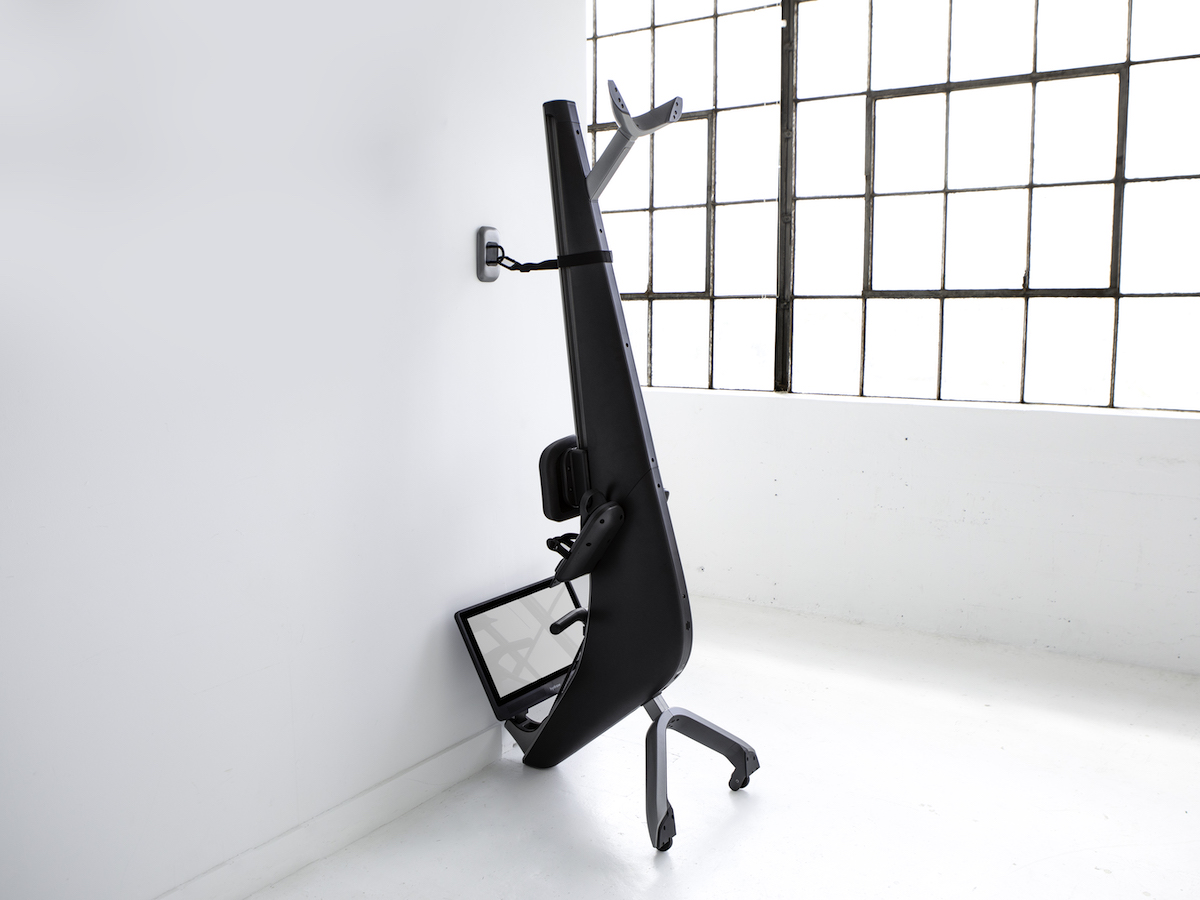 Like Peloton, Echelon and, to an extent, cycling software like Zwift and TrainerRoad, the Hydrow system is an excellent teacher and motivator when it comes to getting fit at home. But technique is key to rowing success, and this could prove a barrier to entry for some, especially when sat alongside the ease of an exercise bike or treadmill.
It's also difficult to do simple things like hydrate yourself or even adjust the volume or rate of 'drag' (resistance) while rowing, as you generally need two hands on the handle to get anywhere fast. This isn't the case with a treadmill, exercise bike of boot camp style class.
But master the stroke and the workouts can be properly punishing, pushing so much more than just your lungs and legs. It's a full body session that tones, as well as improves cardio. It's by far the most entertaining and fulfilling rowing machine I've used, just not quite as refined as Peloton's line-up of indoor fitness gadgets.
Stuff Says…
The Peloton of the indoor rowing world, just not quite as polished
Good Stuff
Looks great
Addictive online classes
Offers one hell of a workout
Bad Stuff
Chatty trainers get annoying
Pricey even without the monthly membership
You'll need plenty of room