Inca Designs Katana review
Will the sound quality of this machine match the gorgeousness of its looks?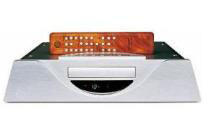 'Is it finished?' Yes. 'But where are the buttons? Do I need to make holes for them myself?' Whoa – easy there, tiger. Put the drill down.
It's no superficial statement to say that the impeccable quality of the Katana's casework will hit you the moment you set eyes on it.
The superbly constructed metal box is as solid as you'd expect from a machine costing twice the price, and the back panel includes an impressive socket array, with balanced analogue outputs as well as the more standard RCA sockets. 
We've got wood
Yes, there are controls on this thing. Take the wood-covered remote: it doesn't so much scream 'class' as whisper it discreetly in your ear. Aside from the build, the Katana does the job where it counts most – in performance.
This player's particular strengths lie in midrange detail, meticulous musical realism and an effortlessly engaging way with voices and acoustic instruments.
A little smoothie
This player is unashamedly smooth, and the bass is a little overblown compared to its more exact rivals. For sheer rhythmic precision and timing, there are rivals on the market that beat the Katana.
But this slightly woolly low end is a small price to pay for that sublime midrange which, for vibrant acoustic music (especially something classical like Beethoven's string quartets), is truly stunning.
Up there with the best
It can be bettered for timing and low-end accuracy, but for its rich detail, musicality and sublime build, we put it up there with the best. It's not the most versatile all-rounder, but the Katana is a fabulously musical machine – and we love the remote.