Korg Kaoss Pad Quad review
Korg's idiot-proof DJ effects box promises four times the fun at your fingertips.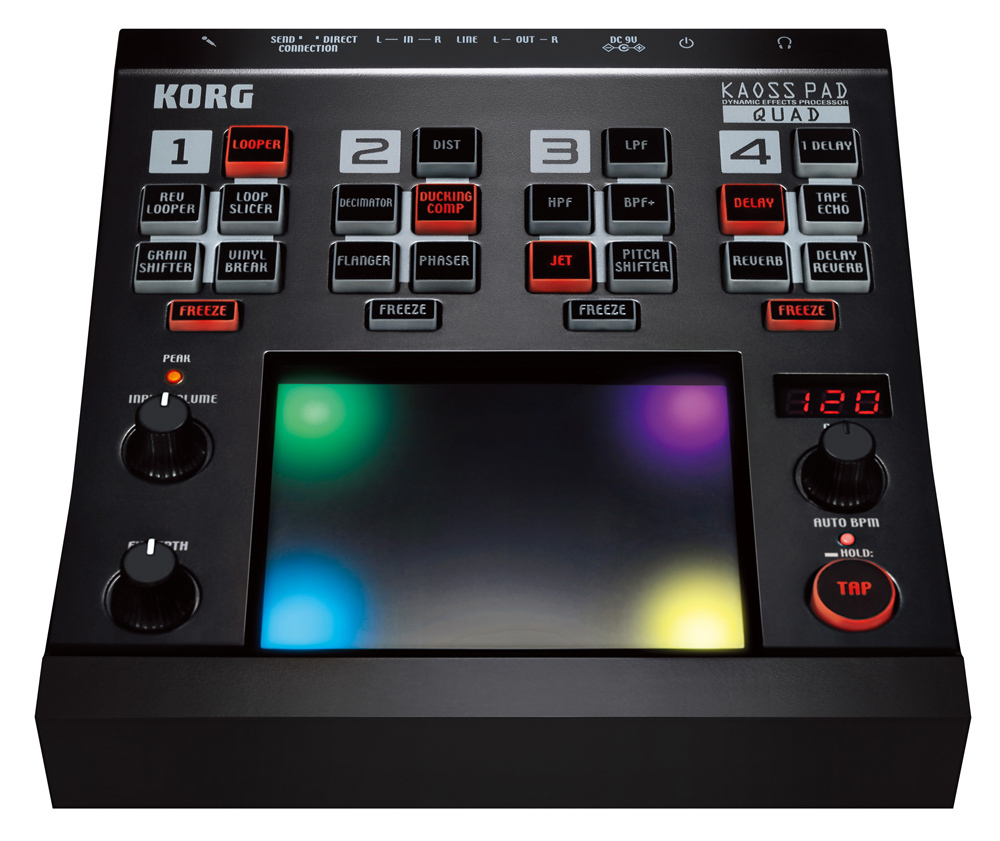 The Kaoss Pad effects boxes have been favoured by DJs, musicians and tactile soundsmiths for some years, but this latest Quad edtion steps up the pace by letting you chain together your choice of four different effects. Whether you hook it up to a DJ rig, studio mixer or a live stage set-up, the giant illuminated touchpad interface makes it the most user-friendly effects processor you can buy.
Control freak
The fingertip-controlled Quad is armed with four effect banks and a large pad for realtime performance. The effect banks are grouped together by category, and combining them is simply a matter of pushing a button and swiping away. With four banks of five effects, and the ability to combine up to four at any time, by our calculation that makes 125… no 625… hang on… well let's just say lots of different possibilities.
The touchpad itself feels solid and responsive and – more importantly – rewards you with coloured lights that throb in time with the music, and let's face it, looking cool is almost as important as sounding cool. It's quite well built too, so you could happily stick it in a rucksack or record bag without a case.
Performance tool
The effects are a well thought out collection of DJ favourites including loopers, phasers, filters, delays, echos, and even a vinyl stop effect for that 'just turned off the turntable' sound. As a DJ tool this provides an extra layer of performance to your routine, while live musicians will enjoy the freedom to create new sounds on the fly. If you're concerned about not having enough hands to control this and your other gear at once, don't worry – the effects settings can be 'frozen' in any state, so you don't need to be touching the pad at all times.
You may want to keep your foot off the gas initially when combining multiple effects as it's easy to over-cook it, ending up with a mess of blubbery noise. It's not long before you learn what works well together though, and how to layer killer combos that are really gratifying to pull off.
Endless hours of fun can be had just jamming and mangling your record collection within an inch of its life, but the Korg Quad is a thoroughbred performance tool that begs to be taken for a run-out in a live situation.