Leica Q (Typ 116) review
Leica's full-frame compact camera proves to be the ultimate luxury point-and-shoot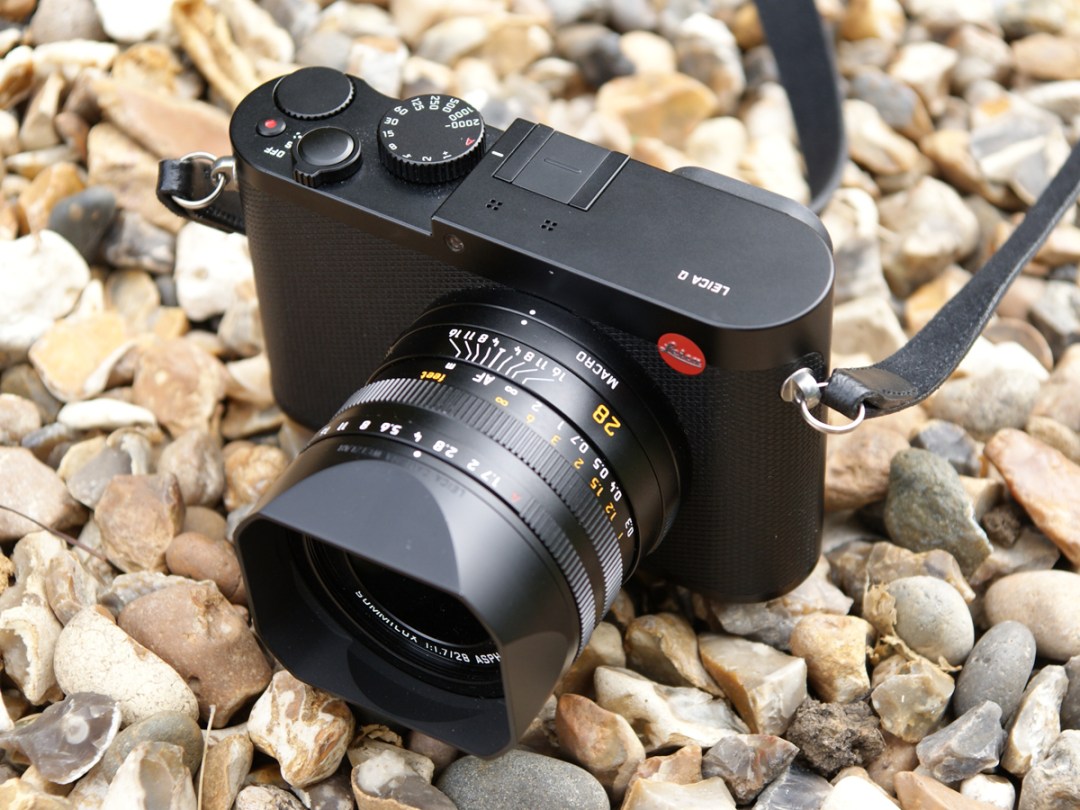 A point-and-shoot camera that costs a shade under £3,000? "Surely some mistake!" I hear you splutter into your PG Tips.
But no – because this is no normal point-and-shoot. It's the latest camera from renowned German manufacturer Leica, famed far and wide for the peerless optical quality of its lenses, the tank-like construction of its bodies and that iconic little red dot it proudly sports.
The Leica Q is a whole new model type for the company: a full-frame camera with a fixed focal length lens aimed primarily at professionals and ultra-enthusiastic amateurs.
The idea here is that this is a camera that offers best-in-class image quality and low-effort operation in a more compact body than Leica's M series of interchangeable lens rangefinder cameras. Hence that princely price tag.
A compact, but not as we know it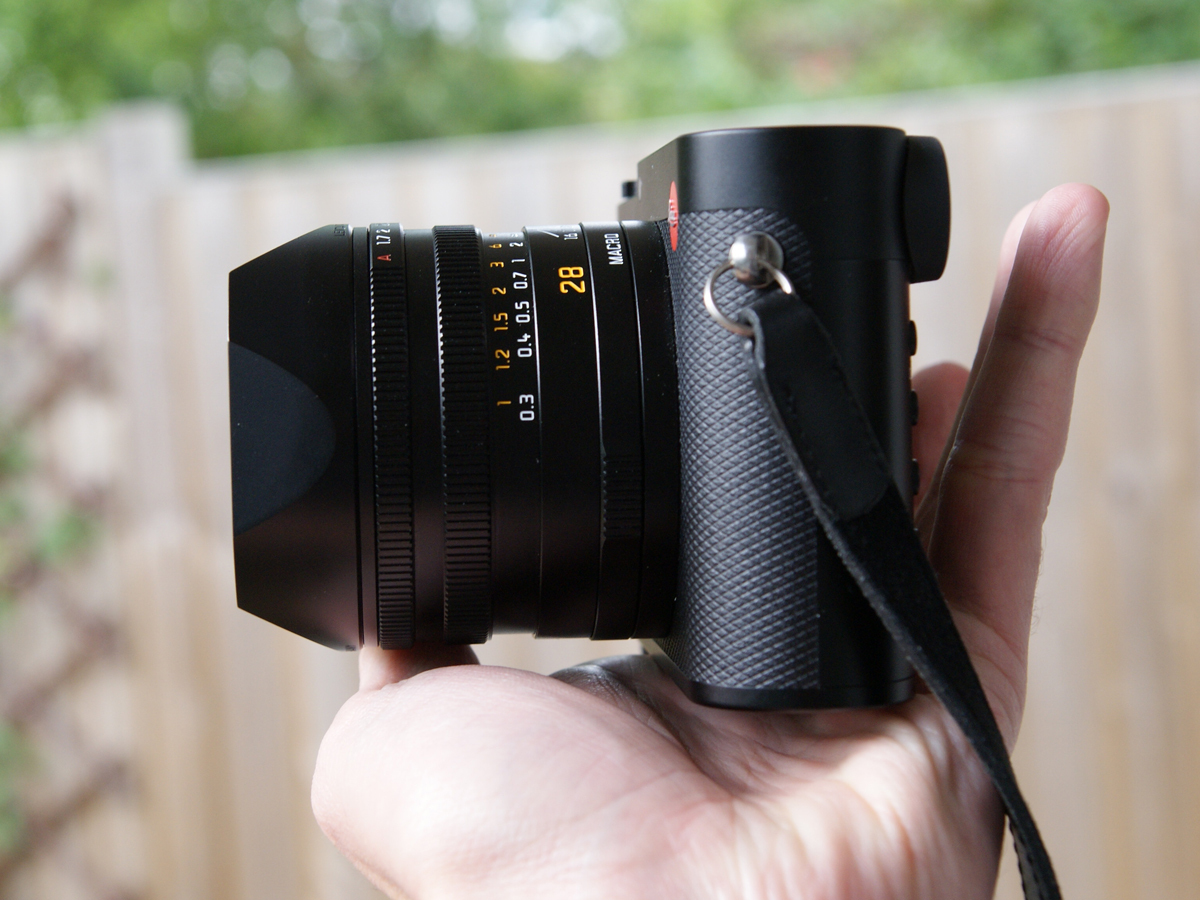 While the Q technically falls into the 'compact' camera category, we're not talking about something you can fit into your pocket. In fact, we'd wager that, barring what's found in a handful of clown costumes, there isn't a pocket in the world that this camera could comfortably squeeze into.
And that's fine – there are plenty of alternatives if small size is a big deal to you. The main selling points with the Q are the full-frame sensor, the top-notch 28mm f/1.7 Summilux lens and the big, bright electronic viewfinder (which has a 3MP resolution), and all of those take a reasonable amount of physical space.
The Q isn't the first compact camera to carry a full-frame sensor, of course. In 2012 Sony launched the RX1, which pairs a 24.3MP sensor with a 35mm f/2.0 Carl Zeiss lens. It's smaller (113.3 x 65.4 x 69.6mm) and lighter (482g as opposed to 640g) than the Leica, but doesn't come with an electronic viewfinder. And in spite of its advancing years, it's still priced highly: £2,600 to the Leica Q's £2,900.
No mere minimalist millstone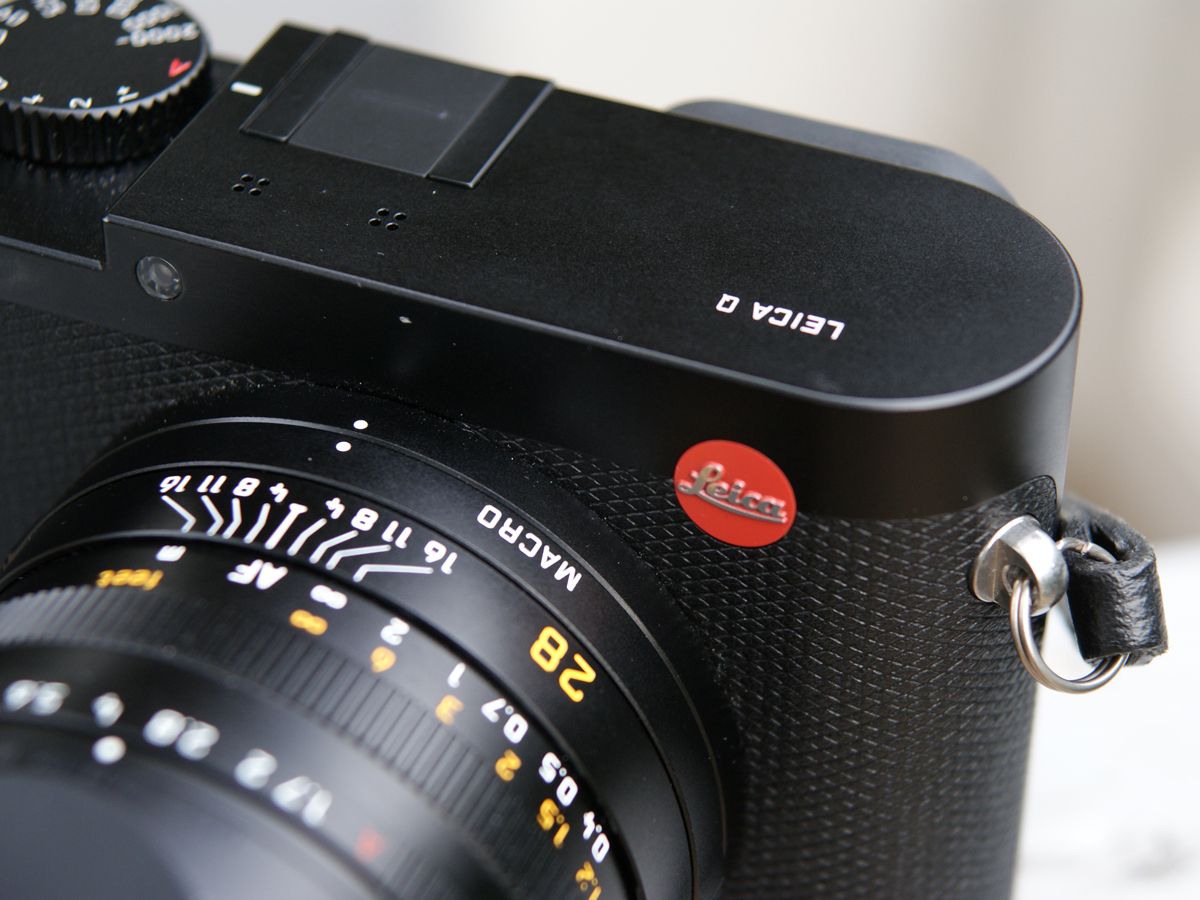 Despite the bulk, the Q doesn't feel like a millstone hanging around your neck. It's only 640g in weight, and I've been wandering around with it slung over my shoulder for hours at a time in the past couple of weeks, no bother.
And it goes without saying (although this is a review, so I'll say it) that it's an elegant thing: minimalist matte black metal – both magnesium alloy and aluminium are used – with gentle curves and very few accoutrements, bar the iconic red dot logo, to spoil the lines.
A textured grip wraps around the front, and a tiny but useful depression on the back accommodates your thumb. There's also an elegant narrow leather strap to make carrying the camera easier. One thing I should mention is that, despite the rugged nature of the camera, it's not technically weatherproof. I would trust it to be fine in drizzle, but anything more and it needs to go back in the bag.
Focus on the facts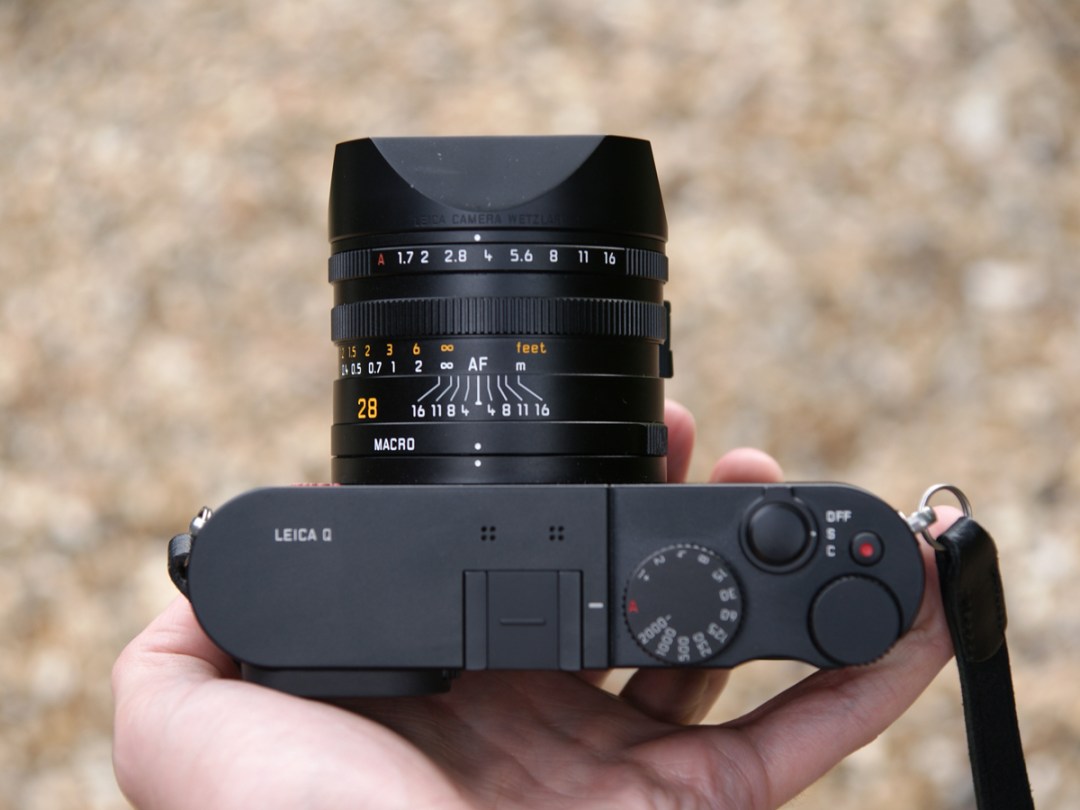 The dial and button layout is simple, and very much in line with higher end digital Leicas of the recent past: a dial on top adjusts shutter speed, while a thumb wheel on the right can be used to tweak other settings (by default, it's set to exposure compensation). One lens ring adjusts aperture, another can be used to manually focus (or set to "AF" if you'd prefer the very fast autofocus), and a third toggles between the standard and macro shooting modes (more on macro close-ups below).
At the Q's launch Leica told me the Q had best-in-class autofocus speed and it's definitely quick, but I found in its default setting it often focused on things I didn't want it to. Now you can change that by adjusting the settings, but I often found myself switching to manual focus instead. That's not something I normally do with cameras, due to it being excessively tricky and fiddly, but with the Q it's a dream thanks to the large, smooth focus ring and the way the screen or viewfinder zooms in and uses focus peaking to show which areas are sharply focused. I've never seen focus peaking as well executed as it is here.
Together with the camera's operational speed (it can shoot full resolution stills at up to 10fps) and its wide angle lens, all of that makes it highly suited to street photography. Take a leisurely stroll around your local town with a Q in tow and it's bound to help you capture some interesting sights along the way.
Pretty pictures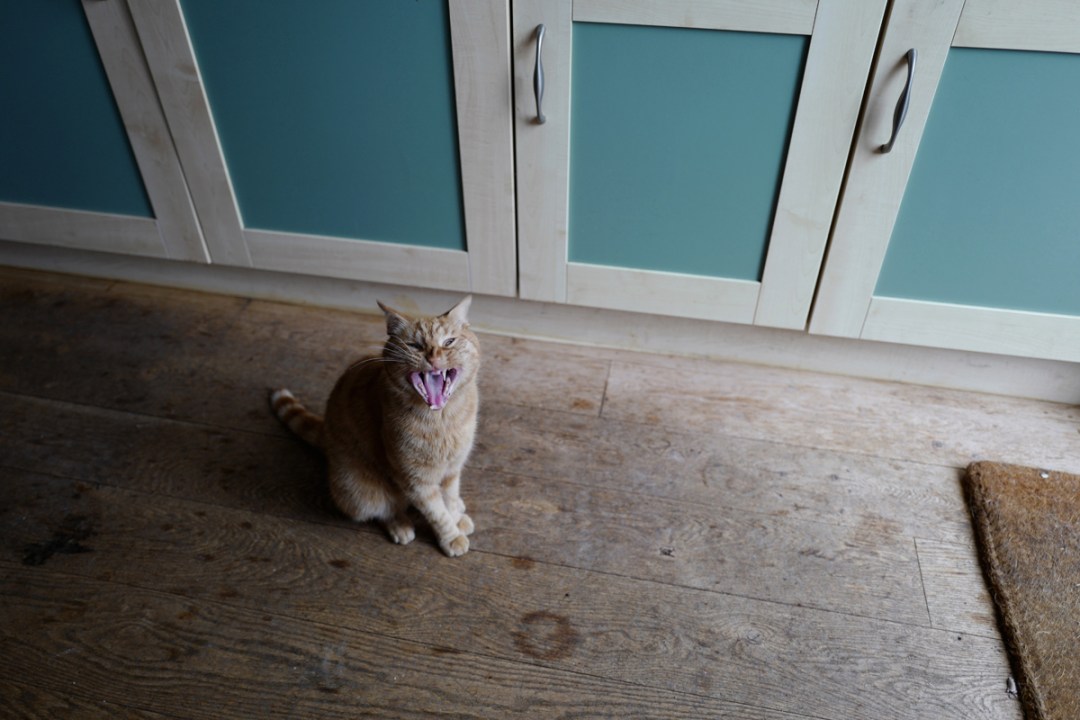 The Q's image quality is absolutely excellent.
The lens and sensor combination deliver incredibly sharp and rich shots exhibiting vast colour depth and, at lower ISO settings, almost no noticeable noise. The large maximum aperture and physically huge sensor also allow you to achieve a small depth of field (depending on your subject's distance, of course), and with the out-of-focus bokeh looking beautifully smooth and creamy.
Low-light shooting? Not a problem here either. The ISO goes all the way up to 50,000 (at which point you will see a fair bit of grainy noise in images) but, again, the large sensor, large aperture and the optical image stabilisation mean you'll probably never need to nudge the setting up to its limits. The below night-time street scene sample was shot at just ISO 6400, and there's very little noise in it considering how dark it was at the time.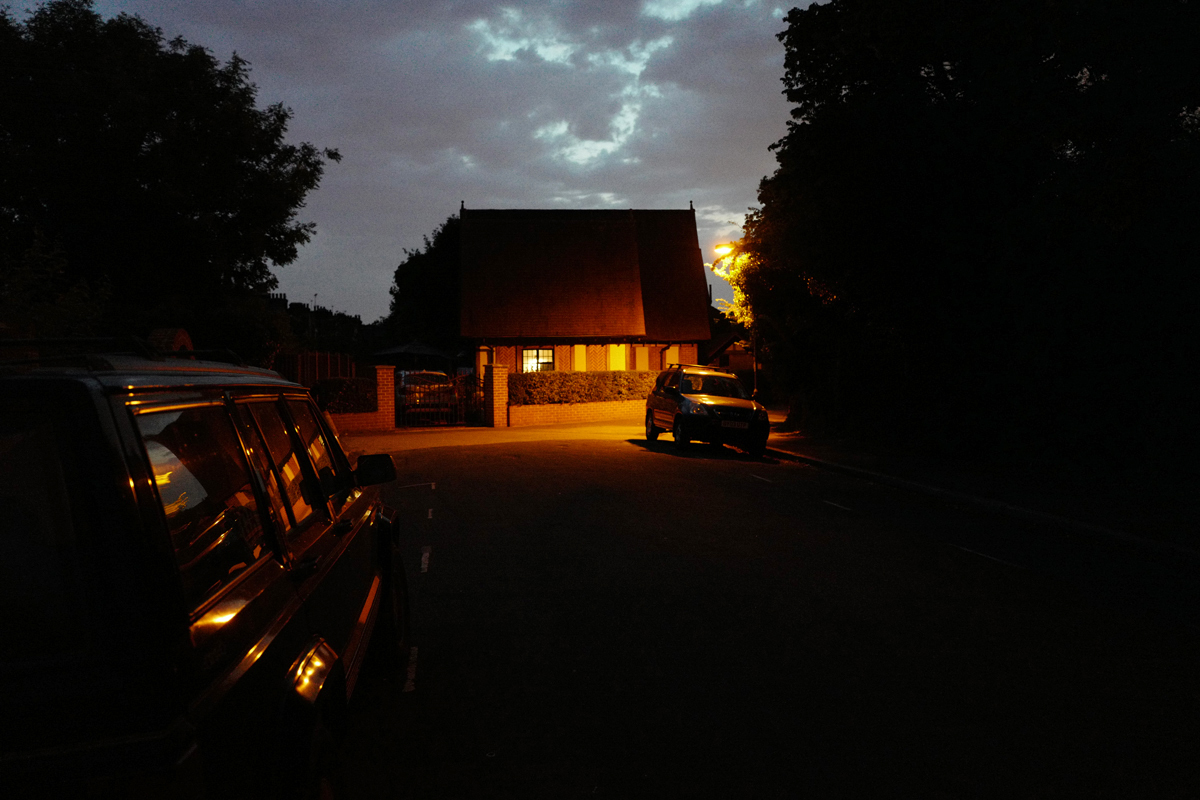 As mentioned above, there's also a macro setting for the lens, which allows you to focus on subjects as close as 17cm away.
It's not the 1:1 macro you'd get from a specialist macro lens, of course, but it's a useful tool to have in the box, and the lens' optical quality means you can achieve both sharp detail and gorgeous bokeh effects very easily when in macro mode.
Again, I found myself using manual focus a lot when shooting in macro, and had no problems when doing so.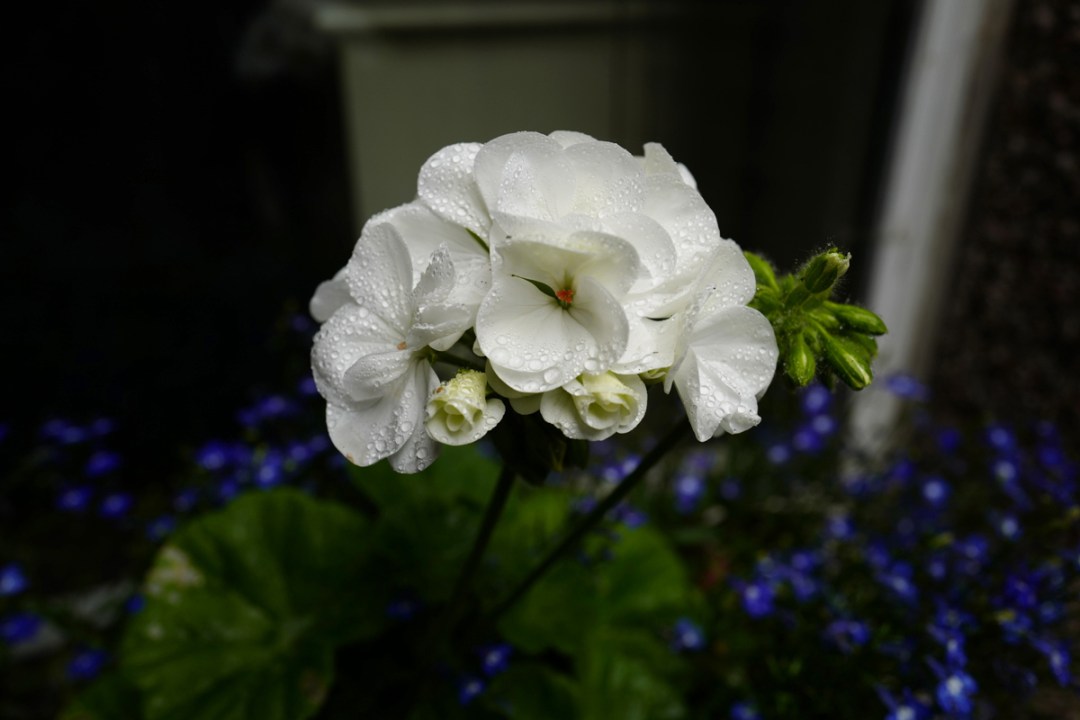 As well as the 24.3MP stills, you can also capture MP4 videos in 1080p (at either 60fps or 30fps) or 720p (30fps) resolutions. I can't see many people buying this camera primarily for its video shooting talents, and there are cheaper cameras out there that deliver better, more flexible video options, but as a secondary feature it's perfectly fine: the high imaging quality means clips have plenty of detail, silky bokeh and good colour reproduction.
Other things worth mentioning about the Q? That it comes with Wi-Fi and NFC, allowing it to connect to its very own companion app (iOS and Android only) for, well, the usual app/camera link-up stuff: you can use your device as a remote control, or transfer lower-res versions of images stored on the Q over to your phone or tablet for quick sharing. It works well.
View to a thrill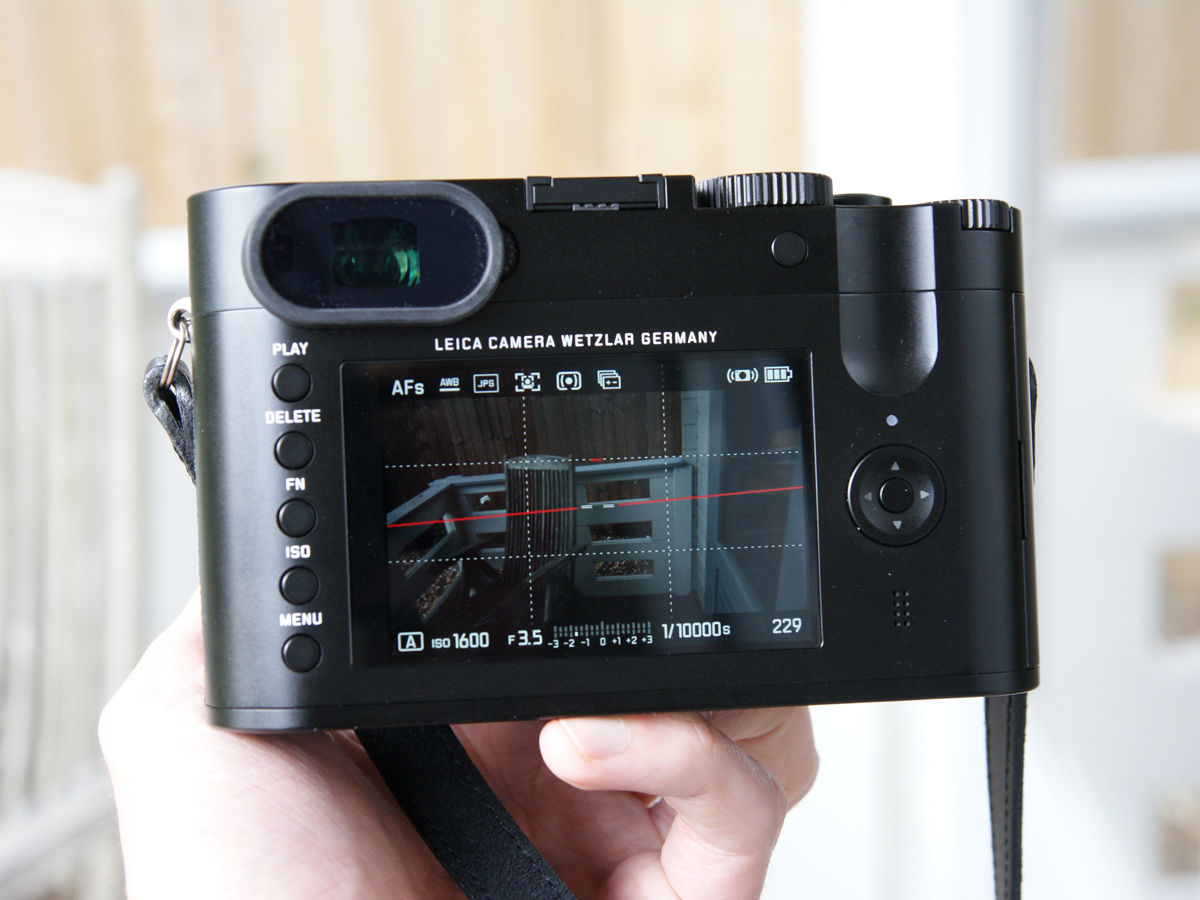 Oh, and also that it comes with a touchscreen, which strikes me as a very un-Leica thing to do.
Touchscreens on cameras often come across as a little gimmicky and counter-productive, but that's actually not the case here, and the multi-touch controls are reserved pretty much for the replay and review side of things – swiping to scroll through previously taking photos and the like.
That seems logical enough, and the screen brightness and sharpness itself is fine. The electronic viewfinder, meanwhile, is beautifully sharp and bright, and I found myself using it in almost every instance of capturing a photo or video.
Leica Q verdict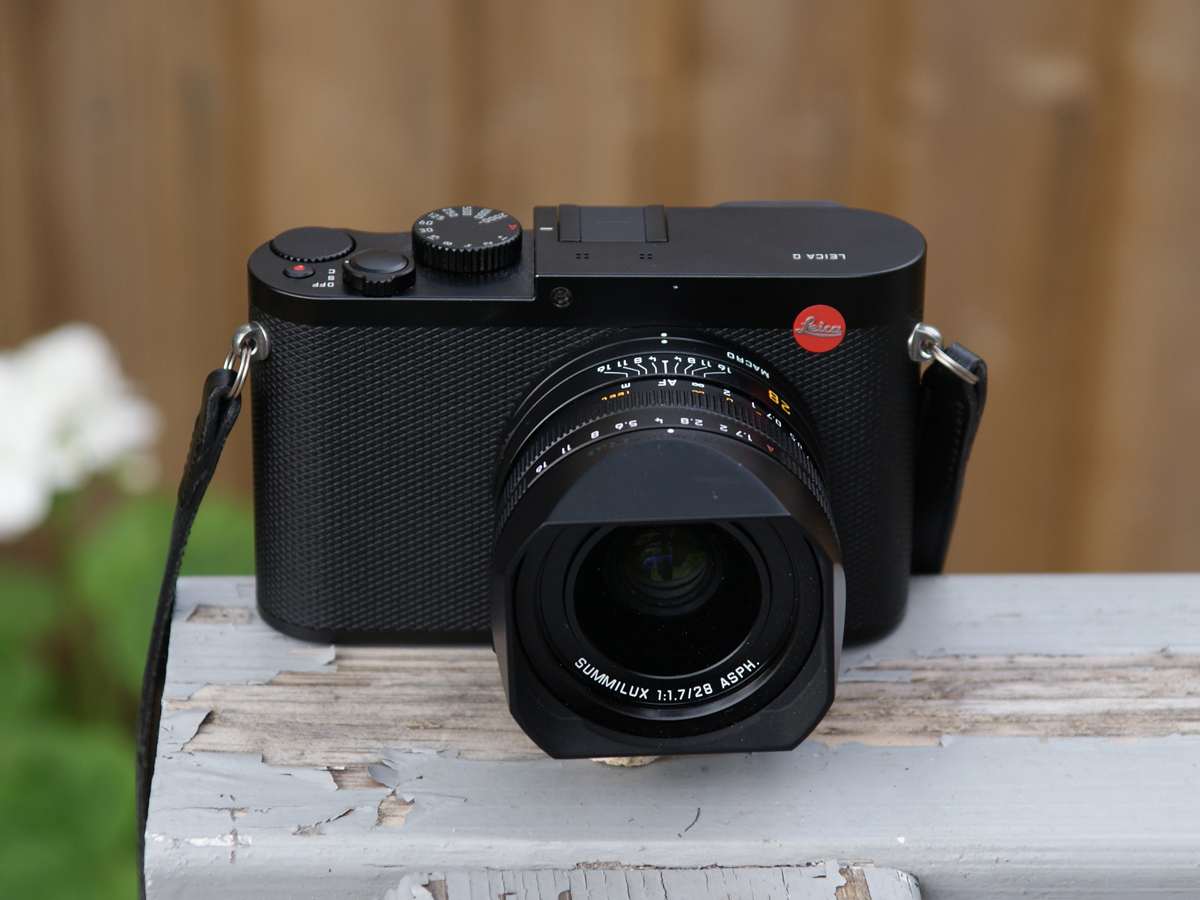 The Q is a fantastic camera. It offers pretty much everything you could expect from a high-end point-and-shoot on both the imaging quality and features fronts, it's built to last and it's a pleasure to use.
It is almost £3,000, however. Unless you're dreadfully serious about your photography, I'd suggest you opt for a cheaper camera from Fujifilm, Olympus, Panasonic or Sony, because three grand is a truly hefty investment, and if you're spending thousands you might want more versatility than the Q, with its fixed focal length lens, can offer.
There's an argument that says you're getting a lot of the performance of (if less flexibility than) a Leica M series camera here for a substantially smaller amount of money (the 28mm f/1.4 M series Summilux lens alone costs more than the Q); and buying a proper Leica camera, which the Q certainly qualifies as, has always meant parting with a lot of money.
Plus, when you look at the only other full-frame point-and-shoot on the market, the similarly-priced Sony RX1, the Q's excellent viewfinder makes it look like better value for money.
Is the Q a bargain? Absolutely not. Is it a camera I would personally spend £3,000 on? Probably not (if I were a millionaire, on the other hand…). Is it the best full-frame point-and-shoot around? Yes.
This is a luxury camera for people who love photography and, in the right pair of hands, it'll become a cherished companion that delivers fantastic results for many years. But given the sheer amount of excellent, far more affordable cameras on the market right now, I can't award it a full five stars – much as my heart tells me I should.
Tech specs
| | |
| --- | --- |
| Sensor | 24MP full-frame CMOS |
| Lens | 28mm f/1.7 Summilux |
| ISO range | 200-50,000 |
| RAW shooting | Yes |
| Image stabilisation | Yes (optical) |
| Video modes | 1920 x 1080 at 60/30fps, 1280 x 720 at 30fps (MPEG-4) |
| Screen | 3in 1,040,000-dot LCD |
| Viewfinder | 3,686,400-dot LCoS EVF |
| Connectivity | micro USB 2.0, micro HDMI |
| Wi-Fi/NFC | Yes/Yes |
| Dimensions | 130 x 80 x 93mm |
| Weight | 640g |
Stuff Says…
If you can stomach the eye-watering price, this is a truly top class point-and-shoot
Good Stuff
Top class lens and sensor
A joy to use
Rugged construction
Elegant minimalist design
Bad Stuff
It's really expensive