LG 65NANO906 review
"Big, and clever. Up to a point"
Everyone knows LG is the OLED company.
It builds great OLED TVs, and everyone else who builds them does so having forked out for the LG OLED panel on which to base it. Is it any wonder, then, that LG's LED TV ranges have lately had a whiff of the afterthought about them? It's hard enough to stay at the forefront of one technology, after all, let alone lead the field in a couple. With 2020's NANO ranges of LED TVs, though, LG seems to have refocused its attention.
On paper, at least, this year's LG LEDs look to have the features to put them right back in contention. Of course, it's one thing to make an on-paper judgement of 'features'. As far as 'performance' goes, though… well, that's a different story.
Design and build: Unhidden depths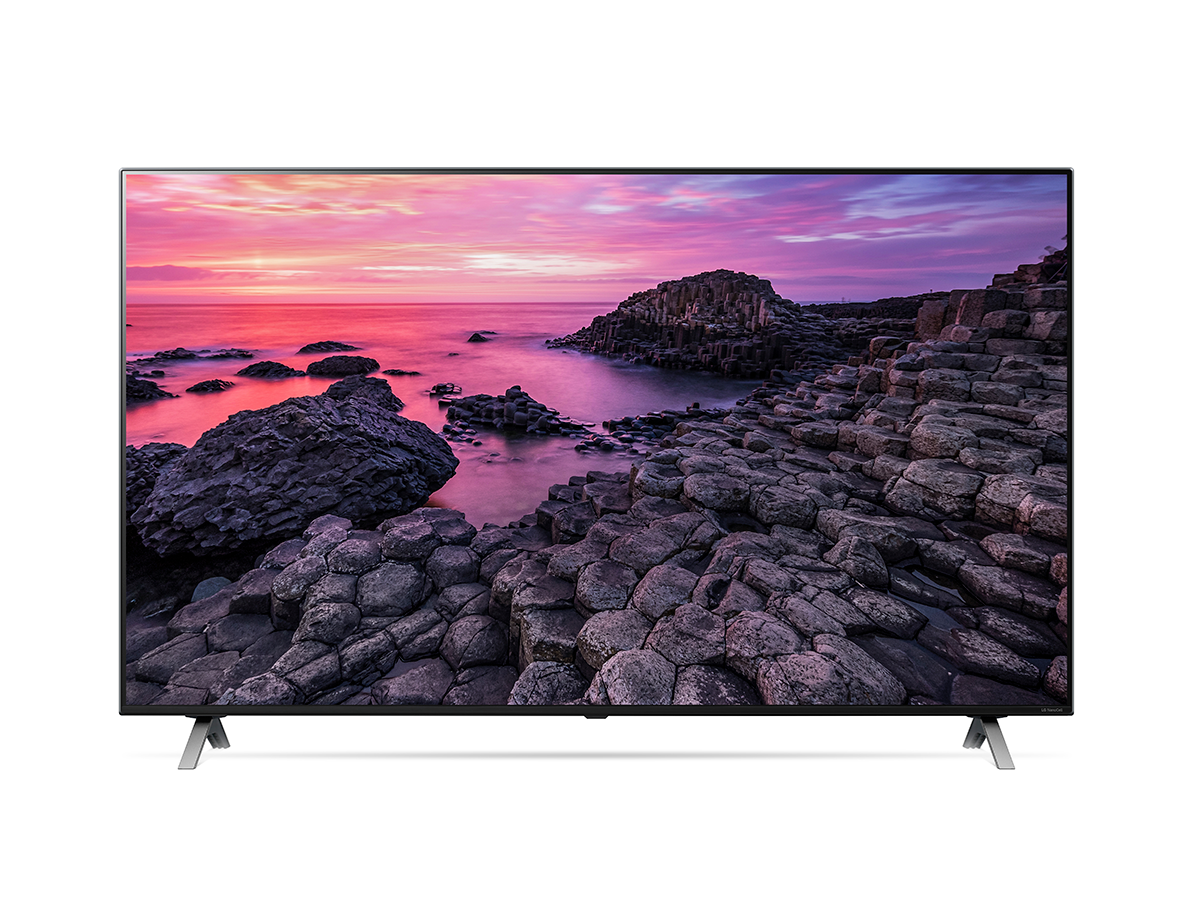 Few are the customers who have any interest in what their new TV looks like when it's not switched on, and so in terms of 'design' the 65NANO906 is nothing special – which is predictable, and sensible.
The size of its screen makes the slim bezel surrounding it look slimmer still, and its curvy corners and dark grey finish add to the impression of understated good taste. The feet it stands on are equally minimal – and a very welcome replacement for the crescent-shaped stand on which last year's LG LEDs wobbled nervously. Those feet are a long way apart, though, which means a) you'll be able to fit virtually any soundbar you like between them and b) if you don't wall-mount the LG it'll need a very wide surface to stand on.
If you decide to wall-mount your new TV there are a couple of numbers you should bear in mind. The first is: 24 – which is the number of kilos the LG weighs. The 65NANO906 will need a proper wall on which to hang, rather than some plasterboard partition. The second is: 71 – which is the depth of the TV in millimetres. Doesn't look that big a deal when it's written down, does it? But hang a TV of more than 7cm depth on the wall and it looks like a throwback to the earliest days of flatscreen technology.
In terms of the way it's all screwed together, there's nothing about the 65NANO906's prospective longevity that should concern you. But the feel of the product, overall, is just a little bit on the 'cheap'n'plasticky' side – which is a mild disappointment in a TV costing comfortably over £1500.
Features: Got game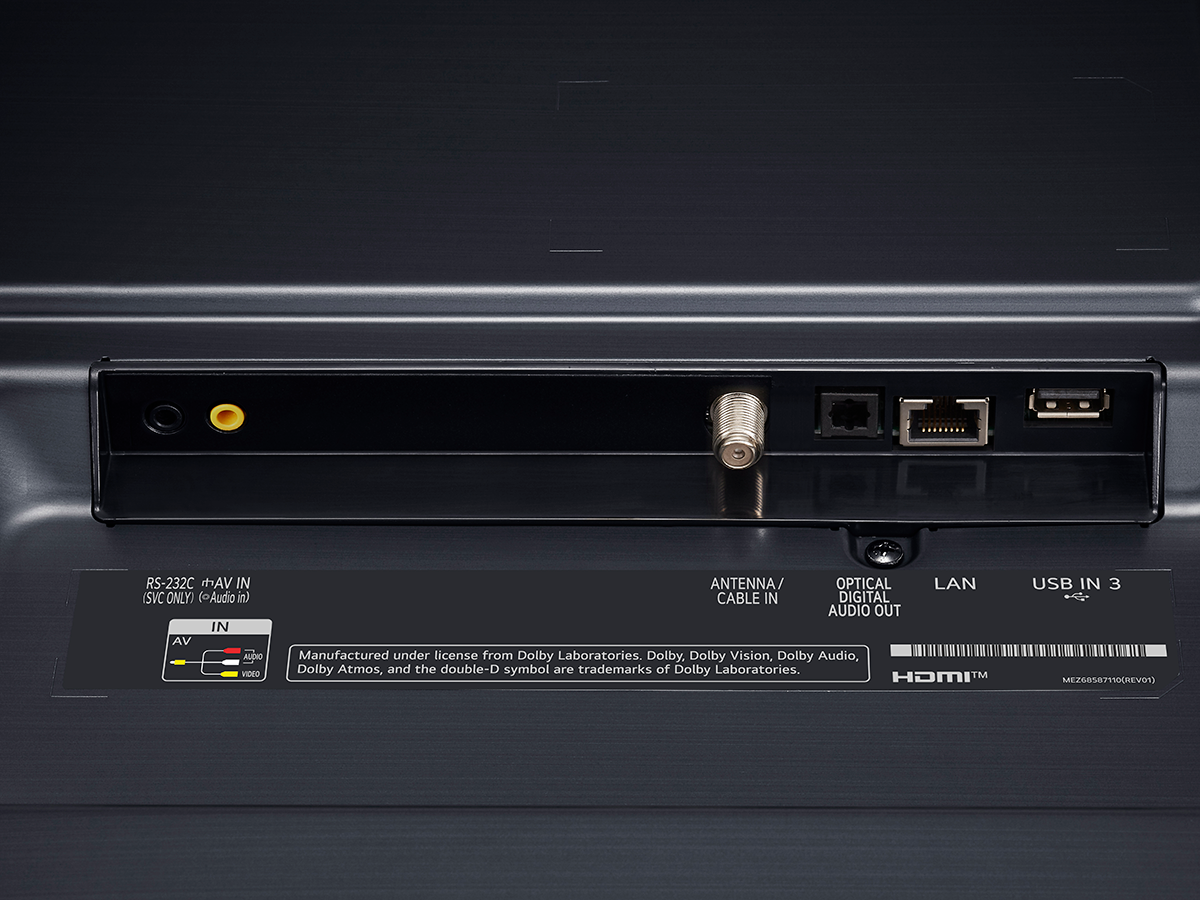 No two ways about it, there's an awful lot going on here. If you need your new TV to be specified beyond what the 65NANO906 can offer, then you've almost certainly travelled back here from the future.
First and foremost, this is a 4K UHD TV, with a 3840 x 2160 resolution. It's a full-array, direct-lit screen – which goes some way towards explaining away its generous girth. The 'NANO' part of its name refers to LG's NanoCell technology, which is charged with stripping out 'unwanted' colour frequencies and leaving the screen's colour palette cleaner and more convincing as a result.
Picture quality is bolstered by HDR compatibility with HLG (the broadcaster's weapon of choice), HDR10 and Dolby Vision. The LG is also packing Dolby Vision IQ, which deploys the screen's integrated light-sensor to maximise the Dolby Vision-ness of images depending on the ambient lighting conditions.
Getting the content into the LG in the first place can be done a number of ways, of course. Physical connections consist of four HDMI sockets, one of which is ARC-enabled and two of which are designated HDMI 2.1 and 4K @ 120kHz. These are supplemented by three USB 2.0 inputs, aerial posts for the integrated satellite and terrestrial TV tuners, a CI card slot and an internet socket. Outputs extend as far as a digital optical and a 3.5mm analogue socket that can be used at line level or with headphones.
In addition, there are naturally some wireless possibilities. Dual-band wi-fi is on board, as is Apple AirPlay 2 connectivity – and Bluetooth 5.0 is present in its 'Surround Ready' guise. So you need only connect a couple of compatible wireless speakers (LG has some in its range, you'll be staggered to learn) and wireless, pain-free surround sound can be yours.
As with any new TV, there are quite a number of picture modes LG thinks appropriate for different types of content – 'sport', 'game', 'vivid', you know the type. But the 65NANO906 also features Filmmaker Mode – which was one of the few genuine talking-points around TVs at CES 2020 at the start of this year.
Filmmaker Mode is designed to defeat all the TV's clever picture processing routines and instead deliver an image as close as possible to that of the filmmaker's original intention. But the news is interesting not only for movie fans.
Serious gamers will know 'HDMI 2.1′ and '4K @ 120kHz' is good news as far as next-gen consoles go – and, sure enough, the LG is ready to support pretty much every exciting new game-related TV development. Variable Refresh Rate? Auto Low Latency Mode? FreeSync? HGiG HDR tone-mapping? Yes, yes, yes and yes. Add in a 'game mode' response time of under 13ms (which will get quicker still at 120Hz) and the 65NANO906 could be that whopping great games monitor you've always promised yourself.
Interface: Catch-up when they can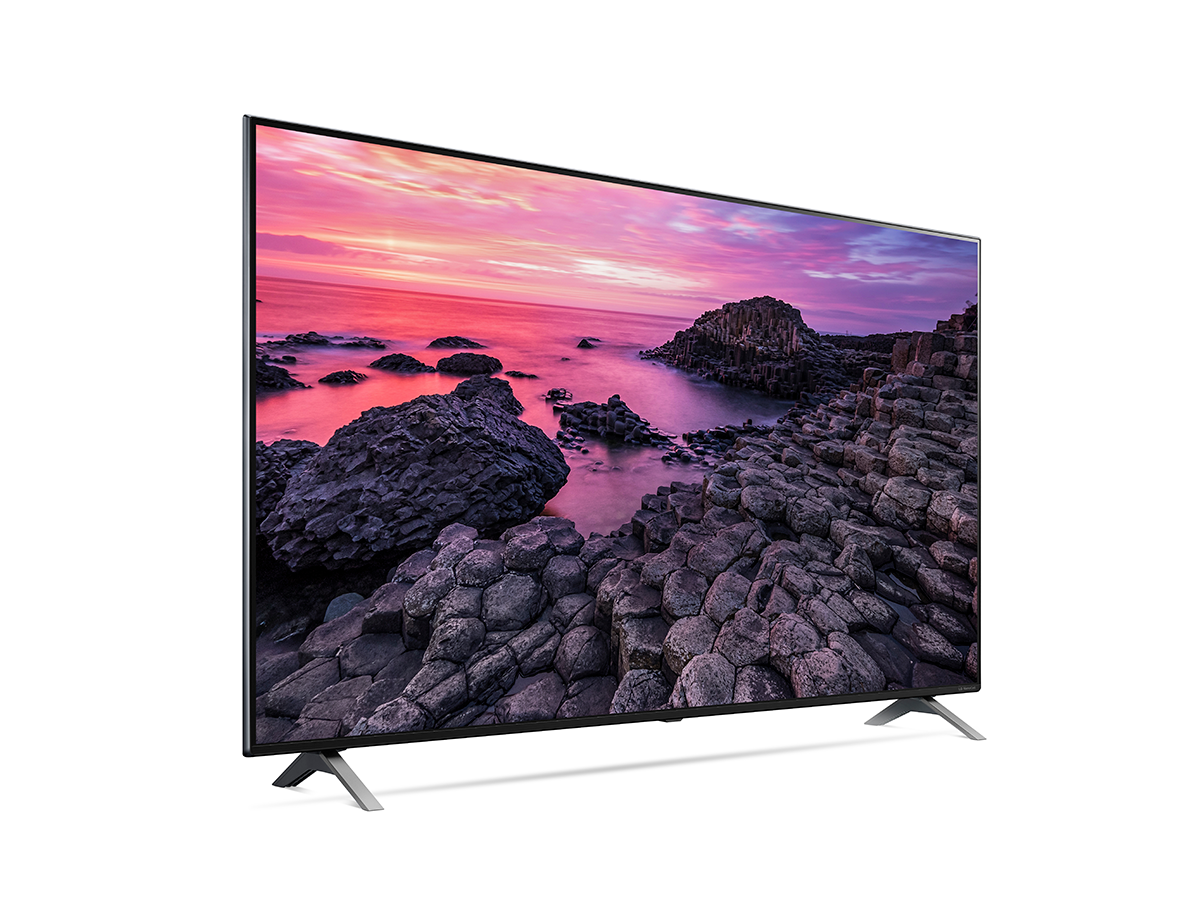 Very sensibly, LG hasn't meddled too much with its webOS interface – so it remains logical, legible, easy to navigate and straightforward to operate. To be fair, most of the major TV manufacturers have half-decent user interfaces these days, but webOS remains among the most likeable of the lot.
Admittedly the options for setting up and fine-tuning picture performance could be a little easier to get at, but in every other respect webOS is exactly what you want from a TV interface. And it's loaded with viewing options, too – established favourites like Netflix and Amazon Prime Video are joined by soon-to-be-established-favourites Disney+ and Apple TV along with an absolute stack of less ubiquitous alternatives.
There's even a whole folder of quite niche services called 'LG Channels'. If you can't find something to watch, that's on you – not LG. Mind you, if you fancy catching up with a bit of UK broadcast TV, that's not possible at the moment. Somehow LG and Freeview contrived to let the deadline for an agreement to get BBC iPlayer, All4 and all the rest on LG's 2020 TVs pass – LG is currently working with individual broadcasters to get their apps onto its screens pronto. And both LG and Freeview are adamant this issue will be resolved before the 2021 model cycle rolls around.
webOS also provides some slightly less compelling facilities too. Music recognition, a la Shazam, is available should some soundtrack or other deliver an earworm, and if any on-screen nick-nackery takes your fancy then webOS can point you in the direction of a retailer.
It's also possible to set up, and run quite involved routines for, any Internet of Things devices on the same network as the 65NANO906. Navigating all these options can be done using the LG 'Magic' remote – this is a Bluetooth-powered point-and-click device that's as simple and sensible as the webOS interface itself.
It features a big, bold 'mic' button which allows some control of the TV via Amazon Alexa or Google Assistant. And the TV itself has a far-field mic embedded, for us with LG's burgeoning 'ThinQ' AI product range.
Picture performance: 4K for the win
Give the LG the content it was designed for – 4K HDR material either from a UHD Blu-ray disc or a proper streaming service – and, with one or two small caveats, this TV will make the most of it.
The 4K HDR10 master of Christopher Nolan's Dunkirk makes the point strongly. The LG's IPS panel can't generate the deepest black tones, and on occasion it can struggle to retrieve absolutely all the detail from the darkest scenes, but in every other respect it's a very satisfying watch.
LG's NanoCell technology certainly seems to be effective here – colours are convincingly natural and yet vibrant at the same time, and there's seemingly no limit to the breadth of the colour palette the 65NANO906 can call on. Detail levels (up above black-tone detail, anyhow) are impressive, and that's true all the way up to bright white tones – the subtleties of shade, of texture and of pattern are all made pretty plain by the LG. It draws edges smoothly and confidently, and handles motion of all kinds with similar skill.
Contrasts can very occasionally be problematic – if a predominantly dark scene also contains some areas of brightness, the LG's backlighting can induce a little haloing around the white tones. It's hardly catastrophic, though, and it really only rears its head in the most testing circumstances.
It's a very similar story when switching to the Coen Brothers' Dolby Vision-powered The Ballad of Buster Scruggs via Netflix. Dive into those extensive set-up menus in order to get the balance between 'punchy whites' and 'backlight intrusion' just right, and then just sit back and enjoy the generous detail levels, the assured motion and the completely believable colour balance. Picture noise is low to the point of non-existence, and the LG does authentically impressive work with skin-tones and -textures.
There's a little more crushing of black detail going on here than with a UHD disc, mind you, and consequently black tones or dark scenes can be unhelpfully uniform.
The more you compromise the quality of the content you put into the LG, the more intolerant it becomes. Things aren't so bad with a 1080p Blu-ray disc of Paul Thomas Anderson's The Master, even if picture noise starts to become apparent and detail levels fall away a little. Motion is still gripped firmly, edges remain composed and there's still good dynamism to contrasts (even if blacks are becoming very dark grey by now). Lower the resolution further and the problems are compounded, until an off-air broadcast of Grayson's Art Club looks soft and short of detail, with restless edges and noise introduced into any area of uniform colour.
This is a big TV, obviously, and an audio array of two downward-firing full-range drivers powered by a total of 20 watts mightn't seem the most promising way to accompany the great big images.
The 65NANO906 can handle most audio codecs, though, up to and including Dolby Atmos, and in reality the sound the LG delivers isn't all that shabby. It's reasonably distinct and well controlled, with a hint of low-end presence and a little dynamism – and it may yet improve further, if LG makes good on its promise to deliver some audio calibration as part of the next firmware update.
LG 65NANO906 verdict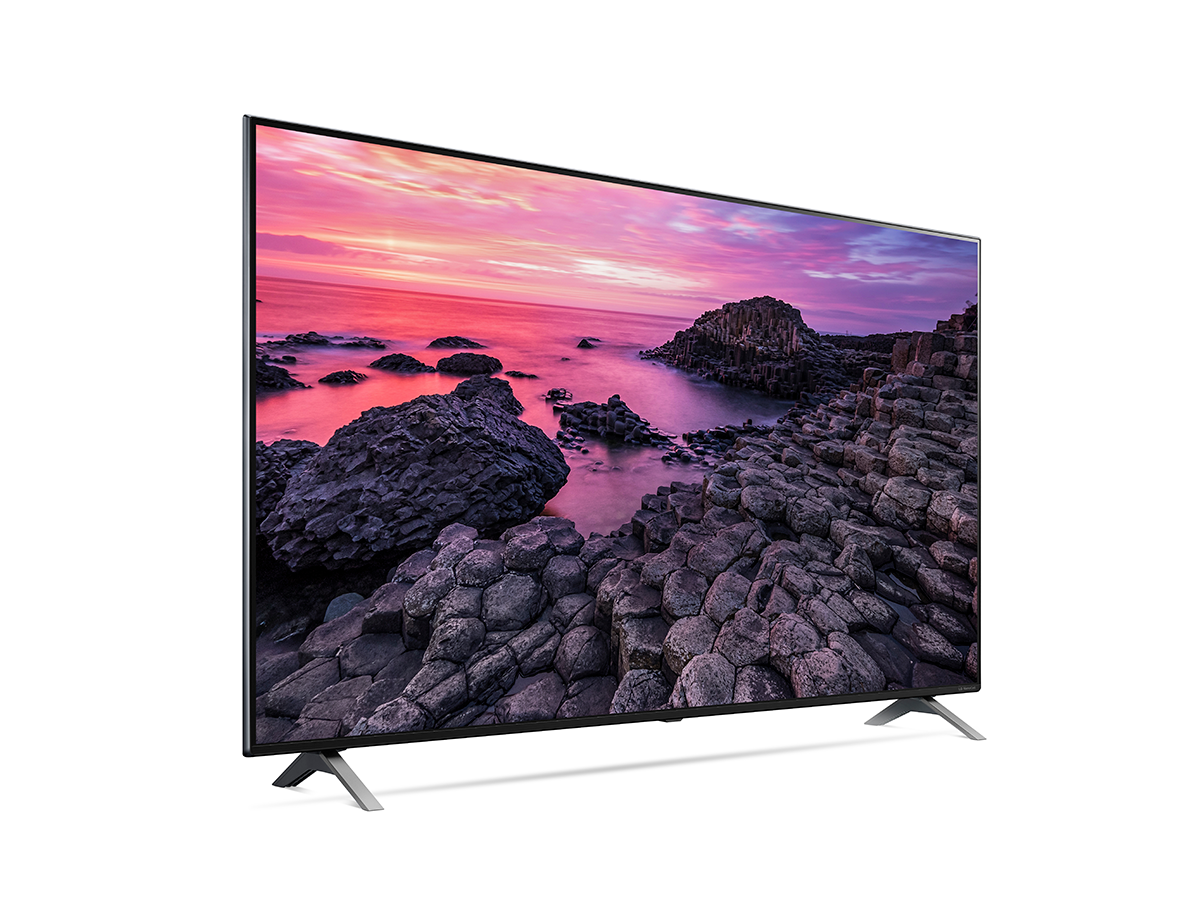 The LG 65NANO906 is your classic game of two halves.
Everything it does well – with native 4K content, with its user interface, with its accomodation of now and future gamers – it does really well. But where it falls down – with low-resolution upscaling, with its (current) lack of UK catch-up TV services, with its periodically iffy backlighting – it falls down quite heavily.
But if you're after a big, capable and well-specified TV, and especially if you have a next-gen games console on your wish-list, LG seems to be back in the LED game more strongly than it has been for quite a while.
Stuff Says…
LG's best LED TV in a while could be the perfect partner for the Playstation 5 or Xbox Series X you've promised yourself…
Good Stuff
Loads of features
Great 4K HDR pictures
Ready for next-gen gamers
Good OS
Bad Stuff
So-so upscaler
Intrusive backlighting
No UK catch-up TV services