LG OLED65E8PLA review
The OLED pace-setter returns - only this time, it's bringing an assistant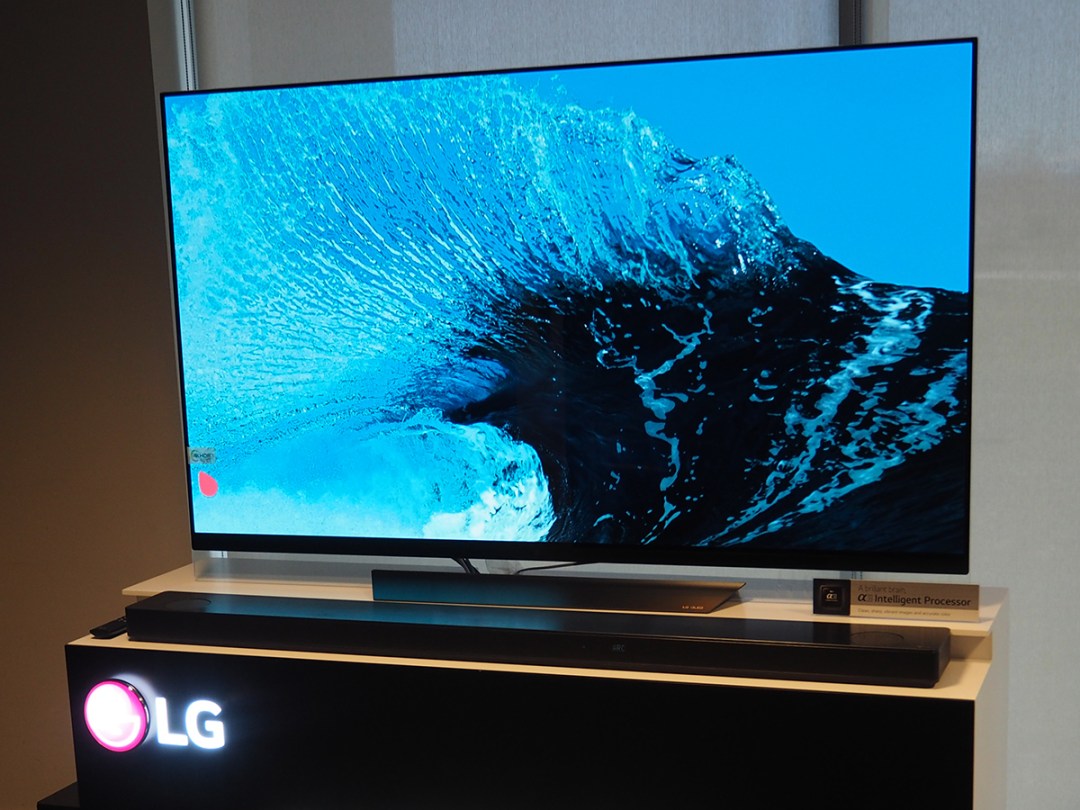 LG's OLED TV department must've had a blinder of a Christmas party last year.
While almost every other manufacturer (apart from Samsung, of course) finally decided that OLED was something worth pursuing in 2017, LG had already romped home victorious – by balancing price and performance in a way that none of its rivals could. 
There are perks to being the only manufacturer able to produce OLED panels in house.
This year, LG has decided to leave those panels well alone, and instead place its focus on what goes on behind the scenes. That is, making sure its TVs run faster and smarter than ever, thanks to the new Alpha 9 picture processor. 
The tweaks might look small on paper, but they add up to make a big difference to picture quality.
The E8 tested here sits smack bang in the middle of the five-strong 2018 OLED line up, and just about the C8 we've already bestowed 5 stars upon. As with last year, there are only subtle differences that separate it from the TVs above and below it – so does it do enough to stand out?
READ MORE: LG OLED55C8PLA
LG E8 Design & build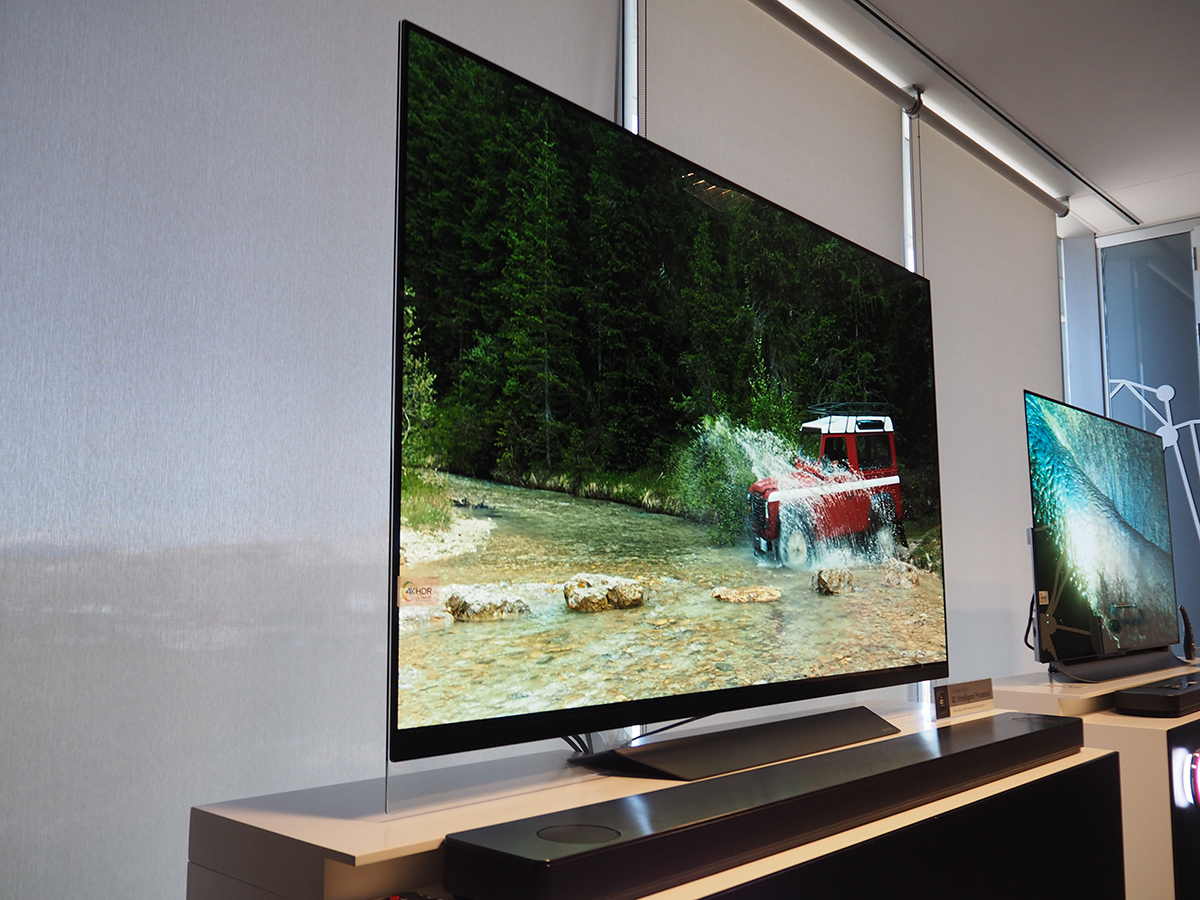 As there's no difference between the OLED panels LG is bestowing upon its TVs this year, you're looking to design, screen size and audio integration to tell them apart. Shipping in 55in and 65in variants, the E8 is – like all of its 4K HDR colleagues – impossibly skinny and quite stunning to behold.
Bezels are crushed to near-invisibility on the top and sides of the screen, while LG has covertly squeezed in a slender Dolby Atmos speaker bar along the bottom. Between the telly and its subtle sloped stand is the lower end of a transparent glass panel, so it looks like your precious living room centrepiece OLED is floating. We really dig it.
Where connectivity is concerned, the E8 gives a good account of itself. There are four HDMI 2.0 ports and three USBs, as well as digital optical audio out and Ethernet.
The E8 might be lacking the thumping sound bars that accompany the slightly more premium G8 and W8 'Wallpaper' alternatives, but its understated elegance is undeniable.
LG E8 Features & picture quality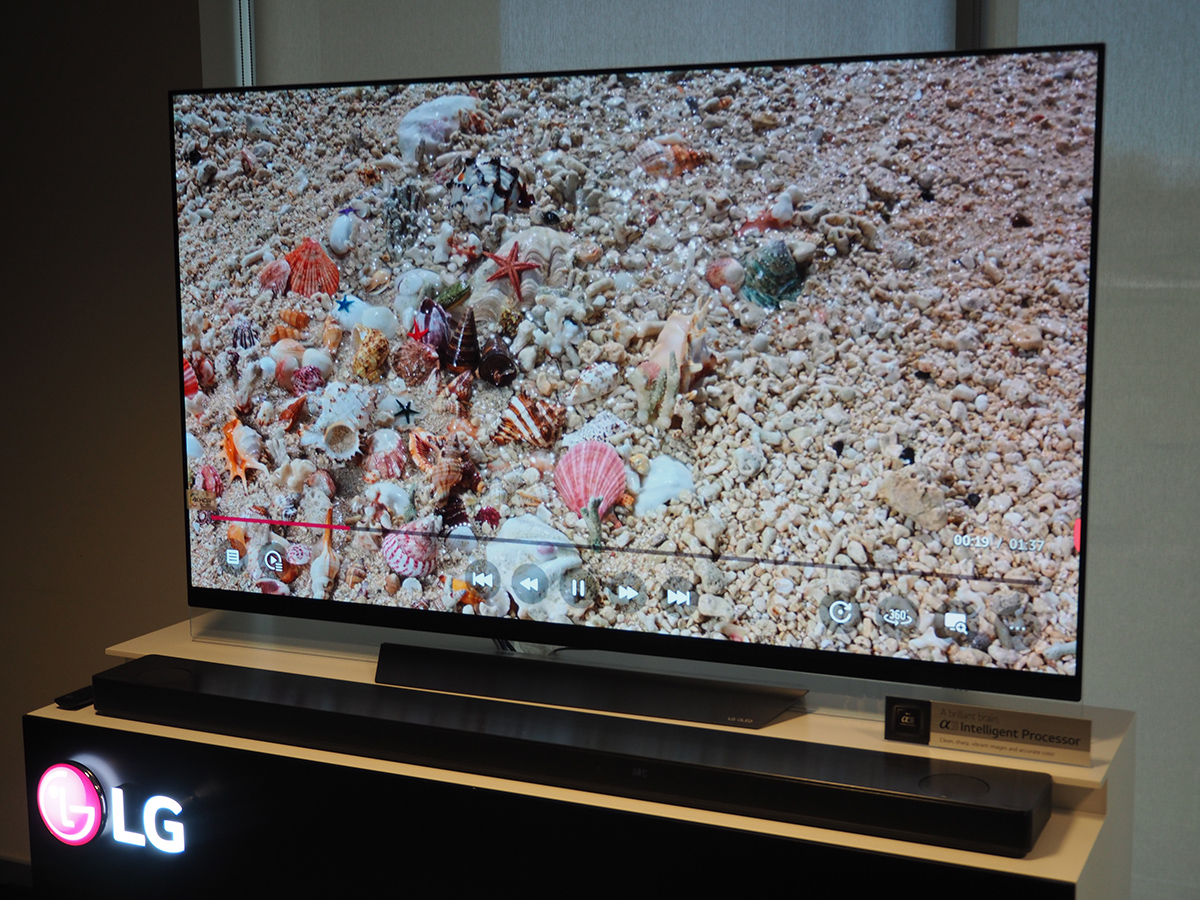 On paper, the E8's backstage enhancements should make a significant difference to the content you're watching. The new A9 processor is capable of four-step noise reduction – twice as much as traditional TV processors – which gives you a smoother, more natural image. The added grunt is better for sharpness too, and 2018's OLEDs are supposed to have seven times the colour accuracy of last year's range.
Another exciting (and ever-so-slightly misleading) feature is HFR video processing. The E8 supports content up to 120fps, which should theoretically make those bazillion mph aces at Wimbledon look frighteningly realistic. I saw some demo footage of just that, and it was certainly noticeable.
The problem is, you won't yet find HFR-compatible shows on Netflix, Amazon Prime Video or pretty much any broadcaster whatsoever, while HDMI 2.0 can't output at that frame rate either. HFR gaming in 1080p HDR is a goer, but not 4K.
As a consumer feature for right now, then, it's not a lot of use, but you can't underestimate the value of future-proofing a TV likely to last you at the very least the next four or five years.
What I can say about the E8 from my brief time fiddling around with it is that it's – unsurprisingly – a bit of a stunner to look at. The A9 certainly makes colours more vivid, with less unwanted leakage taking away detail, while the blacks of Jessica Jones' grimey opening titles were as rich as you'd expect from an LG OLED. Having seen the TV running side-by-side with a 2017 panel, I'm pretty confident that it produces a sharper and more vibrant overall picture.
You'll also want to experiment with Technicolor's Cinema HDR solution, designed to ensure you're watching movies exactly as the Hollywood whizzes intended.
LG E8 Audio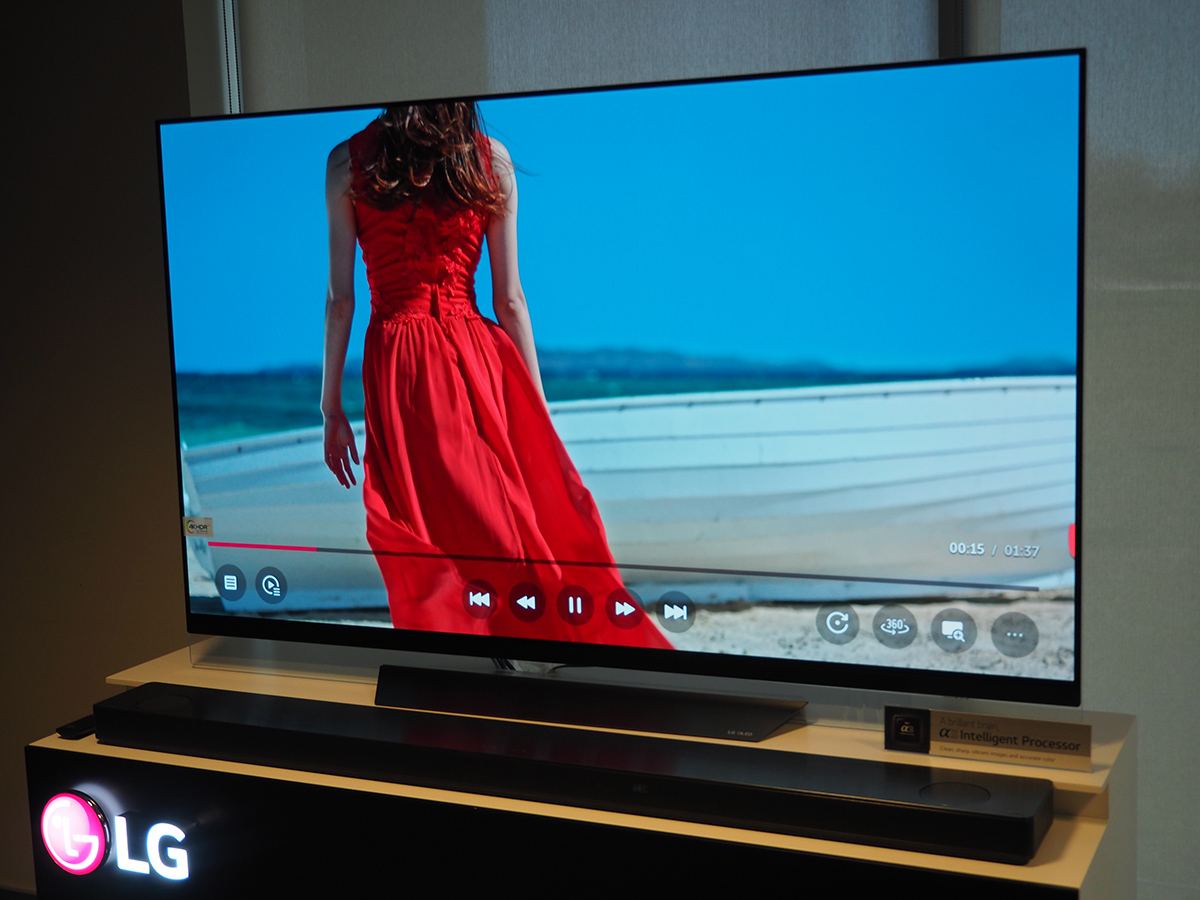 Not a whole lot to report here, unfortunately. I was in a big, busy room that didn't feel like the right place to put the slimline built-in soundbar through its paces. LG reckons it performs much the same as the E7 in the audio department, despite the trimmer form.
Expect it to sound a lot better than your average TV speaker, but you'll probably want to invest in a proper surround setup, even with that eye-catching Dolby Atmos seal of approval. We'll have a lot more to say on this when we can take one home for review.
LG E8 WebOS and ThinQ AI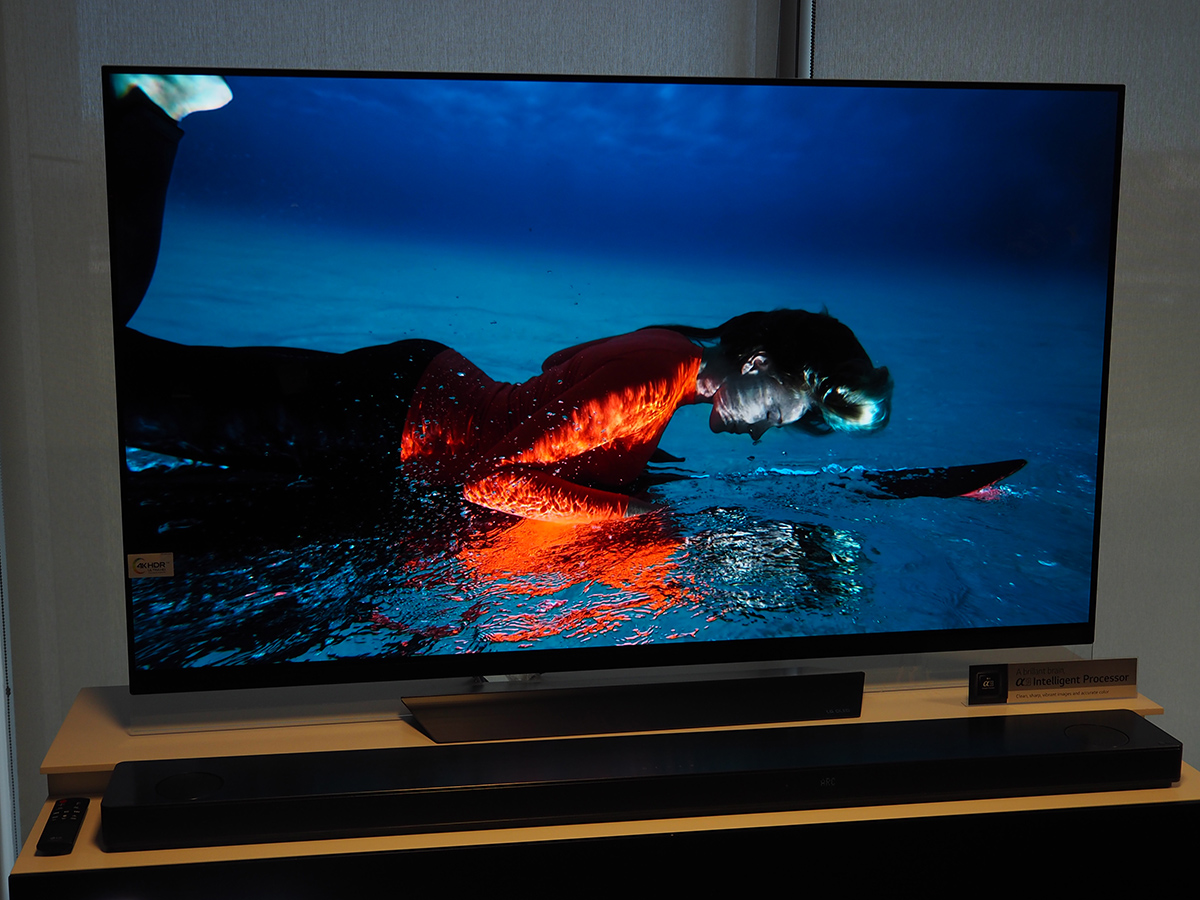 If uprated picture processing is the E8's headliner, then AI is the support act. LG's proprietary WebOS interface remains a delight to navigate, but you're going to be doing a lot more with your voice now.
Press the mic on the Magic Wand Remote and you can issue a host of commands, to which the software should become more responsive over time. Ask the E8 to bring up Wi-Fi configuration steps, for example, or show you London's presumably bang average forecast for the weekend.
You can search for content by the name of an actor, switch to a games console, set reminders to switch channel when a show is about to start, or have the TV turn off when a film finishes. Great for when you fall asleep during *any Transformers film ever made*.
These are just a few of the out-of-the-box commands, and they worked exactly as advertised for me. It was responsive, accurate and definitely something I could see myself using as an alternative to flicking through menus. You'll eventually be able to connect to Google Home and Alexa devices too, allowing you to control your smart home from the sofa.
LG E8 OLED VERDICT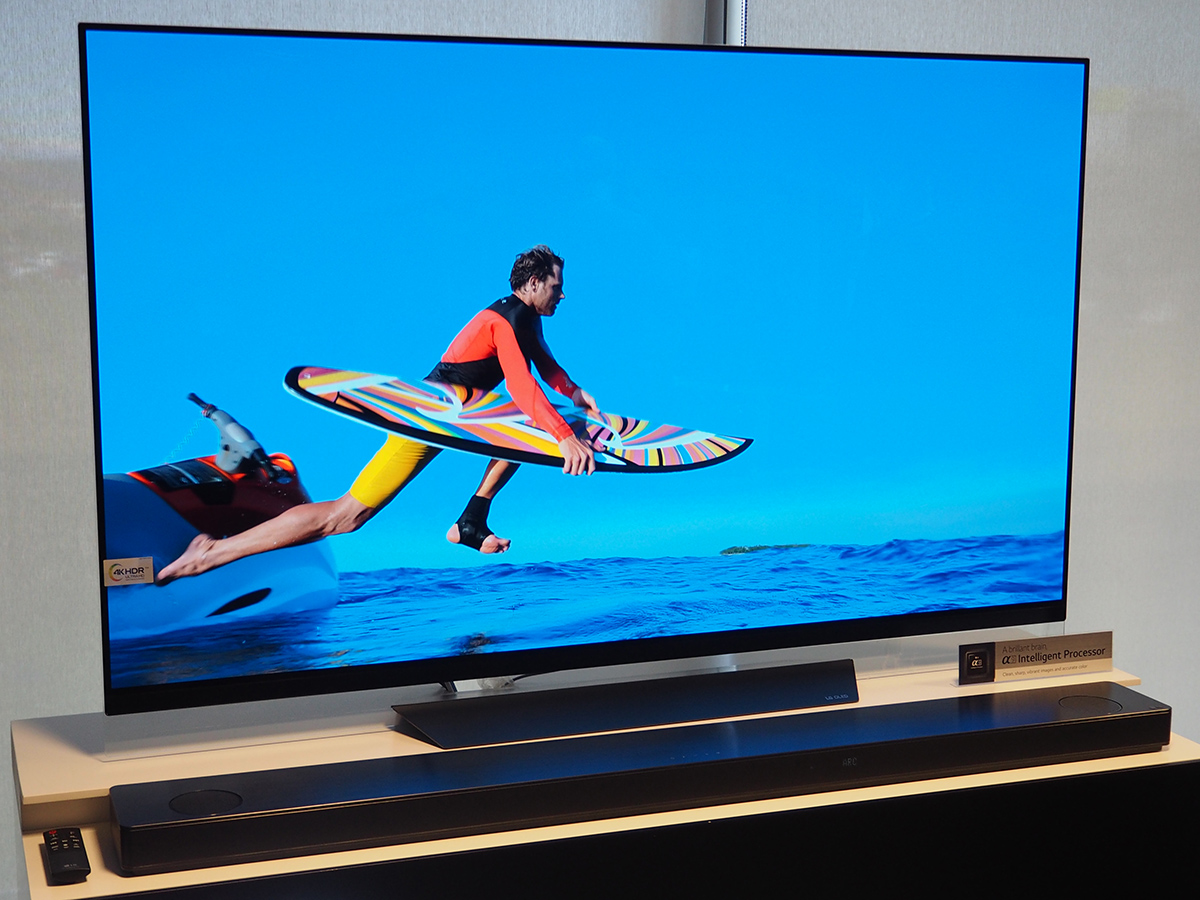 You already knew LG's OLEDs were great, and from a material point of view, absolutely zilch has changed for 2018. The new processor and AI smarts are still substantial additions, though.
Sure, some of the tech will only start to sing a few years down the line, but right now you're going to get better HDR performance, less noise and a crisper, punchier picture.
Chatting to gadgets is finally becoming the norm, and ThinQ AI is a digital assistant worth having. Whether it will perform as required in the long run remains to be seen, but we didn't fall out in the admittedly short time I spent with it.
LG's drool-worthy W8 'Wallpaper' set might be its most desirable telly, but if you can't stretch that far, the E8 OLED is shaping up to be a superb option. We can't wait to dig even deeper when the postman drops one on our doorstep.
The Competition
It's shots fired in the 2018 leg of the QLED vs OLED campaign, and the QE65Q9F has drawn blood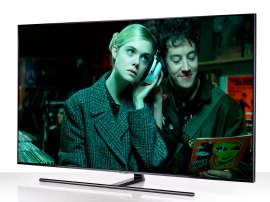 Stuff Says…
Jaw-dropping picture quality with AI smarts and an elegant design, the E8 is almost the complete package – if only the sound was up to scratch too
Good Stuff
Outstanding picture quality across the board
Elegant design
Great smart TV system
Useful AI functionality
Bad Stuff
Sound performance is disappointing
No HDR10+
Expensive compared to C8