Lindy BNX-100XT review
"...do you want the good bass or the bad bass..?"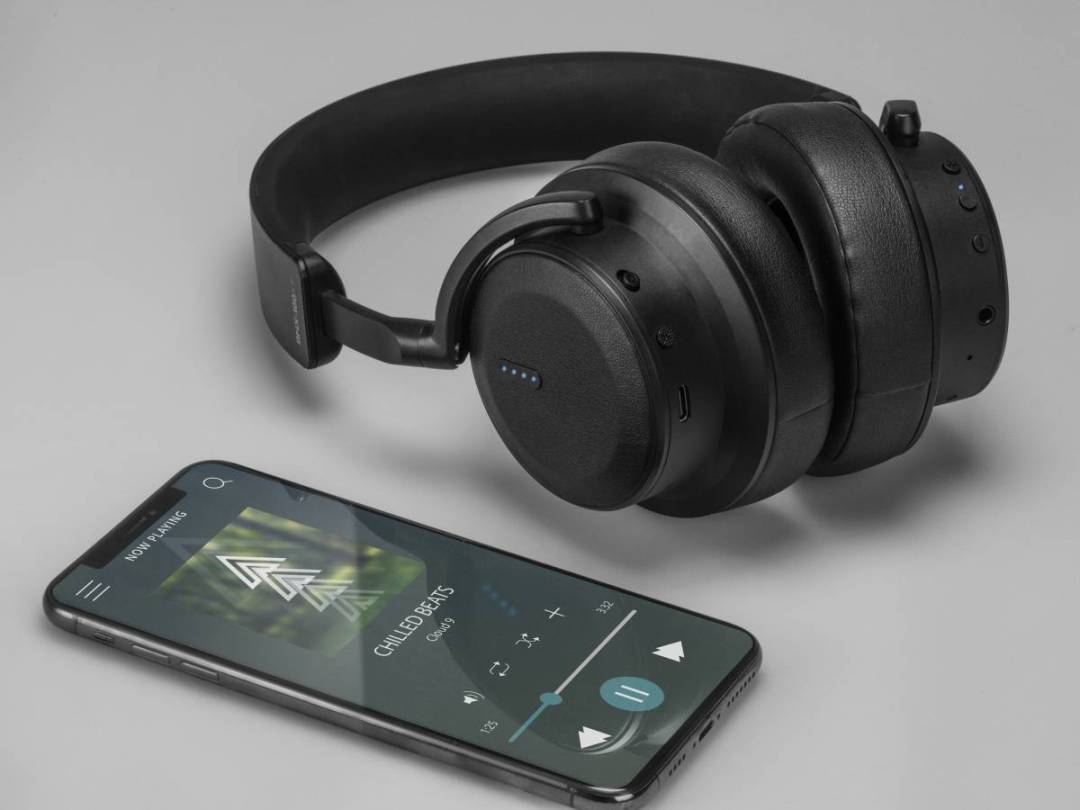 Lindy has plenty of previous where properly affordable wireless noise-cancelling headphones are concerned – its BNX-60, in particular, were a stuff.tv favourite thanks to sonic and noise-cancelling performance that seemed way more expensive than the headphones actually were.
Now Lindy has replaced their replacement (the BNX-100) with these, the BNX-100XT. No matter the model number, though, the Lindy game-plan never seems to change – serve up some well made, handsome headphones that don't look dissimilar to some much more expensive, class-leading alternatives from brands with a much higher profile. Specify them well, and to try and make them sound half-decent at the same time.
Lindy's done it before, and in some style. Can it do it again?
Design and build: no corners cut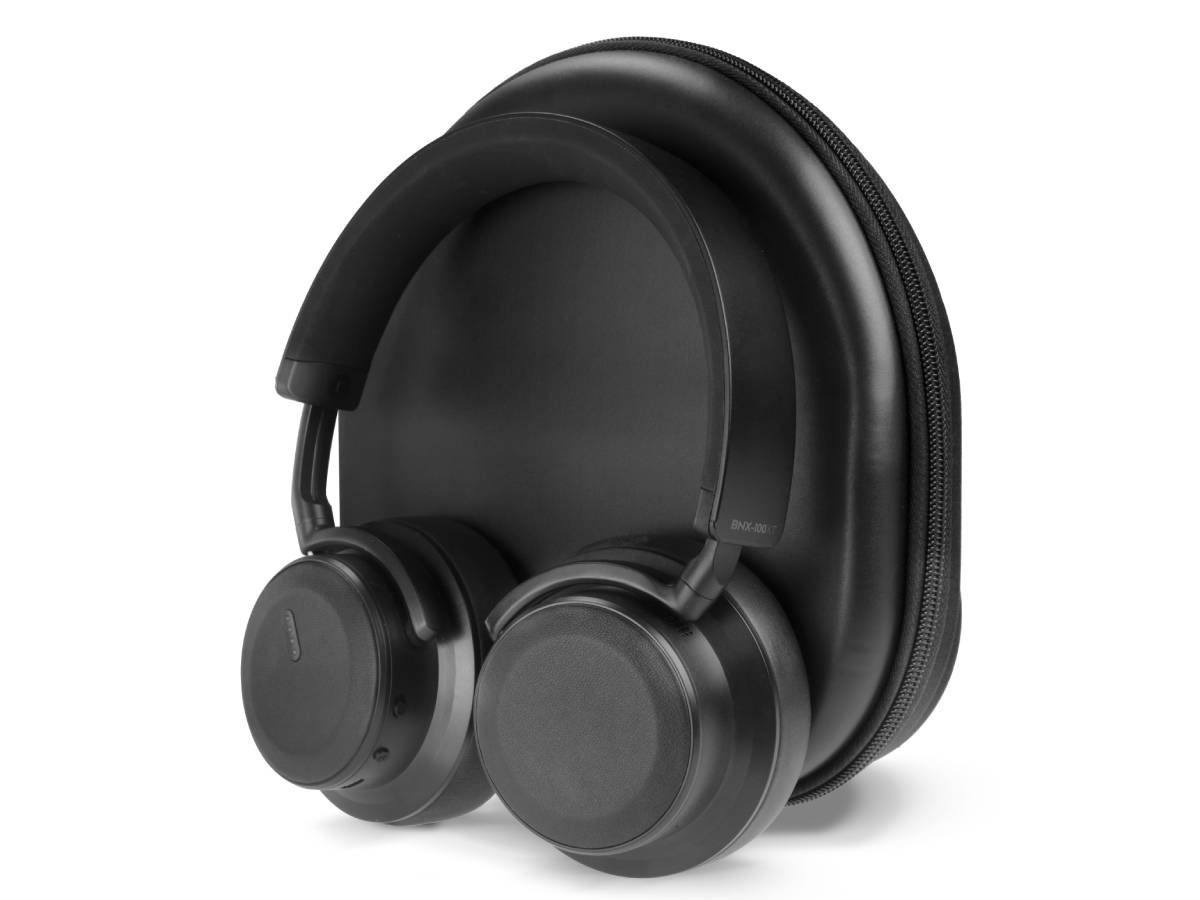 Obviously 'design' isn't really something that happens to over-ear headphones, but you'd be hard-pushed to tell the BNX-100XT cost less than a ton from the way they're built and finished.
The earpads and the outside of the earcups are finished in a nice, tactile faux-leather. The 'pads themselves are big fat circles, and soft enough to stay comfortable for hours on end – although they will start to heat your ears in advance of otherwise becoming uncomfortable. Each swivels through 90 degrees, so they fold flat enough to slot into the supplied hard-case.
The inside of the headband is soft-ish, grippy plastic which helps the BNX-100XT stay secure without clamping too vigorously onto your head, and the headband conceals the sliding size-adjustment too.
Build quality is more than respectable, and the finish is too. Line the Lindys up against alternatives from Bose or Sony that cost twice the price – they may not look quite as swish but they're every bit as well made.
Features: middle-distance runners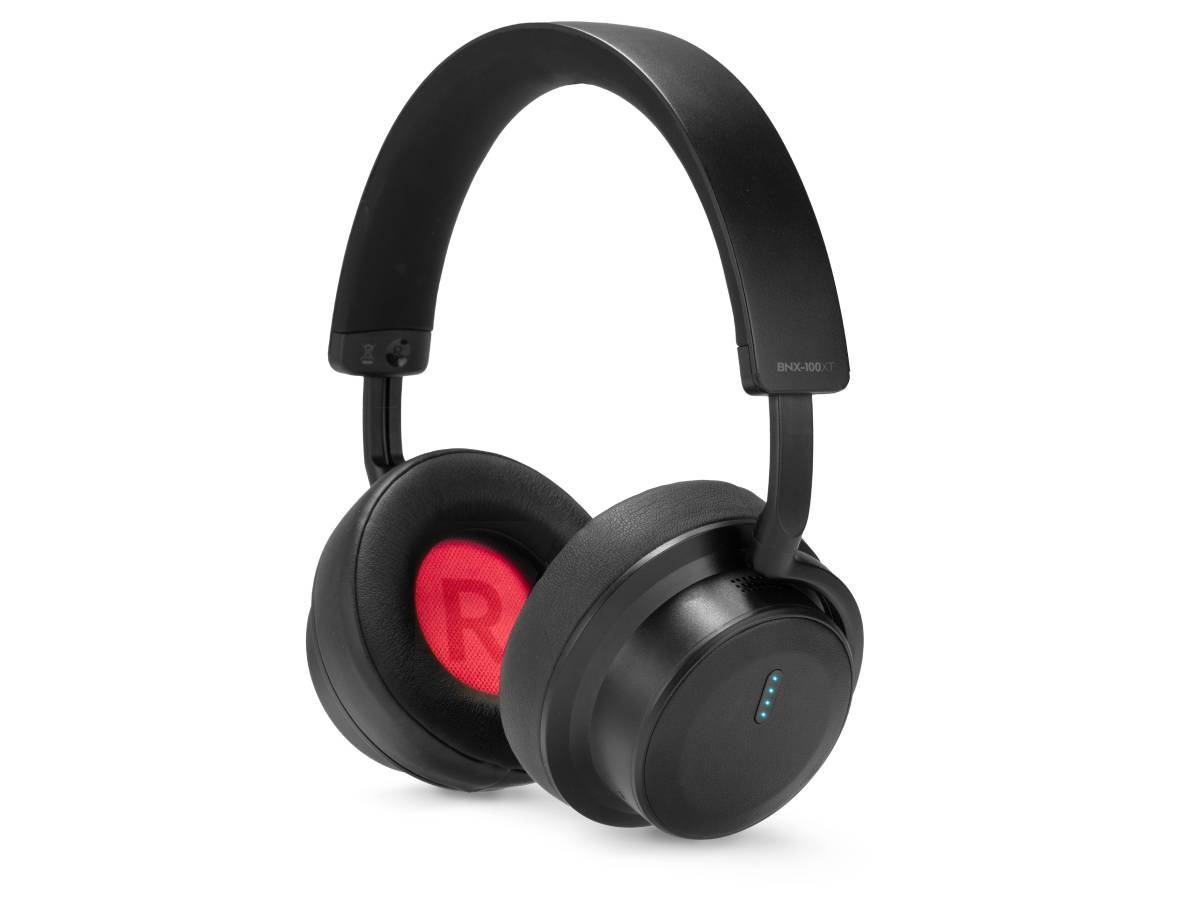 The only visual difference between these BNX-100XT and the BNX-100 they replace is the switch to a USB-C charging socket. Lindy is claiming 12 hours from a single charge when used wirelessly with the active noise-cancelling switched on – which seems a) achievable and b) nothing special. Switch off the noise-cancelling and you're looking at more like 15 hours – and you can double that figure if you hard-wire the BNX-100XT to your source player.
Inside each earcup there's a new 40mm neodymium full-range driver, and the Lindy use Bluetooth 5.0 wireless connectivity (with aptX and aptX Low Latency support) to deliver music to them.
Active noise-cancellation is a straightforward 'on' or 'off' choice – when it's on, it's possible to deploy 'external audio pass-through' in order to better hear what's going on around you without removing the headphones. If you do need to remove them, though, the BNX-100XT will detect the movement and automatically pause music playback.
Interface: don't touch, press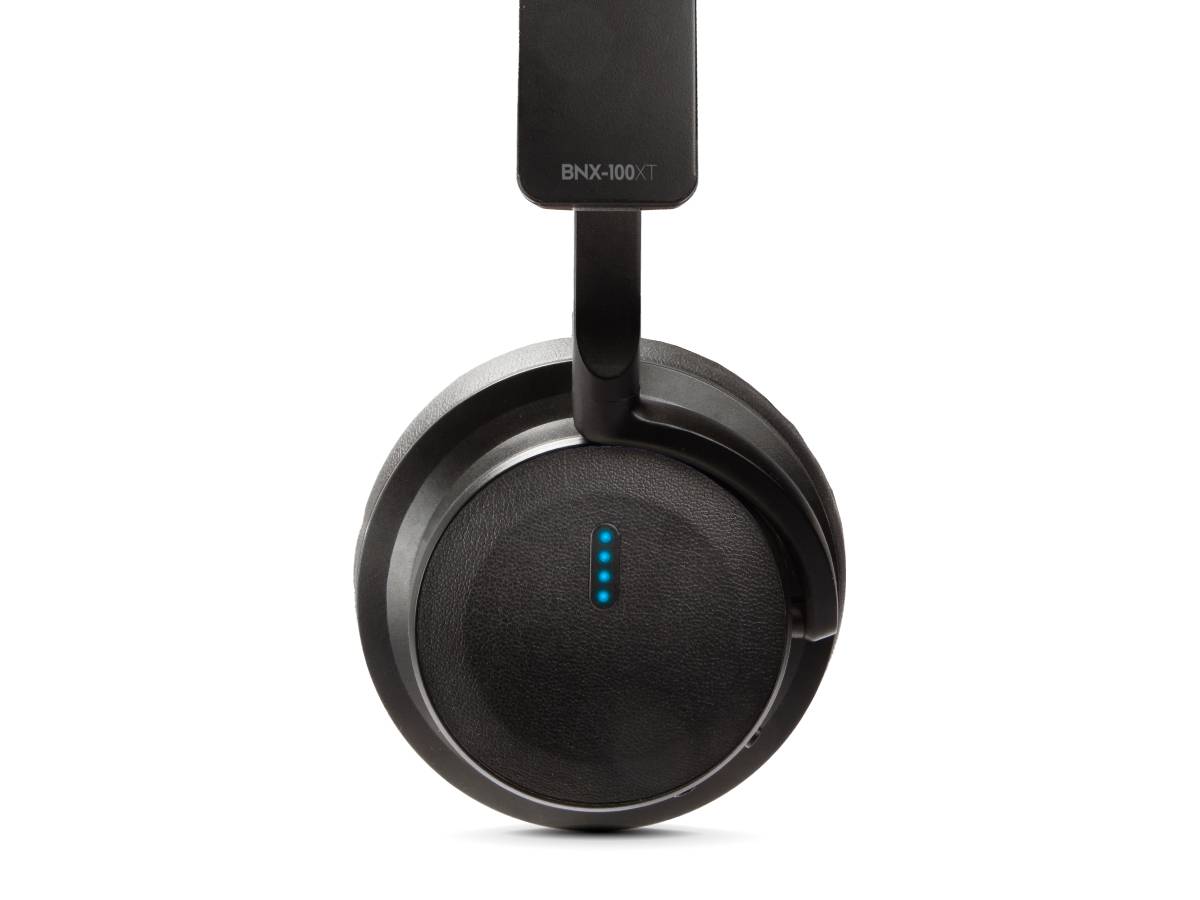 Lindy has ignored touch- or app-control here, and instead provided a physical interface and the option of voice-control. Which really ought to be plenty for most users, especially when you consider how sharp-eared the BNX-100XT are when issuing voice commands and how logical the array of physical controls is.
Along the edge of the left earcup are the controls for active noise-cancelling ('on' or 'off', remember), and a button to engage or disengage 'external audio pass-through'. There's also the USB-C input for charging the battery, and on the outside of the earcup itself there's a little strip of four LEDs that give a rough indication of remaining battery power.
On the right Lindy's arranged a classic three-button line-up – and, unlike quite a few rivals, these three buttons are properly separated and consequently quite difficult to get confused. 'Power on/off/Bluetooth pairing', 'volume up/down', 'skip forwards/backwards', 'answer/end/reject call', 'summon voice assistant' and 'play/pause' are all available here, once you've committed the necessary combination of button-presses to memory. There's also a 3.5mm input here, should the worst happen in terms of the battery.
Performance: up and down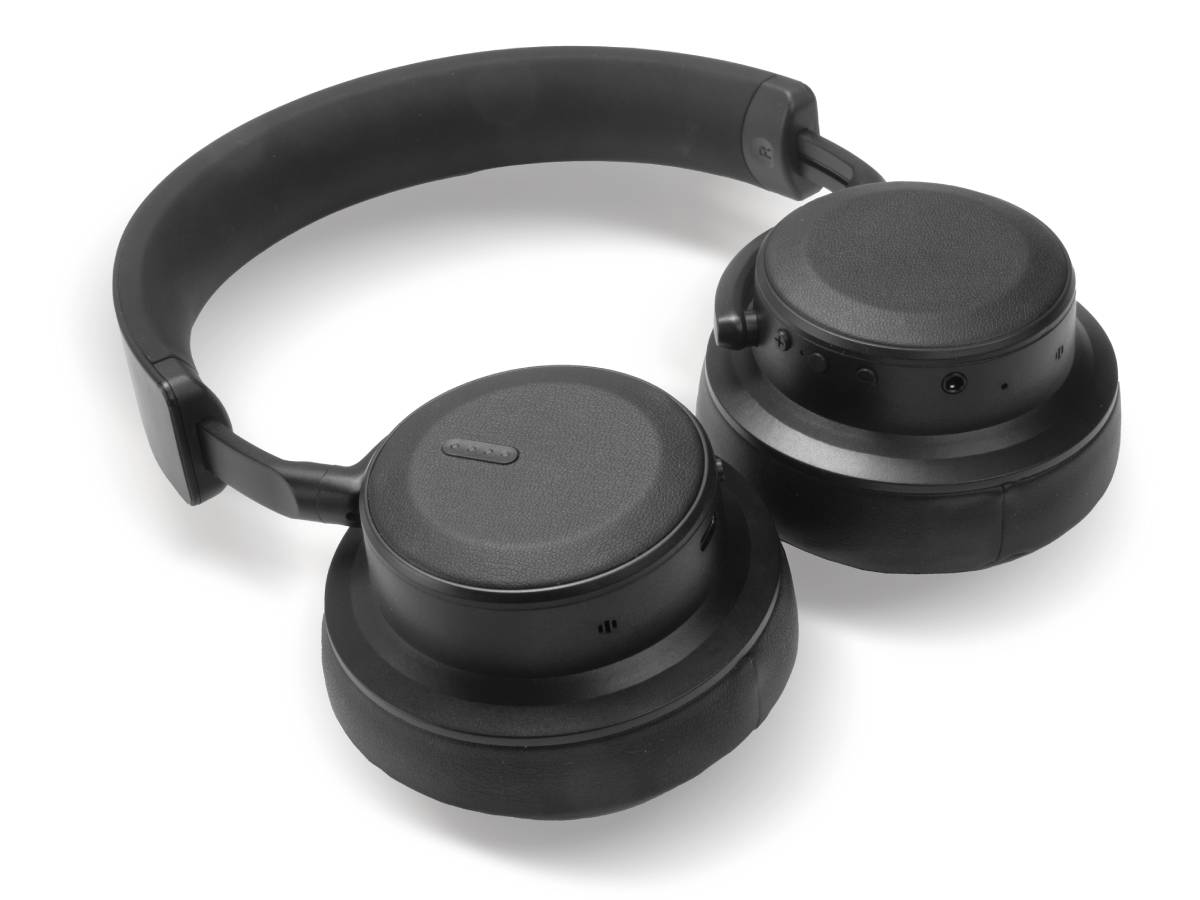 The Lindy BNX-100XT aren't the world's first headphones to be a game of two halves where sound quality is concerned. They may, however, be the first to have an entirely split personality.
Connected wirelessly via aptX Bluetooth to an iOS music player, with noise-cancelling engaged and a big hi-res file of Lambchop's A Chef's Kiss playing, they're an adept and enjoyable listen. The low frequencies aren't the weightiest you ever heard, but they're nicely shaped and controlled – so their lack of outright extension is compensated for by their speed and dexterity. It's a trade-off, for sure, but hardly a catastrophe.
Beside, this relative lack of bass presence leaves the midrange uncluttered and able to do its thing. 'Its thing' in this instance turns out to be detailed and quite eloquent – the midrange here is packed with information and character, and as a result the vocalist communicates in spades. There's more than enough space here for the different elements of the recording to stretch out in all directions. And the top of the frequency range is equally informative, and fights hard against the hissiness and/or splashiness that sometimes accompanies active noise-cancellation circuitry.
The noise-cancelling itself is very decent. All but the loudest, most determined external sounds are subdued and, while the Lindy occasionally give away how hard they're working to make this happen, it doesn't skew the sonic signature too badly.
Dynamically the BNX-100XT can give their best price-comparable rivals a run for their money, too. Quiet, tender moments in a recording are far quieter (and more tender) than the 'charge into the final chorus' crescendos, but the Lindy never get shouty or uncouth. Their control is obvious throughout.
However, switch off the active noise-cancelling and hardly any of the above still applies. For some reason, without the ANC circuit engaged, the BNX-100XT seem to lose all sense of low-frequency decorum. Bass gains a whole load of undeserved confidence, swamping the midrange and trampling over even broad details. And at the same time, the low end gets soft, pillowy and blurred at the edges. And what's (in some ways) worse, switching ANC back on again makes the (previously very acceptable) sound suddenly seem weak and insubstantial. It's a very odd state of affairs.
Lindy BNX-100XT verdict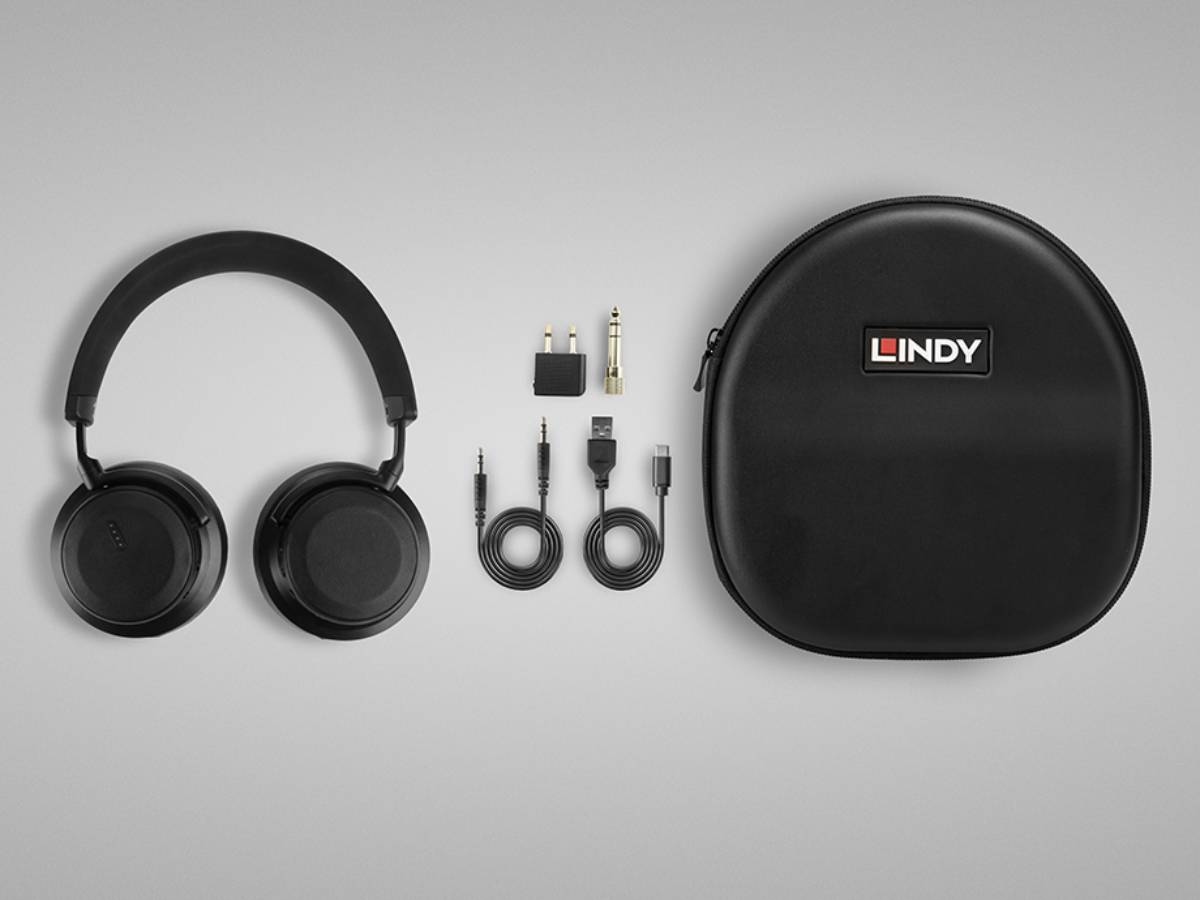 Stuff Says…
Basically two pairs of headphones for the price of one – but not automatically in a good way
Good Stuff
Good standard of build and finish
Switch ANC on and get poised, well-balanced sound
Sensible ergonomics
Bad Stuff
Ordinary battery life
Switch ANC off and get feral, bass-mad sound
Will warm your ears eventually