Magellan RoadMate 3000 review
The RoadMate 3000 is quick to get started but has distracting buttons, an occasionally loopy screen and slow off-route recalculation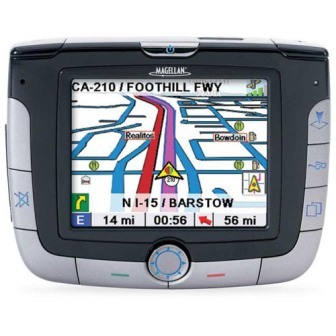 Since Magellan's RoadMate is a big lad, weighing in at a respectable 226g, it's odd that there's no battery – what is it hiding beneath its 320 x 240 colour touchscreen?
Well, as far as we can tell, not a lot. It appears practiced in the art of distraction. There's an ugly antenna, it wobbles on the windscreen as the mount can't handle its weight and the buttons, which light up unnecessarily, don't justify their third of the front panel. Its size also makes it a bit of a safety concern if you have a small car because of the blind spot it creates.
Prepare for visual overload
The LCD's useful in direct sunlight but needs to be adjusted manually for night driving and bright, backlit buttons coupled with an unnecessarily luminous blue power button add up to visual overload. Such distracting antics are really a big no-no when you're behind the wheel. Or so we would have thought…
To top it off, it's quite noisy, and the screen – while clear – occasionally goes a tad loopy. Case in point being the erratic active zoom function, which zooms in and out apparently at random on long road stretches.
The software goes some way to improving the RoadMate 300's score, though. A 512MB SD card has great map storage covering Ireland, France, and the main roads of Europe. The menu and map have lots of colour options, including pink for the ladies. Address selection is straightforward, and the database of restaurants, petrol stations, etc, is exhaustive.
The commands are pretty good too, with clear voice instructions thanks to a loud, decent speaker, making for competent navigation. However, once you accidentally take a wrong turn, it re-calculates slowly, which is an utter pest.