Microsoft Surface Laptop 3 review
A lesson that you don't need to be showy to be brilliant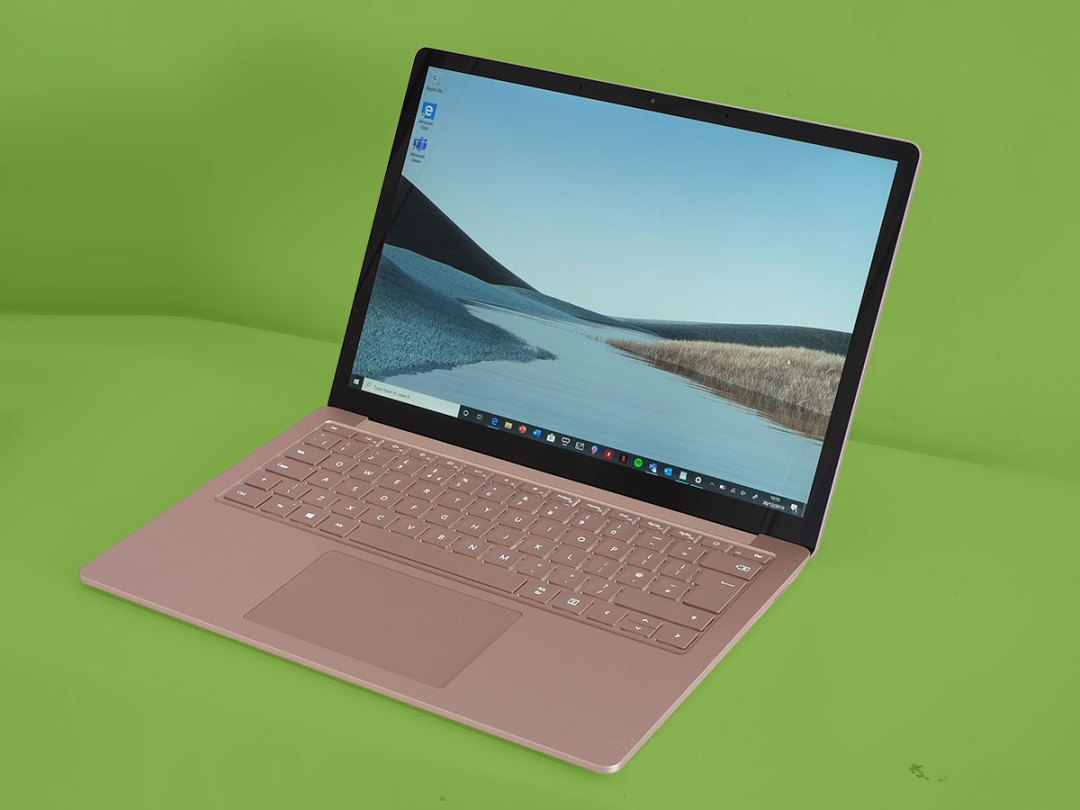 Years of reviewing laptops and hybrids, and watching Apple not-so-quietly chip away at the foundations of the very form, have taught us one thing. There's still loads of room for a plain old laptop.
The Microsoft Surface Laptop 3 is more-or-less what a MacBook Pro 13 would be like if Apple hadn't added and taken away the bits it has over the last five years. It has an excellent keyboard, crowd-pleaser connectors and absolutely zero fluff. And in return you save around £300 off the price off a MacBook.
There are loads of other great Windows alternatives in the "sensible MacBook alternatives" pantheon, from HP, Asus and Acer. But we're sure not sure any of them matches the sheer loveliness of the Surface Laptop 3. This really is a love at first touch laptop.
Design: Traditional luxury
Think "Microsoft Surface" and the image of a hybrid laptop may come to mind. That is not the Surface Laptop way.
This is a very conventional computer. It doesn't have a flip-around hinge or even a 180-degree screen. But it does feel fantastic. Microsoft doesn't use any of the furry Alcantara or magnesium-rich alloys of the other Surface laptops.
Our Microsoft Surface Laptop 3 is aluminium, for an unmistakably metallic feel. There's also an Alcantara version, for the furze-addicted. Add that to a virtually zero-flex shell and the impression is pure luxury. The aim is clear. Microsoft wanted to make a laptop that seems as fancy as a MacBook Pro, and it has done the job perfectly.
The Surface Laptop 3's side contours are a little more angular, but even this smells like a carefully contrived choice. It's slim and light enough too. At 1.3kg we've been happy to carry the Laptop 3 around all day. Sure, there are lighter options, but none are quite as sturdy.
Microsoft caters for nerds who were around before it was cool to be geeky too. The Surface Laptop 3 doesn't just have USB-C ports. There's a full-size USB 3.1 and a headphone jack too. Two primary connectors is a bit stingy, granted, and the USB-C doesn't support the ultra-quick Thunderbolt 3 standard. But we're glad there's a full-size USB and that the power connector is separate, so doesn't hog the USB-C.
Screen: Look sharp
The Microsoft Surface Laptop 3 has a 13.5in screen. This is a bit of an odd size. Most 13-inch laptop screens measure 13.3 inches across. It starts to make sense when you look at the screen shape.
This is a 3:2 aspect screen, one significantly taller than those of other laptops. It's worse for movies, naturally, but Microsoft would probably argue it is better for some productivity apps. Microsoft optimising for the boring stuff? Who'd have thought it? Either way this is a lovely screen.
Its 2256 x 1504 resolution is well above Full HD, and makes text in particular look sharper than a lot of 13in laptops hovering around £1000.
Colour is great, images look punchy and this is a touchscreen. The border is the one potential weak point.
Other laptop companies try to make their screen surrounds as tiny as possible, but there's still more than an inch of blank space at each side. In practical terms this means the Microsoft Surface Laptop 3 has a larger footprint than it might otherwise. We're not too bothered, though, when the laptop is good-looking as a whole.
Keyboard and Trackpad: Near perfect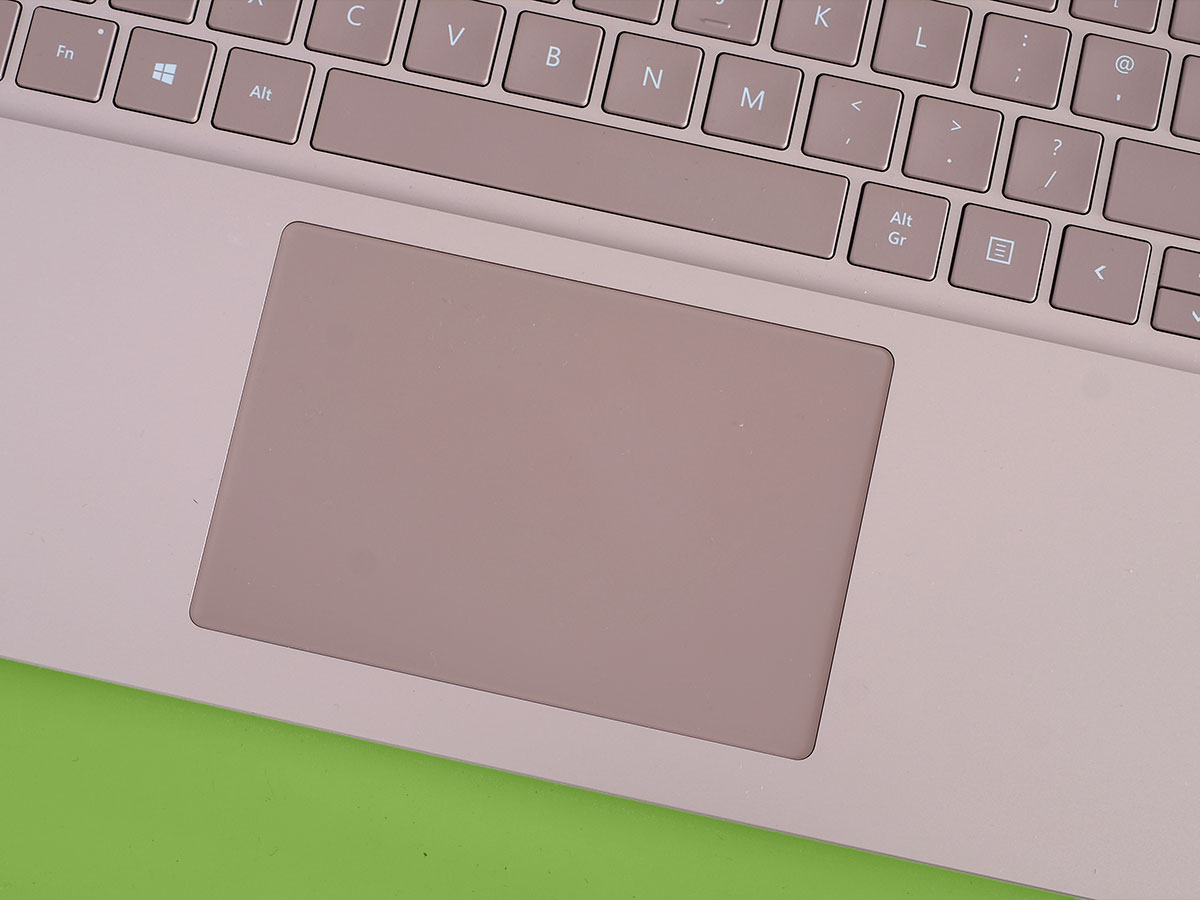 Remember when we got a bit slushy and started talking about "love" and laptops at the beginning of this review? That applies to the Microsoft Surface Laptop 3's keyboard too.
You might not be able to find a better keyboard outside of a Lenovo ThinkPad X1, and that laptop's deep-dish buttons are techy traditionalist catnip, which some Gen Z'ers might not quite understand. These keys are like those of any old style laptop, but better.
The slightly springy, meaty, reactive feel is brilliant, and makes almost every other Windows rival seem a bit inert. And, yes, this keyboard is a lot better than that of the MacBook Pro 16 if you ask us.
It also has a 3-intensity backlight. There are no compromises in the trackpad either. The Surface Laptop 3 has a fairly large glass pad with, as you'd hope, perfect driver integration. It behaves as it should. That sounds like a given, but it isn't.
The keyboard is one of the best around, but is the trackpad? Not quite. It's excellent, but the plenty of rivals have better glass texturing, which lets your finger glide across more smoothly. The minimal texturing here does result in the odd bit of finger judder. However, the click feel is superb, just as finely tuned as those keys we seem to be rapidly falling for. Microsoft says it has made the pad 20% since the Surface Laptop 2.
Performance: Better than average
Our Surface Laptop 3 has a 10th Gen Intel processor. It's the Core i7-1065G7, and is paired with 16GB RAM. Let's cut to it. This is not the version we recommend for most people.
Don't edit video, make music or do deep dive edits on 100MB images? The Surface Laptop 3 with 8GB RAM, a Core i5 and 256GB will probably do the trick. And it costs a lot less.
The basic Windows experience isn't going to differ too much between these two specs, and Windows 10 runs beautifully here. This review is also a good test of Intel's new processors. See that "G7" on the end of the Core i7-1065G7 processor name? That means it has a lot more gaming power than the standard stuff tacked onto an Intel CPU, thanks to Iris Plus graphics.
We're not blown away by the power here, but this Surface Laptop 3 can handle games a little better than the average style laptop. Skyrim runs well at Ultra settings at 900p, hovering around 29-32fps. Or you get around the same speed at 1200p, Medium settings. Alien: Isolation runs a bit better. Ultra settings at the native resolution is a bit of a stretch, dipping a bit too far into the 20fps range. But drop the resolution to 1200p and it mostly sticks around 30-42fps. That is more than playable.
This is not a gaming PC, but Intel's higher-end integrated GPUs get you closer to the performance of an entry level graphics card. We are also very impressed by how quiet the Surface Laptop 3 is under pressure. After a half hour of wandering around in Skyrim, dancing around giants, there was still just a quiet whirr coming from the back of the laptop. It makes us wonder how much thermal throttling it has to use, where a laptop slows down a bit when it gets hot. But we've not seen any radical dips here.
The Surface Laptop 3's speakers also make it much better for the fun stuff than you might guess. These speakers are great, and also weird. Microsoft uses "Omnidirectional" drivers that sit under the keyboard. There are no outlets on the side here. You can pretty much forget this odd design when using the Surface Laptop 3 and enjoy the results. The speakers have some of the best spatial imaging and tonal character we've heard in a Windows laptop, with natural audio that seems to expand well beyond the laptop's dimensions.
Their mid-range is unusually good too, which makes voices seem much more real than they would through the average set. Good as they are, the Surface Laptop 3 speakers are not in the same class as MacBook Pro 16's, which are so loud and big-sounding they seem to break the laws of physics. The bass also drops off here in busy arrangements, a result of Dolby processing that tries to squeeze the most out of tiny drivers.
Battery: Modest mouse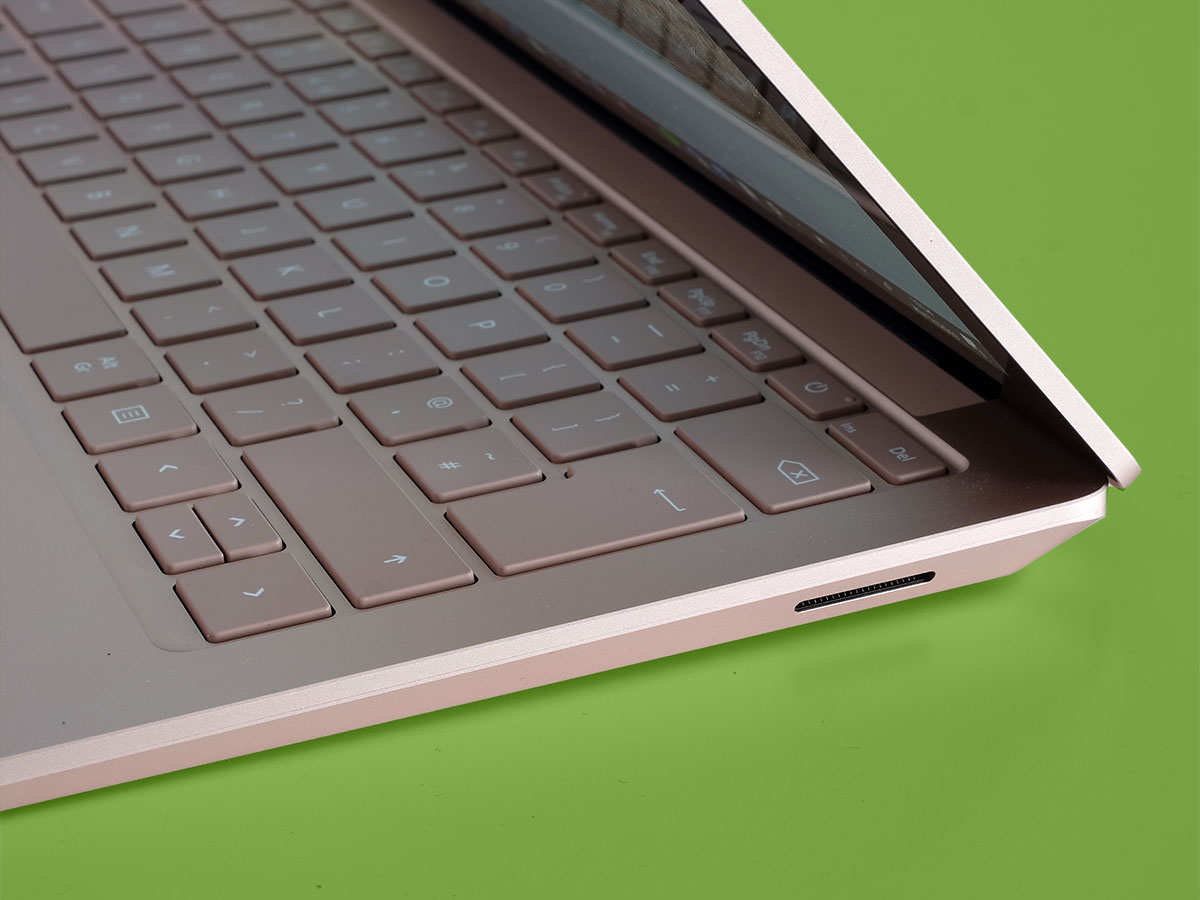 Almost every part of the Surface Laptop 3 seems carefully curated. So we were a bit disappointed to see it has just a 45.8Wh battery, smaller than the Dell XPS 13's 52Wh, but Microsoft claims it still lasts for 11.5 hours.
You can trust laptop maker battery claims as much as the average Tory MP, though, so we put it through some tests. Using it for nothing more than writing docs seems to let the Surface Laptop 3 last a little over 10 hours. An hour of YouTube streaming took nine percent off the battery level, again suggesting it'll last around 10 hours and change with a fresh charge.
With mixed use, and leaving a bunch of browser windows ticking away in the background as most of us do, you can expect the Surface Laptop 3 to last around eight hours. This isn't the longest-lasting laptop around, but it meets the gold standard of all-day use.
The Microsoft Surface Laptop also has a funky charger, one inspired by Apple's brilliant-but-binned MagSafe. It disconnects automatically when snagged, so your laptop isn't dragged onto the floor if you trip over the cable.
Microsoft Surface Laptop 3 verdict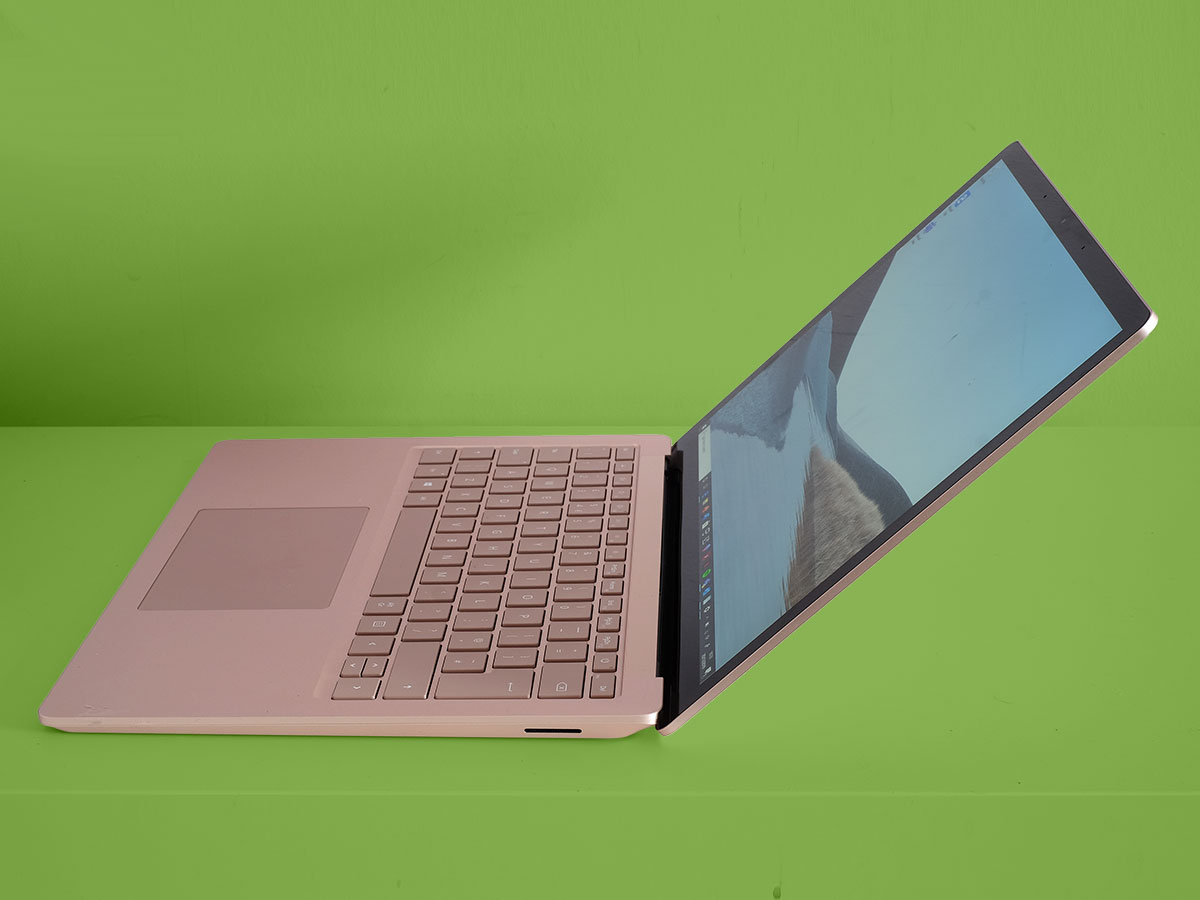 The Microsoft Surface Laptop 3 seems painfully plain on paper. There's no second screen, no graphics card, no hybrid hinge, and even no fingerprint scanner. But Microsoft has put so much attention to detail into every part that matters, this ends up one of the best Windows laptops at any price.
Its build is superb, the keyboard is fantastic, the screen is good and its unusual speakers are up there with the best available in Windows laptops. There's nothing showy here, and some rivals last a little longer between charges. But Microsoft has nailed everything it has focused on here.
Tech specs
| | |
| --- | --- |
| CPU | Quad-core 10th Gen Intel® Core i7-1065G7 Processor |
| Memory | 8GB or 16GB LPDDR4x RAM |
| Screen | 13.5in PixelSense Display, 2256 x 1504 (201 PPI) 3:2 Surface Pen* enabled Touch: 10 point multi-touch |
| Storage | Removable solid-state drive (SSD)4 options: 128GB, 256GB, 512GB, 1TB |
| Ports | 1 x USB 3.0, 1 x USB-C 3.1, headphone/mic jack |
| Weight | 1.5KG |
| Size | 3.4 x 9.6 x 0.57 inches (339.5 x 244 x 14.69mm) |
Stuff Says…
The Surface Laptop 3 is everything a laptop should be, if not everything a lot of modern laptops are today
Good Stuff
Superb keyboard
Great speakers
Excellent build quality
Bad Stuff
The USB-C isn't Thunderbolt 3
Purist design may seem feature-light