Motorola Moto G100 review
Are you Ready For this?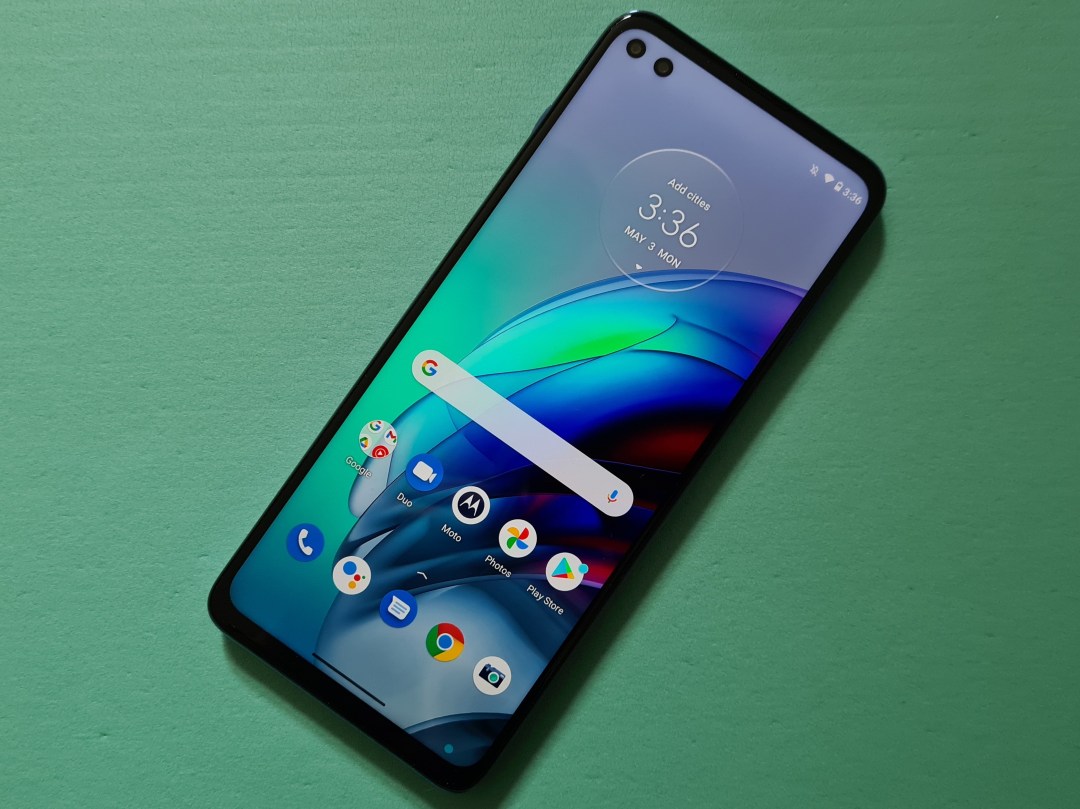 Don't be fooled by the name: the G100 isn't your typical Moto G.
The long-running smartphone series has regularly been a go-to for anyone on the hunt for an affordable handset, even as Motorola started experimenting with stylus input, 5G connectivity and colossal batteries.
This latest effort, though? It stretches the G series into proper mid-range territory, and does so with a productivity twist called Ready For. You could buy the G100 on its lonesome, but Moto would prefer you pick it up with a dock and cable for hooking the phone up to a TV or computer monitor. Think Samsung DeX and you're most of the way there, only without paying flagship money for the privilege.
Throw in six cameras, a top-end Qualcomm chipset and a high refresh rate screen, and on paper it should be a compelling alternative to OnePlus, Google Pixel or Realme. Will that work for a G-badged phone in practice, though?
DESIGN & FEATURES: SHINE ON ME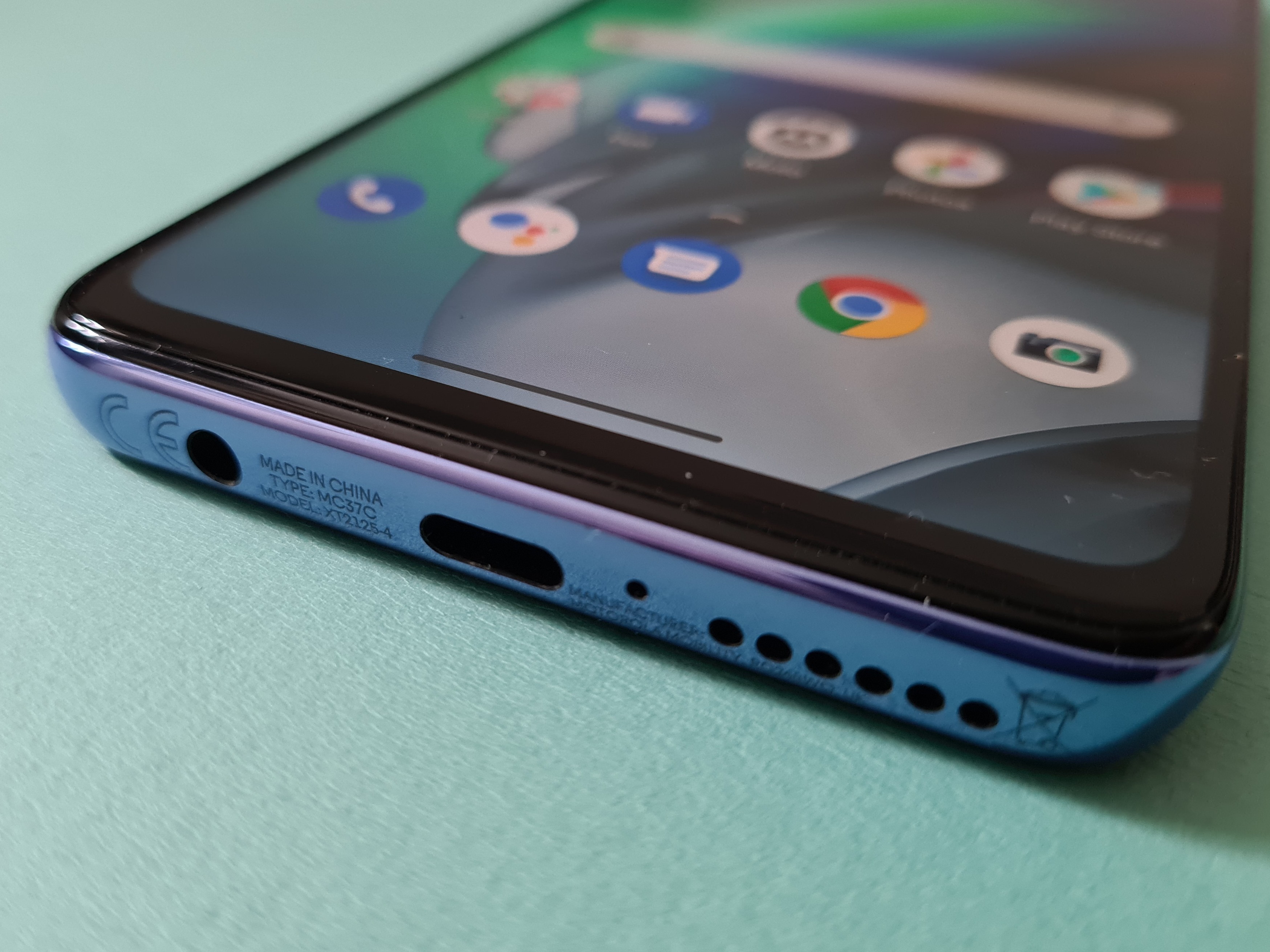 For a phone that promises all kinds of productivity prowess, the G100 doesn't exactly scream 'sensible' – the colour scheme is pure vaporwave, with a blue frame and colour-shifting purple plastic rear.
The curved rear, iPhone-like camera cluster and relatively slim display bezels hint at a premium device, but there's no escaping the fact this is a beefy handset: it's 9.7mm thick and weighs in at over 200g, so you're not going to forget it's sat in your pocket.
Motorola has gone for a side-mounted power button/fingerprint sensor combo, which is conveniently placed for right-handed users but less so for southpaws. It's at least quick to detect your digits. There's a dedicated Google Assistant button on the other side, but again is placed rather high and isn't always easy to reach.
There's no IP resistance rating here, just what Moto calls a "water repellent design", and as a mid-ranger you can forget about wireless charging. There are niceties like microSD card storage in addition to the 128GB of on-board memory, though, and a 3.5mm headphone port.
Let's not forget the Ready For accessories, either. Walk into a high street phone shop and you'll be able to buy a bundle containing the phone itself, a USB-C to HDMI cable and a docking cradle. The latter has a solid base to keep your phone safe from toppling over, but also uses a mix of plastics that feel cheap to the touch.
OS & SOFTWARE: READY PLAYER ONE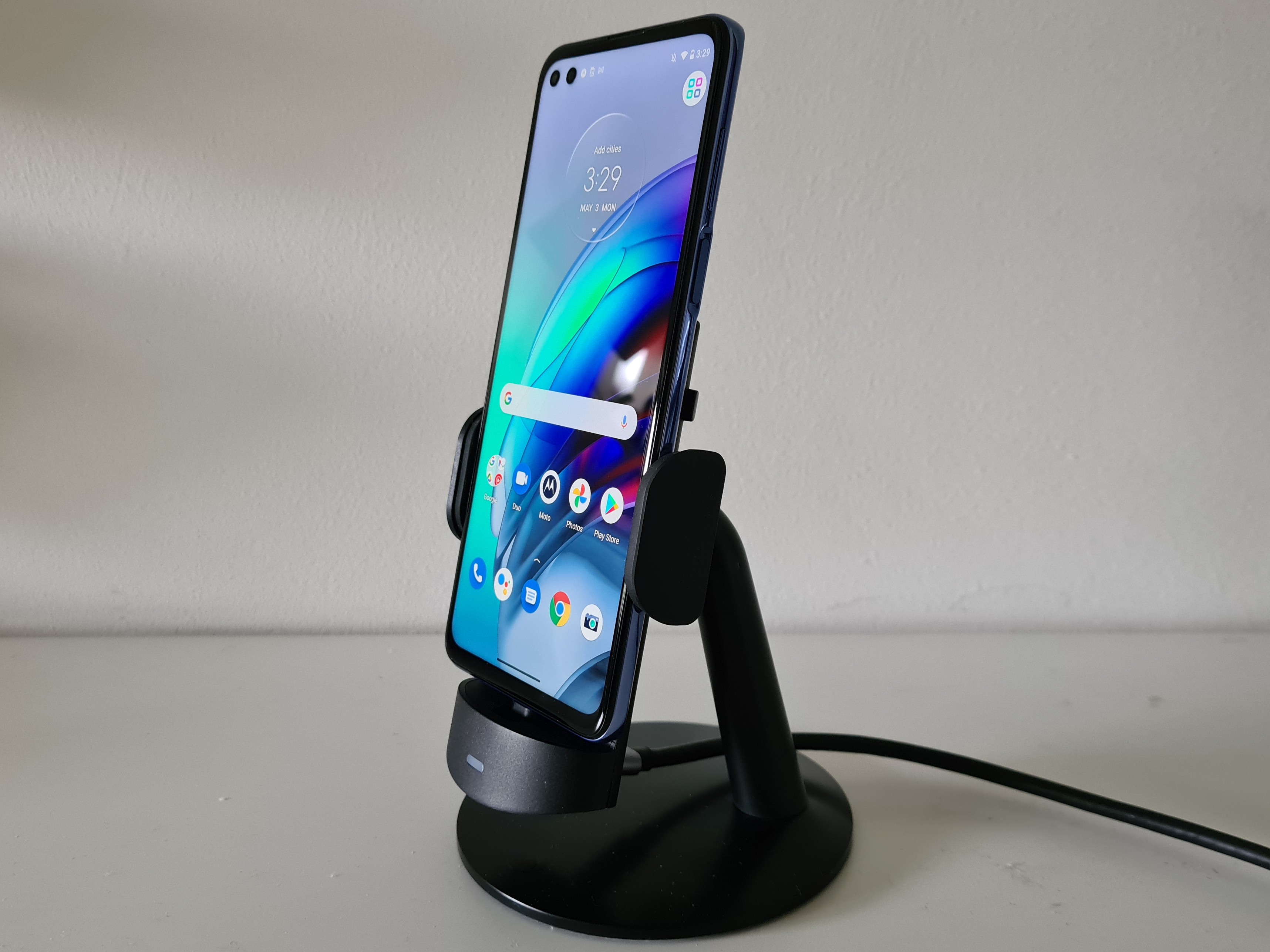 You won't spot an app or shortcut to launch Ready For – it starts up automatically when you plug the phone into the docking cradle, or directly to the HDMI cable. The cable doesn't have its own power for charging the phone while you're connected, but does have a pass-through port for hooking up the G100's bundled power brick and USB cable.
Once connected a Windows-like desktop appears on your TV monitor, complete with app shortcuts and a navigation bar. Most PC users will feel right at home. A Bluetooth mouse and keyboard are needed for any serious work, but if you don't have them, the phone's screen doubles as a multi-gesture touchpad for basic controls.
Like Samsung's DeX, app compatibility is a mixed bag, with some streaming video services refusing to work on the big screen. Several games we tested had no option for rebinding touch controls to a Bluetooth joypad. It's occasionally useful, with video calling being a real highlight, and you don't need to spend flagship money to get it like you do with Samsung, but we don't think Ready For is a feature that makes the G100 a must-buy.
Ready For aside, the G100 gets Motorola's now familiar take on Android. Save for a few extra apps, which let you tweak gesture controls and the at-a-glance lock screen behaviour, this is a near-stock experience. If you've used an Android phone in the last few years, you'll feel right at home.
DISPLAY & SOUND: BIG, NOT BRIGHT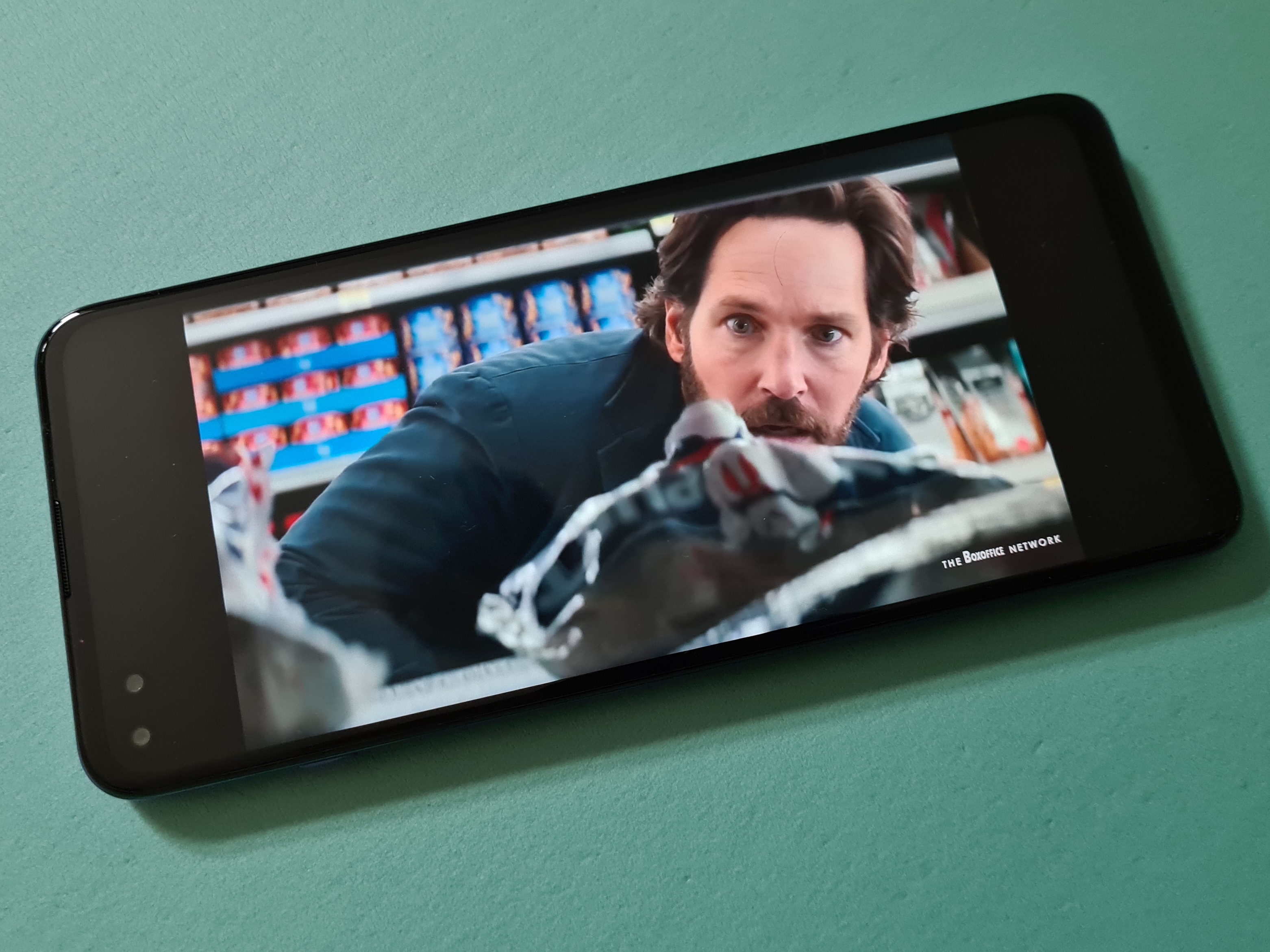 There's no AMOLED excellence here, but the G100's LCD display is by no means a bad one.
It's huge for a start, at 6.7in and with a 21:9 aspect ratio that'll definitely do justice to movies watched on-the-go. You also get a better-than-Full-HD 2520×1080 resolution, which looks crisp from a distance and stays sharp even with your nose pressed against the glass, and it supports HDR10 playback.
There's also the 90Hz refresh rate, a welcome step up from the 60Hz seen in most affordable phones, although not quite as responsive as pricier rivals. It defaults to an auto mode that ramps up the refresh when scrolling or watching video, then dials it back on static screens to save battery – but you can force it to always run at 90Hz for a smoother experience.
It's still LCD tech underneath, so contrast and colour vibrancy are simply OK, rather than outstanding, although they are fairly true-to-life. Outdoor visibility is pretty good, but overall brightness is fairly average. It won't disappoint for the price, but it won't wow you either.
Sound quality isn't all that great, with a single down-firing speaker lacking any real bass even when you crank the volume. The high-end is shrill and overpowers the rest of the frequency range. It'll do in a pinch for podcasts and YouTube videos, but it's a good job there's a 3.5mm headphone port.
PERFORMANCE & BATTERY: THE SWEET SPOT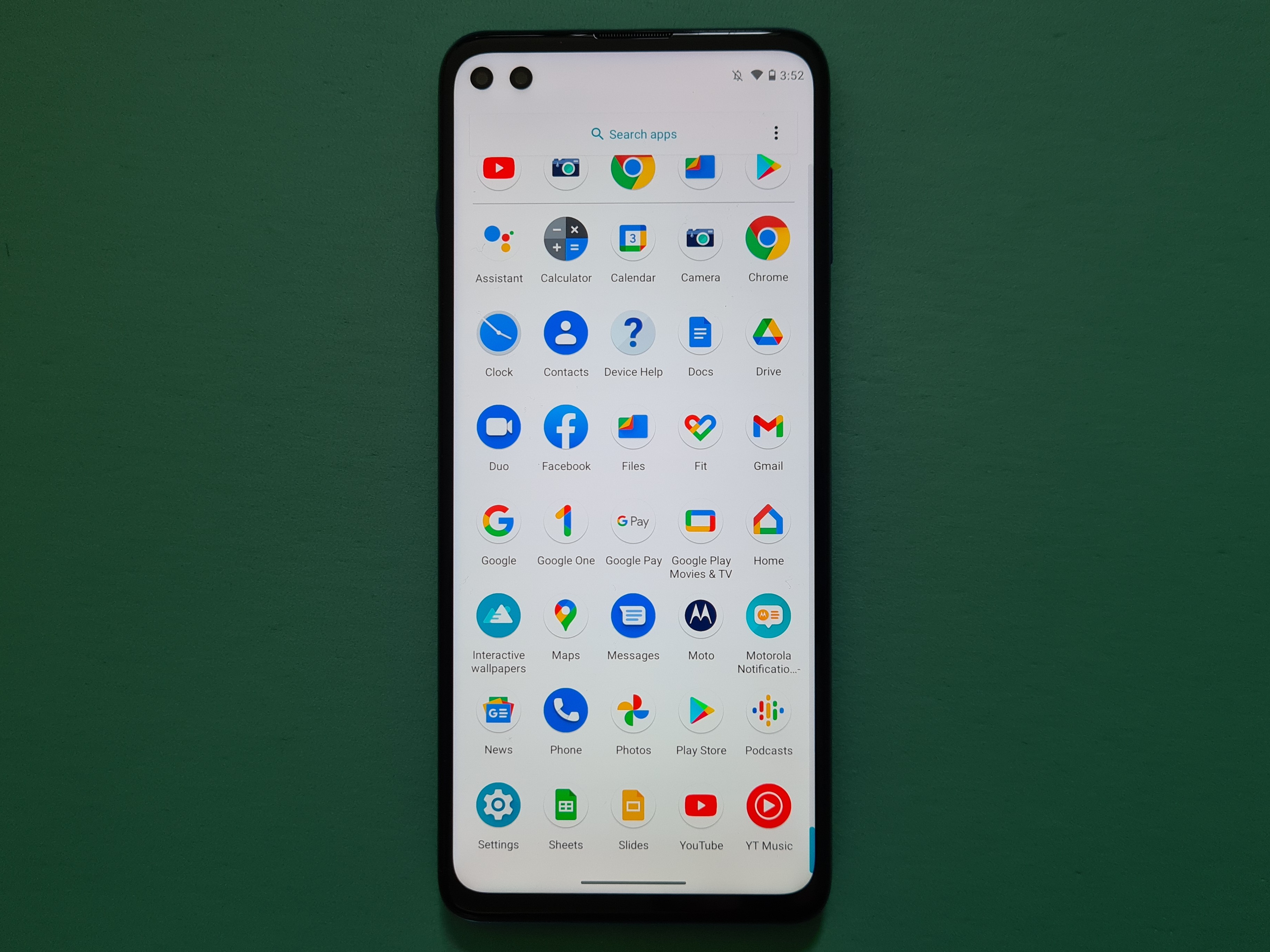 Here's where the Moto G100 really shines. It might not have the all-singing, all-dancing Snapdragon 888, but it still gets top-spec Qualcomm silicon.
The Snapdragon 870 is still an eight core chip that'll boss most things in the Google Play store, and wipes the floor with mid-range rivals that make do with the lesser 6-series CPUs in synthetic benchmarks. Paired with 8GB of RAM, it's more than able to keep Android feeling smooth, quickly loading and swapping between apps.
Gaming performance is equally top notch, running every title we tried without any signs of stutter or lag, and defaulting to the higher detail settings. Call of Duty Mobile was no problem, and the notoriously demanding Genshin Impact was perfectly playable. Pricier rivals with Snapdragon 888s might deliver higher frame rates, but it's comfortably quicker than the Google Pixel 4a, and powerful enough to make the most of the 90Hz screen without being overkill.
A 5000mAh battery sounds like a perfect match to a power-hungry CPU, but while sensible use will comfortably see you through from breakfast to bedtime, it doesn't have the staying power of some rivals. Even with the screen refresh rate set to automatic and brightness at 50%, it falls several hours short of a Moto G10 when streaming video.
Charging isn't all that fast, either, at 20W from the bundled power adapter. A full charge takes over two hours, which is rather pedestrian in a world where 50W and even 65W rapid charging is common in even mid-range devices.
MOTOROLA MOTO G100 CAMERA: SIX APPEAL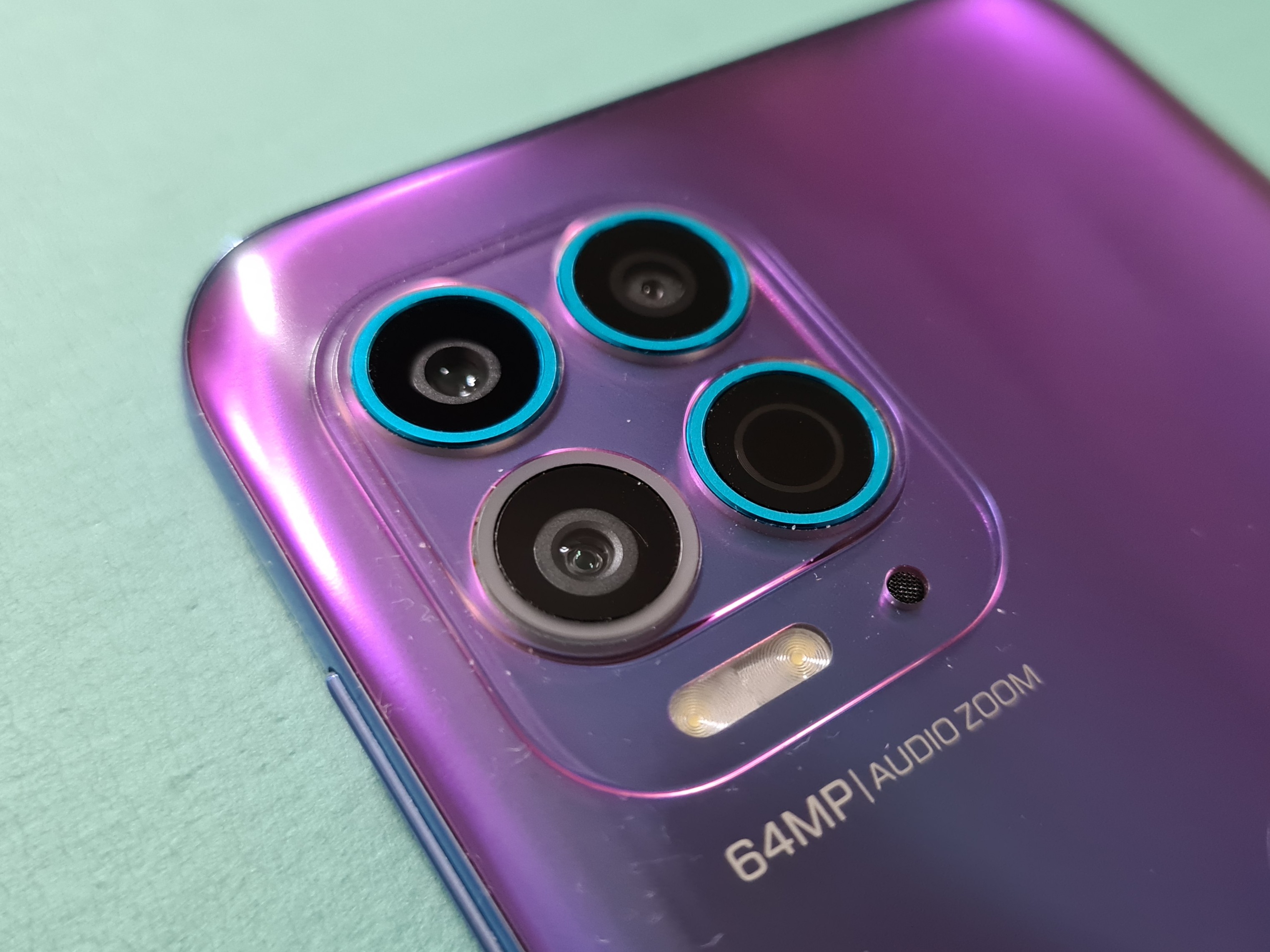 Whichever side you look at, the Moto G100 has no shortage of camera lenses. There are four on the rear: a 64MP main snapper, 16MP ultra-wide, 2MP depth-sensor and a 3D time-of-flight sensor.
Sometimes less is more, though. The time-of-flight and depth sensors might help speed up focus times and assist with bokeh blur, but not to a noticeable extent. It feels about as quick as similarly-priced alternatives that do without the extra hardware, and portrait shots are merely on par with rival phones that use software-based edge detection.
The ultra-wide snapper is a good effort, thanks to built-in autofocus and colour accuracy that's almost (but not entirely) on par with the main sensor. Dynamic range could be better, and there's noticeable grain once you start pixel-peeping, but it's on par with most rivals in the same price bracket.
We also liked its ability to double as a macro lens, complete with ring flash. You won't be taking microscope-style close ups like you can with the Oppo Find X3 Pro, but it can still produce impressively sharp results from just a few centimetres away from your subject.
The main event uses pixel binning to snap 16MP images, although you can force it to capture the full 64MP if you want, but the improvement in detail isn't worth the extra file size. There's no denying the amount of detail on show, and colours are reproduced faithfully, but it leans towards overexposure and doesn't have the best dynamic range. Expect blown out light sources when shooting at night, even with the dedicated night mode. Image processing can be a little heavy-handed in places, too.
On the front, you get a 16MP main selfie cam and an 8MP ultra-wide, but again it's a case of diminishing returns. The ultrawide takes softer images that aren't quite as balanced as the main sensor, which also uses a quad-Bayer sensor for 4MP images. That's tiny compared to some rival cameras, and forcing the full 16MP results in images that look overly upscaled. The Pixel 4a makes do with half the number of camera sensors, yet produces images that are better than the G100 in almost every scenario. The Moto isn't bad, per say, but neither will it blow you away with its photographic ability.
MOTOROLA MOTO G100 VERDICT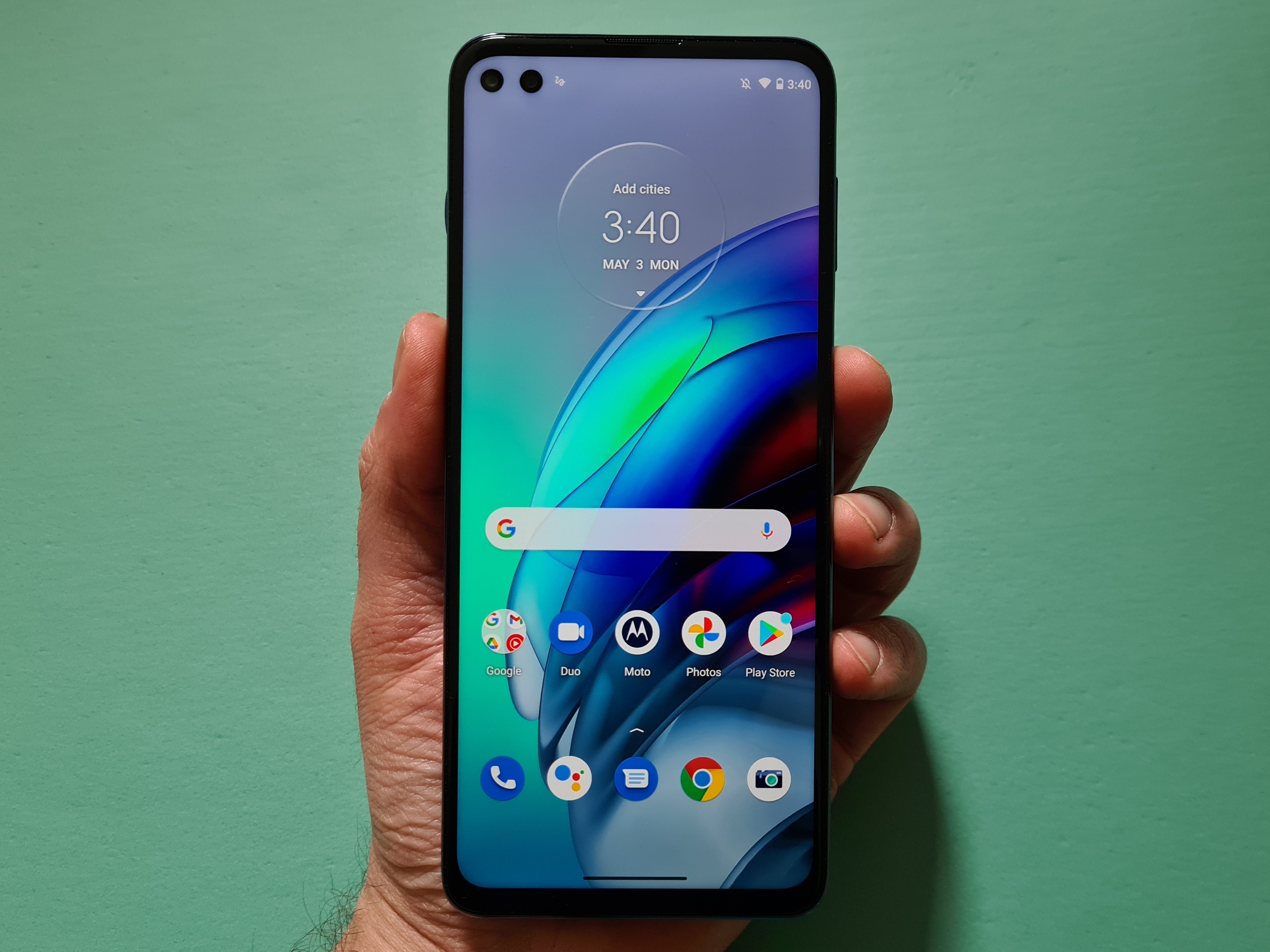 In isolation, the G100 is a powerful mid-ranger with decent enough battery life and a screen that should appeal to gamers. A near-stock Android experience leaves little to grumble about, but it isn't without issues.
Only two of the quad-sensor camera sensors are worth writing home about, though, and a second selfie cam seems like an unnecessary indulgence at this price. Smaller hands may not appreciate the chunky dimensions, and charging could be a little faster too.
It's whether the productivity and big-screen focus adds any value that will determine the G100's true appeal. The Ready For dock and software work well as a laptop alternative, and with Samsung DeX limited to to-end Galaxy phones, the Moto is a significantly cheaper path to desktop domination. But if you have no use for it, there's little on offer here you won't find elsewhere, and potentially for less cash.
Tech specs
| | |
| --- | --- |
| SCREEN | 6.7in, 2520×1080 LCD w/ 90Hz refresh rate, HDR10 |
| CPU | Qualcomm Snapdragon 870 octa-core |
| MEMORY | 8GB RAM |
| CAMERA | 4MP, f/1.7 w/ PDAF, laser AF and dual-LED flash, 16MP, f/2/2 w/ PDAF, 2MP, f/2.4 depth sensor, TOF 3D sensor rear. 16MP, f/2.2 plus 8MP, f/2.4 front |
| STORAGE | 128GB on-board, microSD expansion |
| OPERATING SYSTEM | Android 11 |
| BATTERY | 5000mAh non-removable |
| DIMENSIONS | 168x74x9.7mm, 207g |
Stuff Says…
Breaks new ground for the Moto G line-up, but only to limited effect. Unless you have specific plans for the productivity-focused accessory bundle, there are plenty of mid-range rivals that are more well-rounded.
Good Stuff
Capable mid-range hardware
Respectable battery life
Software extras don't ruin stock android UI
Bad Stuff
Camera sensor overkill with mixed results
Productivity focus won't appeal to all
Chunky build doesn't feel very premium