Nanoleaf Aurora + Rhythm review
Welcome to your smart home's new sci-fi wallpaper...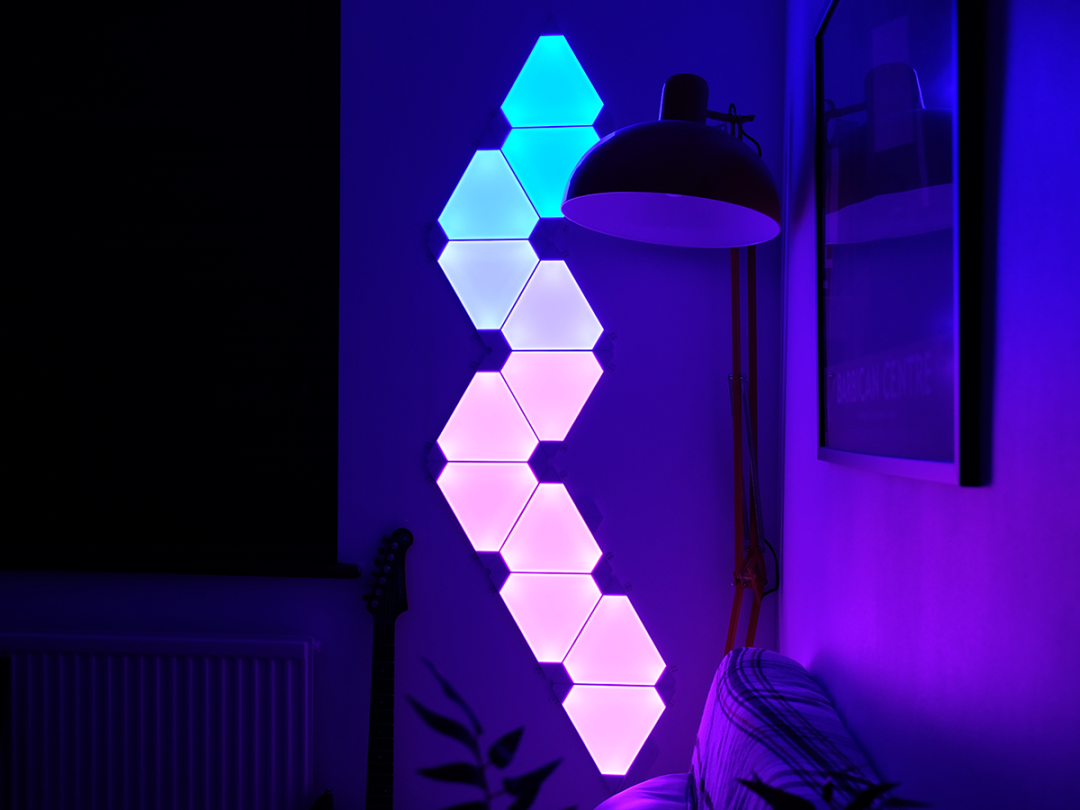 So you've tinkered with Ikea Tradfri and horsed around with Philips Hue. Now what?
Well, there is now an even brighter, bolder place for smart light addicts to go. Nanoleaf has been making fancy, energy efficient bulbs since 2014, and its new crowning glory is this modular 'art installation'.
The Aurora Smarter Kit contains nine triangular LED panels, which you can fix together in virtually any pattern on your wall, before standing back to admire their dazzling, customisable light show.
Even better for impressing party guests and pets is the new Rhythm module (an optional £50 extra), which plugs into one of these panels and syncs your Aurora's colours to music played in the room.
Should you buy it at the expense of upgrading your knackered washing machine? Of course not – Aurora is pure gadget indulgence.
But after fearing that it might have the longevity of Christmas lights, I think it might just be the most spectacular bit of smart home tech you can buy…
Design and setup: lighting's on the wall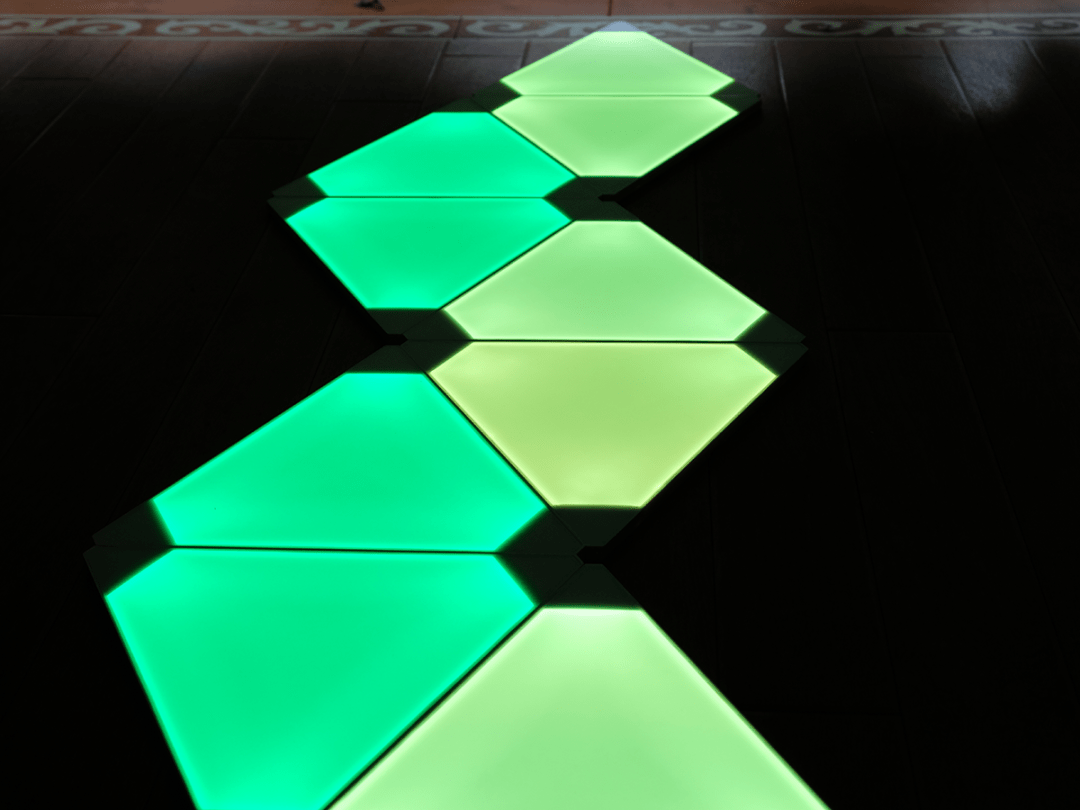 One of the best things about the basic Aurora kit is how versatile it is.
Those triangular panels can be connected on any side via the included 'linkers', which means you can create a pattern that both snakes around your room's furniture and is quite possibly unique.
Naturally, the only restriction is that one end needs to be a near a power outlet. Otherwise, you can mount your panels around corners with the optional 'flex linkers' (it's £9 for a pack of nine), and grow your pattern with expansion packs (£55 for a pack of three panels).
If you're looking to turn your lounge into the Ministry of Sound, the system can support up to thirty panels, but bear in mind this relieve your wallet of almost £600.
Does Aurora take a similar hit on your electricity bills? Not likely – each panel is an energy efficient LED, so you'll get 100 lumens from each at a maximum cost of 2W power (at full brightness).
Still, as spectacular as a plugged in Aurora is, there are a couple of design-based downers.
Firstly, the default way to mount the panels is by using the bundled 3M command strips. While these adhesive stickers are suitable for painted walls and plaster, they're not really recommended for wallpaper and do feel a bit 'university houseshare'.
For uneven surfaces or wallpaper, you're best off going with the optional Screw Mount Kit (£23). This is slightly pricey and possibly involves craft knifing the hexagonal mounts into the right shape.
Aside from the slightly fiddly mounting options, my other quibble is how Aurora looks when turned off. I'm not sure I've used a gadget with such a big contrast between its 'on' and 'off' states – without the power on, the panels look a tad plasticky and toy-like.
Giving each panel a metallic frame would no doubt have pushed the price towards an original Hockney painting, but this means it's probably best suited to offices, kids' rooms, hallways and guest rooms, rather than your lounge.
Once you do flick that 'on' switch, though, they suddenly look like £180 well spent…
Features: lots of bright ideas
Before I gush on about how amazing Aurora looks in person, it's worth mentioning why these lights are 'smart' rather than just a bulb with decent GCSEs.
Nanoleaf has done a fine job at making sure its lights can talk to whichever smart home platform you've chosen: Aurora works with Alexa, Google Assistant and Apple HomeKit. There's also an IFTTT channel for connecting it to things like Flic buttons and hubs like Samsung SmartThings.
If you've got an Amazon Echo or Google Home (or just want to use Siri on your iPhone), you can voice control your Aurora lights, even telling them to change to a particular 'scene'.
Philips Hue veterans will already be familiar with this concept – they're basically presets for your lights' colours, brightness and behaviour.
Because my Google Home app imported all of these individual scenes when I connected it to the Aurora, I can just say "Hey Google, turn on flames" and it'll know to start a flickering, orangey brown routine. Which is nice, as long as your neighbours don't think you've had an accident with the deep fat fryer.
While these scenes are Aurora's nine-to-five, it can also let its hair down in spectacular fashion on weekends thanks to that optional £50 Rhythm module.
This module makes it a pretty unique option for house parties or just pretending you're DJ-ing in front of a packed dancefloor at home.
It's technically possible to sync Philips Hue lights to music, but the Aurora's dedicated hardware definitely makes a difference, particularly as it lets you plug your music source directly into its 3.5mm jack (albeit at the slight expense of its looks).
Performance and the app: leading lights
So, how do the Aurora lights look in person? Pretty stunning, actually – photos and videos don't really do them justice.
The panels are bright, punchy and capable of shining in 16.7 million different colours, which means it can genuinely live up to its billing as 'living paint'.
From a distance, it looked like someone had shot a load of triangular Portal holes in my wall.
The app (below) also lets you indulge in some serious tweaking.