Next Media Tablet 7in review
Why look at an iPad or Galaxy Tab when Next has an Android tablet available for under £100?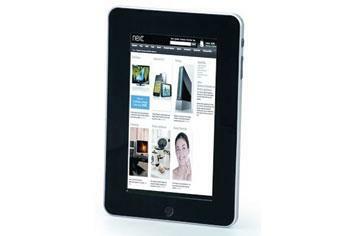 Building a tablet is an unusual foray into the world of consumer electronics for high-street fashion chain Next, but as there's nothing more en vogue than a slimline touchscreen computer right now it seems like a logical leap. What is more surprising is the price.
While Samsung and Apple remain at the wrong side of £400 for the Galaxy Tab or iPad, and even budget specialist Advent can only manage £250 for its viciously low-cost Vega, Next's 7in Android machine doesn't even break three figures.
It even looks the part, with a single Home button on one of the shorter edges and a solid black and silver finish. Who cares that the build quality isn't quite up to Apple's standard when you could buy four of these for the price of even the cheapest iPad?
Cut-price computing
True, you won't complain about the build quality, but you'll still wish you'd spent more. The Next tablet turns out to be underpowered in so many ways it's impossible to really recommend.
For a start, it runs a very old version of Android, 1.6, without access to the Market and the apps you'll be most familiar with, such as Spotify, Evernote, LastPass etc. There's been no attempt to customise the operating system for the hardware, either, and the references to a missing SIM card, phone hardware and – bizarrely – Ethernet port show a significant lack of attention to detail.
It's not all bad, even though the screen is a single-touch, resistive piece of glass, it's quite responsive and accurate. Viewing angles aren't great, but for simple tasks like web browsing and email it's fine.
If you can get email and the web up and running, that is. The 300MHz processor simply isn't up to the job in hand and the task of switching is painful and slow, while complete lock-ups are frequent. It's made worse by the fact that the restricted App Market doesn't have a useful background task killer.
Like budget Android phones, there's a lot we'd be prepared to sacrifice for a cheap tablet that just does the basics very well. The Next 7in Media Tablet could have been that machine, but it has too many flaws to fully forgive.