Nvidia Shield Tablet review
We put Nvidia's miniature mighty slate through its paces to see if it really is the best gaming tablet ever made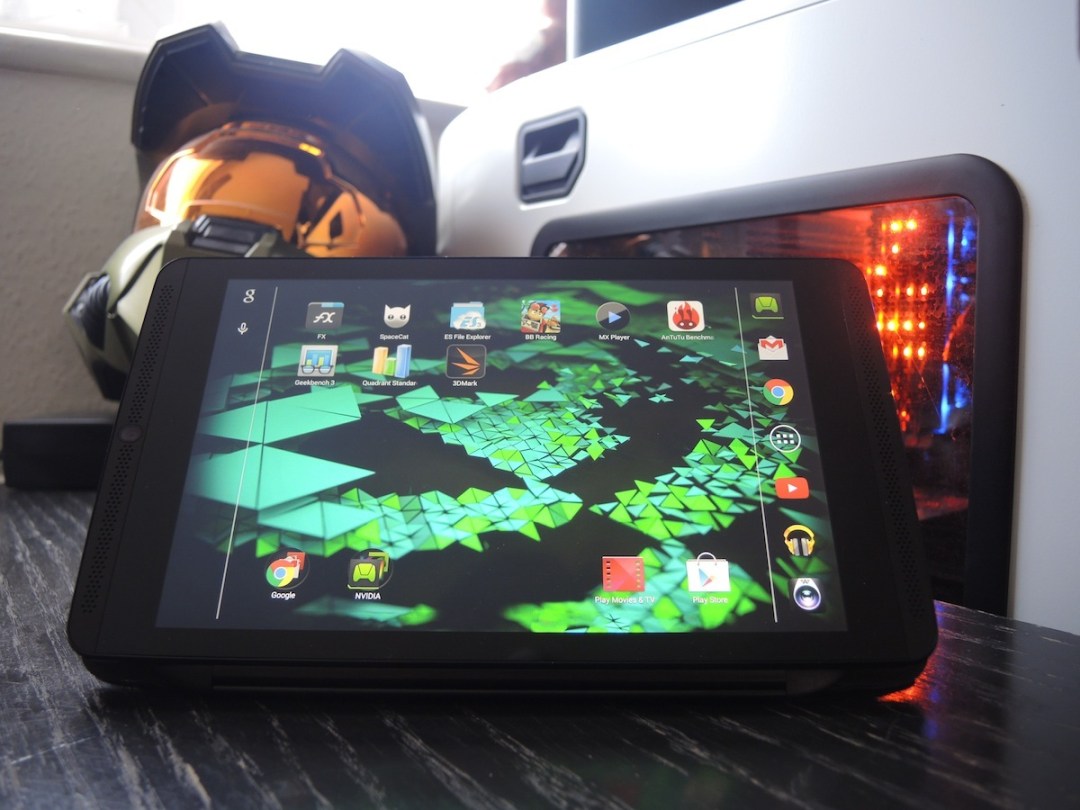 Game how you want, where you want.
That's Nvidia's tagline for its Shield Tablet, and it promises to open up a world of super powerful on-the-go gaming, thanks to the beastly Tegra K1 processer that lurks beneath its shell.
Promising an unparalleled Android and PC game-streaming experience, the Shield certainly isn't shy when it comes to selling itself. But does it live up to the hype?
Simple yet solid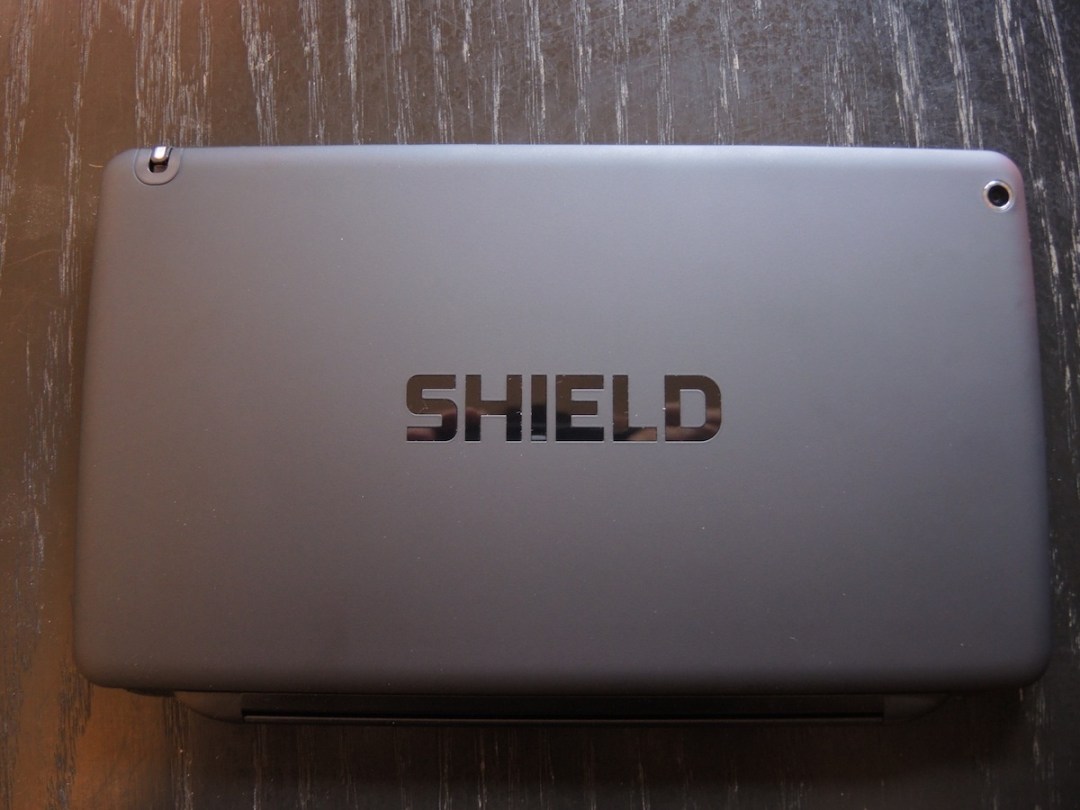 At first glance, the Shield Tablet looks like a giant HTC One, thanks to its rounded corners and dual front-facing speakers.
Unlike the HTC and the iPad Air however, there's no metal in sight. The rear of the Shield is slathered in plain black matte plastic, and while obviously not as premium as metal, it looks smart and feels pleasantly grippy.
It also feels reassuringly weighty in the hands and doesn't creak or flex if you try to bend it.
Camera-wise, there's a 5MP front-facing offering for video chat and (shudder) selfies, along with another 5MP snapper on the rear, both without a flash.
The left hand side remains bare, leaving room for an optional (but in our opinion, necessary) magnetic cover which doubles up as a stand. The cover itself is soft on the inside and made out of tough, durable rubber on the outside, which should protect the screen from any accidental drops, although it won't do anything to save the rear.
The right side of the Shield features a power button, volume controls, a microSD slot for expandable storage, a stylus slot, and a mini HDMI port. More on those last two later and on the top you'll find a bass speaker vent, a headphone jack and a microUSB port.
The Shield's dual front-facing speakers pack quite a punch for a tablet. They're loud, crisp, and don't distort, even at higher volumes with a HTC BoomSound-esque quality to them.
Overall, the Shield Tablet's design is safe and solid. It won't draw eyes on the catwalk, but that's OK, it doesn't need to. The build quality – bar slightly squishy volume and power buttons – coupled with its grippy rear makes it comfortable in hand.
A screen for gaming
The Shield Tablet's 8in Full HD IPS screen looks lacklustre on paper when compared to the likes of 2K slates like the Samsung Galaxy Tab S 8.4.
In general use however, you won't notice its lower 283 ppi count. Not unless you spend the majority of your time tapping away at the screen with your nose that is.
Colours on the Shield's bright display are well-balanced, serving up bright, vivid hues without suffering from unrealistic oversaturation.
The same can't be said for the contrast however. While IPS panels can never match the true blacks of an AMOLED display, blacks on the Shield's screen look more of a dark grey in comparison to the iPad Air.
The difference in whites is even more noticeable. Next to an iPad Air, whites on the Shield look positively dark and creamy, and are begging for a sprinkle of Daz.
Generally though, you only notice this sort of stuff when you're meticulously comparing different screens side by side. In general use and gaming, the Shield's screen is still sharp and pleasant to look at, and you shouldn't have any complaints.
Our only other complaint is that you'll struggle with glare if you're using it outside, which could make headshots a problem when you're spraying bullets at enemies. Still, it's unlikely you'll be doing this beneath the glaring sun on a park bench so it's not a dealbreaker.
Stick that in your benchmark pipe and smoke it
The Tegra K1 processor that's nestled within the Shield's unassuming black shell is an absolute beast. We don't like getting bogged down in numbers as real-world experience is always more important, but we couldn't help ourselves:
Antutu: 52,796
3D Mark: 31,358
Those numbers mean nothing on their own of course, so let's try and put them into perspective. The 3D Mark score isn't massively far away from the Acer Iconia W701's score of 39,592 – and that's running an Intel Core i5 processor.
Its Antutu score also comfortable beats pocket powerhouses like the mighty Galaxy S5 and HTC One (M8) by almost 10,000 points and it scores higher than the Galaxy S5 in Geekbench too.
Tegra K1 Time
High numbers are impressive of course, but they still don't mean anything at all if lag and stuttering is present.
Thankfully the Shield has neither, and Android 4.4 runs smoother than a greased-up cheetah.
Multi–tasking, app switching and of course gaming, are all handled with ease thanks to a combination of that beastly K1 processor and 2GB of RAM.
This is meant to be more than just a regular Android tablet however. We want more than just snappy apps. We wanted a truly portable, no-compromise gaming experience. And the Shield delivers.
A gaming portal in your hands
Vegetarians turn away now. You've reached the deliciously succulent meat of this review.
The Shield is billed as the ultimate gaming tablet, and for the most part, it absolutely delivers.
There are a number of ways you can enjoy games while you're on the move. The simplest way is to play existing Google Play store games and obviously they're handled with ease. But that's boring, and it's certainly a waste of that powerful Tegra silicon.
Enter the Nvidia Hub.
It's a dedicated portal to made-for-Shield games that take advantage of all that power, and includes heavy PC-hitters such as Half Life 2 (sold separately).
Valve's legendary FPS is handled extremely well by the Shield's innards. It looks sharp and plays smoothly, and it's quite humbling to think that it outperforms the below-par PC we first tried to run it on nearly ten years ago.
Combined with a mini HDMI cable (which annoyingly isn't included in the box), the Shield brings Half Life 2 to a 25in 1080p monitor, effectively turning it into a portable gaming PC/console.
There's more. Trine 2 is a side-scrolling adventure game that's pre-installed and included in the price of the Shield. We had trouble getting it up and running and had to faff around re-installing it, but managed to get it running in the end.