Pure Digital Evoke-1S review
Already swapped the 4x4 for a mountain bike? Turned your washing machine down to 30 degrees? Here's the next step…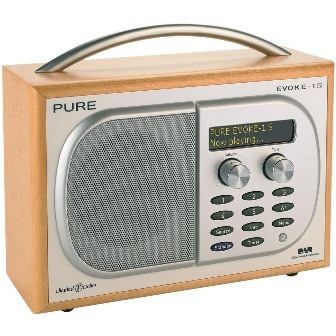 It's obvious that it ain't broke at Pure Digital, which is why the company doesn't feel the need to fix it. The Evoke-1S is the third generation of the wildly successful Evoke range, but you'd never know it to look at it. Where it counts, though, the Evoke-1S is a thorough overhaul of the old Evoke-1XT. 
Free-range and organic
For this latest version of the Evoke, Pure Digital has included some changes worthy of the eco-conscious times – and that's beyond the sanctimonious plastering of the packaging with pictures of leaves and trees and other 'eco' things.  
The Evoke-1S's display is an organic LED, which is a win-win move. OLEDs need no backlighting, which is a power-saver, and they're much easier to read than LCDs too. Small-font text scrolling across the Evoke-1S's display is smooth and legible at all times.  
Then there's the ChargePak. Bigger Pure Digital models have featured this before, but this is the first Evoke to be ready to accept the rechargeable unit. It's £30, true, but it's good for the thick end of 24 hours continuous playback between charges – and it charges on board the radio.
Cleaner than a Prius
The 1S uses less than one watt of power when on standby, and there's extensive use of recycled materials in the packaging too. If you're prone to agonising about just how big your carbon footprint is, this radio shouldn't add to your guilt.  
Its performance should make you feel even better. The Evoke-1S grabs hold of all DAB stations, even in marginal reception areas, and does well with them all.
It's capable of solid low frequencies, expressive voices and crisp top-end sounds, and can blend them together smoothly. Even though it's a mono radio, there's good separation to the sound and significant drive when necessary.  
For £100, then, show the planet how much you care and do your ears a favour at the same time. 
Related reviews