Razer Blade Stealth 13 (2019) review
It's good-looking, light and quiet – can this light gaming laptop punch above its weight?
Razer's Blade Stealth notebooks have always been slim, light and small, but the latest model of this machine improves on last year's laptop in numerous important ways.
It's even lighter than its predecessor and that older machine was hardly a backbreaking piece of kit. The screen bezel has been slimmed down, the resolution has gone up, and the physical design is subtler than it was before.
On the inside you've got beefed-up and newer components, including a graphics chip that's designed from the ground up for esports and a factory-fresh processor that promises extra performance. It's not cheap, though – the model we've got here costs £1,799, and even the most affordable version will set you back £1,300.
It looks the part, then, and it's even better than it was before. But is it worth it?
Design & Build: Under the Radar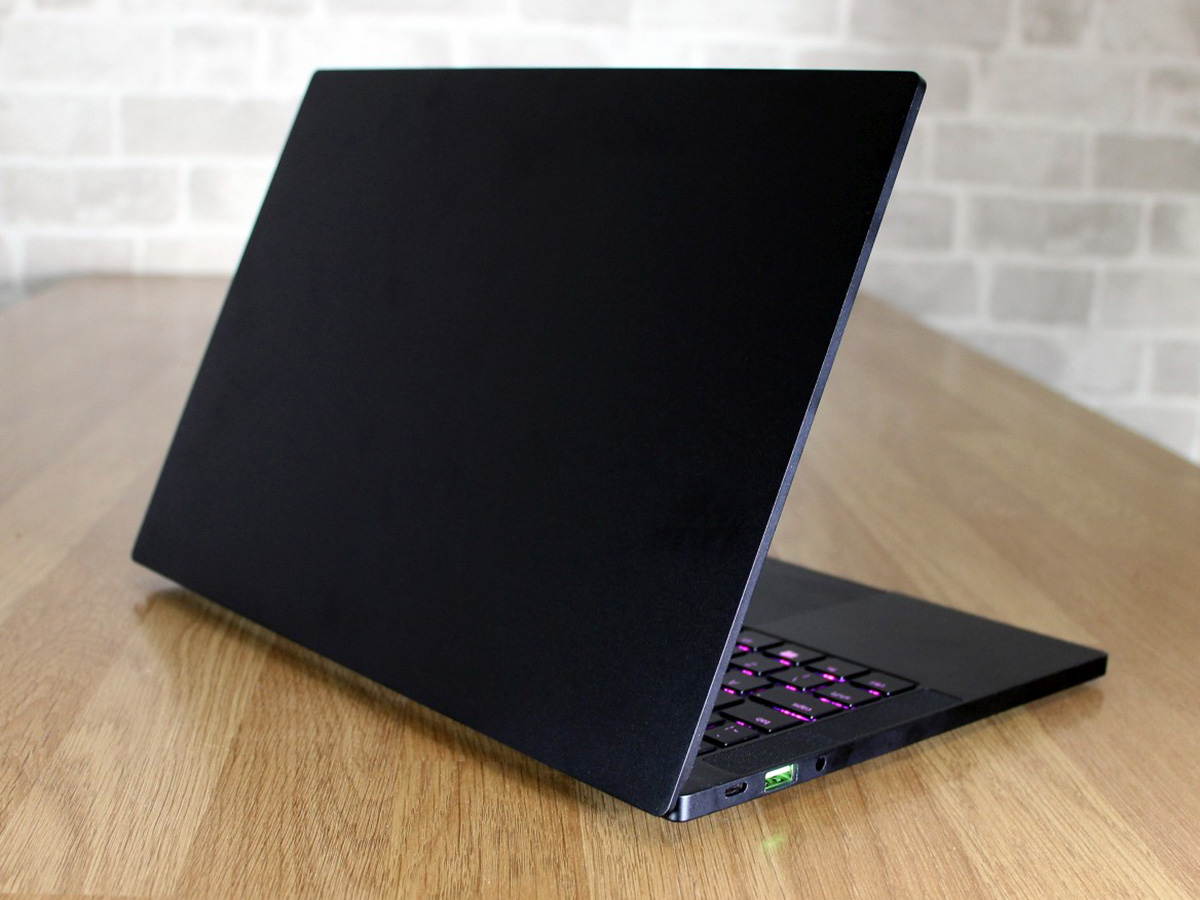 Screen & Sound: Pixel Problems?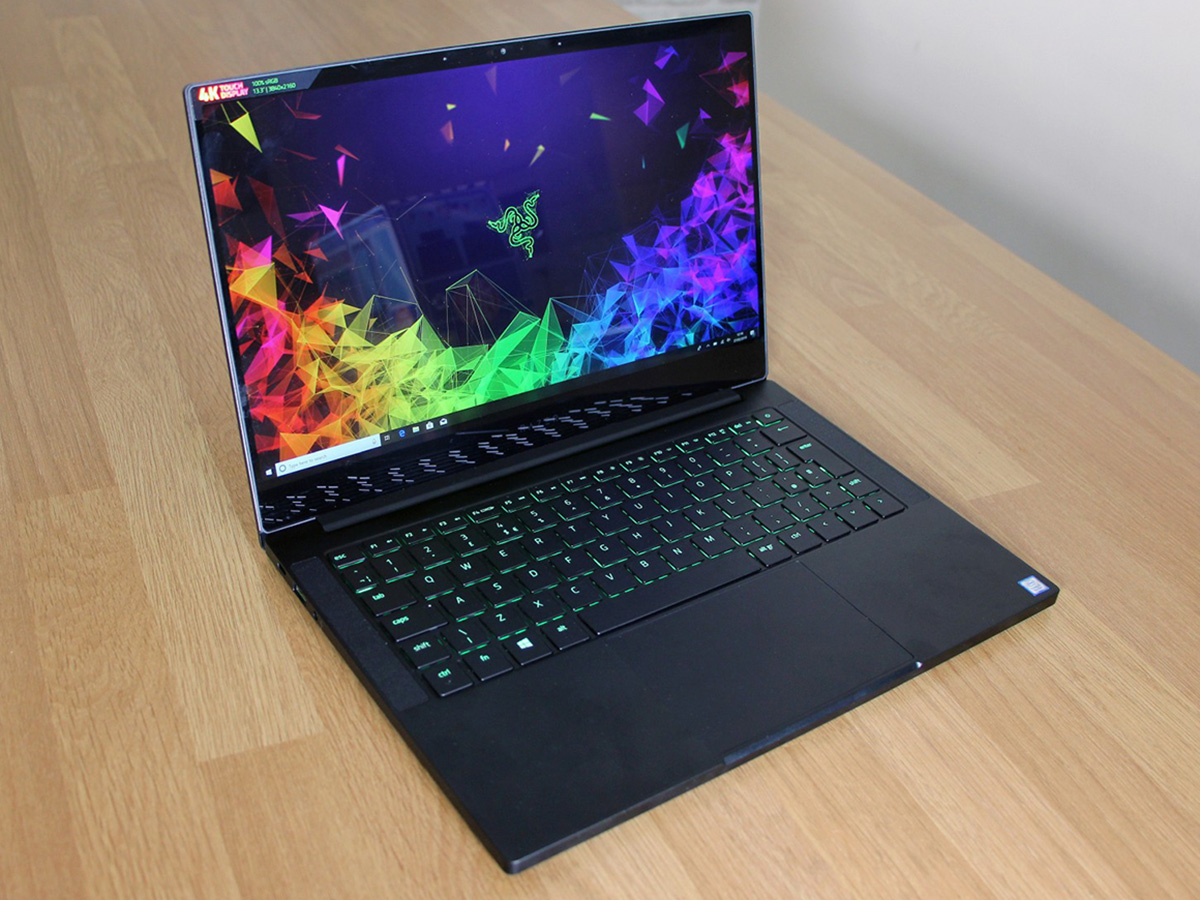 The Stealth has a stonking 4K touchscreen that adheres to the sRGB colour gamut and arrives with individual factory calibration. It's got a tiny bezel, too – far narrower than last year's model.
That's a stellar specification, and the 4K resolution gives this screen an incredible density level of 331ppi – a pixel-perfect measurement that's more often seen on smartphones rather than laptops.
The screen is sharp, but you're definitely going to have to use Windows 10's scaling options to make things legible.
It leaves the Stealth's 4K screen feeling like an anomaly, because few people will make use of its huge resolution. At least this laptop is also available with a 1080p panel. Quality levels, at least, are decent. The brightness and black levels of 348cd/m2 and 0.25cd/m2 are great, delivering huge punch and depth – and the contrast level of 1,392:1 serves up huge vibrancy.
The Blade's screen has an incredible Delta E of 0.14 and a colour temperature of 6,751K – so the colours offer spot-on accuracy. And, while the sRGB gamut coverage level of 90.5% isn't the best, it's easily good enough for gaming and browsing the web.
The speakers are decent, too: punchy and clear at the high-end and the middle of the range, and with enough volume to fill a room. The bass is too modest, unsurprisingly, and a headset will usually be better – but the audio kit here is easily good enough for casual gaming, movies or music, and certainly better than lots of other gaming notebooks and ultraportable.
Performance: Remixed Graphics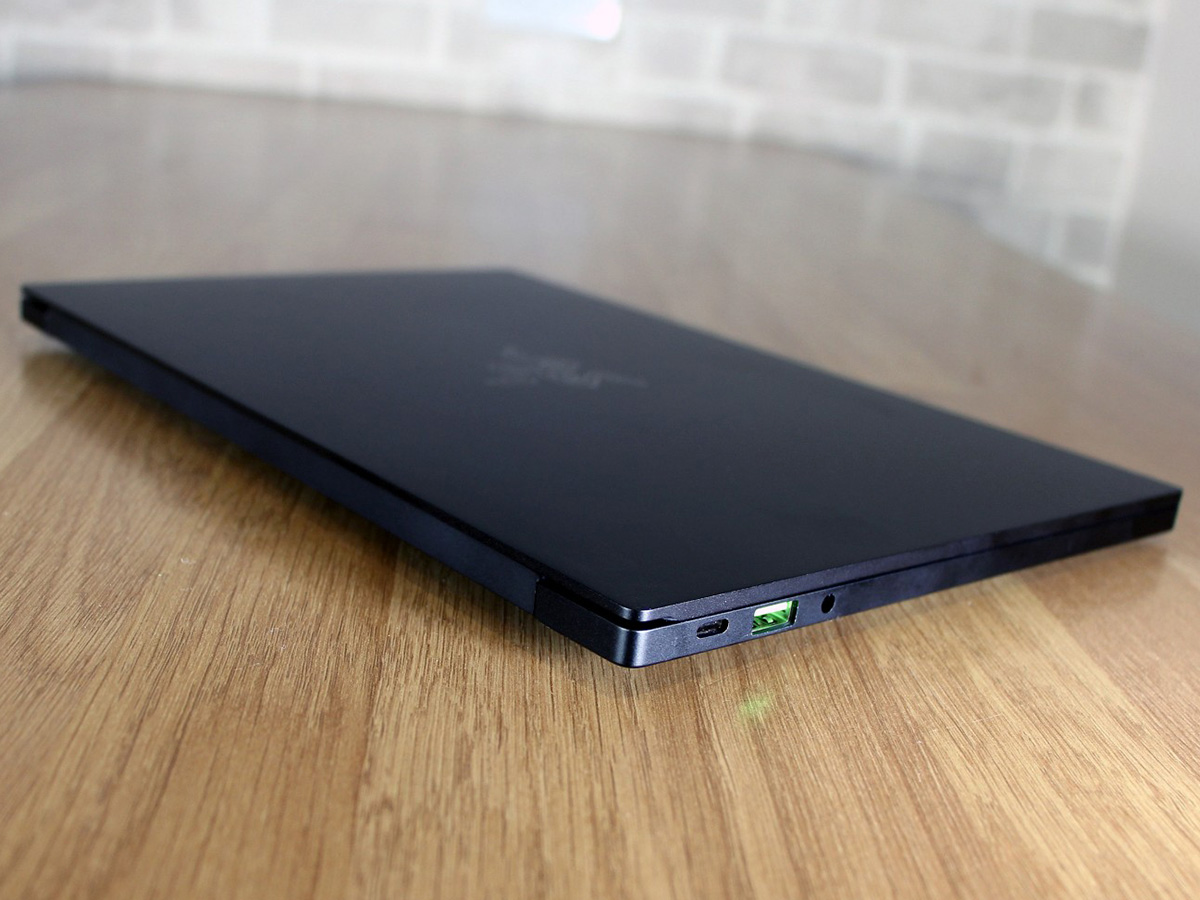 This Blade Stealth includes an Nvidia GeForce MX150 – a modest graphics chip designed for esports and low-end gaming. Nvidia actually produces two of these cores – a weaker model with slower speeds and 2GB of memory, and a faster model with 4GB of memory.
HP's cheaper machine had the weaker GPU, but Razer has installed the better model inside the Blade Stealth. There's clear air between the two.
In 3D Mark Fire Strike the Razer's chip scored 3,275 points – about 700 more than the weaker chip. However, that score is still miles behind the beefy RTX 2060, which will score around 15,000 points.
The MX150 will handle all of today's top esports games – from Fortnite and Overwatch to Apex Legends and League of Legends. It'll also handle older and less-demanding single-player titles.
However, if you want to play top-tier games like Shadow of the Tomb Raider or Battlefield V then you're going to have to either dial back the graphics settings or reduce the resolution.
Forget about 4K, too. An Intel Core i7-8565U processor accompanies the graphics chip, and it's paired with 16GB of RAM and a 512GB SSD. The CPU uses the Intel Whiskey Lake architecture, which refines the Coffee Lake hardware that's deployed in most rivals. It runs at 1.8GHz with a Turbo peak of 4.6GHz, and it's got four Hyper-Threaded cores. It's also used in the latest Dell XPS 13.
Older chips tend to have the same core count and base speed, but lesser Turbo abilities. The upgraded chip delivered Geekbench results of 4,973 and 15,294. They're stellar – easily enough to handle Office tasks, photo-editing, web-browsing and gaming.
They also compare well to older parts – including those found in laptops like the HP. Intel's U-branded Core i5 and Core i7 chips are around 800 points slower in the single-threaded test and 3,000 points behind in the multi-core benchmark.
The components didn't cause any thermal issues. The Blade produced a bit of fan noise when gaming, and a little more when running a full-system test – but it was never loud, intrusive or too hot.
The Blade's battery, meanwhile, is nothing special.
f you're watching video or running normal work applications then you'll get five hours from this machine – and maybe a couple of hours more if you turn off the RGB LEDs and turn down the screen brightness. During games you'll get three hours at most – less if you run trickier titles. That's better than most conventional gaming notebooks, but several hours short of the best Ultrabooks – and not good enough if you want to use this laptop all day away from the mains.
The model we've reviewed is the priciest Stealth 13, and two more are available. All three include the same Core i7 CPU and battery. The cheapest model costs £1,299 and drops down to a 1080p screen, 8GB of memory and integrated Intel graphics. The middle model, which costs £1,499, has the 1080p panel but includes MX150 graphics and 16GB of memory. That middle model offers the best value by retaining the dedicated GPU but ditching the redundant 4K screen. There's no denying, though, that all of these Blades are expensive.
It's certainly possible to find MX150 laptops for much less than £1,000. And, if you take the £1,499 or £1,799 you'd spend on a Blade with an MX150, you could easily find a conventional gaming notebook with an RTX 2060 GPU
Keyboard & Touchpad: A Lighter Touch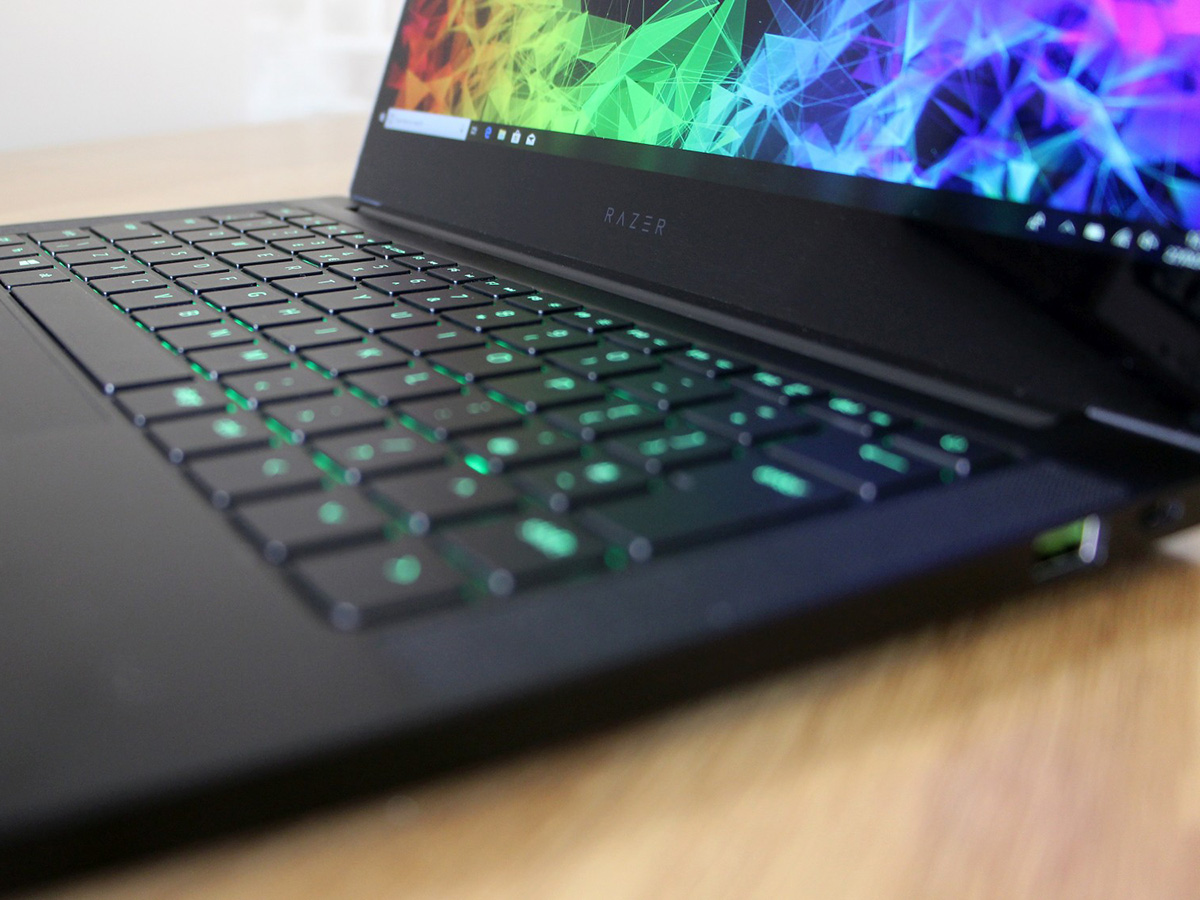 The keyboard is mixed. It's got per-key RGB LED backlighting that can be managed through the intuitive Razer Synapse app, and plenty of options are crammed into the function row.
The buttons are reasonable. They're comfortable and consistent, with a soft, quiet action. For working and for casual gaming they're fine.
The Stealth is small, though, and its keys have very little travel or weight – which means that keener gamers will be frustrated when comparing this unit to the taller and firmer buttons found on conventional laptops.
The buttons on the Blade are a little smaller than those on most other laptops, too, which doesn't help accuracy during gaming. The glass trackpad is large and smooth, and its two in-built buttons aren't bad – they're reasonably shallow and snappy. As ever, though, a USB mouse will still be better for gaming.
Razer Blade Stealth 13 Verdict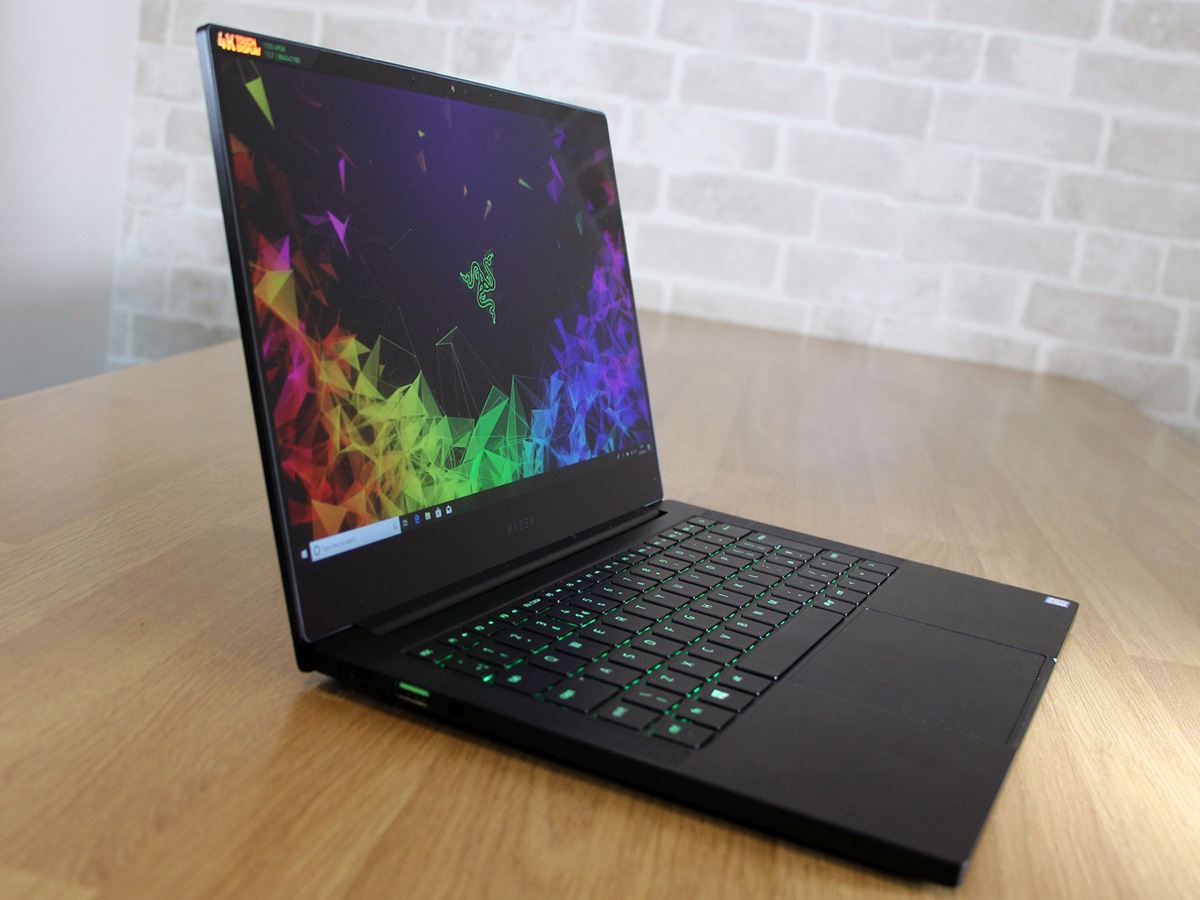 The latest incarnation of the Razer Blade Stealth is stunning – it's slim, light and subtle, with great screen quality and enough CPU and GPU performance to handle conventional work tools, esports titles and modest games.
It's not without compromise, though. The keyboard is soft and shallow, and battery life is mediocre.
And then there's the pricing. The model we've reviewed offers arguably the poorest value because few people will make use of its 4K screen – whereas the mid-range option, with the MX150 and a 1080p screen, offers far more bang for your buck. Whichever way you look at it, though, all three of these machines are pretty expensive.
You could get this amount of power by spending less elsewhere, or spend this amount of cash on a much more capable machine by giving up a little portability.
If you do desire a machine that's tiny, light and capable of a bit of gaming, though, the Razer Blade Stealth 13 is excellent – and it's a great option if you want a brooding ultraportable for work, too. Just be aware of its prices and compromises before you take the plunge.
Tech specs
| | |
| --- | --- |
| Screen | 13.3in 3,840 x 2,160 touchscreen |
| CPU | 1.8GHz Intel Core i7-8565U |
| Memory | 16GB |
| Storage | 512GB SSD |
| Operating System | Windows 10 Home |
| Connectivity | 2 x USB 3.1, 1 x USB 3.1 Type-C, 1 x audio |
| Battery Life | 5 hours |
| Dimensions | 305 x 210 x 14.8mm, 1.3kg |
Stuff Says…
Great design and reasonable performance, but it's expensive and only handles casual games
Good Stuff
Enough power for esports and casual games
Smart, slim and sturdy design
Impressive screen quality
Different specifications available
Bad Stuff
Expensive, no matter the model
Can't handle high-end games
Mediocre battery life
Underwhelming keyboard for games