Realme GT review
A smartphone supercar that doesn't cost a fortune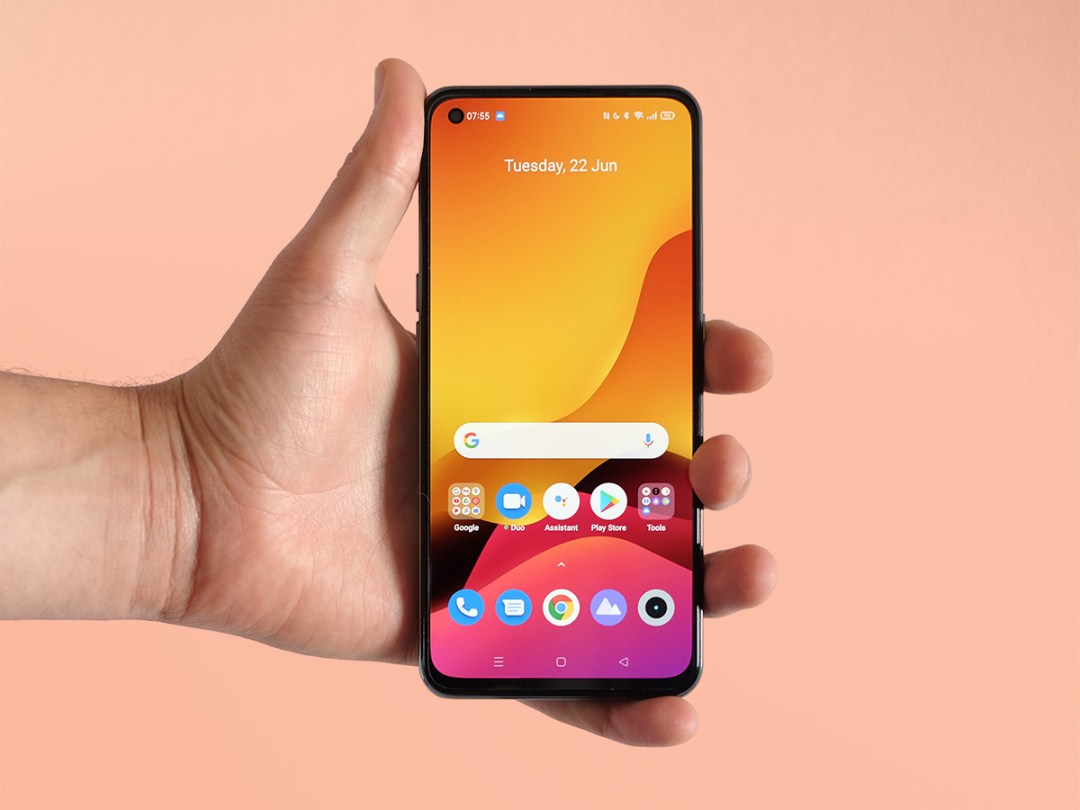 The Realme GT is out to blow minds. It's a ~£449 phone with the Snapdragon 888 processor, the same brains used in Androids twice the price.
Do we have a OnePlus 9 killer on our hands? Yes and no. The Realme GT is a beast of a phone for gaming. The fast processor doesn't ride solo as it is matched with fast storage and RAM. It's the full performance package.
Add stereo speakers plus a great 120Hz OLED screen and you have a pretty great all-round entertainment device on your hands. However, the Realme GT's cameras are not all that, more like the stuff you find in cheaper Androids. And, in the version we have at least, its design is more like some of the phones hovering around £200-250.
The Realme GT is a 5-star Android for a certain kind of phone user. No argument there. But it's not quite the impossible value magic trick it can seem on paper.
Price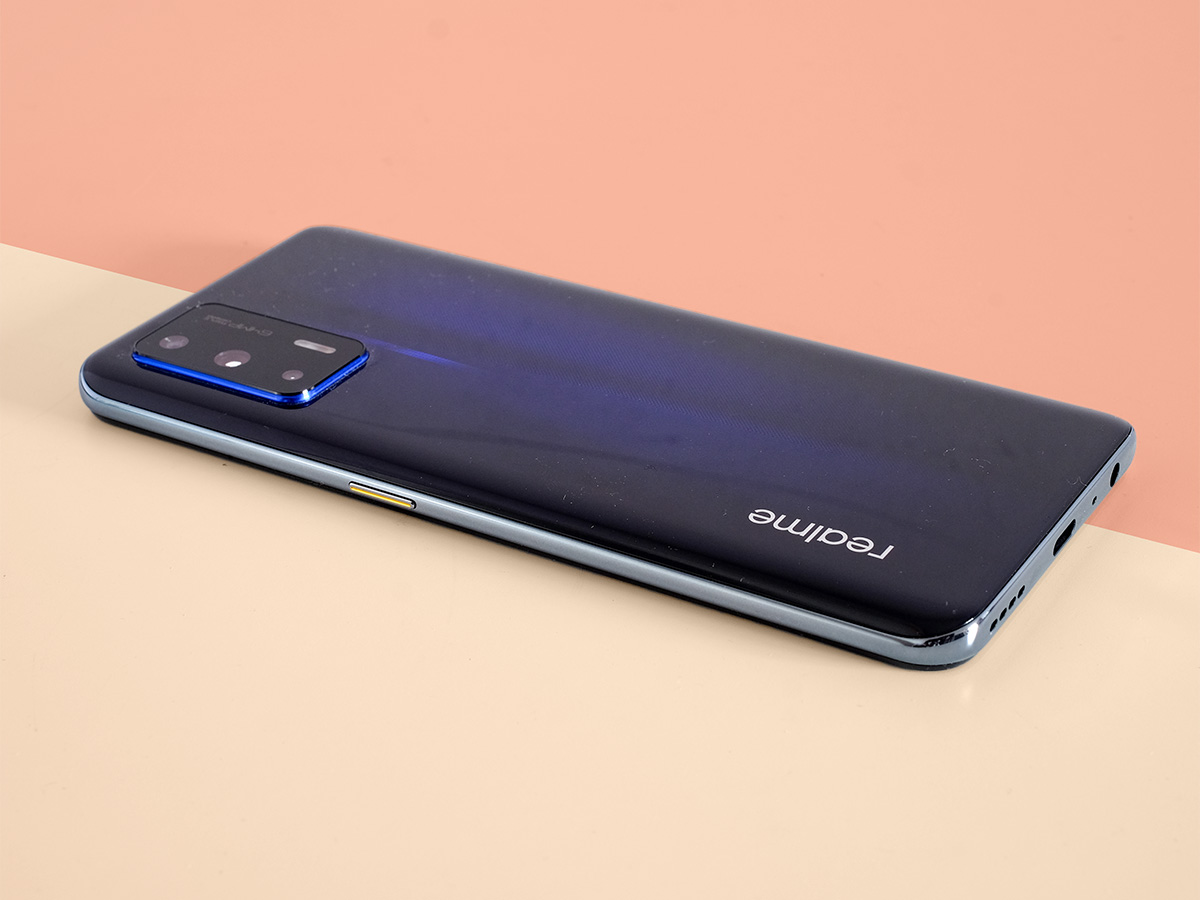 How much does the Realme GT cost?
It's not an easy one to answer right now for UK buyers. You actually have to import it, either from Europe or China, via Ali Express. And on the day we're writing this only the Chinese import is actually available.
This opens you up to potential customs charges, and means we can't tell you exactly how much you'll pay in the end. The official Realme GT price is 449 Euro for the version with 128GB storage and 8GB RAM. Or 599 Euro if you'd rather have 256GB storage and 12GB RAM.
It's a bit of a headache for us in the UK, but around the launch is absolutely the time to buy because there's also an "early bird" sale. This sees those prices drop to 369 Euro and 499 Euro respectively. And if you manage to pay around those figures in pounds, it's a deal that makes the issues we'll get onto later seem small beer, particularly if you go for the cheaper Realme GT.
Even at its normal price the Realme GT is far cheaper than the OnePlus 9, which is kinda the point. Its closest like-for-like competitor might be the Motorola Moto G100, which has a step-down Snapragon 870 processor, plastic body and less impressive screen. Either way you look at it the Realme GT is a bit of a bargain.
Features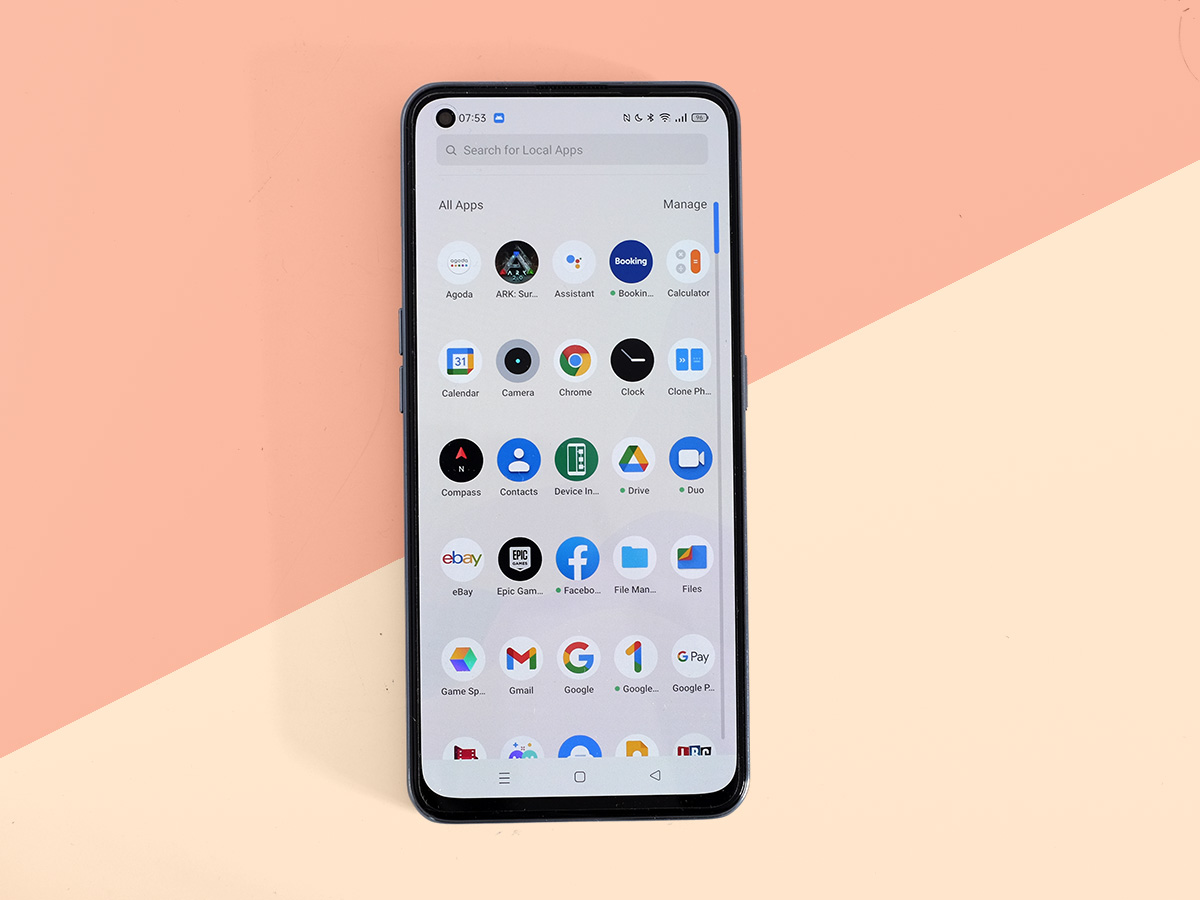 Three little numbers get to the core of why you'd buy a Realme GT: 8 8 8. This is the cheapest phone we've used with this top-end Qualcomm Snapdragon 888 processor to date.
It has around twice the CPU power, and almost three times the graphics power as the Xiaomi Redmi Note 10 Pro's Snapdragon 732G.
The Realme GT is an almost incomparable bad-ass for gaming. Of course, that may change when other companies try this same high-power, low price concept. But Realme rival Xiaomi's cheapest Snapdragon 888 contender right now is the Xiaomi Mi 11 at £749. Not even close.
Fortnite runs beautifully on the Realme GT, as do slightly less challenging games like Asphalt 9 and Ark: Survival Evolved. Unlike truly high profile phones like the Samsung Galaxy S21 Ultra, Epic Games does not (yet) let you run Fortnite at the 90fps mode it unlocked for some similarly powerful Androids. But the raw power is here.
The Realme GT has the right screen and speakers for the job too. It's a Full HD 120Hz AMOLED display: perfect contrast, great colour and good maximum brightness. And the phone has a stereo speaker array, which is always a big benefit for gaming. Would the Realme GT feel more like a 'gaming' phone with a bigger screen? Sure. This 6.43in number isn't nearly as large as the 6.67in of the Xiaomi Redmi Note 10 Pro or the Motorola Moto G100. But this does make the phone slightly easier to handle.
The speakers don't quite have the low-end beefiness or max volume of other much pricier phones with the Snapdragon 888 either, but you have to come to the Realme GT expecting a good deal, not a miracle. There are other non-gaming benefits to using such a punchy CPU too.
The Realme GT is quick to get its photos processed and squared away, letting you get a closer look at whether they're actually any good much faster than in other Realme phones.
Here's where things get a bit crunchy. When you're not playing games, or noticing how rapid the behind-the-scenes stuff happens, using the Realme GT feels quite a lot like using a cheaper Realme or another, say, £250 phone.
The back is glass but the sides are plastic, and while Realme makes a very striking yellow "vegan leather" version of the phone, the moody dark blue version doesn't give off the ultra-high-end air suggested by all the powerful bits inside.
Right now you could buy the Oppo Find X2 Neo for similar money. Its curved glass front, metal sides and lack of plastic buffer line around the front of the display make it look and feel a much classier, more expensive Android.
So, the only drawbacks are in the surface-level stuff? Not quite. The budget-bogarting Snapdragon 888 also means there were not stacks of cash to spend on the Realme GT's cameras.
The main camera is a 48-megapixel IMX682, the same used in Realme's much cheaper Realme 7 Pro. It's fine but has a habit of over-saturating colour, and images don't look as clean up-close as the Pixel 4a 5G's. There's an 8MP ultra-wide the OnePlus 9 wouldn't be caught dead hanging out with and a typically dreadful 2MP macro.
Try to fit a CPU made for ~£1000 phones into something this affordable and there are going to be some sacrifices, and here they are…
The Realme GT isn't a photography disaster. You can take pleasant shots, it feels responsive. But this is really the camera array of a good £250 phone, not a £450 one. Don't buy this phone for its cameras.
We also find the Realme GT doesn't last quite as long off a charge as most of the other great Realme phones we've used over the last year or so. It gets through the day, but rarely has much charge left by bed time. This is no great surprise when it has a mid-size 4500mAh battery and such a powerful processor. But the way it gets surprisingly warm sometimes when doing something as simple as making a phone call suggests something else might be afoot too. Still, it's no deal-breaker, as the issue is minimised by the Realme GT's ultra-fast 65W charging. Just a quick 10-minute top-up takes the phone from, for example, 23% all the way to 67%. If only all phones were this snappy.
Comparisons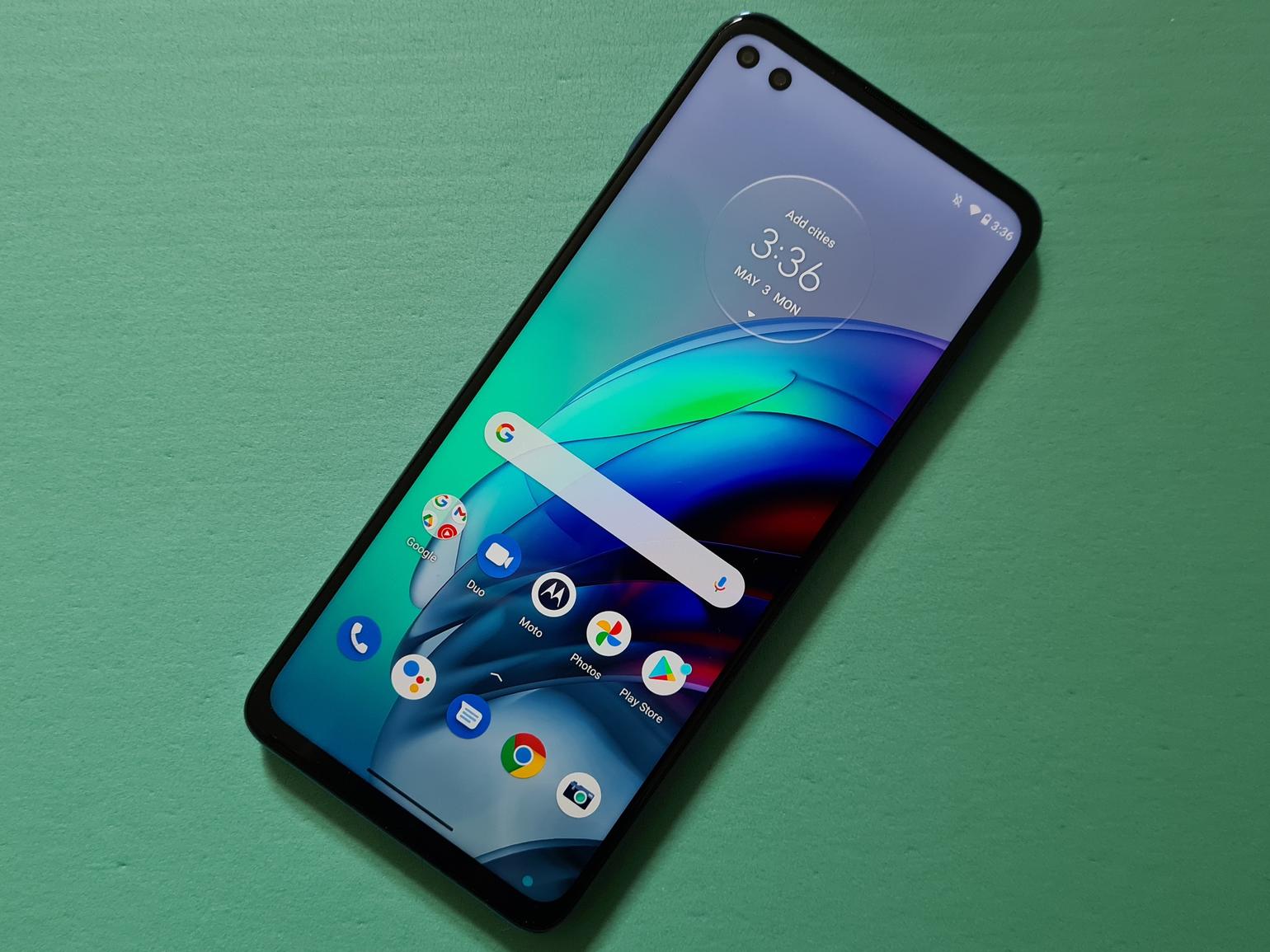 The Realme GT is a bit of an outlier. For similar money you could get the Motorola Moto G100, but it's a less impressive phone in a bunch of ways. No glass back. Lesser CPU. LCD screen instead of a punchier OLED. Slower charging.
We'd recommend the Realme GT in this case, although the Moto does have a bigger battery and a larger screen.
The tastiest alternatives from Xiaomi are probably the Xiaomi Mi 10T or Mi 10T Pro, currently available for around £350 and £490 respectively. They are better balanced phones in some ways.
Xiaomi uses the older Snapdragon 865 CPU in these handsets, one older and less powerful than the Realme GT's Snapdragon 888. But the cameras are better. Both of those Xiaomis have superior wide and macro cameras, and the 10T Pro gets optical stabilisation for its main 108MP camera too.
How about Samsung? With this sort of budget we're looking at something like the Samsung Galaxy S52 5G. It has a plastic back and a much less powerful Snapdragon 750G processor. For power and gaming performance there's no contest. The Realme wins.
But once again the Samsung claws back some points with its more versatile camera array. It's likely to cost less too when shop around online.
If camera quality is a top concern you should also check out the Pixel 4a 5G. That phone is much less ambitious with the periphery tech. There's no high refresh rate screen, and while we love its Snapdragon 765G CPU it's just not in the same league as the Realme GT's Snapdragon 888.
However its humble-sounding 12MP primary and 16MP wide cameras impress, bringing better low-light performance and colour handling than you'll see elsewhere at the price.
Overview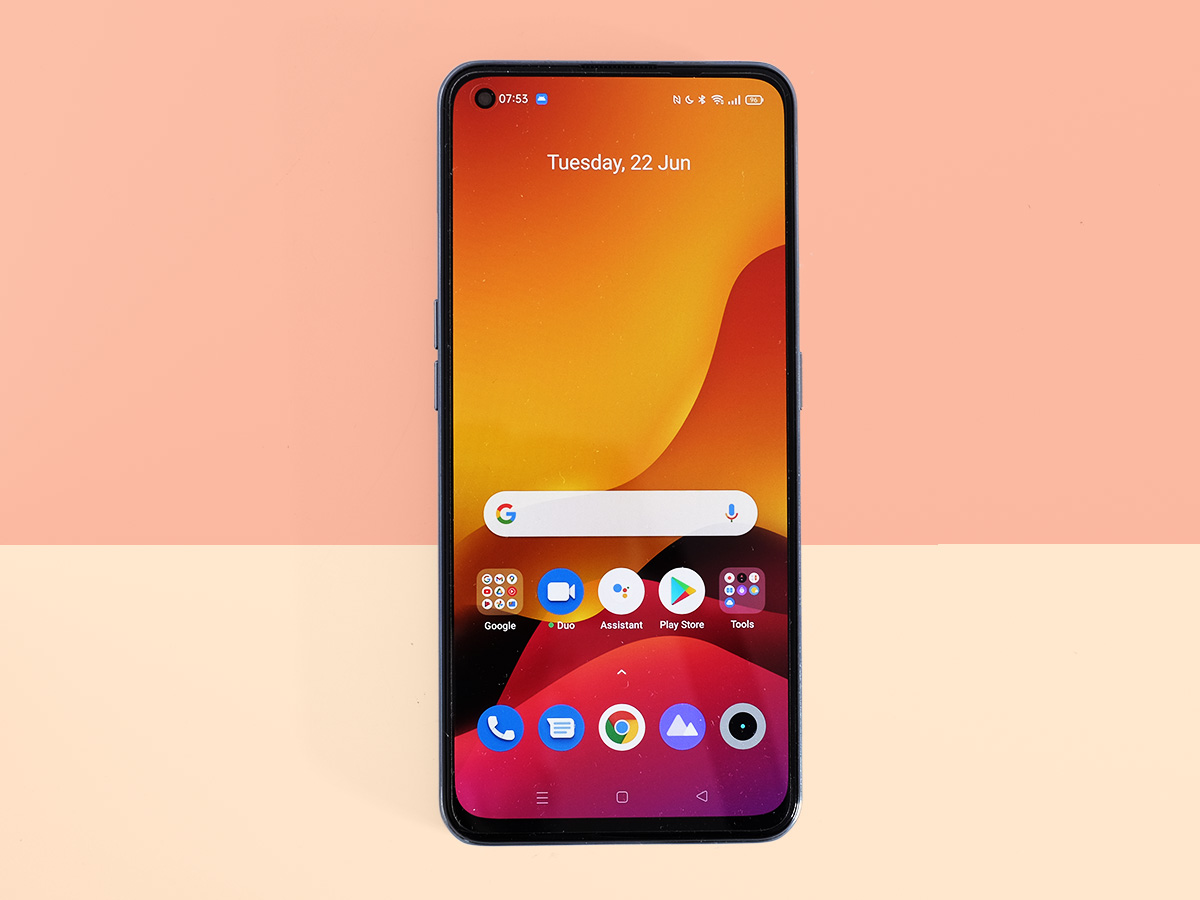 The Realme GT is a killer gaming phone, particularly if you want all the power you can get but don't want an absolutely gigantic mobile. This star performance isn't just down to the top-tier Snapdragon 888 processor.
The punchy OLED screen and stereo speakers all add to the experience. Getting that sort of power at the Realme GT's price is a real headline-grabber too. However, there are some sacrifices.
While the Realme GT's primary camera is reasonably solid, the secondary ones are not. And it lacks the design pizazz of other Androids with the Snapdragon 888, looking and feeling more like a phone from the £200-300 class — although the so-bright-it-lights-up-a-room yellow vegan leather Realme GT is on hand if you crave something more eye-catching.
Tech specs
| | |
| --- | --- |
| SCREEN | 6.43-inch 2400 x 1080 120Hz Super AMOLED screen |
| CPU | Snapdragon 888 CPU |
| Dimensions | 158.5 x 73.3 x 8.4 mm |
| BATTERY | 4500mAh battery 65W charging |
| Cameras | 64/8/2MP rear cameras 16MP front camera |
Stuff Says…
The Realme GT is a quality Android powerhouse for gamers
Good Stuff
Fantastic CPU
Great for gaming
Stereo speakers
Punchy 120Hz OLED screen
Bad Stuff
Cameras are more like those of a £200-250 phone
Battery life could be slightly better