Schenker XMG U726 review
A supermassive beast of a gaming laptop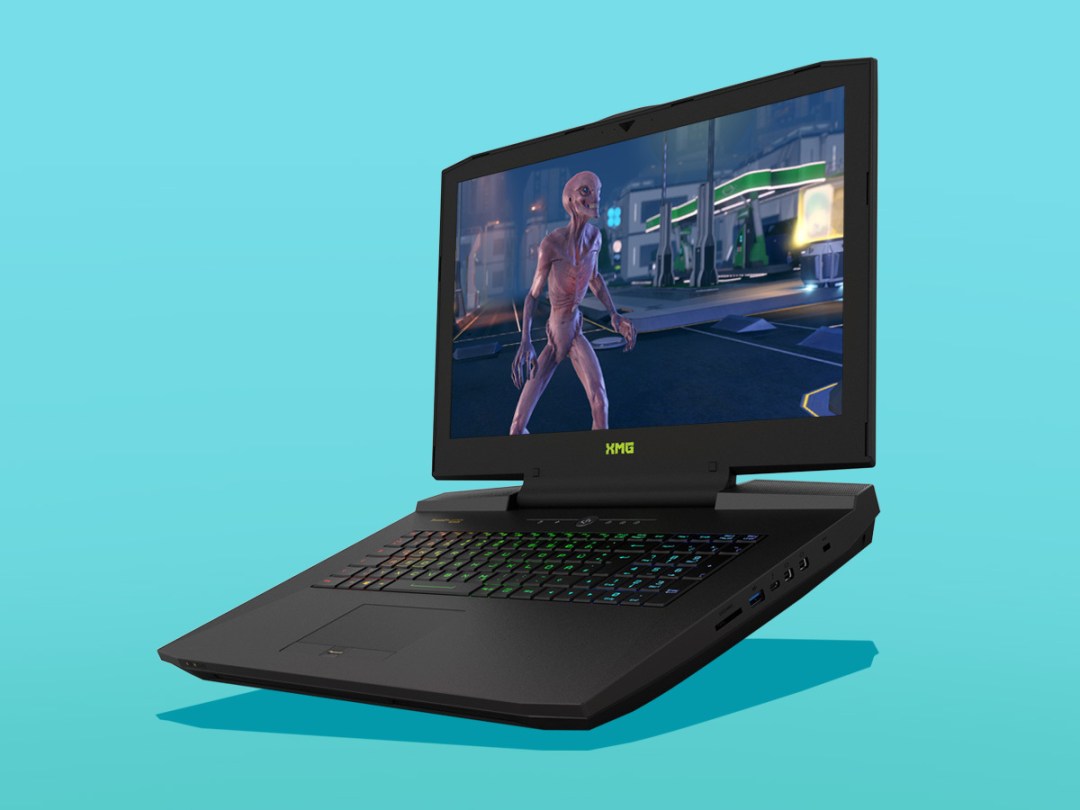 One of the joys of the latest gaming laptops is that they're slimmer and lighter than ever before. Thanks to Intel and NVIDIA's latest CPUs and graphics processors, they can still play the latest games and make them look good.
The XMG U726 is not one of these laptops. It's a big, chunky beast that's nearly two inches thick in places and weighs in at nearly 5kg. Its power supply is actually heavier than some laptops I've seen.
But then this is a laptop with just one thing on its mind: giving you the absolute best gaming experience possible on a (just about) portable PC. It might just be the ultimate gaming laptop, provided you don't have to carry it around with you.
Meet the monster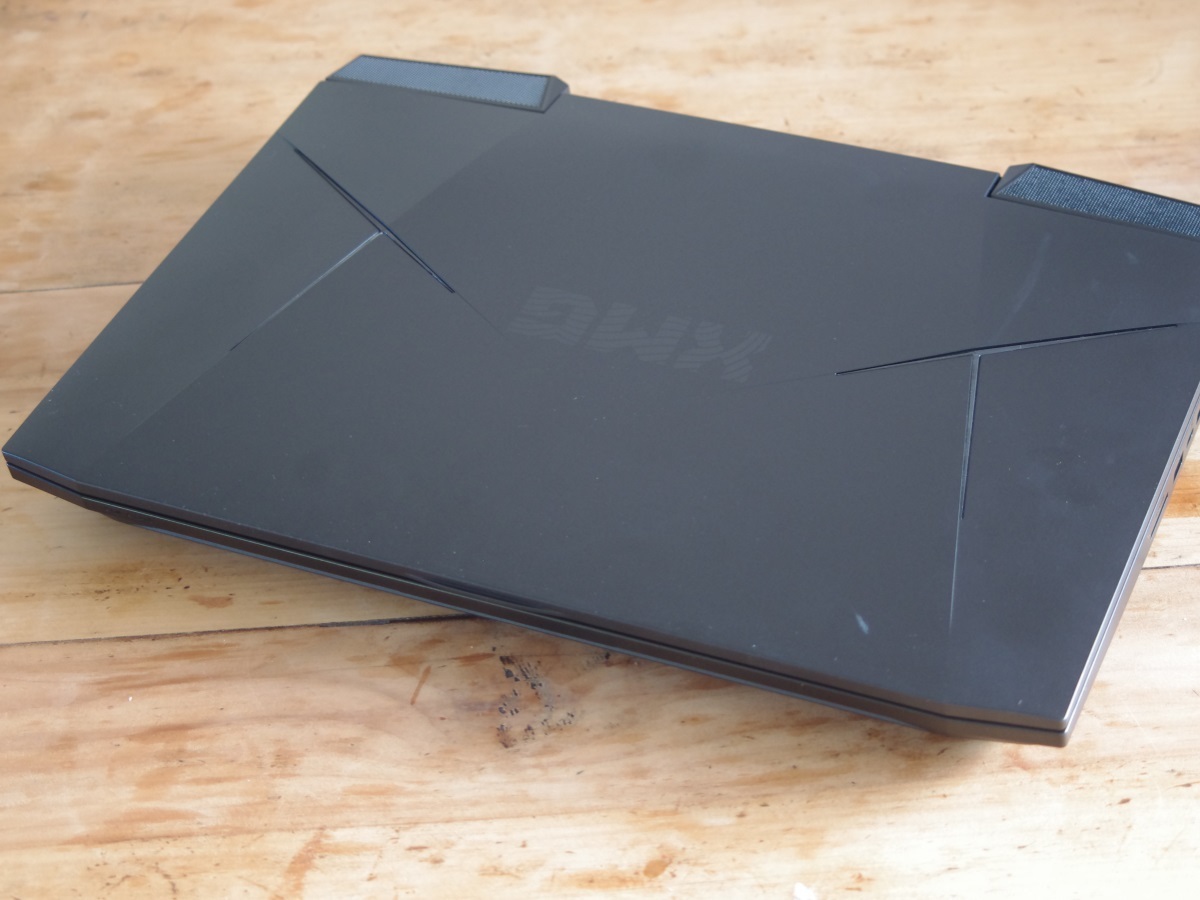 When we say that the U726 is huge, we really mean it. I use a 17.3-inch laptop every day but this one absolute dwarfs it.
Closed, it's a colossal slab of metal and black plastic with the shape of an X only vaguely discernible on the lid. Open, it still looks massive, with nearly an inch of bezel on the sides of the screen and the biggest hinge I've ever seen. With a footprint of 43 by 31cm it's going to take up a lot of space on your desk. You don't even want to think about using it on your lap – you may crush something vital.
On the plus side, it feels extremely solid and well-built, and like many gaming laptops it comes with its own, slightly aggressive style. Not only do the lines on the lid glow green while the laptop's switched on, but the keyboard is illuminated – and XMG provides tools to change the colour or even spread different hues across the surface.
Big screen thrills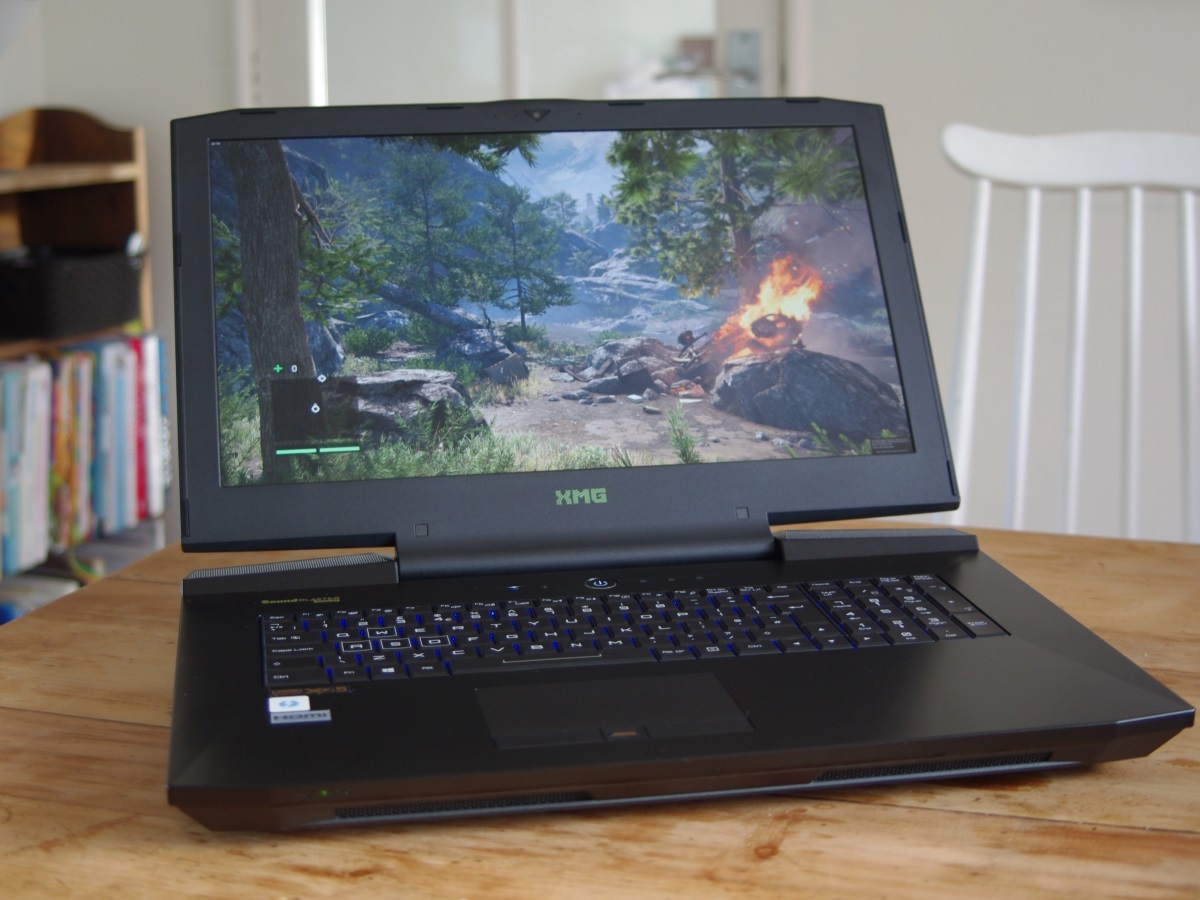 The U726 sells in a range of configurations, with a choice of full HD 1920 x 1080 or 4K 3840 x 2160 Matte IPS screens. We've had the latter to look at on our test sample, and it really is a beauty: incredibly crisp, with enormous viewing angles and lovely vibrant colours. It makes today's near-photorealistic FPS games look astonishingly good and HD and 4K videos look fantastic.
It's bright, there's no clouding in dark areas, and the worst thing you can say is that colours can look slightly over-saturated and unnatural, though this is more of a problem if you're watching movies or editing photos than playing games. That, after all, is what you would buy this thing for, right?
With that in mind, the U726's screen has two more important features. First, it's very responsive, so blurring won't be an issue. Secondly, it supports NVIDIA's G-Sync technology, eliminating screen tear while you game providing you have it active.
Sound doesn't take a back seat, either. The U726 packs in SoundBlaster X-Fi MB5 sound processing with a set of specially tuned speakers, and the output is amongst the most powerful I've ever heard from any laptop. Finesse isn't such a strong point – the clear but bass-heavy tone is a bit brash for delicate folk or other low-key styles of music – but if your preferred soundtrack features big explosions, gunfire and macho, shouted dialogue over a sweeping score, then the U726 has you covered.
No compromises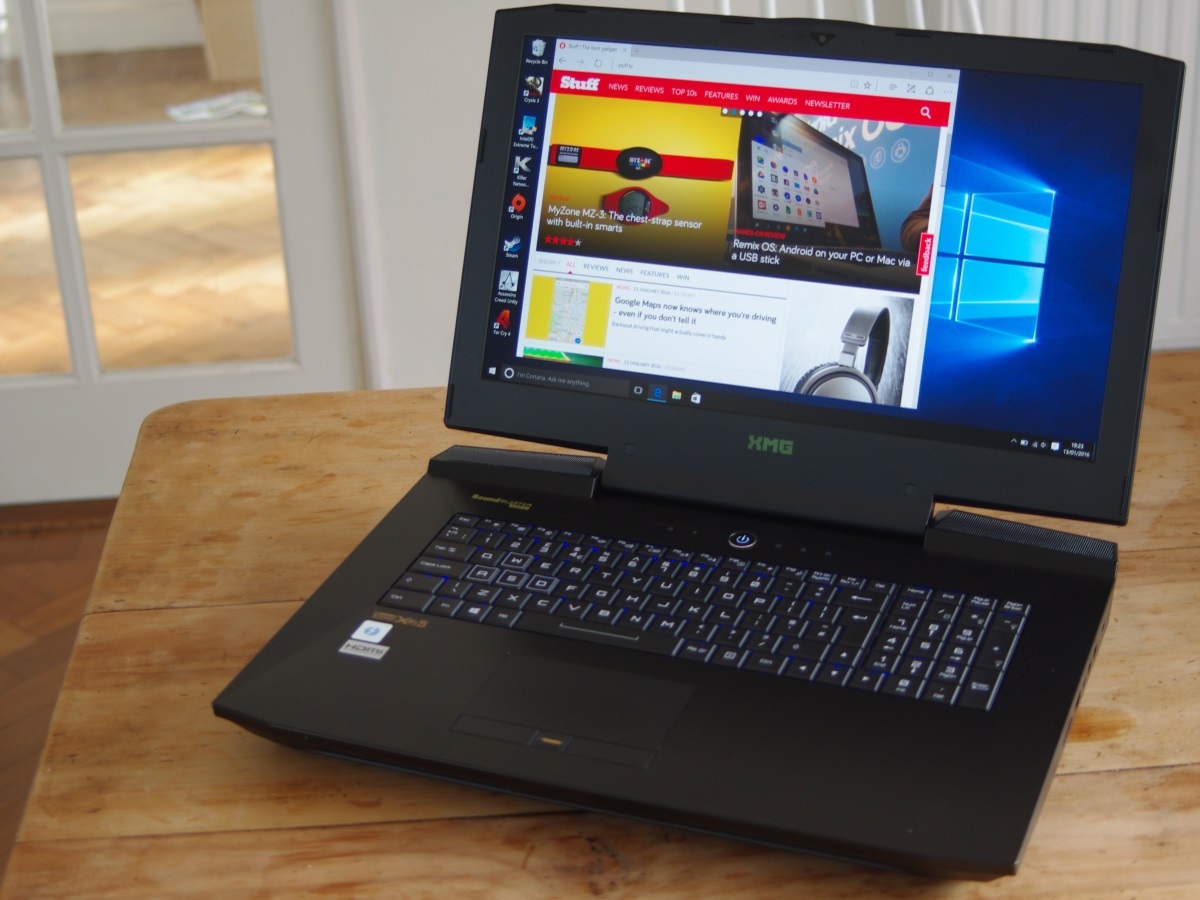 The U726 ships with a choice of Intel Skylake processors, ranging from the 3.3Ghz i5-6600 to the i7-6700K, with up to 64GB of DDR4 RAM. Our sample came with a straight 6700 and 16GB of DDR4, which is more than powerful enough to run any game available. Graphics, meanwhile, are handled by two NVIDIA GeForce GTX270M GPUs with 6GB of DDR5 RAM or by a single GTX 980 with 8GB of GDDR5 (our sample had the latter).
Unsurprisingly, it's fast – really fast. In Geekbench 3 it scored a staggering 15466 for multi-core performance, making it three times as speedy as some laptops we've tested recently. But then you don't buy a system like this to run straight 2D applications; you buy it to run games.
Now, most sensible people will tell you that the art of playing games on a laptop is one of compromise. The U726 says phooey to that. Whack everything up to full and games still run smoothly, though you might want to watch it with the super-sampling options.
The likes of Crysis 3 and Far Cry 4 look absolutely awesome, in a way calculated to make Xbox One and PS4 owners weep. Assassin's Creed: Unity – a game that struggles to run smoothly on many PCs and both games consoles – runs beautifully at a stable 40 frames per second and often beyond. A high-end desktop games PC will still kick sand in its face at 1440p and 4K resolutions, but at 1080p you won't get much better.
Notice that caveat. Despite the 4K screen you're still better off playing some games at a plain full HD resolution. The simple halving of the resolution means that games still look very sharp, and you'll be able to play the most cutting-edge action games with most detail settings maxed out and maintain a silky-smooth frame rate.
Push the resolution up to the native 2160p and older, less advanced games will still run fine, while Far Cry 4 still ran at well above 30fps. However, other titles like Assassin's Creed: Unity, Metal Gear Solid V: The Phantom Pain or EA's Need for Speed reboot may stutter occasionally. With this in mind, gamers might want to save the £200 premium by opting for a U726 with the standard 1080p screen.
Schenker has clearly done its homework on cooling such a powerful system, but the one downside is that it doesn't half make a racket when you're playing games. Even idle you can hear the fans whirring away, but push it hard and you're comfortable beyond console levels of noise. Still, if you've any sense you'll be playing with your headphones on or drowning out the sound through the built-in speakers. Did you come here to game, or what?
Fast Wi-Fi and multi-monitor support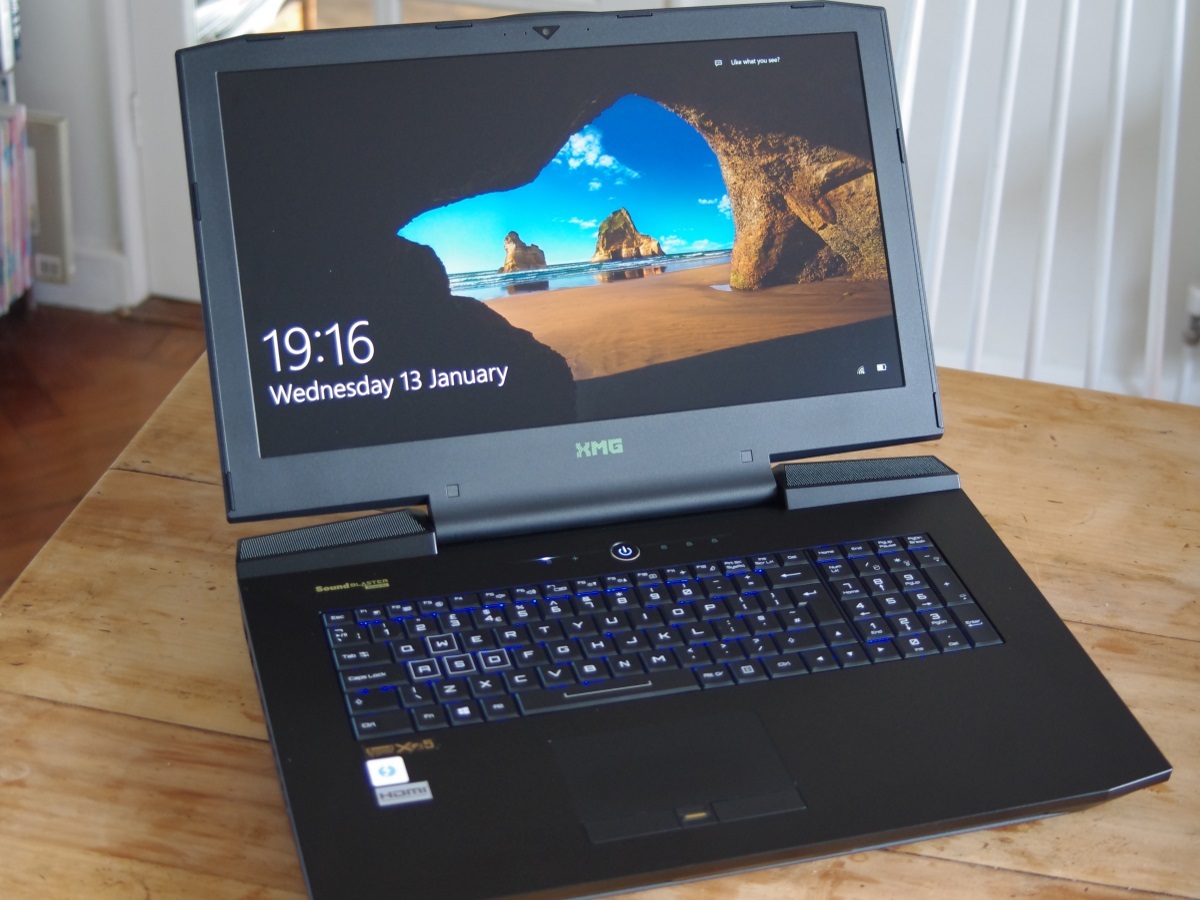 There's another area where the U726 doesn't make any compromises: connectivity. The optional Qualcomm Atheros Killer Wireless network card doesn't just support the latest 802.11ac WiFi standards but two Gigabit Ethernet ports, while you'll find USB3 ports and a full suite of 3.5mm audio inputs and outputs on the left-hand side. On the right, you'll find a further USB3 port, an Intel Thunderbolt connection and two DisplayPort adaptors.
What about HDMI, I hear you cry? Well, look on the rear of this monster and you'll find one more USB3 port and an HDMI output too. With that lot, the U726 can support up to four external displays, so multi-monitor support is not a problem.
Games take up a lot of space, so the U726 can be configured with up to two SSDs and two HDDs, giving you up to 5TB of storage. Our sample came with a very speedy 512MB Samsung SSD, working over the ultra-fast PCI-Express X5 link, plus a 2TB HDD to store your games and media libraries. That should keep you covered as long as you don't go mad in the latest Steam sales.
The key to victory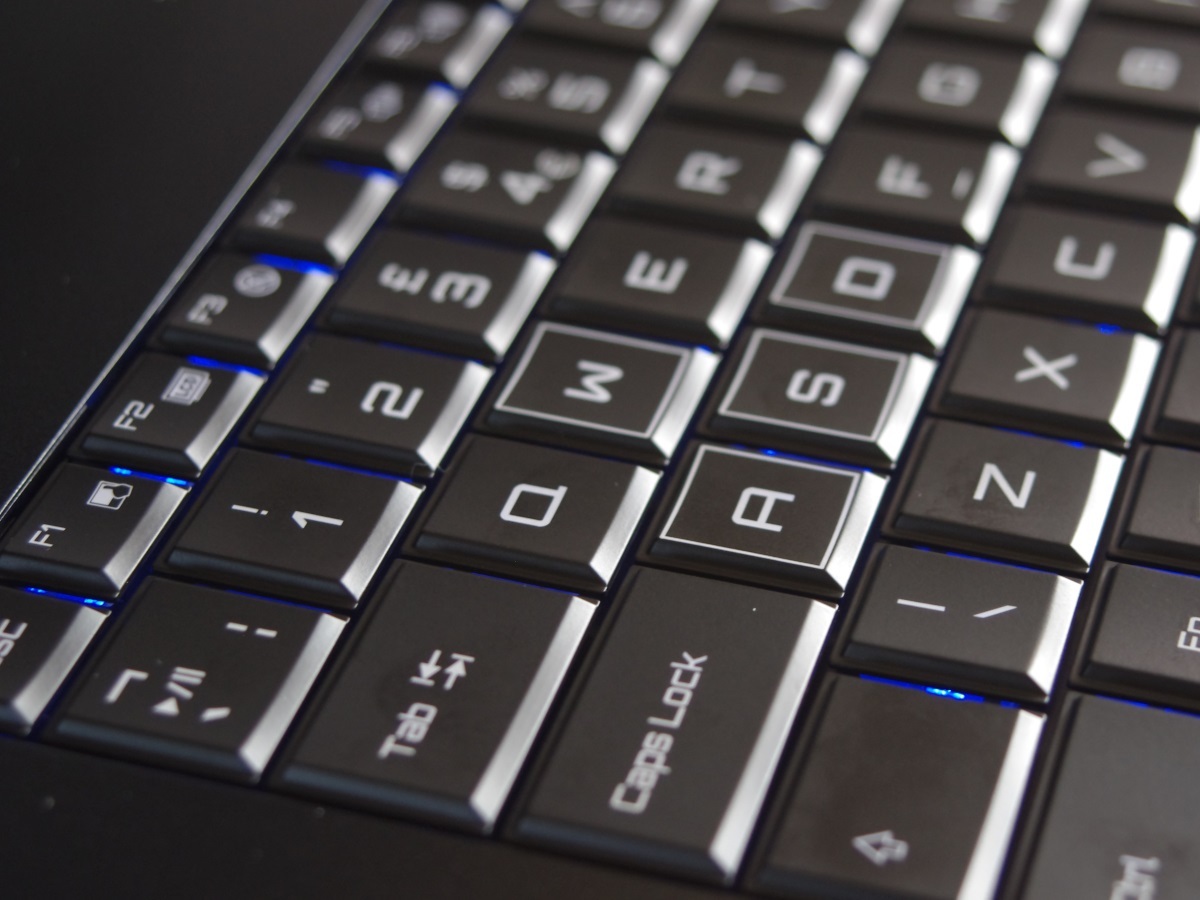 The U726 also has a big, multi-zone backlit keyboard tuned for gaming, with specially delineated W,A,S and D keys and a full numeric pad. It's great for gaming but also good for typing, though a few layout quirks might mean some mistakes creep in from time to time. Beneath it there's a good-sized trackpad with an integrated fingerprint reader. It's perfectly fine for general Windows use, but any self-respecting gamer will have a mouse or wired controller plugged in within seconds.