Sky NowTV Smart Box review
Ditch the dish - NowTV's got all the Sky channels you really want to watch
Sky has managed to snap up some of the biggest names in sport, movies and entertainment for its all-encompassing satellite service – but what if you can't fit a dish to your house?
In the past, it meant you were out of luck. Now, though, there's no need to miss that must-see Game of Thrones episode, or hunt for a dodgy web stream for the weekend's Premier League games.
NowTV was already an excellent alternative to a satellite dish, giving you the best of Sky for a monthly subscription – all through your internet connection. It's even better in this latest version – the long contracts are gone and the streaming box has basically turned into a one-stop shop for all your telly needs.
If you're not fussed about 4K, but need your F1 fix every race weekend, the Smart Box could be a great way to get it.
For the lowdown on NowTV Combo bundle deals, make sure to read our preview guide right here
BOX FRESH
The tiny streaming box will easily sit on top of your existing TV tech, and the new aerial input makes it your best bet for vegging out on the sofa. You can watch free-to-air TV as well as Sky content, without having to fiddle with HDMI inputs.
Roku has again built the hardware, so apart from the logo it looks a lot like a Roku 4 media player – only there's no 4K video. That's hardly a surprise: Sky doesn't want anyone ditching their Sky Q box for a cheaper streaming alternative. Still, it puts NowTV on the back foot compared to Amazon's Fire TV UHD box if you're more worried about 4K than tuning in to Sky Atlantic.
USB and microSD card slots should mean it's future-proof when it comes to content, at least, and there's good old Ethernet on the back in case your Wi-Fi signal isn't strong enough for streaming.
Otherwise, it's a fairly plain black box – there's no screen or buttons, just a tiny LED to let you know the thing's on. That glossy finish is a fingerprint magnet too, so you'll have to break out the duster to keep it looking neat.
REMOTE VIEWING
Sky has stripped a few buttons from the Roku 4 remote to make the NowTV controller, so it really couldn't get much simpler.
Shortcuts to NowTV and the Sky Store are handy if you're struggling for something to watch, but a power button would have been nice – there's no way to force the box into standby, and it'll only power down after four hours of being ignored. There are no volume controls either, and it can't learn from your TV remote, so you'll still need to keep that handy to mute overly loud ads.
It feels a bit plastic fantastic, but that's nitpicking for £40. USB recharging doesn't seem too much to ask for, though, even at this price. Remotes with AA batteries need to be put out to pasture, please.
An iOS app would have been handy, too – especially as you'll have to create a NowTV account (or sign into an existing one) as soon as you set the box up. The onscreen keyboard is slow when you've only got a directional pad.
SCREEN TEST
The overhauled UI looks a little fresher than the old NowTV interface, but the layout hasn't really changed much. That's not a bad thing, though: the simple menu breaks down your options into catch-up, a live TV guide, and apps.
Recommendations and highlights take up most of the screen, so you can jump right into the latest episode of Game of Thrones from the home screen.
It can be a bit of a mission to find your favourite shows if they don't get pride of place on the homescreen, though. There's no search on the homescreen, so you've got to dial down into the right app to get what you want.
TUNING IN
The built-in TV aerial sets the Smart Box apart from Sky's older NowTV streamers, effectively making it the only thing you need for all your TV. You'll have to scan for channels manually (it's not part of the setup wizard) but should only take a few minutes before you're ready to start watching.
Live TV gets its own tile on the homescreen, and the on-screen EPG lets you scroll through seven days of shows. Channel logos are a nice touch, so you know what you're tuning in to. It's a shame you can't rearrange the channel order, as it'll mean scrolling through lots of SD channels to find the ones broadcasting in HD.
At least the whole thing feels snappy, switching channels a lot faster than some Freeview boxes can manage.
You can pause and rewind live TV too, just like you would with Sky+. You don't even need to add external storage first – it'll work straight out of the box. The Smart Box can only handle up to 30 minutes of time warp, though.
Sticking in a microSD card or USB flash drive won't give you extra pause time – they're only for playing your downloaded videos, music and photos right now.
It's not like you're missing out, though; the Smart Box has catch-up from BBC iPlayer, ITV Player, All 4 and My5. If you didn't catch something live, you'll always be able to watch again over the next week.
CONTENT IS KING
It's all that juicy Sky content that you're really interested in, though. Admit it.
The Smart Box has got you covered, depending on your NowTV subscription. There's a choice of entertainment, sports and movie passes, which unlock streamed versions of Sky Atlantic, Sky Sports and the Sky Cinema channels for a monthly fee.
The Entertainment pack also comes with Sky box sets, so you can catch up on all those TV shows you missed the first time around. Think The Sopranos or Sex and the City. Sky's got over 250 to choose from, so you shouldn't be short on things to watch.
Sports fans will have to pay out £34 a month on top of the £40 flat fee for the box, but they'll get every Sky Sports channel – if you're serious about football or F1, that makes a lot more sense than shelling out for the £7 day pass every time your team has a game.
The only downside is that Sky restricts streaming quality to 720p. It doesn't look great on a 1080p TV, so anyone with a 4K set is going to really notice the drop in quality. Still, if you can't get a dish installed, this is as good as it gets.
Should you manage to overdose on Sky TV, the Smart Box also has about 50 downloadable apps, including YouTube and Spotify. There's no Netflix or Amazon, but that's hardly a surprise – Amazon would really rather you bought a Fire TV, and Sky wants you to stay glued to its own channels.
Sky NowTV Smart Box verdict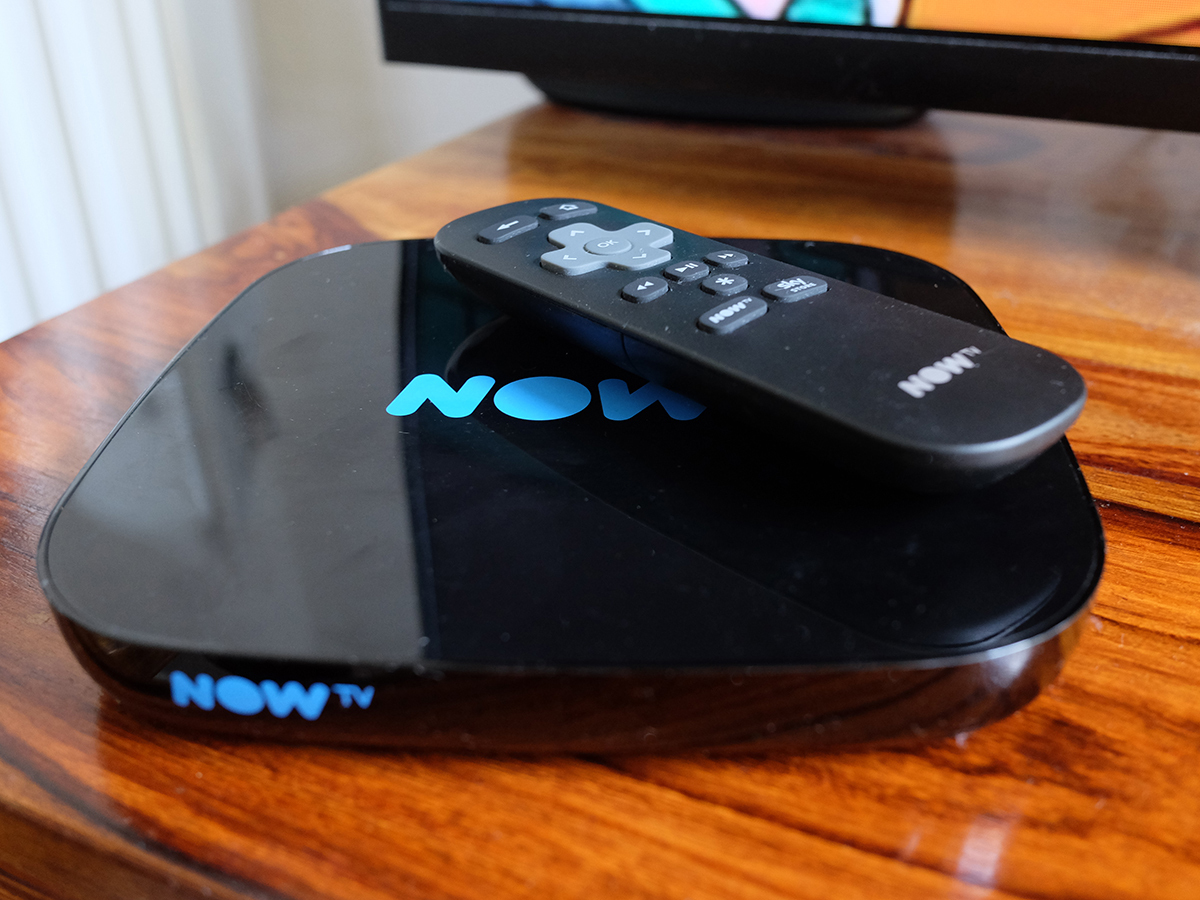 Do you watch more TV than is probably healthy for you? Then the NowTV Smart Box is a worthy addition to your home cinema – especially if you're into Sky Atlantic-exclusive shows or live sports.
Sure, it'll be another streaming subscription eating into your bank balance every month, but the free-to-air tuner and catch-up services from the big four terrestrial channels give it an edge over a Chromecast or Amazon Fire TV stick.
You'll need other boxes or a Smart TV to get your Netflix or Amazon Prime Video fix, and you're stuck at 720p (so Jon Snow will look that little bit sharper on your mate's Sky Q box), but for £40 upfront it's one of the best cheap smart set-top boxes around.
That's before you start thinking about a NowTV Combo bundle too – if you're looking to change your internet as well, this'll let you do it without tying you down to a year-long contract. Bargain.
Tech specs
| | |
| --- | --- |
| VIDEO MODES | 1080p output, 720p streaming |
| CONNECTIVITY | TV aerial in, HDMI out, 802.11n Wi-Fi, Ethernet, USB (not in use), MicroSD (not in use) |
| DIMENSIONS | 165x165x20.5mm |
| WEIGHT | 432g |
Stuff Says…
720p streaming ain't great, but otherwise the NowTV Smart Box will scratch that streaming itch
Good Stuff
Free-to-air TV and all four major catch-up channels
Satellite-free Sky streaming
Cheap but not nasty
Bad Stuff
720p only – you'll need Sky Q for Full HD or better
Subscriptions for Sports and Movies are still gonna cost you