Sony NEX-VG10 review
Awesome hi-def shooter with a neat lens-swapping trick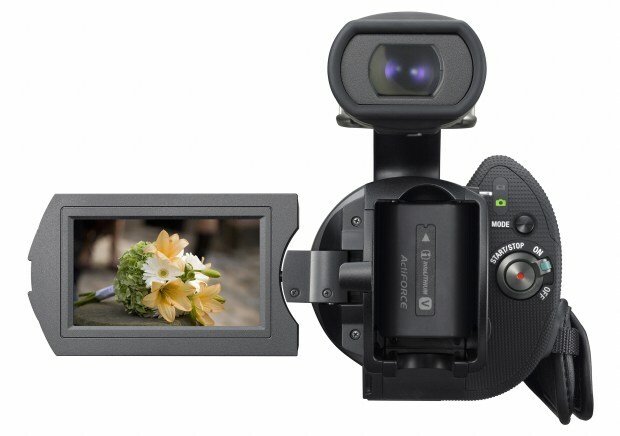 Off the back of Sony's super-cool NEX-3 and NEX-5 swappable-lens compact cameras comes the VG10 – a camcorder that pushes the boundaries of what you can expect from a high-end, hi-def shooter.
Any of Sony's E-mount DSLR camera lenses will fit directly on the front of the VG10 with a reassuring click. This gives you access to a compact 16mm wideangle 'pancake' lens, a versatile 18-55mm zoom and an 18-200mm telephoto, while an optional adaptor will allow you to fit A-mount lenses, too. Behind the lens there's a larger than average 14.6MP Exmoor CMOS sensor that allows for short depth of field effects, with footage coming in at 1080i/50fps.
Heavy handed
All that glass up front makes it relatively heavy. The majority of the VG10's 1.3kg is in the lens, and during hand-held shoots you'll find yourself having to correct the resulting forward tilt with wrist sapping regularity. If you take the option of using the viewfinder it becomes more manageable, but it's still more suited to tripod mounting.
Unflappable footage
Footage is magnificent, full of fine texture and razor sharp edges with rich and varied colours, helped by the well above average 24Mbps of data that's recorded from the sensor. Even in extreme conditions with a low-hanging winter sun we only witnessed the barest hint of over-exposure, while the fastest pans could only throw the auto-focus off by a fraction. Of course, the presence of a proper manual focus ring almost makes this triumph irrelevant – this is the camcorder for people who like to take full control of the footage they shoot.
Sparkling sound
Audio is another highlight. The quad-capsule microphone records what is quite simple the best sound we've ever heard in over a decade of testing consumer camcorders. Not only are soundtracks clear, distinct and dynamic, but there's a genuine sense of breadth and depth to the recordings. Things not only sound correct, they sound correctly positioned.
Encase that performance in a metal and plastic construction that feels almost bulletproof and you've got one of the most desirable camcorders ever made.