Sony Xperia Z4 Tablet review
Sony's latest tab is a slim Android sensation with a laptop-style keyboard and a lot going for it
As superpowers go, being skinnier than an 8st weakling and lighter than a sack of feathers won't make Thor jealous. But then again Thor's not a tablet.
The Sony Xperia Z4 Tablet is a tablet and it has precisely those qualities: it's just 7.6mm thick and weighs a mere 389g. Plus, it now comes bundled with an also-skinny keyboard as standard (from most places). Marvel is probably selling the film rights as we speak.
All of which means that this Android tab really offers something worth ditching an iPad for. For some people, anyway.
What type of people? Those who want to do a bit of work or writing instead of just playing Soda Crush Saga 24/7. Some of the laptop-aping bits don't perfectly work, but we like what Sony's trying to do here.
Skinny syndrome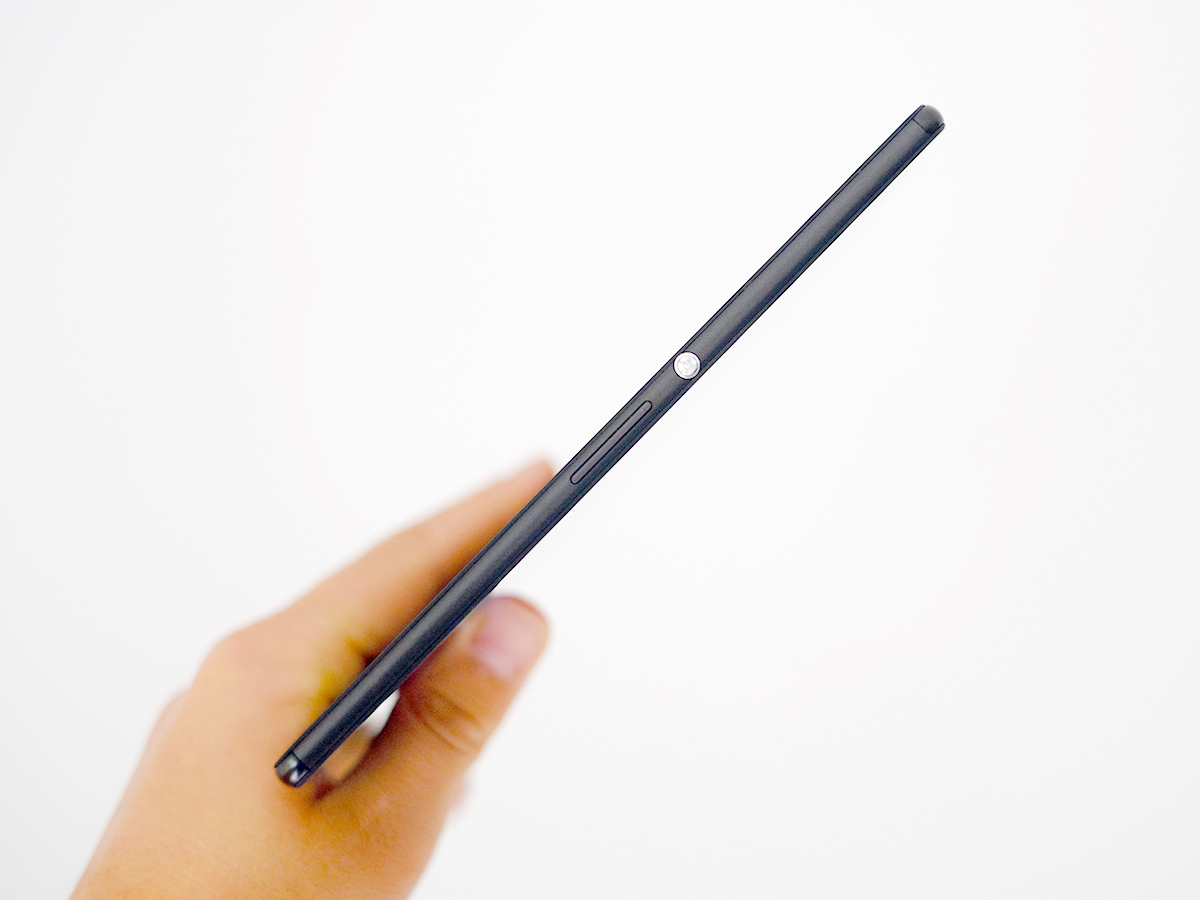 Thin and light. Thin. And. Light. All of Sony's recent tablets have been about scoring big on these two fronts and at times we've wondered whether all the effort has been worth it.
However, it really starts to make sense with the Sony Xperia Z4 Tablet. This is the first of the Xperia range to sell with a keyboard as standard, making it a bit different from your average 10.1in slate.
The idea seems pretty simple: people have in general fallen out of love with 10in Android tablets, and the Z4 Tablet offers another reason for them to exist. Plug in the keyboard and it's virtually a laptop.
It's the same trick that Microsoft has tried with its Surface Pro tabs and that Asus pioneered with its Transformer range. And for the most part, it works on the Sony.
Both the keyboard and base are so painfully skinny that even when joined together they feel only about as chunky as an A4 pad of paper with a third of the pages ripped out. Together they're just under 800g.
Hardware-wise the Sony Xperia Z4 Tablet makes a pretty good alternative option to the MacBook 12in, and it costs less than half the price too. So, how does it operate?
Get your hinge on
The tablet part isn't all that different from last year's Sony Xperia Z3 Tablet. It's incredibly thin and light, but has a plastic outer shell, which means that it doesn't feel quite as cold and hard as something like an iPad Air 2. The top of the screen is glass and there are tiny steel caps on the corners, but Sony has set up shop confidently, and what it sells is a bit different from Apple's lot.
It feels pretty good: dense and taut as if it has spent a good long while down the gadget gym. But it does flex a tiny bit if you bend it diagonally.
Still, it's one of the more modern designs you'll see in a 10in tablet. First, the expanse around the screen isn't too great. There's enough to rest your fingers on, but not so much that it looks like a digital photo frame. Then there's water resistance.
Despite not having a flap over the charge socket, the Sony Xperia Z4 Tablet can be dunked in water for up to 30 minutes and it'll be fine. No, it won't implode at 30 mins 10 seconds, that's just the standard it's certified to. All it needs for this is a flap over the microSD slot, and SIM slot if you pick the mobile internet edition.
That's right, the Sony Xperia Z4 Tablet comes in 4G and Wi-Fi only models. Direct from Sony you'll pay £499 for the Wi-Fi edition, £579 for the 4G one. When you can also get it in tablet-only form from O2 for £349, the initial price is… reassuringly expensive.
Keyboard surfer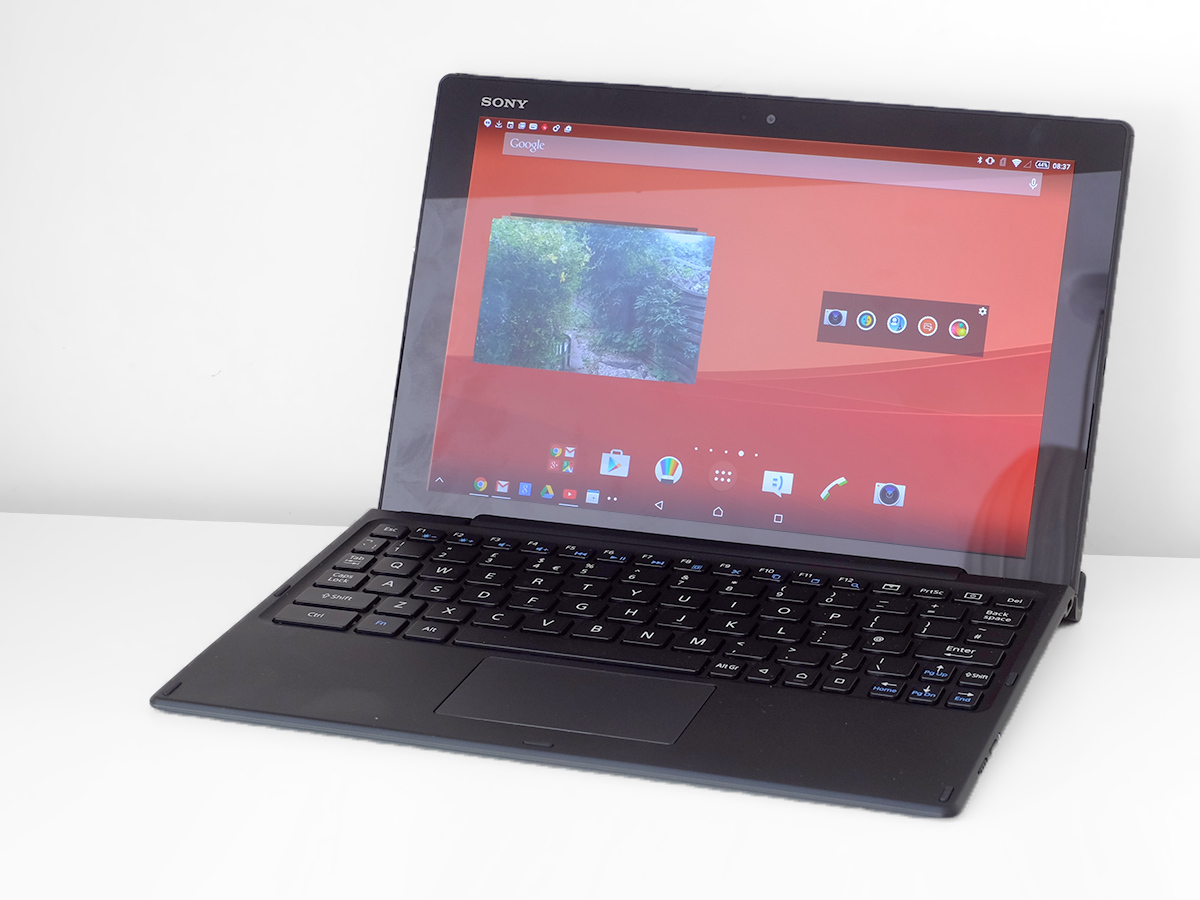 I hope to see the full keyboard package come down in price before too long, because it's really quite neat. The BKB50 keyboard uses Bluetooth, and a smart-but-simple hinge into which the Sony Xperia Z4 Tablet screen slides, before being held in place with rubbery grips.
It's nothing flash, but is perfect way to move the Z4 Tablet about, especially as it keeps the screen safe. Even the typing experience is reasonable, with fairly crisp, well-spaced keys trumping most third-party tablet keyboards out there. It feels an awful lot like a full-blown hybrid laptop-tablet keyboard.
It's not perfect, though. While there's a trackpad, you can only use either the pad or keyboard at any single moment, and this become obvious in the slight wait for the cursor to turn up after you start typing. The movement of the cursor is also at times a bit less responsive than what you'd get from a proper laptop. Just as Windows wasn't really made for touchscreens, Android isn't really made for mice.
Synthetic windows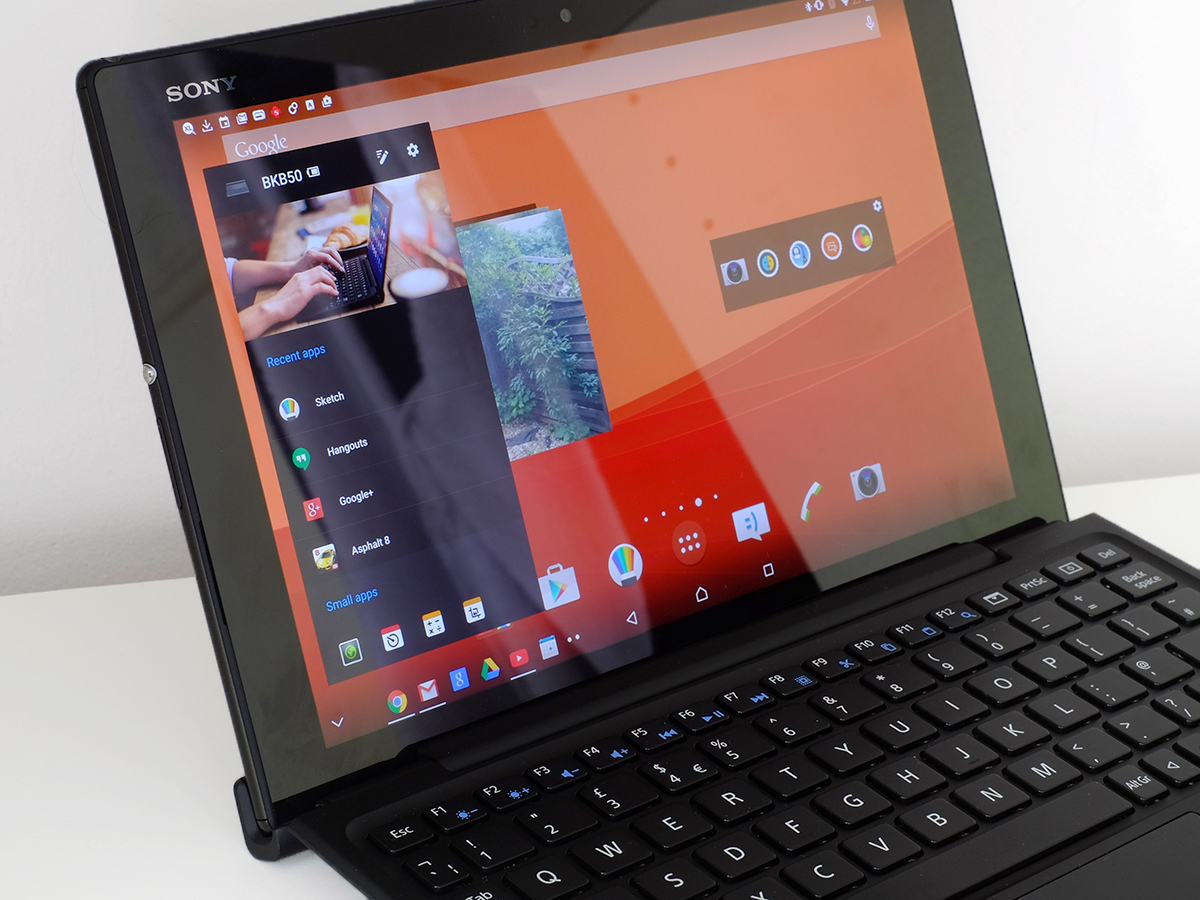 Still, Sony does its best to patch things up. Get this: the interface actually changes subtly depending on whether the Sony Xperia Z4 Tablet is connected to the keyboard or not. When the tablet flies solo, you get the streamline interface also seen in Sony's smaller tablets and phones. It's plain, simple and stylish.
Hook up the keyboard and everything starts looking that bit more like a laptop OS. A bunch of shortcut icons appear in the bottom-left of the screen, and there's even a faux Start menu that looks a lot like what you get in Windows 8.1.
It's a bit of a red herring: even with these extras, Android doesn't feel quite like Windows or OS X. But I tried using the Sony Xperia Z4 Tablet as my main laptop for a few days while on-the-go, and it works pretty well. Like previous Xperia tablets, you get a fairly decent Office suite preinstalled. And the 32GB storage is plenty to work with.
There are also loads of shortcut buttons on the keyboard, and, even more important, buttons for the standard Android soft keys so you don't have to touch the touchscreen. The one downer is that the price says we're paying about £140 for the keyboard: a standard charge for something like this rather than a great bargain deal.
How Triluminating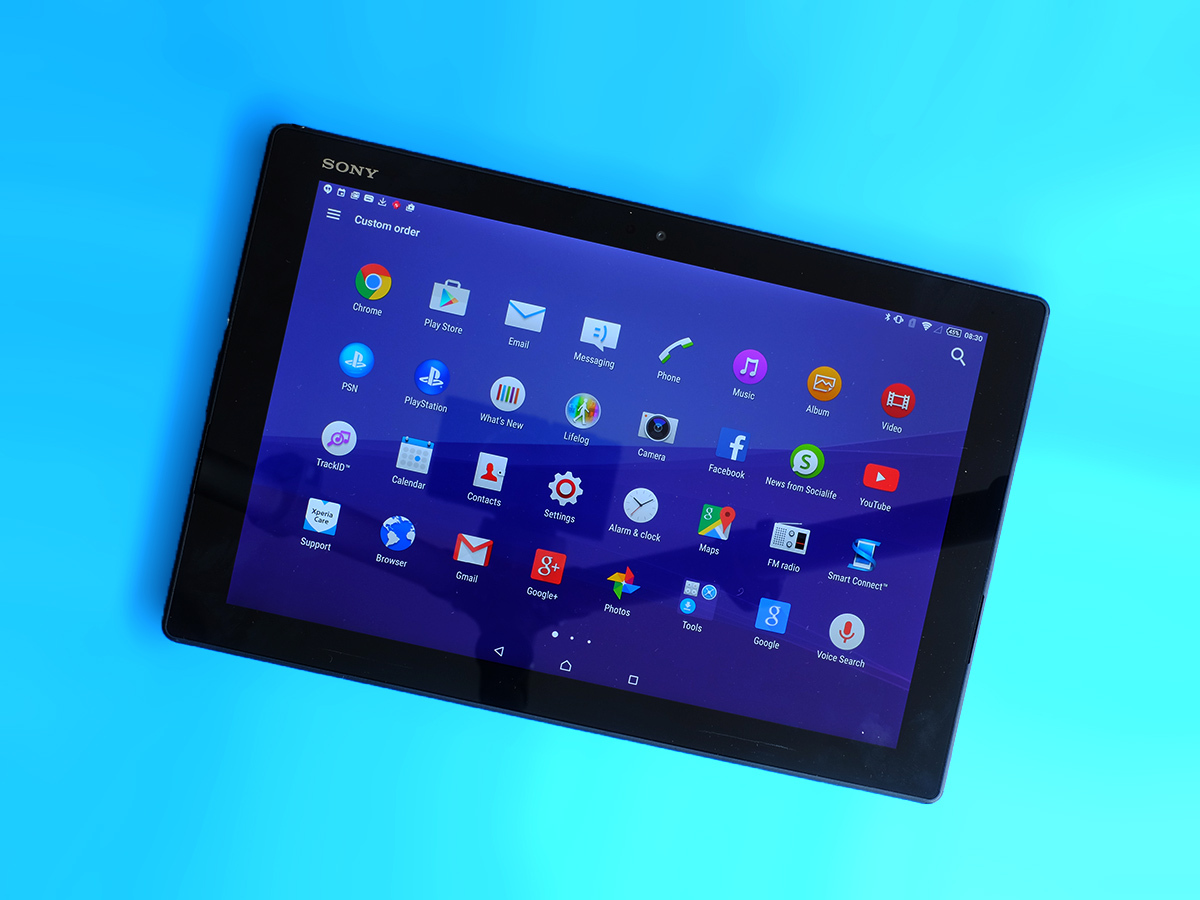 Still, there's zero sense that we're dealing with anything but a top-end tablet here. Just look at the screen: it's 10.1in across with a 2560 x 1600 resolution and packs Sony's Live Color LED and Triluminous display tech. It's enough to batter a technophobe into submission.
The important bit is that the screen, which is an IPS LCD, uses blue backlight LEDs instead of white ones, in order to get you super-vivid colours. A bit too vivid? If you like your colours super-accurate then yes, although the Sony Xperia Z4 Tablet doesn't jack things up as much as some OLED screens do.
OK, so it doesn't come across as the most neutral of screens, but you can alter the screen temperature to make it look a bit cooler or warmer. Or greener, but we can't see why you'd want to do that.
Top brightness is very impressive, but Sony hides it from you most of the time via its auto brightness setting. Even without that turned on, the Sony Xperia Z4 Tablet doesn't let you get close to the sorts of brightness levels the tablet is capable of. Those are reserved for bright, sunny days outdoors only. But hey, that's probably sensible when supernova brightness kills the battery.
The Xperia Z4 Tablet keeps a close eye on how much power it consumes, and as a result the stamina can be pretty staggering for something this skinny.
Sony says you'll get up to 17 hours of video off a charge, which is a pretty amazing claim. We can't imagine most people watching movies for that long – not even the extended Lord of the Rings boxset lasts 17 hours – but that's a real boon for work use.
Indeed, when using the Z4 Tablet as my main computer, it lasted a lot longer than the MacBook Pro I normally use. It's got a 6000mAh battery inside it and will easily let you sail through a day's work, with more than enough charge to let you play some games or watch a movie in the evening. It holds on to charge well on standby too, meaning you can easily use it for a week or so in short bursts, without needing to re-charge in-between.
With great power…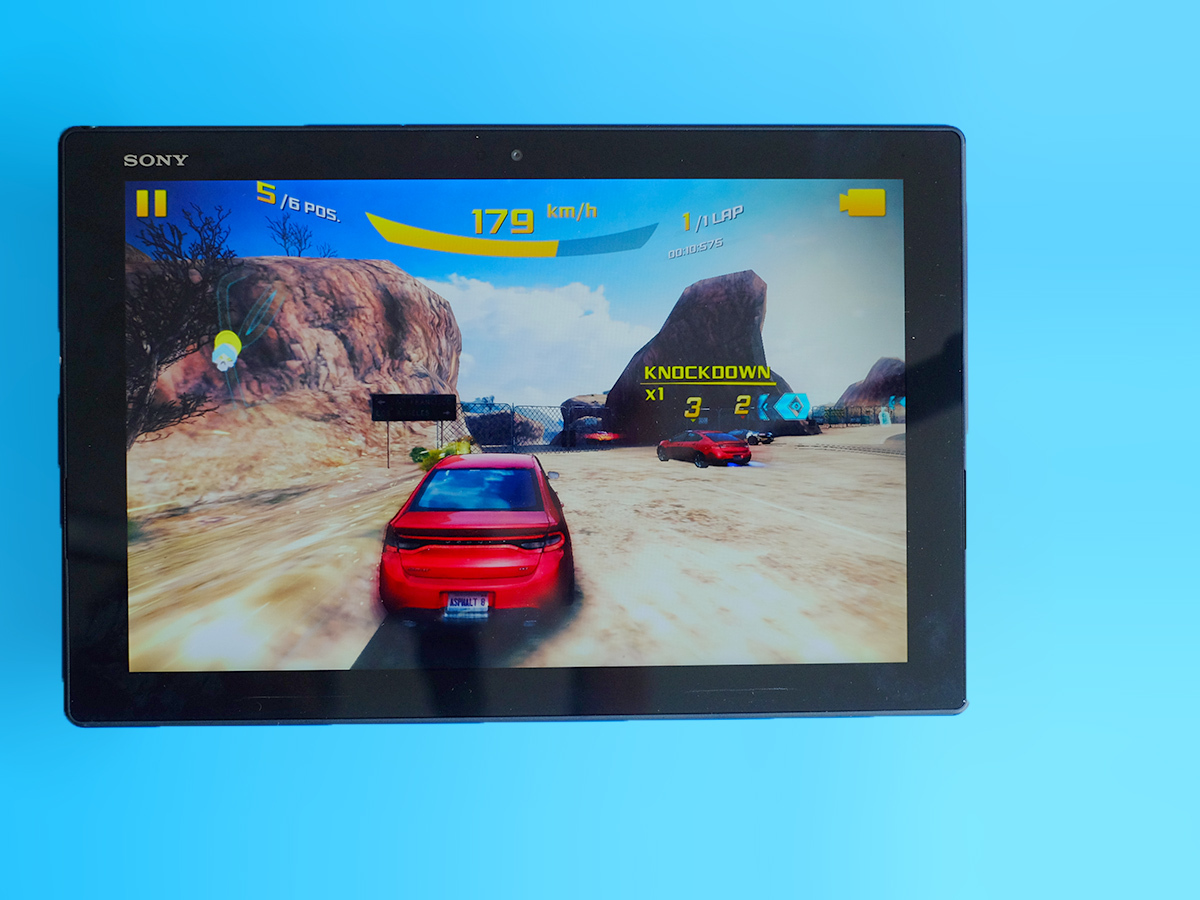 Much as I may have painted the Z4 Tablet as a bit of a studious, laptop-like device, it actually has the power to do pretty much whatever you want within the confines of Android. That's down to the fact that the Snapdragon 810 processor within it is the same as the one in top-spec phones such as the HTC One M9.
There's been some contention about this processor – claims that it overheats, isn't all that efficient and isn't a dramatic power upgrade over the older Snapdragon 805. However, I had no such problems with the Z4 Tablet. Sony has clearly put some work into taming that CPU to get 17 hours of video playback out of the thing. The only real awkward moments I experienced were those when tackling the keyboard/trackpad and how it slots into Android. Otherwise it works just about perfectly.
It certainly works well as a gaming device. 3D titles run superbly, and there's no obvious lagginess. The fact that it's so light means you can hold it for ages without it feeling like a burden and it doesn't even seem to get that hot – which is a surprise (although there is a pop-up in the camera warning about overheating).
The Z4 Tablet also has a gaming special move: it supports Remote Play, meaning you can stream your PS4 to the tablet and use either touchscreen controls or a DualShock 4. It's perfect for a quick blast on the tablet while someone else is using the main TV. You'll need a good router and connection, though; mine struggled a bit when I gave it a shot.
The one other omission from its gaming armoury is that of a decent speaker setup. You do get a pair of front-firing stereo speakers, which is a great start, but while they go nice and loud, they lack lower-frequency muscle. The result? They end up sounding a bit harsh and cluttered when you really crank up the volume. Still, this is perhaps to be expected of a tablet this thin, and they're far from terrible.
Snap happy
The Sony Xperia Z4 Tablet picks its battles, and it goes easy on the gas with the cameras too. Where the Xperia Z4 has a 20.7-megapixel main camera, the tablet version has to make do with 8.1MP camera on the back and a 5MP one on the front.
That rear camera spec is pretty low-end by today's standards, but it does at least produce fairly vivid-looking photos most of the time. It's only when you zoom in a bit further that you notice they look a bit processed and lack detail compared with those from a good phone.
At this point we should of course remind you that taking photos with a tablet camera is stupid anyway, so we're not too worried about this one's limitations.
The front camera is more important on a tab, and the Z4 Tablet's is closer to what you get with most phones. That said, that giant screen doesn't half show off how soft-looking selfies end up appearing when viewed close-up. Still, it'll do the job for most people.
Like other Sony tablets and phones, there are loads of creative modes to play with too, including an AR mode that maps people and animals' faces on to your own. Most odd.
Is there anything missing? Not on the camera side so much, but there are a few little hardware extras that would have been nice. For example, there's no IR blaster, which would let you control your TV with the Sony Xperia Z4 Tablet. You can't win 'em all, eh?
Sony Xperia Z4 Tablet verdict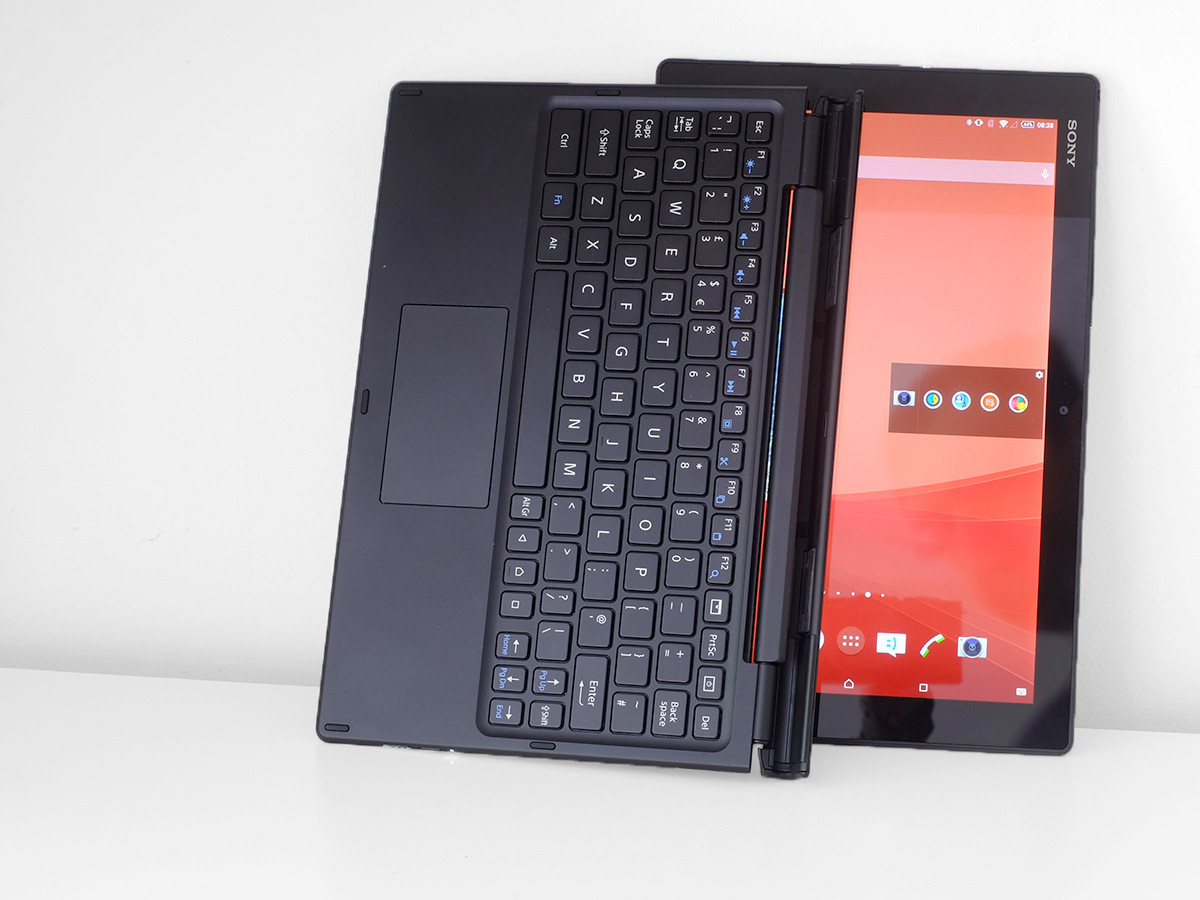 Just as it looked like 10in tablets were on the way out, Sony's come up with another stunner. The tablet on its own isn't a massive departure from what we got last year, but by making a keyboard module a big part of the package, we get a whole new side to the Sony Xperia Z4 Tablet. Now it's handy for work as well as play.
It's a shame the keyboard is so expensive, adding over £100 to the price even when bundled. But it really does make this tablet an alternative to a Windows hybrid. And one that's a lot more fun while you're lounging on the sofa.
Fancy the tablet alone? Superb battery life, plenty of power, a slim body and super vivid (maybe too vivid for some) screen make it one of the best Android alternatives to an iPad Air 2.
Tech specs
| | |
| --- | --- |
| Operating system | Android 5.0.2 |
| Screen | 10.1in IPS LCD glossy finish 2560 x 1600 |
| CPU | Snapdragon 810 CPU 2GHz |
| GPU | Adreno 430 |
| RAM | 3GB |
| Storage | 32GB with microSD |
| Optical drive | None |
| Connectivity | 802.11, microUSB, microSD |
| Cameras | 5MP front, 8.1MP rear |
| Dimensions | 167 x 254 x 6.1 mm |
| Weight | 0.39kg (tablet only) |
Stuff Says…
Sony has reinvented its top Android tablet, adding a serious side without turning down the fun dial
Good Stuff
Sharp, vivid screen
Handy, smart keyboard
Super battery life
Plenty of power
Bad Stuff
Colours oversaturated in parts
Keyboard slightly awkward at times