Ultimate Ears Wonderboom 2 review
Boom boom shake the room even harder
In gadget terms, the Wonderboom 2 looks about as intimidating as a Powerpuff girl.
But just like Blossom, Bubbles and Buttercup, the Wonderboom 2 wields great superpowers.
It's incredibly hardy, taking water and dust in its stride. Plus, it's now got a few more tricks thanks to the new chipset and a sprinkling of new features.
It's louder, it's bassier, it offers a dedicated 'Outdoor Mode' and it's now capable of stereo sound.
It's no wonder this is getting a space in our hold luggage…
Design: Wonder wall to the elements
We dubbed the original UE Wonderboom a "grapefruit wearing a corset" and when you find such a winning look, why change?
It's the size and weight of what feels like a perfect baking potato. One which has been airbrushed to hide any lumps or bumps, yet there's nothing fluffy about its insides.
Fully at home bobbing around in water with IP67 water-resistant rating, its "corset" has been upgraded so that it's dust-proof too. Making it a hit at the beach, typically a place that brings about a sweat from us gadget hoarders.
Up at the top there are three buttons: power, Bluetooth pairing and the central button for pairing speakers for stereo oomph. A single press of this large top button will pause/play and a double press will skip to next track. This is especially handy when you don't want to rely on your phone as a central control centre.
A new feature which comes to the Wonderboom 2 is the 'Outdoor Boost' button at the base. This is designed for when listening al fresco, pushing the frequencies to the top of the speaker so the music isn't just entertaining insect communities buried in the grass.
There's a rubber water-sealed flap for the Micro USB charging port. Some might have preferred a USB-C cable, especially as if you're an Android user as you're probably already carrying one.
However, it's hardly something to knock off points for.
The branded chord loop is now flat and elasticated for better grip so you can fling it and hang it anywhere that takes your fancy.
The colours are exceptionally cheerful available in: red, black, blue, grey and 'just peach'. Each model has accents in a contrasting or complimentary colour on the volume controls adding extra zing.
Features: Water difference a day makes
Little has changed on the design front from its predecessor, yet there's been more substantial tweaks to the internals.
For starters, there's a new chipset which makes for markedly crisper sound with 10% extra bass and a longer battery life.
The new 'Outdoor Boost' mode on the base works by supressing the bass frequencies and focusing on the midrange pushing sound upwards.
In action, there is some compromise to the sound, and it wouldn't be the preferred mode for listening indoors. We tested the outdoor boost mode on a grassy mound in a big park; an already less than ideal audio scenario, and it really is the smartest solution. It prevents the audio sounding so muffled.
Ultimate Ears has managed to eke an extra three hours out of this model too, going from 10 to 13 hours. This means it'll easily see you through a two-night camping trip without needing to plug in. Should you run out of juice, it takes just shy of 3 hours to charge to full again.
Another cool feature is the stereo pairing. This is something that only comes to the Wonderboom 2. A tiptop solution if you want to play a pair indoors and are ready to take audio that bit more seriously. A far cry from old you, chucking your smartphone in a mug.
Performance: Soundcloud 9
Bluetooth pairing is a doddle. It's fast, stays connected, and remembers what it's tethered too.
For what looks like a super-sized tennis ball, the sound is stupendous, delivering 360-degree audio.
The extra bass promised by Ultimate Ears truly delivers. The texture of James Blake's Mile Hile (feat Travis Scott and Metro Boomin) was realised, from the pulsating bass to the vocals swaying from Scott's warm deep tones to Blake's chilly crooning.
This thing is super loud too, especially when there's two blasting out the same track (not in stereo mode). Cue up Chemical Brother's Free Yourself to max volume, it'll enliven an average-sized living room full of party people.
The 'Outdoor Mode' is more than a gimmick and it's simple to switch on by pressing the button at the bottom of the speaker. There's an icon of a tree here as a reminder.
The stereo paring is best for more intimate listening, those rainy Sunday afternoons where you want to immerse yourself in some music. It's great to see this option on a speaker in this price bracket, especially as it works incredibly well.
Once the secondary speaker is paired, one long press on the top central button and it'll switch to stereo. If stereo is a crucial factor for you, you'll need two Wonderboom 2s as it won't work with the older model.
Ultimate Ears Wonderboom 2 verdict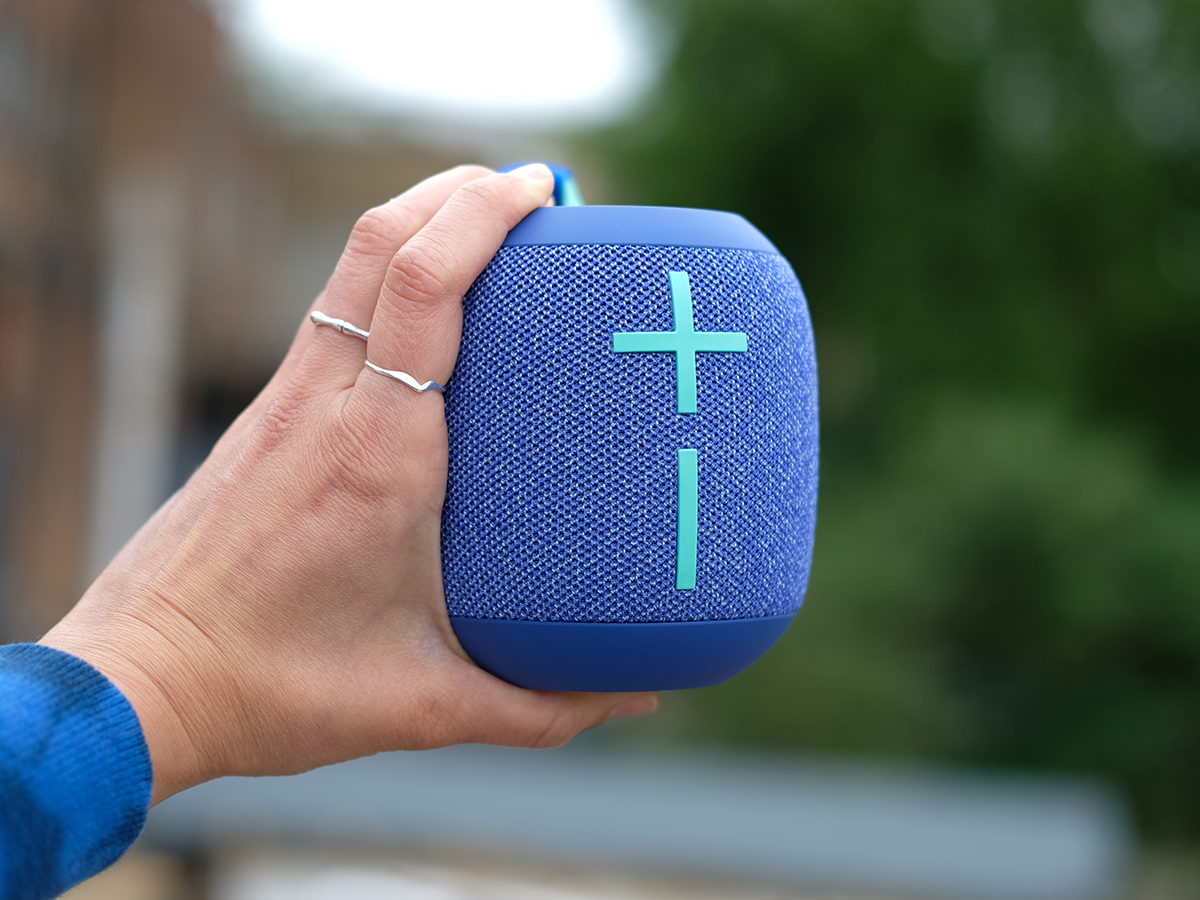 Like a Tequila Sunrise, punchy in appearance, and deceptively effective, the Wonderboom 2 is a mighty delight.
Ideal for taking to picnics to soundtrack your sandwich session or even if you're looking to use one (or two) indoors to supercharge your audio set-up in the bedroom of your halls of residence.
Audio quality is ramped up from its predecessor giving you better bass and more detail in the mid-range, whilst still being just as dinky and portable.
Shake it, stir it, roll it, there's nothing precious about it, apart from all the things that matter: size, sound, portability and price.
We'll take a Wonderboom 2. On the rocks. Somewhere sunny.
Stuff Says…
A rugged little wonder that brings a mega boost to your outdoor soirées
Good Stuff
Stellar sound for speaker this size
Stereo works a treat
Super rugged
Excellent value
Bad Stuff
No voice assistant