Wharfedale Diamond SW150 review
Time for some bangin' low-end. Check out Wharfedale's new budget sub...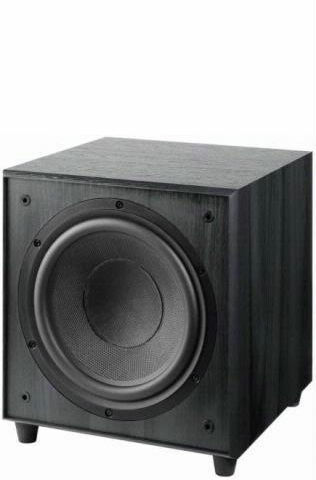 The budget Diamond range from Wharfedale is alive and kicking. It comprises various shelf and floorstanding speakers and a couple of subwoofers – one of which is this model, the £250 Diamond SW150.
No-frills design
It's a solid, well-built design, with basic controls for phase adjustment and crossover selection. There's no remote control or electronic display, but at this budget price level that's hardly surprising.
The main cabinet is a closed design equipped with a 25cm driver and – as the name suggests – a 150w power amp.
Diamond deliveryConsidering the budget price, the SW150 certainly delivers the sonic goods. Immediately apparent is the weight and sense of authority this sub is able to deliver. It does the home cinema low-frequency clout thing: spin The Matrix Revolutions and there's an awesome sense of scale and bass clout. It also hammered through the action of Master and Commander with disdainful ease.
The leading edges of impact effects are captured precisely, each muzzle blast powering out with commendable savagery. It just sounds more realistic and more menacing than the other subwoofers in its class.
What about music?
Of course, there's more to bass performance than just booms and bangs. You see, it's really not too hard to make a budget box that simply shakes the room, but as well as the sheer quantity of bass on offer, there's also quality.
The SW150 has detail and definition, and presents its contribution to music in a controlled, cohesive manner. This disciplined performance means it majors on agility and rhythmic capability – it's as at home with music, be it rock, jazz or classical, as it is with films.
Remarkable talent for £250
So whether you want a subwoofer to reinforce the bass on your stereo hi-fi system, or even as part of a surround sound speaker package to go with your home cinema, the SW150 will fit the bill perfectly.
Wharfedale has a whole range of budget speakers you can partner this sub with, including the £100 Diamond 9.0s and the £180 Diamond 9.1s, so building a budget 5.1 system won't be hard.
It's the sheer depth of its talents that makes the Wharfedale Diamond SW150 such a star performer. What's even more remarkable is that all this quality is available for just £250. Now if that isn't a veritable bargain, we don't know what is.
If you're on the lookout for a great budget subwoofer, your prayers have just been answered. Wharfedale has come up trumps again.