Xiaomi Buds 3T Pro review: comfortable and capable
Has Xiaomi delivered Android's own AirPods Pro?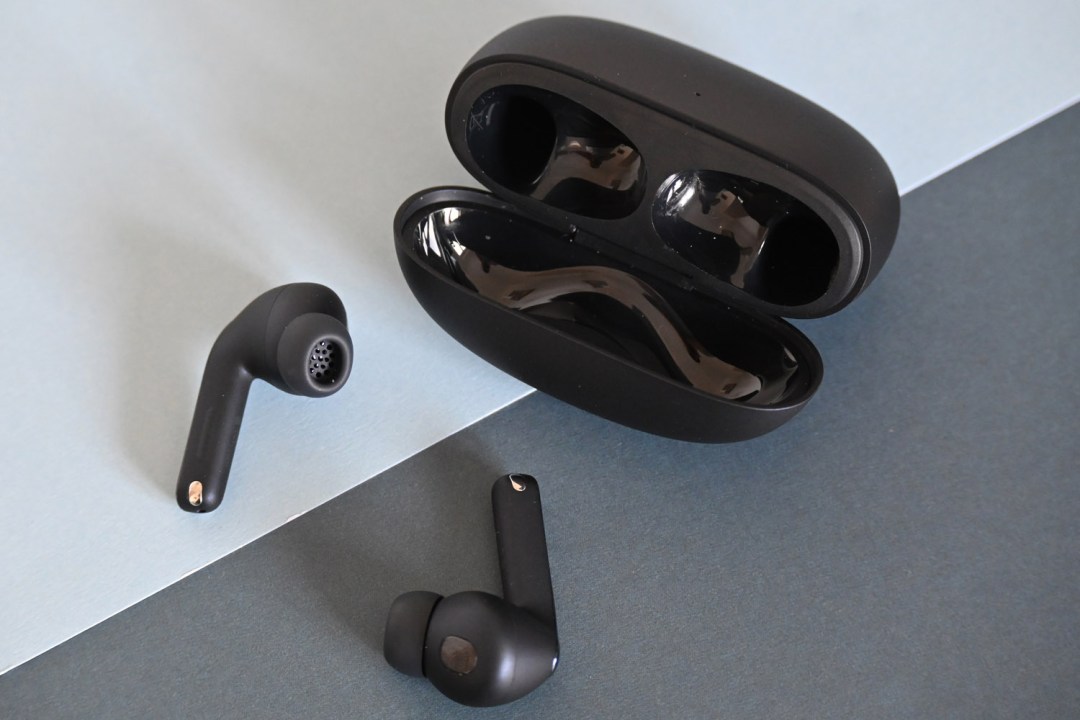 Wait, haven't I seen you somewhere before? With a strikingly familiar design, similar feature set and even the same name as a certain pair of Apple in-ears, expectations are high for Xiaomi's latest true wireless buds. Here's our Xiaomi Buds 3T Pro review.
They aim to undercut the AirPods Pro, yet still deliver luxuries like head-tracking spatial audio – and still sound great in the process, with support for high-quality Bluetooth codecs. 
On paper, they are a true Apple alternative, but in practice, might borrow a bit too much from its rival, to the detriment of non-Xiaomi phone owners.
Design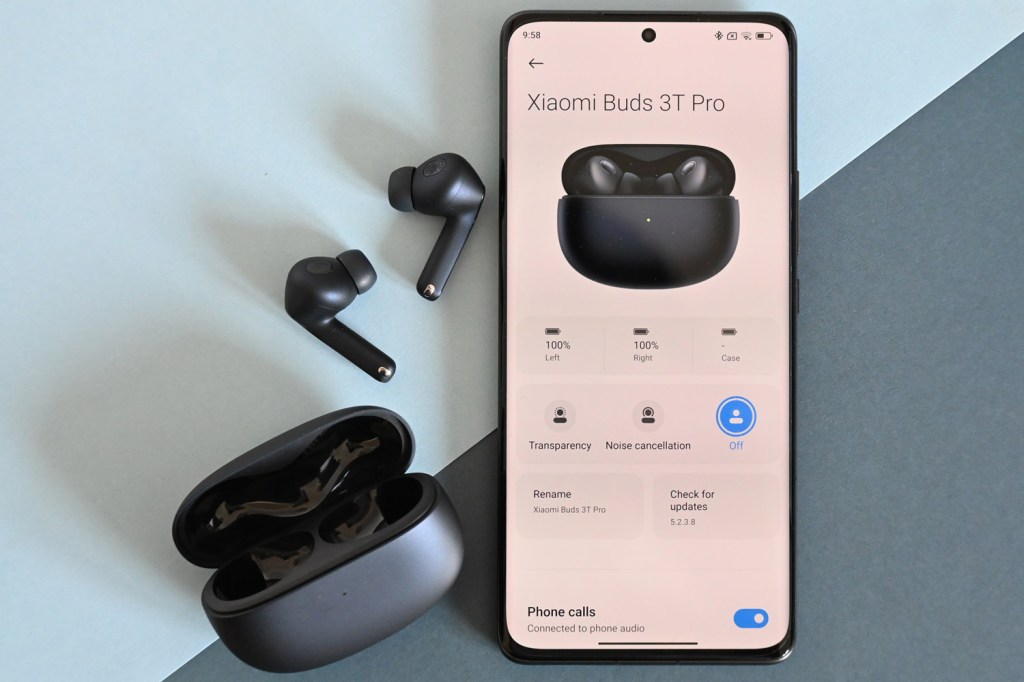 There's no escaping it: the Buds 3T Pro look an awful lot like the Apple AirPods Pro. At least Xiaomi has opted for a matte finish on the pebble-like charging case. You can also have them in black, so they aren't a complete clone.
The case hinge flips closed with a satisfying click and is skinny enough to slip into that tiny pocket all pairs of jeans seem to have, despite the fact no one's used a pocket watch since the 1800s.
The buds themselves are Apple-influenced too, with stems that hang out of your ear and interchangeable silicone tips that hold everything in place better than a pair of vanilla AirPods can manage. They also seal your ear canals off from the outside world, helping with noise isolation and sound transference. It's a more comfortable fit than Google's Pixel Buds, with no greater pressure on any one part of the ear – we could happily wear them for hours without any irritation.
They aren't quite secure enough for anything more than light exercise, but at least the IP55 splash protection will keep the tunes pumping should you get caught in a rain shower while jogging.
Physical buttons built into the stems let you play/pause, skip tracks and toggle ANC modes, but you've really got to squeeze them firmly to trigger each action. At least that makes it almost impossible to do so accidentally when repositioning the buds in your ear.
Noise cancellation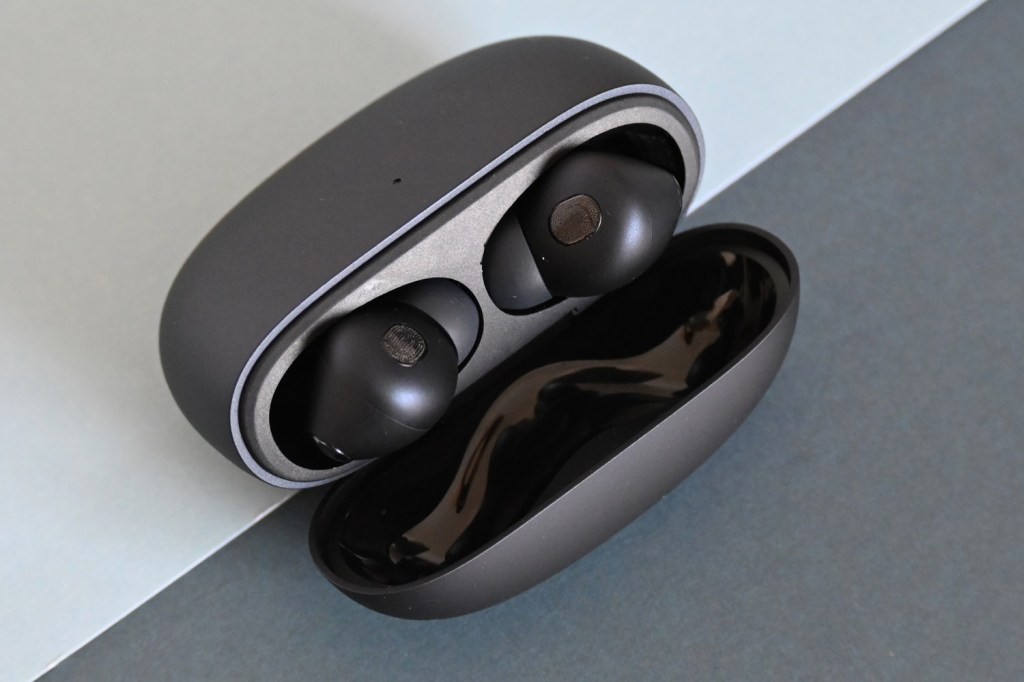 Flip open the case next to a Xiaomi smartphone and a prompt appears asking to begin the pairing process. It's quick and easy, but proprietary: you'll have to pair the old fashioned way on a handset from any other brand.
The Xiaomi 12 Pro we used for testing has baked-in software that lets you choose from several different active noise cancellation profiles, enable dimensional audio, and customise the buttons on each bud. However, at the time of writing, there was no universal Android app in the Play Store to do the same on a non-Xiaomi device.
It's initially difficult to tell which ANC mode you're in without looking at your phone, until you associate the different audio jingles with each setting. Transparency mode does a decent enough job of letting sound back in, without overwhelming your tunes, and the default adaptive ANC mode is quick to react to changing levels of background noise.
While not the most effective noise cancellation we've tried, the Buds 3T Pro did a great job of stripping out the background hum of a commuter train. It was less effective in a loud office, with nearby voices still able to cut through the music, but it was still preferable to working with ANC disabled.
Spatial audio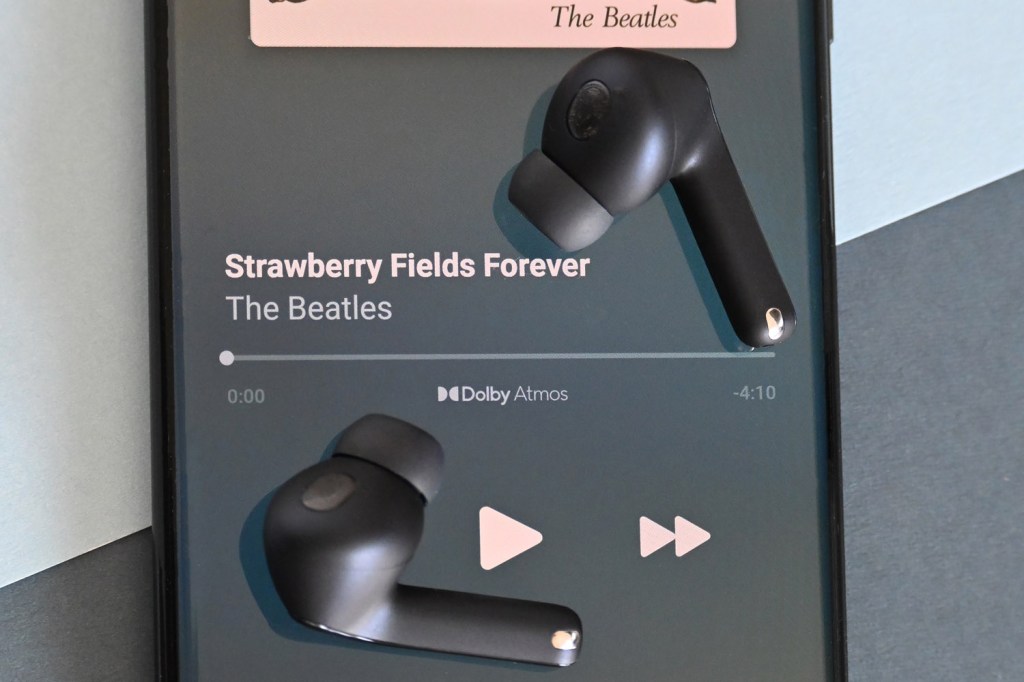 Dimensional audio, spatial audio, 360 audio… whatever you call it, virtual surround sound on mobile devices is a minefield right now. Apple Music, Amazon Music HD and Tidal all stream their own versions, but some are exclusive to certain devices, and the content library is hardly extensive.
The Buds 3T Pro handle Apple Music's spatial audio tracks convincingly, but no more so than any other pair of headphones. You can pick out the directionality in well-mixed tracks, but poorly-mixed ones sound just as muddled here as they do everywhere else.
The optional head-tracking is meant to compete with Apple's AirPods, but it just feels like a gimmick right now. It takes note of your head position when you press play, then shifts the soundstage as you turn, but the effect is like placing a speaker right in front of you, then turning away from it: things get more prominent in one ear and quieter in the other, with unwanted extra reverb and overly emphasised bass. Turn it off and the audio balance is much improved.
Generally, the Buds 3T Pro sound energetic, with plenty of body and a pleasing amount of weight at the low-end. They are certainly tuned for mainstream tastes, rather than audiophiles, although the bass is still fairly tight. It manages to avoid drowning out the rest of the mix in The Prodigy's thumping Champions of London, and doesn't unbalance the delicate, disturbing chords of Burial's Rough Sleeper.
There's a slight lack of precision at the very top end, with the hi-hats and cymbals of Royal Blood's Monster not having quite the impact we'd hope to hear. The stereo soundstage also feels significantly narrower, although instruments still have good individual separation.
Battery life
No pair of true wireless in-ears is going to make it through the day without at least one visit to its charging case, and the Buds 3T Pro are no different. The buds themselves are good for up to six hours of playback, depending on settings: we managed a little over five hours with ANC enabled but other settings like head-tracking switched off. That's about what you can expect from the AirPods Pro, but lags behind Sony's excellent WF-1000XM4.
The charging case can deliver an additional 18 hours of listening time before it needs topping up itself. This isn't too far off what Apple claims for the AirPods Pro, but falls short of the 30 hours promised by the 3rd generation AirPods.
Ten minutes inside the case should provide enough charge for around an hour of listening, and the case itself takes around an hour to fully recharge from empty, which is largely on par with rival true wireless in-ears. Qi wireless charging support lets you top up sans cable, which can be handy if you have a smartphone capable of reverse reverse wireless charging and you get caught short while away from a mains socket.
Verdict
With largely effective noise cancellation, decent battery life and lush, warm audio, the Buds 3T Pro are a well-rounded set of true wireless in-ears. The price is right, too, undercutting its closest rivals.
Gimmicky head-tracking alone isn't a reason to buy a pair, though, and with no app to control many of the more advanced features on non-Xiaomi hardware, they are difficult to recommend right now – unless you're also planning on picking up a Xiaomi 12 Pro sometime soon.
If better universal support arrives, though, there's plenty here that Apple-envious Android owners will appreciate.
Stuff Says…
A comfortable and capable pair of true wireless in-ears with effective noise cancellation, but one with limited wider appeal while certain features are restricted to select Xiaomi devices
Good Stuff
Detailed and balanced sound
Effective noise cancellation
Respectable battery life
Bad Stuff
Fiddly on-ear controls
Limited software support
Head-tracking a gimmick
Tech specs
| | |
| --- | --- |
| Drivers | 10mm (dynamic) |
| Active noise cancellation | Yes |
| Battery life | 24 hours (6 hours buds, 18 hours case) |
| Wireless charging | Yes |
| Bluetooth version | 5.2 |
| Codecs supported | AAC, SBC, LHDC 4.0 |
| Durability | IP55 (buds only) |
| Case dimensions | 65x49x24mm |
| Weight | 4.9g (buds) 48g (case) |