The 10 most exciting games still to come in 2014
The busy holiday release season isn't nearly done yet - here is what's left to come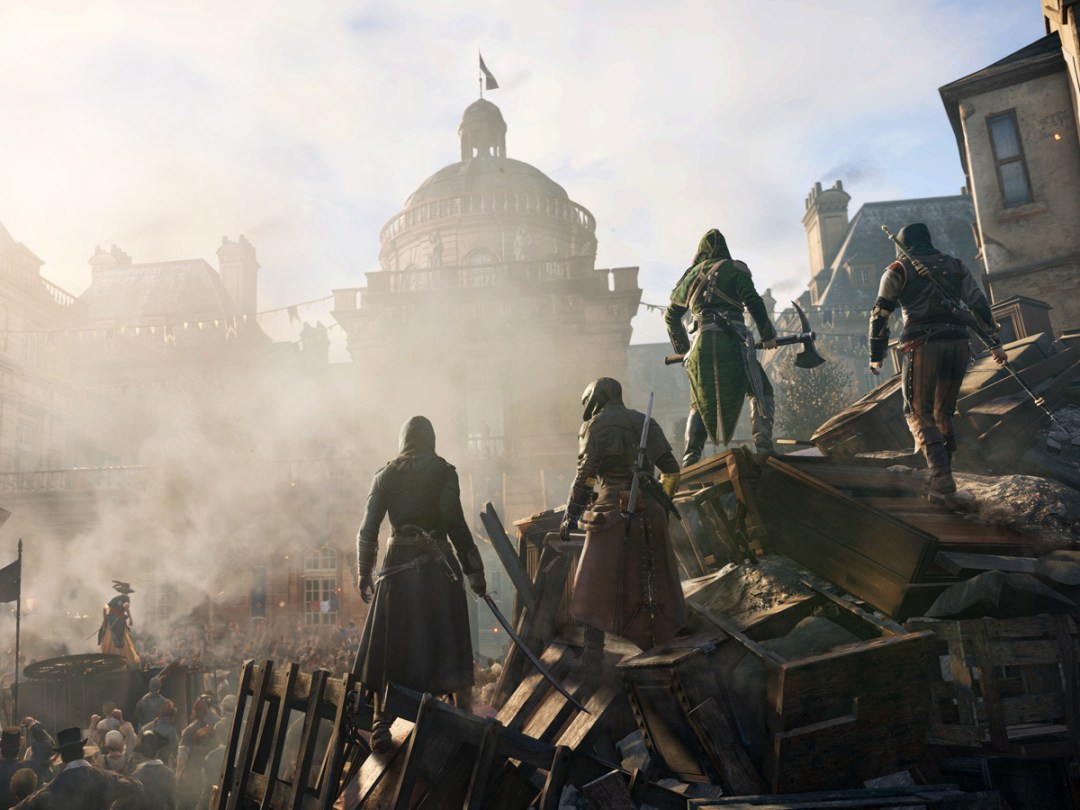 We've already had a tremendous start to the holiday season, between the likes of Destiny, FIFA 15, and Forza Horizon 2, but your thumbs will have plenty of reasons to keep twiddling analogue sticks and mashing buttons for the rest of the year.
Several major and rather amazing-looking games are still due out over the next several weeks before 2015 greets us, and we've picked the 10 most enticing entries on the release schedule – from futuristic shooting to open-world racing and even whimsical platform action.
READ MORE: The 30 best games you can play for free in your browser
1. Assassin's Creed Unity
We enjoyed living a pirate's life in last year's Assassin's Creed IV: Black Flag, but we've got an itch to explore a big, historical city – and Unity delivers in spades with French Revolution-era Paris.
Even better? Parts of the campaign are playable in online co-op with up to four assassins in total, meaning you can carry out even more elaborate assaults with real-life comrades backing you up. And it's only for new-gen hardware, too.
Due: 13 November / PS4, Xbox One, PC
READ MORE: Assassin's Creed Unity preview
2. Sunset Overdrive
What happens when Insomniac Games (Ratchet & Clank) tries its hand at a brash, open-world action game? Utter, delectable chaos – and candy-coated, to boot.
More like Crackdown than Grand Theft Auto, Sunset Overdrive is a manic fever-dream of a game, tasking you with detonating mutants with wacky guns while grinding on surfaces, leaping with abandon, and having a blast. Seriously, watch the trailer.
Due: 31 October / Xbox One
READ MORE: Sunset Overdrive review
3. Call of Duty: Advanced Warfare
Last year's Ghosts was a bit of a low point for the Call Of Duty series, delivering a competent but rather unremarkable retread through tired ideas. But Advanced Warfare looks a lot better.
For starters, it pushes things much further forward into the future: 2054, to be precise.
It's brimming with more crazy gadgets than a James Bond film and also has a strong – and welcome – focus on narrative (look, Kevin Spacey!). Factor in a stunning new game engine and you've got every reason to be excited about Call Of Duty for the first time in ages.
Due: 4 November / Xbox One, PS4, PC, PS3, Xbox 360
READ MORE: Call of Duty: Advanced Warfare preview
4. Halo: The Master Chief Collection
We rarely get too excited about a re-release (excepting GTA5), but The Master Chief Collection just blows us away with both the quantity of what's on offer and attention to detail.
The package features Halo 1-4, all remastered for the new-gen hardware and packing in the entirety of their original contents. That means that as well as the single-player story you also get each game's multiplayer package intact and playable online.
As a further – and very welcome – bonus, many of the Halo 2 maps have also been reimagined for the collection. So whether you loved the games first time around or are one of the 16 people in the world who's never played them, there's no excuse for not giving them another spin.
Due: 11 November / Xbox One
READ MORE: The Last Of Us Remastered review
5. The Crew
From the developers behind underrated racing gems such as Test Drive Unlimited and Driver: San Francisco, Ubisoft's The Crew is perhaps the most ambitious racer of the holiday season.
Single-player and online multiplayer action are merged in this jaunt across the United States, with coast-to-coast cruising and all manner of Burnout-inspired arcade antics along the way. Here's hoping it lives up to its massive potential.
Due: 2 December / PS4, Xbox One, PC, Xbox 360
READ MORE: The Crew First Play preview
6. Super Smash Bros. for Wii U
Nintendo's holiday season lineup looked pretty dire there for a while, but the company recently announced that the latest console entry in its multiplayer brawling franchise will make it out before the end of the year.
As before, Super Smash Bros. for Wii U sees familiar gaming icons battle it out – and Mega Man and Pac-Man join the fray this time around – but now with 8-player battles, a massive roster, and support for the Amiibo connected figurine line.
Due: 5 December / Wii U
READ MORE: Super Smash Bros. for Wii U preview
7. Far Cry 4
Exploring the wild jungle as an everyman bro made Far Cry 3 a one-of-a-kind experience, but Ubisoft's not resting on its laurels for the next instalment: it's shifting the action to the Himalayas. Snow! Elephants to ride! Drop-in co-op!
From what we've played, Far Cry 4 doesn't feel like a huge leap forward in terms of gameplay; crazed enemies, a charismatic villain and unpredictable terrain to negotiate, but we suspect it'll still be a tough game to shrug off. And Far Cry 4's upgraded co-op gameplay – allowing you and a friend to team up for attacks on massive fortresses – should add some spice to proceedings. Ubisoft's getting into the holiday spirit of generosity, too; you only need one copy of the game to partake of its co-op feature.
Due: 20 November / PS4, Xbox One, PC, PS3, Xbox 360
READ MORE: Far Cry 4 hands-on preview
8. LittleBigPlanet 3
Not only does LittleBigPlanet 3 arrive next month on a new lead platform with a new developer behind it; Sackboy is bringing some new friends with him. Now, when you play with three mates, each controls a different endearing felt creature – and each has a unique ability that really pushes home the need for teamwork. Expect lots of wickedly charming terrain and fiendishly difficult platforming action.
Due: 26 November / PlayStation 4, PlayStation 3
READ MORE: LittleBigPlanet 3 hands-on preview
9. Dragon Age: Inquisition
BioWare kind of blew it with Dragon Age II following the stellar original, but the beloved RPG studio is seeking to redeem the fantasy franchise with Inquisition.
The new title blends the better elements of the previous versions – for instance it will feature two combat systems, one of which resembles that from Origins and one that from II. As with the first game, you'll also be able to play as one of several races, among them humans, elves and dwarfs.
While not quite as epic as the peerless Skyrim, Inquisition still looks like it'll offer plenty of opportunities to create your own unique hero and seek adventure in an intriguing universe. And that's more than most games manage.
Due: 21 November / Xbox One, PS4, PC, Xbox 360, PS3
10. Grand Theft Auto 5
Wait, isn't GTA5 already our pick for the best game in the world right now? Indeed it is – and the best is about to get better when it gets the new-gen treatment in November (a PC version will follow in January).
Even if its visual overhaul is the only real addition, that'll be more than enough, as it looks downright stunning. That's not all you're getting, though. You can also expect to see new wildlife wandering about in Blaine County, more traffic clogging the streets of LA-analogue Los Santos (hopefully not as much as in the real world, though), more music on the radio, and new weapons, vehicles and activities to partake of. Rockstar's even throwing a bone to multiplayer gamers who've been plugging away on the previous-gen version; your multiplayer progress and XP will migrate to the new-gen version of the game.
In fact, the thought of exploring Los Santos all over again with some serious hardware powering the action is as enticing as a Chicago-soundtracked sunset drive with Trevor (ie very).
Due: 18 November / PS4, Xbox One
READ MORE: Grand Theft Auto 5 review
READ MORE: These are the 10 best games in the world right now