Apple Watch Series 9 vs Ultra 2: what's the difference?
The mainstream model takes on the fitness-focused flagship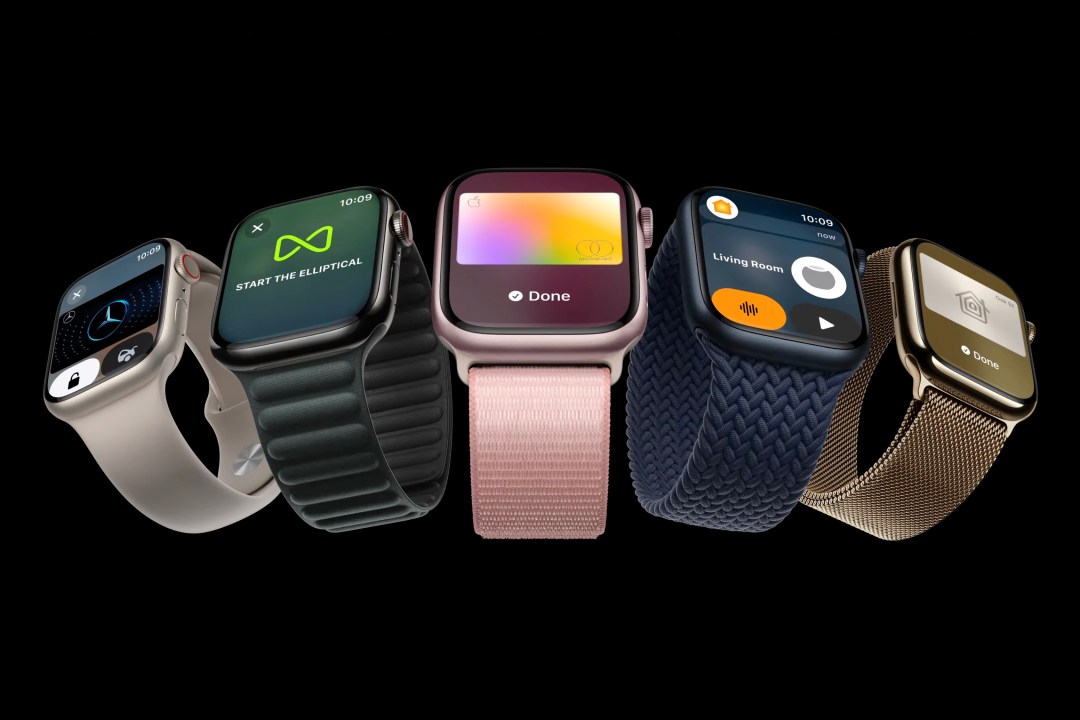 We were already big fans of the Apple Watch Series 8 and the Apple Watch Ultra. There two of the best smartwatches that money can buy, and now they've been given an upgrade.
Announced at the Apple Wonderlust event, the Apple Watch Series 9 and Apple Watch Ultra 2 will soon hit the shelves. But how do the two compare? It's hard to say for certain until we can get our hands on them for an official review. But going off the specs and images alone we can certainly make some concerted judgements.
Design & build: FineWoven
There's no major surprises when it comes to the design of both the Apple Watch Series 9 or the Watch Ultra 2. The same button layout and new Action Button remain, and the display is characteristically Apple looking in its flatness. We thought the weight might have been reduced, but we had no word from Apple on that. The previous Watch Ultra weighed almost twice that of the smaller Apple Watch Series 8, but on initial impressions that's not about to get any lighter.
The Apple Watch Series 9 is available in 41mm and 45mm sizes, and comes in pink aluminium, starlight, silver, midnight and product red colours. Cases are also available in gold, silver and graphite. The Watch Ultra 2, meanwhile, is built from more recycled materials and has a black colour option. It is only available in 49mm.
At Wonderlust, we were told that Apple had invented its own brand new material. That's called FineWoven, a microtwill made of 68 percent post-consumer recycled material. Apple has also ditched leather in all its new products.
Screen: increased nits
The Apple Watch Series 9 offers a 2000 nits display, which is twice as much as the Series 8, says Apple. At night, it can go down to a humble 1 nits in brightness.
Designed to handle the brightest sunlight, the Apple Watch Ultra 2 goes up to 3000 nits. It's also extended its built-in location mapping widgets. Apple is calling this modular ultra, and uses the outer edge of display to show data such as elevation and depth.
Features: double tap
Some moderately big news is that the Apple Watch Series 9 has introduced a new gesture controlled by the watch hand. That'll be the double tap. Simply tap your index finger and thumb twice, and you can answer and end calls, scroll through widgets, pause and play TV shows and snap photos from your phone. Revolutionary…indeed.
The Ultra has always been for the more active user. The original smartwatch comes with a dual-frequency GPS for improved tracking, and is fitted with all sorts of health-measuring tech. The Apple Watch Ultra 2 has only improved these features, or at least made them more accessible. The Ultra 2 features the double tap, as well as advanced metrics such as dual frequency GPS.
Performance & battery: much of the same
The take home information when it comes to the performance of both smartwatches is that they feature a brand new S9 SiP. This is designed to upgrade speed and efficiency. And much like the iPhone 15, the two watches come with improved Find My. This can direct you to your lost Apple product, and takes distance and direction into account.
The Apple Watch Series 9 has an 'all-day' battery life of 18-hours. Until we can test that out ourselves, it's hard to say how that translates into real life.
A key criticism of the original Watch Ultra though was its battery life. It was advertised as lasting for up to three days, but in reality that was more like two days. We found that the battery also worsens over time, which isn't exactly reassuring if you're planning a long hike in the wilderness. We were somewhat disappointed, then, to learn that the battery life for the Apple Watch Ultra 2 remains the same.
Both smartwatches come running watchOS 10 straight out of the box. WatchOS 10 brought us revamped widgets, new control centre access, better GPS and more Apple Fitness+ features.
Apple Watch Series 9 vs Apple Watch Ultra 2: price
There's no beating around the bush on this one. The Apple Watch Series 9 is a full $400/£400 cheaper than the Apple Ultra 2. At $399/£399, the Apple Watch Series 9 is certainly the more cost effective choice. The Apple Watch Ultra 2, meanwhile, is available for $799/£799.
Apple Watch Series 9 vs Apple Watch Ultra 2: verdict
We'll point out the obvious here and say that both the Apple Watch Series 9 and Apple Watch Ultra 2 don't reinvent the wheel. They build on many of the features we saw in earlier models. In that, deciding which smartwatch is worth your money comes down to personal usage.
The Apple Watch Ultra 2 is suited to lovers of the great outdoors, but it demands a hefty asking price. The Ultra 2 is also competing with the Garmins of this world, alongside a whole bunch of reasonably priced health trackers. Right now, if you already have an Apple Watch Ultra, we'd recommend sticking with your current model. If you're tempted by the Apple Watch Series 9, then on immediate impressions there's not many upgrades that make buying a new one worthwhile.