10 best watchOS 10 features your Apple Watch will love
Your Apple Watch is getting even better later this year.
The latest watchOS update, watchOS 10, is being officially rolled out on 18 September. The new watchOS is packed with impressive features that will make your Apple Watch smartwatch much more enjoyable and user-friendly. It will also come as standard with the forthcoming Apple Watch Series 9 and Apple Watch Ultra 2.
These new features include new watch faces (which include the beloved Snoopy), two new health tools, Smart Stack and much more. Until we can really delve into the nitty gritty, we don't truly know how much there is to discover in watchOS 10. But for now, here at the ten features we're getting excited about.
Familiar apps, new looks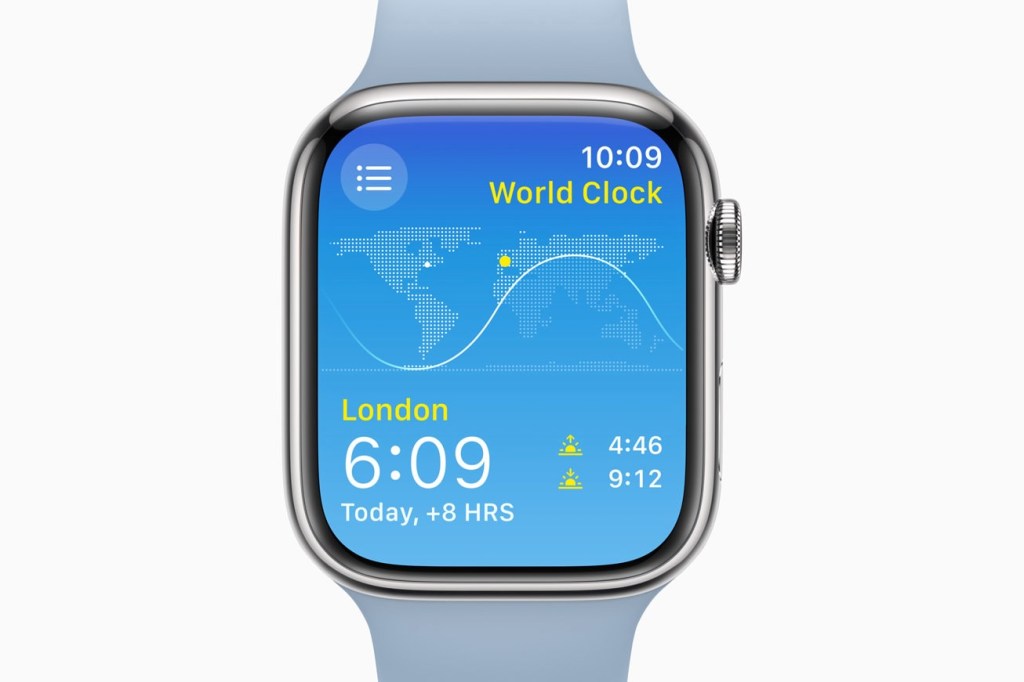 Over the years, the display area on Apple Watches has increased. However, until now, Apple hasn't utilized the extra space. With the release of watchOS 10, some of your favorite apps have undergone significant redesigns, allowing for more information to be displayed at a glance. For example, the Clock, Fitness, and Stock apps now contain much more information.
Smart Stack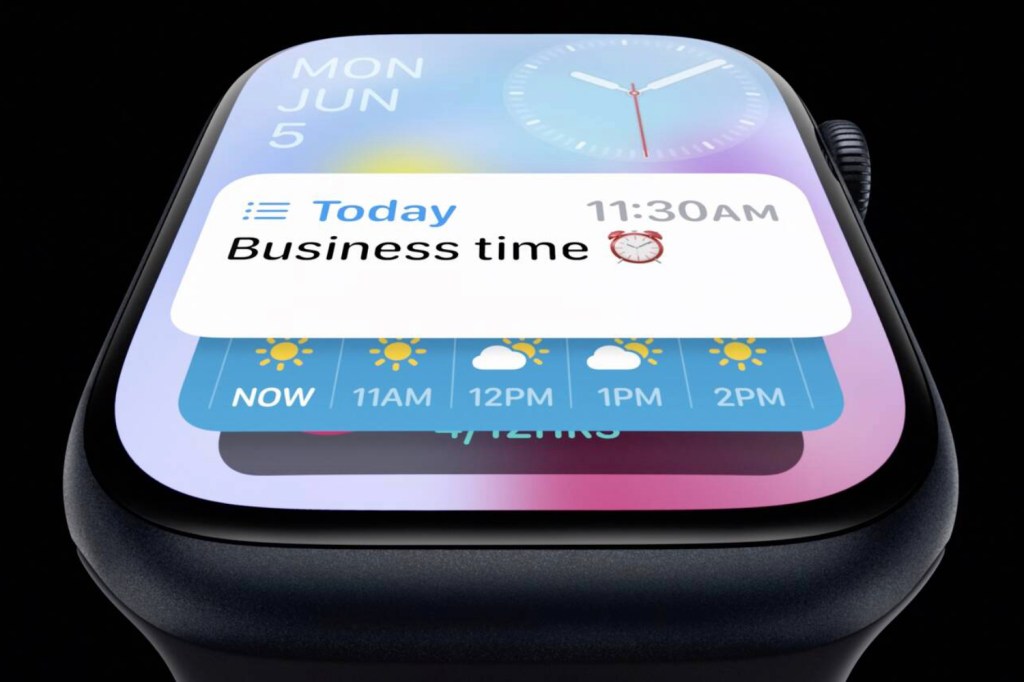 In recent years, widgets have largely been forgotten on Apple Watch. With the all-new Smart Stack, they are once again front and center. The feature, accessible when turning the Digital Crown from any watch face, shows timely information that adjusts based on what you're doing and the time of day.
For example, you might see the weather forecast at the beginning of the day or the calendar as the day winds down. Smart Stack will also include information about open apps like Apple Music or Podcasts.
As a bonus, the top of the Smart Stack includes an analog clock and today's date.
New Control Center access
With the release of watchOS 10, there has been a change in how to access Control Center. Simply tapping the side button will now do the trick. A quick double-click of the Digital Crown will take you back to any previously used apps.
Two new watch faces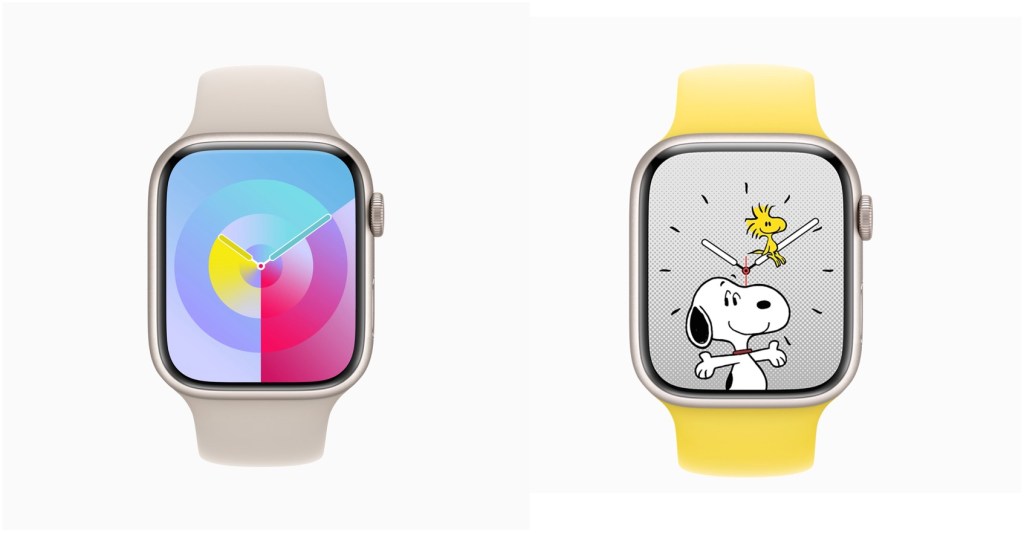 Apple tends to be slow in releasing new watch faces. In watchOS 10, there are only two new ones set to arrive. While small in numbers, these watch faces show great promise.
Two new watch faces have been introduced: Palette and Snoopy. Palette blends colors that transition through overlapping layers, adapting to the passage of time. On the other hand, Snoopy showcases the beloved Peanuts character and his companion, Woodstock, who move around and interact with the watch hands. They also react to weather changes and become more enthusiastic during workouts.
NameDrop
Carried over from iOS 17, NameDrop makes exchanging contact information with someone nearby a breeze. All you need to do is place your Apple Watch close to someone's iPhone. Moreover, you can also utilize NameDrop by tapping the Share button in the Contacts app's My Card section or by using the My Card watch face complication.
Cycling
Apple Watch is set to offer more cycling features with the introduction of watchOS 10. This update includes advanced metrics, views, and experiences. The information is automatically transferred to your iPhone as a Live Activity. You can view various workout metrics such as Heart Rate Zones, Elevation, Race Route, Custom Works, and an all-new Cycling Speed view, among others, by simply tapping the screen.
Bluetooth-enabled cycling accessories will also now connect to Apple Watch. These include items like power meters, speed sensors, and cadence sensors. New algorithms are also available that combine sensor data from Apple Watch and connected power meters.
Hiking
The Apple Watch Compass app has added new features in watchOS 10 that are highly beneficial for hikers. These features include the introduction of two new waypoints. The first one is the Last Cellular Connection Waypoint which estimates the last location with cellular reception. This information helps you find a place with cellular connectivity to check messages or make a call conveniently.
The second waypoint is the Last Emergency Call Waypoint, which estimates where the Apple Watch last connected to any available carrier's network on your route. This feature helps you know where to make an emergency call.
The watchOS 10 update also introduces a new Elevation view that uses altimeter data to help you prepare routes. Additionally, Apple Maps in the U.S. now displays a topography map with contour lines, hill shading, elevation details, and points of interest. You can also use the watch to search for nearby trails and trailheads.
Mental Health and Vision Health
Apple Watch has always included exercise and fitness features since its inception. Over the years, Apple has also incorporated sleep tracking recently to enhance its functionality. With the launch of watchOS 10, Apple is introducing mental and vision health tools to cater to the holistic well-being of its users. Both tools are also heavily tied to iPhone and iOS 17.
The watchOS 10 mental health tools are on Apple's Mindfulness app, where you can regularly track your emotions and daily moods. Over time, the app will use this information to generate valuable insights that can help you identify factors affecting your state of mind and offer customized solutions.
Myopia, or nearsightedness, is the world's leading cause of vision impairment. Studies have shown if children spend 80 to 120 minutes a day outdoors, myopia is better contained. The Apple Watch's new vision health tool keeps track of how many minutes you're outdoors daily using the device's ambient light sensor. With this information, you can adjust your daily routine to enjoy more daylight in your day.
New Apple Fitness+ features
Apple Fitness+ has introduced some exciting new features with the upcoming watchOS update. These additions offer a more streamlined and personalized workout experience. The Custom Plans feature allows you to tailor your workout routine by selecting specific days, durations, types of workouts, trainers, and music. Stacks also enable you to easily organize multiple workouts and meditations, making it simple to transition to your next activity.
Who can use watchOS 10, and when
Apple users can begin using the public beta version of watchOS 10 on 12 July.
In addition to those new Apple Watches, watchOS 10 is compatible with the Apple Watch Series 4, Apple Watch Series 5, Apple Watch SE, Apple Watch Series 6, Apple Watch Series 7, Apple Watch Series 8, and Apple Watch Ultra.
Related: The 10 best iOS 17 features to look forward to