Garmin Fenix 7 review: all-round brilliance
The do-it-all adventure watch now with solar-boosted battery life and more accurate GPS - is it the best sports watch around?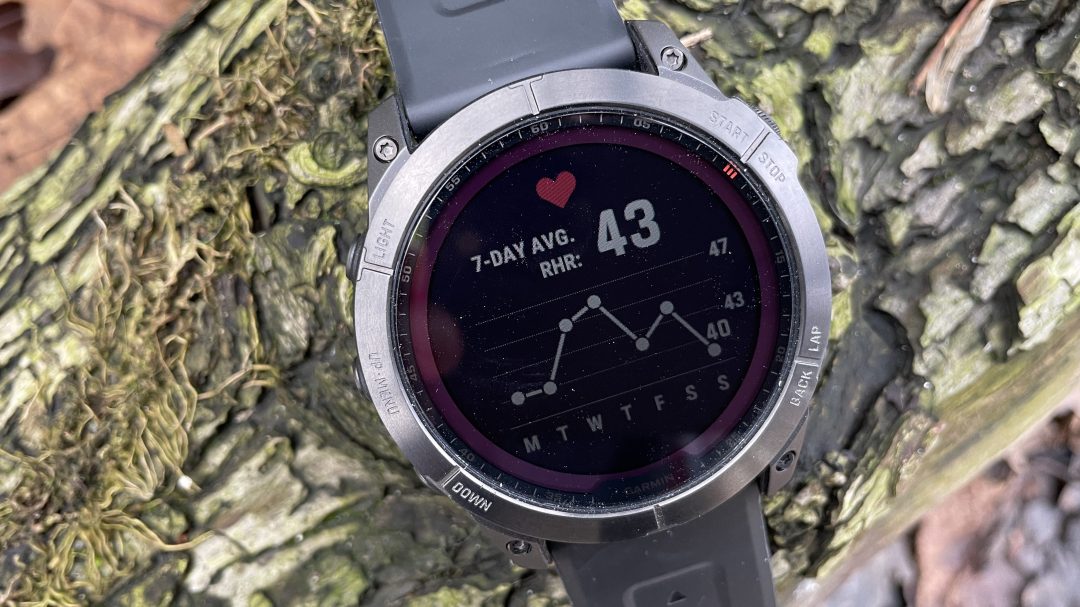 It's been two years since Garmin upgraded its top-tier multi-sports adventure watch but the long-awaited successor to the Fenix 6 is finally here. The new Garmin Fenix 7 sticks with the familiar rugged, outdoors-ready design but adds more firepower in two key areas – bigger battery life and more accurate GPS – plus a handful of new features.
On the range-topping 7X Solar edition that we tested, the GPS battery life has been boosted from 60 to 89 hours with solar-harvesting performance improved by 200%. You also get new military-style multi-band GPS that's designed to deliver better accuracy to your runs, rides and off-beat adventures. Plus a colour touchscreen and navigable colour TOPO maps.
Like its predecessor, the new Fenix 7 is built for bossing almost any sport. It packs the most complete set of training, performance and analysis features, across the widest range of activities, on any Garmin sports watch. New highlights here include real-time stamina estimates, visual race predictor and it now even comes with a pickleball profile.
That's all backed by a comprehensive suite of tools for tracking daily health and wellness, plus all the smartwatch skills that Garmin now offers on its increasingly smart watches. That includes Garmin Pay contactless payments and offline music support for Spotify, Deezer and Amazon Music.
On paper, this is a watch with the potential to be top dog. With a heavy price tag between £599 and £1149, it should be too. But is it worth that adventurous investment? And how does it stack up against the likes of the COROS Vertix 2 and Garmin's own Enduro? We tested the Garmin Fenix 7X to find out and here's our Garmin Fenix 7 review.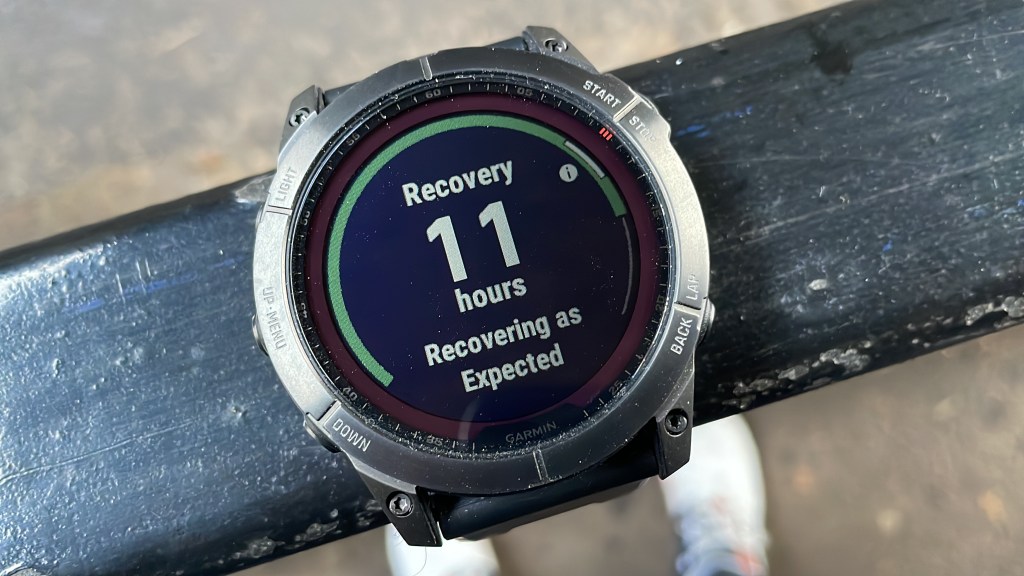 Garmin Fenix 7 price
There are three models in the Garmin Fenix 7 range: the Fenix 7S, the Fenix 7 and the Fenix 7X. And a total of 22 different watches across the range.
The 7S and 7 come with standard (non-Solar), Solar and Sapphire Solar Editions. The 7X has only Solar and Sapphire options. You can also choose between stainless steel or a lighter titanium casing. They're all in the top-tier price bracket for sports watches and represent a pretty serious investment.
The cheapest is the standard, non-solar Fenix 7S at £599.99, rising to £859.99 for the top-featured Solar Sapphire. The Fenix 7 ranges from £599.99 and £989.99, depending on which edition you opt for. The most expensive is the Fenix 7X Sapphire Solar Edition and that ranges from £779.99 to £1049.99, if you go for the titanium finish.
When it comes to price and feature set, the nearest alternatives in Garmin's range are the brand new Epix (think Fenix 7S size and skills just with an AMOLED screen and no solar) which starts at £799 and the older big-battery Garmin Enduro. That's currently listed from £649.99.
Beyond Garmin's line-up, the nearest rival on battery life, build, durability and features is the COROS Vertix 2 at £599. That offers a bigger GPS battery life for a chunk less change than most of the Fenix 7 options. You might also consider the Polar Grit X Pro (£439), which carries a solid feature set and adventure-ready design, though it lacks the staying power of Fenix and the Vertix. 
Features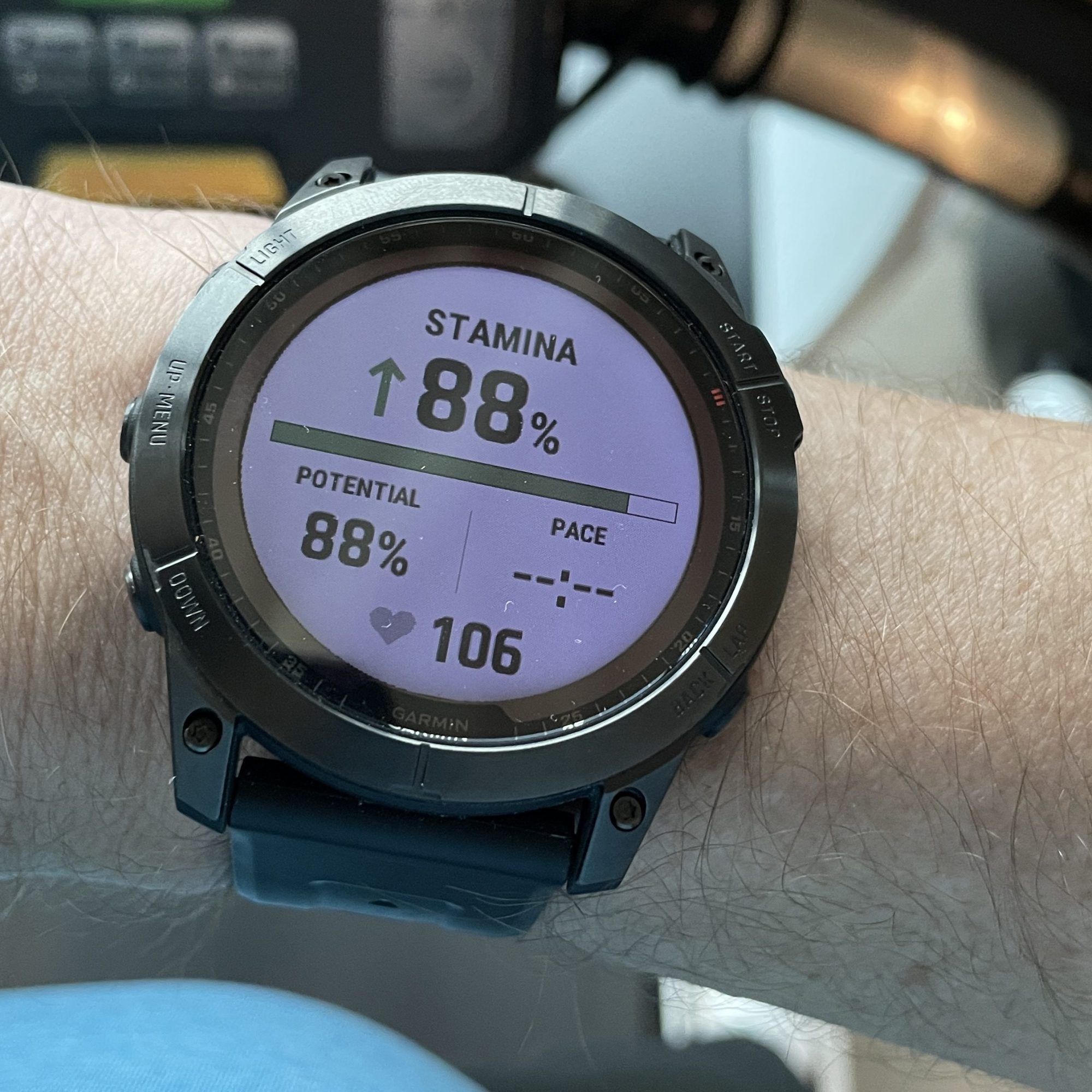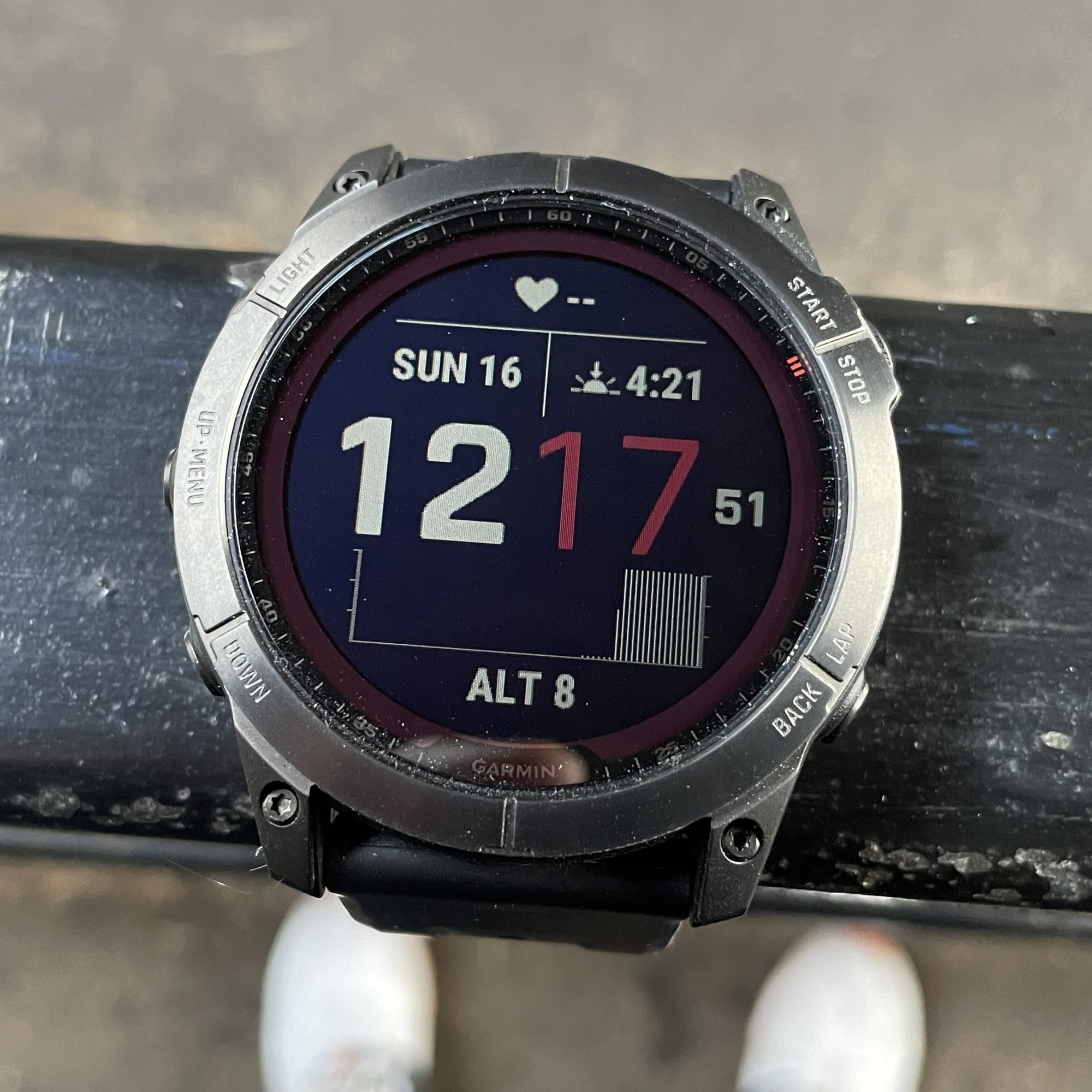 This is a serious tool for serious athletes with a very impressive feature set. As you'd expect, the Fenix 7 offers dedicated sport profiles for a huge range of more than 30 activities including trail running, swimming, running, biking, hiking, rowing, skiing, golfing, surfing, and indoor climbing. You name it, it tracks it.
There's a new dedicated workout mode for HIIT fans, making it easy to set the number of rounds and work/rest intervals for AMRAP, EMOM, Tabata and custom sessions.
All the familiar Garmin training tools are here, including suggested workouts, Garmin Coach, training load and training effect monitoring, and recovery time recommendations.
You can monitor how your blood, sweat and tears sessions convert into fitness gains with altitude and heat-adjusted VO2 Max fitness estimates. Plus Garmin's running race time predictor now comes with a useful trend chart so you can see if you're closing in on your goal. Though the accuracy can still be sketchy. You can also get mid-run performance feedback that compares your current level to previous outings.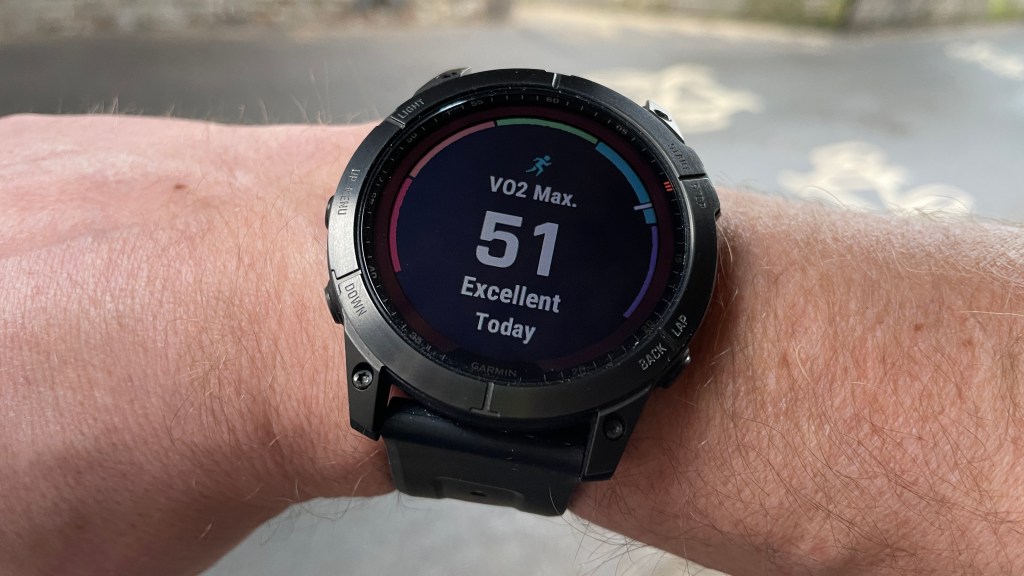 Garmin has also added a new training metric, Stamina. Designed to help you avoid busting out too hard at the start of your run or activity, this uses your training history and metrics like VO2 Max, max heart rate and lactate threshold to give you a dynamic read on how much gas you've got left in the tank at different paces. You see a percentage of stamina remaining and an estimated distance you can sustain at your current intensity.
Of course, many of these training tools rely heavily on heart rate and the Fenix 7 features a new-generation optical heart rate tech that aims to boost wrist-based accuracy.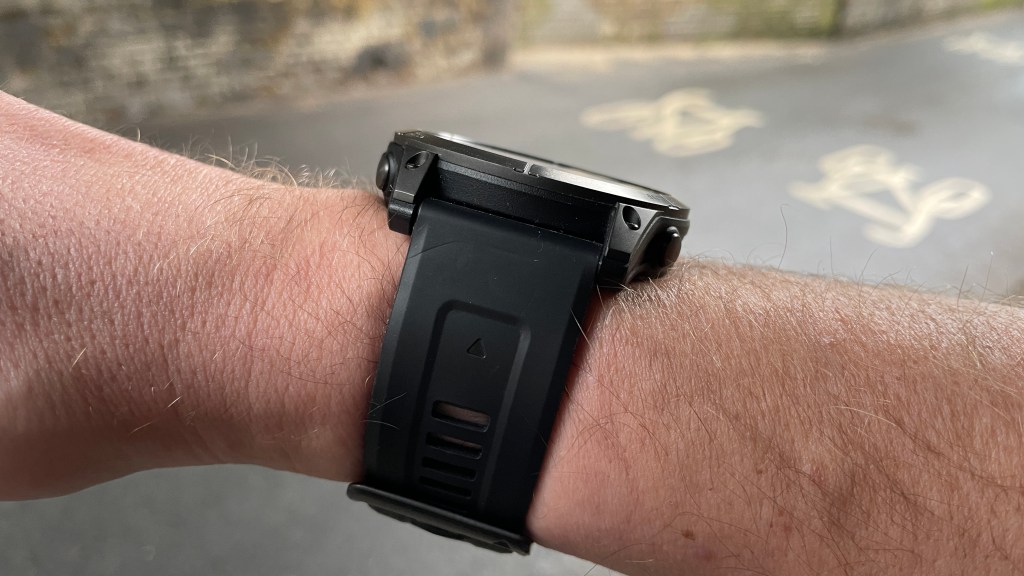 Our optical heart rate sensor accuracy tests revealed a familiar tale for wrist-based tracking. We encountered the usual lagging and lurching on occasions during runs and workouts with big, sudden shifts in intensity. The max heart rate reads were often higher than a chest strap. Up against the Epix too, the Fenix had a tendency to read our non-workout heart rate higher. 
In short, get a chest strap if you want to make the most of all the excellent BPM-based training and performance insights.
Outside of training, that tech powers the 24/7 heart rate tracking that feeds general health tools like Body Battery – a fairly reliable estimate of your daily stress and energy levels – sleep tracking (with hit and miss accuracy) and heart health with optional high and low alerts.
You can also keep tabs on blood oxygen levels with the built-in pulse oximeter, monitor breathing rate and log hydration – though that's done manually.
The Fenix has always been Garmin's navigation powerhouse and you now get precision multiband-GNSS (only on the Sapphire Solar Editions) that Garmins says gives you "access to multiple frequencies sent by navigation satellites for improved position accuracy in area where GNSS signals are reflected, weak or typically don't penetrate."
Another upgrade from the Fenix 6, is the addition of multi-continent TOPO maps. These come preloaded on the solar sapphire editions but can be downloaded for the rest of the Fenix 7 range. It appears there's no plans to make these available on the Fenix 6 series.
Skiers also get treated to Skiview maps including run names and difficulty ratings for more than 2,000 ski resorts worldwide.
Garmin's music smarts are here too. You get offline storage and playback for playlists from your Spotify, Deezer or Amazon Music. Connecting wireless headphones to run phone-free is wonderfully simple and connectivity was solid. The addition of the touchscreen also made managing the smart notifications and contactless payments much easier.
Solid stayer
On paper, the Fenix 7X boasts up to 89 hours of battery life with full GPS enabled. That can stretch to 122 hours in perfect solar conditions. It'll also extend to 101 hours in UltraTrac mode but drops down to 40 hours when you enable multi-GNSS multi-band settings for extra accuracy – less if you're using music.
It largely lives up to billing too. After 15 days, including 10 hours of full GPS and multiband GNSS workouts, we'd only torched 51%. An hour's GPS workout cost around 2% battery life. While on average, the battery burn rate doubled when using muti-GNSS, multi-band mode compared normal GPS mode.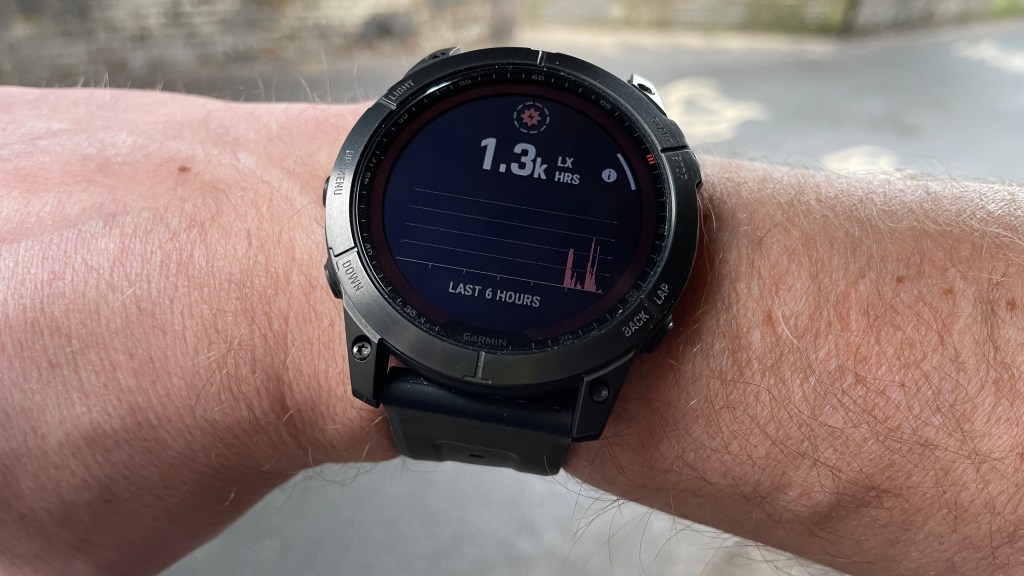 The battery skills aren't restricted to longer staying power either. Garmin's Power Manager is a stand out tool that lets you create your incredibly granular, fine-tuned custom power modes. For example, you can choose to switch off optical HR, toggle maps on and off, manage the backlight and, of course, change the GPS tracking frequency and options. 
In testing, the general GPS performance was on par with the Garmin Enduro and the Vertix 2. But when it comes to that accuracy-boosting multi-GNSS and multi-band mode, we found it made little difference versus regular multi-GNSS. Post-workout maps still show us running in rivers and up against the Enduro and Epix, all came in around the 10% margin for error that you'd expect with GPS performance.
We also found it tricky to discern any marked improvements to real-time pacing reliability and it certainly wouldn't be the main driving factor in shelling out extra for the Sapphire Solar editions that come with multi-band.
For gym goers and heavy lifters, strength mode has automatic rep counting. The accuracy is still really hit and miss, depending on the drills but it's relatively easy to edit rep counts on watch during rest periods.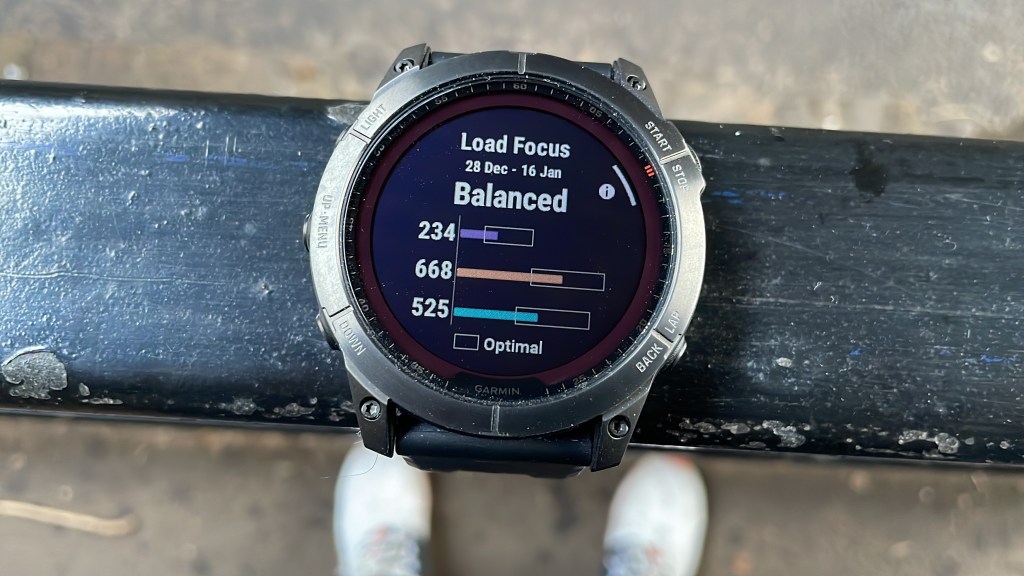 Comparisons
If your heart is set on a Fenix 7, out of the range, we'd suggest the Fenix 7 Sapphire Solar edition hits the bang for buck sweet spot. It offers excellent solar-boosted battery life, mapping and nav smarts plus that multiband GPS accuracy comes as a bonus plus there's a tougher power sapphire screen and a wrist-friendly 1.4-inch, lighter titanium case.
If you're not set on a Fenix 7, don't care about having a touchscreen and that mega battery life, or you want a smaller, lighter watch the Garmin Forerunner 945 (£629.99) is your best bet. This carries a similar set of training and general features just in a less hefty frame.
If maximum battery life is top priority then the Coros Vertix 2 (£599.99) leads the way on longevity alone. That'll go for up to 240 hours in the lowest power modes.
If you want a Fenix with a smartwatch-style super-bright AMOLED display, the new Garmin Epix (£799.99) is where it's at. But be warned: once you see that screen quality, you'll want it.
Finally, anyone looking for a more budget-friendly fitness tool should consider the Coros Pace 2 (£179.99). You get a lot of watch for under £200.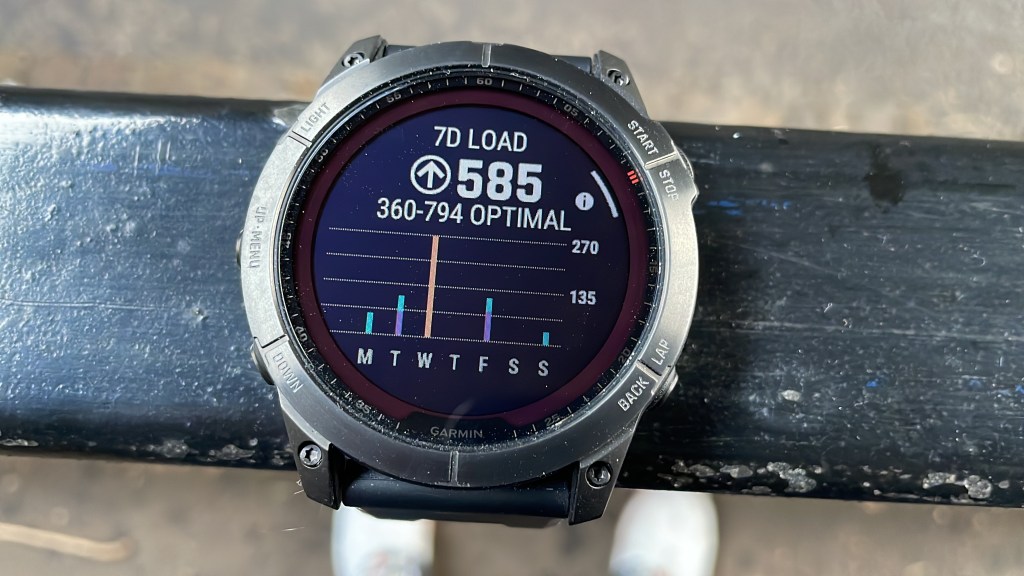 Garmin Fenix 7 verdict
This is more watch than most people need with a considerable price tag many won't be able to afford. But if your budget stretches – and your fitness pursuits demand it – the Garmin Fenix 7's impressive combination of rugged durability, serious battery endurance, excellent navigation skills and the richest suite of training analysis, wellness and smartwatch skills, make this the best all-rounder sports watch you can buy right now.
Stuff Says…
The best all-rounder outdoors adventure watch you can get right now.
Good Stuff
Outstanding battery life
Excellent durability
Offline mapping
Bad Stuff
Bulky on the wrist
Pricey
Garmin Fenix 7 technical specifications
| | |
| --- | --- |
| Smartwatch battery life | 11-28 hours |
| Non solar GPS Battery life | 37-89 hours |
| Solar GPS battery life | 46-122 hours |
| Screen | 1.2-inch, 240×240; 1.3-inch, 260×260; 1.4-inch, 280×280 |
| Dimensions | 42 – 51 mm (case) |
| Weight | 63g-96g |
| Water resistance | 10ATM |
| GPS | Glonass/GPS/Galileo with multiband GNSS |
| Sensors | Optical heart rate, Pulse Ox, altimeter, barometer, compass |
| Connectivity | Wi-Fi, Bluetooth and ANT+ |