Best Garmin watch 2023: sports watches reviewed and rated
There's a Garmin sports watch out there for everyone. Here's how to choose yours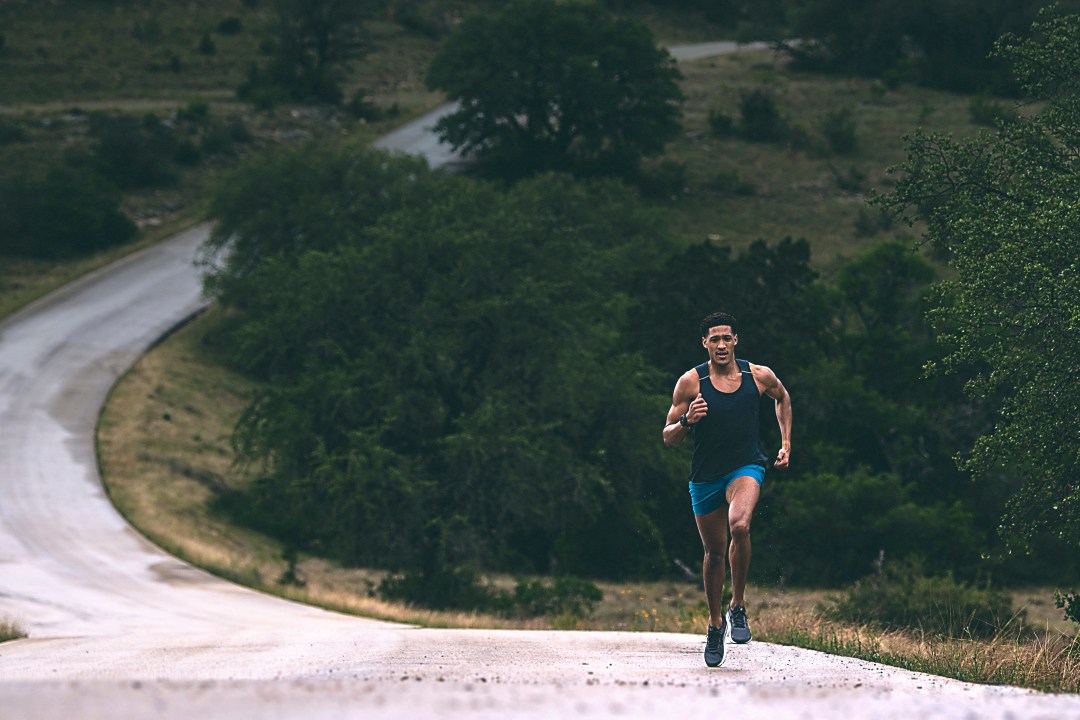 From stylish fitness trackers to hardcore adventure tools, there are close to 100 models in Garmin's multisport watch line-up. We know, we just counted. So whether you're an obsessive runner, a two-wheel weekend warrior, a competitive golfer or you just want to keep tabs on your day-to-day fitness, there's a Garmin that'll fit your bill.
But with so many options, cutting through the features and specs to find your Goldilocks tracker can be a battle. Luckily for you, we've done the hard work.
If you're looking for something a little more affordable then you can check out the best cheap fitness tracker.
But, without further ado, here are the best Garmin watches you can buy right now.
---
What's the best Garmin watch to buy today?
Best for all-out endurance: Garmin Enduro 2 (buy now)
With a whopping 150-hour, solar GPS battery life that can even extend up to 700+ in low power tracking modes, the Enduro 2 is the ultimate go-long multisports watch. It's essentially a Fenix 7 that just won't die, with the same package of training, performance and adventure tools, smartwatch smarts and an almost identical rugged design. You just pay extra for that month-long staying power.
Best fitness all-rounder: Garmin Forerunner 265 (buy now)
If you're ok with sacrificing a few hours of GPS battery life – and parting with a considerable extra chunk of change – the Forerunner 265 packs one of the snappiest screens in the sports watch business. Beyond that it's also a comprehensive and capable fitness tool. Yes it's geared towards runners but it offers general training, performance and health insights that stretch way beyond the plod. If you're not bothered about the shiny screen, the Forerunner 255 is also a good bargain bet.
Best fitness smartwatch: Garmin Venu 2 Plus (buy now)
If you want a fitness tracker that balances style, health, activity and training insights with smartwatch capabilities like music and mobile payments, the Venu 2 Plus offers the lot. It's not quite an Apple Watch but with a competitive battery life, a bright, vibrant AMOLED touchscreen and tools like suggested workouts and adaptive coaching plans, there's plenty here to cover most daily fitness needs.
The best Garmin watches you can buy today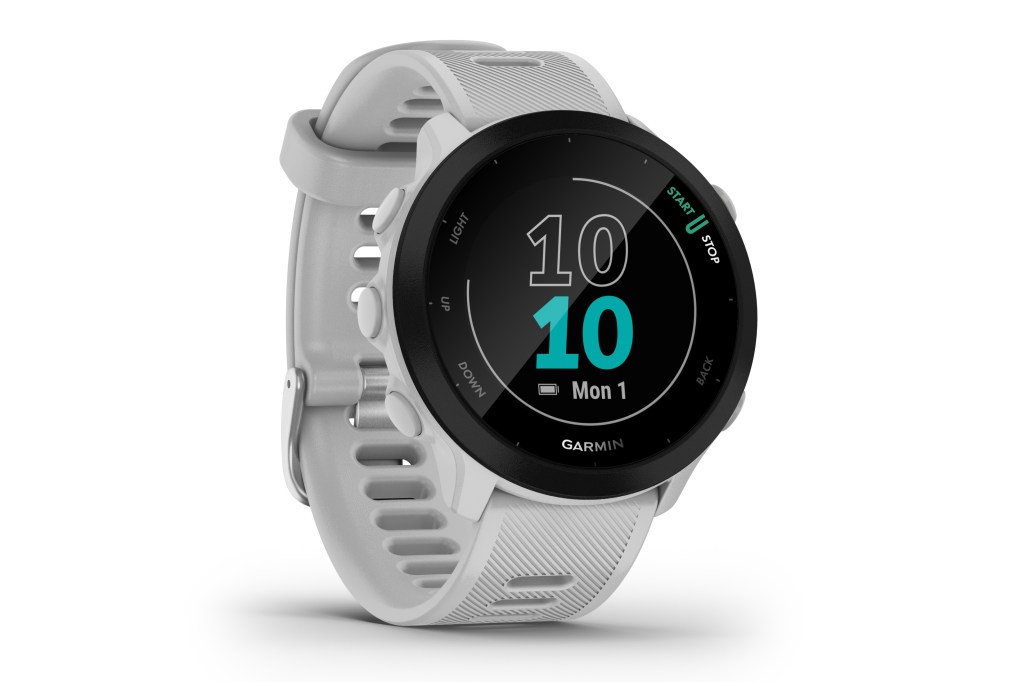 1. Garmin Forerunner 55
Stuff Says…
A very capable turbo-charged fitness tracker with running-skewed skills.
Tech spec:
Screen: 1.04-inch, 208 x 208 pixels | Battery life (GPS): 20 hours | Weight: 37g | Offline music: No | Navigation: No | Waterproof: 50m
If all you want are the fitness-tracking basics done well, the Forerunner 55 is an older running-skewed watch that delivers excellent bang for your buck.
With loads of sports profiles, built-in heart rate and a 20-hour GPS battery life, it's great for beginner runners. But it packs enough fitness feature firepower to cater for more serious milers who like to keep things simple, too.
At 37g, it's light and compact with a smaller 1.04-inch display that'll suit smaller wrists. That display isn't as bright as the punchier AMOLEDs on Garmin's pricier Epix 2 and Forerunner 265 but there's decent visibility in most lights and it's big enough for monitoring a few vital stats on the move.
Features-wise the Forerunner 55 handles all your regular daily tracking: steps, heart rate, stress, Body Battery energy levels, sleep and women's cycle tracking. Beyond that, you also get access to beginner-friendly training tools like Garmin's daily suggested workouts, adaptive training plans and recovery time recommendations.
For runners, there's PacePro race pace guidance, estimated finish times for whatever distance you're trying to conquer and a race predictor tool that'll (very roughly) guess your 5k, 10km, half and marathon times.
However, you will sacrifice mapping and navigation tools, offline music storage and smartwatch smarts like mobile payments, for that cheaper price tag.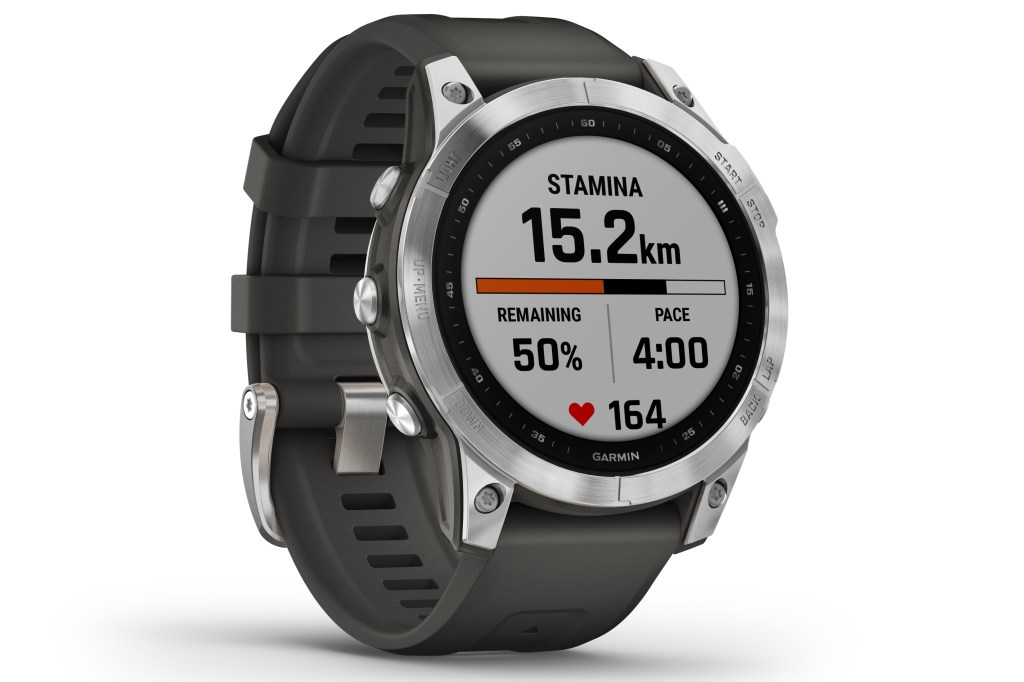 2. Garmin Fenix 7
Stuff Says…
A durable do-it-all adventure watch, this is Garmin's most capable GPS sports watch – now with added solar staying power.
Tech spec:
Screen: 1.2-inch, 240×240; 1.3-inch, 260×260; 1.4-inch, 280×280 | Battery life (GPS): Up to 122 hours
The Garmin Fenix 7 is a rugged beast built for big wrists and bossing almost any sport. It offers all the running, cycling and swimming smarts on cheaper Garmin watches and it's packing enough outdoor trickery for anyone who wants to tackle wilder adventures like scuba, remote hikes and off-piste skiing. Even golf.
The Fenix 7 now comes with a responsive touchscreen, up to 122 hours of solar-boosted battery life and more accurate GPS. It also packs the most complete set of training, performance, navigation and analysis features, across the widest range of activities, on any Garmin sports watch.
That's all backed by a comprehensive suite of tools for tracking daily health and wellness, plus all the smartwatch skills that Garmin now offers on its increasingly smart watches. That includes Garmin Pay contactless payments and offline music support for Spotify, Deezer and Amazon Music.
In reality, this is more watch than most people need with a considerable price tag many won't be able to afford. But if your budget stretches – and your fitness pursuits demand it – the Garmin Fenix 7's impressive combination of rugged durability, serious battery endurance, excellent navigation skills and the richest suite of training analysis, wellness and smartwatch skills, make this the best all-rounder sports watch you can buy right now.
The only thing missing is that bright and beautiful Garmin AMOLED screen that you get on the Epix 2, Forerunner 965 and 265.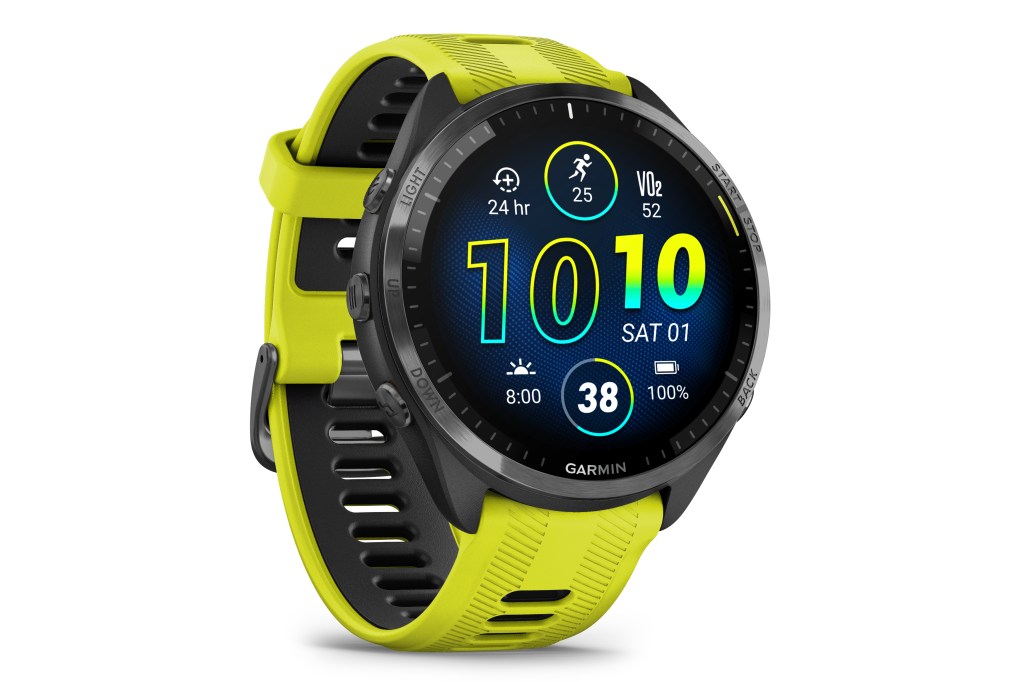 3. Garmin Forerunner 965
Stuff Says…
Don't be fooled by the name, this is a multisports tracking powerhouse with a stunning screen.
Tech spec:
Screen: 1.4-inch, 454 x 454 AMOLED touchscreen | Battery life (GPS): Up to 31 hours | Weight: 52g | Offline music: Yes | Navigation: Yes | Waterproof: 50m
The latest incarnation of Garmin's top-tier Forerunner, the 965 is more than £100 pricier than its predecessor. But it now offers a full suite of Garmin's most advanced training, fitness, health and activity tools, along with Fenix-level mapping and navigation, an ultra-run-capable 31-hour GPS battery life and other smarts like offline music and Garmin Pay. And while running is its bread and butter, it also caters nicely for cyclists, swimmers, golfers, multisports and gym bunnies.
But the big USP here – beyond the powerful tracking arsenal and the longer battery life – is a larger, beautiful AMOLED touchscreen that gives your daily metrics a dash of Apple Watch vibrancy. Though you'll sacrifice battery life. The cheaper Forerunner 955 lasts longer.
The bigger 1.4-inch touchscreen now matches the Fenix 7's real estate but at 52g, with a lightweight titanium bezel, the Forerunner 965 is still much less hefty on the wrist than its more adventurous muscled-up stablemate. Dual touchscreen and button controls also give you maximum control.
Tracking accuracy is boosted by multiband GPS while the new SatIQ spares battery drain by automatically figuring out the optimal GPS mode to use based on your environment.
Full-colour maps and ClimbPro give you a better window into what's up ahead with easy access to climb details, including gradient, distance, and elevation gain, before or in real-time while you're plodding a course.
Runners get excellent running dynamics on the wrist, including cadence, stride length, ground contact time and running power and there's Garmin's HRV status tool and Pulse Ox sensor to keep track of your health vitals outside of training, too.
Multi-sporters and triathletes take note: there are also dedicated profiles with easy transitions for triathlon, duathlon, brick workouts and swim-runs.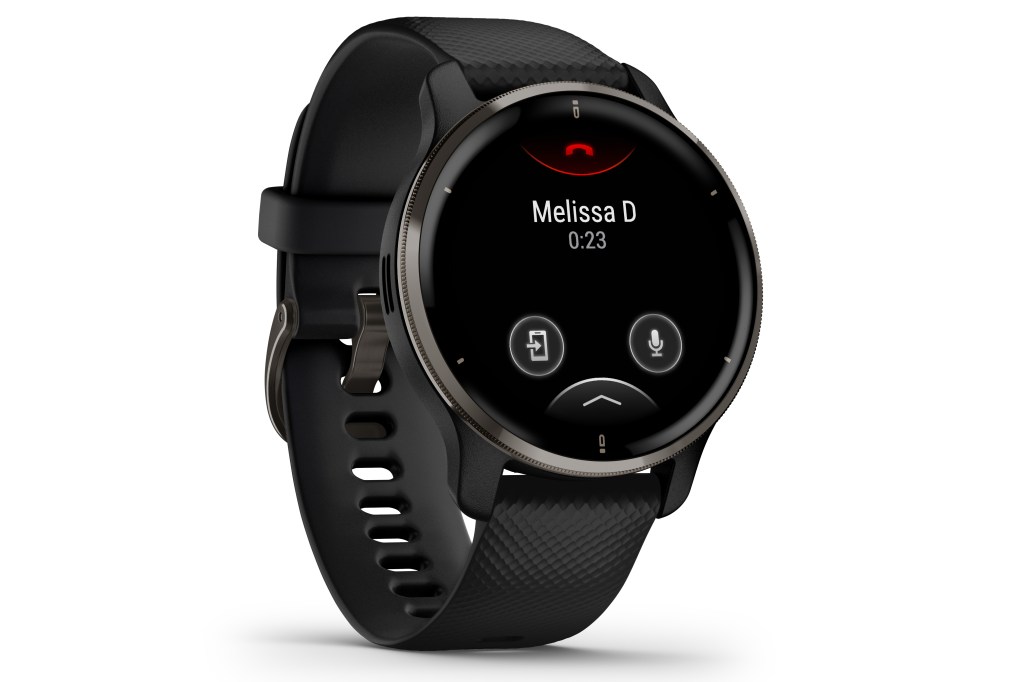 4. Garmin Venu 2 Plus
Stuff Says…
An Apple Watch alternative that strikes a brilliant balance between smartwatch and fitness tracker.
Tech spec:
Screen: 1.3-inch, 416 x 416 pixels, AMOLED touchscreen | Battery life (GPS): Up to 24 hours | Weight: 51g | Offline music: Yes | Navigation: Yes | Waterproof: 50m
If you're after an Apple Watch alternative that pairs style with substance, the Garmin Venu 2 Plus strikes a brilliant balance between smartwatch and sports tracker. It blends a broad range of fitness, health and wellness tracking tools with features like offline music (with storage for 650 songs), smart notifications, mobile payments and (some) third-party app support.
The star here is the Venu 2 Plus' stunning, bright, sharp AMOLED display with an optional, always-on mode. Using the always-on screen and music puts a big dent in the 24-hour max GPS battery life but the Venu 2 Plus still has solid staying power for a smartwatch. And rapid charge gives you an hour's GPS workout time in just 10 minutes.
The new edition now also ships with a built-in mic and speaker, so you can make and receive calls and bark orders to start timers or send texts at Siri, Google Assistant and Samsung's Bixby. If you don't care too much about talking skills, the cheaper Venu 2 has all the same features except for the built-in mic.
The Venu 2 Plus' fitness skills include in-depth all-day activity tracking, a whole host of sports modes, plus customisable workouts with demonstration animations, a pulse oximeter, stress tracking, body battery energy level estimates, recovery time advice, sleep and women's health tracking. There are also changeable faces from the Connect IQ store.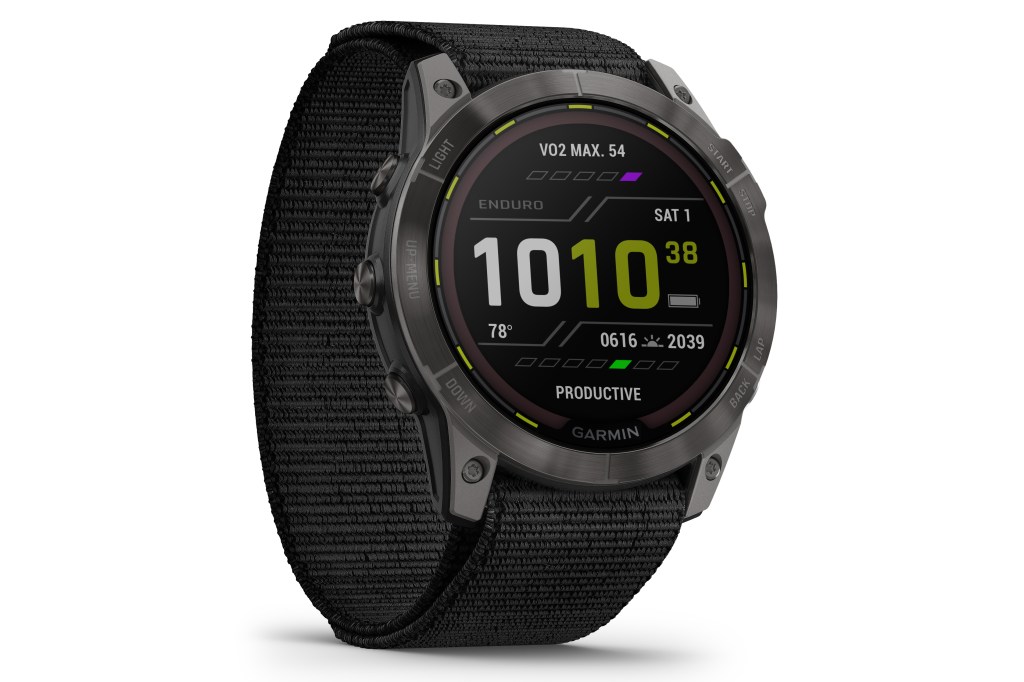 5. Garmin Enduro 2
Stuff Says…
This fully-specced adventure sports watch is designed for going further, for longer.
Tech spec:
Screen: 1.4-inch, 280 x 280 pixels, transflective MIP touchscreen | Battery life (GPS): Up to 714 hours | Weight: 70g | Offline music: Yes | Navigation: Yes | Waterproof: 10ATM
If you only want to charge your watch once a month, Garmin's ultramarathon-ready Enduro 2 is the one to choose. This multisport GPS watch boasts a high-endurance, solar-boosted battery life that'll keep going for a whopping 150 hours in regular GPS mode with the right light conditions. It's basically a Fenix 7 for anyone who wants to go longer and push the extremes on foot, wheels, land and sea.
Like the Fenix, it's a rugged beast. It's built from titanium to withstand scratches and scrapes while on the move. It has a 1.4-inch sapphire glass touchscreen with improved solar charging skills that deliver up to 40% longer battery life than the OG Enduro.
That translates to as much as 46 days of smartwatch use, or 150 hours of always-on GPS tracking. It's even got a surprisingly bright built-in flashlight so you can see the trail ahead, set it to strobe to match your cadence or light up red in an emergency.
GPS accuracy is boosted by multi-band GNSS for constant coverage while Garmin's SatIQ automatically switches satellite tracking modes to cut battery drain. There's full-colour TopoActive mapping (which covers ski runs as well as mountain trails) and grade-adjusted pace for comparing your times to running on flat ground – a handy baseline when incline training.
Beyond that, you get essentially the same advanced training, fitness, health and recovery tools as the Fenix 7 and the same package of smartwatch skills too. So unless you really care about that extra staying power, you might as well pay a little less for the cheaper watches in the Fenix 7 range.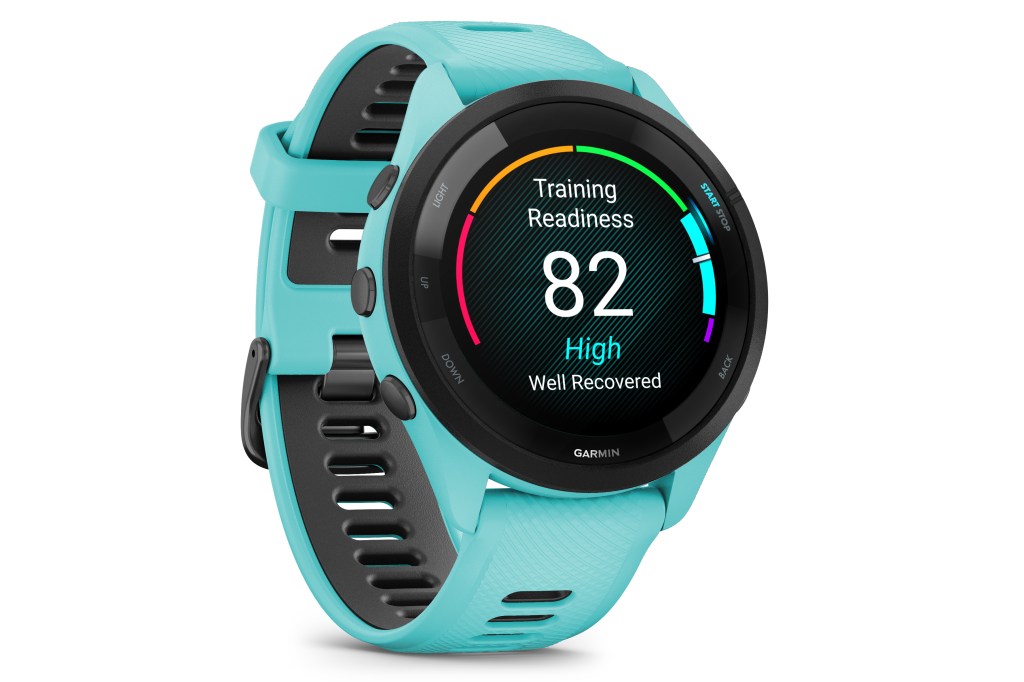 6. Garmin Forerunner 265
Stuff Says…
The best all-rounder for running, cycling and general fitness.
Tech spec:
Screen: 1.3-inch, 416 x 416 pixels, AMOLED touchscreen | Battery life (GPS): Up to 20 hours | Weight: 47g | Offline music: Yes | Navigation: Yes | Waterproof: 50m
For anyone taking their running, riding, swimming or general fitness to the next level, the Garmin Forerunner 2 series has always offered serious bang-for-buck.
The new Forerunner 265 offers pretty much the same bang as its predecessor, the Forerunner 255, with an excellent package of advanced training, coaching, performance, health and recovery tools, smarts like offline music, mobile payments and safety features like live tracking. However, it now costs considerably more bucks.
The main upgrade you're investing in here is a big, bright and beautiful AMOLED touchscreen that makes your stats look sexier and moves Garmin's serious sports watches a big step closer to Apple Watch territory.
As with the Forerunner 965, you'll sacrifice some staying power for that crisp, sharp and colourful screen. The Forerunner 255 offered 26 hours in GPS mode compared to 265's 20-hours. The smaller-screen 265S goes for 24 hours but if you're not fussed about the display, you're probably better off buying the significantly cheaper last-gen watch. Because the feature set is largely the same.
The Forerunner 265 packs most of the training tools you find on Garmin's pricier Fernix and Enduro models including suggested workouts, morning report, HRV status and training readiness, training load, training effect, VO2 Max estimates and race-ready tool like race predictions, and race pace manager. It also offers triathlon and multisport modes. However, if you want maps, you'll need to shell out and jump up the Garmin food chain to the Fenix 7 or Enduro 2.