Best smartwatch 2023: Apple and Android smartwatches reviewed
Our pick of the best smartwatches around, based on extensive in-depth reviews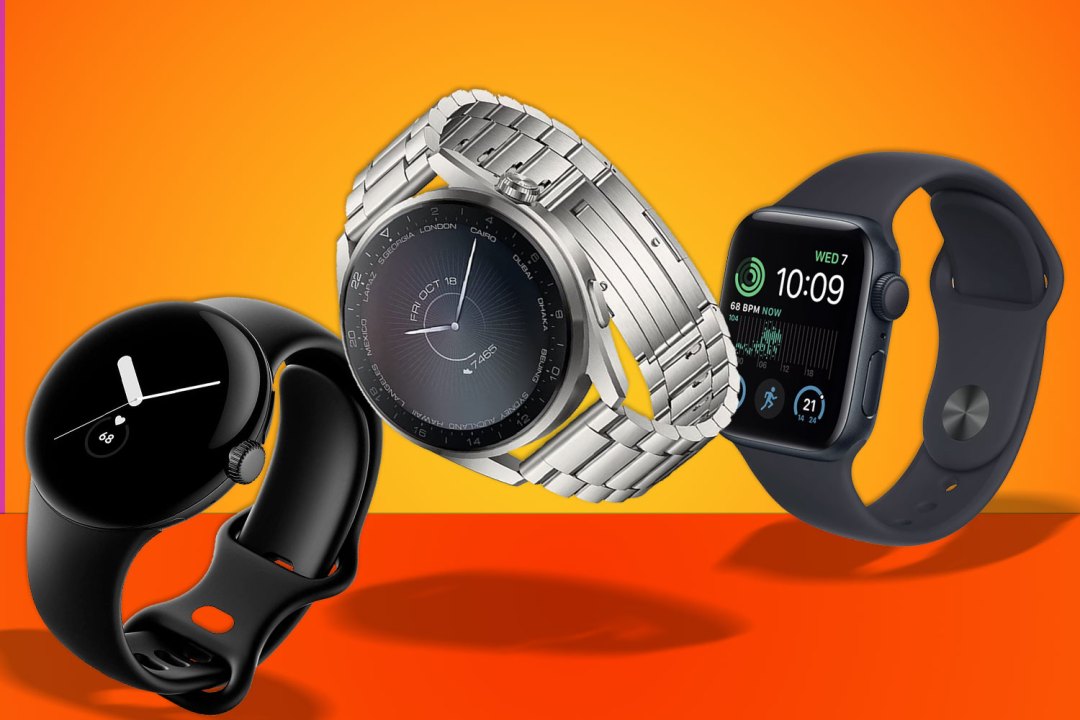 If you're reading this, it means you're looking for the best smartwatch you can buy. Maybe your old Apple Watch is due for an upgrade. Or perhaps your Android Wear OS timepiece met an untimely end when your cat thoughtfully batted it off the table.
Whatever the reason, we've rounded up some of the best smartwatches to help make your buying decision that little bit easier.
What's the best smartwatch to buy today?
We think the Apple Watch SE (check price) is the best smartwatch you can buy today. It might not be the most expensive Apple Watch around (that honour goes to its Series 8 and Ultra siblings), but that's precisely why we reckon the updated Watch SE is the best choice for most people — especially as it has the same processor and similar features for less cash.
---
Other smartwatch recommendations
Before we jump into the full list of the best smartwatches you can buy right now, here's a quick look at our three top picks:
Best smartwatch for Android users: Google Pixel Watch (check price)
With its ultra-minimal design and pure, fuss-free aesthetic, the Pixel Watch is a solid option for Android diehards who want a wrist-hugging companion worthy of, say, their Pixel 7 Pro.
Best budget smartwatch: TicWatch Pro 3 (check price)
It might be a few years old, but the speedy specs, reliable performance, and safe design of the TicWatch Pro 3 make it one of the best smartwatches in 2023 — especially if you're on a tighter budget.
Best outdoors smartwatch: Apple Watch Ultra (check price)
Spend your weekends and holidays in the great outdoors? You'll want the Apple Watch Ultra on your wrist, with a bigger battery, rugged design, and exploration-orientated features.
---
The best smartwatches you can buy today: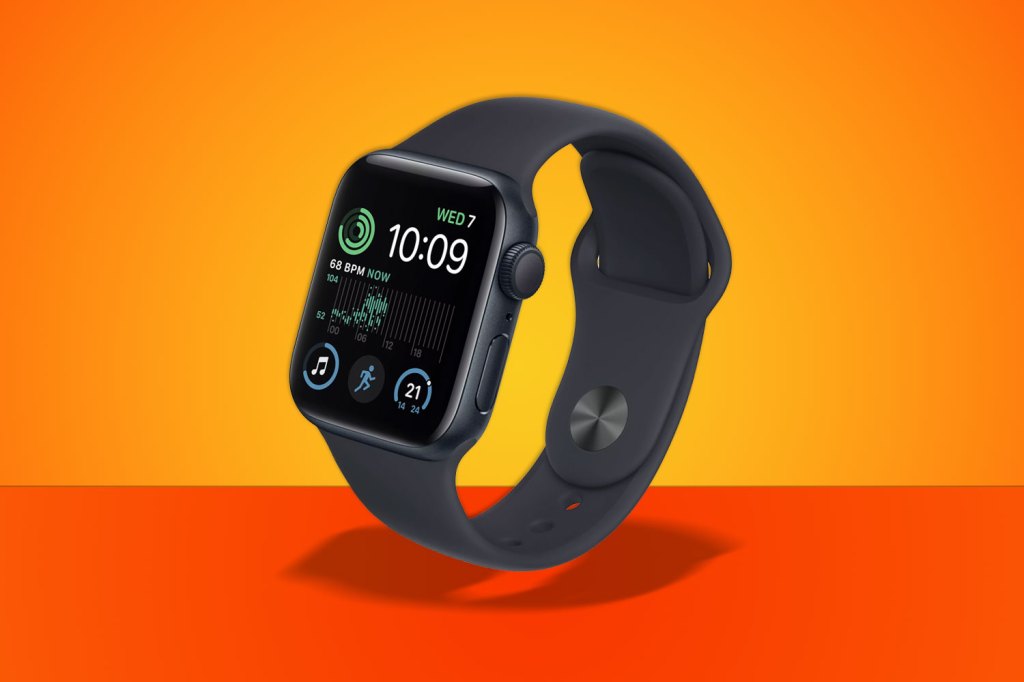 1. Apple Watch SE (2022)
Stuff Says…
Watch SE lays down the gauntlet for its more expensive siblings, offering most of the same experience for a chunk of cash less.
Pros
Superb performance, latest-gen chip
All the core Apple Watch experience
Better value than Series 8
Cons
Larger bezels than Series 8
Longer battery life next time please
Limited choice of finishes
The Apple Watch SE (aka the Apple Watch SE 2 or 2022 model) might not be the most premium Apple Watch available, but it's still our top recommendation for most people. Cheaper than its Apple Watch Series 8 and Watch Ultra siblings, it manages to serve up some of the same key features, for less.
These include the same processor, Apple's vast menu of health and fitness features, and even newer features like Car Crash Detection. Compromises for the price include the lack of an always-on display, bloody oxygen tracking, and ECG smarts. But if you're not fussed about those and want an up-to-date Apple Watch for a more palatable price, this is the one for you.
---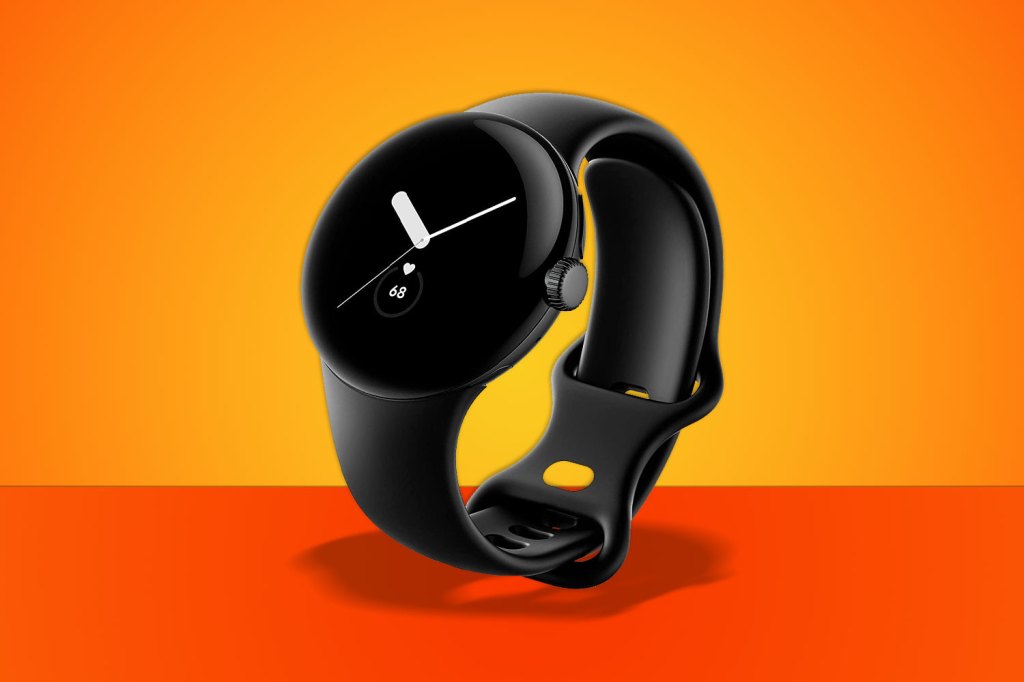 2. Google Pixel Watch
Stuff Says…
A stunning looking smartwatch with stellar fitness tracking, albeit one with a few flaws. The Pixel Watch is a confident first start for Google's wearable effort, but falls short of more established rivals.
Pros
Minimal styling stands out from other smartwatches
WearOS is user-friendly and shows promise
FitBit health tracking is accurate and extensive
Cons
Only one size, which can look small on many wrists
Battery barely scrapes a day with always-on screen
Display bezel is very chunky
Google's Pixel Watch should be a top contender for Android purists who crave a device directly from the Big G itself. With its standout minimalist styling and easy-to-use interface, the Pixel Watch is a pleasure to wear and use. Slick software and comprehensive FitBit-powered health tracking are welcome features too.
It's not perfect — battery life could be better and the slightly thick bezels might detract from its visual appeal somewhat, but if you're after an Android-friendly timepiece with a fuss-free design, this is definitely one of the best smartwatches in 2023.
---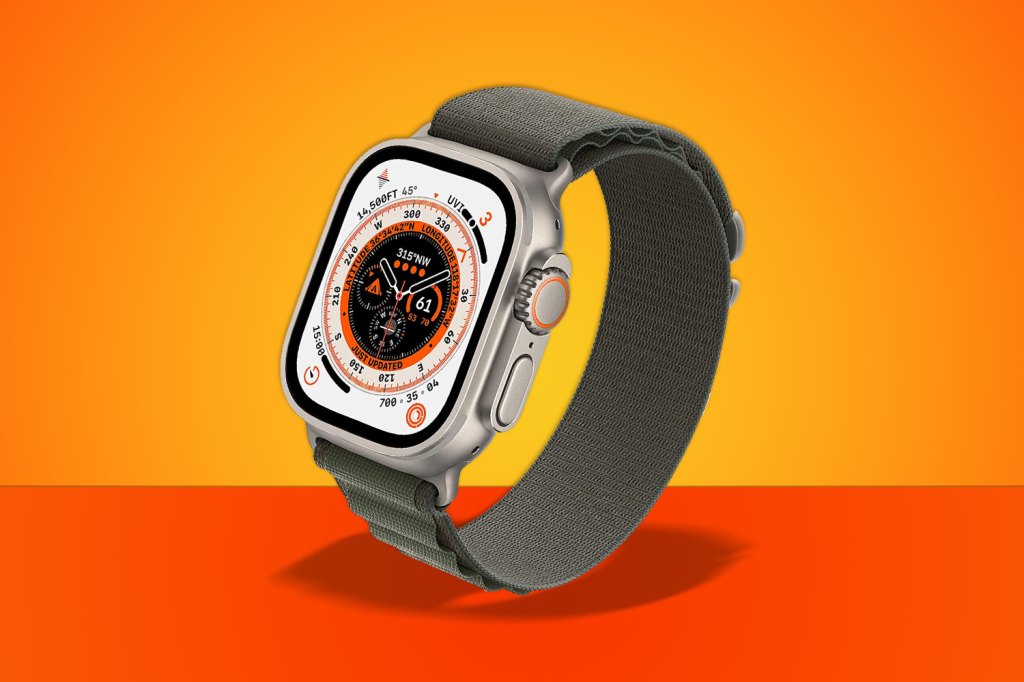 3. Apple Watch Ultra
Stuff Says…
By far the best adventure-ready Apple Watch yet and a really great all-rounder, though battery life pales compared to rivals.
Pros
Excellent screen
Bigger battery life than other Apple Watches
Better durability
Cons
Lacks some navigation skills
Carries a hefty premium
Needs longer battery life to compete with the best
Apple fans with premium budgets take note — the Apple Watch Ultra is easily one of the best smartwatches in 2023, and you'd hope so, given that it's also one of the most expensive options by a considerable mile.
Your extra cash nets you a bigger battery, more controls, a beefed-up rugged design, and specialist features tailored to outdoor pursuits. It's more than a tentative step into Garmin territory, though its battery life will still force you back on charge faster than top-end Garmin models.
---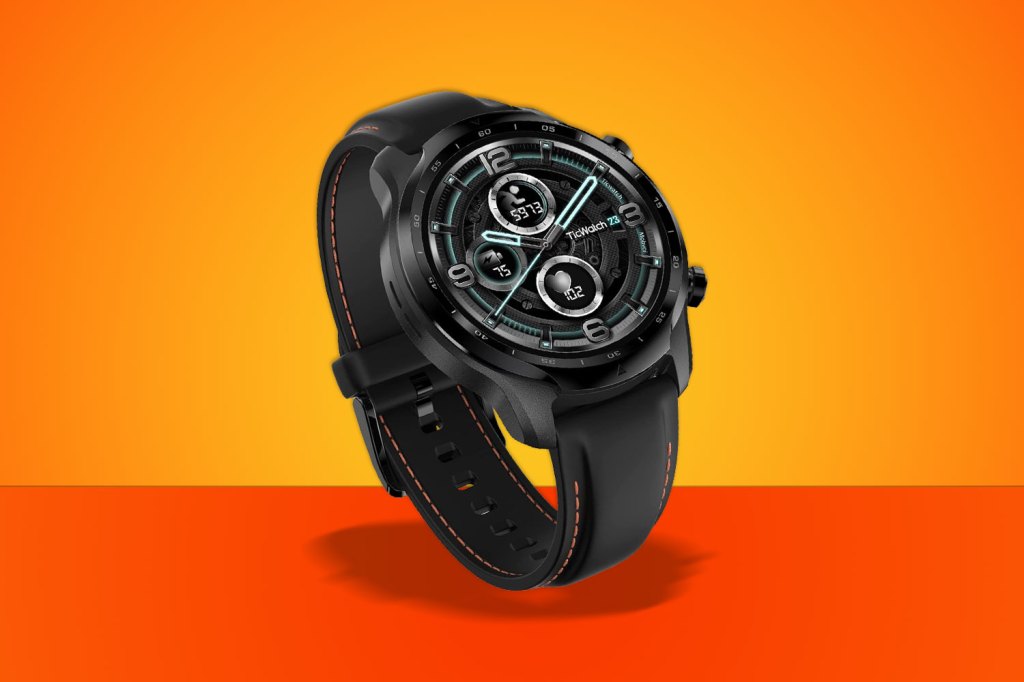 4. TicWatch Pro 3
Stuff Says…
The complete Android smartwatch package, and a blazing fast one at that.
Pros
Superb screen
Powerful performance
Three-day battery
It might be a couple of years old, but that doesn't mean that the TicWatch isn't a viable contender. In fact, it's made our list because its specs remain competitive even today, thanks to having one of the most powerful smartwatch chipsets around — Qualcomm's Wear 4100 CPU. In fact, there are even rumours of an upcoming Wear OS 3 update, making it even more appealing — especially at its current price.
Despite being one of the cheapest picks on our list, performance is buttery smooth, with a bright, sharp screen to match. It's got all the main features you'd want too, including heart rate, sleep and fitness tracking, GPS, and even a noise level monitor. Though there's no ECG. If you can get past its sensible (but not groundbreaking) looks, then it makes for a real bargain.
---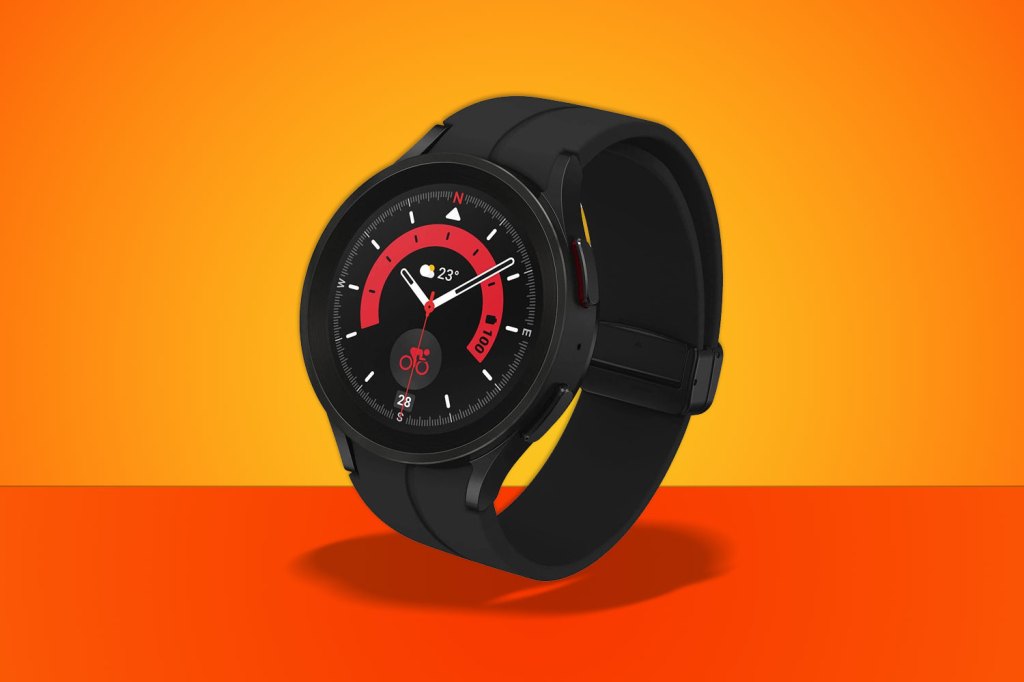 5. Samsung Galaxy Watch5 Pro
Stuff Says…
The toughest, longest-lasting Galaxy Watch yet – but the largely similar software means it's difficult to justify over the regular Watch5.
Pros
Tough construction
Consistent two day battery life
Software as slick as ever
Cons
A big price jump from the Watch5
Additional fitness features a bit niche
Metal or leather strap would have justified the price more than rubber
The regular Samsung Galaxy Watch5 is a superb smartwatch in its own right, and definitely worth considering. If you've got deeper pockets though, then the Watch5 Pro offers a few more premium features that might be enough to sway your vote.
Packed with some of the most advanced wearable health and fitness sensors currently available, the Watch5 Pro has a bioimpedance sensor for measuring things like your body fat percentage, along with a thermometer. And, of course, the usual heart rate, sleep, and fitness tracking sensors are all present and accounted for too. Battery life is impressive as well, letting you squeeze up to three days between charges, depending on use.
---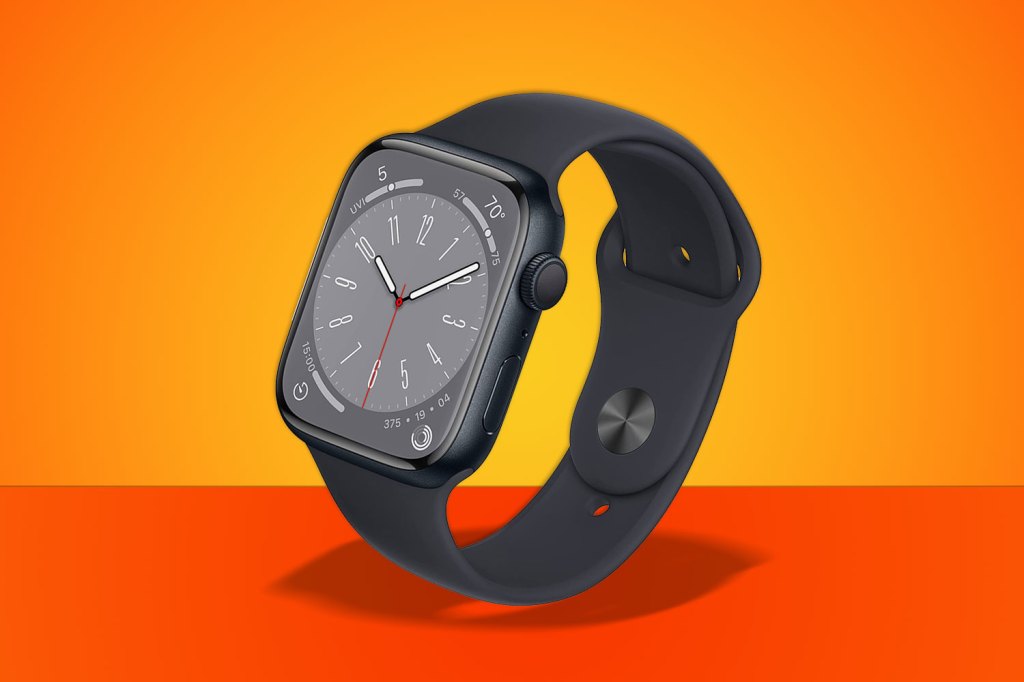 6. Apple Watch Series 8
Stuff Says…
With only a sprinkling of enhancements, it's only worth upgrading if you have a Series 4 or older – and the 2022 Watch SE lays down serious competition. It's still a great smartwatch though.
Pros
Still an excellent smartwatch
Features like crash detection show innovation
Comfortable and flexible
Cons
The new Watch SE is much better value
Needs even longer battery life
While US pricing is same as Series 7, UK pricing is higher
If you've got an Apple Watch newer than, say, the Series 4 (and it's in fine working order), then there may not be enough in the Series 8 to tempt you. Plus, the value proposition of the Apple Watch SE is hard to ignore. Having said that, there's plenty to love about the Series 8, and it's definitely worthy of your shortlist.
Naturally, there's the same updated accelerometer, complete with crash detection. Heart rate, ECG, and blood oxygen sensors are all present and accounted for, as is a refined design and temperature sensor to help detect ovulation. With the latest dual-core S8 processor, it's a slick operator too.
---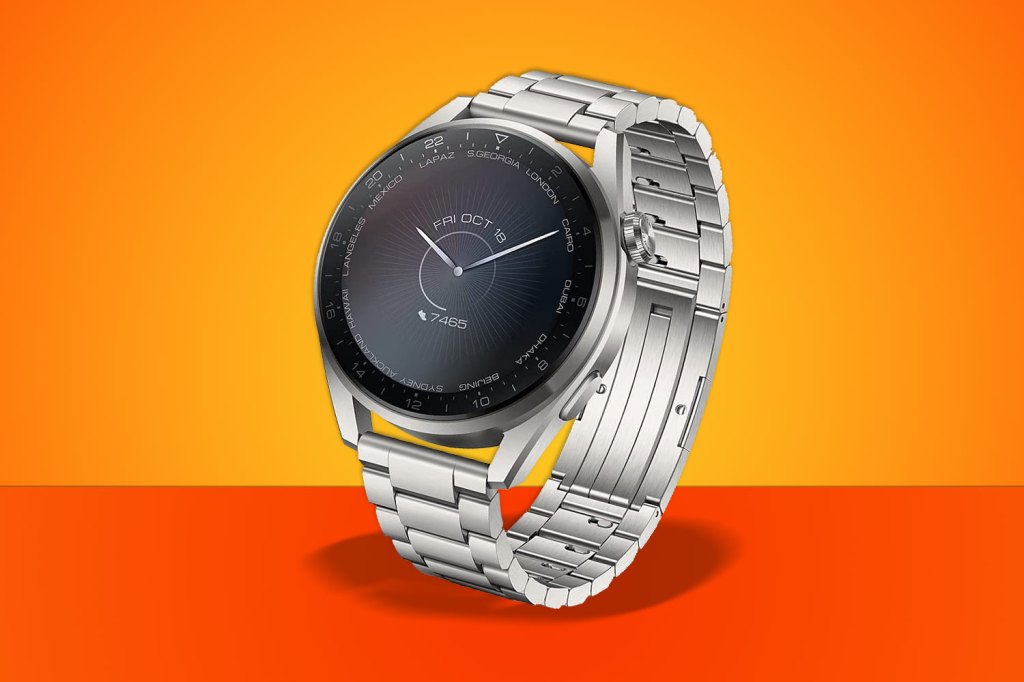 7. Huawei Watch 3 Pro
Stuff Says…
Easily one of the best-looking wearables around, with the materials and build quality you'd expect from a traditional watchmaker, but the Watch GT 3 Pro falls short on the software front. It excels at standalone fitness tracking, which might be enough for some; for everyone else, rival watches are still the better buy overall.
Good Stuff
Gorgeous, with exceptional build quality
Bright, high-res screen
Stellar battery life
Bad Stuff
Third-party app support either lacking or convoluted
Voice assistant and contactless payments missing
Setup is a hassle
Huawei's Watch 3 Pro is comfortably one of the most handsome wearables around — at least, if you're after a traditional circular watch aesthetic. Available in a few variants including one with a leather strap or an attractive all-metal affair, it's perfect if you want a smartwatch that doesn't scream "tech".
It's also a superb fitness tracker with a very solid, if not very enviable battery life. Lasting around eight days with heavy use, it somehow manages to match the longevity of far more basic fitness trackers, and positively embarrasses the competition from the likes of Apple, Google, and Samsung. If you can get past the lack of third-party support and contactless payments, this is a superb choice that won't let you down.
---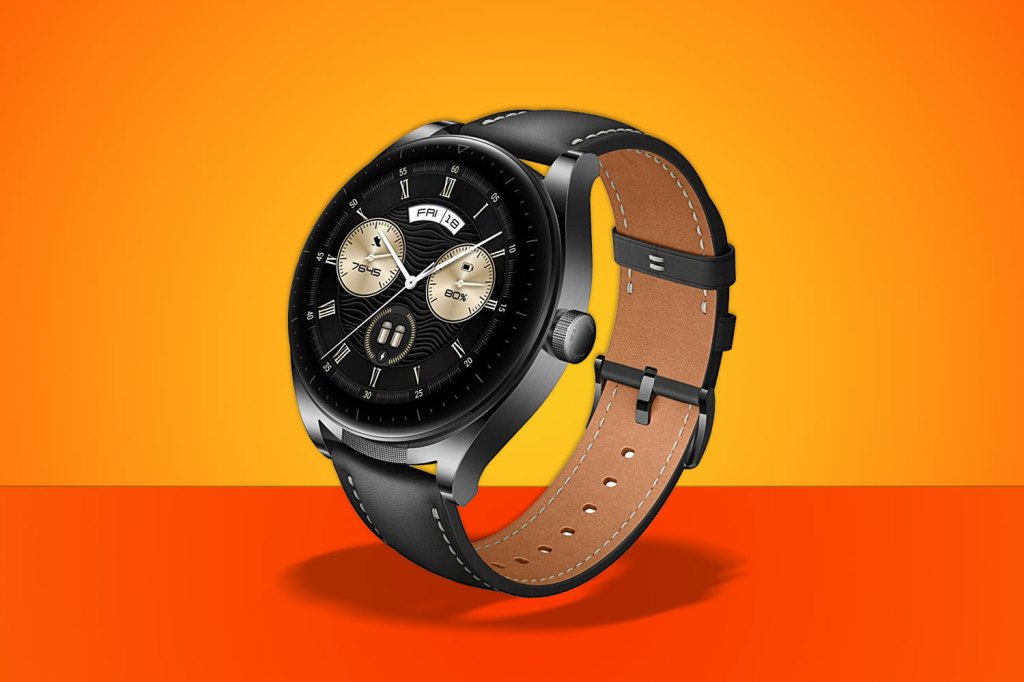 8. Huawei Watch Buds
Stuff Says…
A first-of-its-kind hybrid gadget that's very convenient to use, but also an expensive one that makes compromises over buying your smartwatch and earbuds separately.
Good Stuff
Unique 2-in-1 concept
A capable fitness watch
Three day battery life
Bad Stuff
Average audio and ANC
Software experience not the slickest
Pricey and proprietary
The Huawei Watch Buds might not be the best smartwatch in 2023, but it's easily one of the most unique options. Hidden within and revealed at the press of a button, you'll find two honest-to-goodness wireless earbuds, which are charged by the watch once placed back beneath the hinging screen.
The buds themselves provide only average audio and ANC, and you could get a better/equal overall smartwatch for less money. But there's no denying the innovation on offer here, and sometimes it's fun to root for something that's different from the crowd.
How to choose the best smartwatch for you
If you're struggling to choose the right smartwatch then fear not – Stuff's wearable experts are here to help you make the right decision. Luckily, if you own an iPhone, choosing the perfect smartwatch is easy – you should buy an Apple Watch.
Which Apple Watch you buy comes largely down to taste and budget, but there's no denying the Apple Watch fits perfectly in the iOS ecosystem.
Of course, Apple Watches aren't compatible with Android phones, so if you own a Google-powered phone then you'll need to look elsewhere. Thankfully, there are plenty of Android-compatible smartwatches out there to choose from.
In terms of the operating system, you've got several options, but the natural fit for an Android phone is a smartwatch that runs Google's Wear OS. There are a number of different manufacturers that use Wear OS, from Samsung and Fossil to TAG Heuer and Montblanc. So you can buy a watch that suits your personal style. For more information on this, check out Stuff's guide to the best Android smartwatches.
If you're not a fan of Wear OS, then you could opt for a smartwatch from Garmin, Huawei, or Fitbit, all of which run bespoke operating systems. Want a sports watch instead? Check out our guide to the best GPS watch.
When choosing a smartwatch, specifications aren't as important as they are when buying a phone or laptop. Smartwatch apps are all relatively lightweight, so even the most underpowered smartwatches rarely suffer from lag.
The specifications that do matter are display resolution and brightness, as you'll want a clear screen that can be read in bright sunlight.
When it comes to battery, there are some smartwatches that offer battery life measured in days and weeks, but realistically you're going to be charging most smartwatches every night. This isn't too much of an issue, as it's easy to get into a charging routine when charging frequently – just like charging your phone.
If battery life is a priority of yours, you could consider one of the best fitness trackers, which boast fewer features but have a much longer battery life.
Every smartwatch connects to your phone with Bluetooth, but some also have a 4G data connection. This allows you to make calls, receive messages, and stream music on your watch even when your phone isn't nearby. This feature does come with an extra monthly cost of the data, so you need to ask yourself if it's really necessary.
Of course, there's also wearability to consider – you want a smartwatch that looks good and is comfortable to wear, so weight and size are important factors to think about.
Finally, if you're buying a smartwatch for your child, read Stuff's guide to the best smartwatch for kids.
---
How we review the best smartwatches
We have used and reviewed every smartwatch on this list, so you can trust us when it comes to recommending the best smartwatch to buy.
We usually spend a week or longer reviewing smartwatches, testing out all of the software features, the build quality and the comfort.
We'll leave no stone unturned, so test every new app, health tracking feature, fitness tracking mode to make sure they're useful and accurate. We'll also review the smartwatch basics, such as battery life, how clear the display is, and how reliable the smartphone connection is.
For more information on Stuff's rating and review process, read our page on how we test products.