Best Fitbit 2023: all the key Fitbit smartwatches and fitness trackers reviewed
These are the best Fitbits to buy right now — wearables to help track your steps, calories, activities and sleep
Looking for the best Fitbit for you? We don't blame you. Fitbit makes some of the most popular smartwatches and fitness trackers out there and there's a whole bunch of reasons why they are still the best to have on your wrist to track things like your daily steps, sleep and generally get a better sense of your health and fitness.
Now under the ownership of Google, Fitbit remains firmly (for now at least) in the business of building wearables that motivate you to get healthier, fitter and stronger, whether you're young or old.
Fitbit's family of trackers and smartwatches is a reasonably big one, with some coming in pricier or cheaper than others. If you're sold on a Fitbit of some kind, but not sure which one is going to be the best fit for you, we've tested all of the latest Fitbit devices, finding out their strengths and weaknesses to help make that decision picking between them a much easier one.
What are the best Fitbits to buy?
Best Fitbit overall: Fitbit Versa 3
Fitbit's older generation Versa smartwatch doesn't hugely miss out on what's new on the Versa 4 and still offers a great core tracking and smartwatch experience, minus the extra health smarts you get on the pricier Sense..
Best Fitbit for sleep tracking: Fitbit Inspire 3
All Fitbits offer strong sleep tracking support, but if you want one that feels the most comfortable and unobtrusive to wear to bed, then the Inspire 3 is one that best fits that profile.
Best Fitbit for heart rate tracking: Fitbit Luxe
A Fitbit that you can get a good, reliable fit at all times is key and the Luxe offers that. Especially if you care about day-to-day HR data as opposed to when you're working out.
Our pick of the best Fitbits to buy today
Fitbit Versa 3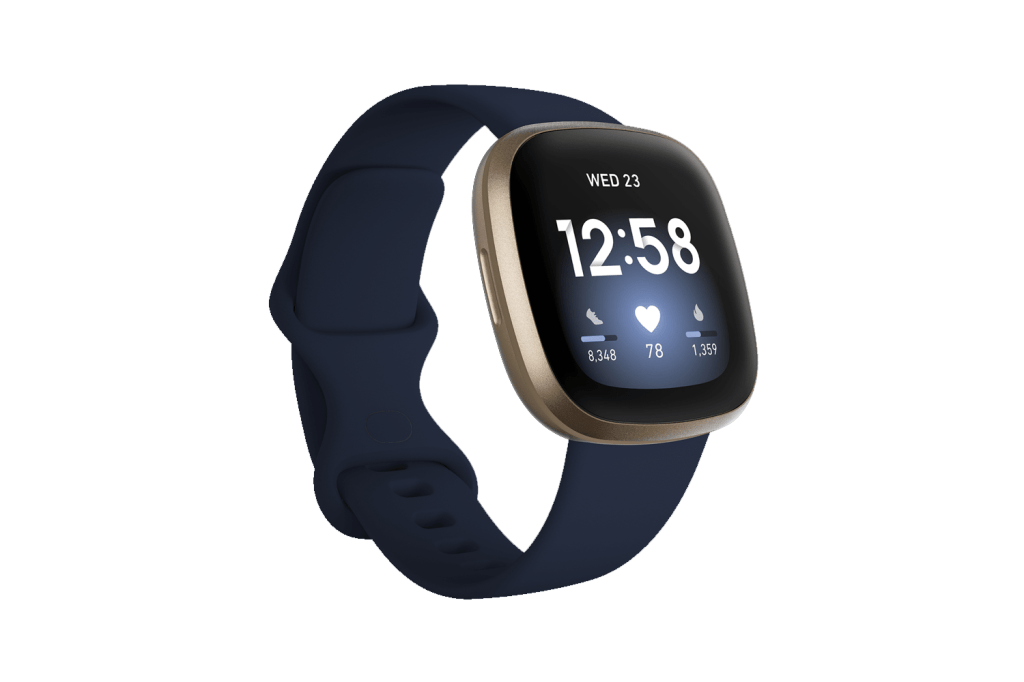 While the Fitbit Versa 3 has now been succeeded by the Versa 4, it's not a huge deal different and you can pick up its predecessor with similar features for less money, which makes it the smart buy. In other words, it's still one of the best Fitbit in 2023, despite having a newer model.
You do miss out on the now reinstated physical button, but you do get the same-sized case, display and a removable strap that makes it nice and easy to switch up the look from sporty to formal and vice versa.
Features-wise, it's giving you all of those key Fitbit goodies like easy to glance at activity tracking stats, reliable sleep tracking and Fitbit's PurePulse heart rate sensor technology, which is better suited to capturing resting heart rate data than it is during exercise.
There's built-in GPS that works best for tracking shorter outdoor activities and it does include automatic exercise recognition support to pick up when you get moving.
While you're not getting the best smartwatch out there, it does handle things like displaying notifications well and it has Amazon Alexa on board that performs as a pretty useful smart assistant compared to most other smartwatch assistants.
It doesn't have the best battery life you'll find on a Fitbit, but it's more than capable of lasting a week, which drops to a few days with the screen always-on. Ultimately, if you want the best Fitbit smartwatch, this is the one to get.
Stuff Says…
The Versa 3 is the best Fitbit smartwatch that doesn't hugely miss out on features included on the newer Versa.
Tech spec:
Platform – iOS and Android | Waterproof rating – 5ATM | Display – AMOLED | Heart rate sensor – Yes | Blood oxygen sensor – Yes | GPS – built-in | Battery life – 6+ days
Fitbit Inspire 3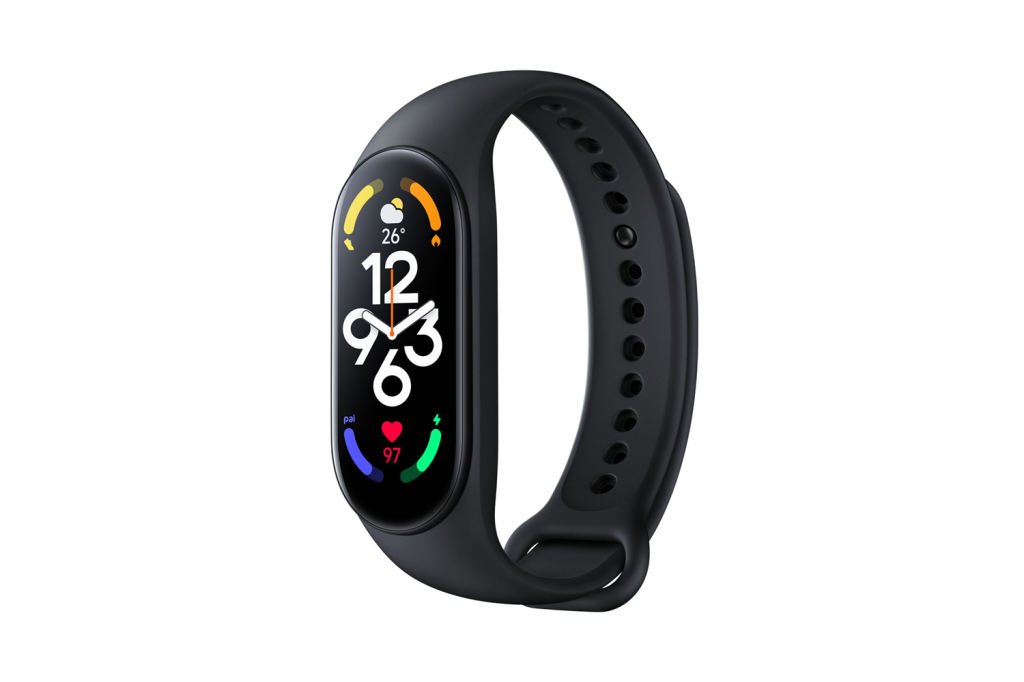 The Fitbit Inspire 3 is the most affordable member of the Fitbit clan and makes some significant design changes from previous Inspires to make it a much nicer wearable to live with.
The main being the introduction of an AMOLED touchscreen display, which isn't the largest you'll find on a Fitbit device, but does make checking activity tracking progress a much nicer thing to do now.
The aim of the Inspire 3 is to give you those Fitbit tracking staples like counting steps, nudging you when you're not active and delving deep into sleep as well, and that's where it excels. Especially when it's such a light and comfortable tracker to take to sleep and wear all day.
It does make room for a heart rate monitor, which can serve up insightful metrics like resting heart rate and also gives you access to more exercise-centric insights like unlocking Active Zone Minutes and seeing your Cardio Fitness Score. An infrared sensor means there's the ability to track blood oxygen levels at night to offer further wellness insights.
It gives you automatic exercise recognition support and will track pool swims in a basic fashion, but you're not getting any onboard GPS. Battery life maxes out at 10 days and drops to a week with the screen on 24/7, but there's certainly more good than bad here overall and the Inspire 3 is finally an affordable fitness tracker that's worth having on your wrist..
Stuff Says…
Fitbit's most affordable fitness tracker is great to have around if you care about counting steps, monitoring resting heart rate and taking a comfortable tracker to bed.
Tech spec:
Platform – iOS and Android | Waterproof rating – 5ATM | Display – AMOLED | Heart rate sensor – Yes | Blood oxygen sensor – Yes | GPS – connected | Battery life – Up to 10 days
Fitbit Charge 5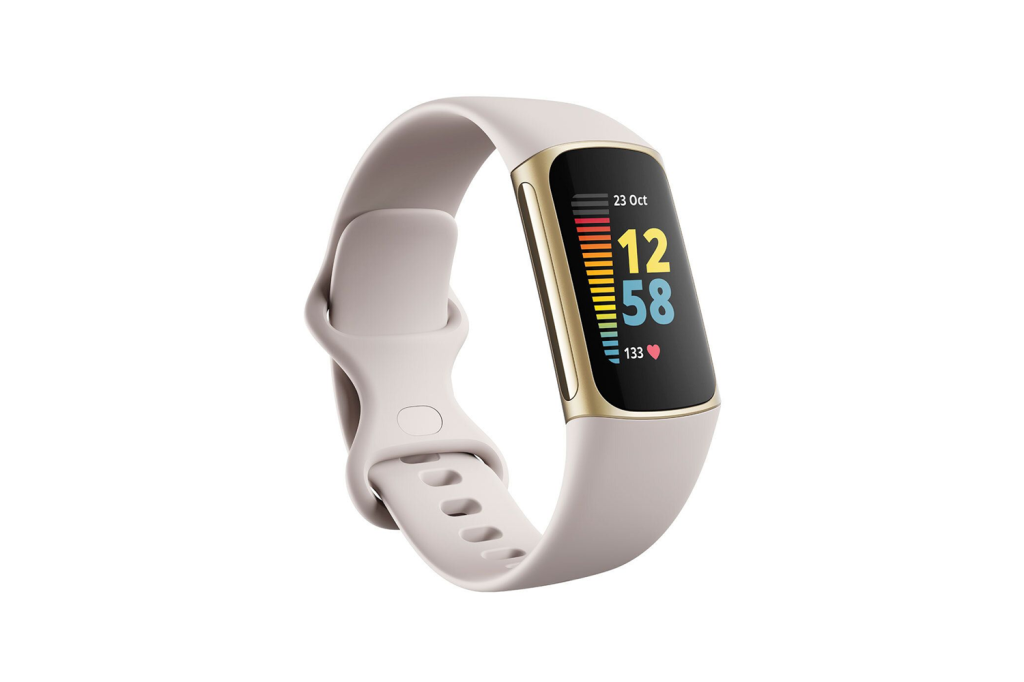 The Charge 5 is the halfway house between Fitbit's fitness tracker and smartwatches. It gives you plenty of what you get on its Versa and Sense smartwatches, but sticks those features in a more band-like form.
Along with all of Fitbit's usual solid activity and sleep tracking features, the Charge 5 is the only Fitbit fitness tracker with built-in GPS, which isn't best in class, but does mean being less reliant on your phone to track outdoor runs and rides.
On the health tracking front, it manages to squeeze in the ECG sensor that's included on the pricier Sense and Sense 2, letting you take measurements that can be used to help detect the serious heart health disorder atrial fibrillation.
Fitbit also includes its Fitbit Pay contactless payment support, the ability to quickly track down your phone and additional features like Daily Readiness Scores to assess your preparation for the day ahead – if you sign up to Fitbit Premium.
If you don't want a smartwatch but like the idea of having more of the features found on Fitbit's pricier smartwatches, then that's where the Charge 5 comes into its own.
Stuff Says…
The Charge 5 is a feature-packed fitness tracker that's a better fitness and health companion than a sports tracking one.
Tech spec:
Platform – iOS and Android | Waterproof rating – 5ATM | Display – AMOLED | Heart rate sensor – Yes | Blood oxygen sensor – Yes | GPS – Yes | Battery life – Up to 7 days
Fitbit Sense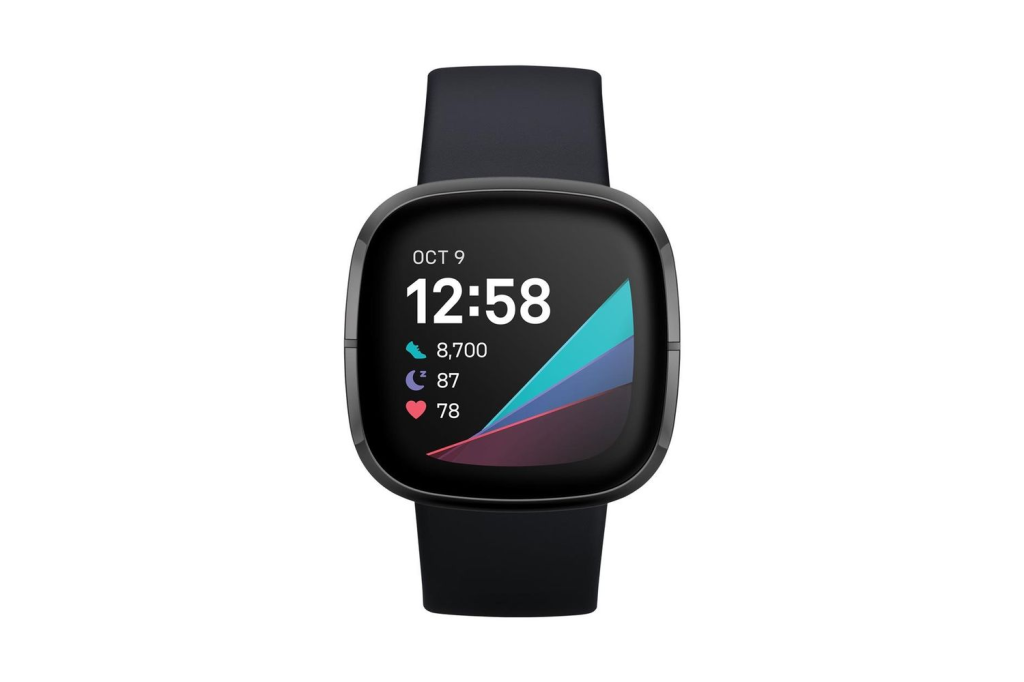 Like the Versa, there is now a newer Sense 2, but there doesn't really feel like there's enough of a reason to spend more on the newer Sense when the original offers a largely identical experience.
It matches the Versa in looks, level of durability and the type of AMOLED display you can expect to stare down at as well. It mainly lacks Fitbit's new cEDA sensor to continuously track the body's response to stress and doesn't have a physical button.
It does still have an EDA sensor to take on the spot stress measurements and you still get an ECG, optical heart rate sensor and infrared-based SpO2 sensor to offer plenty of health metrics. There's also a temperature sensor that captures temperature during the night to boost those health insights.
All of the same smartwatch features found on the Versa and Sense 2 are in place including the choice of Google or Amazon smart assistants and the ability to take calls from the wrist. The Sense is the Fitbit you want if you care about health tracking and prefer a bigger screen compared to the similar support set you'll get on the Charge 5.
Stuff Says…
The Fitbit Sense is the Fitbit smartwatch to buy if you care about keeping a close on serious health issues.
Tech spec:
Platform – iOS and Android | Waterproof rating – 5ATM | Display – AMOLED | Heart rate sensor – Yes | Blood oxygen sensor – No | GPS – Yes | Battery life – 6+ days
Fitbit Luxe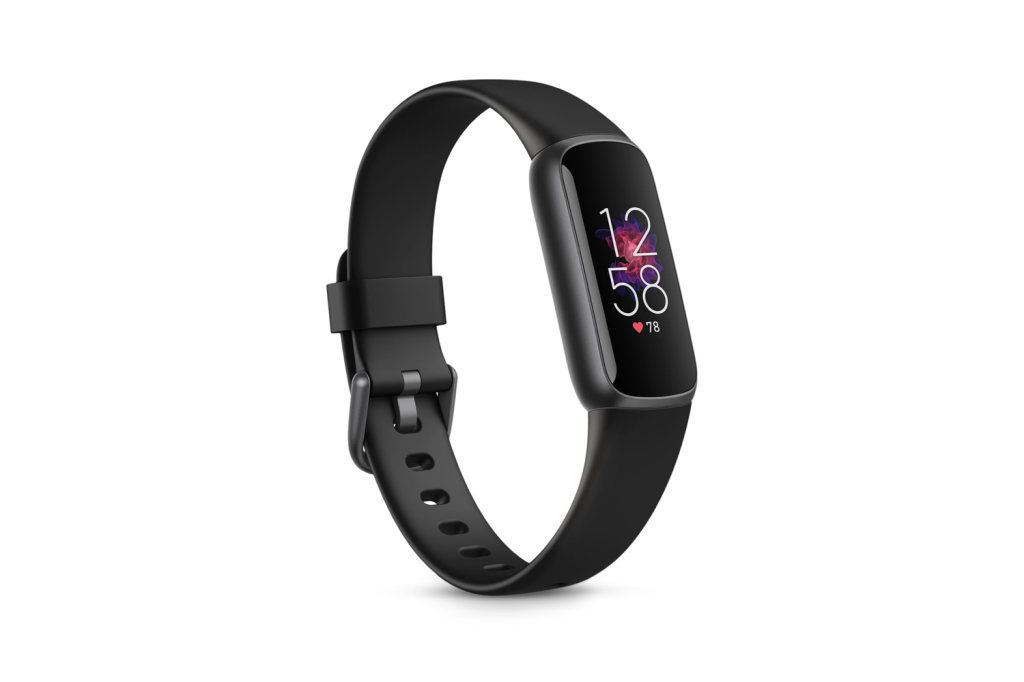 The Fitbit Luxe is the Fitbit fitness tracker that looks least like a fitness tracker. That's because Fitbit has sought to give it the kind of slim profile, stainless steel case and swappable bands that achieve that more attractive look.
It also finds rooms for a vibrant AMOLED screen and sensors like Fitbit's PurePulse optical heart rate sensor and infrared sensors to deliver SpO2 tracking during sleep to add to its reliable abilities to track activity and sleep.
You'll probably be surprised to find it can track outdoor exercise as long as your phone is nearby to do it accurately and it does offer features like Active Zone Minutes to show you when you worked out to your maximum effort and offers Daily Readiness Scores through Fitbit Premium to better understand when you should exercise at your hardest.
Fitbit keeps to the basics when it comes to smartwatch features, with notifications coming up a little cramped on that small screen, but if you value Fitbit's software and like the idea of having it in a stylish design, that's what the Luxe delivers.
Stuff Says…
Fitbit's most attractive wearable gives you those great Fitbit tracking staples that prioritises wrapping those features as opposed to smartwatch ones in an sleek body.
Tech spec:
Platform – iOS and Android | Waterproof rating – 5ATM | Display – AMOLED | Heart rate sensor – Yes | Blood oxygen sensor – Yes | GPS – connected | Battery life – Up to 5 days
Read more: Want a smartwatch instead? Here's our guide to the best smartwatches around