Fitbit Versa 4 review: fitness before smarts
Fourth-gen FitBit makes way for the Pixel Watch with a firmer fitness focus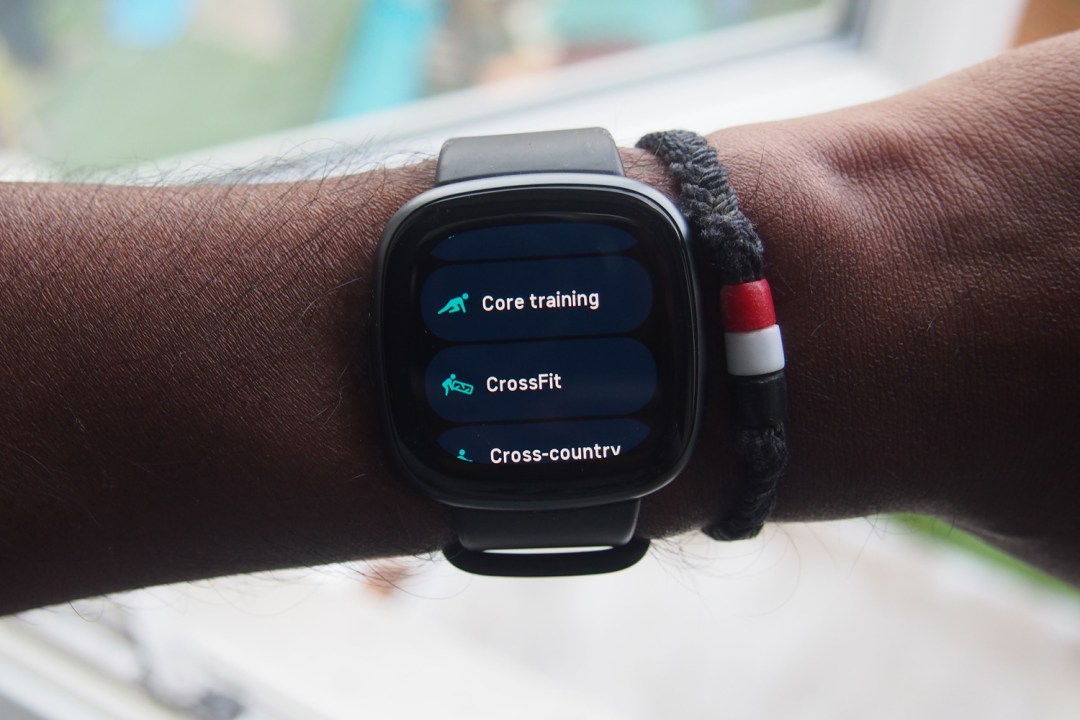 Fitbit now lives in brand owner Google's world. As the big G takes its first steps into the smartwatch world with the Pixel Watch, the FitBit Versa 4 serves as a square-shaped reminder that the firm is still vying for place on your wrist.
For Versa number 4, Fitbit has brought over some big apps from Google, and it carries the same goal of getting you to hit your fitness and health targets in a highly motivated fashion.
It's kinder on your bank balance compared to the Pixel Watch, or Fitbit's own Sense 2 smartwatch, and makes one particularly welcome design change. But does paying less money actually get you an inferior smartwatch?
Design and build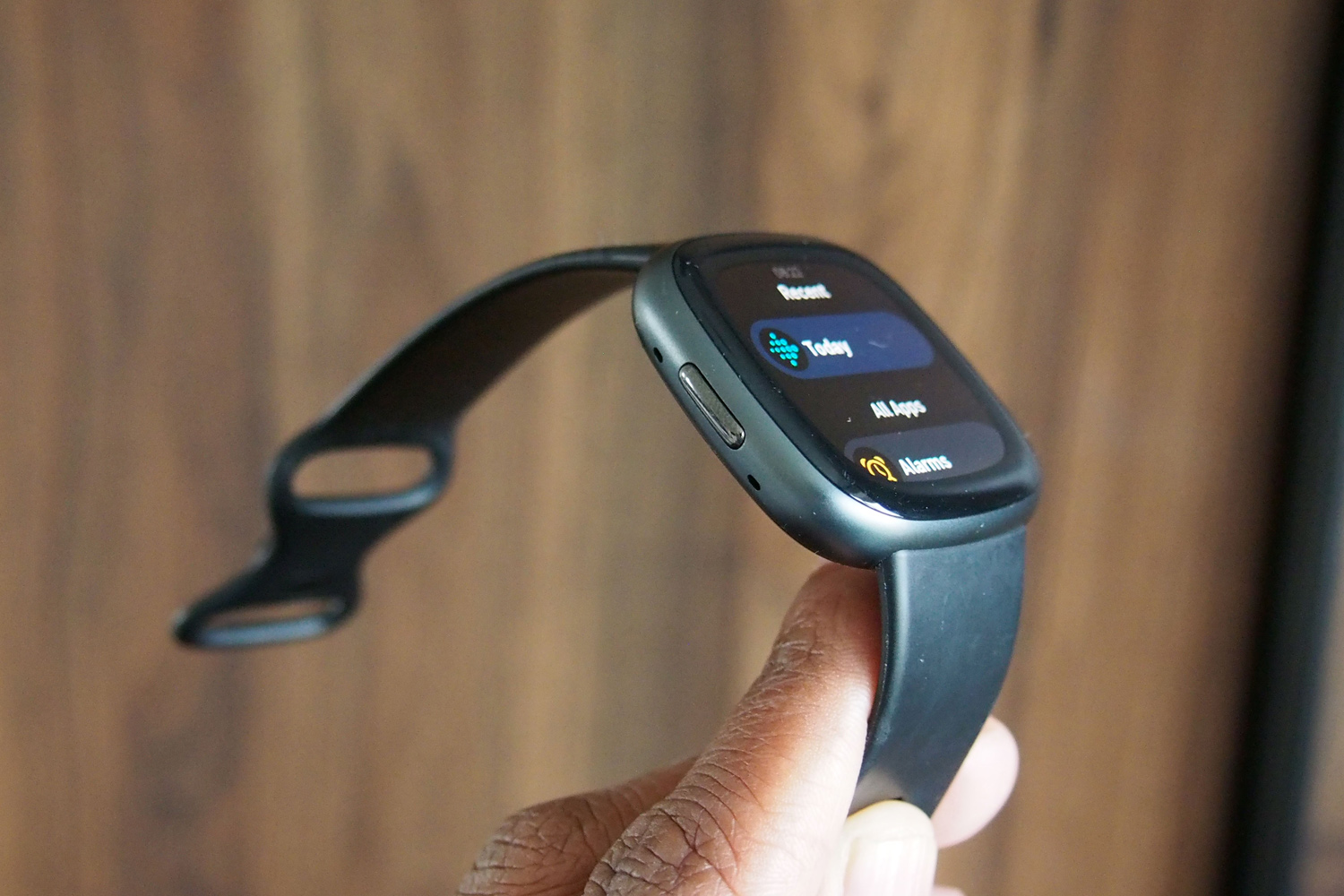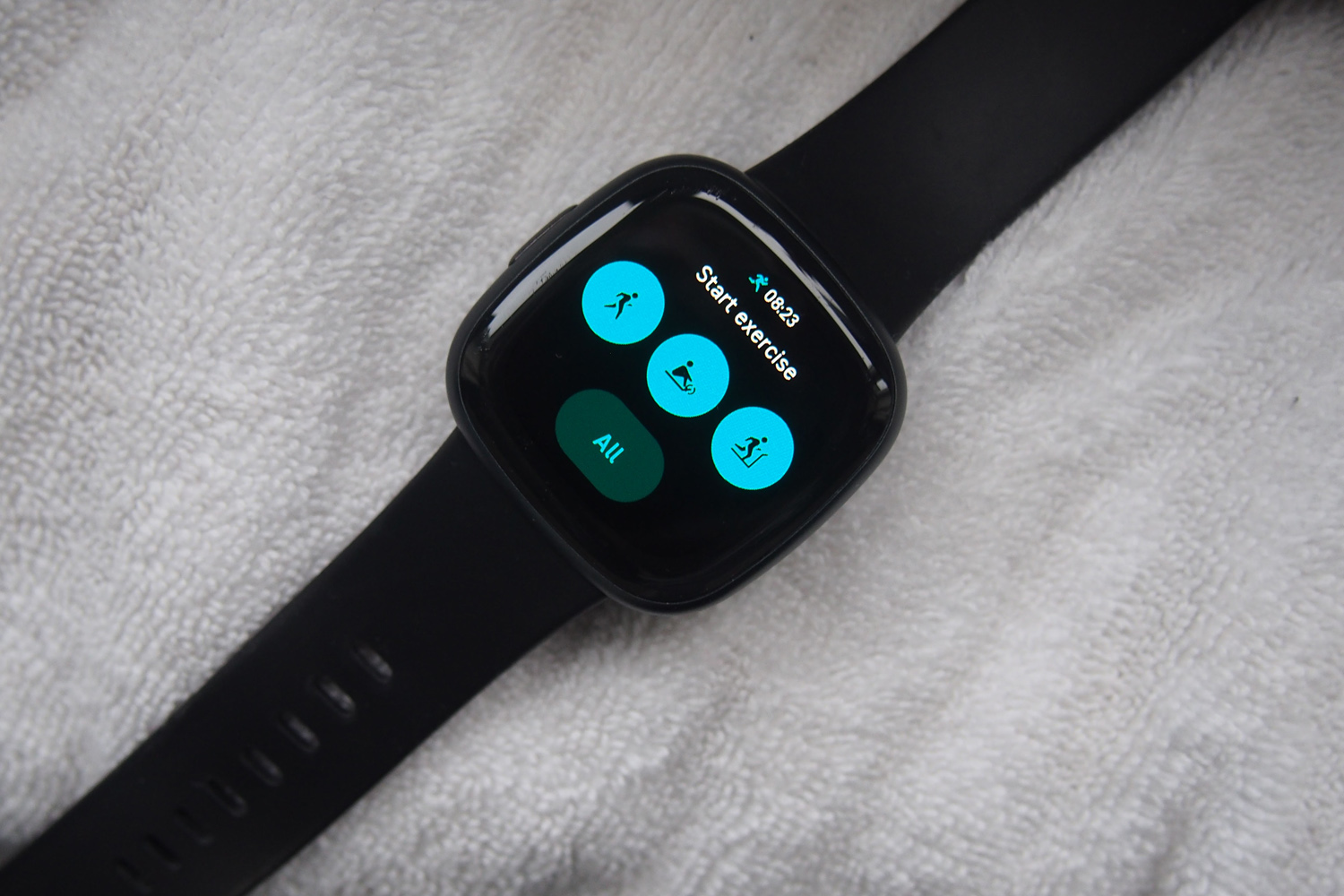 Put the Fitbit Versa 4 side by side with the Versa 3 and it really is a case of spot the difference. It's slightly slimmer, the graphite, platinum, and copper rose case colour options offer something for both men and women and you can still swap those straps in and out when you switch from gym mode to important meeting mode.
The big difference is the addition of a hardware button at the side. That's right: physical buttons are making a comeback. Well, one is, following Fitbit's decision not to bother with them for the previous generation. When you're mainly prodding and swiping at a touchscreen that might not sound like a big deal, but buttons are especially handy while you're working out. Now you can wake up the display, have a chat with a virtual assistant or jump straight into the exercise menu.
Outside of the button's return, there's not a lot new to report on the looks front. It's not a design classic but also doesn't blend into the smartwatch crowd. You're still getting to glance down at a 40.5mm aluminium case with its gently curved corners that's not too heavy and not too light. Want to take it for a dip? You're covered there too. It's safe to dunk it in water up to 50 metres depth making it fit for the pool and the open water.
If you liked the Versa 3 but needed that button back in your life, then that is the most alluring aspect of the Versa 4.
Fitbit Versa 4 screen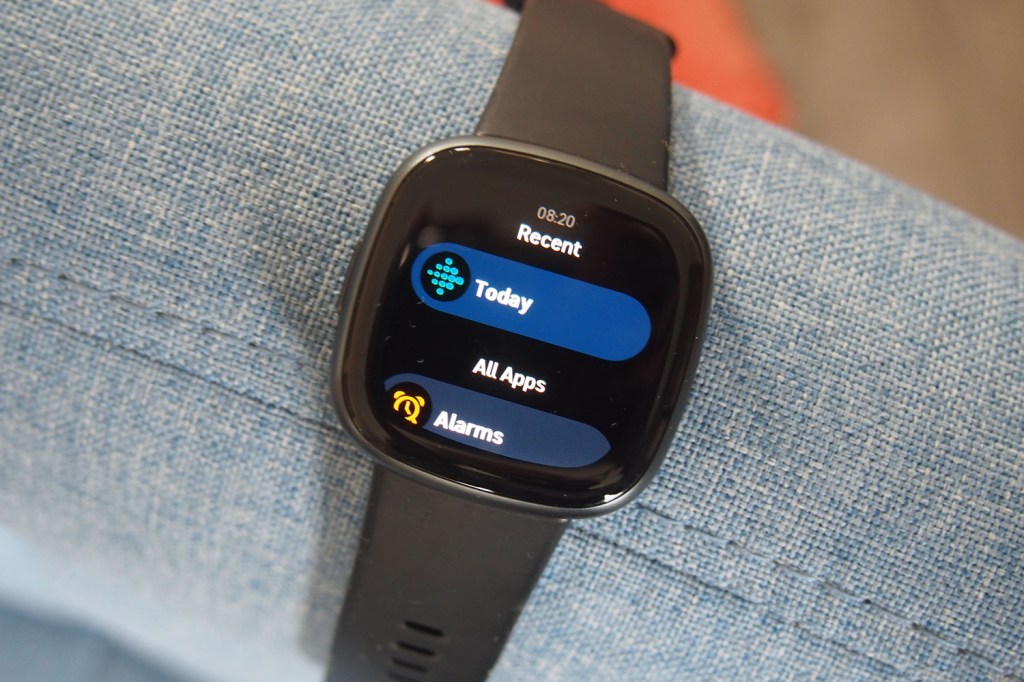 Square and round screen debate aside, the display you're getting on the Versa 4 is a good one. It's surrounded by a bit too much bezel for our liking, but the 1.58in, 336×336 resolution AMOLED dishes out good colours, goes nice and bright, and can be left on 24/7.
Switching to that always-on mode means you're waving bye bye to close to a week of battery life, but if you can handle a few days before having to reach for the charging cable, then it's a situation you can live with.
AMOLED screens do have a tendency to struggle for visibility in bright outdoor light. Thankfully, this screen goes bright and isn't a troubling issue for the Versa 4 when you need to check in on stats on sunnier days.
Now you have a button to wake that screen up, but a gentle double tap on the screen or raising the wrist will also bring it to life. It just doesn't do it in a very speedy fashion.
Fitbit Versa 4 interface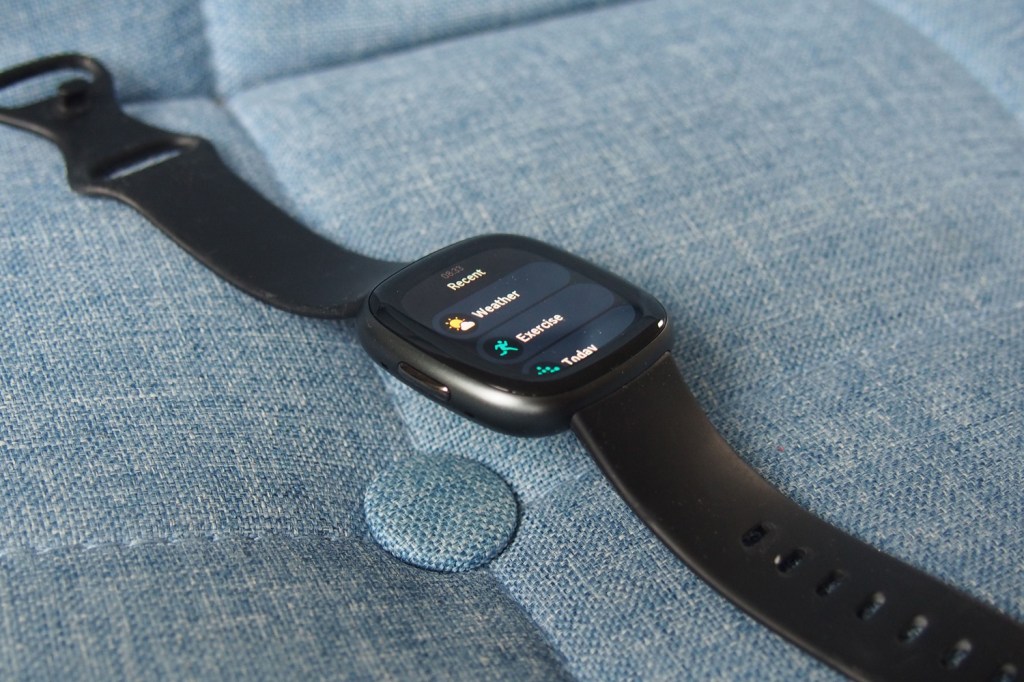 Fitbit might be part of the Google family now, but is sticking to its own software smarts for now. FitbitOS carries with it influences from Pebble, the original smartwatch great Fitbit snapped up over five years ago.
The OS plays nice with Android smartphones and iPhones, and still uses Fitbit's own user-friendly companion app to set things up. When it's time to swipe and tap your way around watch screens, though, it's clear this software has a much more Google WearOS feel to it.
Fitbit has moved where you'll find your phone notification feed, and there's now a bigger emphasis on screen-sized widgets as opposed to lots of different menu screens. Still, it's nice and slick to get around.
What's not so great is that a number of features found on the Versa 3 have disappeared. The Fitbit Gallery app store has been stripped of third party apps, and there's no Wi-Fi or music player. Hardly a coincidence, given the Pixel Watch's recent arrival?
Contactless payments are still on board, although Fitbit Pay doesn't have the widest support from UK banks. Google Assistant is also out, but you can chat to Amazon's Alexa using the onboard microphone. Google Maps is a particularly useful inclusion, too.
Fitness and health tracking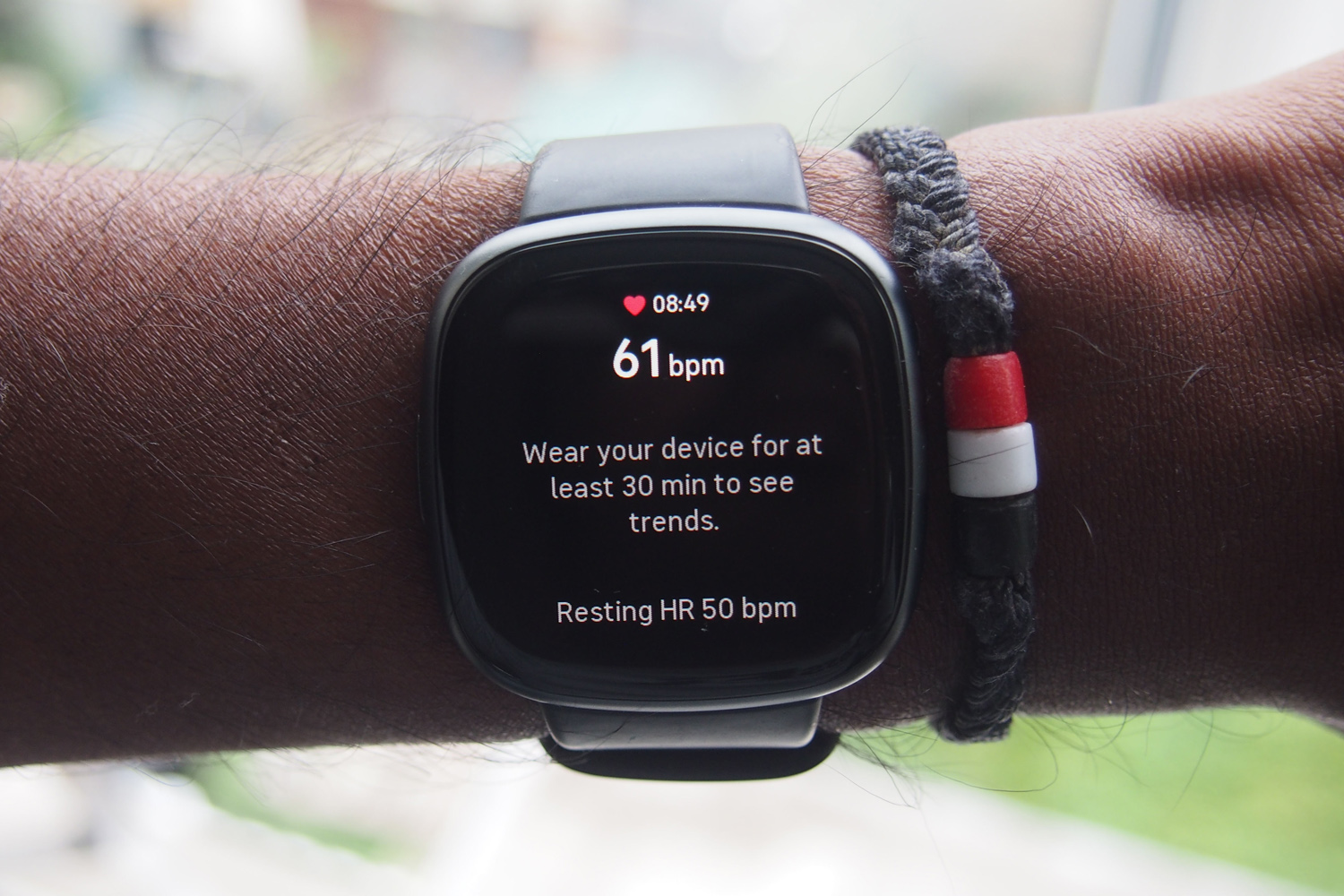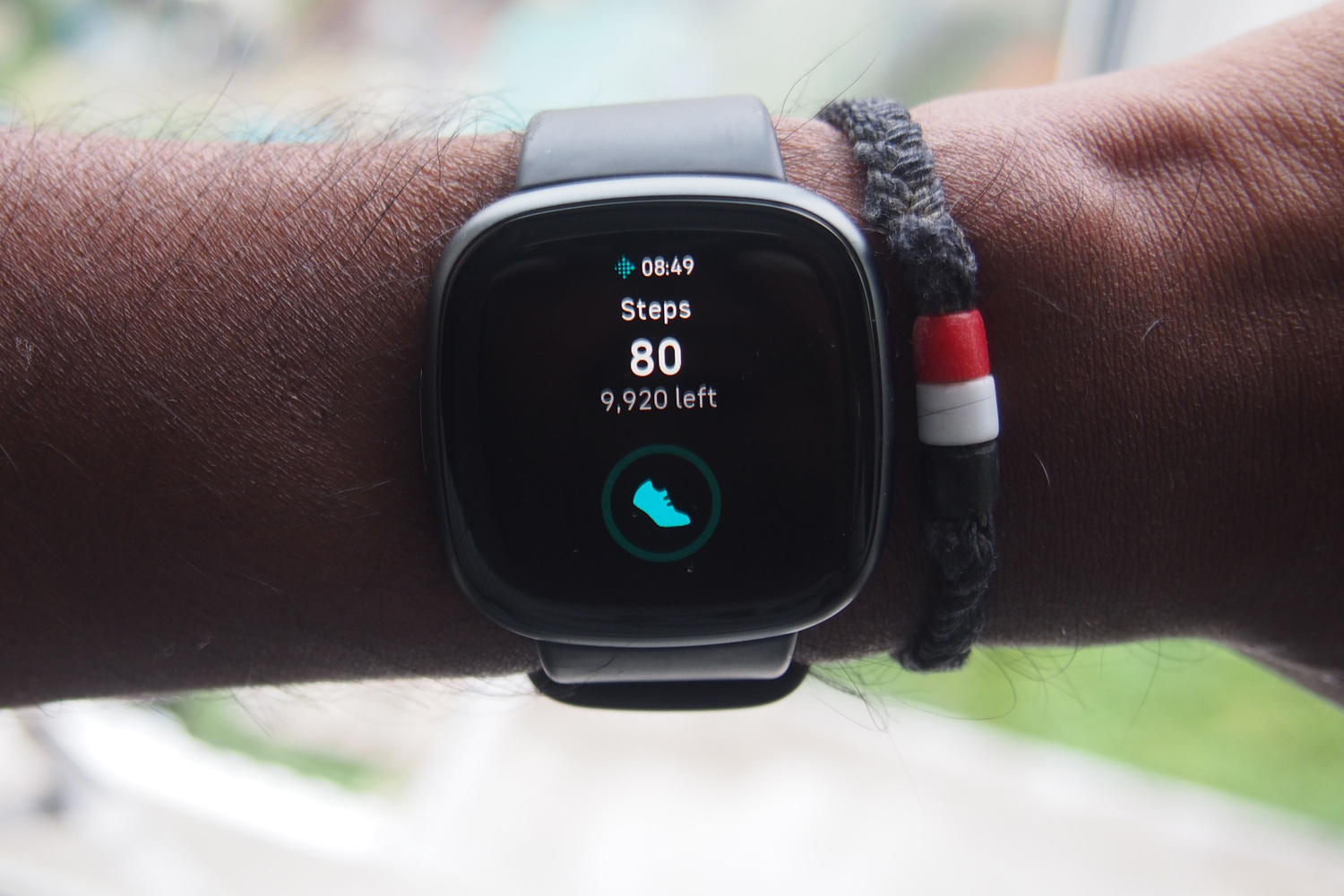 Helping you keep a closer eye on whether you're putting in enough exercise time or getting good quality sleep is very much Fitbit's thing. While there's been a small bump in features, it's not really enough to drastically change what the Versa 4 does compared to the Versa 3.
The number of exercise modes has almost doubled. New additions like crossfit, paddle boarding and skiing push the total to over 40, with Fitbit's own metrics like Cardio Fitness and Active Zone Minutes letting you know whether you're putting in enough effort.
Most sports modes only dish out basic heart rate and workout duration stats, though. While it has the tools to be a solid sports watch, issues with locking onto a good GPS signal, unreliable heart rate data from Fitbit's PurePulse optical sensor makes it more for casual fitness folks. It certainly doesn't rival what a Garmin or Polar sports watch can dish out in terms of accuracy and level of stats.
Fitbit's strength lies in its ability to nudge you to get more steps in and monitor that sleep time. You can quickly gauge whether you're closing in on daily goals from the watch face and the level and accuracy of sleep metrics is up there with the best you can find on a smartwatch. Sleep scores will quickly tell you how good or bad you're sleeping and you can also track heart rate and temperature to offer a window into your general wellness.
Something you will get to grips with is that some insights the Versa 4 can offer require you to spend a bit more money to see them. That's because they're locked behind a Fitbit Premium subscription. Want to know if you've been snoring via the built-in microphone? Need some workout inspiration or would like to use Fitbit's Daily Readiness Scores to know when to work out? You'll need Premium for that.
The big things you're missing out from Fitbit's pricier Sense 2 smartwatch are the heart health-focused ECG sensor and the EDA sensor, which elevates the level of stress monitoring data you can delve into to help you take some time out and relax. If you can live without those insights and care more about those Fitbit tracking staples, then the Versa 4 has got your back.
Battery life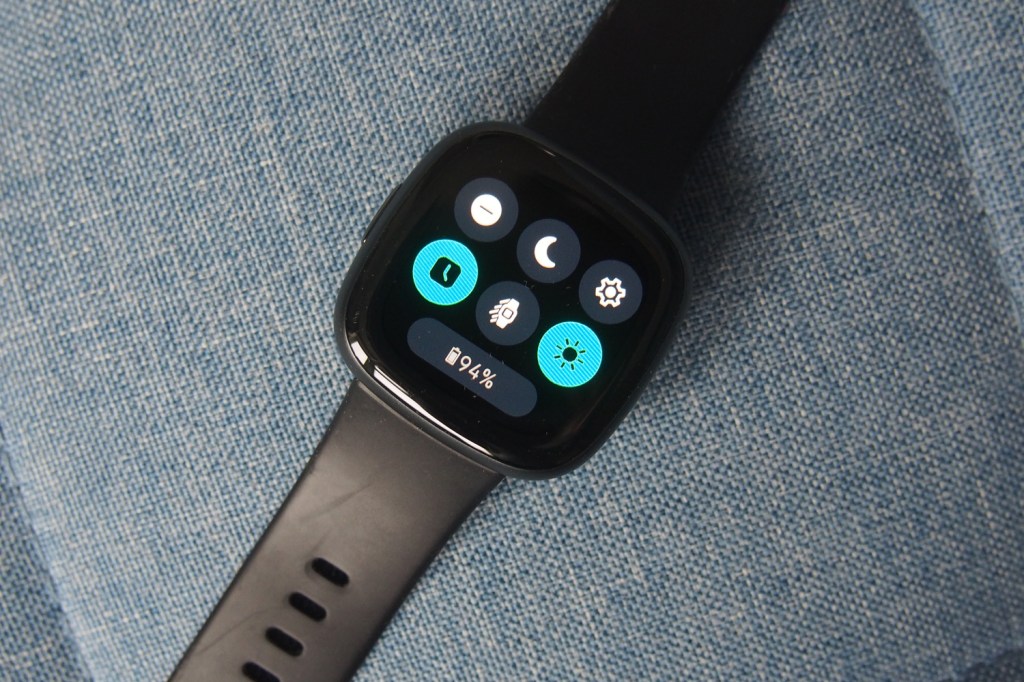 Hate the idea of charging a smartwatch as regularly as your phone? That's not a problem with the Versa 4. It regularly manages over 6 days of use between top-ups. As long as you're not keeping the screen on all the time, it's more than capable of stretching to a week before needing to magnetically clip the charger onto its rear.
If you need that screen awake 24/7, then things do take a hit and it's more like 2-3 days. Fortunately, you do have some quick charging support at your disposal. A 12-minute charge gets you a day of battery, which can be easily done before you head out that door in the morning.
The charging cradle setup hasn't changed either. It sits securely on the back of the watch case and isn't one that can be easily nudged out of place if you take a more heavy handed approach to charging and chucking back onto your bedside table.
Fitbit Versa 4 verdict
It's not a huge step up from last year, but the Versa 4 is still a good choice for anyone after a watch that'll monitor steps and sleep, then regurgitate that info in a user-friendly way. If you still have a lot of love for Fitbit and want its best new watch right now, this is the one to get.
That said, tripping away features that were turning the Versa into a capable smartwatch is a big step backwards, and leaves question marks over the future of Fitbit's more affordable wearable option.
Versa 3 owners wondering whether to make the upgrade also only need to decide if a hardware button is that important to them. If not, it's best to stick with what you've got.
Stuff Says…
Great for fitness tracking and general wellness, but stripped-out features make for a worse smartwatch.
Good Stuff
The button is back
Still a great sleep tracker
Welcome user interface changes
Bad Stuff
Loses big smartwatch features from Versa 3
Sports tracking is still just okay
Not hugely different from Versa 3
Fitbit Versa 4 technical specifications
| | |
| --- | --- |
| Screen | 1.58in, 336×336 AMOLED |
| Operating system | FitbitOS |
| Battery | 6+ days |
| Connectivity | Bluetooth |
| Durability | 5ATM water resistant |
| Dimensions | 40.5×40.5×12.3mm, 38g |