Best smartwatch for kids 2023: smartwatches and fitness trackers
The best smartwatch for kids you can buy right now - which is the best choice for your child? And your pocket, of course...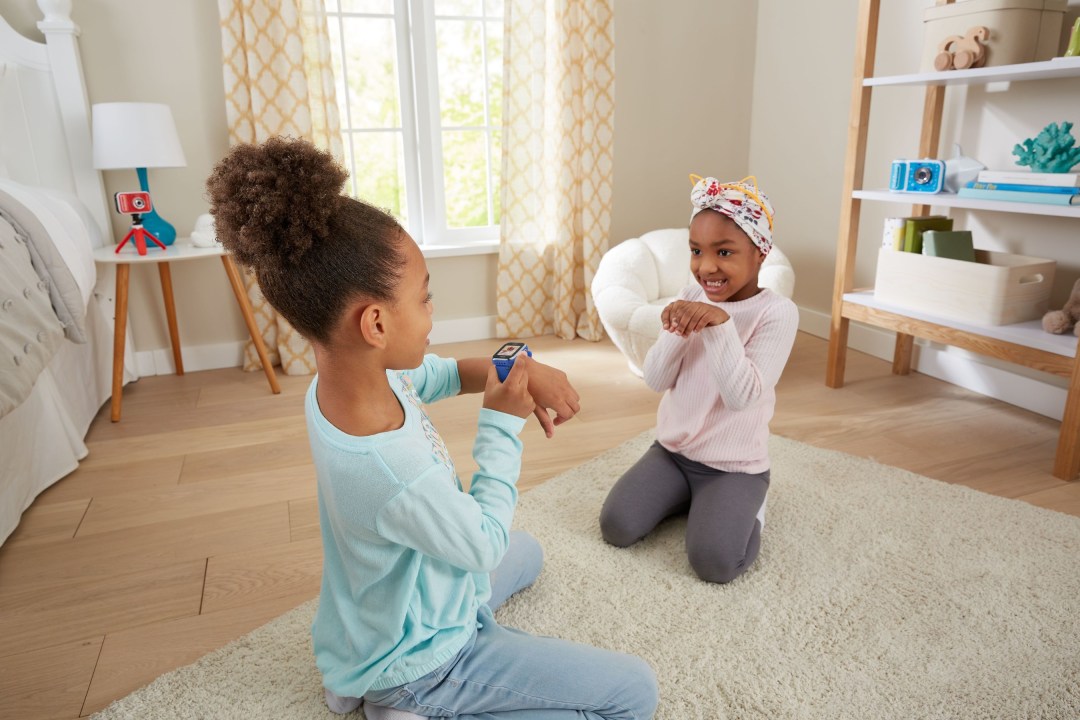 The best smartwatches for kids will give your little ones many of the features included in smartwatches built for adults, with a more playful approach to design and the smarts that come packed into them.
These mini wearables can also track activity, let you see phone notifications, handle calls and even include things you actually won't find on more grown-up equivalents, such as cameras.
Note, if you're looking for something a little more lightweight – you can also get fitness trackers for children. These can be found in Stuff's best fitness trackers for kids guide.
There's a growing amount of smartwatches out there now that are built specifically for the wrists of children of all ages but there are some good and not-so-good ones. We've picked out the best smartwatches for kids that we think are worth considering.
So whether you don't want to dish out a smartphone just yet or you like the idea of some of the safety features that these wearables offer, these are the top children's smartwatches to take a look at.
Oh, and if you're shopping for an adult, don't forget to check out our lists of the best smartwatch overall as well as the best GPS watches.
What's the best smartwatch for kids?
We think the Spacetalk Adventurer (check price) is the best smartwatch for kids. The Adventurer offers a good mix of safety and fun smarts to make it appealing to both kids and parents as well.
Other kids smartwatch recommendations
Best kids smartwatch for younger kids
The VTech Kidizoom (check price) is a kids' smartwatch that puts the focus firmly on fun and can also keep them moving from a durable and colourful watch design.
Best smartwatch for older kids
The Apple Watch SE (check price) takes the best smartwatch out there and adds in Apple's Family Setup and Schooltime modes into the mix and you've got a great option for children who want a more grown-up-looking option.
The best kids' smartwatches you can buy today: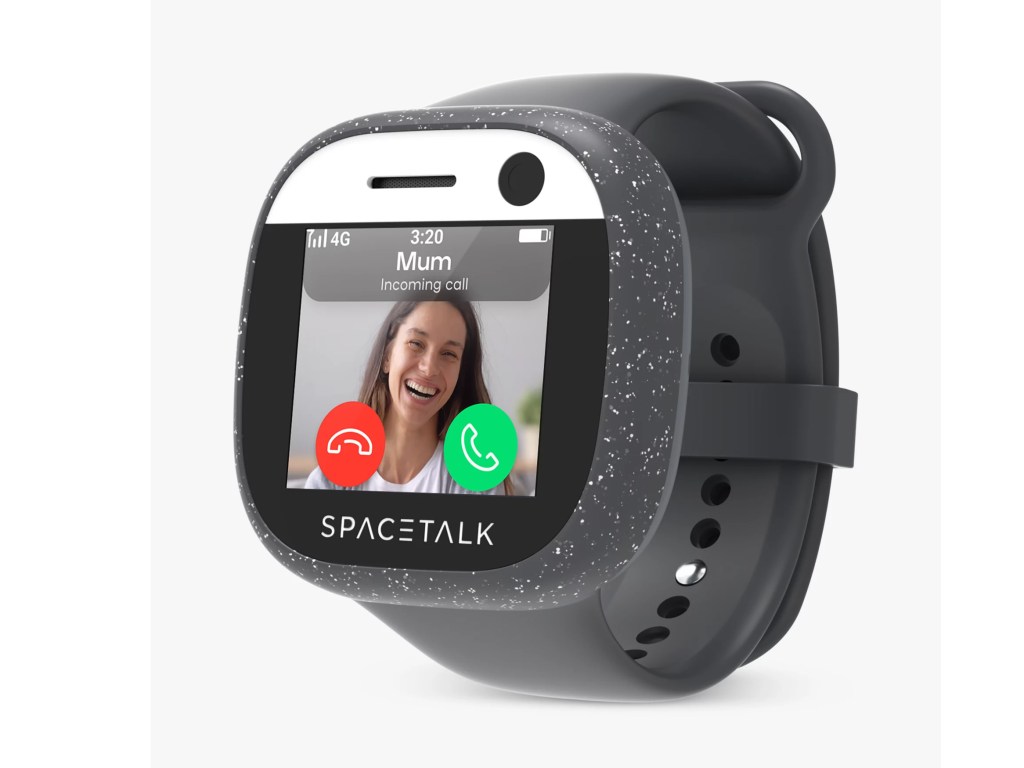 1. Spacetalk Adventurer
Stuff Verdict
A kids smartwatch that offers something for the users and the parents to help justify spending on the subscription and SIM to make the most out of it.
Pros
School mode
4G and safety features
Cons
Chunky design
Monthly SIM cost
| Spacetalk Adventurer specs | |
| --- | --- |
| Platform | iOS and Android |
| Waterproof rating | IP67 |
| Display | OLED |
| Camera | 5MP |
| GPS | Yes |
| Battery life | 36 hours |
| Connectivity | 4G/LTE |
The Spacetalk Adventurer is a full-featured kids' smartwatch that ticks off offering something that can handle taking calls, help parents know their child is safe and there's some smarts to have fun with too.
Those features are all packed into a design that offers some resistance against water with the OLED touchscreen display firmed up with some Gorilla Glass to give it an extra layer of protection.
For parents, it can be used as a GPS tracker to monitor the location of the wearer along with creating safe zones they can stay inside of, with 4G connectivity and the ability to send text messages also supported.
For the kids, there's a 5-megapixel camera to snap pics with, a heart rate monitor and a step counter to keep active, plus a school mode that strips back those features so they can only be distracted by checking in on the time.
---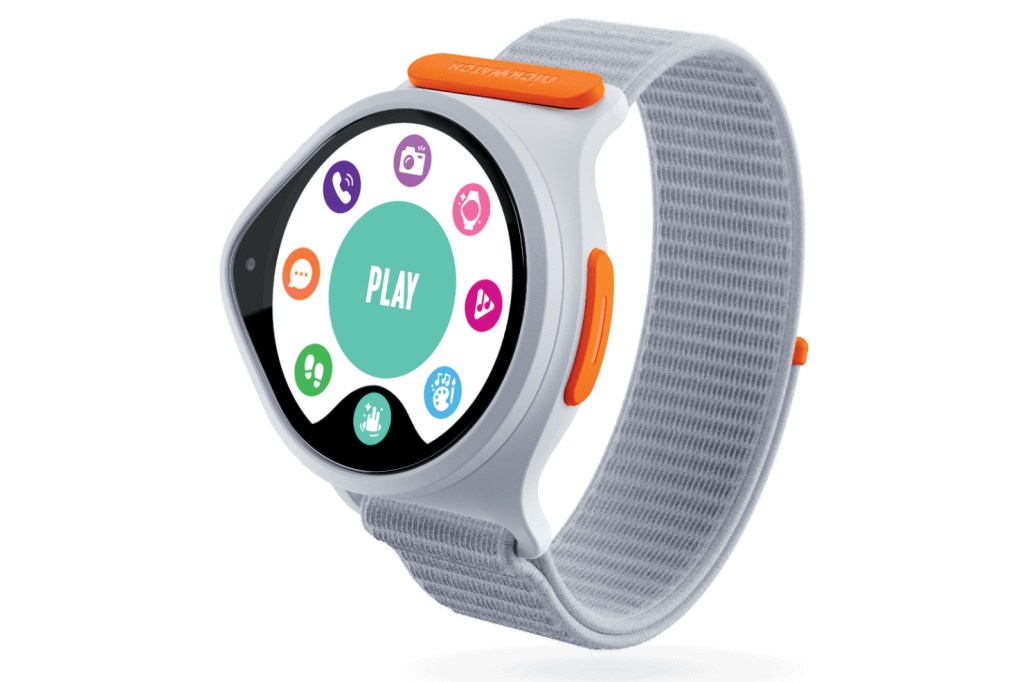 2. NickWatch
Stuff Verdict
This smartwatch is sure to appeal to young children thanks to Nickelodeon's famous faces.
Pros
Packed with educational activities and games
Uses familiar characters
Cons
Monthly cost
A little on the large side
| NickWatch specs | |
| --- | --- |
| Platform | iOS / Android / Windows / Mac |
| Waterproof rating | IP68 |
| Display | 1.3" AMOLED, 326 ppi |
| Camera | 2 MP |
| GPS | Yes |
| Battery life | 30 hours |
| Connectivity | 4G/LTE |
NickWatch, from everyone's favourite kids' brand Nickelodeon, has all the features you'd expect of a connected kids' smartwatch, including GPS tracking, two-way messaging, calling, and a camera. But, what's special about NickWatch is that it's plastered with Nickelodeon characters and colourful icons throughout the whole operating system.
Beloved characters such as Spongebob Squarepants, The Loud House and Teenage Mutant Ninja Turtles star in regularly updated games and promote creativity, independence and physical activity. This, we think, is an amazing feature that will make children actually want to wear the watch.
NickWatch comes equipped with a USB-C cable for charging and two easily changeable velcro watch bands: the grey Simple Strap and the Snazzy Strap printed with Nickelodeon characters.
---
3. Vtech Kidizoom Smart Watch D
Stuff Verdict
A smartwatch that's all about fun with a design that definitely feels better suited to younger ones.
Cons
More of a toy than smartwatch
Low res camera
| Vtech Kidizoom Smart Watch D specs | |
| --- | --- |
| Platform | iOS and Android |
| Waterproof rating | Splash proof |
| Display | LCD |
| Camera | 0.3MP |
| GPS | No |
| Battery life | Up to 2 days |
| Connectivity | No |
Vtech's smartwatch sits at the more fun end of the kids' watch spectrum and is aimed at users aged 4-12 and comes in your pick of just pink or blue case looks.
That case is only splashproof, so not fit to go for a dip in the water but does host a good-sized, 1.44-inch LCD display that is the touchscreen kind little fingers can prod at.
The fun stuff includes a dual camera to drop effects onto images and videos, playing augmented reality games and being able to personalise watch faces. There's even some onboard memory for a voice recorder feature.
It lacks big safety features found on other smartwatches but does include the ability to track daily activity if that's something that's important to you. Ultimately though, this is a smartwatch that's a good pick for much younger users who want something on their wrist that has a more playful feel.
---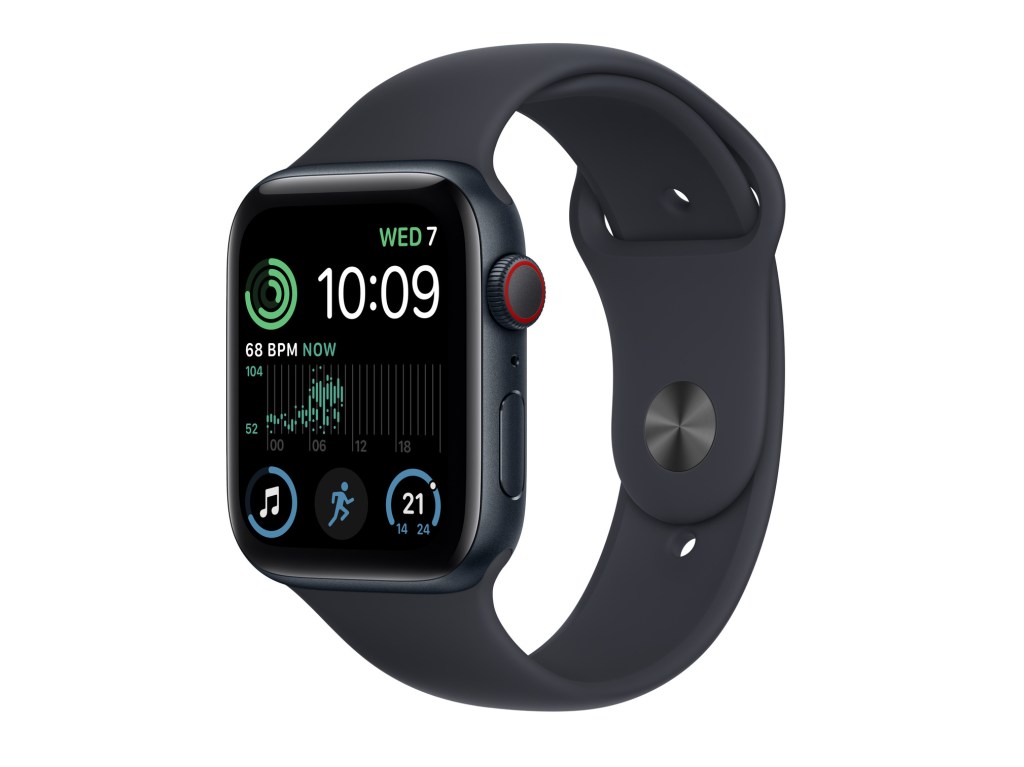 4. Apple Watch SE
Stuff Verdict
The best smartwatch with Apple's latest family-friendly features combine to offer a great option for older kids.
Pros
Sleek design that kids will want to wear
Family Setup is very useful
Cons
Not for younger children
Expensive if it gets lost or broken
| Apple Watch SE specs | |
| --- | --- |
| Platform | iOS |
| Waterproof rating | Up to 50 metres |
| Display | OLED |
| Camera | No |
| GPS | Yes |
| Battery life | Up to 18 hours |
| Connectivity | 4G/LTE |
The Apple Watch SE is primarily designed for adults, but with the addition of Apple's new Family Setup feature, it's one that can feasibly work for older kids too as opposed to the ones that are still running rings around you.
Using that Family Setup means an adult can let their child use the Watch to receive notifications, make calls and share location, putting some of its typical features off limits in the process.
If you're worried they might go on an App Store spending spree you can set it up so you have approval on app and game purchases and when they wander to school with it you can set up the Schooltime mode to stop them from being pestered by notifications until they're out of the school gates at the end of the day.
So they get one of the best smartwatches available and you can keep in control of the big Watch features they're using and when they're using them.
---
5. Xplora X6 Play
Stuff Verdict
A feature-packed kids' smartwatch that feels more like a grown-up smartwatch but comes with a cheap smartphone price tag.
Pros
Durable design
Lots of useful features
Cons
Large and expensive
Monthly cost for 4G
| Xplora X6 Play specs | |
| --- | --- |
| Platform | iOS and Android |
| Waterproof rating | Splash proof |
| Display | TFT |
| Camera | 2MP |
| GPS | Yes |
| Battery life | Up to 2 days |
| Connectivity | 4G/LTE |
Another kids smartwatch that aims to offer plenty of grown-up smartwatch features along with one's parents can put to good use from afar, the R1 is equipped with 4G/LTE connectivity to handle calls and uses that onboard connectivity along with GPS to locate the position of the wearer and includes a class mode to turn off distracting features.
It's been given a raised edge design to help protect the display from damage, has a splashproof as opposed to a swim-friendly design and does let you change the straps if they start to get a bit grubby.
You can snap pictures with a 2-megapixel camera, pile on up to 500 songs to turn it into a music player and include fitness tracker smarts to help make sure your little ones are not sitting staring at a screen for most of the day. It's a good-looking kids' smartwatch with plenty of strong features that inevitably push the price up.
---
Now check out the best fitness trackers, from Fitbit and Garmin, to Withings and more.