Huawei Watch Buds review: two wearables in one
A slick smartwatch that's hiding a svelte pair of true wireless in-ears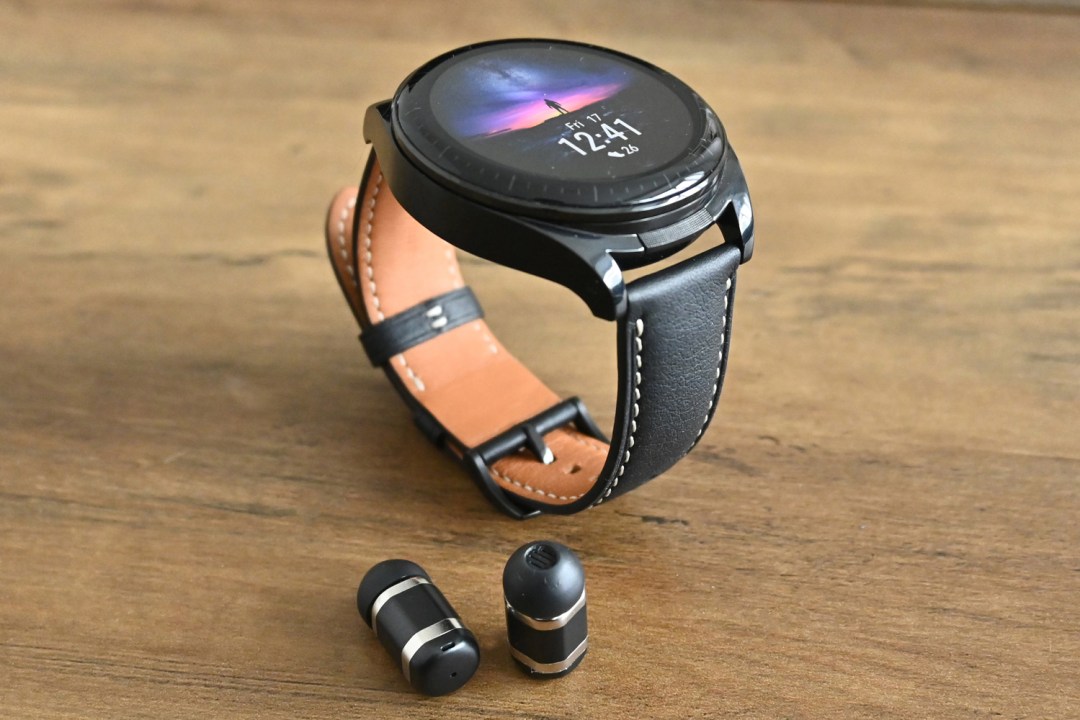 Every once in a while, a gadget concept comes along that makes us wonder why no-one had come up with it sooner. The Huawei Watch Buds is the latest: this futuristic take on the wearable formula might look like a regular smartwatch, but it also promises always-available audio through a pair of built-in true wireless earphones.
The health-centric hybrid could be a boon for workers who constantly forget to pack a pair of headphones, so have to inflict their Zoom calls on the rest of the office, and the active noise cancellation tech also promises to make commuting less painful.
But can hybrid gadgets really be the best of both worlds? Do you give anything up by taking the two-in-one approach – and would you be better off sticking with separates? Time to find out.
Design & build: big and beautiful
Don't look too closely and you wouldn't know the Watch Buds have a secret stashed pair of in-ears lurking inside. It's only slightly chunkier than Huawei's other premium smartwatches, like the Watch GT 3, with similar styling and materials including a stainless steel chassis, clous de paris crown and 3D curved glass face. The leather strap is unchanged from previous watches, too.
It has real presence on your wrist, even if you've got arms like tree trunks, and those of smaller stature might find it distracting to wear at night for sleep tracking. Leather straps are never our top pick for exercise either, but the bundled band has quick disconnects and is a standard 22mm size, so can easily be swapped out for a third-party alternative.
The only giveaway is the textured button beneath the 6 o'clock position, and even that subtly matches the curves of the watch body. Press it and the display pops up, revealing the wonderfully compact earbuds. Huawei reckons the hinge is good for 100,000 opens: it certainly feels sturdy, and a vibration alert reminds you when it isn't latched shut, which should help avoid accidents.
The buds are held in place magnetically, so won't go tumbling even if you open the watch upside down, and the identical shape means you don't have to worry about which is left and which is right. They know which ears they've been popped into, and calibrate accordingly. Metal contacts on all four sides let them start charging wirelessly as soon as you put them back in the case.
It's a fantastic concept, and we got Minority Report vibes every time we popped open the watch to retrieve or stash the buds. It's so convenient, not having to reach into a bag whenever you want to listen to tunes, or having to keep a charging case in your pocket at all times.
Watch features: well-rounded wearable
With a sizeable 1.43in circular AMOLED display, the watch part of the Watch Buds is as crisp, colourful and high resolution as we've come to expect from Huawei's wearable line-up. Viewing angles are great and it gets plenty bright when you step outside, so it's never a chore to see what's onscreen. Touch response is quick and the glass manages to largely stay fingerprint-free, so doesn't need constant cleaning.
Pairing to a smartphone requires Huawei's Health app, which isn't available on the Google Play Store so has to be sideloaded from the firm's website. It's straightforward enough, but Android owners then have to enable multiple permissions and battery optimisation settings. One setting was locked on our Android 13 handset, and the app gave no clues on how to get past it. We had to Google the answer in the end.
The Watch runs the firm's familiar HarmonyOS software, which has all the features you'd expect from a smartwatch including canned message responses for incoming notifications, music playback controls, weather reports and calendar reminders. There's 2GB of on-board storage, if you wanted to load up some music and take the Watch running without your phone.
Everything is sensibly laid out, with the apps list appearing when you press the crown button, and notifications and quick settings an upward or downward swipe away. There's also handful of customisable cards that can be quickly accessed from the main watch face.
Third party apps can be downloaded through the Huawei App Gallery, but the choice is rather limited compared to Android Wear, and a huge step behind the Apple Watch.
Unless you're pounding out ultramarathons, or have the earbuds in constant use, you can expect about three days of battery life from the Watch itself. That's not quite the longevity we're used to from Huawei's wearables, which can often manage a full week between top-ups, but still a whole lot better than the Google Pixel Watch – and that doesn't have to share its juice with a pair of earphones.
Health & fitness tracking: got you covered
The Watch uses the latest version of Huawei's TruSeen sensor, which combines an accelerometer, gyroscope, heart rate sensor and SpO2 monitor to cover all the fitness metrics you'd expect. Step count, sleep tracking, continuous heart rate monitoring and GPS route recording are all on-board, as are more than 80 different workout modes.
Outdoor runners and cyclists are well catered for, as are gym bunnies courtesy of dedicated treadmill and exercise bike settings. More specialist sports and activities also make the list, from boxing and ballet to Tai Chi and table tennis. The Health app shows detailed breakdowns of each activity, although it's not the easiest to export if you're already tied in to other, third-party apps like Strava.
Step counting and sleep tracking were largely on par with other mainstream smartwatches, as was GPS and heart rate accuracy while exercising. Dedicated athletes won't be swayed from their pricier equipment or more accurate chest straps, but for the rest of us there's plenty of inspiration here to get off the sofa.
You'll want to stick to land-based activities, as the watch is only IPX7 water resistant when closed and the buds have a lower IPX4 rating. The former is gym- and shower-proof, at least.
Earbuds features & sound quality: capable enough
They might use the same full-range planar diaphragms as Huawei's high-end Freebuds Pro 2, but the Watch Buds aren't backed up by dual drivers and have a fairly standard 20Hz-20kHz frequency range. Connectivity is by standard Bluetooth codecs, so they aren't going to have much audiophile appeal. You do get active noise cancelling, though, with an ambient mode to better hear the outside world without having to take them out of your ears.
ANC merely quietens the outside world here, rather than truly silencing it. You can still hear passing cars clearly enough and make out colleagues' conversations if your tunes aren't turned up too loud. Certain noisy stretches of the London Underground were too much to ask, too.
This is partly because it's tough to get a good seal, even after trying all of the different sized silicone ear tips included in the box. One bud would regularly dislodge itself, even while we were sat still, and we had to constantly adjust it when exercising. Thankfully doing so didn't also trigger the touch-sensitive gesture controls, which need a double-tap to pause tracks. You can tap in front or behind your ear rather than on the bud itself, so as not to push it uncomfortably deep into your ear canal; this worked consistently well throughout our testing.
They might not sparkle like a truly great pair of in-ears, but the Watch Buds are a fun listen, with a V-shaped curve that delivers impactful bass and largely clear vocals. The high-end avoids being too crispy, while preserving plenty of detail, and there's no shortage of volume if you want it; there was still headroom when our smartphone's hearing protection warning kicked in.
The soundstage isn't especially wide, but the effective left/right auto adjustment means the stereo channels are always the right way around.
Huawei Watch Buds verdict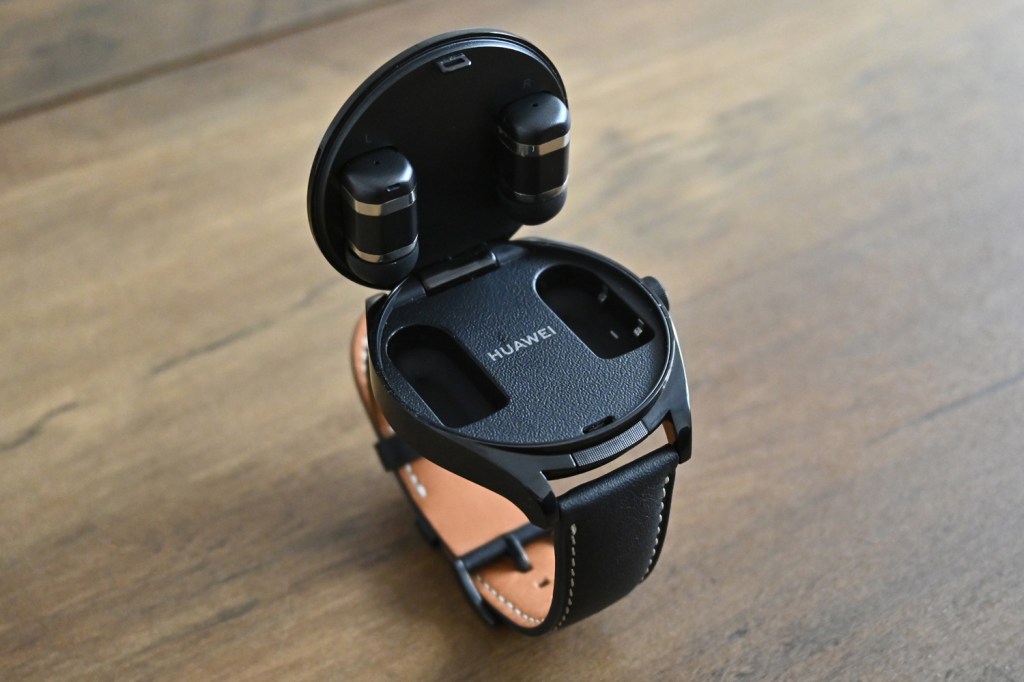 If you like big and chunky smartwatches, the Huawei Watch Buds will feel right at home on your wrist, and always having a pair of earphones to hand is beyond convenient – whether it's for commuting, working or working out.
You miss out on the sound quality and ANC abilities that many dedicated pairs of true wireless in-ears can deliver, however, and a modest battery life means they're not ideal for all-day listening. The watch tracks all the health and fitness metrics you'd expect, but lacks the third-party software support of Android Wear alternatives, and its companion app requires jumping through a few extra hoops to install too.
Ultimately it's a niche wearable that won't suit everyone. But if you accept its limitations, and can swallow the high price, no other smartwatch can match its sheer futuristic fun factor.
Stuff Says…
A first-of-its-kind hybrid gadget that's very convenient to use, but also an expensive one that makes compromises over buying your smartwatch and earbuds separately.
Good Stuff
Unique 2-in-1 concept
A capable fitness watch
Three day battery life
Bad Stuff
Average audio and ANC
Software experience not the slickest
Pricey and proprietary
Huawei Watch Buds technical specifications
Screen
1.43in, 466×466 AMOLED
Storage
2GB
Operating system
HarmonyOS 3.0
Connectivity
Wi-Fi, Bluetooth, NFC
Durability
IPX7 (closed) IPX4 (open)
Battery life
3 days/7 days (Watch, regular/power saving mode), 3 hours (buds)
Dimensions
Watch: 47x47x15mm, 66.5g (without strap)
Buds: 22x10x10mm, 4g (per bud)