Best laptop 2023: top work and play notebooks for every budget
From MacBooks to Chromebooks, hybrids to gaming powerhouses, we've tested and scored the best laptops for every need and budget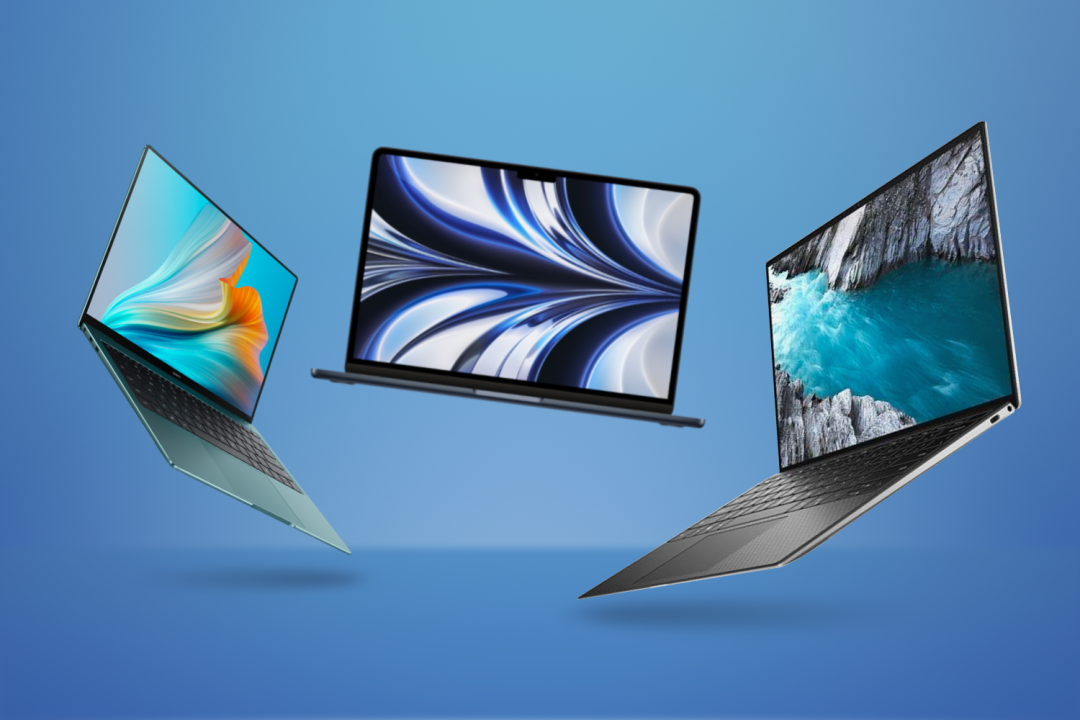 Work, play or something else entirely: having the best laptop for your needs makes it easier to get what needs to be done, done. And if it's a new notebook you need, you've found the right round-up: we've tested the top laptops for every task and budget, and highlighted our favourites right here.
From MacBooks to Chromebooks, hybrids to gaming powerhouses, you'll find a wide range of laptops in our list below. We've tested and scored each model to help you find your ideal option. And we've detailed the key specs for every entry, in case you're keen to crunch some numbers yourself.
If you're specifically in the market for something that strikes a good balance between price and performance, check out our dedicated list of the best mid-range laptops. Or if it's a notebook bargain you're after, be sure to peruse our pick of the best cheap laptops for every user and budget.
---
What's the best laptop you can buy in 2023?
Before we dive into our detailed list, here's a shortcut to our top three options:
---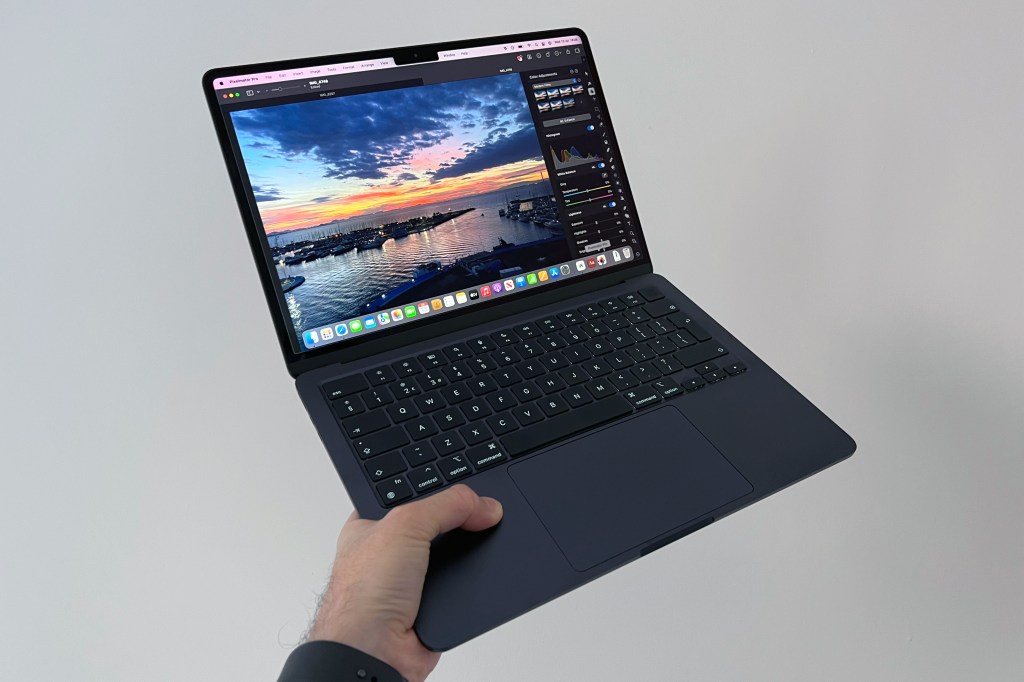 Apple MacBook Air (M2)
With a top-tier processor inside, Apple's M2-powered MacBook Air sets a new benchmark for portable performance. In a full redesign, it swaps the classic wedge shape in favour of a flat chassis. Slender bezels around the 13in screen giving it a neat look, while a notch increases display space by wrapping toolbars around the webcam – which remains disappointing for video calls. Brightness and audio quality have both been usefully boosted.
Its fanless design can throttle performance under sustained demand, but very few users will require more raw power than the Air can offer. For the vast majority of tasks, speed is superlative. That's matched by impressive battery life – up to 18 hours – and the welcome return of MagSafe charging.
Its increased price puts the M2 Air firmly out of the mid-range bracket. But unless you've got very specific performance requirements, this is the best MacBook – and laptop – for most people.
Stuff Says…
Smartly redesigned and more powerful than ever, the MacBook Air is the best laptop for most users
---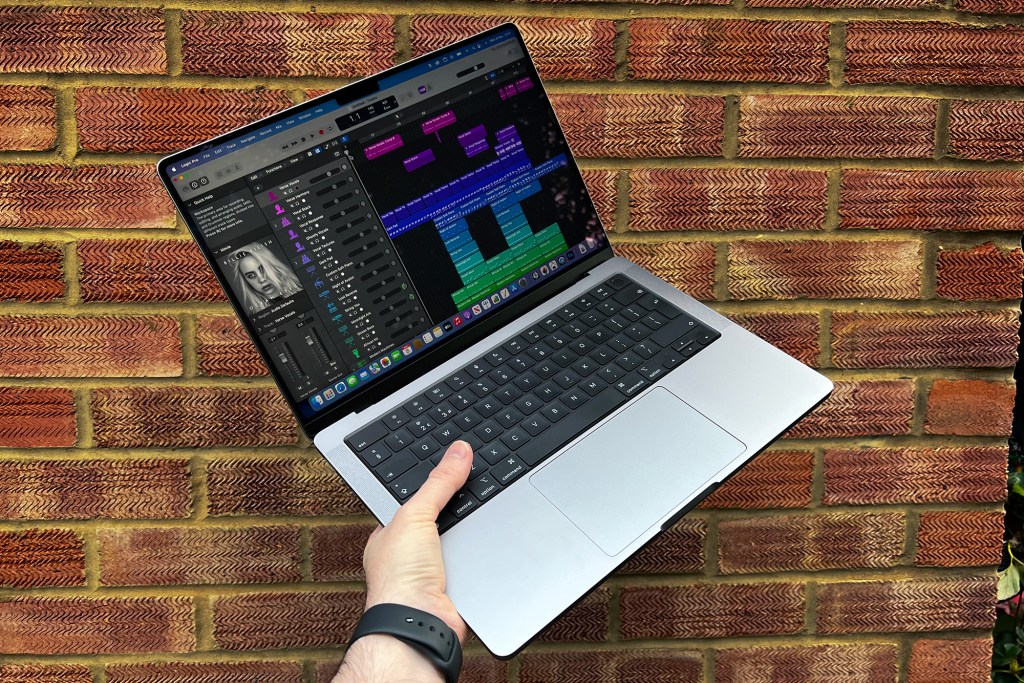 Apple MacBook Pro 14in (M2 Pro)
Heftier than its 13in predecessor, the redesigned MacBook Pro 14in means business. And thanks to Apple's 2023 M2 Pro or Max chip (or even the 2021 M1 versions of either), it has power in spades: boosted multi-core performance and GPU grunt puts it leagues ahead of competitors. Its performance ceiling is higher than most people will ever need. But for those with serious tasks to churn through, the Pro has the chops to conquer the lot.
With menu bars spanning the notch at the top of the screen, you get a full 16:10 display area below. The mini-LED panel is simply gorgeous, with rich blacks, vivid colour and brightness that hits up to 1600 nits. And that's all complemented by a punchy six-speaker system.
Yes, it's overkill if you don't need its power and ports. But if you work in a field which can take advantage of its skills – or simply want the best laptop in its class – you won't be disappointed.
Stuff Says…
A MacBook Pro deserving of its moniker, this delivers supreme performance – at a price
---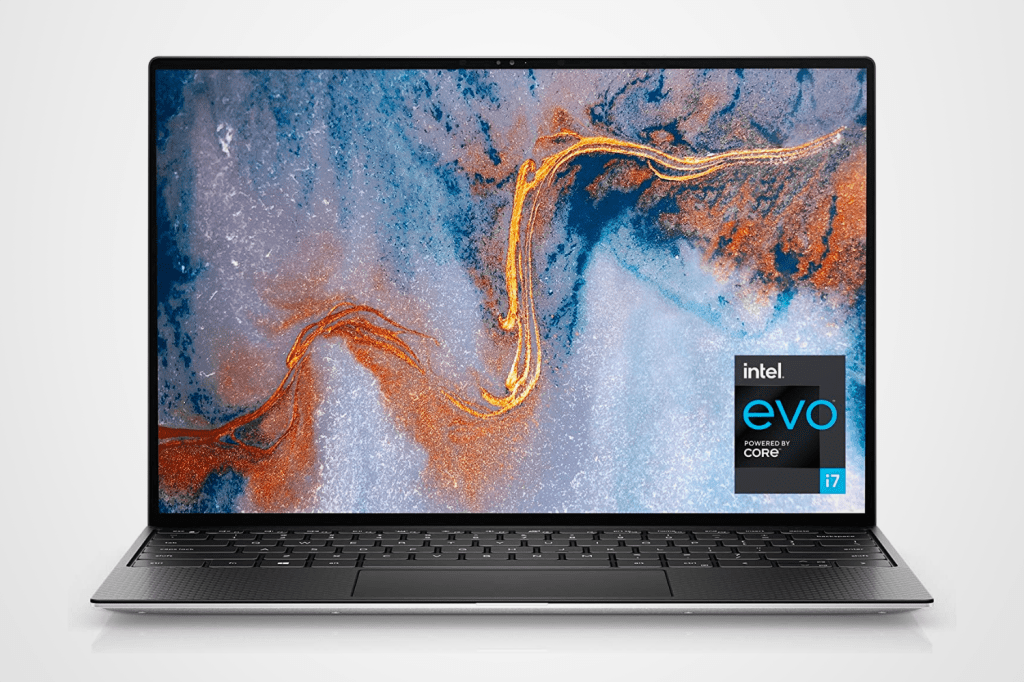 Dell XPS 13 (9310)
With solid performance, a stunning display and a streamlined form factor that's perfect for travel, Dell's XPS 13 is one of the best ultraportable laptop options. Slim at 1.48mm and light at 1.27kg, the whole package feels well-built and perfect for a backpack.
Spec it with an OLED screen and you'll sacrifice some battery life, but your reward is immersive colour depth and impressive detail from the 13.4in panel. Slender bezels contribute to a premium look, even if the 720p webcam could be better. We wouldn't mind a few extra inputs, either: the XPS 13 is equipped with just two Thunderbolt 4 ports.
Still, there's plenty in the XPS 13's tank to tackle daily demands. Performance varies based on which boxes you tick, but 11th-gen Intel silicon means it's speedy in pretty much any setup. You'll only find signs of weakness if you throw taxing 3D visuals at its hardware.
Stuff Says…
A premium ultrabook with the option of a stunning OLED display, the XPS 13 is one of the best laptops to travel with
---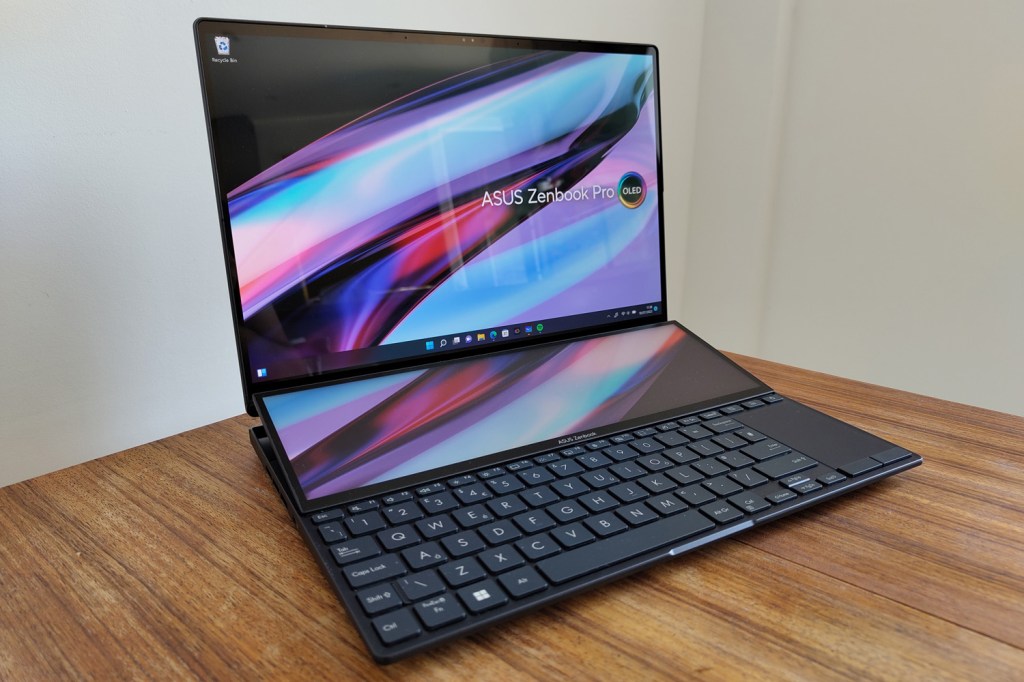 Asus Zenbook Pro 14 Duo OLED
A twin-screen laptop is niche by design. But for the few whose creative workflows can make use of dual displays, the Asus Zenbook Pro 14 is the best you can get. Its main 14.5in OLED panel wraps sharp 2K images and 120Hz refresh rates in a slender frame, while a second screen lives just above the keyboard.
With the same colour accuracy, brightness and horizontal resolution as the main display, this responsive touchscreen adds an extra realm of input flexibility. Whether tapping on shortcuts or writing with Asus' digital stylus, it can supercharge your productivity.
There are downsides to doubling up. The Zenbook isn't light at 1.75kg, while the forward keyboard placement leaves your wrists nowhere to rest. And because of the power required to run two screens, it's loud at full pelt and saps battery within five hours. But spec it right and you've got a proper powerhouse combo.
Stuff Says…
If two screens is a win for your creative workflow, the Zenbook is the best dual-display laptop you can buy
---
LG Gram 16
Remarkably light at 1.19kg, LG's Gram 16 combines a sizeable screen with a streamlined chassis to deliver a fantastic laptop for everyday duties. Its big, bold 16:10 display is ideal for documents and website, as is the sterling battery life: at up to 21 hours, this is a notebook that goes and goes.
You don't get heaps of bells and whistles, but the important features are all present and correct. That includes a responsive set of keys, reasonable speakers, a fingerprint sensor, and comprehensive connectivity options, including a 3.5mm headphone port and HDMI out. Quality is middling from the 720p webcam, mind.
Outright performance won't win any benchmarking battles, and intensive tasks will be better handled by beefier rivals. But for a long day of getting things done, the Gram 16 can deliver without a stutter. Speeds are reigned in for thermal efficiency, which helps it run cool and quiet.
Stuff Says…
With a big screen and mammoth battery life, this featherweight laptop is a winner for getting things done
---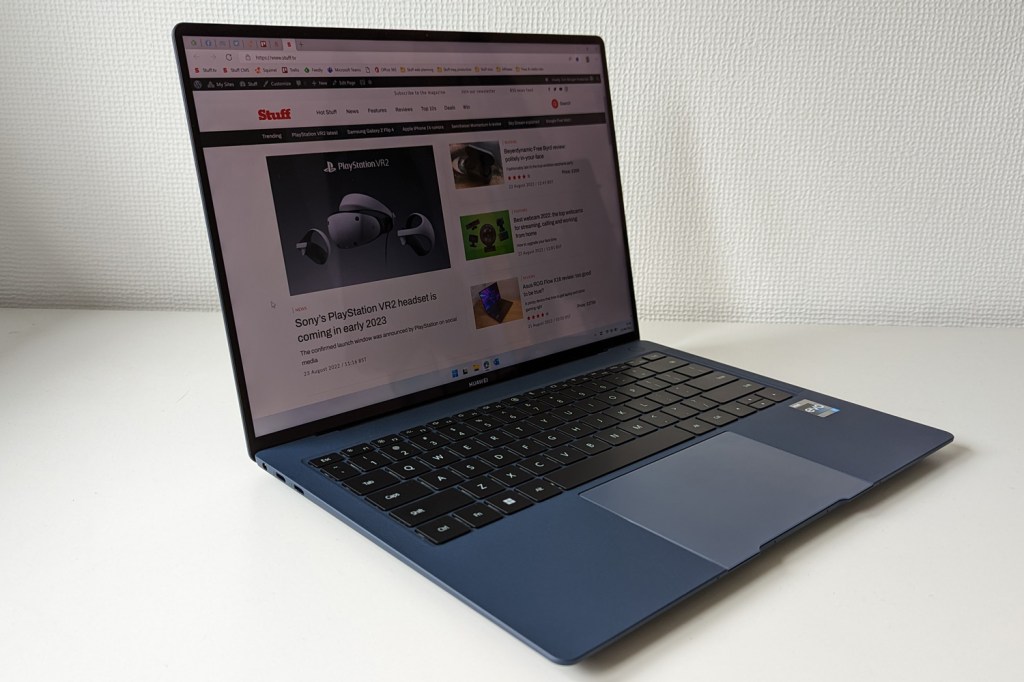 Huawei Matebook X Pro
From its aluminium finish to its solid performance, Huawei's MacBook alternative does a convincing impression of its Apple rival. Yet where some laptops might only fit a 13in screen, slim bezels mean the Matebook X Pro can fit a 14.2in number with a webcam. Which is even more impressive when you consider that it's just 15.5mm thin and 1.38kg light.
It might not match an OLED for outright punch, but the Matebook X Pro's LCD is no cut-price panel: viewing angles are excellent, brightness decent and resolution detailed. Colour accuracy is also stellar, which makes it a win for watching and creating.
Thanks to a 12-core CPU, the Matebook X Pro can blast through tasks. It doesn't have a dedicated GPU for demanding graphics, and battery life remains a sore spot. But if you want a productivity workhorse, it flies high – especially with a tap-happy keyboard and large, frictionless touchpad.
Stuff Says…
A lightweight workhorse with a slender aluminium shell, Huawei's premium ultraportable is a pleasure to work with and watch on
---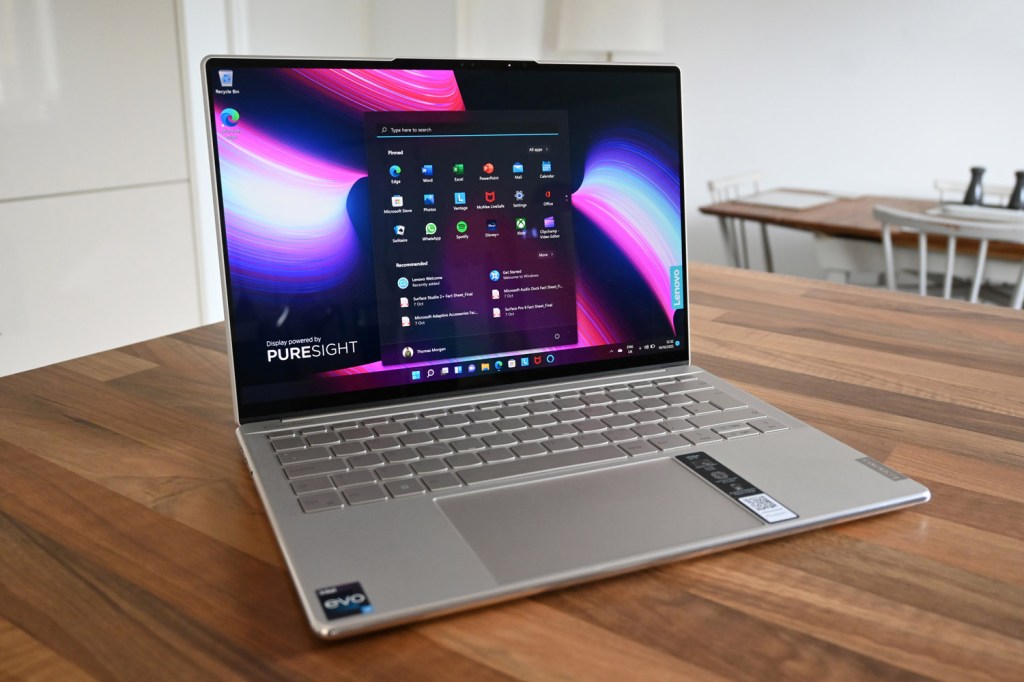 Lenovo Yoga Slim 9i Gen 7
Lenovo's known for business laptops, but this attractive ultraportable takes styling cues from the smartphone world: it's all rounded edges, skinny bezels and polished aluminium. Its dimensions match many 13in machines, including the 1.4kg weight, while giving an extra inch of display real estate.
And what a screen it is. Image quality is epic, with perfect blacks, exceptional contrast and vibrant colours from the 14in OLED. 4K is an option, but the 2K version has higher 90Hz refresh rates for stutter-free scrolling. Whichever you spec, the lid can fold all the way back to flat.
With a 12th-gen Intel i7 CPU paired with 16GB of RAM, the Yoga Slim 9i doesn't want for performance. If anything, it could drop down a peg and extend battery life beyond the six hours we averaged. That said, its extra cores deal snappily with demanding apps, even if the fans have to fire up.
Stuff Says…
A potent ultraportable with an equally potent price tag, the Yoga Slim 9i dazzles with bespoke styling and a gorgeous OLED display
---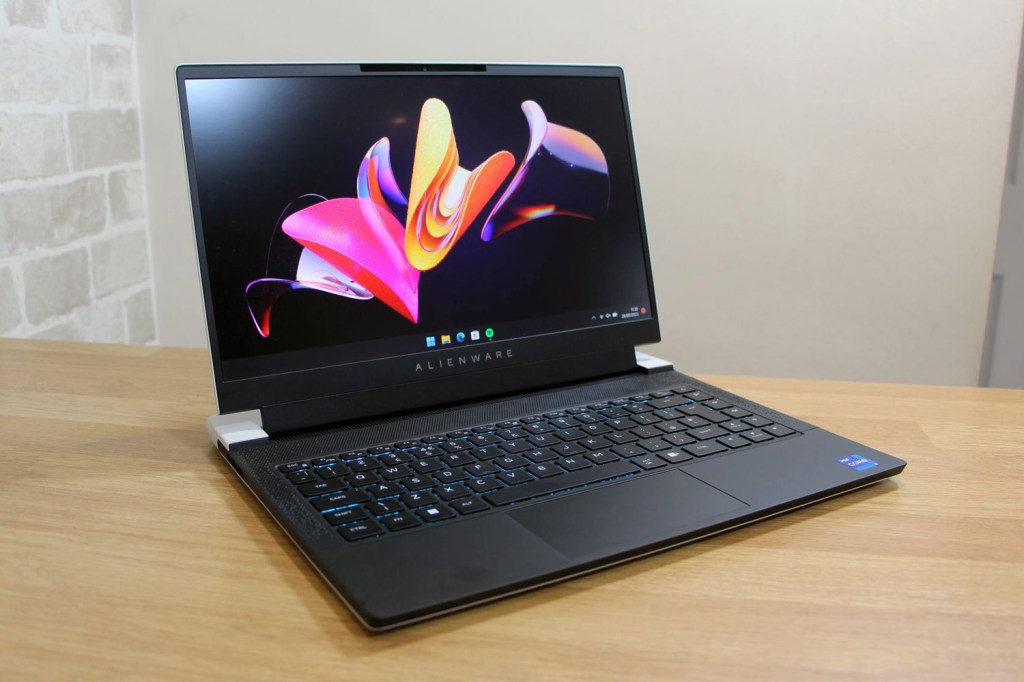 Alienware X14
Alienware is associated with beefy gaming rigs, but the brand's first compact notebook is the polar opposite. It's the slimmest 14in gaming laptop you can buy at 14.5mm, and among the lightest at 1.79kg. Yet it still delivers solid mainstream performance, courtesy of Nvidia GeForce RTX graphics and 12th-gen Intel silicon.
Its size does come with some compromises. The Razer Blade 14 betters it on everyday battery life, and the speakers are disappointing. Some will also balk at its 1080p resolution. But 144Hz refresh rates guarantee smooth playback, while brightness and contrast are high enough for good visibility and a punchy picture.
You can play every big-name game without major limitations, plus its i7 chip is speedy for desktop tasks. Its keyboard is fast and crisp, too. While pricier rivals offer more outright power and battery life, the X14 delivers where it matters – and does so in properly portable form.
Stuff Says…
A remarkably portable gaming laptop that gets all of the important stuff right – apart from battery life
---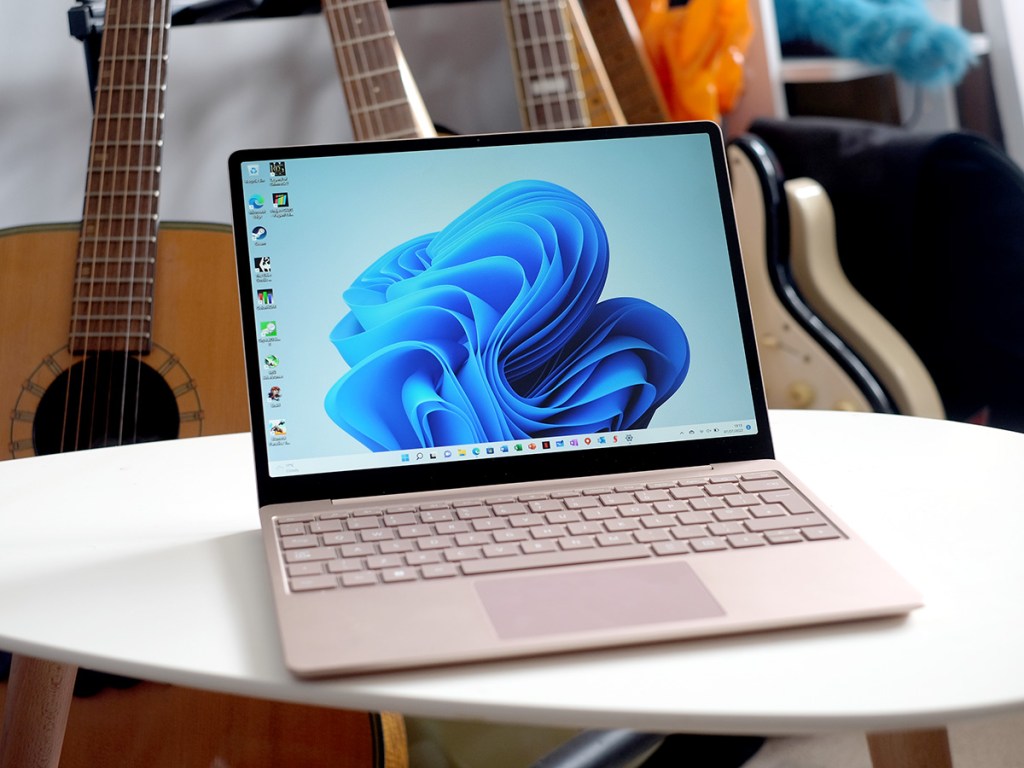 Microsoft Surface Laptop Go 2
Offering the appeal of Microsoft's premium laptops at a more palatable price, the Surface Laptop Go 2 is a highly portable tool that's perfect for students. Aluminium replaces the magnesium seen on other Surface models, but the feel and finish here is still satisfying. And the whole package weighs just 1.13kg.
Its 12.4in PixelSense display uses a 3:2 aspect ratio that's ideal for working on documents. Brightness is decent at 400 nits, even if colour and contrast are slightly below average, while the glass touchscreen eclipses alternatives in the mid-range price bracket.
All versions ship with 11th-gen i5 silicon. Paired with 8GB of RAM, you'll face no hitches in everyday performance, with little to set the Go 2 apart from more expensive models. We averaged seven hours of battery life in testing, although enabling Battery Saver boosted turned this up to 11. All that's really missing is a keyboard backlight.
Stuff Says…
Inspired by its premium surface Siblings, the Go 2 is a lightweight productivity tool that's perfect for students in top-spec guise
---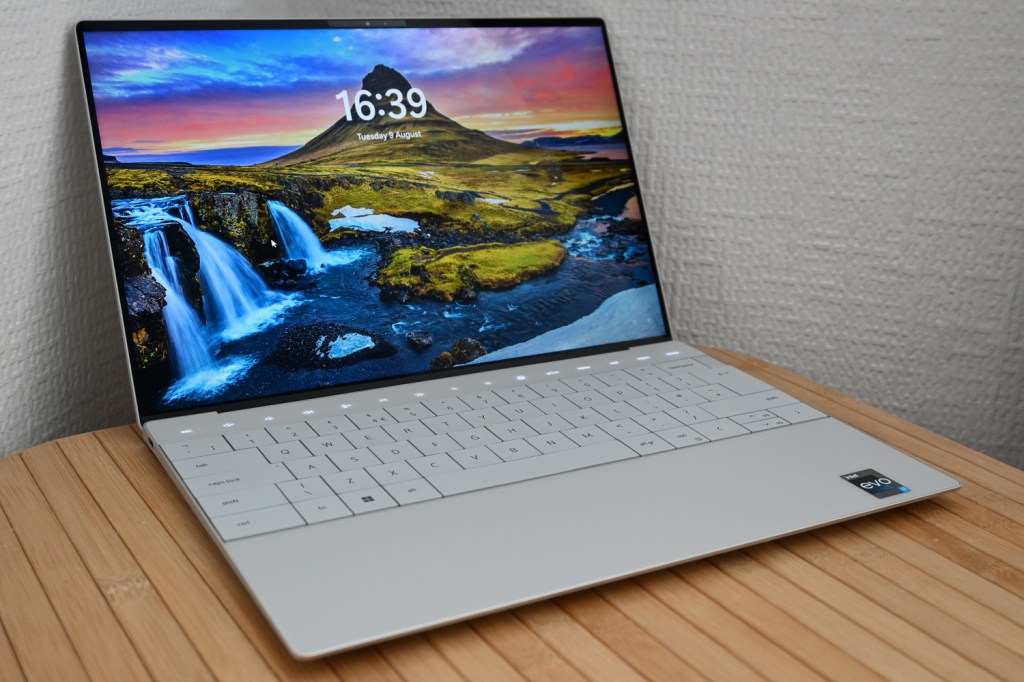 Dell XPS 13 Plus
Dell's XPS 13 (above) was already our favourite Windows laptop. The Plus builds on everything we love about the standard edition, packing a beefier CPU, invisible touchpad, flush keyboard and capacitive shortcuts. Like the XPS 13, its aluminium shell is svelte and light. Open it up and Dell's minimalist turn is immediately obvious, with a look bordering on sci-fi.
A 3.5K OLED tops the spec sheet, but the 2K LCD touchscreen option still delivers glorious detail and decent contrast, even if 60Hz refresh rates aren't the fastest around. What is speedy is the 12-core Intel i7 chip inside: paired with a generous 32GB of RAM, it delivers excellent day-to-day performance.
There's no dedicated GPU and battery life averages around five hours away from the mains. Connectivity is also more limited than we'd like. But if you've always fancied the XPS 13 with pared-back flair, the Plus is worth a look.
Stuff Says…
Many will be better served by the vanilla version, but the XPS 13 Plus looks and performs the upgraded part