Huawei MateBook X Pro (2022) review: true blue ultraportable
The greatest generation?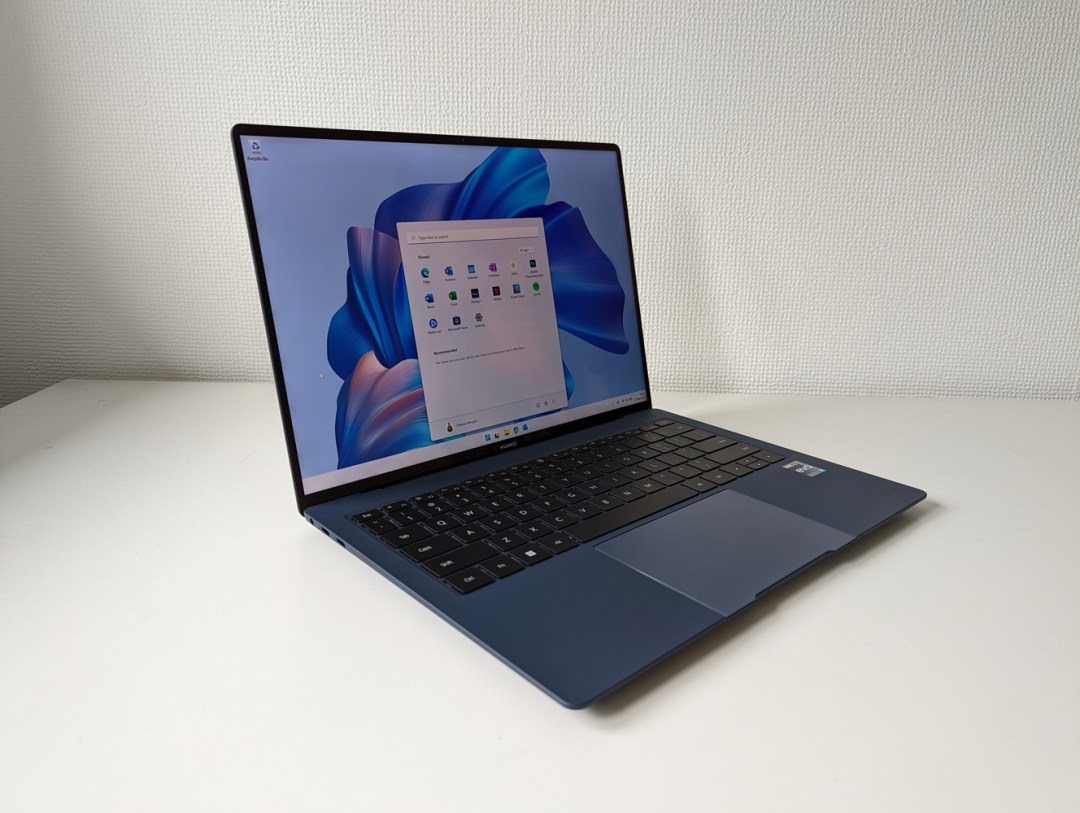 This year's Huawei laptops haven't quite been like London busses, but there's no doubt the latest MateBook X Pro landed very quickly after the last one. The top-end model was given fresh looks and uprated internals barely six months ago, and it has already been superseded. There's good reason for the rapid turnaround, though.
Instead of an efficiency-minded 11th-gen Intel Core CPU, the 2022 edition gets a much beefier 12th-gen chip, which promises a lot more cores and greater performance. Not that you can tell from the outside – which is why the firm has seen fit to add a bunch of new colour choices that help it stand out from its predecessor.
The end result looks more than a little Apple-esque, which begs the question: has Huawei done enough to join our list of the best premium laptops, and in the process turn heads away from the phenomenal new M2-powered MacBook Air?
Design & features: true blue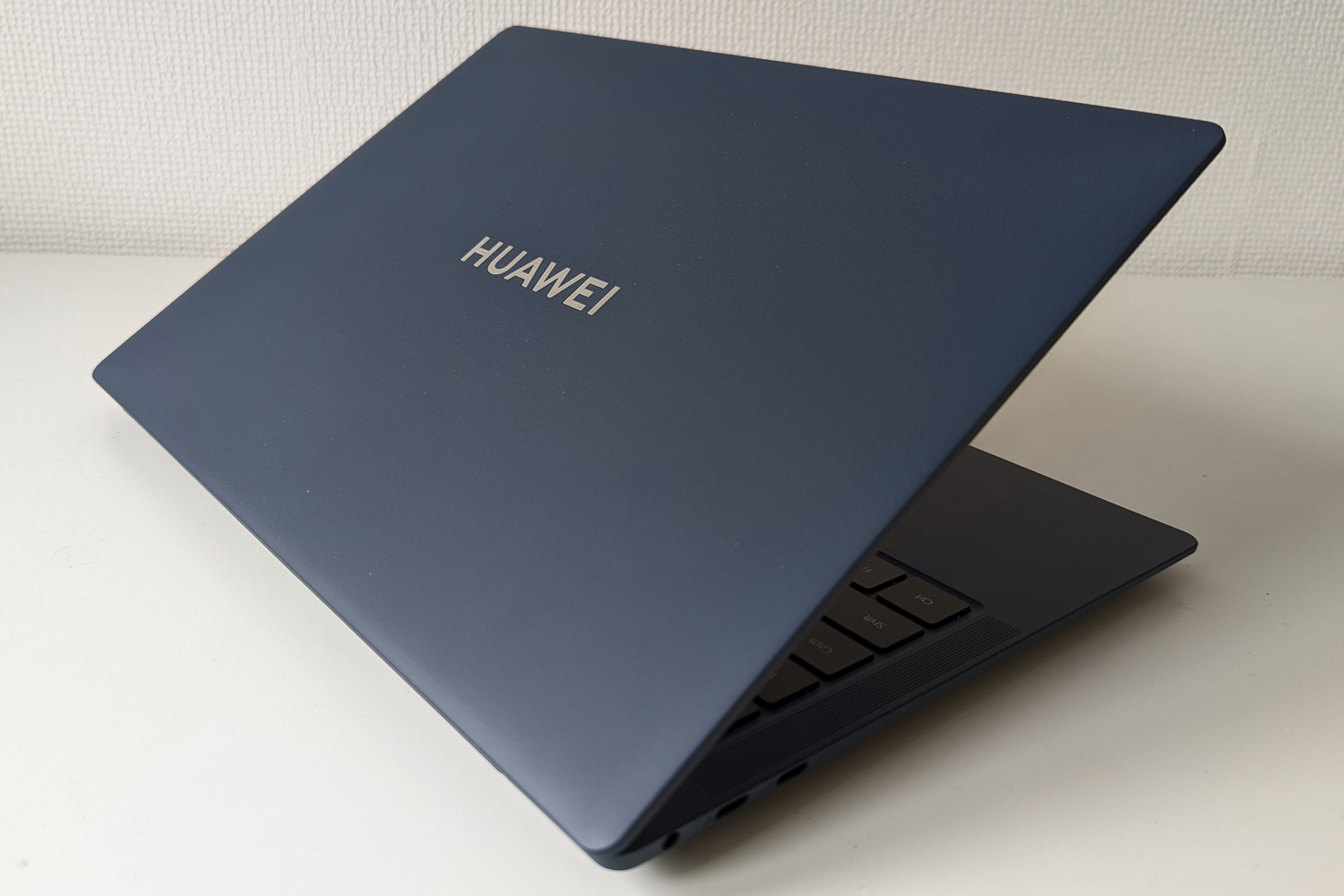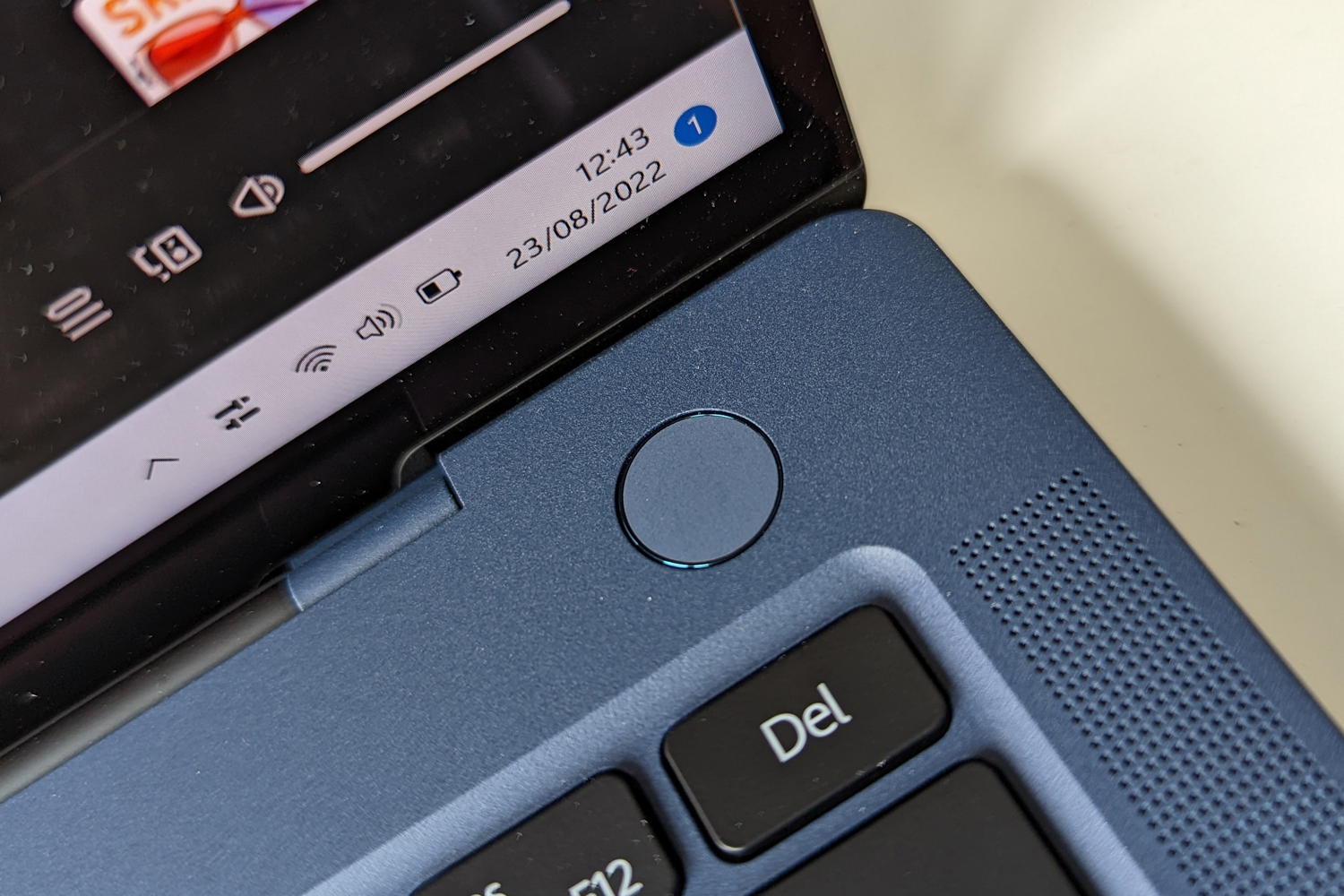 It's not so light to need tying down in a breeze, but at 1.26kg the Matebook X Pro is about as portable as 14in laptops get. A mere 15.6mm at its thickest point, you'll have no trouble slipping it into a bag either. Huawei has shaved off every millimetre possible from the display bezels for an impressive 92.5 percent screen-to-body ratio, and even the materials have been picked for their featherweight nature.
Opt for either White or Ink Blue and you're looking at a 100g reduction over the firm's signature Space Gray aluminium finish. Both have a fine grain, almost pebble-like smooth coating that's highly resistant to fingerprint muck. The simple, mirror-finish logo on the lid adds to the premium feel too.
Huawei has still found room at the sides for four USB-C ports – two on the left, two on the right – plus a 3.5mm headphone port. All four can be used for charging, and the left pair double up as Thunderbolt 4 ports for speedy data transfers or video outputs. There's no SD card reader, but you can't win 'em all.
Keyboard & touchpad: tap happy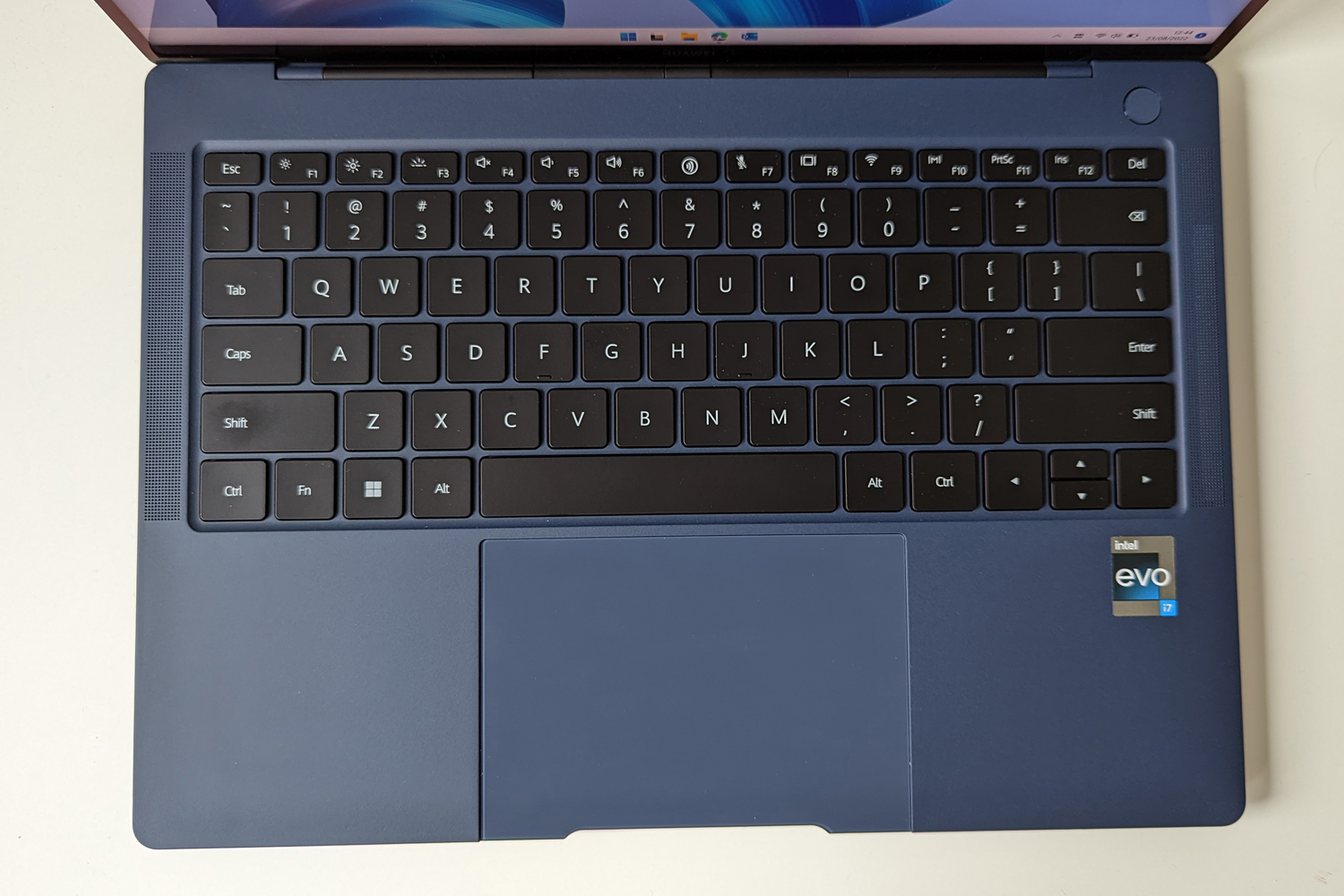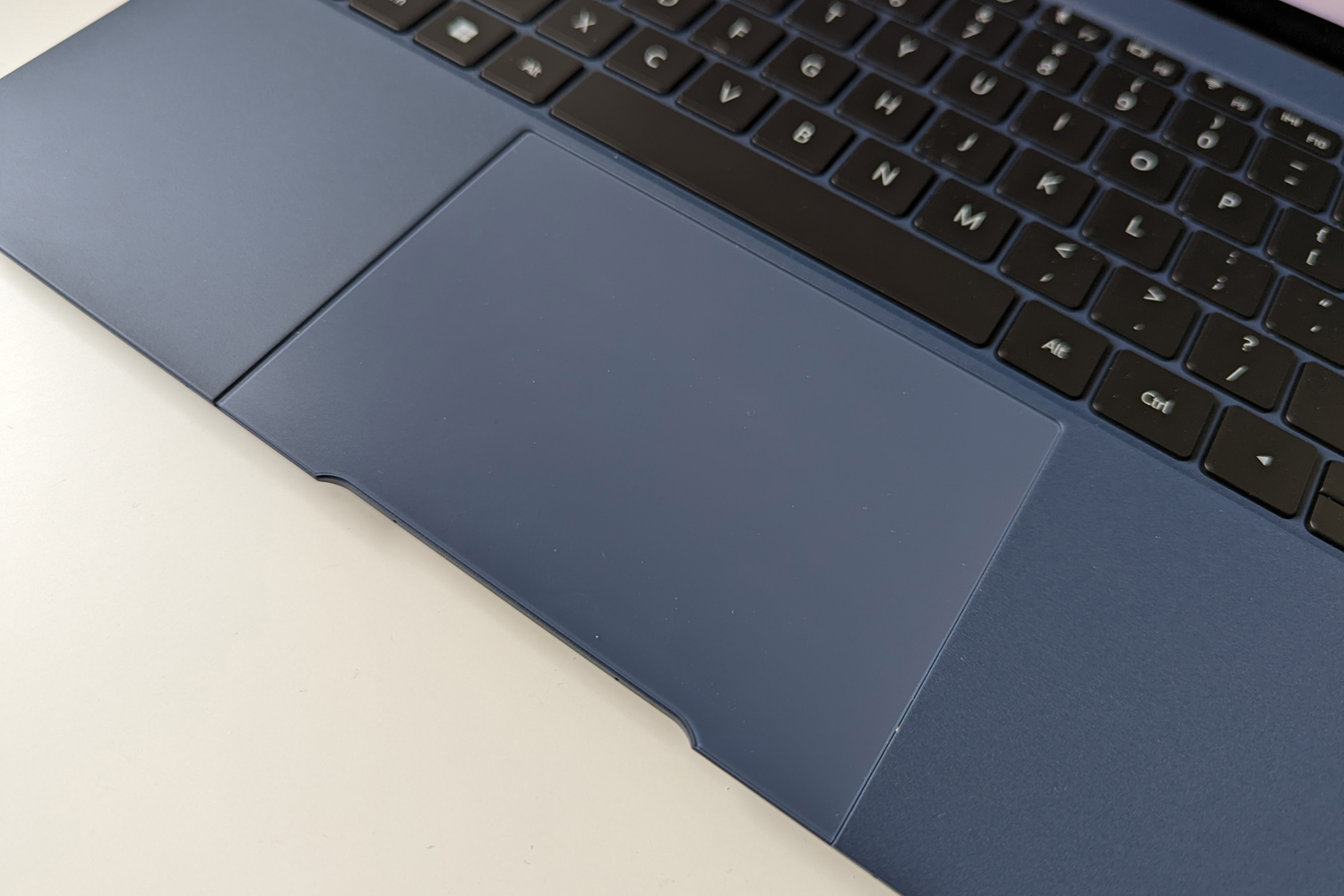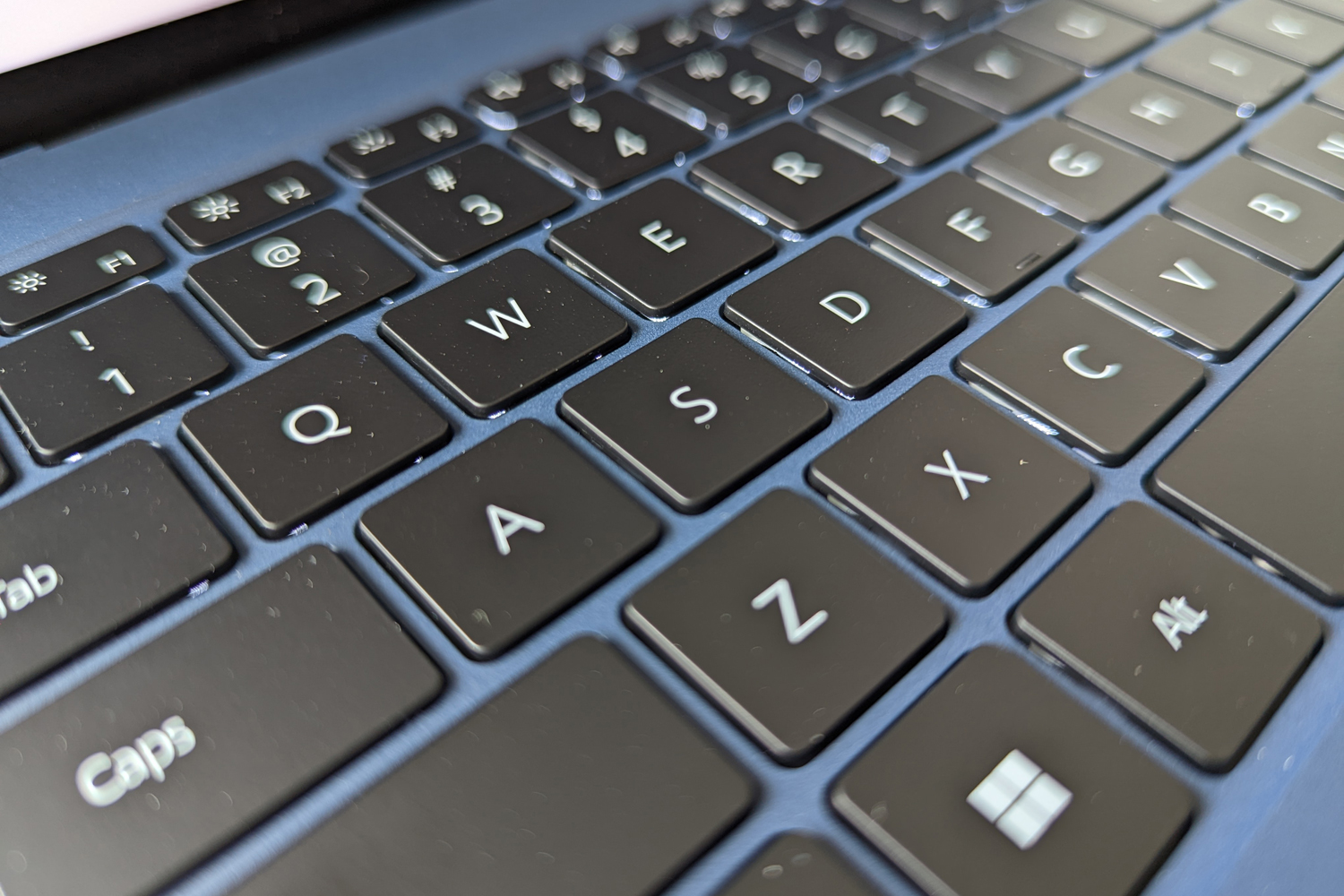 Black, island-style keys with white LED backlighting, sitting above a giant glass touchpad? yep, the MacBook vibe continues when you lift the lid. The slim speaker grilles that flank the keyboard have more in common with the MacBook Pro than the MacBook Air, though – and there are other differences, like how the power/fingerprint sensor combo button sits on its lonesome, rather than incorporated into the keyboard. Huawei has also gone for half-height function keys to keep things compact.
It's a pleasure to type on, with a good amount of travel for such a slim machine and a springy action that's quick to bounce back once you release the pressure. It doesn't make a racket when you're bashing out text documents, and the mostly full-size keys meant we were up to our usual speed in no time at all. The backlighting is entirely consistent too.
The touchpad is expansive, stretching all the way to the chassis edge, and quick to react to your taps with haptic feedback. The glass allows for frictionless swipes and scrolls, and sensitivity is well-judged. We're big fans of being able to adjust volume and screen brightness by sliding up and down the far sides of the pad, with more haptics mimicking the ratcheting of a mouse wheel. Do the same along the top edge and it'll scrub through the currently playing song or video clip. Neat.
Double-tapping with a knuckle to take a screenshot feels like less of a game-changer, although the way it spits each one out as a file saves having to mess around with the print screen key and MS Paint.
Screen & sound: touch of class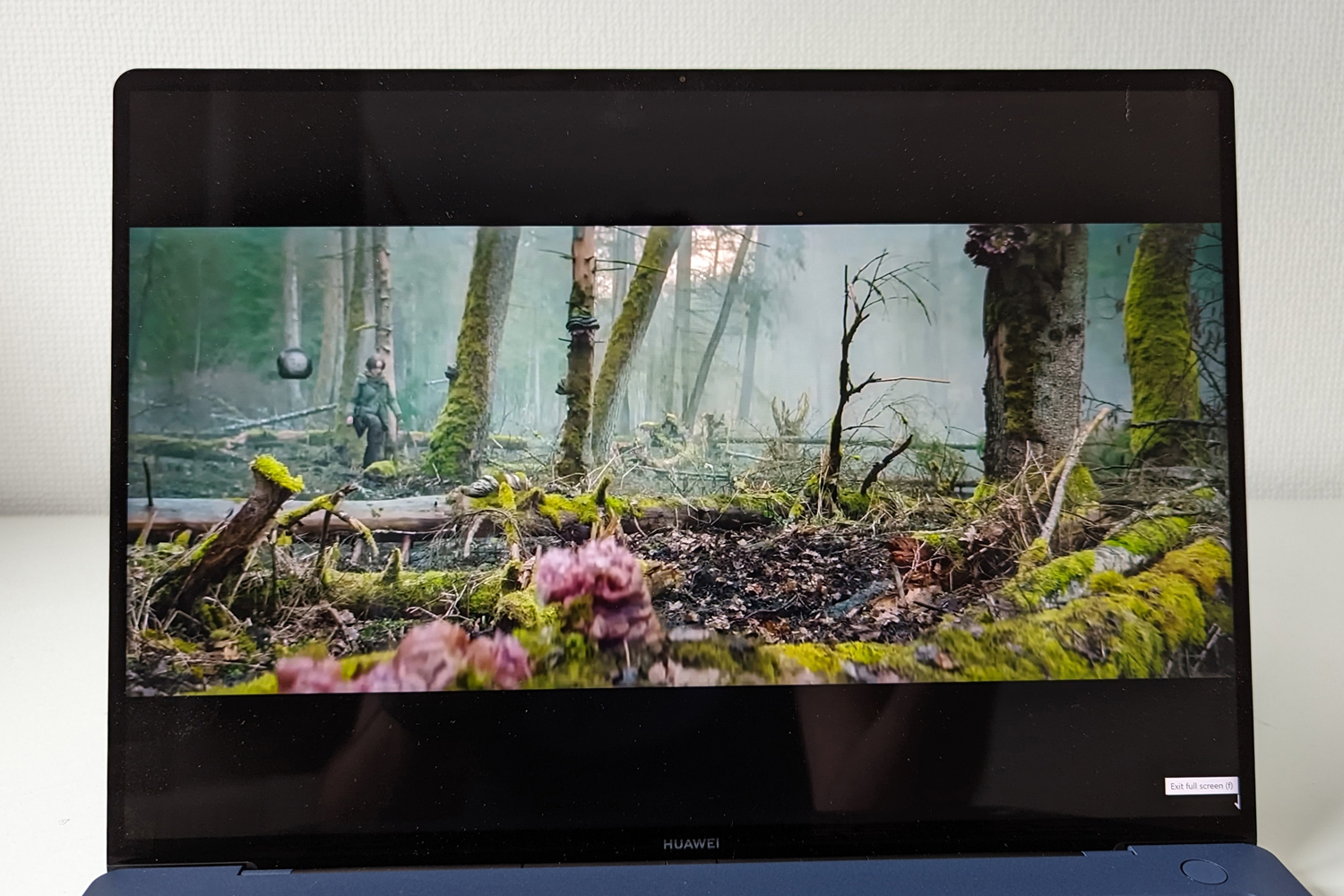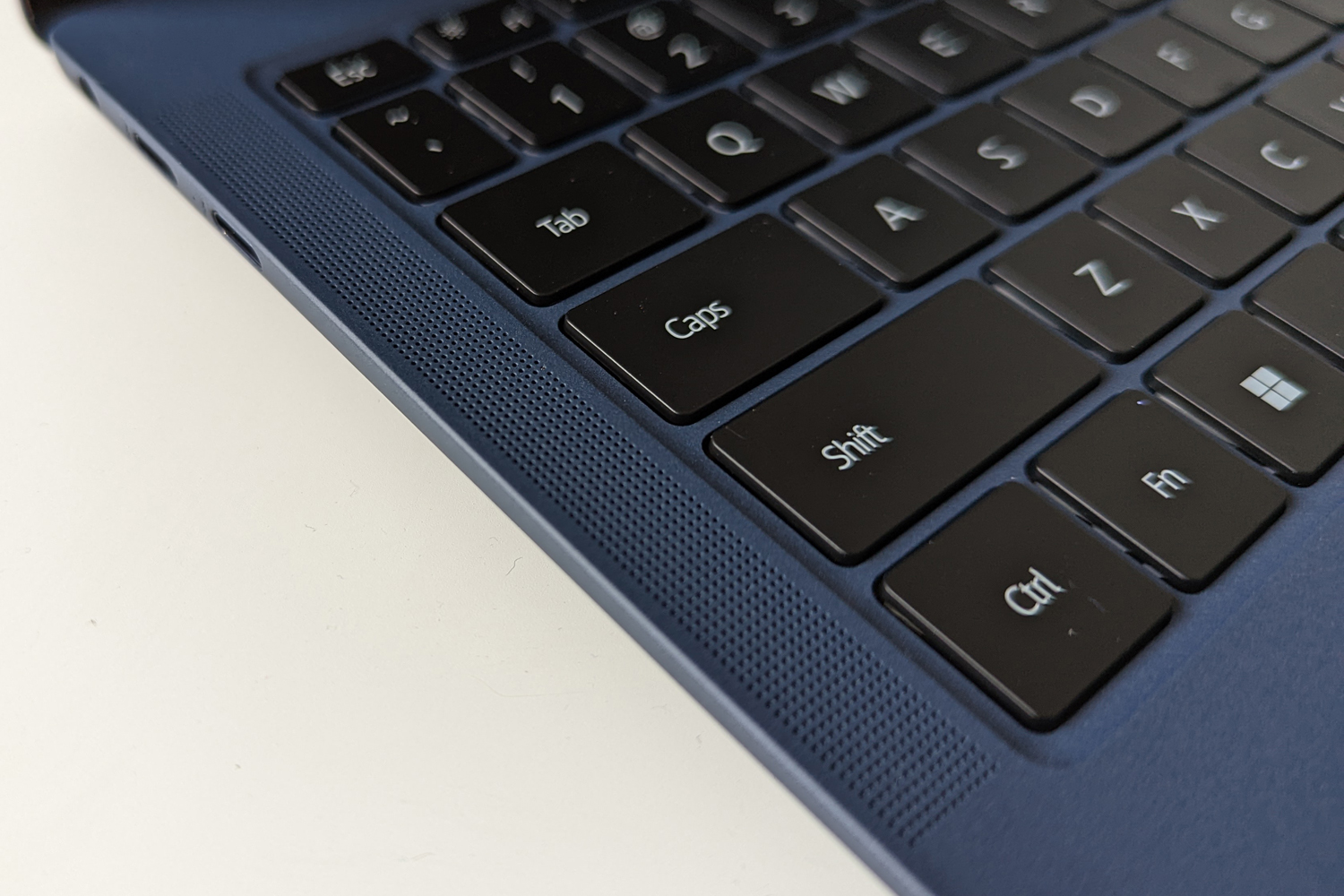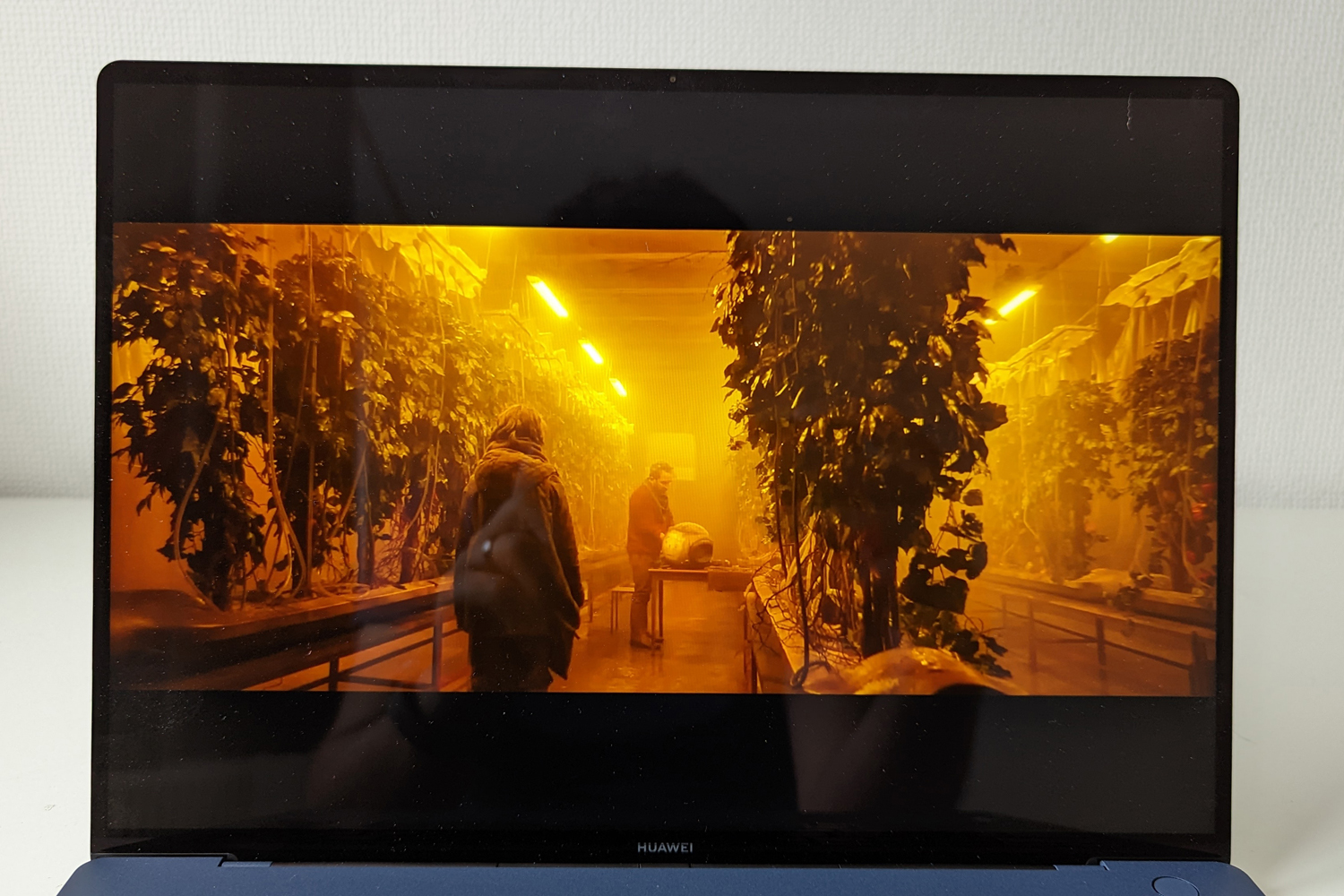 Pencil-thin screen bezels let the Matebook X Pro fit a 14.2in LCD where many laptops could only manage 13in – and Huawei has still found room at the top to fit a webcam. It's only good for 720p, but copes well enough for video calls, and is far better placed than the Matebook X Pro from a few years back, which had a double chin-amplifying cam built into the keyboard tray.
The panel itself has a work-friendly 3:2 aspect ratio, which can comfortably sit two documents side-by-side, and a dense 3120×2080 resolution. It's a big step up from Full HD, and really shows off the detail in high-res images and videos. You can also crank the refresh rate to 90Hz for smoother motion – something of a rarity in thin-and-lights, or any laptop not built for gaming. And let's not forget it's also touch-sensitive.
A peak 500 nits brightness isn't too shabby at all, adding real punch to HDR content. Combined with excellent viewing angles and the reflection-busting nano-coating (only available on the Blue and White models), we never had any issues seeing the screen clearly while sat in the sunshine. Just remember this isn't an OLED screen, so shadows lack the wow factor of a Dell XPS 13. Colour accuracy is top notch, though, with near-perfect sRGB coverage. The panel looks particularly vibrant when you crank up the brightness, which bodes well for streaming video addicts.
The screen is paired with a set of capable speakers – six of 'em, to be exact. The get surprisingly loud and are well balanced, with a clear mid-range and a high-end that isn't too sharp. A bit of bass even manages to make an appearance, and none of the frequencies overshadow the other.
Performance & software: probable cores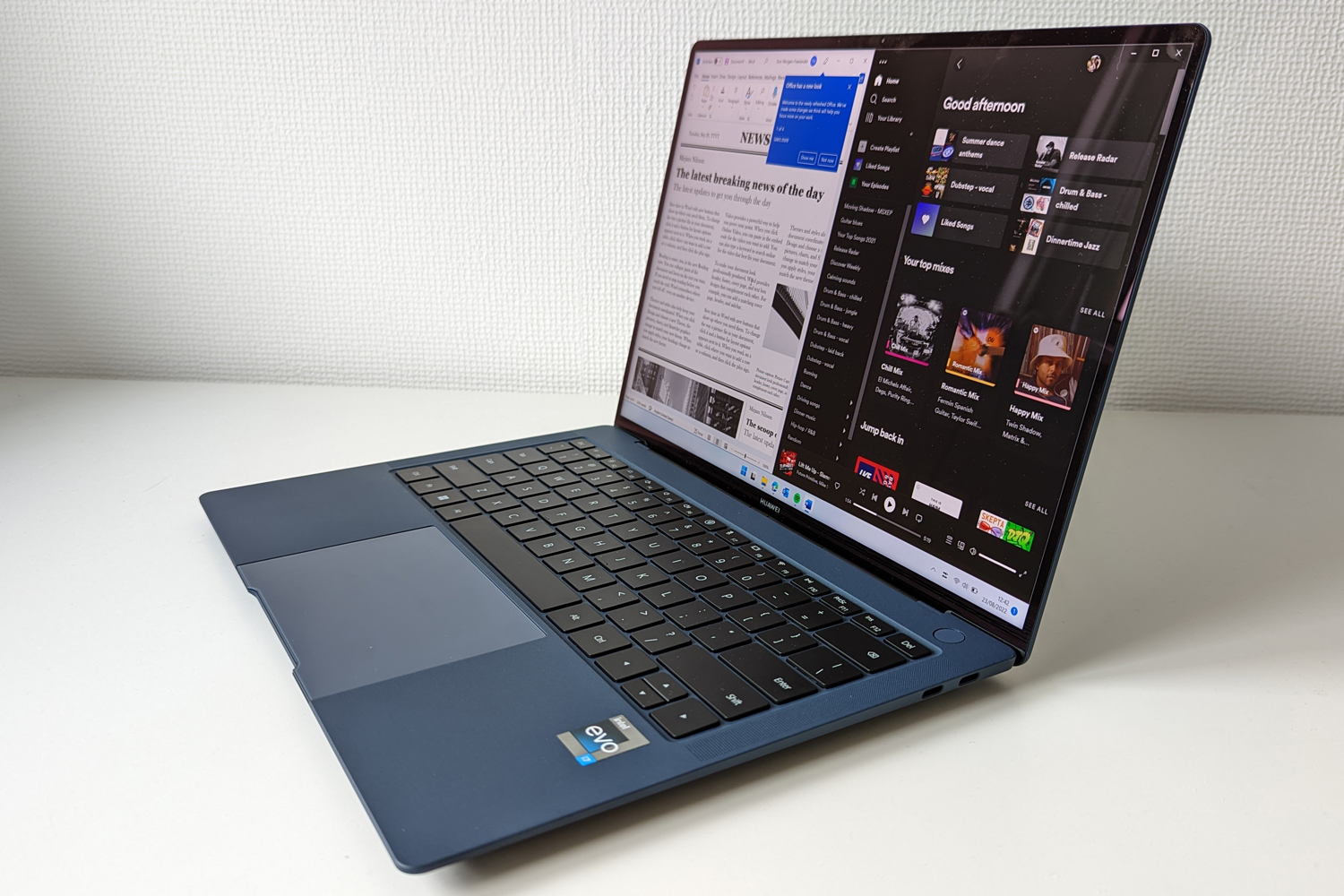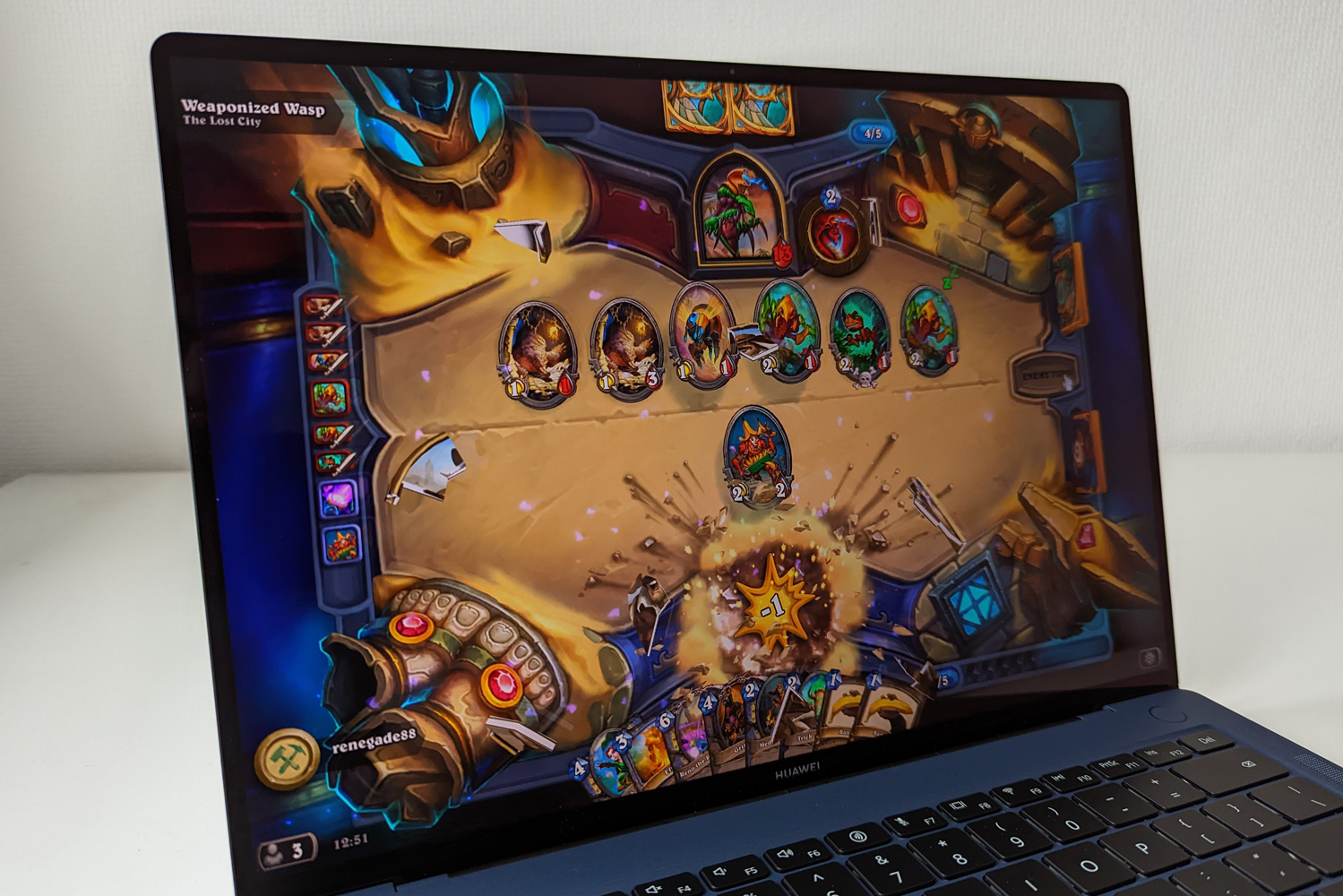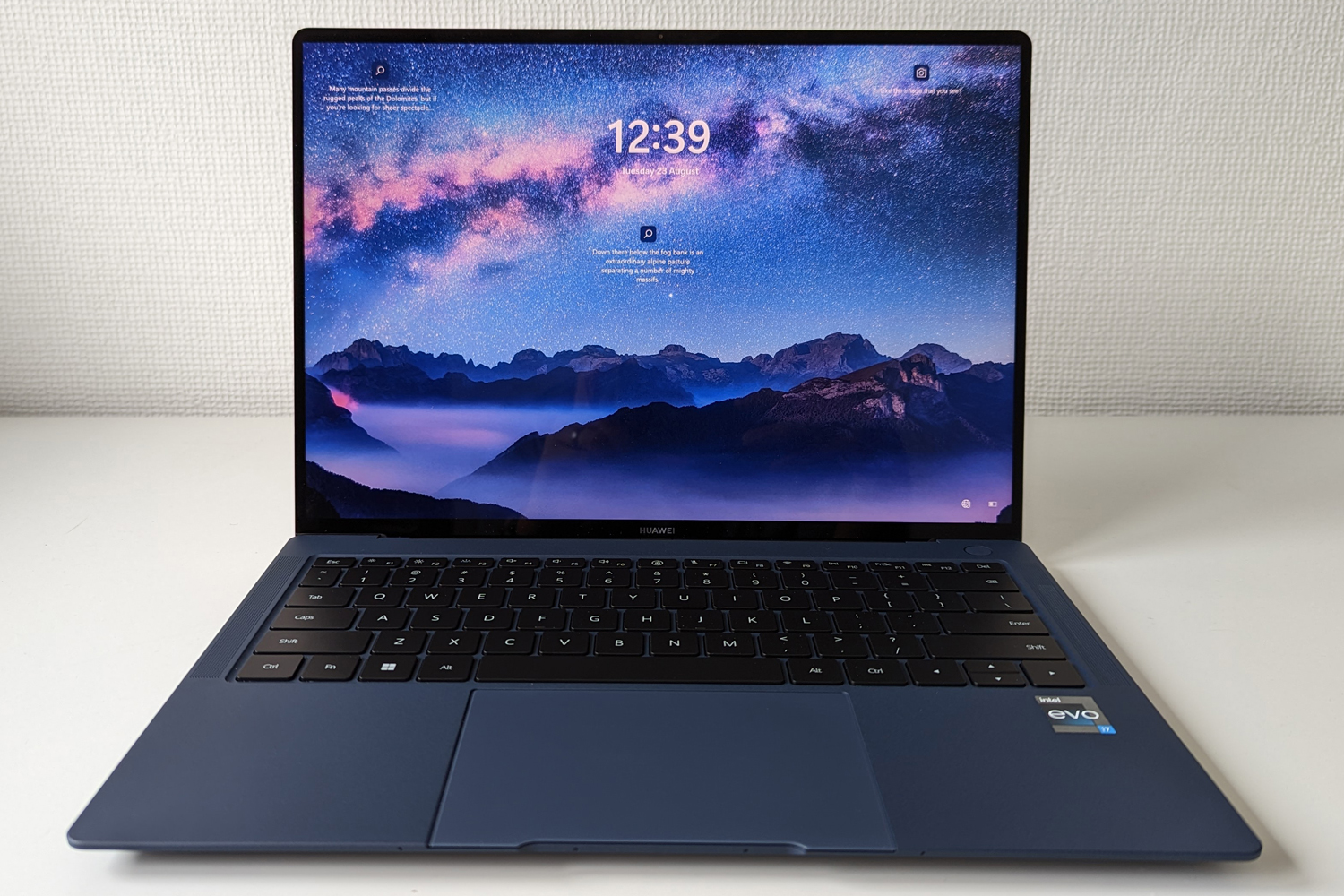 The outgoing Matebook X Pro wasn't exactly hurting for power, but that didn't matter: Intel's twelve core, sixteen-thread i7-1260p CPU really is now the star of the show, with a lot more muscle than the quad-core chip found in last year's model. It's paired with a healthy 16GB of RAM, and up to 1TB of zippy NVMe storage.
Those extra cores make all the difference in multi-threaded programs, slashing the time needed to encode videos, compile code, or even just crunch a lot of numbers in Microsoft Excel. You've got to be on mains power and enable the Performance mode to get the most bang per buck: this kicks the internal fans into high gear and helps keep heat at bay.
In the balanced power mode, it absolutely zips along for day-to-day jobs like web browsing and document editing. Individual picture edits aren't too taxing either, but the lack of dedicated GPU might torpedo any ideas of using it as a mobile rendering rig. Instead it's Intel running the show, with Iris Xe integrated graphics not showing any major uplift over the previous gen. That means it's good for single-stream video edits, and a bit of light gaming.
Loot-centric RPG Diablo Immortal played smoothly enough at a mix of low and medium settings, while space strategy king StarCraft 2 was happy running at native resolution. More intense 3D titles will definitely need dialling back, and even then don't expect the smoothest of rides. Then again, this is an ultraportable, not a gaming laptop, so casual players should be fine.
The one weak spot is battery life, which wasn't fantastic on the outgoing Matebook X Pro and hasn't improved all that much here. The high resolution, high frame rate display is partly to blame, and the beefier processor plays a part too, even with four dedicated efficiency cores meant to cope better when away from the mains.
We saw between seven and eight hours of light use (mostly work, with a few YouTube vids and Spotify streaming thrown in), which is several hours short of an XPS 13 or MacBook Air. More demanding jobs drain it considerably quicker too. At least the charging brick is especially small, and delivers a zippy 90W of juice.
Huawei Matebook X Pro (2022) verdict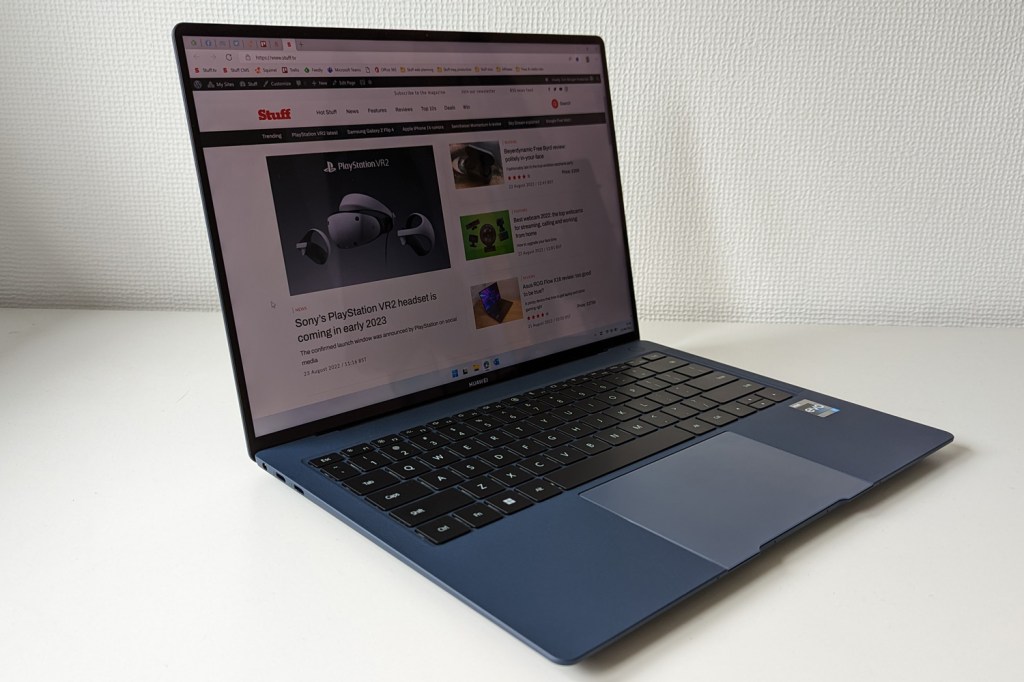 We already knew the latest Matebook X Pro was a slick-looking ultraportable with a stellar screen – and that hasn't changed now Huawei has upgraded the internals. It's still a great work machine, thanks to the tactile keyboard, responsive touchpad and 3:2 aspect ratio. The high resolution, HDR support and decent set of speakers mean it can entertain as well.
The extra CPU cores have given performance a welcome boost, meaning it can crunch numbers on par with many chunkier machines. A few new colour options help the updated machine stand out from its more businesslike rivals, and by the time you configure an M2-powered MacBook Air with same RAM and storage the price gap is pretty minimal.
Battery life remains a sore spot, though, and creative types will still need to look elsewhere for a machine with a dedicated GPU. But if you're simply after a premium work machine with a splash of style, it absolutely gets the job done.
Stuff Says…
A potent portable with a brilliant screen. The Matebook X Pro is pricey, and doesn't have the best battery life, but it's a pleasure to work on – and slack off in front of.
Good Stuff
High-res, high-refresh rate screen
Slim design and solid construction
Great keyboard and touchpad
Bad Stuff
A pricey machine, although comparable with Apple
Battery life remains average
Huawei Matebook X Pro (2022) technical specifications
| | |
| --- | --- |
| Screen | 14.2in, 3120×2080 LCD w/ 3:2 aspect ratio, 90Hz refresh rate |
| CPU | Intel Core i7-1260p 12-core |
| Memory | 16GB RAM |
| Graphics | Intel Iris Xe integrated |
| Storage | 512GB NVMe SSD |
| Connectivity | 2x Thunderbolt 4, 2x USB-C, 3.5mm headphone port |
| Operating system | Windows 11 |
| Battery | 60Wh |
| Dimensions | 310x221x15.5mm, 1.26kg |