Microsoft Surface Laptop Go 2 review: portable first
It's a refreshed lightweight Surface - and it's welcome news because the Surface charm is totally intact in the Go 2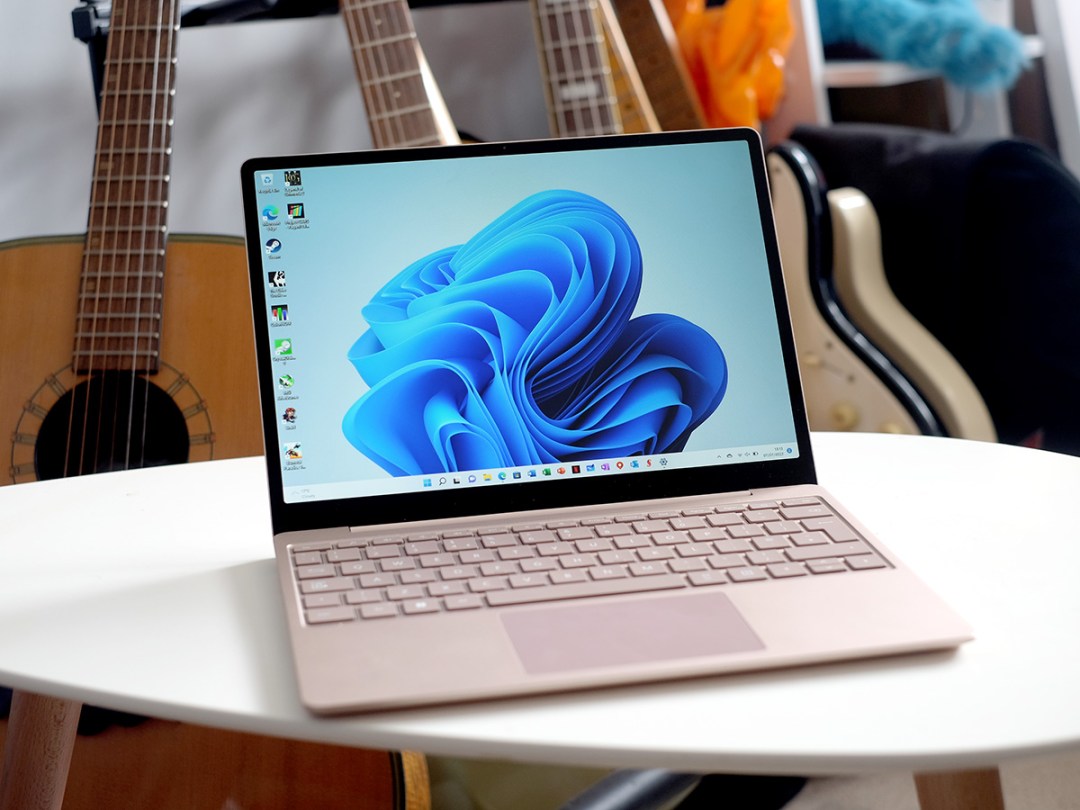 The Microsoft Surface Laptop Go 2 could be the perfect laptop for students and anyone who wants to take their laptop just about anywhere. Here's our full Surface Laptop Go 2 review.
That "Go" bit in the name rings true. It's highly portable. But the real shared trait of the Go series is bringing some of the characteristics of Microsoft's most expensive laptops to those mildly horrified at the idea of spending a grand on a laptop.
The Microsoft Surface Laptop Go 2 starts at $570/£529, but we are reviewing the top-end $700/£729 model. This is, unfortunately, the one we have to recommend to most of you. The base Go 2 has just 4GB RAM, which is likely to cause very obvious performance issues.
The middle $650/£629 version only has 128GB storage, which is only enough if don't plan to install games or data-heavy applications.
At this higher price, there's major competition from Lenovo, Asus and Acer. But the Surface charm is totally intact in the Microsoft Surface Laptop Go 2. And its sheer portability is great. Check out our guide to the best mid-range laptops.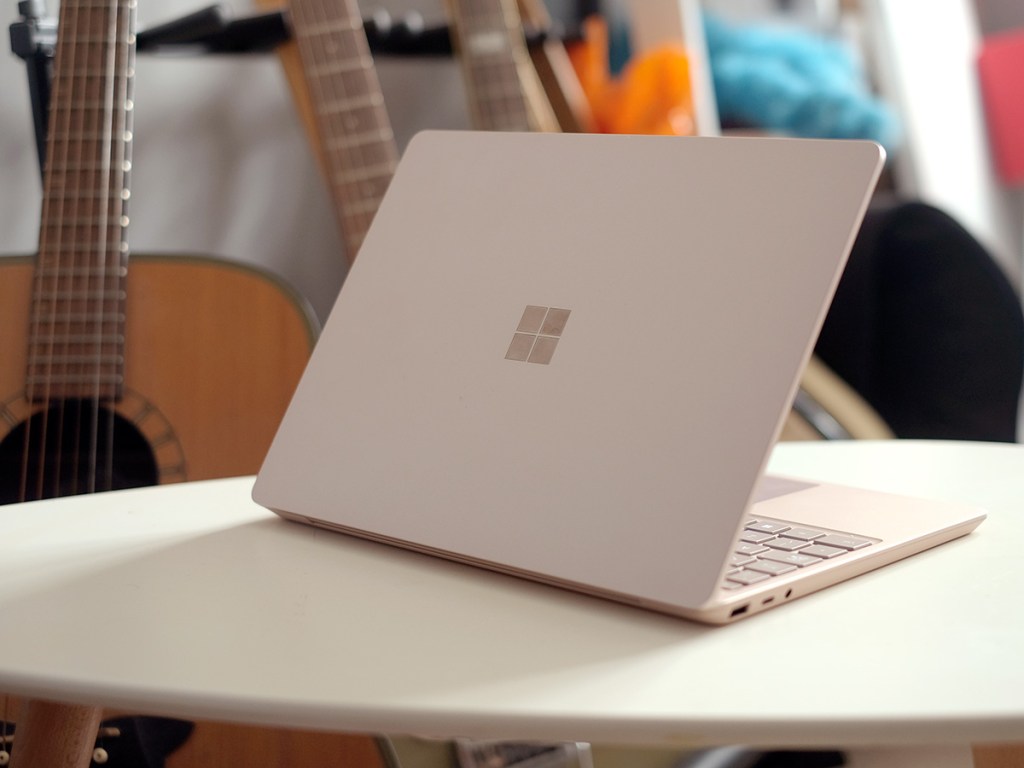 Design
The Microsoft Surface Laptop Go 2's construction is similar to the original Surface Laptop Go. It looks like part of the family when placed next to a Surface Laptop 4, but the materials used are actually quite different.
Its lid and keyboard plate are aluminium, in place of the magnesium alloys seen in other Surface models. The base is soft-touch plastic. While plastic is the main thing you want to avoid when trying to produce a luxury piece of tech, the feel and finish here do not fall far below the high standards of the wider Surface range.
Microsoft styled out plastic beautifully in the golden era of its Lumia phones, and the same applies in the Microsoft Surface Laptop Go 2. The keyboard plate and lid are stiff too, and aluminium always feels great in a laptop.
The Microsoft Surface Laptop Go 2's portability is excellent. It weighs just 1.13kg, and is slim at 15.7mm thick. It's significantly thinner and lighter than some of our favourite mid-range Windows laptops. That's one clear reason to pick the Go over virtually anything else.
However, its connectivity is pretty limited. You only get two ports, plus a headphone jack. One is a USB-A, the other a USB-C. These two little holes span generations of peripherals, but there's no memory card slot or dedicated video out. The USB-C isn't an ultra-fast Thunderbolt port either, just a regular USB-C with 10Gbps bandwidth — you can plug a monitor into this one, thankfully.
The Microsoft Surface Laptop Go 2 also has a dedicated proprietary charging connector. This means none of the standard ports are taken up when charging. Plus it's a magnetised design that falls out if the cable is snagged.
You can use the USB-C to charge if you have a powerful enough plug too, which is neat.
Display
Microsoft loves its tall screens. The Microsoft Surface Laptop Go 2 has a 12.4-inch PixelSense display with a 3:2 aspect ratio. Displays like this max out the perception of screen space much more effectively than the classic 16:9 widescreen shape, at least when you are running work apps.
It's arguably more comfortable to work from all day than, for example, the widescreen HP Envy 13.
Display quality is also fairly good, if predictably not a match for those of Microsoft's non-budget devices. Maximum brightness is impressive at 400 nits. This really helps to combat the reflections you'll see whenever you use the laptop in strong sunlight.
There's no super-effective anti-reflective layer here, but you can use the Microsoft Surface Laptop Go 2 outdoors. We tried, and just about got by in blazing sunshine.
This is a glass touchscreen, one with a more carefully curated style than other laptop lines that start at at £500-odd. Just look at how it is slightly rounded at the corners, matching the curves of the lid. Lovely stuff.
Less effective elements include contrast and colour. While the Microsoft Surface Laptop Go 2 looks reasonably well saturated to our eyes, it does not quite cover 100% of the sRGB colour gamut so is technically undersaturated. Contrast is just slightly lower than average too, although this is something you're only likely to notice in dim rooms.
And sharpness? The 1536 x 1024 pixel resolution has pixel density similar to that of a 13-inch Full HD laptop. It does not have enough pixels to make fonts look as smooth as they would do on a MacBook Air screen. However, most laptops at the price have one of these mid-grade resolution displays.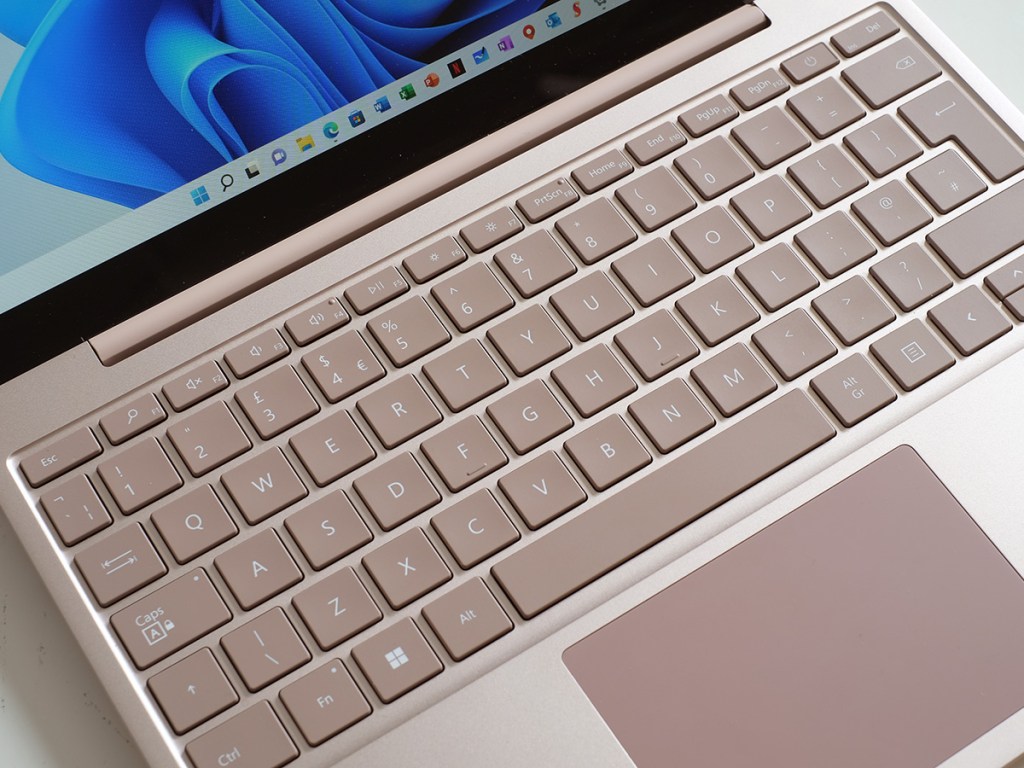 Keyboard and touchpad
The Microsoft Surface Laptop Go 2's keyboard and touchpad are solid, and do a good enough job of approximating what is available in Microsoft's top laptops. But there's an important budget-related cut in each.
The keyboard lacks a backlight. It's a significant strike against the particular high-end Microsoft Surface Laptop Go 2 we are reviewing, as most £700 Windows laptops have a backlight. Typing in the dark is going to be a lot trickier as a result.
Microsoft uses plastic for the touchpad instead of textures glass too. This is one of the best plastic pads you'll find anywhere, with a smooth, soft surface that lends swipes less of a juddery feel. However, it just can't match the excellent glass pads of the pricier Surface laptops. And some alternatives from other brands do use glass at this price – Asus and Lenovo are the exemplars.
Still, Microsoft has managed to elevate plastic to a level where it didn't annoy us here, making the non-lit keyboard the main issue.
The keys are comfy to type away on, with one caveat. Like other recent Surface laptops, the key travel is on the shallow side but the mellow depress clonks are defined enough for a satisfying feel. However, the keyboard size has been cut down in size slightly to fit it in the Surface Laptop Go 2's small frame. We don't find it cramped but bear it in mind if you're sensitive to this stuff.
Performance
All versions of the Microsoft Surface Laptop Go 2 have an 11th Gen Core i5 CPU. It's a great chipset. However, it's important to recognise we are reviewing the best version of the Microsoft Surface Laptop Go 2, with 8GB RAM and a 256GB SSD.
With double the RAM of the base model, there are no hitches to day-to-day performance. Stutters are much more likely in the 4GB RAM version. We rarely get to experience Windows 11 running with 4GB RAM and a Core i5 CPU, because you only usually see such limited system memory in laptops with very low-end processors.
If you can afford the most expensive Microsoft Surface Laptop Go 2 you are in for a treat. Windows 11's general performance is great, with virtually no disparity in responsiveness between this and a £1000+ laptop for everyday jobs.
The Microsoft Surface Laptop Go 2 also has Intel Xe graphics, letting you play last-gen AAA staples and less demanding new titles happily. We tried out a selection, including Skyrim, The Legend of Grimrock 2 and Project Cars.
Skyrim Special Edition does not get on with the Microsoft Surface Laptop Go 2's odd screen resolution at all well, but it plays well enough at Medium graphics settings. Thankfully the other titles had so such issues and ran perfectly.
This isn't a gaming laptop, but it can take on the odd session, plugged in or not – you don't see the huge dip in performance on battery as you would in an ç-powered system.
However, the Microsoft Surface Laptop Go 2's performance does become limited by heat build-up a bit more than some. You can tell why when you hear the fan.
The Microsoft Surface Laptop Go 2's fan is quiet, but has the high-pitch character of a small diameter heat-shifter. And even when it's maxed you can't feel too much air movement by the screen hinge, which is the main place cool air is drawn in and hot stuff is pumped back out.
Low noise is clearly a priority here, as it was in the Microsoft Surface Laptop Studio, but it's a shame Microsoft hasn't avoided a slightly grating fan tone as well.
Microsoft also loses out by not using one of the more recent 12th Gen Intel processors. To be fair to the Surface team, all 12th Gen laptops we've seen so far have more power-sapping CPUs that would not be suitable for the Microsoft Surface Laptop Go 2. However, it's very late in the day to be trotting out a brand new model with an 11th Gen processor. Swift timing for its hardware is not a Microsoft strength.
Microsoft Surface Laptop Go 2 battery life
Microsoft says the Surface Laptop Go 2 can last up to 13.5 hours between charges, which is impressive considering it only has a 41.5Wh battery. It's on the lower end of the capacity scale for 12-14-inch ultraportable laptops.
However, you can only get close to that kind of figure if you use the Battery Saver mode.
Using the standard Windows 11 mode you'll see about 6.5 to 7 hours of use with very light use. We're talking writing a document, maybe a wee bit of web browsing. This jumps up to around 11 hours in Battery Saver, which is a much greater gain than we usually see just from switching Power Saver on. Special sauce just for the Surface line? Who knows.
Use the Microsoft Surface Laptop Go 2 for ultra-light tasks with the brightness maxed, in Battery Saver mode, and it can last around 7 hours. Not too bad.
Let's finish off with the speakers and webcam. The Microsoft Surface Laptop Go 2 has an unusual stereo speaker array that pipes sound up through the keyboard rather than out of side grilles.
It leads top quite narrow sound dispersal, but the tone is pretty good for a cheap laptop, with relatively smooth mids and only a bit of distortion with some content at high volume. However, max volume isn't super high and there's no real bass here, which you do get in some high-end laptops these days.
The Microsoft Surface Laptop Go 2's webcam uses a basic 720p sensor. We've seen worse but the picture is low on detail, not even close to what you get in the more tablet-like Microsoft Surface Go 3 from its 5MP webcam.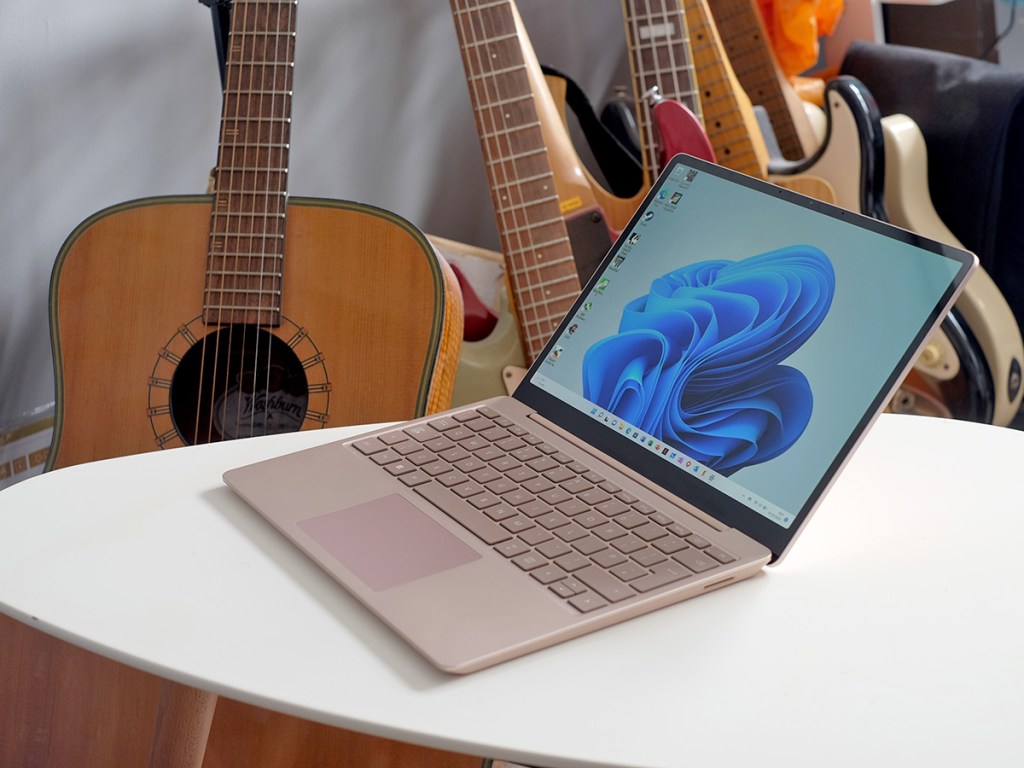 Microsoft Surface Laptop Go 2 verdict
The Microsoft Surface Laptop Go 2 is a lovable budget touchscreen laptop that is extremely portable, admirably powerful and good-looking. Just as you'd hope, it brings the essentials of the Surface Laptop experience to the budget buyer crowd.
There are a few compromises. Its display isn't as colourful or contrasty as the expensive models. The keyboard doesn't have a backlight and you get a plastic touchpad instead of a glass one.
The biggest issue is what affects many of Microsoft's hardware lines, though. Buy the temptingly affordable base version and you may find Windows 11 doesn't run that well, as it has just 4GB RAM.
The higher-end version reviewed here runs great, but you end up paying an extra $200/£200 for 4GB additional RAM and an extra 128GB storage – a cost other manufacturers like Lenovo and Acer would never dream of charging. For example, an extra $100/£100 in the Acer Swift 3 earns you 8GB extra RAM, an additional 256GB of storage. Double the bump, half the cost.
Still, this is a great portability-first laptop once you make peace with the fact the entry-level pricing is the laptop equivalent of clickbait — unless you have very limited
Stuff Says…
A delightful ultra-portable laptop more powerful than its predecessor and much cheaper than the Surface Laptop 4, but avoid the base model if you plan on doing any serious work.
Good Stuff
Confident, elegant design
Light and slim
Top-spec model performs well
Bad Stuff
Battery Saver mode is a must for light all-day use
Spec upgrades are pricey, entry-level models have issues
Non-backlit, slightly cut down keyboard
Microsoft Surface Laptop Go 2 technical specifications
| | |
| --- | --- |
| Display | 12.4in 1536×1024 touchscreen |
| Processor | 11th-gen Intel Core i5 |
| RAM | 4/8GB |
| Storage | 128/256GB SSD |
| OS | Windows 11 |
| Connectivity | Wi-Fi 6, Bluetooth 5.1, 3.5mm, USB-A, USB-C, Surface Connect |
| Dimensions | 278x206x15.7mm |
| Weight | 1.13kg |