Microsoft Surface Laptop Studio review: king of the hinge
Microsoft's Surface series gets another masterful entry, but it's pricey and it may fall short in a few areas for the more demanding pro users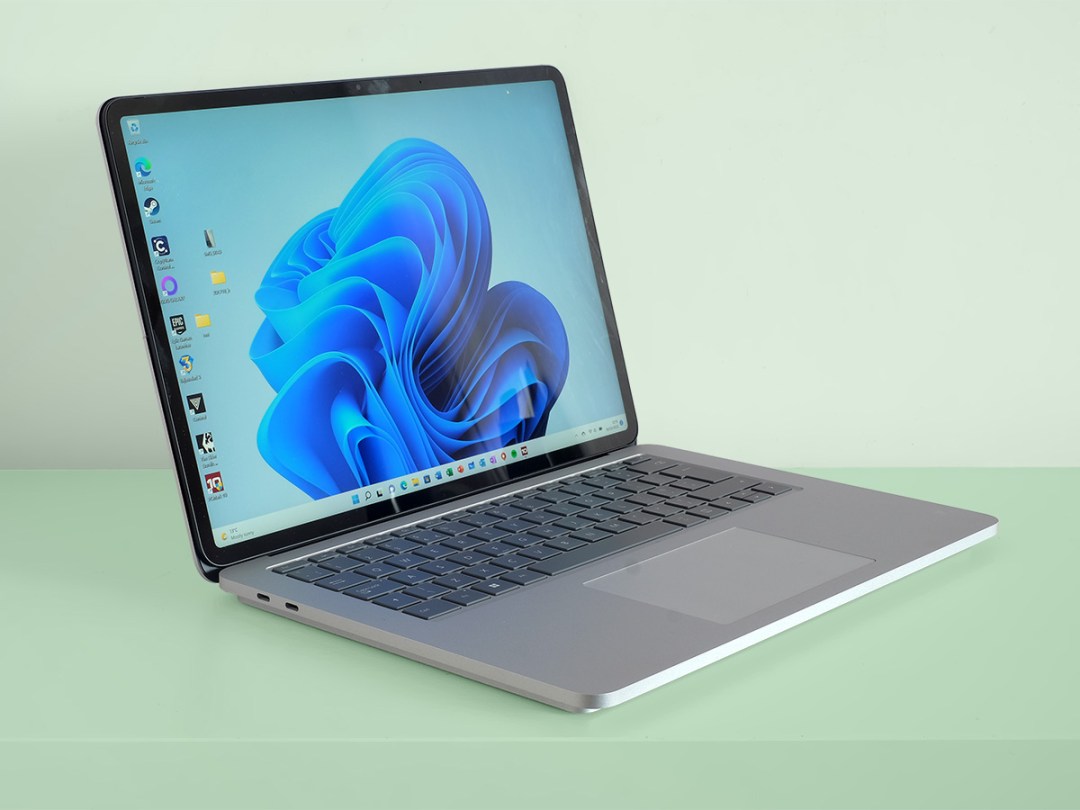 The Surface Laptop Studio sees Microsoft branch its hybrid premium laptops out into territory explored by the Surface Studio 2, a big old designer's all-in-one PC that costs a fortune. This is the slickest laptop we've ever used with a screen that can tilt forwards to become a sort-of digital drawing board.
It's a beauty, the cooling system is a work of low-key genius, and when laid out like a normal laptop it looks and feels just like, well, a normal laptop.
Price is the main problem. Sure, we know we're not going to get this kind of world-class design for free. But if you go for one of the most punchy Surface Laptop Studio specs you end up paying a huge hack for a computer with a GPU found in laptops available online for under $800/£800.
Microsoft isn't a magician and there are limits to what you can fit into a slim-ish shell. But as Asus's Zephyrus laptops proved, the fairly lowly GeForce RTX 3050 Ti graphics card probably shouldn't be the limit.
However, if you forget about the power users who want to render 8K video in a flash and instead look down to the $1,599/£1449 entry-level model — still powerful enough for most — you can appreciate how much there is to admire about this Windows 11-powered Microsoft Surface Laptop Studio.
The original version of this review was published on 2 April 2022
Design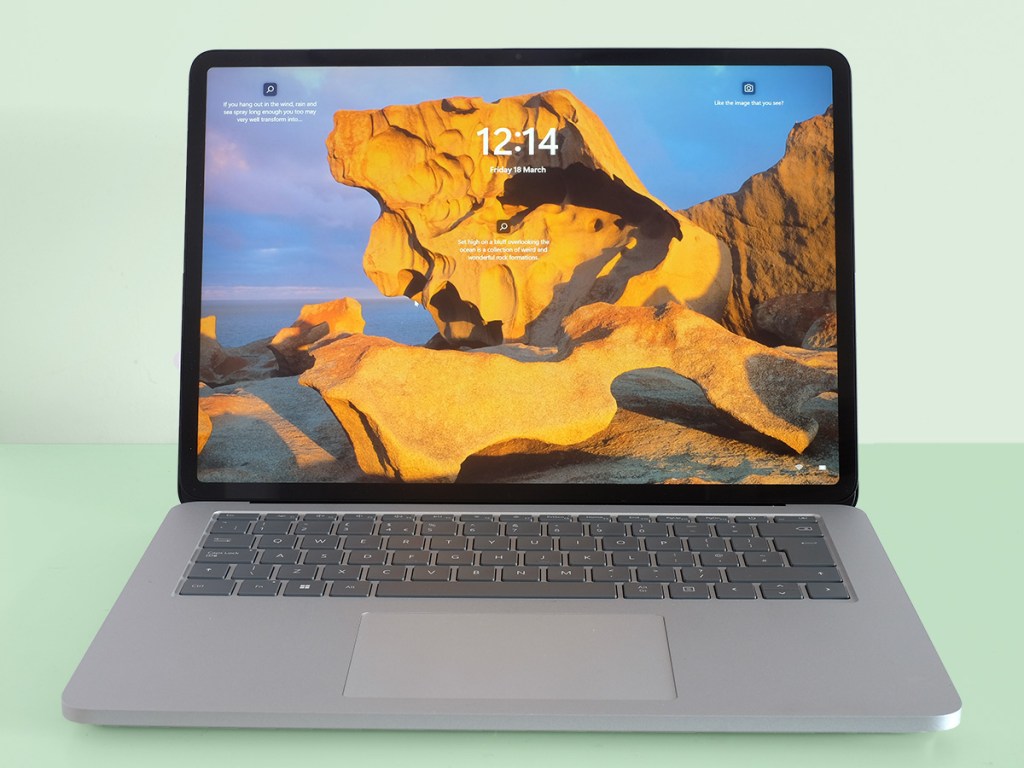 Industrial design is the star of the Surface Laptop Studio. Microsoft is the king of the hinge, the master of magnesium, and all the years of experimentation and R&D show in this machine.
If someone just pointed at this laptop in its standard orientation and told you it was Microsoft's latest computer, you might never guess it's a "designer's" laptop. However, get your hands around the display, gently push back on its top half and the whole screen pivots around a joint that runs, roughly, along its middle.
You'll feel a pop as it unmoors from the magnets that keep the bottom of the display in place, and can then slide it forward. Bring the lower part the screen to just above the touchpad and it'll invisibly lock into place once more, again with the help of magnets.
The Microsoft Surface Laptop Studio's hinge style is nothing new. Acer's ConceptD 5 and 7 do roughly the same thing, but neither has anything like the grace of this Microsoft laptop. Beautiful stuff.
There is an issue from a design/art perspective, though. Unlike Acer's ConceptD range, there's no stiffness to the secondary hinge. The screen won't hang in the air, or at any angle. There are just three sturdy positions here: laptop style, screen flipped 180 degrees or with the display pulled forward in front the keyboard.
And that last one, the star of the show? It's not actually a comfortable angle for stylus use, making its main benefit to get the keyboard out of the way and bring the screen closer.
We tried arranging it at a more desirable light upwards slope. And it works, sort of, but isn't totally stable at this angle. As such, this is not a like-for-like Surface Studio 2 alternative. Still, if Apple made a digital artist's laptop, it might look a bit like the Microsoft Surface Laptop Studio.
That kinda downplays the fantastic work Microsoft's engineers have put into this whole Surface range, several of which are on-par with Apple's gear in terms of quality and design. However, there's something particularly MacBook-y about the Surface Laptop Studio. The rounded corners of the keyboard base, that it only comes in this very Maccy silver finish – people may guess you are using an Apple unless they see the lid and those very un-Apple Microsoft logo squares.
The Microsoft Surface Laptop Studio also has the series's signature magnesium construction. It feels much less cool and metallic than aluminium, but Microsoft makes some of the best magnesium designs in the world right now. Some magnesium alloy laptops could be mistaken for plastic, which is not something likely to happen here.
Is it portable? Yes, but not ultra-portable. The Microsoft Surface Laptop Studio weighs 1.8kg, 500g more than the silver standard for travel laptops.
Its width is also a little large for something with a 14.4-inch 3:2 screen, as the left and right bezels are larger than some of the normie competition. We're not going to get upset about that when the display no doubt has to be reinforced to handle the strain of the hinge system.
The weight, though? That is worth thinking about for at least a minute if you're going to carry this thing around every day.
Screen and stylus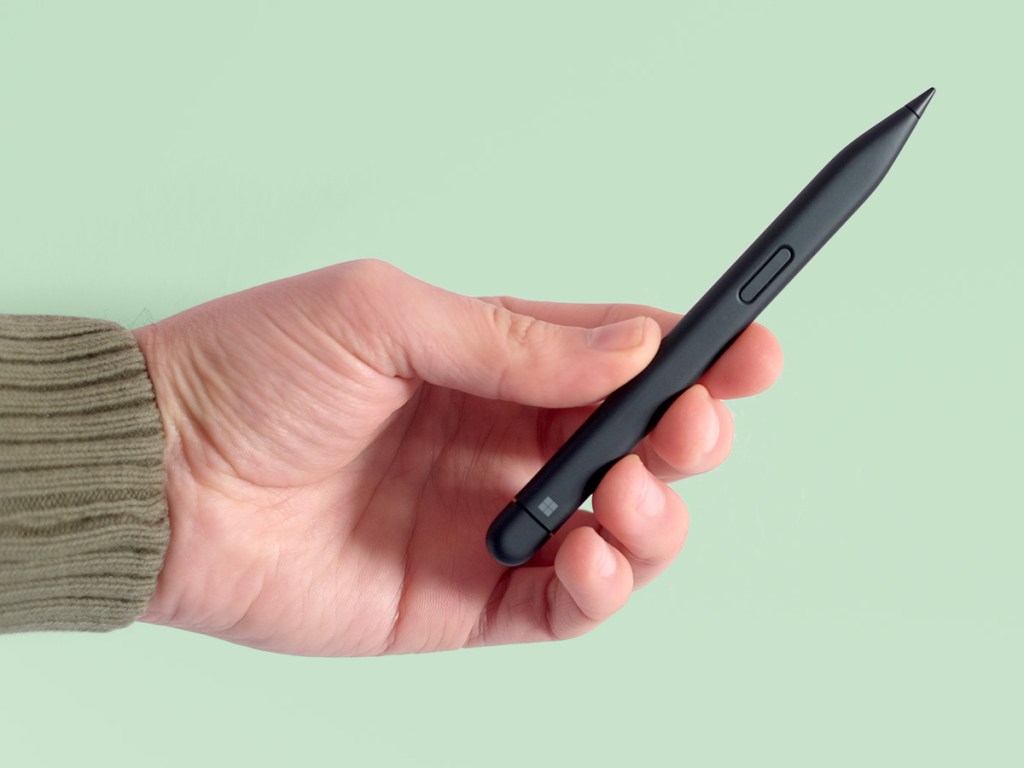 Minute up? The Microsoft Surface Laptop Studio's screen is mostly excellent. And in classic Surface style it is a 3:2 aspect display, perfect for work apps, and creative ones when you don't need to have two panes side-by-side.
It's very bright for an IPS LCD, able to handle outdoors use on a bright day even though it has a glossy glass top surface. And colour depth is, as you'd hope, very good. The Microsoft Surface Laptop Studio sails beyond the musty old sRGB standard that seems a bit undersaturated to young eyes, and reproduces most colour tones in the richer DCI P3 and Adobe RGB standards.
However, the mini-LED MacBook Pro has a clear edge in both colour and brightness. It's more than twice as bright and can covers the entire DCI P3 colour standard. The Surface Laptop Studio does not.
The Microsoft Surface Laptop Studio uses classic IPS-based LCD tech, not the much-discussed mini-LED or OLED. The Microsoft Surface Laptop Studio's contrast is just ~1300:1 as a result, similar to other good LCD laptop displays.
Microsoft does have something to stick in Apple's eye, though, the Surface Slim Pen 2. The Microsoft Surface Laptop Studio has a touchscreen and supports the same smart stylus used by the Surface Pro 8.
It can stick to the Microsoft Surface Laptop Studio's keyboard surround using – you guessed it – magnets. There are points to both sides of the keyboard that draw the stylus in. Lefties aren't left out.
The stylus supports 4,096 pressure levels and has Microsoft haptic feedback tech, introduced with the Surface Pro 8. This makes the pen rumble as you ink, but not all the time. It's all in aid of a more realistic feel, and does a decent job.
You don't get the Slim Stylus with the Microsoft Surface Laptop Studio, though. It's an added extra, which may sting after you've spent this kind of money.
Touchpad and keyboard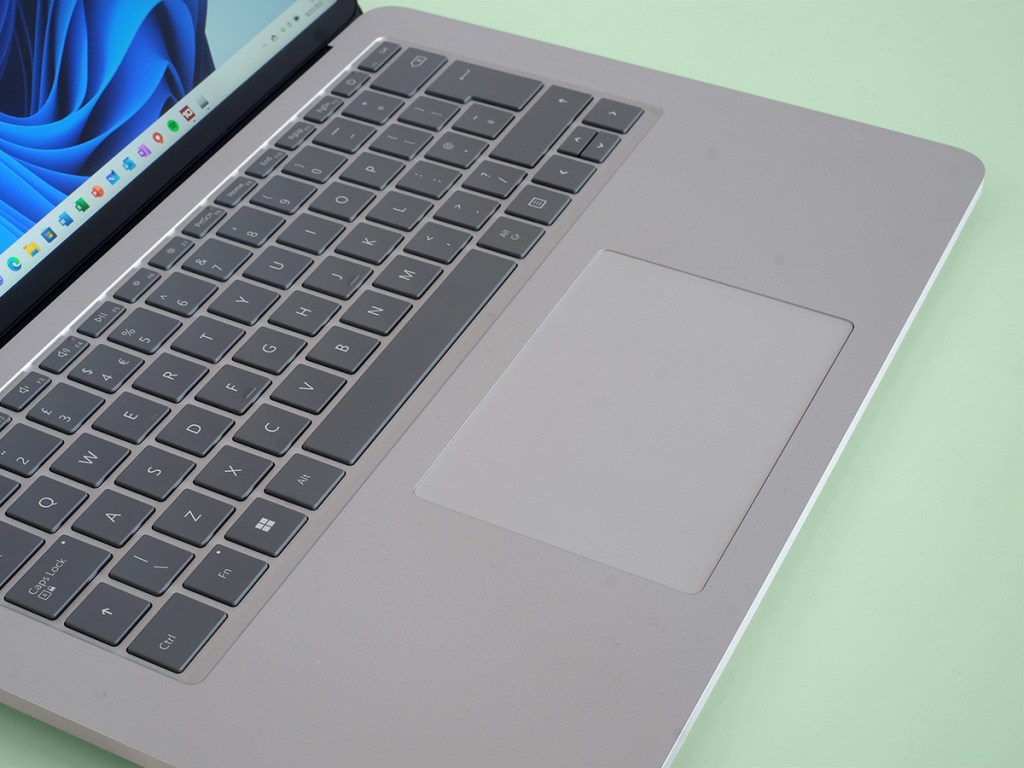 The Microsoft Surface Laptop Studio introduces haptics elsewhere too, in the touchpad. This is much like the Apple MacBook pad, where the click feedback is generated by a motor under the pad rather than a mechanical clicker.
You won't feel any at all when the power is off, although the pad surface does still move a fraction as you press. Microsoft's design is better than the one Huawei has put into its recent generation laptop designs, but does not feel quite as good as Apple's.
The benefit of a haptic pad is the feedback can be consistent across the entirety of the surface, without an inert or hard-to-press part near the top. It's a very good touchpad but you can't beat the classic feel of Microsoft's best traditional clickers, seen in the Surface Laptop series, in our opinion.
There are no similar quibbles to raise about the surface. It's an ultra-smooth, large and good-looking plate of glass. The MacBook Pro 16's is bigger still, by a significant margin. But if you're going to use the Microsoft Surface Laptop Studio for design work, you'll probably spend a lot of time using the stylus or mouse anyway.
The Microsoft Surface Laptop Studio's keyboard is largely excellent, with very high-quality key actuation and loads of tactile feedback at each depress.
Key travel isn't even close to the best at 1.3mm, but Microsoft has used this kind of key action for the last couple of generation of its top-tier laptops.
The Microsoft Surface Laptop Studio keyboard also has a pristine-looking three-level backlight.
Performance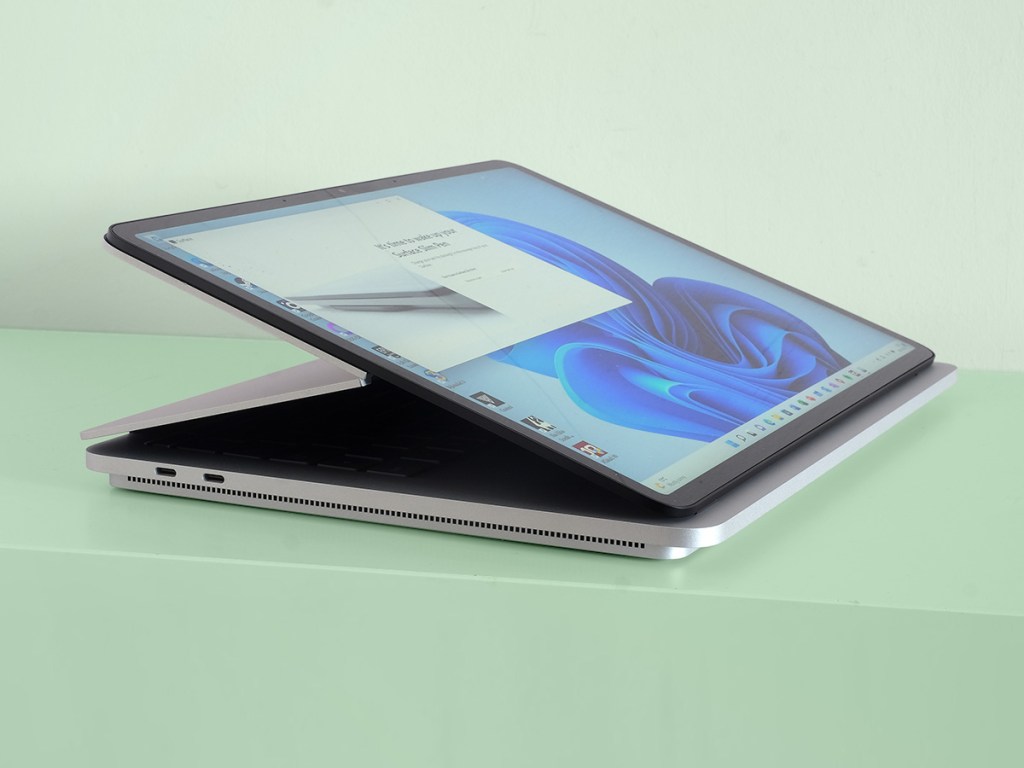 The Microsoft Surface Laptop Studio is pretty powerful for a laptop of its style and size. However, there's a question of whether it is powerful enough for its cost, and for at least some of it audience.
Our Microsoft Surface Laptop Studio has an Intel Core i7-11370H processor, 16GB RAM, a 512GB SSD and the Nvidia RTX 3050 Ti GPU. This version is probably the lowest-end version to buy if you're planning on doing any serious GPU-intensive work.
The base model has Intel's basic Xe graphics and only 256GB storage. That would be perfectly fine for many forms of digital artwork, and the stuff we do day-to-day. But for a video editor or someone who models stuff in 3D? It may not going to hit the spot unless you adjust your expectations accordingly.
For this kind of money you could get a laptop with an RTX 3080 and a much more powerful CPU, such the MSI GS66 Stealth. The top CPU option for the Microsoft Surface Laptop Studio is the i7-11370H. It's a quad-core chipset, while the i7-11800H has eight cores and would arguably be a better fit for a serious, pricey work machine.
Sure, the Microsoft Surface Laptop Studio is configured to match its size and weight as much as anything else. But even MSI's brutish GS66 Stealth is only 20mm thick.
This comparison tells us a lot about what the Microsoft Surface Laptop Studio is, and isn't, intended to be.
It would pair beautifully with the Surface Studio 2. Let the big boy keep your workflow tight with its next-level power, then use the Microsoft Surface Laptop Studio to take those projects out to show clients.
If you don't actually need a discrete GPU, it becomes a straight-up alternative to a MacBook Pro with a far more versatile design. And the lower priced model makes it much easier to appreciate the good stuff, like the excellent 6-speaker audio system that makes almost every workstation laptop sound dreadful by comparison.
Max volume is great and there's real bass to these drivers. The Microsoft Surface Laptop Studio cooling system is very quiet too, even under pressure, and as there are no air outlets on the bottom you're far less likely to ruin its efficiency just by working on surfaces other than a flat desk.
Microsoft has thought how about how enjoyable the Surface Laptop Studio is to use much more than the makers of the average performance workstation. It also has a much better webcam than the average Windows PC, using a Full HD sensor rather than the typical 720p that makes the image look like sludge in a dimly-lit room.
Battery life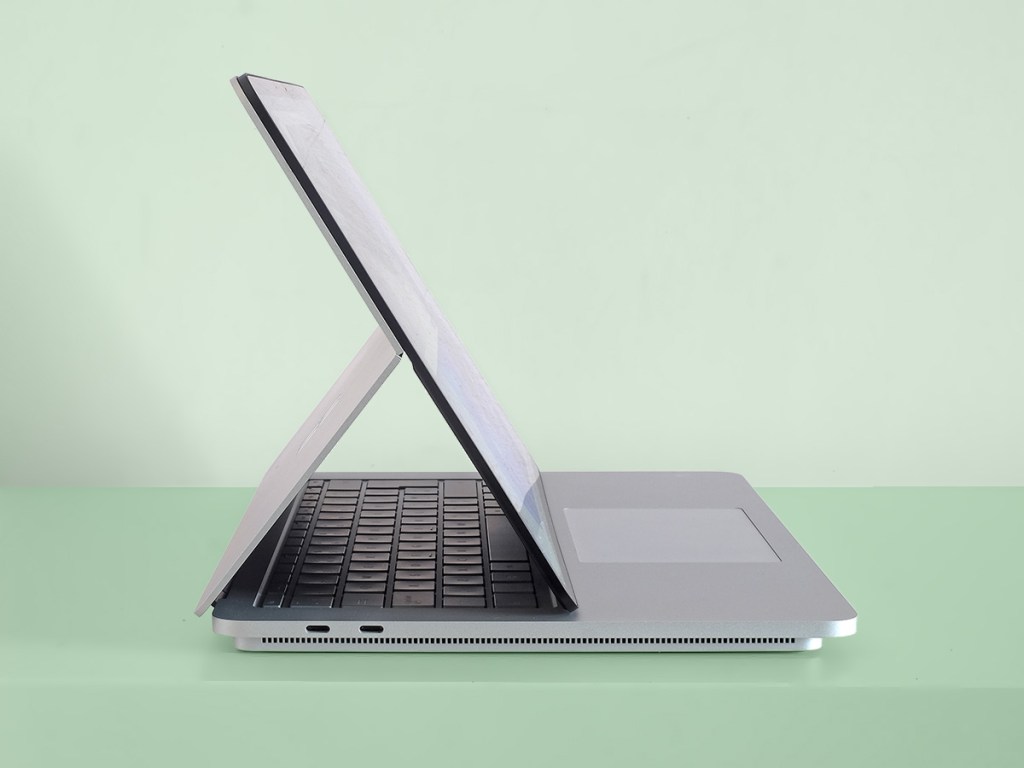 This attention to the experience also seems to extend to battery life if you go by Microsoft's spec sheet, which says the Surface Laptop Studio can last up to 18 hours off a charge. Like many a manufacturer's battery life figures, this doesn't quite pan out.
We found the Microsoft Surface Laptop Studio last between eight and nine hours, depending on whether you use moderate or high screen brightness. This is while doing light work, nothing that will remotely tax the processor.
Maxed-out, the battery can be zapped in under 80 minutes, in line with it having fairly powerful innards and only a 56Wh cell — the kind of capacity you might see in a slim and light laptop. A MacBook Pro will last far, far longer under pressure. But right now no powerful Windows laptop can touch an Apple in this respect.
The Surface Laptop Studio uses Microsoft's nifty magnetic charge cable, meaning you won't accidentally snag it and pull the laptop off a desk. And it has two Thunderbolt 4 sockets for all your peripherals. Yep, that means you may well need to invest in a USB-C dock.
Verdict
The Microsoft Surface Laptop Studio exists in a space inhabited by the likes of the Acer ConceptD and some of Apple's more specialist gear, where aspects of the design are so carefully targeted, a lot of discussions about price have to be left at the door.
Its hinge system is a little different to what you'll see elsewhere in the range, but slots into the family perfectly. It has the elegance we've come to expect from Microsoft. The screen is great, so is the speaker system, and a quiet cooling system is always to be appreciated.
There is a question over how much design pros are going to fall in love with the Microsoft Surface Laptop Studio, though. Its power ceiling isn't super-high, and unlike a Wacom Cintiq or Surface Studio 2, you can't secure the screen at an optimal angle for stylus use without a separate laptop stand.
Stuff Says…
The king of the hinge returns, bringing an excellent screen and a haptic touchpad with it.
Good Stuff
Elegant hinge design
Great build quality
High-quality display
Bad Stuff
Does not include stylus
Expensive for the performance on offer
Hinge is not optimised for the best drawing/stylus angle
Tech specs
| | |
| --- | --- |
| Screen | 14.1in 2400 × 1600 3:2 ratio, up to 120Hz |
| CPU | Quad core i5-11300H or i7-11370H |
| RAM | Up to 32GB |
| GPU | Intel Iris Xe (i5) or Nvidia RTX 3050Ti/RTX A2000 (i7) |
| Storage | UP to 2TB SSD, removable |
| Cameras | Windows Hello, plus 1080p front-facing |
| Connectivity | Wi-Fi 6, Bluetooth 5.1, 2x USB 4, 3.5mm headphones, Surface Connect port |
| Dimensions | 323.28 mm x 228.32 mm x 18.94 mm, 1,820.2 g |