Best gaming monitor 2023: spot every detail as you play
Affordable displays to the ultimate immersive experience, here are the best gaming monitors you can buy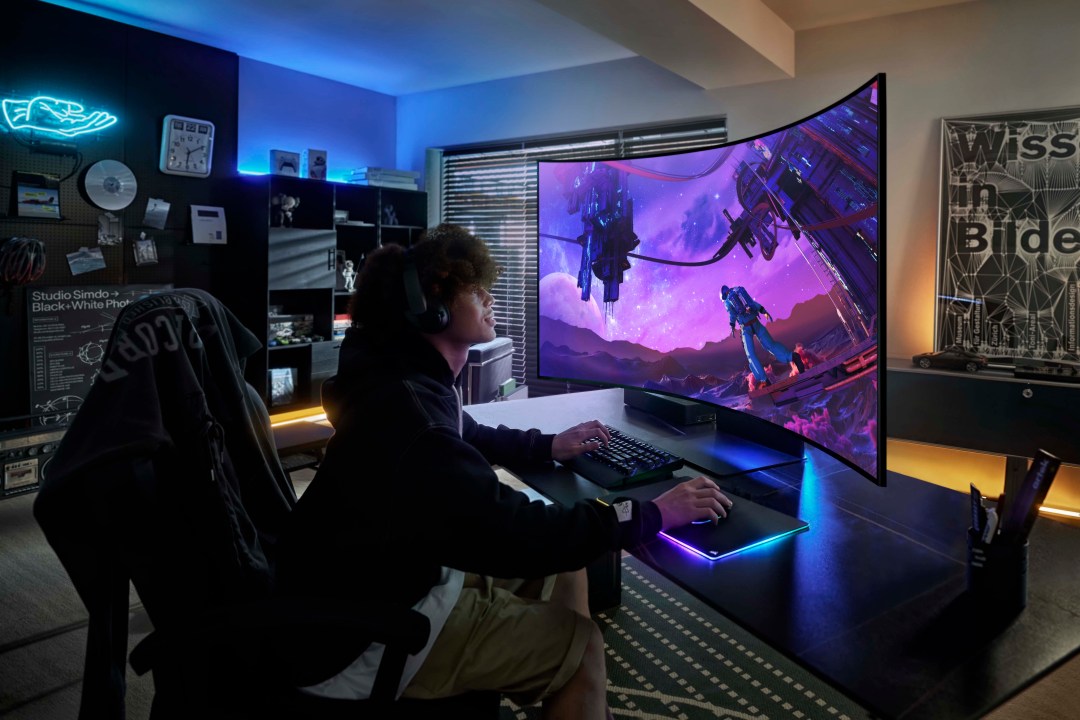 If you're an avid gamer, you really need the best gaming monitor. It's easy to focus on all the internal components like having a good graphics card, plenty of RAM and a powerful processor, but the results you see heavily depend on your screen. Buy a dedicated gaming monitor and you can still use it for all your work-related needs but you also get superior picture quality while you're enjoying some downtime and playing the latest games.
A gaming monitor differs from a regular one as it offers lower response times, higher refresh rates, and extra features like FreeSync, G-Sync, and variable refresh rates. Combine that with high resolutions, screen technologies like OLED or QLED, and that all leads to a sharper image that never fails to keep up with what you're playing.
Gaining such an immersive experience isn't always cheap, but we've picked out a handful of the best gaming monitors that will cover every budget. It's possible to spend thousands but we've also found a few cheaper options for those that want to keep costs down.
Once you've got your monitor sorted you'll probably want to check out the best gaming laptops for gaming on the go, the best gaming chairs for ultimate comfort, and the best gaming headsets for pro-level audio.
But, without further ado, here are the best gaming monitors.
What is the best gaming monitor?
We think the best overall gaming monitor is the Alienware 34 QD-OLED AW3423DW (check price)
Offering beautiful colours and contrast, the Alienware 34 QD-OLED AW3423DW is dependent on HDR mode to showcase its wonder but from there, you'll soon wonder how you lived without it. It makes almost all other LCD monitors look dull, but you'll need to find quite a lot of cash spare to enjoy it. It may lack the fastest refresh rate and HDMI 2.1 ports but for PC gamers, you can't go wrong.
---
Other gaming monitor recommendations
Best premium gaming monitor: Samsung Odyssey Ark (check price)
Ridiculous in so many ways, the Samsung Odyssey Ark is still appealing for anyone that wants the ultimate gaming den experience. It's huge with the added caveat of a hinge which means you can rotate it to have a cockpit view depending on the game you're playing. Excessive? Oh yes. That means limited viewing angles but you get the most immersive experience this side of VR gaming thanks to some gorgeous visuals.
Best budget gaming monitor: AOC 24G2SPAE (check price)
Covering all the essential bases, the AOC 24G2SPAE is a good option if you're only looking for full HD gaming. It offers good picture quality with tweaks to adjust for when shadows are a little too gloomy, along with some dedicated game modes for different genres. Skip using its built-in speakers but otherwise enjoy the fast refresh rate paired with sharp imagery.
The best gaming monitors you can buy today: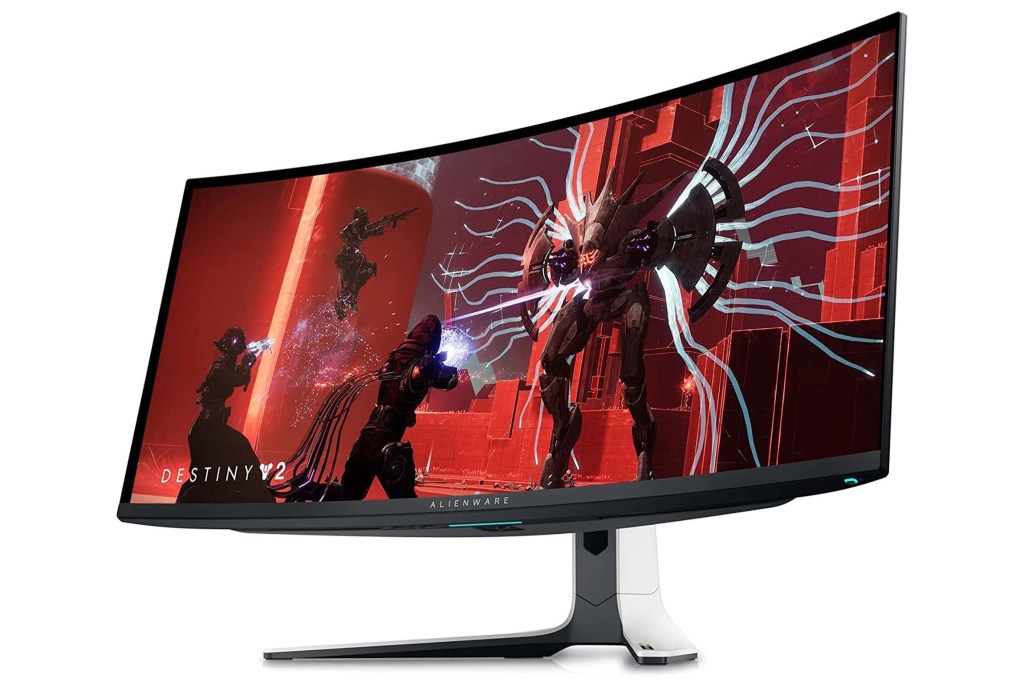 1. Alienware 34 QD-OLED AW3423DW
Stuff Says…
More colourful than you'd ever expect, this is a gorgeous looking monitor if you can afford it.
Tech spec:
Screen size: 34-inch | Resolution: 3440 x 1440 | Response time: 0.1ms | Refresh rate: 175Hz
Like much of Alienware's hardware, the Alienware 34 QD-OLED AW3423DW is distinctly pricey but you get what you pay for here. Its 34-inch screen looks fantastic. Thanks to its delightful fusion of OLED and QD-LED technology, it's probably going to be the best screen in your house, including your TV. With a response time of 0.1ms, it's almost best to assume it's instant so performance is perfectly pivoted for gaming.
A 175Hz refresh rate isn't the highest around but it won't be an issue in real use. You'll need to keep it in HDR mode to see just how delightful it looks but it's beautifully blur-free and offers the kind of picture quality that will make it hard to switch back to anything else. It's a shame there's no HDMI 2.1 connection so this is best as a PC monitor but everything else about the Alienware 34 QD-OLED AW3423DW doesn't miss a beat.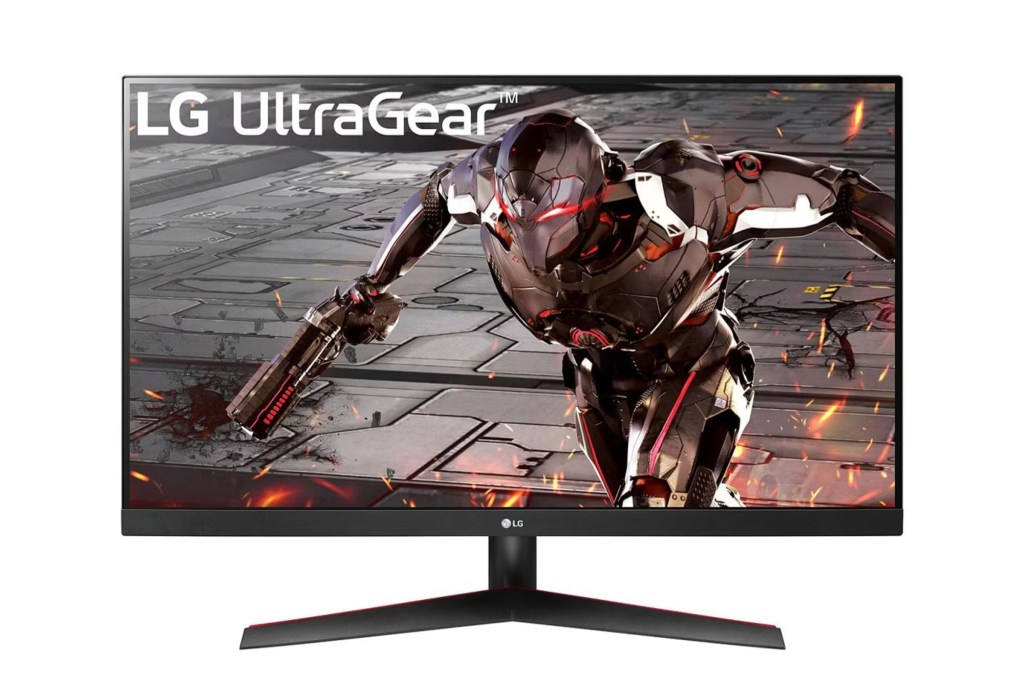 2. LG UltraGear 32GN600-B
Stuff Says…
Reliable in every way, this might not be the cheapest or largest monitor but it has all the features you could need.
Tech spec:
Screen size: 31.5-inch | Resolution: 2560 x 1440 | Response time: 1ms | Refresh rate: 165Hz
The LG UltraGear 32GN600-B is a reliable all-rounder gaming monitor. There are cheaper options out there but few with the pedigree that comes from the LG name. After all, they make some of the best TVs around so such technology is easily demonstrated with monitors too.
This monitor is sleek looking with thin borders around its 31.5-inch QHD display. A refresh rate of 165Hz is the sweet spot where you get a blur-free image before paying extra for higher refresh rates that are rarely needed. A response time of 1ms is more than good enough too. AMD FreeSync Premium support is useful while there's HDR10 to ensure that images look extra colourful and vibrant. Extra features like a Black Stabiliser so you can see in the dark better and a crosshair that improves shooting accuracy reminds you of the gaming focus.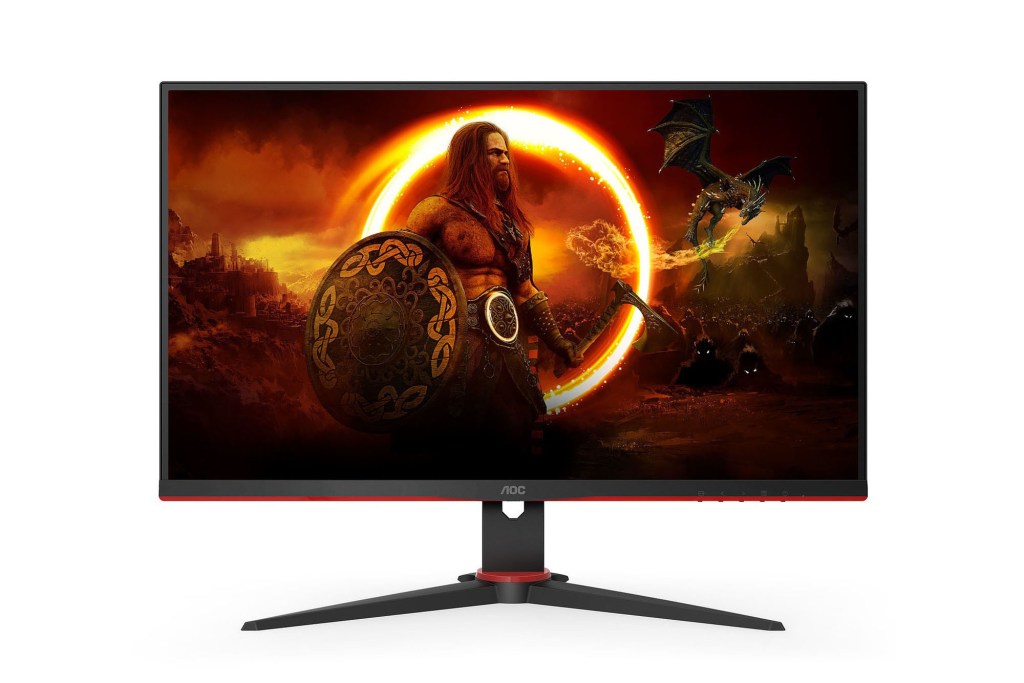 3. AOC 24G2SPAE
Stuff Says…
An affordable price while still having everything a 1080p gamer could need? This is a bargain for many players.
Tech spec:
Screen size: 24-inch | Resolution: 1920 x 1080 | Response time: 1ms | Refresh rate: 165Hz
If your gaming rig is a little behind the latest trends, the AOC 24G2SPAE will suit you well. Its 1920 x 1080 resolution will suit anyone who hasn't made the upgrade to 1440p or 4K gaming but you still get a high quality picture from it. A low response time and 165Hz refresh rate means no chance of motion blur, plus there's AMD FreeSync Premium support. Its IPS panel won't hit the colour highs of a pricier model with an OLED or QLED panel but it still looks good.
AOC has included six game modes to save you needing to tweak settings depending on the game you're playing, while there are other options to ease the darkness of a shadow in-game and brighten things up. The monitor even packs in some built-in speakers although we'd recommend sticking to a dedicated set or a good gaming headset instead.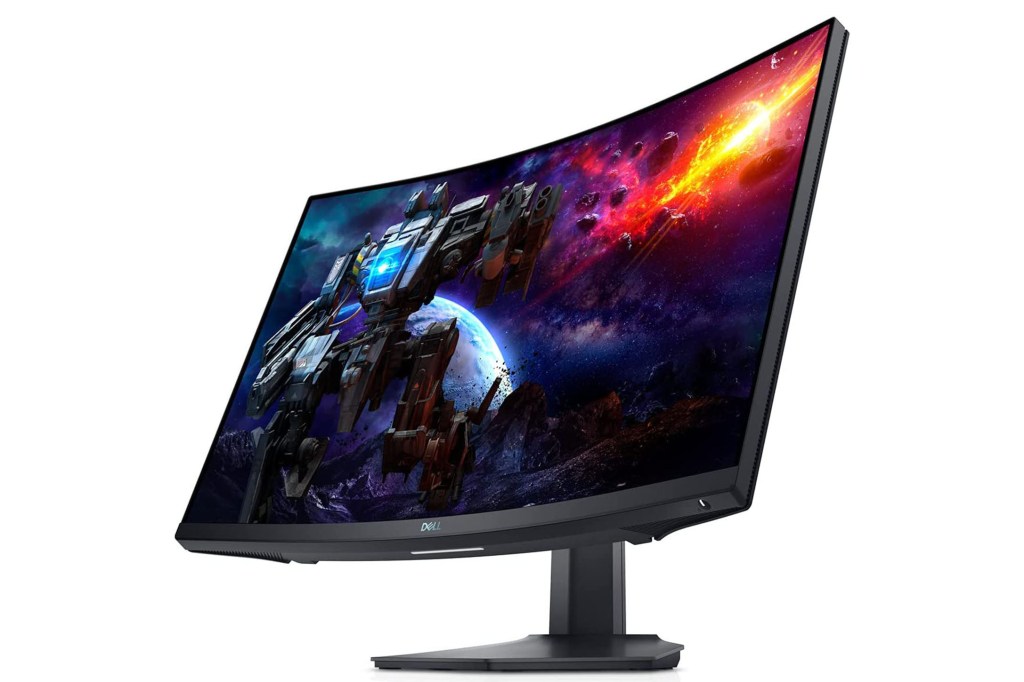 4. Dell 27-inch S2722DGM
Stuff Says…
Get this monitor at the right angle and you gain an immersive experience for less than you might expect.
Tech spec:
Screen size: 27-inch | Resolution: 2560 x 1440 | Response time: 1ms to 6ms | Refresh rate: 165Hz
A curved gaming monitor is a good way of helping you feel more wrapped up in the game you're playing. For an immersive single-player title, the Dell 27-inch S2722DGM can help you feel drawn into the atmosphere while a racing game gives you a kind of cockpit feel to the experience.
A 165Hz refresh rate (dropping to 144Hz for HDMI input) cuts down on motion blur substantially. Alternatively, the response time is a little patchy depending on the situation but it's still reasonable for the price range. Its QHD resolution is useful but there's no HDR support so colours aren't as vibrant as you might like. At this price though, that's a reasonable concession to make with a curved gaming screen. There are better non-curved monitors around but if you're keen to have a bit of everything at your disposal, the Dell 27-inch S2722DGM is worth considering.
5. Acer Predator X38
Stuff Says…
Too expensive for many, the Acer Predator X38 is still a beautiful monitor that will give you never ending room to work and game.
Tech spec:
Screen size: 37.5-inch | Resolution: 3840 x 1600 | Response time: 1ms | Refresh rate: 144Hz
There's a lot going on with the Acer Predator X38, not least its price tag. It's worth every penny though as it wipes out any need for a second monitor and possibly even a TV depending on your home setup. No HDMI 2.1 support is irritating but otherwise, the Acer Predator X38 rarely misses a step. It's huge at 37.5-inches with a 21:9 aspect ratio and 3840 x 1600 resolution.
If you work as hard as you game or you're an avid content creator, all this extra space makes a huge difference. It's a curved monitor too although not as obviously curved as other options with a 2300R turn. With DisplayHDR 400 certification, 98% DCI-P3 colour accuracy and a plethora of different modes and even ways to tweak how the LED backlight operates, the Acer Predator X38 always looks good. You'll need plenty of room and cash, but this is a delight.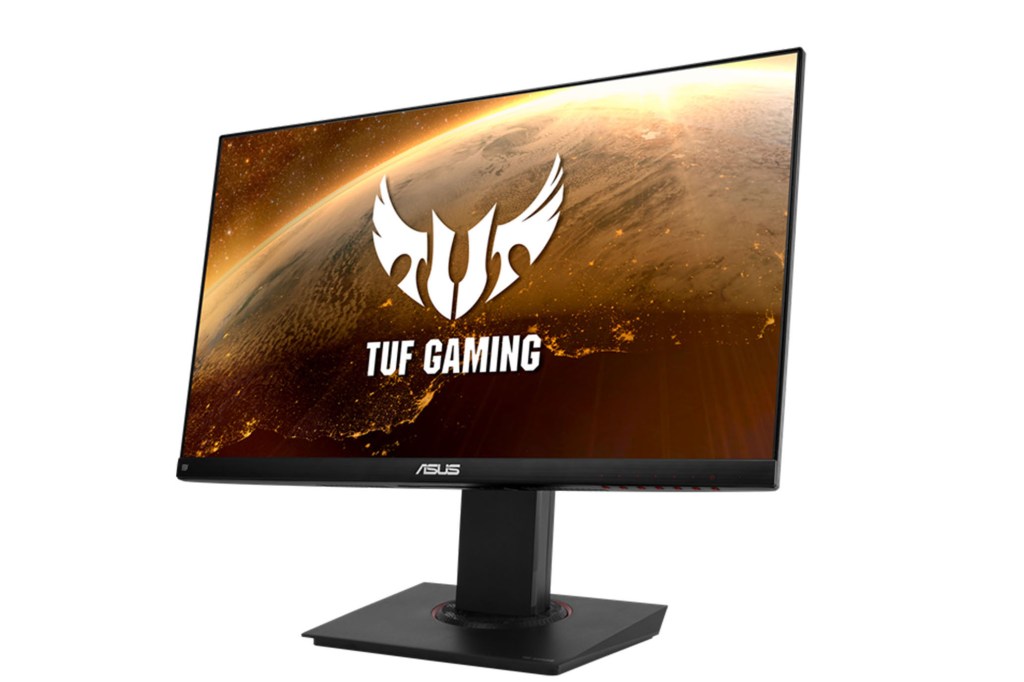 6. Asus TUF Gaming VG289Q
Stuff Says…
A weak refresh rate lets this monitor down a little but it's a great price for a 4K resolution.
Tech spec:
Screen size: 28-inch | Resolution: 3840 x 2160 | Response time: 5ms | Refresh rate: 60Hz
The Asus TUF Gaming VG289Q gives with one hand and takes away with the other. It has a gorgeous 4K resolution of 3840 x 2160. Crucially, that's supplemented by HDR10 support, DCI-P3 90% colour gamut, and extra features like different HDR modes, and a shadow boost feature.
The downside in all of this? Its response times are fairly weak and the refresh rate is just 60Hz. That's not ideal for gaming but there is FreeSync technology to counteract the problem and we really can't stress how nice the crisp image looks. A 4K gaming monitor with a higher refresh rate and this kind of colour quality is going to set you back a fair bit more, so if you're willing to compromise, you'll be happy with what the Asus TUF Gaming VG289Q provides. It's a good size for working well from home too.
7. Gigabyte M32UC
Stuff Says…
The Gigabyte M32UC is ideal for competitive gamers with key extra features, plus it looks great.
Tech spec:
Screen size: 31.5-inch | Resolution: 3840 x 2160 | Response time: 1ms | Refresh rate: 144Hz
If you can afford to spend more on a 4K monitor, get the Gigabyte M32UC. It's a curved screen with a pronounced curve of 1500R. A 31.5-inch screen, besides the always good to see 4K resolution, it has a strong 144Hz refresh rate to fend off motion blur issues. For a change, there are also two HDMI 2.1 ports if you need a gaming monitor for both PC and console, with 144Hz and 4K support across the board. There's also a USB hub built-in along with some fairly disastrous speakers that we'd recommend steering clear of.
Esports features like built-in crosshairs and an onscreen timer are a nice extra for certain scenarios but it's the strong image quality that's the big selling point here. You may need to tweak it a little but this is a monitor that feels more expensive than it actually is so you're getting good value.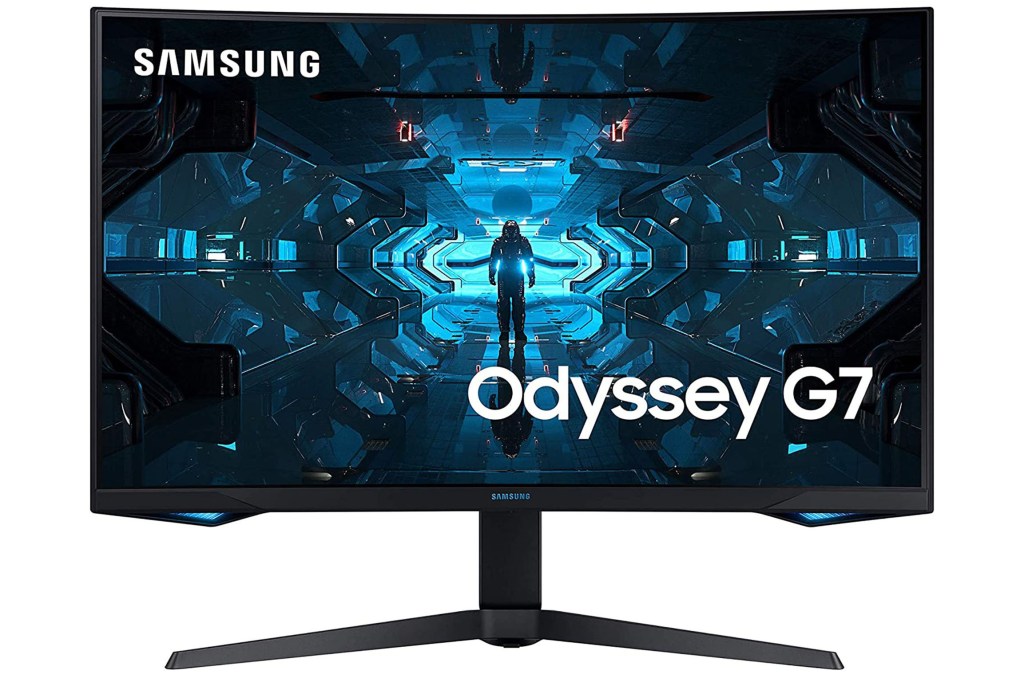 8. Samsung Odyssey G7
Stuff Says…
Pricey but feature packed, Samsung knows how to get the best out of any display.
Tech spec:
Screen size: 32-inch | Resolution: 2560 x 1440 | Response time: 1ms | Refresh rate: 240Hz
A subtle curve serves the Samsung Odyssey G7 well especially if you're not keen on having to find just the right angle for your gaming setup. As you'd expect from a Samsung panel, it looks great. Colours are vibrant with QLED technology giving you the edge over a regular LED panel. HDR600 provides plenty of depth and deep blacks which are just perfect for a moody game.
The 1440p resolution will suit all but the most high-end of gamers with G-Sync compatibility pairing nicely with your GPU (providing you have the right one) to ensure you get a silky smooth image at all times. The 240Hz refresh rate certainly reinforces that with a 1ms response time also there. There's also 2ms input lag. This is an expensive monitor for the size but it looks great at every turn making it ideal for someone with a reasonably well-specced gaming system.
9. BenQ EL2870U
Stuff Says…
A dull design hides a surprisingly good monitor with great image quality.
Tech spec:
Screen size: 28-inch | Resolution: 3840 x 2160 | Response time: 1ms | Refresh rate: 60Hz
The BenQ EL2870U looks like possibly the most unexciting monitor you could buy, but underneath that dull exterior is a remarkably good 4K monitor for a low price. Its HDR support looks more vibrant than you'd expect at this price with BenQ's Brightness Intelligence Plus technology helping out as brightness and colour temperatures are adjusted as needed.
Quickly, you realise this is a bit of a hidden gem in the gaming monitor world. Everything you play looks crisp and full of detail. It also has some surprisingly effective technology for cutting down on eye strain — something that many competitors try but rarely succeed at. Ultimately though, this is just a rich visual experience even though the bulk of the monitor won't look great on your desk. At this price, it feels reasonable to miss out on those little details.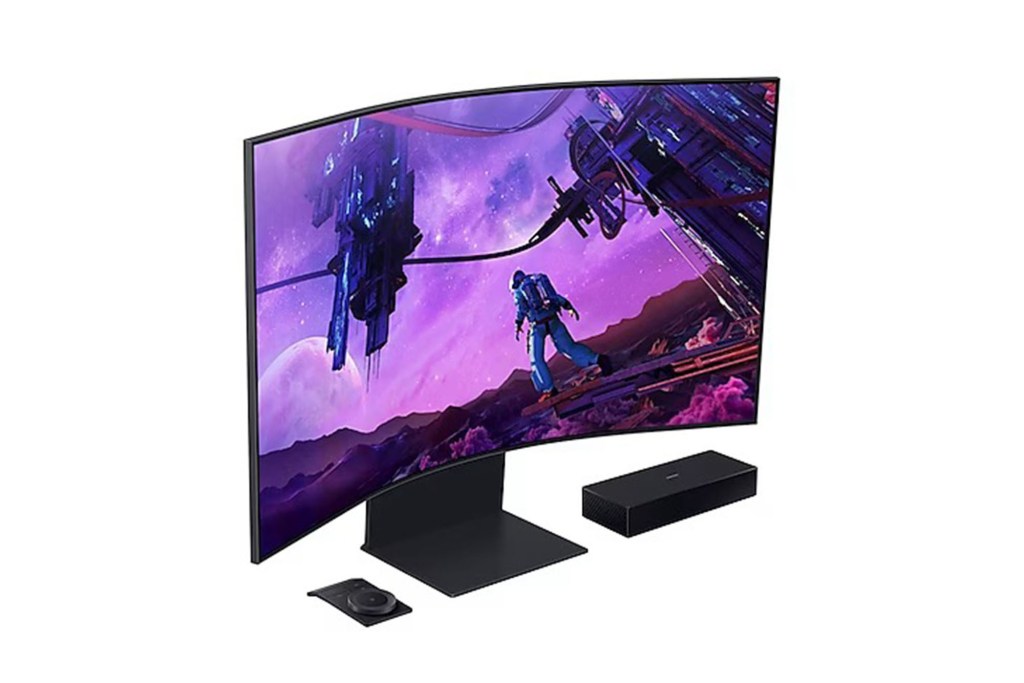 10. Samsung Odyssey Ark
Stuff Says…
Overkill but something rather special, the Samsung Odyssey Ark won't suit everyone or every living space, but there's nothing quite like it.
Tech spec:
Screen size: 55-inch | Resolution: 3840 x 2160 | Response time: 1ms | Refresh rate: 165Hz
Ever wanted to turn your TV around to portrait mode? Probably not, but in a way that's what the Samsung Odyssey Ark allows you to do. You can either use it like a regular gaming monitor or turn it around and have a narrow but incredibly high view. That's just one of its key features as it also looks utterly beautiful as you play thanks to its use of Mini LED and Quantum HDR 2000 to produce genuinely gorgeous colours.
Described as for serious gamers, honestly, it's too much in one way. It's very likely to cost more than you spent on your TV but if all you do is game or use your PC, it's possibly worth it. You soon feel wrapped up in the world it provides with even its built-in speakers actually being highly potent. It also upscales content well so you can enjoy older games or movies with them still looking good. Good luck justifying the price to yourself.
How to choose the best gaming monitor
Choosing the best gaming monitor is a crucial part of any gaming PC build. After all, it's the thing you spend most of your time staring at. Below, we've explained a number of key factors that you'll need to consider to ensure a smooth and immersive gaming experience.
The first thing you'll likely think about is resolution: The resolution determines the clarity and sharpness of the display, and usually ranges from Full HD (1920×1080) to Quad HD (2560×1440) and 4K (3840×2160). The higher the resolution the better games will look, but this also requires more powerful hardware to run games smoothly.
You'll also want to consider the refresh rate. A higher refresh rate, measured in Hertz (Hz), provides smoother motion and reduces motion blur. You'll want a gaming monitor with at least a 120Hz refresh rate, with some high-end options going up to 240Hz or even 360Hz.
The best gaming monitors should also have a low response time. This reduces ghosting and motion blur in fast-paced games, so you'll want to aim for a response time of 5ms or lower for optimal performance.
Of course, there is also panel technology to think about. There are three main types of panel technologies: TN (Twisted Nematic), IPS (In-Plane Switching), and VA (Vertical Alignment). Each has its pros and cons, with TN panels offering faster response times but displaying poorer colour accuracy and viewing angles. IPS panels are known for having better colour accuracy and wider viewing angles but can have slightly slower response times. While VA panels offer deeper blacks and better contrast, their response times often can't live up to TN panels, however.
It's worth noting, if you have an NVIDIA graphics card, look for a monitor with G-Sync support. If you have an AMD graphics card, look for FreeSync support. These technologies synchronize the monitor's refresh rate with the graphics card's frame rate to reduce tearing and stuttering.
You'll also want to look for monitors that meet at least the DisplayHDR 400 standard for a noticeable improvement in HDR visuals. This is because not all monitors labelled as 'HDR' offer the same quality.
Finally, you'll want to consider features like adjustable stand height, tilt, swivel, and pivot options. These ergonomics adjustments can make long gaming sessions much more comfortable.
Now check out our guide to the best gaming headsets around, too.