Microsoft Xbox Series S review
Is Microsoft's other next-gen console worth your time?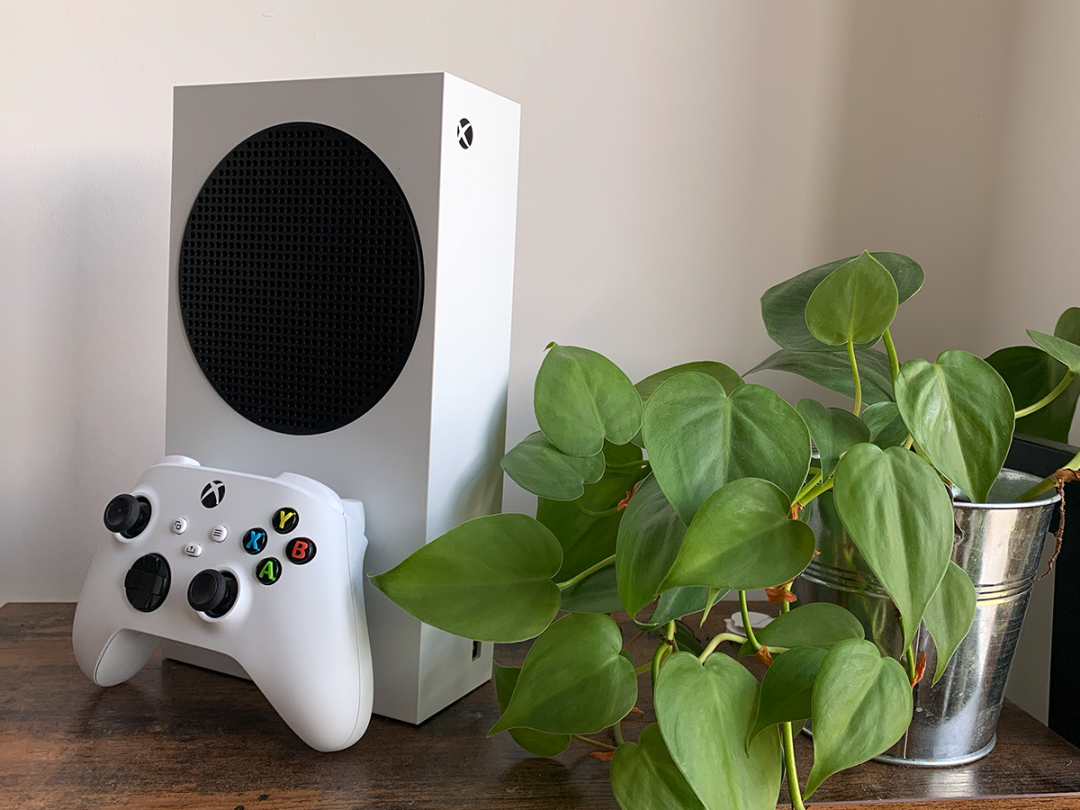 Microsoft is pitching the Xbox Series X as the most powerful console ever, but where does that leave the plucky Series S? It might be tempting to think the company's other next-gen console has been left to play second fiddle to its teraflop-laden sibling, but that would be a huge mistake.
Despite its diminutive stature and more conservative tech specs, the Series S still feels like a genuine, generational leap forward. It's sharper, faster, and more refined than its predecessors, and offers a meaningful alternative to the mammoth Series X.
After spending over a week with the all-digital unit, the only downside it seems is a software lineup that's content to look backward. For all of the goodies squeezed into Xbox Game Pass – which remains ridiculously good value for money – it's impossible not to fixate on the Halo-sized hole at the heart of the company's next-gen launch. At the risk of showing our hand too early, though, we'll come back to that particular quibble later. Instead, let's start on a high.
Design: Stone cold killer
Alright, cards on the table. When the Series S was first unveiled we thought it looked tacky at best, and at worst like one of those juddering drive-thru speakers hidden behind a Wendys. It's not often we say the words "we were wrong," but gather around because we're going to whisper them now. Up close, the Series S is the definition of sophisticated.
In fact, if looks could kill, the Series S would have us six feet under. Everything about the console drips with understated class, to the point where we'd shake the hand of every single member of Microsoft's design team if we weren't in the middle of a pandemic. The robot white finish. The weirdly captivating air vent. The minimalist shell that defies logic and somehow manages to make the humble cuboid sexy. Indeed, if the Series X is the brains-meets-brawn Oxbridge rowing champion, then the Series S is the understated rockstar with a twinkle in their eye.
Practically speaking, it'll also emerge as the firm favourite for folks who don't live in a chateau. For starters, it's light. Like, really light. The Series S weighs just 4.25lbs, making it significantly lighter than the Series X (9.8lbs) and its forbears the Xbox One X (8.14lbs) and Xbox One S (6.4lbs). It's also relatively compact, measuring in at 6.5cm x 15.1cm x 27.5cm, and should look right at home in even the most confined space whether led down horizontally or positioned vertically. Despite its hobbity demeanour, the console also has plenty of connectivity options in the form of three USB 3.1 Gen 1 ports, one HDMI 2.1 port, and an Ethernet port.
Those less-is-more design sensibilities carry over to the reworked Xbox Wireless Controller, which according to Microsoft has been "fined-tuned for performance" with the addition of a new share button, textured triggers, bumpers, and grips, and a full circle multi-directional D-pad. In reality it's a case of more of the same, and while it'd be easy to accuse Microsoft of lacking inspiration here, sometimes the saying 'if it ain't broke' really does hold water. The Xbox One pad is still one of the best around, and with a few subtle changes Microsoft has made some marginal but significant gains.
Performance: Fast and Furious
As with the Series X, the most tangible benefits of the Series S are immediately obvious. Both consoles utilise a Custom NVME SSD in combination with the all-new Xbox Velocity Architecture to get things done in super-quick time. In short, that means faster loading times, steadier frame rates, and impressive quality of life features like Quick Resume, which suspends game state data on the internal SSD to let users hop between multiple titles in a snap – similar to how you might leaf through apps on a smartphone. Just like its monolithic sibling, the Series S also supports DirectX raytracing, variable rate shading, spatial audio, and frame rates of up to 120fps, so you won't be missing out if you opt for the minature console.
Quick Resume in particular was a revelation. The feature dropped us in the middle of a Gears 5 set piece within 10 seconds of booting up the console, letting us mow down locust (or whatever they're called these days) before we'd even parked ourselves on the couch. By comparison, it took the launch Xbox One around 30 to 40 seconds to complete similar tasks. It was the same story when switching between games, with Quick Resume letting us zip between supported titles like a digital whack-a-mole. If you're the sort of person who likes to chop-and-change during sessions, trust us when we say Quick Resume will be a genuine revelation.
Those nimble innards, which are powered by a custom designed processor leveraging AMD's latest Zen 2 and RDNA 2 architectures, also turned loading screens into blink-and-you'll-miss-them affairs. We spent a fair bit of time with a range of triple-A titles including Doom Eternal, Forza 7, and Watch Dogs Legion, and we can't recall ever twiddling our thumbsticks for more than a few seconds. This was particularly noticeable in Doom Eternal, where restarting a level or checkpoint after being pulled apart by demons was near-instantaneous.
It's the same story for backwards compatible games, all of which have been given a facelift thanks to the automatic addition of HDR and reduced load times. There are a bevy of backwards compatible titles available on the Series X and Series S on day one – thousands, in fact – and the Series S made revisiting old favourites like Mass Effect and Alan Wake an absolute pleasure. Nostalgia has never looked this good.
While all of those games looked undeniably gorgeous when running on the Series S, if you're going to buy the compact console then be prepared to shelve your 4K dreams. One of the key differences between the Series S and the Series X lies in resolution, and while the top-end Series X targets 4K at 60fps with support for up to 120fps, the Series S generally chases 1440p at 60fps with support for up to 120fps – although it is capable of rendering at native 4K if a developer chooses to implement support, and will also upscale when connected to a 4K TV.
What does all of that resolution jargon mean in practise? In short: it means you've got a decision to make. If you don't own a 4K television or simply don't fancy forking out another £200 for the privilege of 4K gaming, then the Series S might very well be the answer to your next-gen prayers. If, however, you are chasing true 4K euphoria, then the Series X is your salvation.
Speaking of trade-offs, it's also worth noting that the Series S packs a modest 512GB SSD (though only 364GB is actually usable) compared to the 1TB SSD found in the Series X. That's not bad given the £249 price point, but it's going to mean a lot of finicky storage management in the long-term. At the time of writing, our Series S has roughly 6GB of free space. That's been taken up by a range of larger titles like Apex Legends, Doom Eternal, and Watch Dogs Legion, a few backwards compatible jaunts, and a sprinkling of indie gems like Night in the Woods and Hollow Knight. Obviously, your milage will vary depending on the kind of games you play, but sooner or later you're going to run out of room – especially if you're a Game Pass subscriber.
Microsoft has devised an elegant solution to that storage quandary In the form of 1TB Storage Expansion Cards that slot into the back of the console and replicate its custom SSD experience. At £219.99, however, they cost only slightly less than the Series S itself, which will make them a tough sell for consumers on a more limited budget.
Games: Plenty old, not much new
Consoles are nothing without games, so it's fortunate the Xbox Series S has plenty. If you're a Xbox Game Pass subscriber, you'll get immediate access to the same titles you've been playing on your Xbox One. That means once you've plugged the Series S in and jumped through a few administrative hoops, you can chow down on over 100 titles, including major Xbox Games Studios franchises like Gears of War, Halo, and Sea of Thieves.
Microsoft is also rolling out a new initiative called Smart Delivery that ensures consumers only have to buy supported titles one. Say, for instance, you purchased Assassin's Creed Valhalla for your Xbox One and then upgraded to a Series S/X later on, you'd gain instant access to the title on your next-gen whippersnapper for no extra cost. It's a neat initiative that unifies the Xbox ecosystem, and one we've already used to play Watch Dogs Legion on every Xbox in our house.
As for how those current-gen titles will attempt to squeeze every bit of juice out of the new hardware, some of the heavy hitters are being issued with 'Optimized for Xbox Series S|X' updates that reduce load times, bump frame rates, and usher in graphical improvements. We've spent hours with the Optimized version of Gears 5, and the difference is undeniably impressive. It's worth bearing in mind, however, that Optimized updates won't be rolled out across the board. As it stands, the day one launch lineup includes 30 Optimized games with more on the way. That's not a bad start, but it means your favourite might miss out.
Now, those of you with a keen eye might've noticed a through line here. We've spent a lot of time praising the staggering amount of backwards compatible, current-gen, and Optimized games available on the Series S, but where are the next-gen releases? Those showstoppers that make players sit up and take notice, signifying the end of one great era and the start of the next. In a nutshell, they're nowhere to be seen. With Halo Infinite getting delayed earlier this year, Microsoft lost its next-gen centrepiece. We're not suggesting pushing the game back was the wrong decision, but as impressive as the Series S is as a piece of hardware, once the dust has settled and you've marvelled at how good some older titles look and perform, it's impossible not to dwell on the fact that, right now, the Series S has plenty of bark, but not quite enough bite.
Interface: The same, but different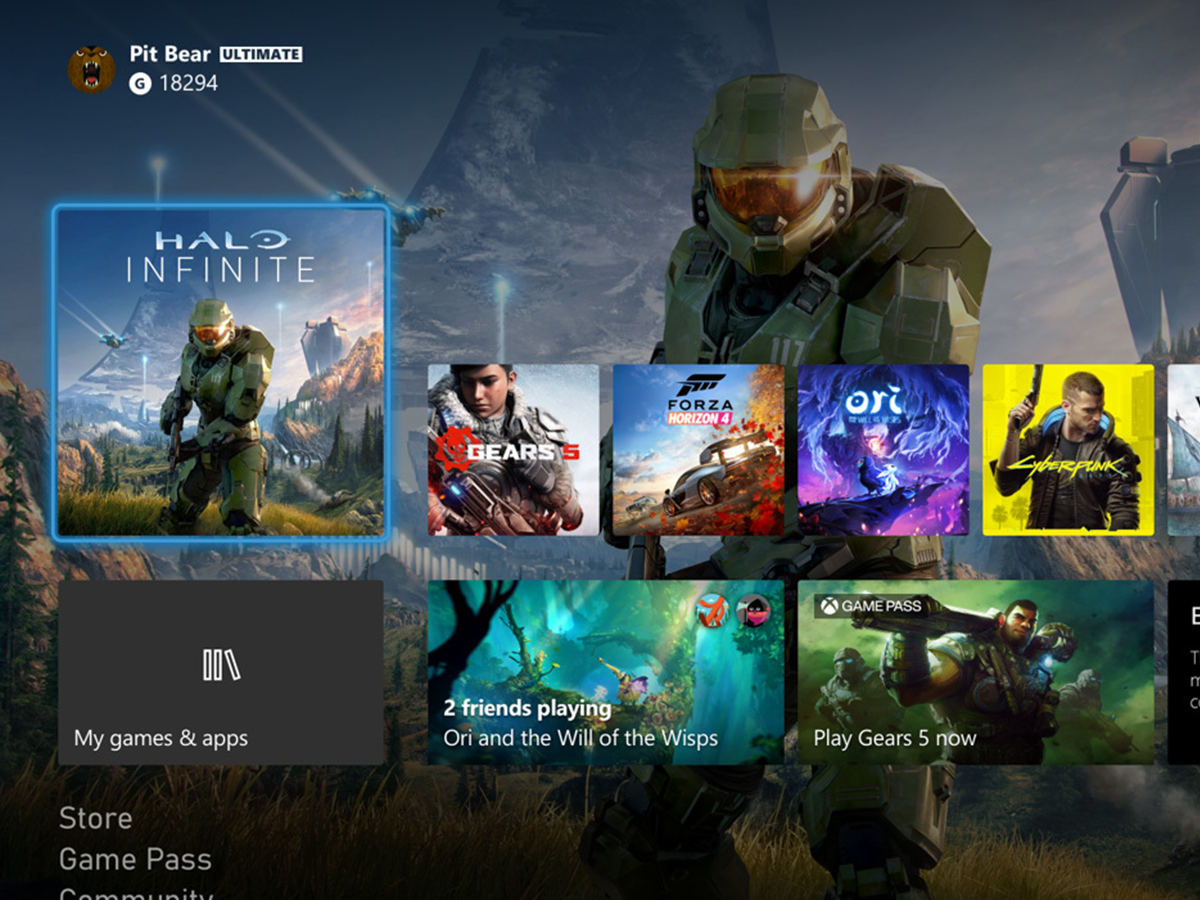 Much like the Series S itself, the re-tuned Xbox user interface is all about speed. Microsoft claims the 'new Xbox experience' (their words, not ours) will be faster to use, more approachable, and visually appealing, and in our experience it ticks all of those boxes with aplomb. Accessing the Microsoft Store, Game Pass, and your installed apps and games happens in a flash.
The Home screen now loads more than 50 percent faster when booting up the Xbox, and is almost 30 percent faster to load when dipping out of the game. App launch time has been cut to around two seconds, while navigation has also been streamlined to make finding specific information quicker and easier. Dynamic backgrounds bring some visual flair to proceedings, and offer a few light customisation options. Despite those various quality of life improvements, the interface also uses 40 percent less memory than was previously required, giving a pretty clear indication of just how well Microsoft has managed to refine its minimalist UI.
It's hard to parse how all of that actually feels until you're sat down with the Series S, so we'll just say that going back to the launch Xbox One after familiarising ourselves with the Series S felt like taking the Bugatti Chiron for a test drive before chuntering home in a Fiat Punto.
The Xbox mobile app also works flawlessly, and can be used to easily set up your new console, access different devices, check the status of installs, initiate downloads, send messages to friends, launch parties, and manage and share screen and video captures. It's evident Microsoft wants to deliver a seamless user experience that mirrors its cross-generation, 'play anywhere' approach to gaming, and while it's still early doors, it looks to be right on track.
Microsoft Xbox Series S Verdict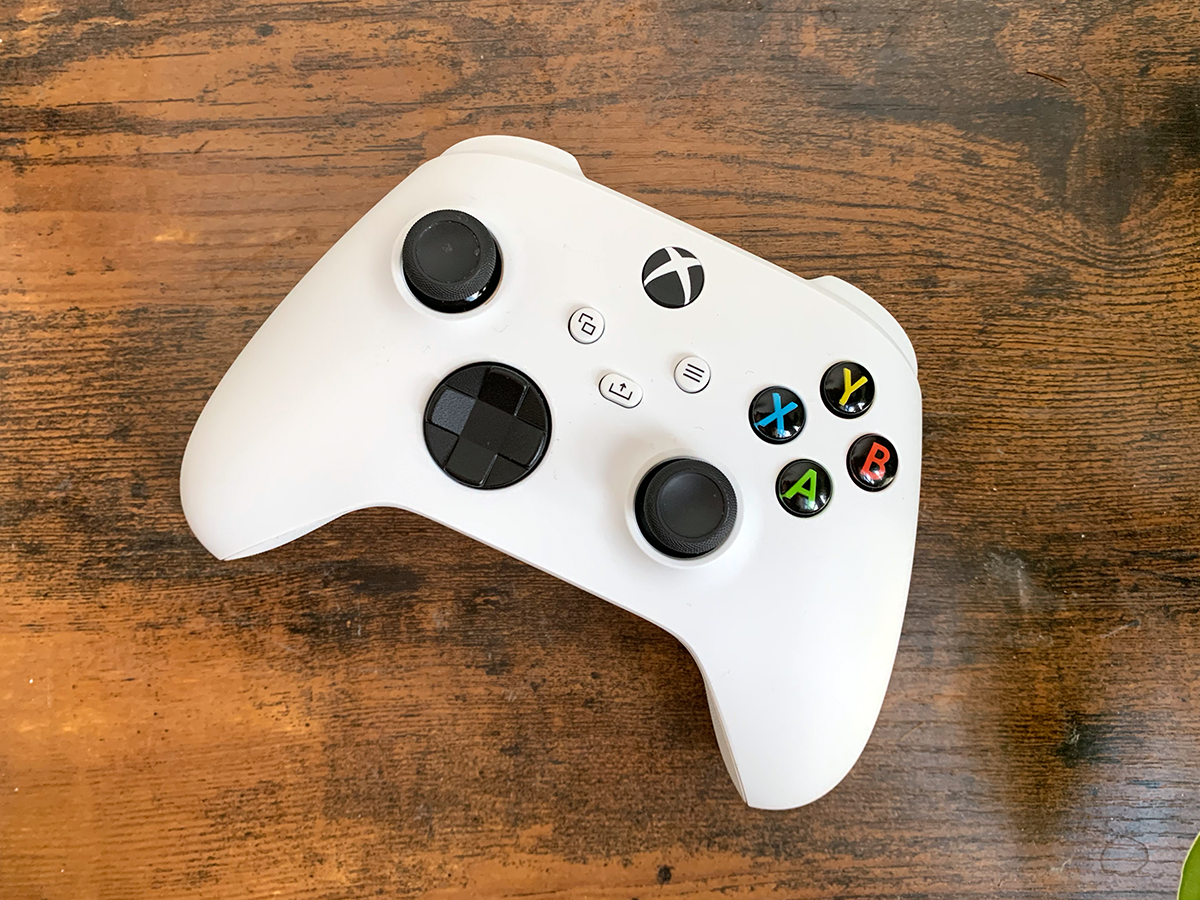 At this point we'd normally close out our review with some prosaic epiphany that neatly sums up the last 2000-or-so words, and true to form, we're still going to do exactly that. Listen up, though, because we want to really drive home why the Xbox Series S is so incredibly special. This is a next-gen console in every sense of the word, but more than that, it's a next-gen console that won't price anybody out.
2020 has been tough. We don't need to remind you of that, and as fantastic as the Xbox Series X and PlayStation 5 might be, the fact Microsoft has released game-changing hardware at £249 will be a godsend for folks looking for a silver lining in what's been a bloody awful year.
Affordability also means accessibility, and the Xbox Series S combined with Xbox Game Pass has made next-gen gaming more readily available than ever before. This is a console genuinely made for everybody, and there can be no higher praise than that. Those lofty accolades might be tempered somewhat by a lack of games and storage headaches, but we still adore the Series S despite those initial drawbacks.
Stuff Says…
The Xbox Series S delivers affordability without compromising on features. The only real downside is a software lineup that feels slightly half-baked.
Good Stuff
An affordable but legitimate next-gen upgrade
Lightning fast performance
Xbox Game Pass represents one hell of a deal
Bad Stuff
A lack of true next-gen launch titles
512GB SSD won't go the distance