LG Gram 16 (2021) review
It's the world's lightest 16in laptop, but does the LG Gram triumph beyond the scales? It's certainly powerful and good-looking...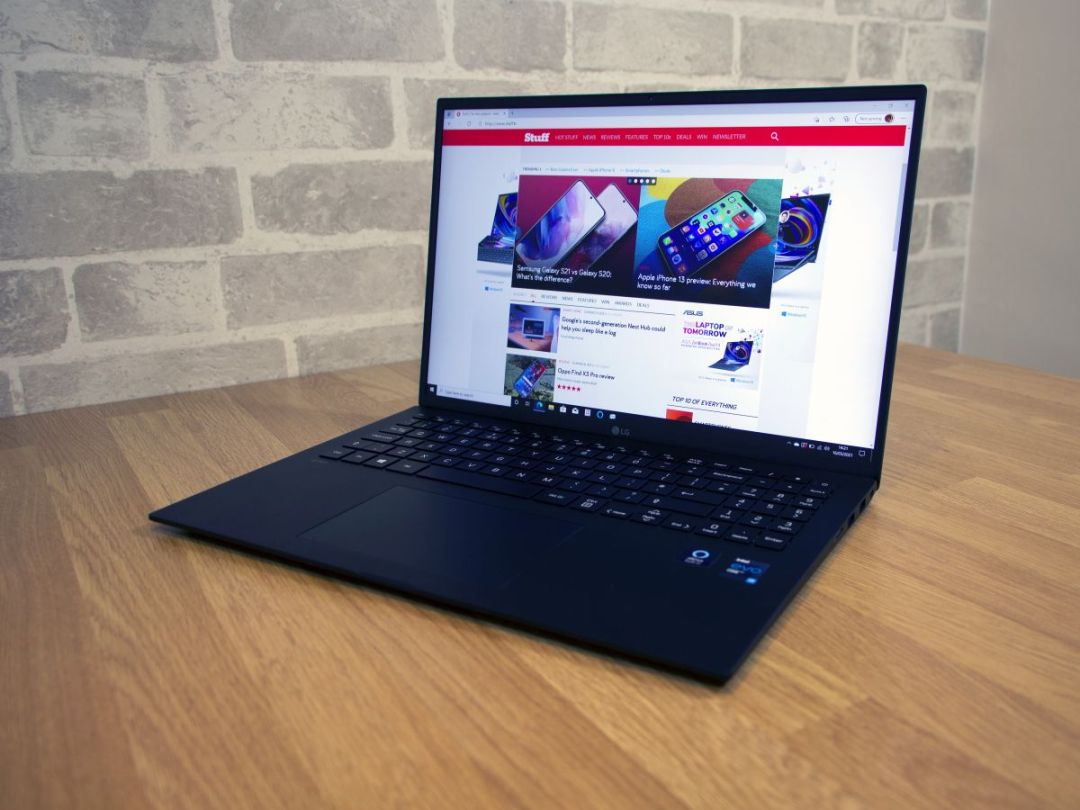 LG's Gram machines have only been around for a couple of years, but they've quickly developed an impressive reputation for big screens, lightweight designs, and high levels of quality.
This machine is the latest addition to the range, and it's the first time that LG has produced a 16in model.
The 16in machine sits between the firm's 14in and 17.3in notebooks, and the £1,449 price plants it firmly into the mid-range when it comes to consumer portables.
Design & Build: The Light Fantastic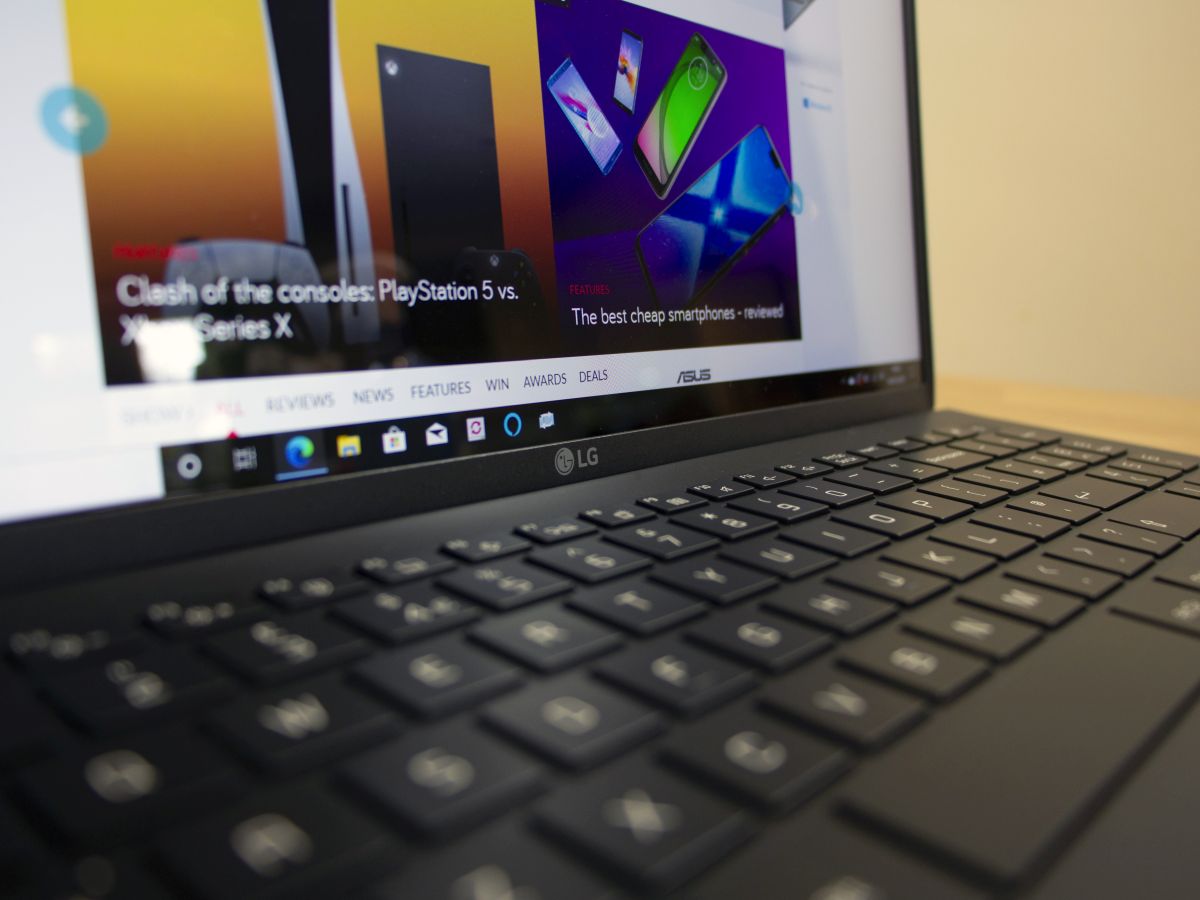 Let's start with the headline figure: the Gram 16 weighs just 1.19kg. That's incredible – less than most 13in laptops. The Gram even holds the Guinness World Record as the world's lightest 16in laptop, and it looks great while doing it thanks to dark, matte magnesium alloy. The most prominent 16in machine right now is the Apple MacBook Pro, and it's hardly a porker, but it still weighs 2kg. The Gram is so light that it barely feels real, which makes it great to slip into a bag or carry around the house.
The featherweight Gram impresses, but there are potential build quality issues. Positively, the Gram has passed MIL-STD-810G testing, which means it's been stress-tested to withstand vibrations, high and low temperatures, drops, and excess pressure. This machine does feel pretty robust.
Negatively, though, the extreme lightweight design and the thin alloy make the Gram feel disarmingly hollow, and the metal on the base and lid is easy to flex. There's undoubtedly more movement here than on most machines, including the heavier and more expensive MacBook.
Ultimately, your mileage will vary. The military testing ensures that the LG will withstand daily life and provides some welcome assurance, and the exterior does feel well-built – there are no exposed seams or areas of particular weakness. Despite that, some people would still rather compromise for a heavier laptop that feels sturdier, especially if they're frequent travellers.
Screen & Sound: The big-screen experience
The Gram has a 16in IPS display with a resolution of 2560×1600, which means a 16:10 aspect ratio – so this screen offers more vertical space than conventional 16:9 laptop panels and with sharper imagery and more desktop space than normal 1080p displays. The resolution makes images, games, and media look crisp, and the resolution and aspect ratio combine to deliver more on-screen real estate for work, web-browsers and multiple windows.
It's a boon when so many 16:9 laptops feel like they could do with a little more vertical space. Apple's pricier MacBook Pro also offers a 16in display with a 16:10 form factor, but its resolution of 3072 x 1920 is a little sharper than the Gram's panel. The only way to get a significant sharpness upgrade is with a 4K panel, and large laptops with either 16:9 or 16:10 aspect ratios and that resolution are significantly more expensive than the Gram.
The LG's panel offers good quality: the contrast of 1,483:1 is great for an IPS, and it helps the screen serve up lashings of vibrancy and nuance. Colours are reasonably accurate, and the display renders the full sRGB and DCI-P3 gamuts. The Gram's screen offers the punch, nuance and depth needed for browsing, media and most work tasks, but Apple's display is a little brighter and more accurate, so that would be a better option for colour-sensitive tasks.
The speakers are solid, with reasonable detail and depth – like the screen, they're easily good enough to deliver a well-rounded experience. This is another area where Apple's machine offers a bit more depth, though – the Gram's audio gear lacks a little bass.
Keyboard & Touchpad: Crisp, fast and loud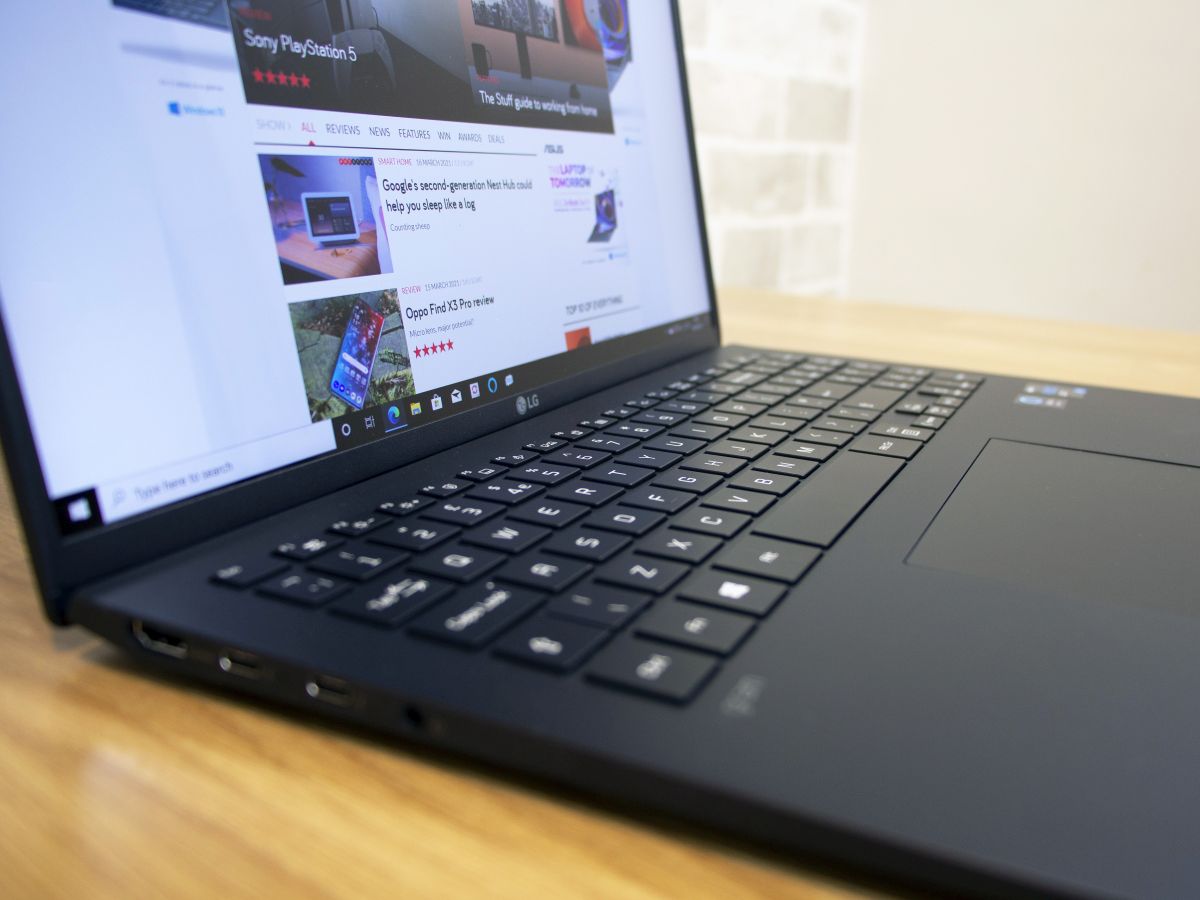 The Gram's larger size means that there's enough room on this keyboard for a numberpad – albeit with narrow keys – and the LG's keyboard has a strong white backlight, large function row symbols and separated cursor keys. The main buttons are large, too, and they've got 1.65mm of travel, which is more than most lightweight laptops.
The keys are fast and snappy, with a crisp, firm action, which makes them satisfying and tough. They're pretty loud, though, and plenty of people will prefer a softer and more subtle typing action. The trackpad is fine: large, smooth and accurate. It's got two in-built buttons that push down too far, though, which ensures that the MacBook takes the crown here.
Performance: A genuine all-day laptop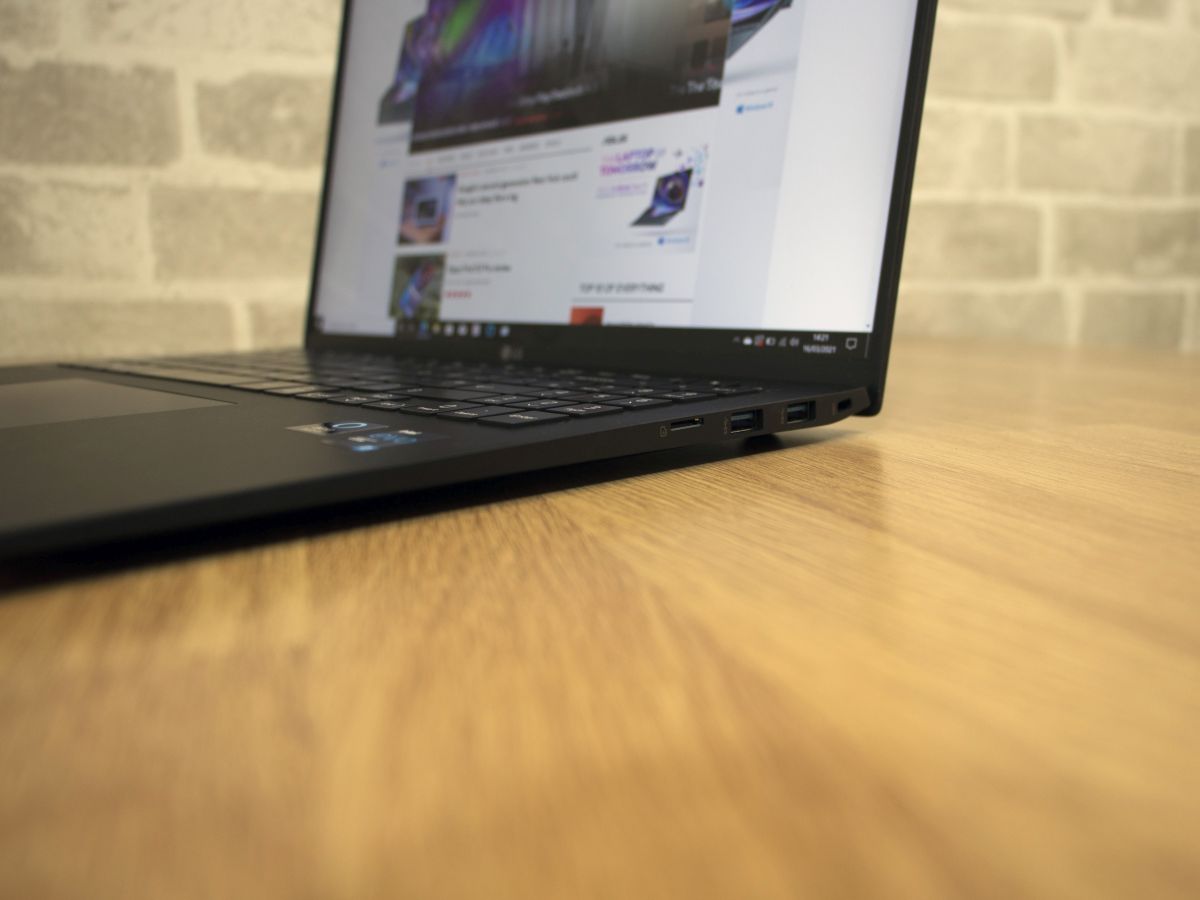 The Gram is available with either a Core i5-1135G7 or a Core i7-1165G7 processor, which are Intel 11th Gen Evo chips with Intel Iris Xe graphics. The Core i5 machine has 8GB of memory and a 512GB SSD, while the Core i7 model doubles both of those counts. We've reviewed the Core i7 model, and its performance is decent but unsurprising – in Geekbench the LG delivered single- and multi-core results of 1,328 and 4,570.
The components ably tackle everyday tasks: the Core i7 CPU handles loads of browser tabs and Office applications, and it'll take on mainstream photo-editing. It'll run any media without complaint, and the Iris graphics core will play casual games and esports titles at low settings. It's worth taking a closer look at what's going on here, though, because it's not all good news.
Those Geekbench results are around 200 and 900 points behind what the Core i7 chip can ultimately achieve because LG has reigned its speeds in to improve thermal performance. Indeed, while the Gram is impressively cool and quiet, it means that the CPU never stretches its legs. The laptop does have a performance mode that improves its Geekbench scores a little, and the Gram remained quiet here too – but the chip never achieved its full potential. That also means that the Core i7 chip offers similar performance to the Core i5 CPU in the cheaper model, so that's an easy way to save money without losing much speed.
The underwhelming processor also means that you should look elsewhere if you need CPU grunt: machines with AMD's Ryzen processors will be heavier but faster and just as affordable as the LG, and the more expensive MacBook will be updated later this year with Cupertino's own superb M1 chip. There may be faster processors out there, but there aren't many laptops with better battery life than the Gram.
When playing video with the screen at half brightness, it lasted for a mammoth 21 hours and 57 minutes, and that figure dropped to sixteen hours with the brightness turned up. The LG has the legs for work, too: it lasted for just over twelve hours in an everyday work benchmark. That figure dropped to 3 hours and 45 minutes with the components pushed to their limits, but that's still better than most large laptops manage.
Ultimately, you'll easily see a full day of work from this laptop – and maybe two. Connectivity is handled by dual-band 802.11ax wireless and Bluetooth 5.0, and the Gram includes a reasonable range of features elsewhere. On one side are two USB-A ports and a microSD slot, and on the other side is the 3.5mm headphone jack, an HDMI output and two USB-C ports that support super-fast USB 4 and Thunderbolt 4.
Impressively, the LG also has built-in Amazon Alexa functionality. The LG's power button has a fingerprint sensor, and you can crack the machine open to find another storage slot. There's no wired internet, though, and the 720p webcam offers middling quality and no facial recognition.
LG Gram 16 Verdict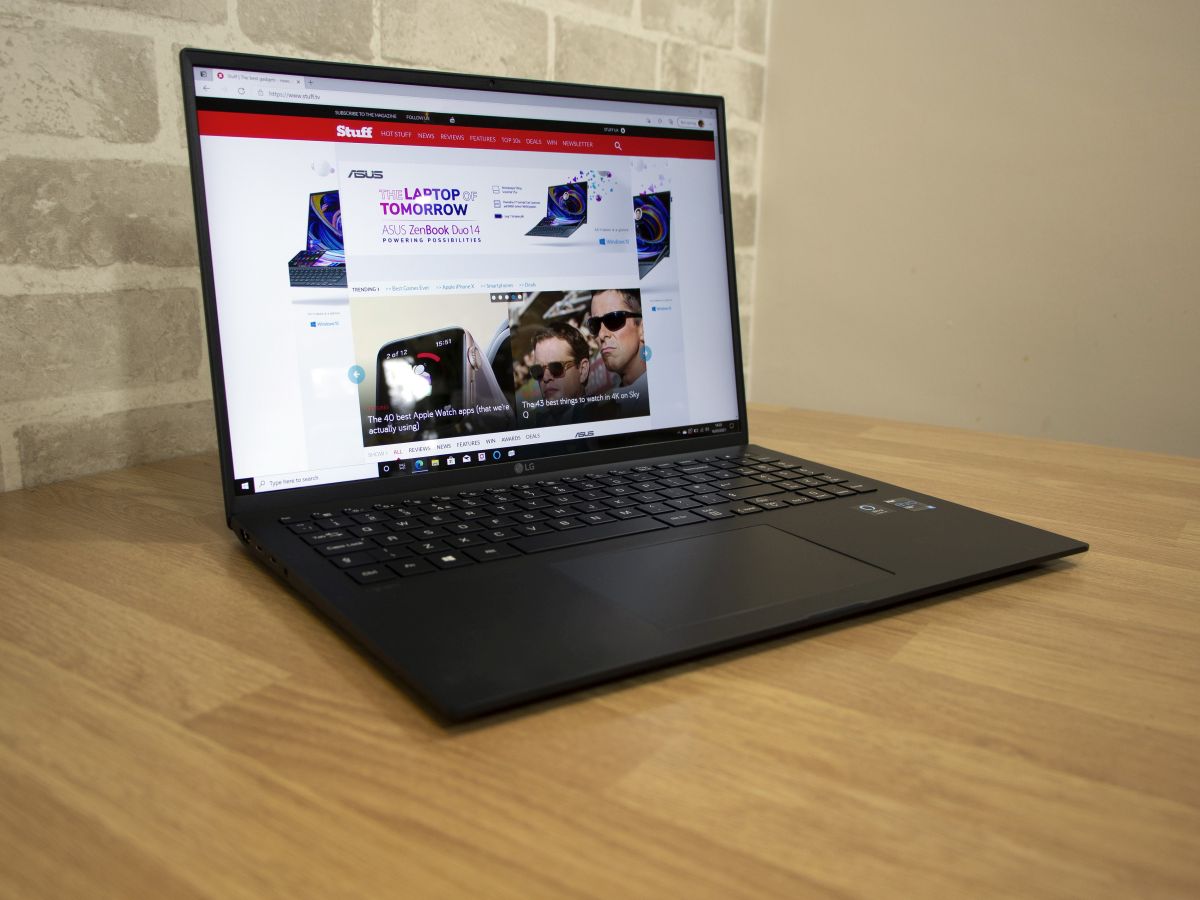 LG's Gram laptops aim to provide light designs, big screens, and stellar battery life, and this new 16in model delivers in all of those departments: it's the lightest 16in laptop in the world, the display is immersive, and battery life is tremendous. Elsewhere, the Gram bolsters its credentials with a decent range of features, good screen quality, a snappy keyboard and reasonable speakers.
This isn't the machine for you if you want even more features, though, and it's also worth looking elsewhere if you need more processing or graphics power or a screen for colour-sensitive workloads. Despite those factors, the LG Gram 16 is still tremendously impressive: a record-breaking, big-screen machine that can tackle most computing tasks while being lighter than everything else out there. It's a fantastic everyday machine.
Tech specs
| | |
| --- | --- |
| Screen | 16in, 2560 x 1600 IPS |
| CPU | Intel Core i7-1165G7 quad-core, 2.8GHz |
| Memory | 16GB |
| GPU | Intel Iris Xe |
| Storage | 1TB |
| Operating System | Windows 10 Home |
| Battery life | Up to 21 hours |
| Connectivity | 802.11ax Wi-Fi 6, Bluetooth 5.0, 3.5mm headphone, 2 x Thunderbolt 4/USB-C, 2 x USB-A, 1 x microSD |
| Dimensions | 356 x 243 x 17mm, 1.19kg |
Stuff Says…
The LG Gram 16 is incredibly light, with a big screen, good keyboard, and sensational battery life, so it's a top-notch laptop for everyday use – but it's easy to find more CPU power and better screens if you need to tackle tougher tasks.
Good Stuff
Incredible, lightweight design
Big, bold 16:10 display
Fantastic battery life
Decent features and ergonomics
Bad Stuff
More CPU power available elsewhere
Exterior feels a little flimsy despite military testing
No graphics card