Dave the Diver is the surprise Steam megahit of 2023. Here's why 
Making a splash and then some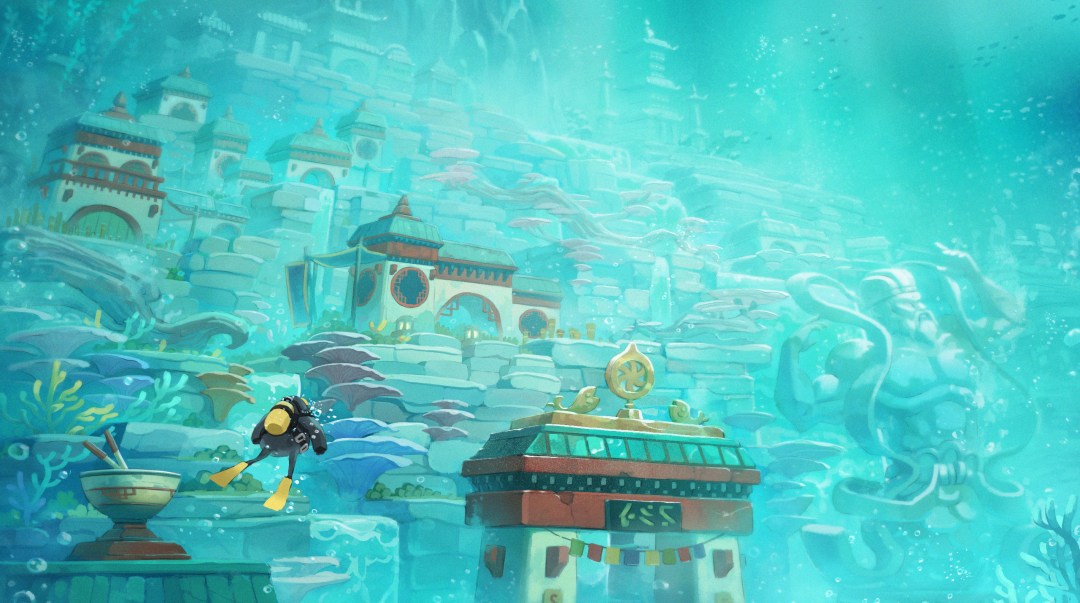 Dave is the ultimate everyman name. A Dave can be anyone: your lifelong friend, your electrician, the mop-headed frontman of a legendary rock band or a chart-topping rapper. Or in the case of Dave the Diver, a scuba-diving, sushi-serving, death-defying action hero, archaeologist and liberator of dolphins. 
Confused? Most people would be after speaking to someone who's spent more than a few hours with what is almost certainly PC gaming's sleeper hit of the year so far. Dave the Diver has been sitting comfortably in the upper reaches of the Steam charts since it launched properly back in June, and has an 'Overwhelmingly Positive' rating after more than 42,000 reviews. Not a bad return for the first game from Korean indie developer, Mintrocket, and even more impressive when you take into account just how good this year has been for gaming.
So what is it? At its core, Dave the Diver is actually a fairly simple game. Part-2D roguelike adventure RPG, part-restaurant management sim, you play as Dave, a grinning, goatee-rocking deep sea diver who also happens to be a pretty capable waiter. After being roped into getting involved with a new sushi venture, Dave splits his time between diving for the fish the restaurant will serve that night during the day, and waiting tables come the evening. 
The core gameplay loop isn't particularly original, but it's extremely satisfying. Each day consists of two dives, one in the morning and one in the afternoon. Initially you only have a harpoon for catching fish, but gradually your arsenal will grow to accommodate a variety of weapons that are essential for the bigger, angrier deep blue-dwellers. Crucially, the swimming feels great, and because the layout of the underwater map shifts slightly each time you dive, you never lose the thrill of exploration.
You have an oxygen supply that gradually depletes but can be refilled using tanks you can find as you swim, and a boost ability that is useful for escaping unfriendly sharks but will drain your oxygen levels faster. There's always a lot going on under the sea, with your pleasant shell-collecting often interrupted by aggressive currents or teeth-baring creatures that want to kill you, but the finely tuned controls, chilled out beats and charming pixel-art visuals combine for what is a strangely relaxing experience, even amid all the carnage.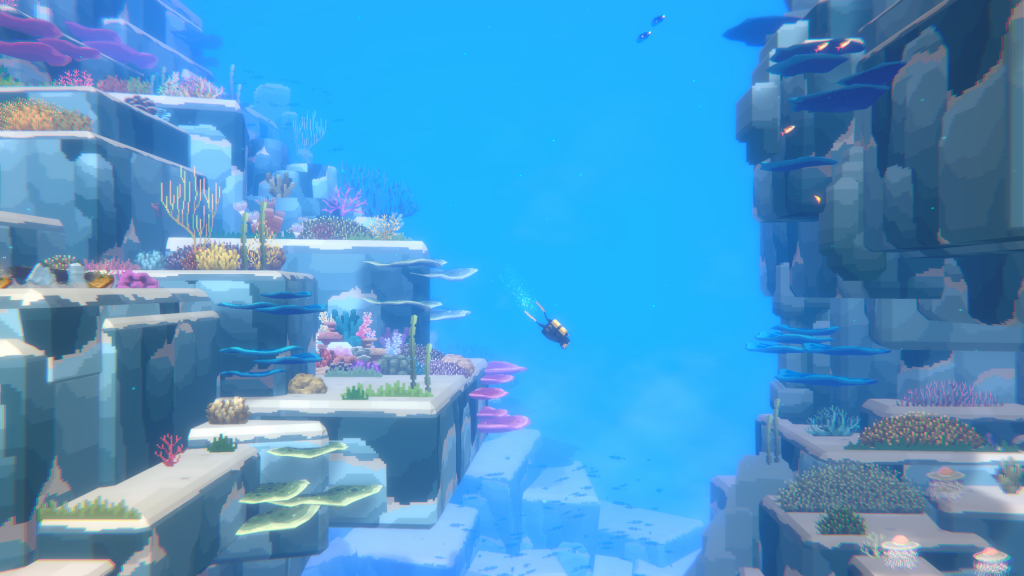 When you're on your restaurant shift, you collect dishes as they're ready and get them in front of customers as quickly as possible, while filling their drinks and keeping the chef's wasabi stocks up via a little mini-game. It's hectic, all the dashing left and right (you also have a stamina meter to manage), but never too overwhelming, with nothing requiring more than a button press or a wiggle of an analogue stick, and it isn't long before you're able to hire more staff to help out in the kitchen and with service. At the end of each night you get a cut of the takings, which can be used to upgrade your gear so you can dive further and catch bigger, more valuable fish. 
If this was the whole game, Dave the Diver would still be easy to recommend. But it never stops introducing new gameplay ideas and totally unexpected narrative developments, from the slightly surreal to the absolutely bonkers. To say too much would risk spoiling the experience, but let's just say that it's not unusual for Dave to roll up to work at the restaurant after a long day of fighting massive sea monsters, clashing with heavily armed "conservationists" and discovering secrets of the sea so enormous that he could easily trade the red mullet rolls for a lifetime of public speaking.
There are endless new minigames thrown into the mix, from rhythm action and stealth sequences, to photography and an in-game social media app that you have to keep on top of. You might need to dive for some hard-to-find ingredients to wow a restaurant critic or stand out on a reality TV show. Eventually you'll run a full-on farm. It's not long before Dave's smartphone is so loaded with apps that it's a miracle he has any time for diving. In the wrong hands, this relentless stream of new content could get overwhelming, but Mintrocket somehow manages to keep you feeling just about on top of it all.
Then there's the anime-inspired and gloriously OTT cutscenes. You'd expect these to kick in just before a big boss fight or at the end of a chapter, and sometimes they do. But we're talking about the stunningly animated sequences that play when you ask the chef to very slightly enhance a dish for the customers. We never tired of seeing him theatrically unsheath a glowing knife to deal with a small helping of tuna. It makes Salt Bae look restrained. 
Dave the Diver refuses to stop surprising players, and while it's inevitable that some parts of the overall package feel more undercooked (ahem) or disposable than others, when taken as a whole, it's one of the most memorable games we've had the pleasure of losing hours (and we do mean hours) to all year. That is, as long as you can convince yourself that in Dave's wacky world it's morally OK to turn a shotgun on a jellyfish, or uppercut some mackerel with your boxing gloves when you've got sushi to serve. Hey, the restaurant business ain't easy.  

Right now you'll need a PC or Mac to play Dave the Diver (it's also perfect on Steam Deck), but a Switch version will arrive later in the year.