Can WWE 2K23 predict the WrestleMania 39 winners? We put it to the test.
The Showcase of the Immortals promises to be unforgettable. But is it unpredictable?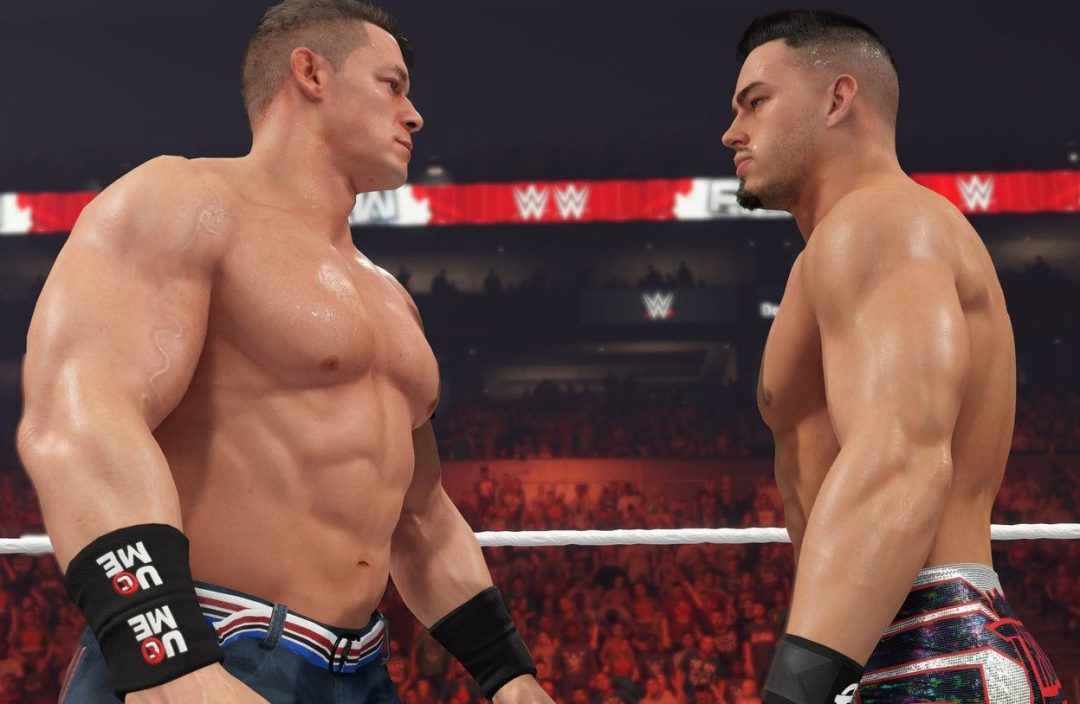 The biggest event in professional wrestling is here. On 1-2 April, WWE's WrestleMania 39 will take over the SoFi Stadium in Los Angeles for a no holds barred weekend of body slam action inside the squared circle. And we wanted to offer a few predictions for what could go down during the 'Showcase of the Immortals'. But as casual wrestling fans, we know when to sit our asses down and consult the experts. So, we booted up the new WWE 2K23 game and ran a few simulations for our 100% accurate, not at all flawed WrestleMania 39 match predictions.
Before that, though, we wondered how true to the real pro wrestling experience WWE 2K23 actually is. For some insight on that, we asked UK-based pro wrestler Natalie Sykes to rate and review a few matches. There's a key element to a match that WWE 2K23 gets spot on, says Sykes. When something is supposed to hurt, it hurts. "The 'big' moves that cause a 'stunned' response are accurate – the DDT and Canadian destroyer are 'big' moves to take, and would cause the most damage in a real match," says Sykes. "The crowd growing louder when a move hits is real. The bigger reaction after kicking out of a pin fall is also an accurate detail."
"Selling moves is pretty accurate," Sykes goes on to say, describing the art of the perfect in-ring reaction. "The pacing is quick, but there are smooth sequences here, like a real match."
Like any game, WWE 2K23 takes some liberties to find a balance between realism and playability. An 8 foot tall Homer Simpson might not appear in the ring for real, but you can play as one thanks to 2K23's Create a Superstar mode. Likewise, there are very real elements of pro wrestling that's difficult to replicate – off the cuff crowd interactions, or wrestler feuds that might be more rooted in reality than a 'scripted' storyline would suggest.
"The commentary is on point, but no ref raising the winners hand at the end? That's a must for every match," says Sykes. "The pacing of the referee counts are inaccurate. There's a long pause before any counting happens, meaning every one count would have been two if it was a real match."
In the real world, errors like a delayed count may at best be part of the story, or worse a legit botch that can derail a match. "In one match, a tag is made to their opponent under the top rope. This wouldn't be considered a legal tag in a real match," says Sykes, which is pretty fine to overlook in a video game. But in the real world, there's a WrestleMania moment on the line.
Who'll get there's this year? Let's try predict the future.
---
Dominik Mysterio vs. Rey Mysterio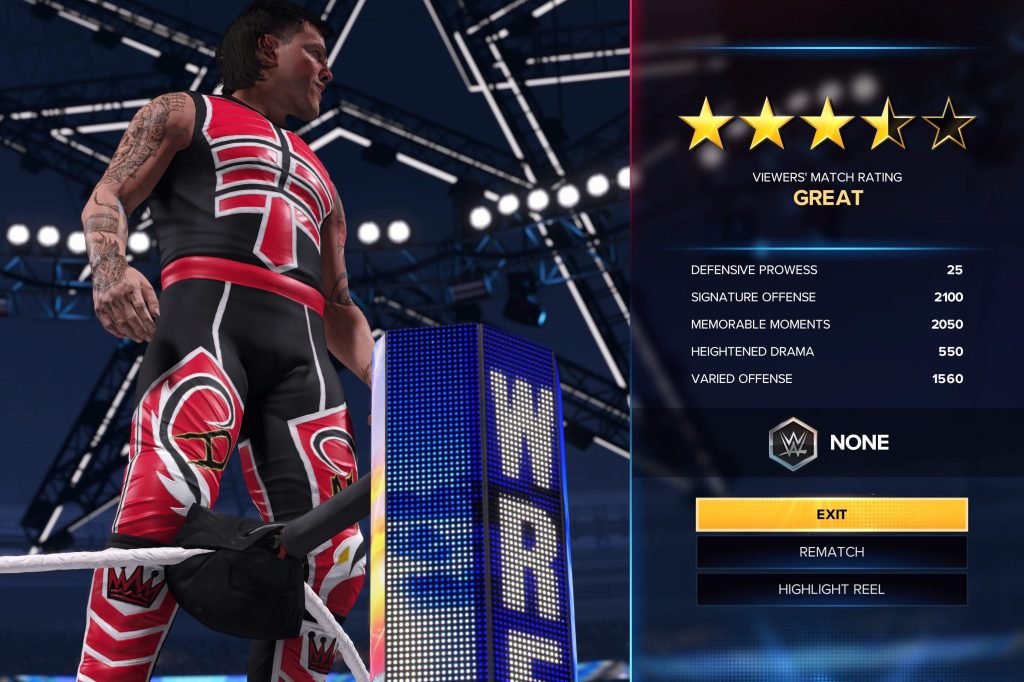 Fans of a certain era will know the name Rey Mysterio all too well. For kids of the mid-00s, this masked wrestler was pretty much the coolest guy in the world, and we're pretty sure a few bones were broken attempting his high-flying moves off the living room sofa. But just as Saturn devoured his son, Rey must do the same to his son Dominik Mysterio (but in much tighter clothing). Sadly for ol' daddy Rey, though, this story closer resembles the tale of Cronus. Eight minutes was all it took for Dominik to defeat his father, even finishing Rey off with his own finishing move, the 619. The moral of the story? Never have children.
Winner: Dominik Mysterio
---
Braun Strowman & Ricochet vs. The Street Profits vs. Alpha Academy vs. Viking Raiders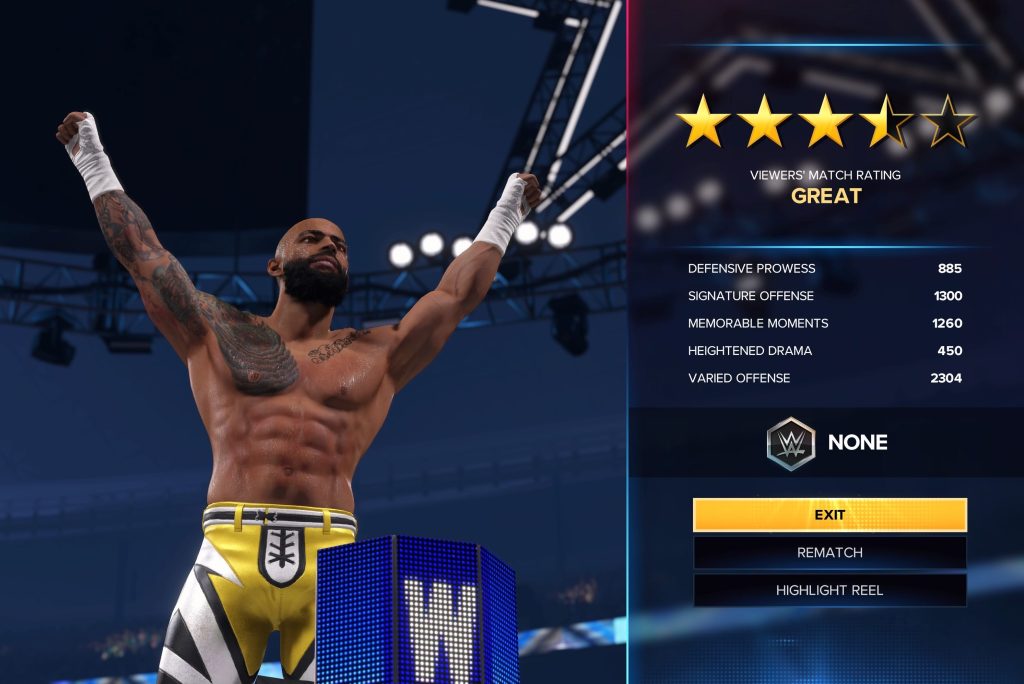 Submission moves. Chaos. A gaggle of gigantic bald men slapping other gigantic bald men in the face. This is what wrestling is all about, and that's what we got in this 8-man, 4-way tornado tag match. Don't know what that means? Essentially, it's a no holds barred bout that'll probably end in a few sore heads. Braun Strowman & Ricochet get the win in this one, a little and large tag pairing who are pretty much a jacked up wrestling version of The Two Ronnies.
Winner: Braun Strowman & Ricochet
---
Liv Morgan and Raquel Rodriguez vs. Natalya and Shotzi vs. Ronda Rousey and Shayna Bazler vs. Chelsea Green and Sonya Deville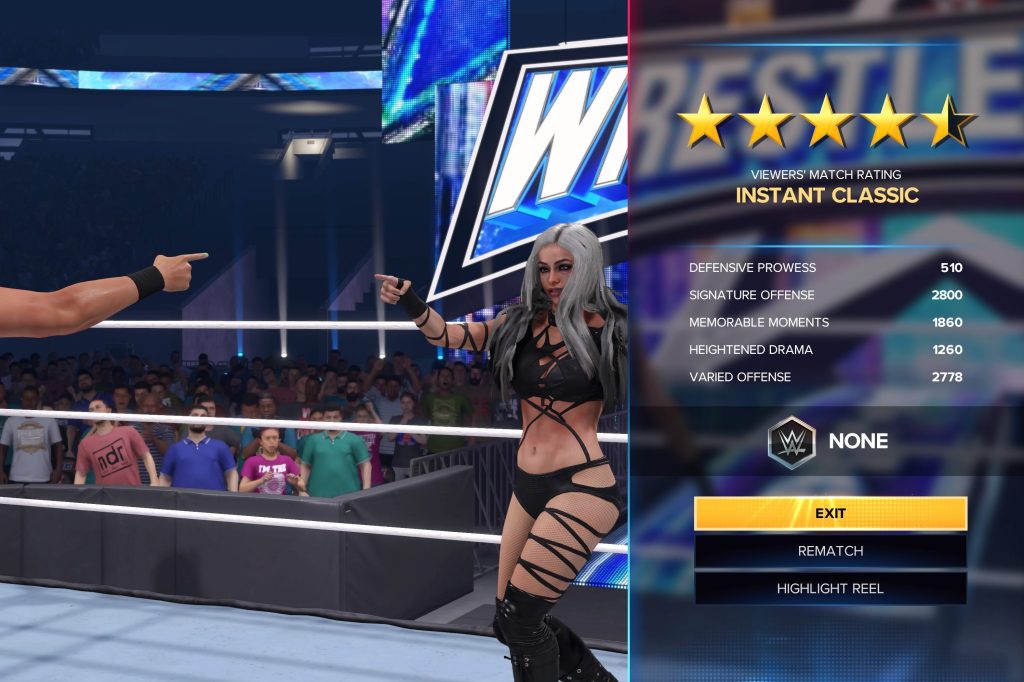 Since we recorded this match in-game, Chelsea Green and Sonya Deville have been announced so this prediction may not be entirely accurate. Unlike the others, of course. But still, this match was one of only two 'instant classics', and saw the pairing of Liv Morgan and Raquel Rodriguez take home the metaphorical gold. There are moves in here that we're pretty sure would actually kill a human being in real life. Or, at the very least, decapitate them. We can only assume the match lost half a star because neither of those things happened.
Winner: Liv Morgan and Raquel Rodriguez
---
Gunther (c) vs. Sheamus vs. Drew McIntyre – Intercontinental Championship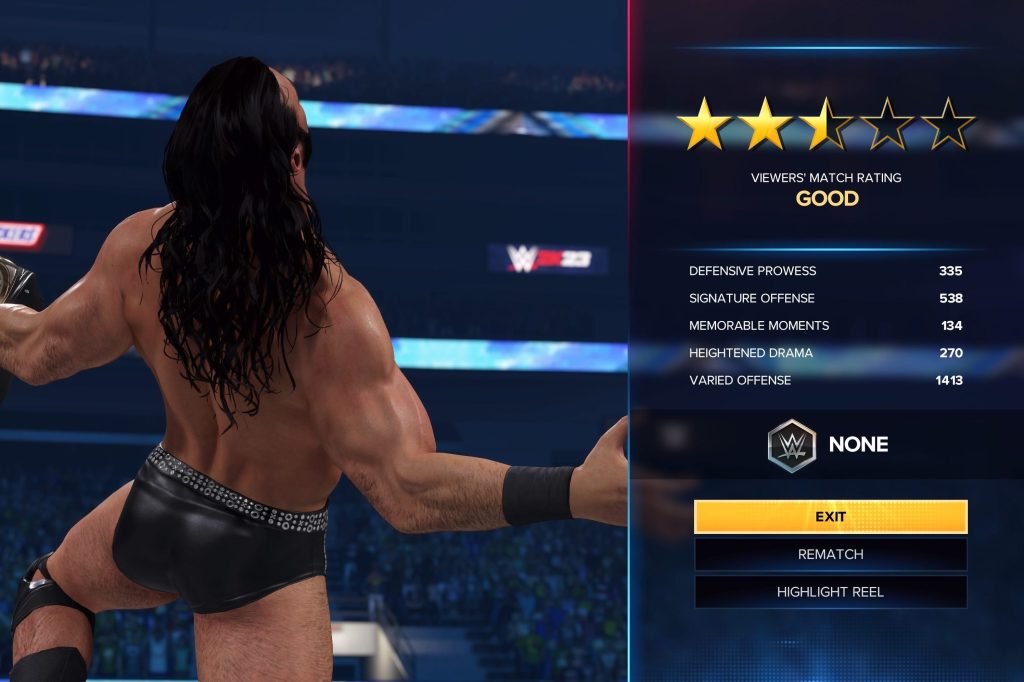 This triple threat match between Gunther, Sheamus and Drew McIntyre is essentially a decider for which national stereotype is superior. You have the Intercontinental Champion Gunther, a towering Austrian giant nicknamed 'The Ring General'. There's the flame-haired 'Celtic warrior' Sheamus, a cheeky chap with a headrattling finisher known as the brogue kick. Then, there's Drew McIntyre, a claymore-wielding Scotsman who sends wrestlers to sleep with his signature headbutt, the Glasgow kiss. And this time, it's Scotland with the winner as Drew McIntyre takes home the title thanks to a somewhat lacklustre DDT finisher. Hey, we don't make the outcome, we just predict it using the least amount of skill or knowledge possible.
Winner: Drew McIntyre
---
Edge vs. Finn Bálor – Hell in a Cell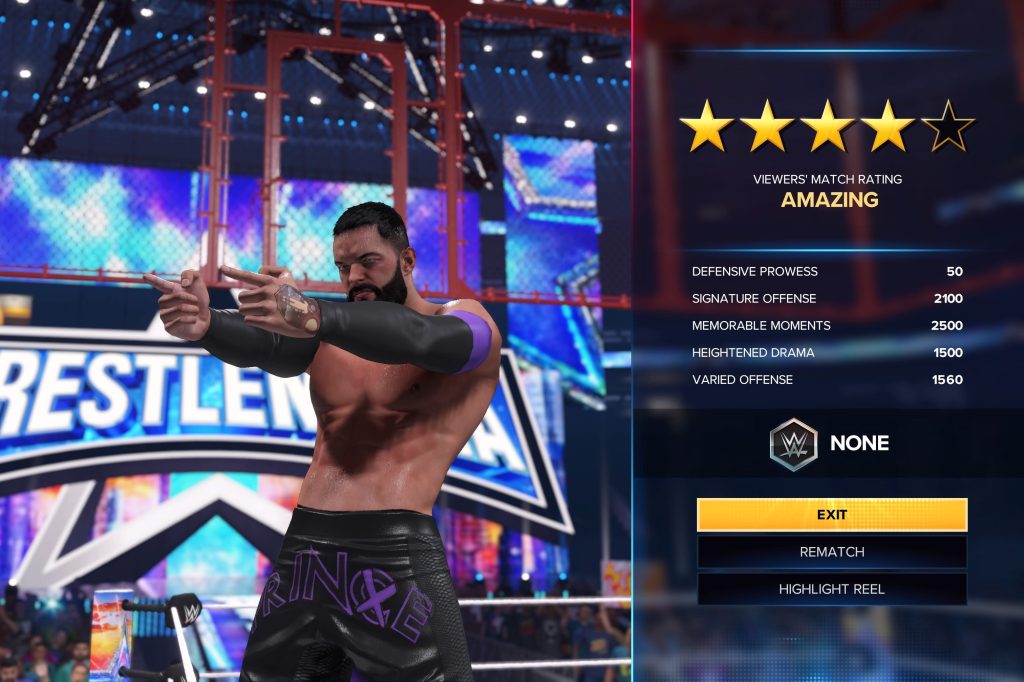 The Hell in a Cell match has long been famed for being probably the most brutal match formats ever. Wrestlers must beat down their opponent, all while locked inside a steel cube. Any and all weapons are allowed. More often than not, the fight is taken outside. Wrestlers scale the cage, reach the top, only to be thrown off it and land 20-feet below in a crumpled mess. It's a match that begs the question, how is any of this actually legal? Well, whether through legal oversight or loophole, it is.
In the virtual version of WrestleMania 39's very real match, Edge (of former Edge and Christian fame) and 'The Demon' Finn Bálor essentially commit murder on each other somehow. Grown men are clubbed in the head with baseball bats, only to get up shortly after. Bodies are slammed through tables, and Edge…doesn't quite get the Edge needed to secure the win. In the end, a sledgehammer to the back of the head made sure of that. Wow, video games really are too realistic sometimes.
Winner: Finn Bálor
---
Becky Lynch, Lita & Trish Stratus vs. Damage CTRL
This triple tag team match is WrestleMania 39's legacy moment, a slice of nostalgia where past WWE icons are given a lap of honour. This time around, it's Lita and Trish Stratus making their in-ring return, delivering the hits with Becky Lynch against the trio of Bayley, Dakota Kai and Iyo Sky – AKA, Damage CTRL.
And the team of Lynch, Lita and Stratus takes it, which might be the only result we're confident in actually seeing over the weekend. Legends returning to WWE are there for a short time (and a pay cheque), not a long time. Fans don't want nuance and a slow build of tension from this setup, they seek instant gratification, nostalgia, and the brutal reminder that every hero grows old one day.
Winner: Becky Lynch, Lita & Trish Stratus
---
Austin Theory (c) vs. John Cena – United States Championship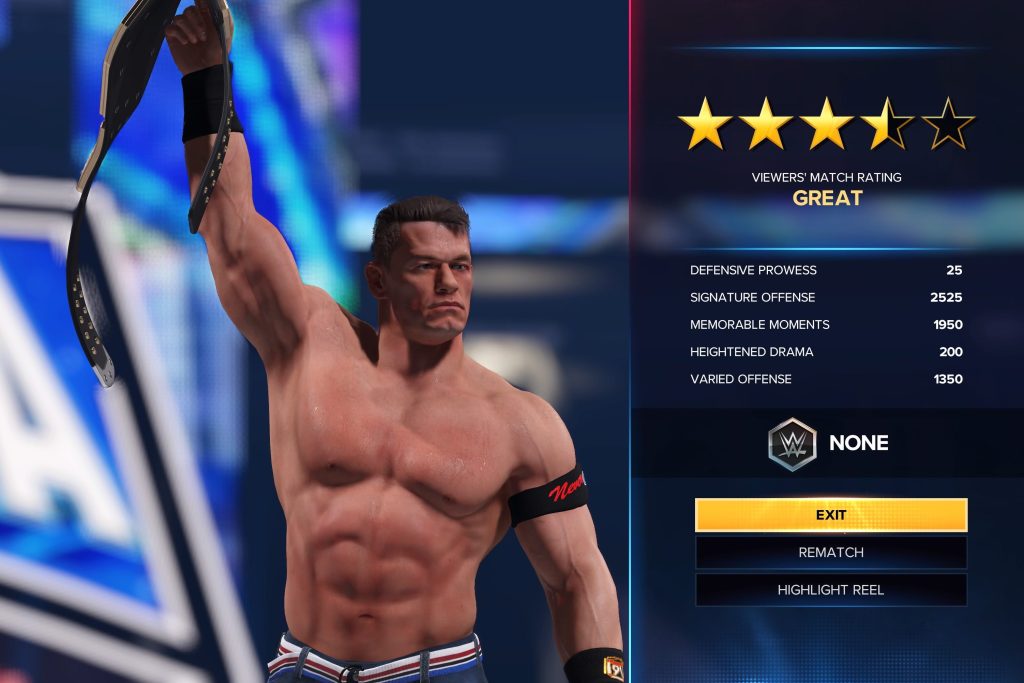 John Cena has made a name for himself outside the world of pro wrestling as a beefcaked star with a charming edge. In the world of wrestling, though, he's…well, a beefcaked star with a charming edge. It's an airtight gimmick that's seen him rise to the top in both professions. At WrestleMania 39, though, he returns to the squared circle in the hopes of shattering the dreams of a young, bucky upstart known as Austin Theory.
And Cena succeeds in under five minutes. Call it a Hollywood conspiracy, but our predication says that experience trumps youth and Cena walks away with the United States Championship.
Winner: John Cena
---
Seth Rollins vs. Logan Paul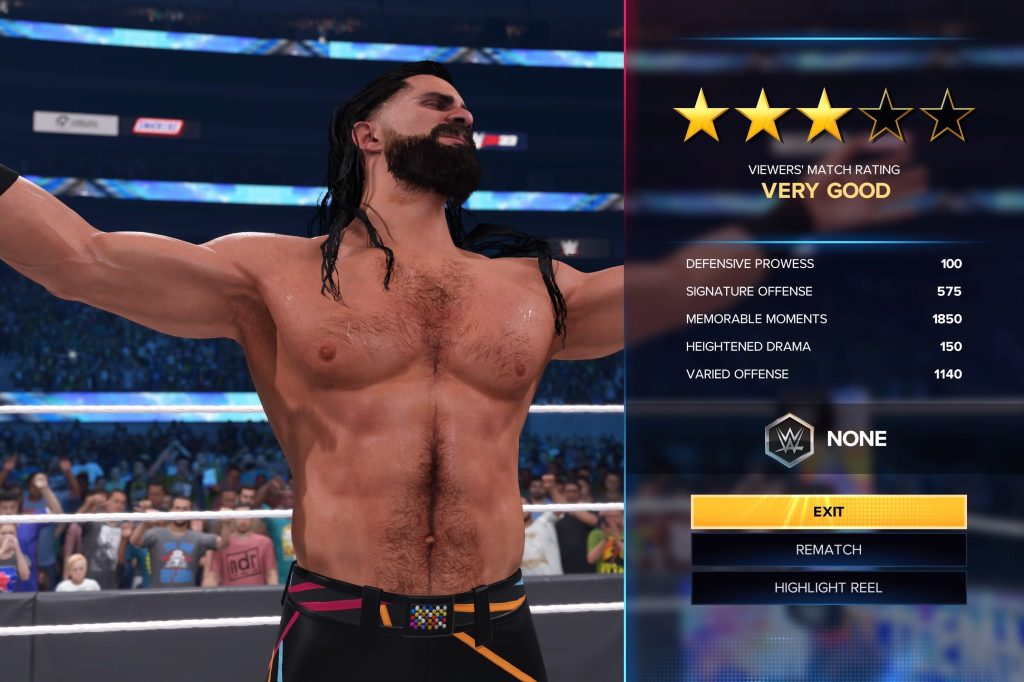 If you've been a little out the loop with the modern game, then you might be surprised to learn that everyone's favourite/hated YouTuber Logan Paul has made wrestling his newest PR-friendly plaything. But, if the sight of Logan Paul getting a huge beat down fills you with joy, then you're in luck. According to our prediction, the man, myth and maligned mouthpiece will get a good ass handing courtesy of Seth Rollins at WrestleMania 39. We'll rack that up as another L for the one-time boxer.
Winner: Seth Rollins
---
Brock Lesnar vs. Omos
Seeing the 7′ 3″ tall, 403 pound Omos face off against the legit, actual former UFC Heavyweight Champion Brock Lesnar harks back to the reason why many of us started watching wrestling in the first place. Yes, there are gripping storylines, heroes (babyfaces) and villains (heels), and enough sweat to fill a reservoir. But sometimes, you just want to see two of biggest monstrosities you've ever seen beat ten bells out of each other.
That's what we get at WrestleMania 39, but our simulation left us feeling short-changed. Seeing two men this big duke it out is like watching a fridge fight an industrial sized oven. Lesnar wins with a flurry of grounded punches delivered like a kitten attacking a catnip-laced piece of string. Next.
Winner: Brock Lesnar
---
The Usos (c) vs. Sami Zayn & Kevin Owens – Undisputed WWE Tag Team Championship
At the real WrestleMania 39, The Usos vs. Sami Zayn & Kevin Owens is one of the most hyped matches on the card, if not of the whole year. The video game loses some of the heat between these two feuding tag teams. By that I mean, 2K23 doesn't accurately portray the very real feeling that if Sami Zayn and Kevin Owens don't win in real life, there'll probably be riots across Los Angeles.
Thankfully, they do…at least in-game. Such is our need to see The Usos lose their titles, we pretty much flip the table in ecstasy when Jimmy Uso is pinned 1, 2, 3. This is the rightful reaction from a grown man playing a video game.
Winner: Sami Zayn & Kevin Owens
---
Bianca Belair (c) vs. Asuka – Raw Women's Championship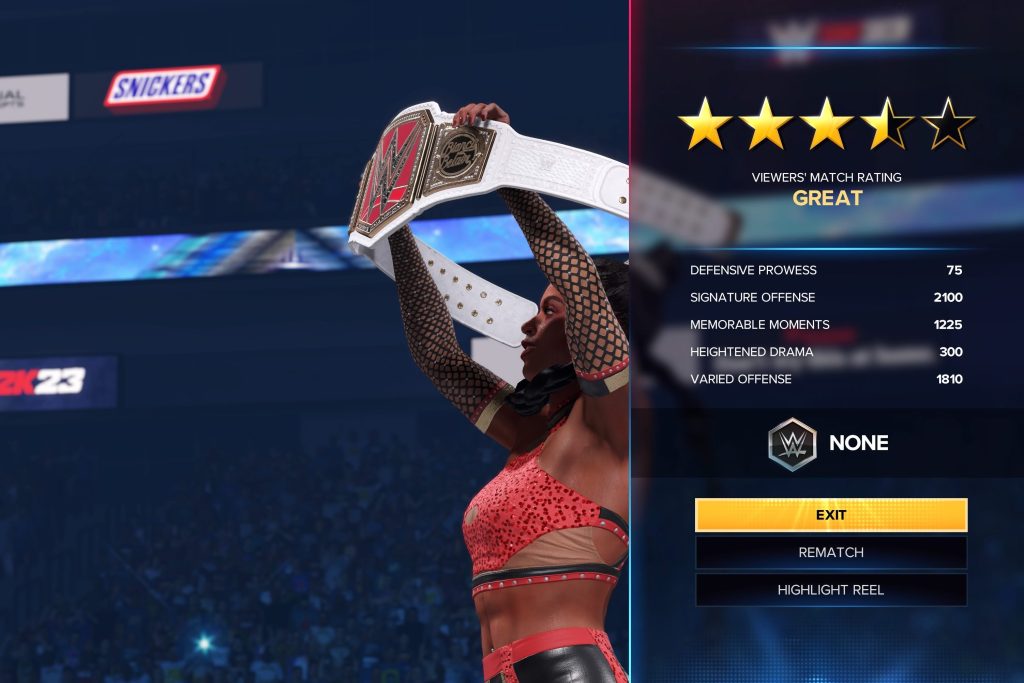 Bianca Belair can benchpress a horse and whips opponents with her floor length hair braid. Asuka spits green mist in the eyes of her enemies, blinding them before delivering a knockout knee to the face. Nobody said wrestling isn't weird, but Belair and Asuka are two of the most exciting names out there today. Not that you'd know that from an in-game match that's mostly kept in the ring and is won by Bianca Belair delivering a flying elbow from the top turnbuckle. In the past, that move would have sent crowds into a lawless frenzy. But now we have Fortnite on our phones and conspiracy theories peddled on social networks, we need a little more than that to keep our attention.
Winner: Bianca Belair
---
Charlotte Flair (c) vs. Rhea Ripley – SmackDown Women's Championship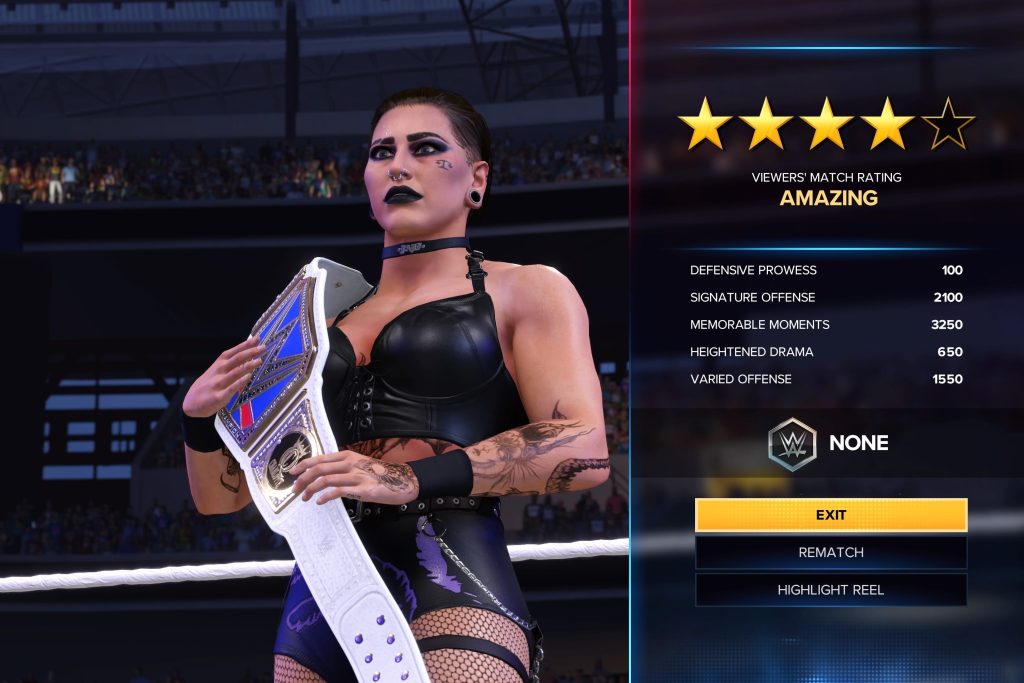 We're pretty sure Charlotte Flair and Rhea Ripley are two of the 'ardest people ever to grace this green earth. If she wasn't the daughter of WWE Hall of Famer Ric 'The Nature Boy' Flair, Charlotte Flair would be ripping up phone books and bending frying pans in half on morning TV. As for Rhea Ripley, if you ever see her fighting in the forest with a grizzly bear, help the bear!
This match could have easily gone either way. Ripley delivers clotheslines that could take the head off an Easter Island statue. Flair retaliates with a Figure 8 Leg Lock submission in the middle of the ring. Ripley wriggles out, and before long has Flair in a submission of her own. Flair taps, crowning Rhea Ripley the new SmackDown Women's Champion. Emo representation at its finest.
Winner: Rhea Ripley
---
Roman Reigns (c) vs. Cody Rhodes – Undisputed WWE Universal Championship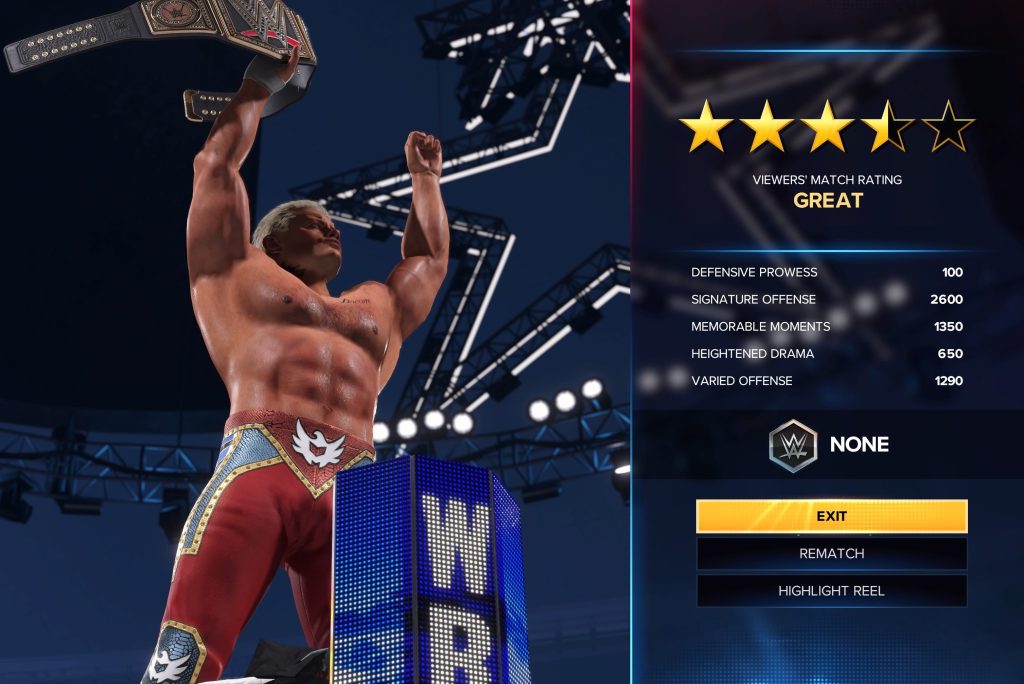 Here it is, the big one. Roman Reigns has ruled over WWE with an iron fist for a few years now, biding his time in the WWE before a likely career pivot to 'Hollywood star'. His cousin is Dwayne 'The Rock' Johnson, so expect Reigns to follow a similar breakout action lead > unlikely comedic role > disappointing superhero film trajectory. He faces 'The American Nightmare' Cody Rhodes, son of Dusty Rhodes and heir to the famed Rhodes wrestling dynasty. Consider this match the ultimate battle of the wrestling nepotism babies, but who will win?
We have a new champ, folks. Or, at least, a new champ in our 2K23 game save. Rhodes ends Roman's reign with his 'cross rhodes' finisher in a middling, 8-minute match that will likely be much better when being performed by actual human beings, rather than a PS5 simulation.
Winner: Cody Rhodes