2016 Apple MacBook Pro 15in with Touch Bar review
The ultimate MacBook is a flawed masterpiece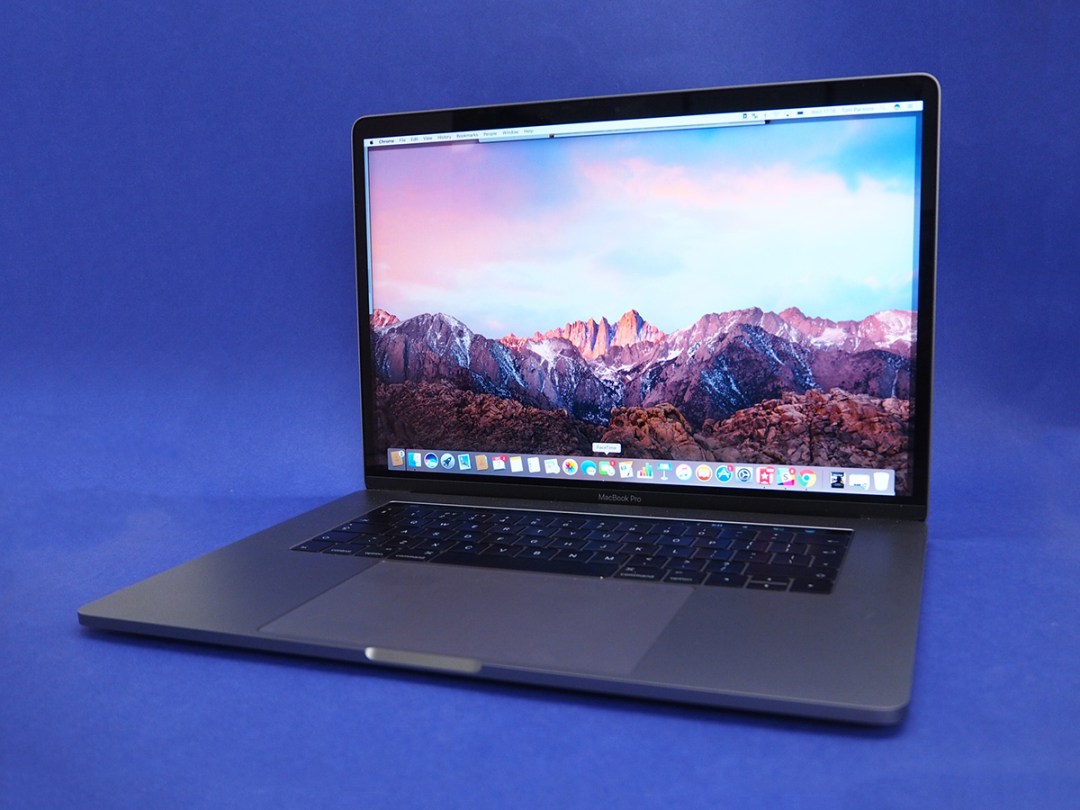 To Touch Bar or not to Touch Bar; that is the question. At least, it was the question with the 13in MacBook Pro.
The answer, somewhat surprisingly, was 'not to Touch Bar', as its overall usefulness is still a bit questionable and the Touch Bar version of the Pro doesn't really justify its price premium in other areas of its spec list.
But this is a different story. Yes, the 15in MacBook Pro is astronomically expensive and yes, the Touch Bar contributes to that price, but at the same time there's no doubting the step-up in performance over its smaller siblings. This is a very pricey machine, but it's also a powerhouse, and one that's an utter delight to use.
But that's not to say it's perfect…
Apple MacBook Pro 15in with Touch Bar design: the smallest big laptop in town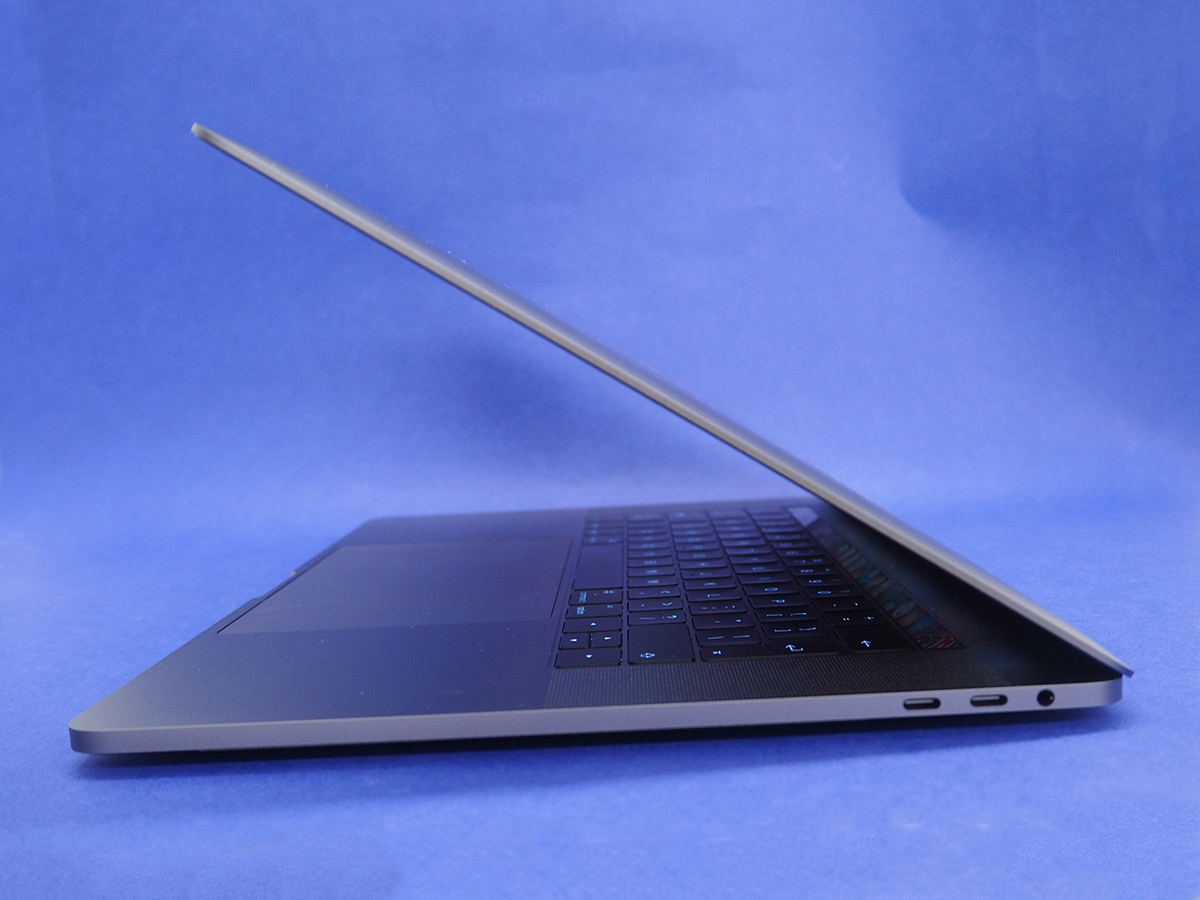 It's easy to grasp the size of the 13in MacBook Pro because it's smaller than a MacBook Air, which is to say it's very small indeed. With the 15in version it's a bit trickier but suffice to say it's about as compact as you can imagine a laptop being while also having a 15in screen.
Compared to the model it replaces this Pro is 14% lighter, half a pound lighter and occupies about 20% less volume. Those numbers don't really do it justice, though – while not as shockingly small as the 13in Pros, the 15in model is a beautiful, classy thing to behold, particularly in the "Space Grey" finish. Even the move from a glowing Apple logo on the lid to an unpowered, shiny one – which sounds like a step backwards – enhances the grown-up look of the thing.
New MacBook Pro 15in keyboard and Touch Bar: a dream to use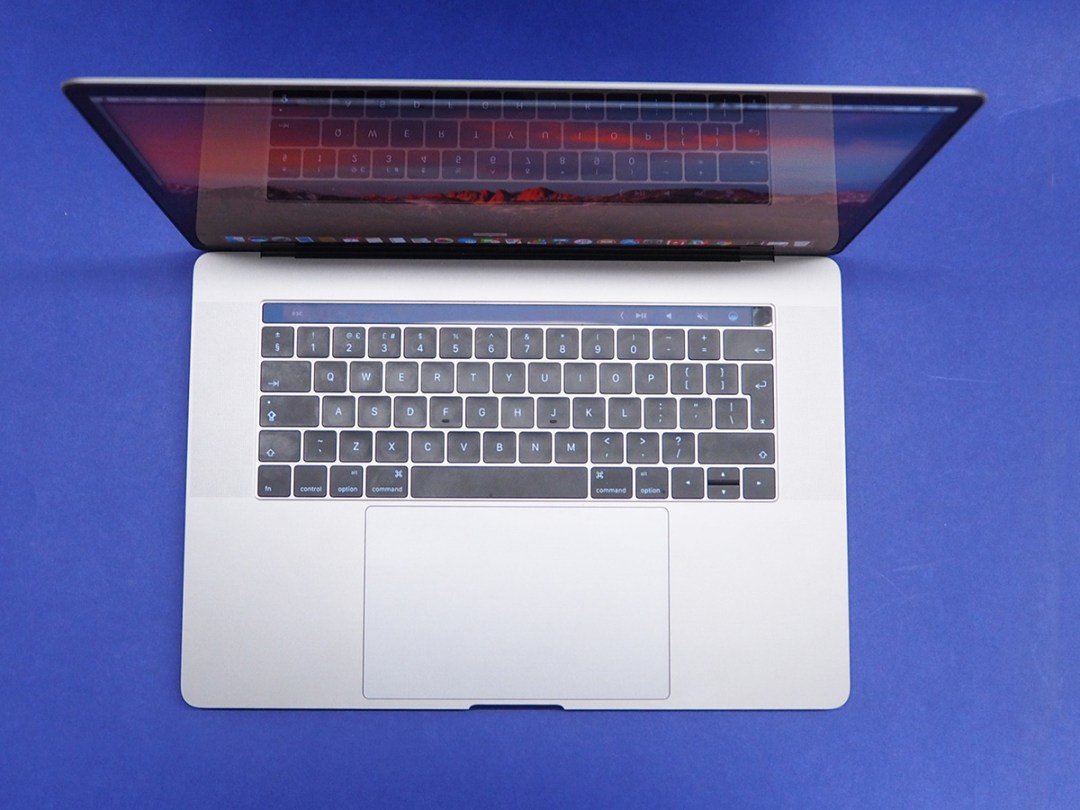 Open it up and the first thing you notice is the trackpad. It's absolutely huge. It's the sort of size you'd expect a full-sized hand scanner to be. In fact, you can fit an entire iPhone 7 Plus in its outline and still have about an inch of spare space on the bottom edge. At about 7.3in on the diagonal, it's not far off the size of the iPad Mini's screen. That's insanely big for a trackpad.
The reason for that huge surface area is that it makes gesture controls a far more viable method of operating your MacBook, and as long as you take some time to learn the gestures and practice them in the early days, you'll find they become second-nature and extremely useful.
If anything this is an even more delightful typing experience than that offered by the 13in model, despite the keyboards being identical. That's because on the 15in model your palms rest nicely on the areas to the left and right of the trackpad, rather than straddle the edges of the machine. That little bit of extra comfort goes a long way, although do be prepared to have to deal with sweaty palm prints.
I know that some people struggle with the clackiness and lack of travel in this second-generation butterfly keyboard, but I firmly believe it's the nicest keyboard available anywhere.
There's the same, minimal amount of travel here as there is with the 12in MacBook, which was the first laptop to get Apple's butterfly keys, but improvements to the design make it feel as though there's more and, combined with that clackiness, makes typing fabulously satisfying. Typos are reduced by the size given to each key and the stability with which each one depresses. I've also encountered a good number of people with a natural typing style that produces almost no noise from the keyboard. I'm just not that type of typist – and I don't want to be. Keep it clacky, folks.
I've also grown quite accustomed to the minimal feedback offered by the trackpad at this point, so that it now feels pretty natural to me. I'd say it could still do with a smidge more 'travel' (it wouldn't be actual travel because the feedback is provided by haptics rather than actual movement), but it's no longer something that bothers me as it did when I first got the MacBook Pro.
MacBook Pro 2016 screen and speakers: sharper, brighter, louder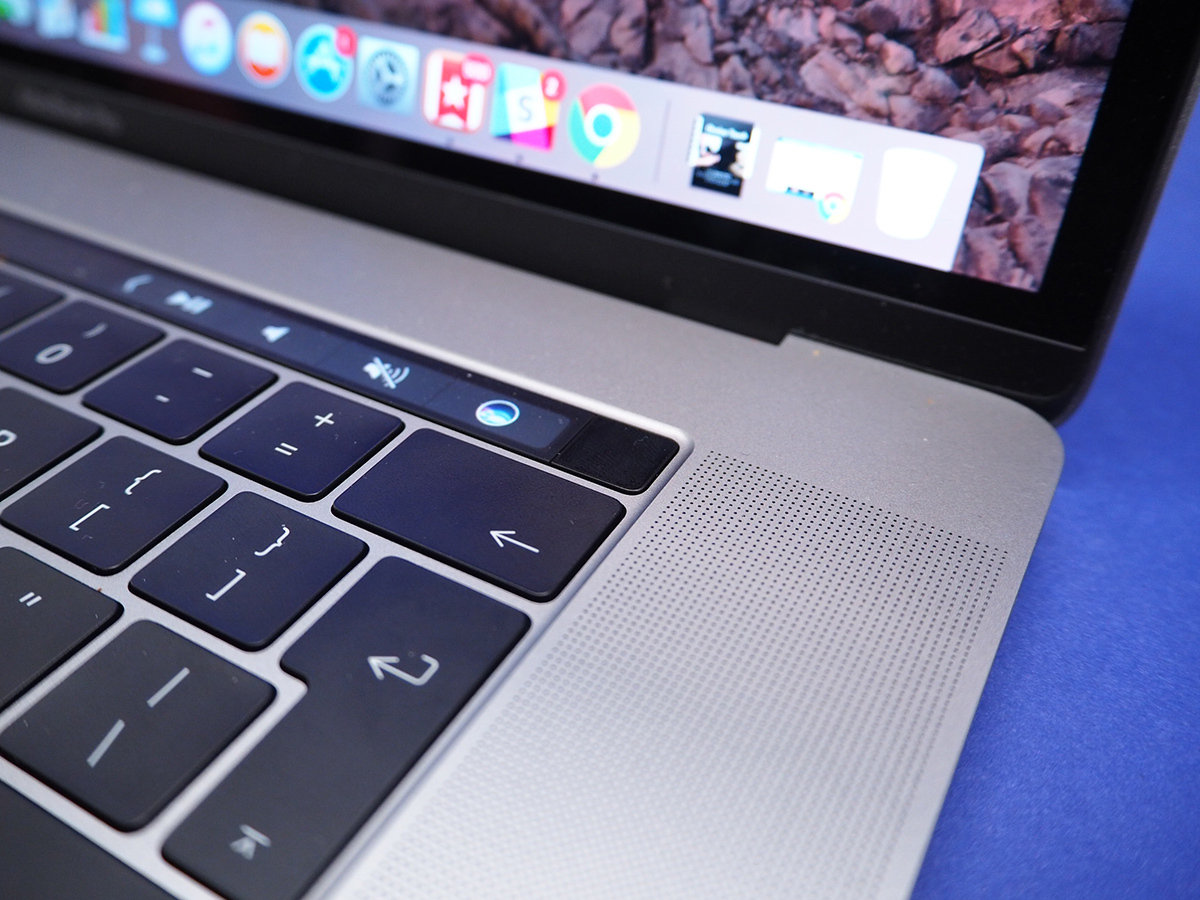 The screen is also utterly fabulous. The resolution has been bumped up to 2880×1800 to match the extra couple of inches this display has over that of the 13in Pro, and the result is a supremely sharp image.
It's also been given the same turbo boost in the brightness, contrast and colour departments. The previous Pro's Retina display was a thing of beauty, and this is even more so. Photos and videos pop like never before, but at the same time the balance is natural and refined.
On top of that, the entire speaker system has been redesigned, and this 15in model benefits from woofers and tweeters that project out of the machine as directly as possible. This is genuine stereo sound that can go loud and project clearly, although a good Bluetooth speaker or headphones will still sound far better.
Apple MacBook Pro 2016 Touch Bar and Touch ID: huge potential that still needs tapping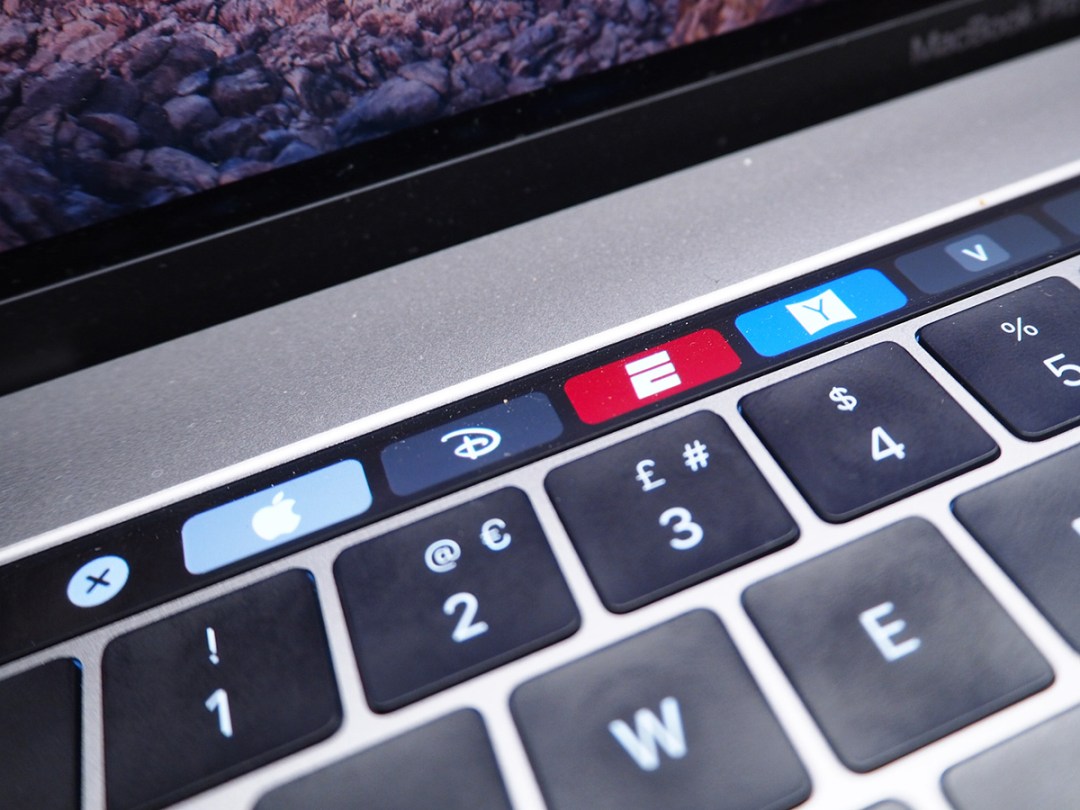 You must by now be aware of the new MacBook Pro's Touch Bar but to recap; is a long, thin OLED panel that replaces the row of function buttons that you'd find on any other MacBook. Instead, you get context-sensitive controls that change depending on what you're currently doing onscreen.
I've already gone into lots of detail on the Touch Bar in my review of the 13in model, so I'm not going to bang on about it for too long here. Instead, here's the short version: it's a beautiful, sharp and colourful thing, but one that isn't yet terrifically useful.
That's partly because there aren't yet that many apps that support the Touch Bar (which also means you're not generally looking in that area for a shortcut anyway), and partly because a lot of power users have already got their shortcuts ingrained in their muscle memory.
I'm fairly sure that the Touch Bar will become brilliant, but it's not there yet and so isn't a reason to buy the 15in MacBook Pro. But it isn't a reason not to, either.
Of more unequivocal success is the Touch ID sensor that sits to the right of the Touch Bar. This allows you to log in to your Mac instantly and make quick, secure payments, and is at its most useful if you share your Pro with other people as switching users involves just a momentary tap on the sensor.
Apple MacBook Pro 2016 power: loads of it, but not so much battery life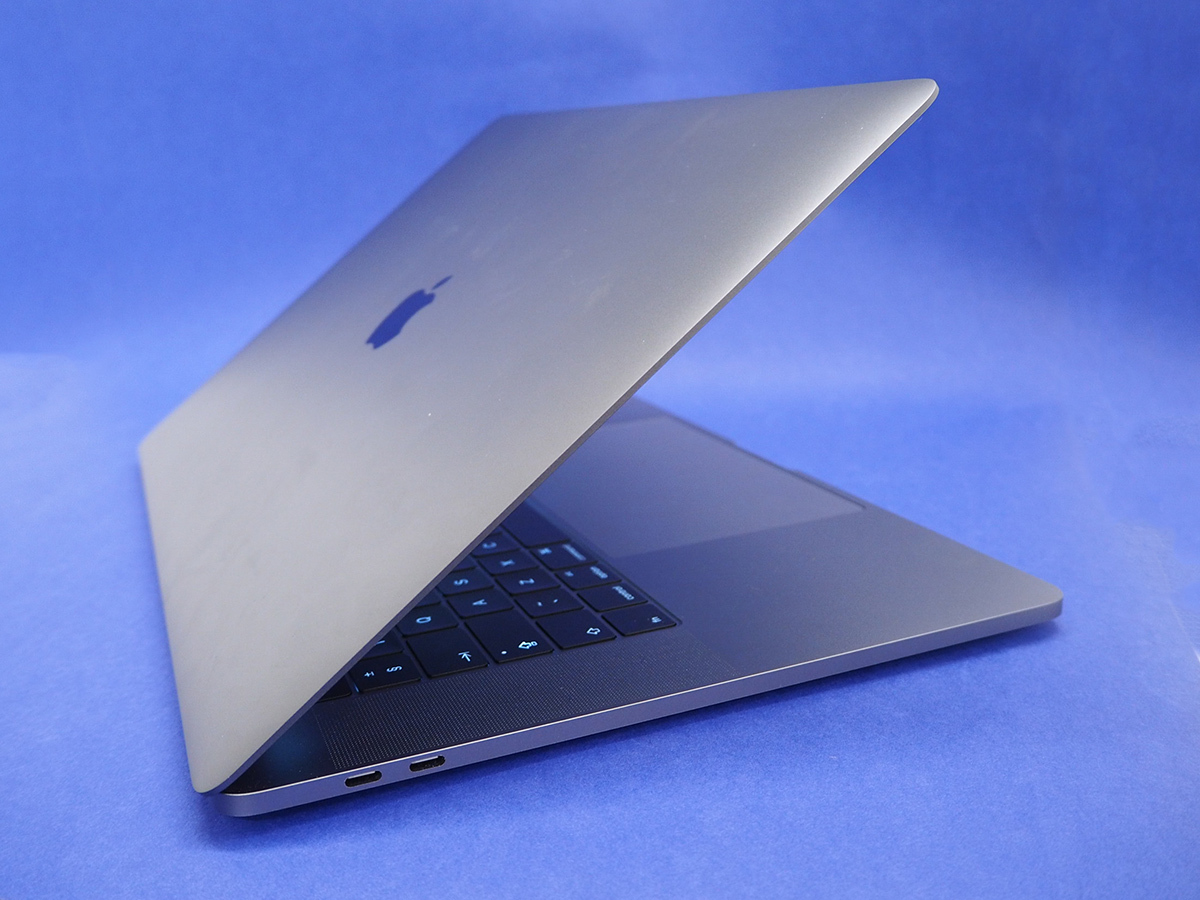 The 15in Pro has a huge performance advantage over the 13in models in the form of dedicated graphics cards on top of the integrated graphics of the Intel processors.
Compared to the previous graphics card-toting version of the 15in MacBook Pro, this new model is 130% faster. Consider that that boost has gone hand-in-hand with the rather drastic weight loss and it's hard not to be impressed.
And when you compare the performance of the 15in MacBook Pro to its 13in siblings the upgrade is significant, particularly when it comes to intensive 3D tasks and gaming. Average frame rates are routinely 15fps over the same game played on the smaller device, and in many cases that's the difference between a smooth and consistent experience and something that's bordering on the unplayable.
That's not to say the MacBook Pro is really a games machine. You're still going to be playing games at resolutions far under what the screen is capable of. Besides, Apple still lags miles behind when it comes to the number of serious games that it can play, with very few of this year's AAA titles having Mac support. If you want gaming, you want a gaming PC, but you probably already knew that.
If you want even more power you can, of course, go crazy with the options list. The standard 2.6GHz Intel i7 can be swapped for a 2.9GHz version, and the 2GB Radeon Pro 450 can pumped up to a 4GB Radeon Pro 460. You can get a higher capacity SSD while you're at it as well. The prices for these upgrades are, however, as high as we've come to expect from Apple.
What's really disappointing is that despite switching to newer and more efficient components, the Touch Bar-toting MacBook Pros aren't great in the battery department. Sure, you might well get 10 hours of iTunes video if you're very careful with your settings, but in real-life, day-to-day use I've been getting under six hours from a fully charged battery, and that's with no gaming, video production, sound editing or anything else I'd consider to be particularly strenuous for a modern laptop.
How much of a problem is that? Honestly, that's for you to decide. I suspect that for many people who buy the 15in version of the MacBook Pro portability is an added bonus that's actually taken advantage of fairly infrequently. My guess is that these are sound or video producers, photographers and editors, and that most of their work is done at a desk or in a studio, with only occasional bouts of lap- or cafe-based computing.
I could be wrong, but the long and short of it is this: if you expect or need a laptop to last all day without a power socket, the new MacBook Pro is not for you. At least the Touch Bar version isn't – I did regularly get eight hours of use out of the entry-level 13in MacBook Pro when I had that for a couple of weeks last month.
Apple MacBook Pro 2016 15in connections: USB-C or bust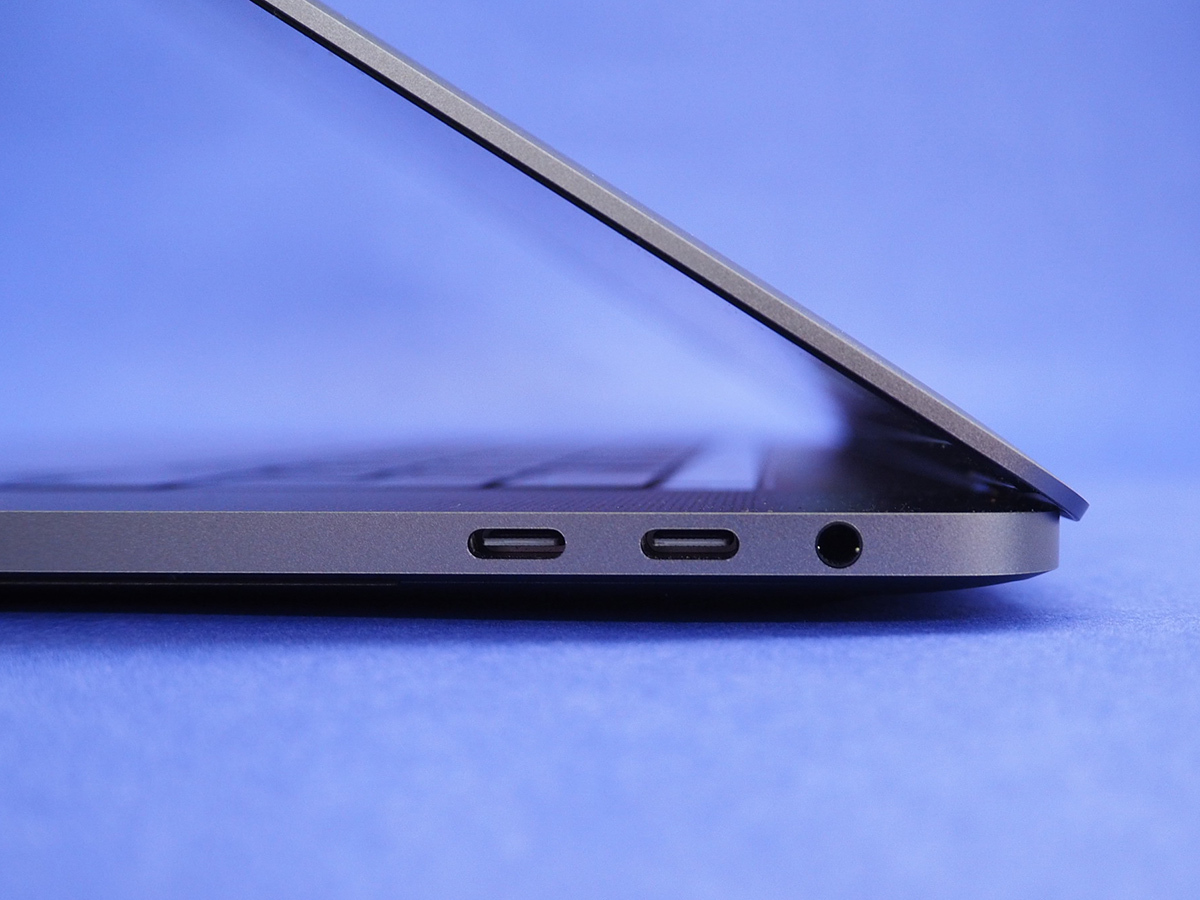 The connection controversy continues, of course. The new MacBook Pros have only two different types of port: headphone and Thunderbolt 3. Luckily, the Thunderbolt 3 ports, of which this 15in Pro has four, also double-up as USB-C connectors, so they're certainly not Apple-specific. But it's also fair to say that USB-C is quite a long way from being ubiquitous, and until it is you're going to need adapters. A lot of adapters.
Ok, so maybe not "a lot", but a standard USB-C to USB adapter is certainly a must-have right now, and an SD card adapter will be crucial for almost anyone who regularly uses a camera. You might want to chuck in a Display Port adapter while you're at it.
That probably sounds like a pain in the backside, but there are also positives here. For a start, each of the USB-C ports can be used for almost any type of connection, from an external hard drive to a monitor or power. That's right; you can plug your power cable into whichever of the ports is closest to the socket. The lack of options does also force you into thinking of other, more clever ways to make your connection, and while that's by no means always ideal (or even possible), since using the new MacBook Pros I've been pushed to using internet transfers and AirDrop a whole load more, and that's actually not a bad thing.
I'm not saying that there aren't moments of connection irritation in a MacBook Pro life, but I am saying that those will be gone once we get USB-C ubiquity, and Apple's decision to force the issue has brought that ubiquity forward. If you're not prepared to deal with occasional inconvenience in the meantime, that's cool – just don't buy a MacBook Pro right now.
New Apple MacBook Pro 15in verdict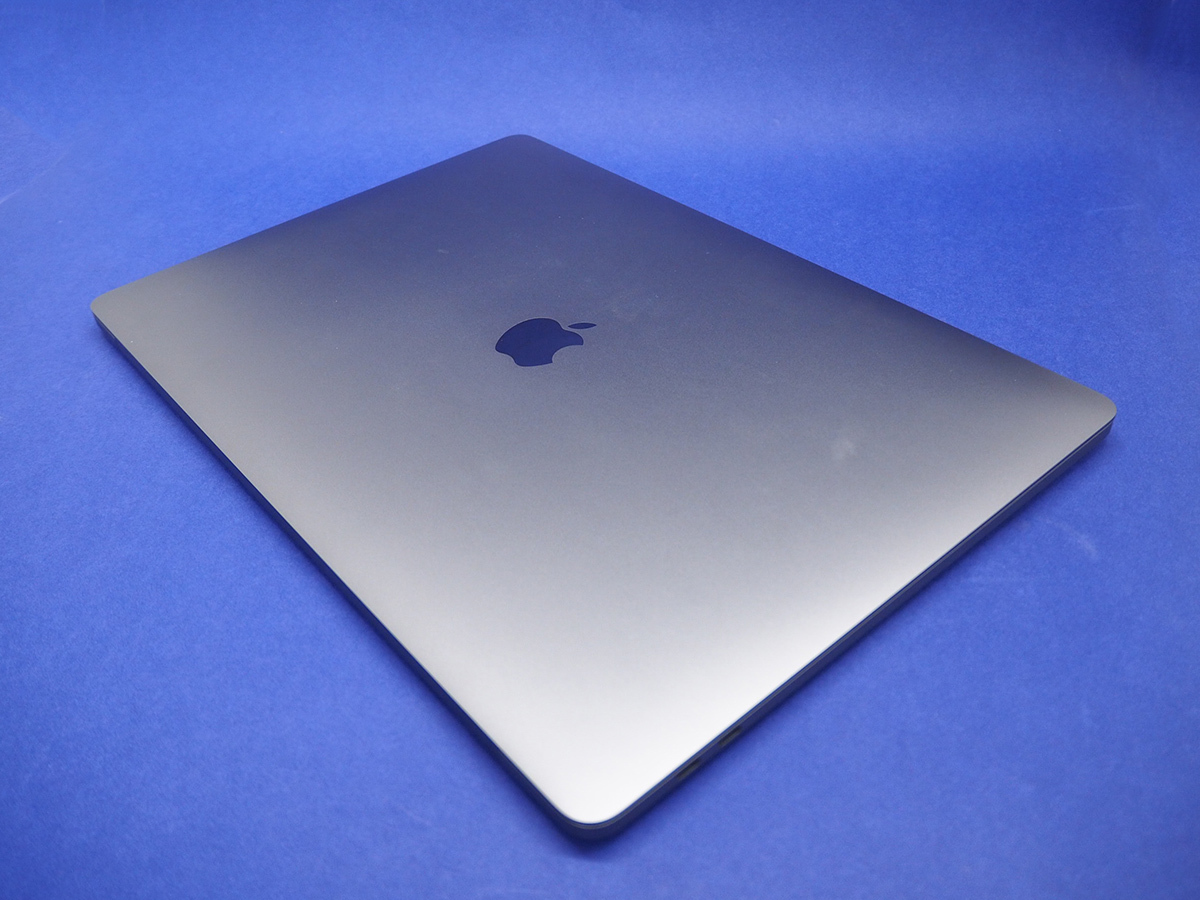 There's no denying that the 15in MacBook Pro is a flawed device. Its battery life is much weaker than expected, its choice of connections means you need to buy adapters, and its headline-grabbing new Touch Bar just isn't that useful right now.
Yet despite all that, I absolutely love it.
It's a total joy to work on thanks to that keyboard and trackpad, everything you do looks amazing thanks to that gorgeous display, and there's enough power for almost any application – all in a chassis that's very portable considering the screen size.
Those flaws (particularly the battery life) do hold it back from a five-star rating, but if you're happy to work around them and have very deep pockets indeed, you should be very tempted indeed.
Stuff Says…
It's more flawed than you might expect, but the 15in Pro is still a magnificent thing
Good Stuff
A fantastic balance of power and form
So nice to type on
Brilliant, bright, colourful screen
Bad Stuff
Very expensive
Disappointing battery life
Touch Bar isn't yet particularly useful