Acer Predator Triton 700 review
This super-slim gaming laptop has a heart of glass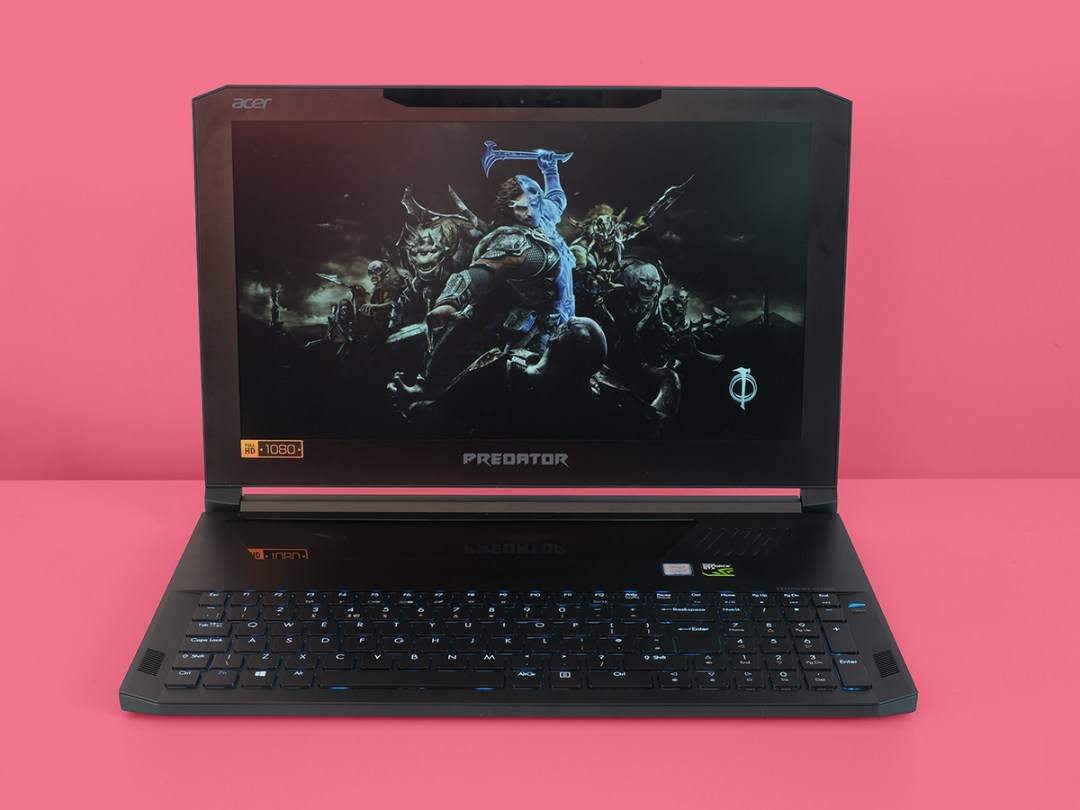 If Acer's Predator Triton 700 was a car, instead of a gaming laptop, it'd be the kind that would get shown off at an auto show as a concept. It'd make the audience go "oooh". And then you'd never see it again.
But you can actually buy the Triton 700 in actual shops. With real, actual money. Somehow, a daring concept design has made it into the mainstream.
Well, as mainstream as a wallet-busting, £2339 monster of a machine that's frankly a bit weird and at times uncomfortable to use, gets.
Still, you can't help but be impressed by a laptop that squeezes an extremely powerful Nvidia GTX 1080 graphics card into a case that's barely 20mm thick.
ACER TRITON 700 DESIGN & BUILD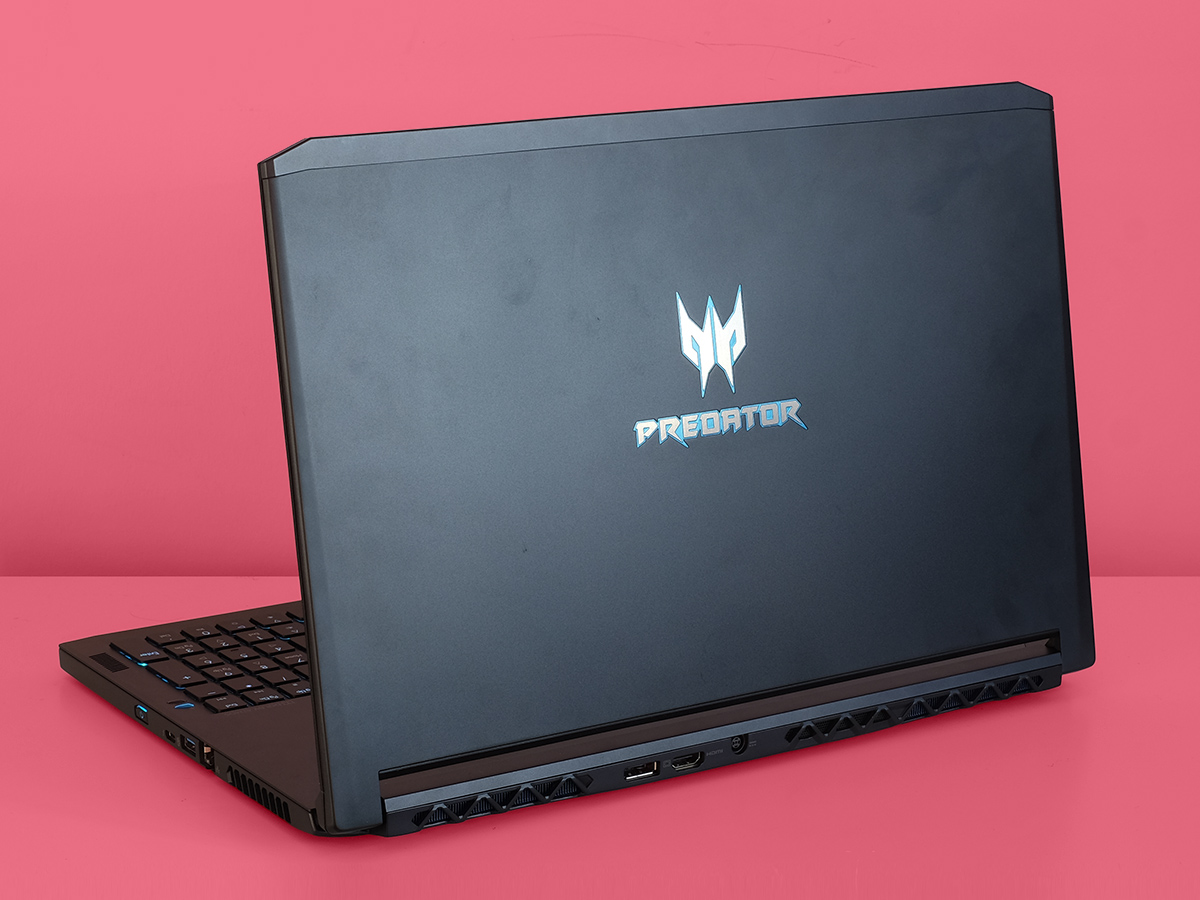 Some might ask: why does this thing even exist? It looks a bit like a Mr Potato Head after a toddler has jumbled up its facial features. First off, it's because Acer can. Until Nvidia came up with its new Max-Q graphics cards, you'd need a heatsink the size of your first to keep so much gaming power cool.
The Triton 700 also exists because Asus came up with something similar in the Zephyrus GX501. These days Acer and Asus are like siblings who just can't stand to be outdone by each other.
Backstory out of the way, let's get to grips with what is actually going on here. Unlike every laptop you've owned, the Acer Predator Triton 700's keyboard sits at the front, so there's no wrist rest as such. Plonk it down on the edge of a table and you're not going to have a great time. Lay a mouse mat out in front of it like a red carpet, and the ergonomics improve.
You have to plan ahead as to where you'll be playing, but the level of portability the Triton 700 provides, considering its raw power, is brilliant. It's just 18.5mm thick and weighs 2.4kg. Sure, it's no 12in MacBook, but just look at the competition. The HP Omen X is a beast for games but weighs 4.85kg and is twice as thick. Even the MacBook Pro 15 isn't that much slimmer at 15.5mm.
Suddenly, dealing with a weird keyboard doesn't sound so bad if you're not going to be leaving your laptop at home all the time.
The Triton 700's build is great too. Its all-aluminium, aside from a plate of glass above the keyboard.
ACER TRITON 700 Trackpad & keyboard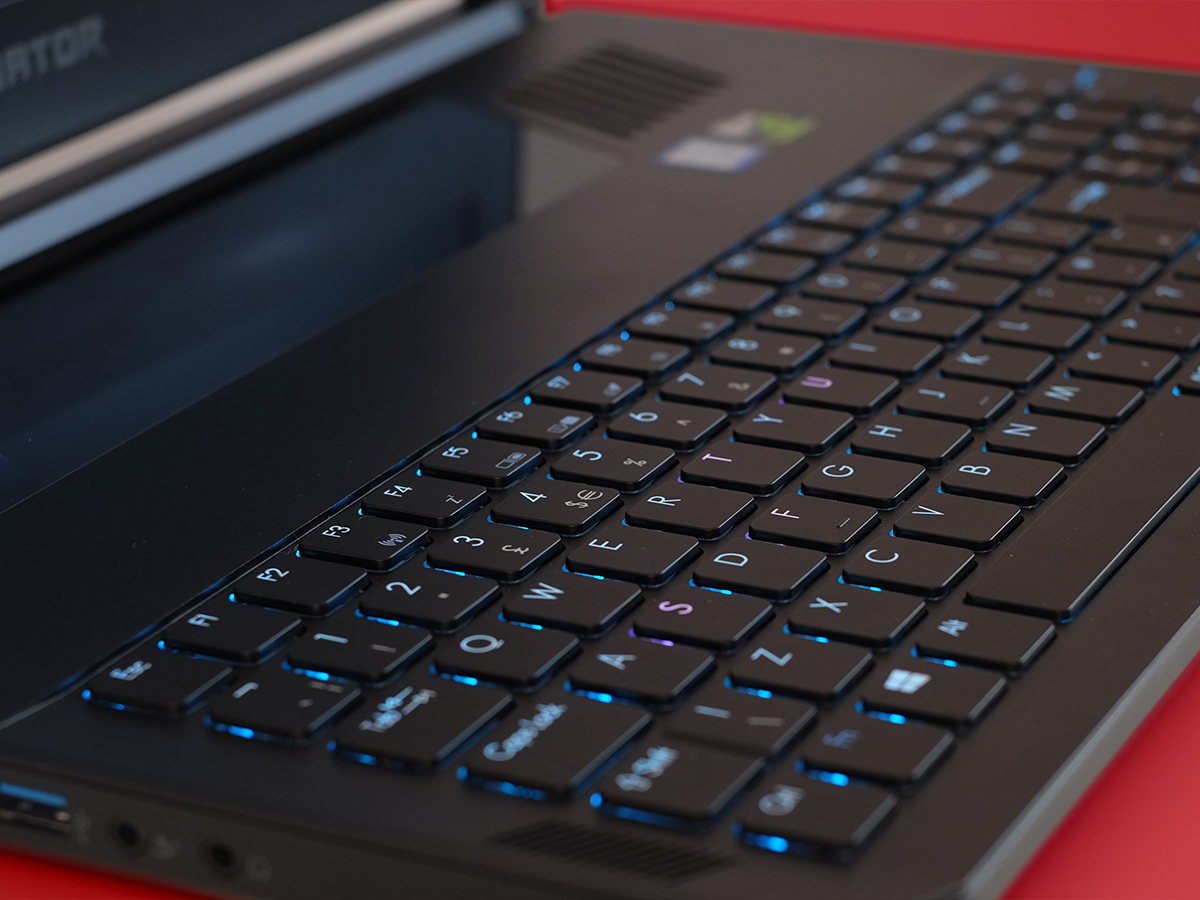 The graphics card lives under this glass, and it also doubles as the strangest laptop trackpad you've ever used. Aside from a few inches to its left, the entire glass surface acts as a mouse control. Using it makes you look like a DJ: one hand on the decks, one hand twiddling the knobs.
Really, though, this isn't ideal. The Triton 700 is clearly made to be used with a mouse. Beyond the awkwardness of the layout, the glass is like that of a tablet touchscreen rather than textured glass of a high-quality trackpad. It's fine for the odd swipe, but trying to drag and drop a file will only result in swearing. And possibly firing off a completely different Windows 10 gesture you didn't even know existed.
The rival Asus Zephyrus GX501 gets around this issue by squeezing-in a little trackpad to the right of the keyboard, and in the process sacrificing the number pad. It's more practical, but we frankly wouldn't want to use that either for a long session, and you have to admit the Triton 700's base looks far better than Asus's.
Case closed: use a mouse, butif you really want to use the laptop with zero peripherals, the Asus Zephyrus makes this easier.
The Triton 700 also has a highly unusual keyboard. It's mechanical, meaning each key has its own switch, rather than using a membrane of sensors. Initially, it feels a little odd. There's a very definite click half-way through the depress. However, after a few hours' typing you realise it is a lot like a miniaturised version of the Cherry keyboards gamers and typing purists are mad for.
Like other parts of the Triton 700, it's strange and kinda great at the same time. Each key gets its own backlight too. You can change the colour per key, if you like.
ACER TRITON 700 DISPLAY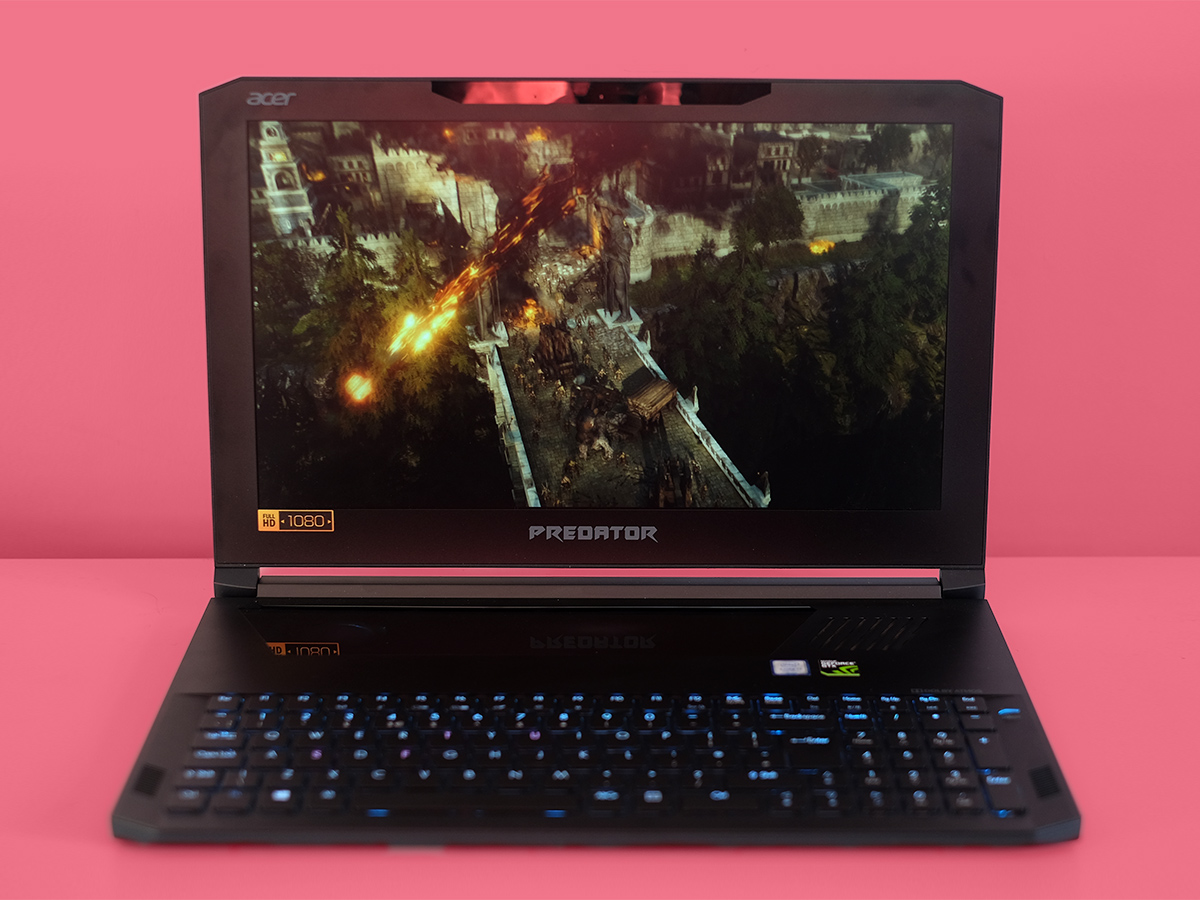 Considering the Triton 700 looks like something you might see on Black Mirror, the screen is relatively conventional. It's a 15.6in, matt finish IPS LCD panel with a 1080p resolution.
Unlike so many new laptops, it doesn't have an ultra-slim surround, either. There's a good inch or so of border to each side, which is something we'd like to see Acer trim down if it sells enough of these to warrant a second version.
Colour and contrast are very good, but you don't get the extreme vividness of a true wide-gamut display. There's no HDR on-board here, either.
Some of you may be asking: where's our 4K screen? Fair enough. However, it's worth noting that the GTX 1080 Max Q is really closer to the standard GTX 1070 in performance, and 4K would be asking a lot. Modern games just wouldn't be able to cut it at smooth frame rates.
On the other hand, Nvidia's G-sync adaptive refresh rate means the fps can take a dip and you'll barely notice.
ACER TRITON 700 PERFORMANCE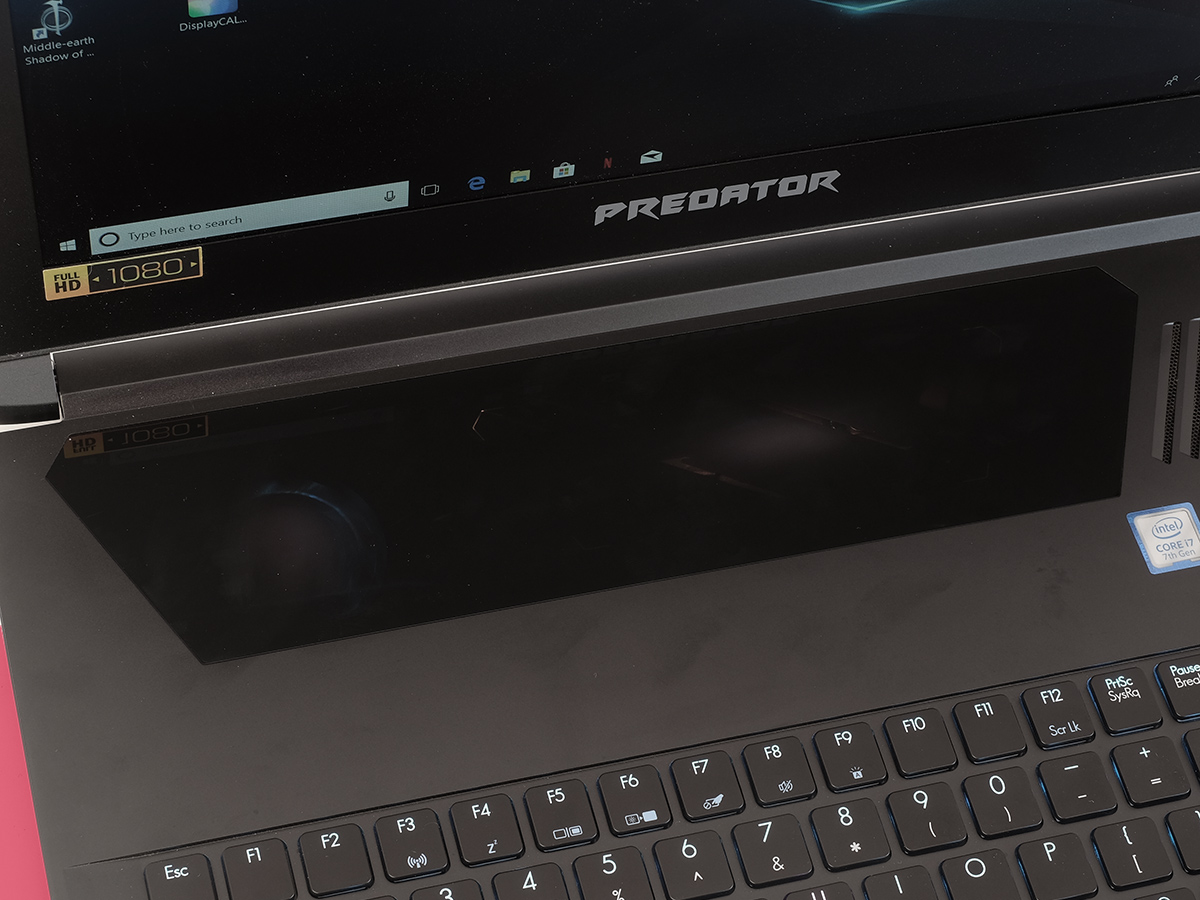 Next question: What's all this Max Q nonsense about? Nvidia came up with Max Q cards to let laptop-makers create high performance gaming machines that aren't so big and heavy that you can't even face moving them between rooms.
These cards are much quieter and create less heat than the full-fat desktop versions, while still providing much better performance than a traditional mobile chip. A GTX 1060 was about the traditional limit if you wanted to put a "normal" Nvidia graphics card into a laptop, without giving it a series of double chins to deal with all the heat.
To put this to the test, we tried Middle Earth: Shadow of War up against a £1500 Asus Strix laptop with a GTX 1060. At 1080p, with the graphics maxed-out to the "Ultra" setting, the Strix manages an average of 52fps. We'd take that. Not bad. However, the Triton 700, which is thinner and lighter, averages 82fps. Even framerate-obsessed nerds can't complain about this speed, and it's not that far off Nvidia's claim of 1.7x improvement over a GTX 1060.
Sure, with a desktop PC and GTX 1080 you'd be looking at around 100fps. But have you seen how thin this thing is?
You get this performance when the Triton 700 is plugged-in. Running off the battery, the frame rate plummets from 82fps to 18fps. The GTX 1080 may not check out completely, but you need to be plugged-in to get the real deal.
The Triton 700 has a 7th generation Intel Core i7-7700HQ CPU, rather than the 8th gen kind. At its release the only new Intel laptop CPUs on the horizon were ones designed for slim and light laptops, though, so this was still the best choice. You also get 16GB RAM and an extremely fast SSD array , with read speeds of up to 2899MB/s. Our Triton came with 1TB of storage, but 256GB and 512GB variants are available online for less cash.
The big question is how the Predator handles pressure. See those little vents to the right of the glass GPU covering? Cool air is sucked through these, then passed over the GPU. Warm air is then spat out of the vents on the left and right sides.
When you're just using Windows 10, the Triton 700 is near-silent. Play a game and the fans crank up almost immediately. Their pitch is higher than that of one of the gigantic doorstop alternatives, but you don't get the sense it's like a someone trying to stop a sailboat sinking by bailing it out with a teaspoon. The noise is surprisingly bearable.
The cooling system works, but the glass above gets, predictably, pretty toasty after a while. The trackpad isn't very useful when you're just pottering about Windows 10, and unless you want to use it to avoid turning your central heating on, it's not much use for gaming either. For the last time: you'll need to use a mouse. Or a gamepad.
ACER TRITON 700 BATTERY LIFE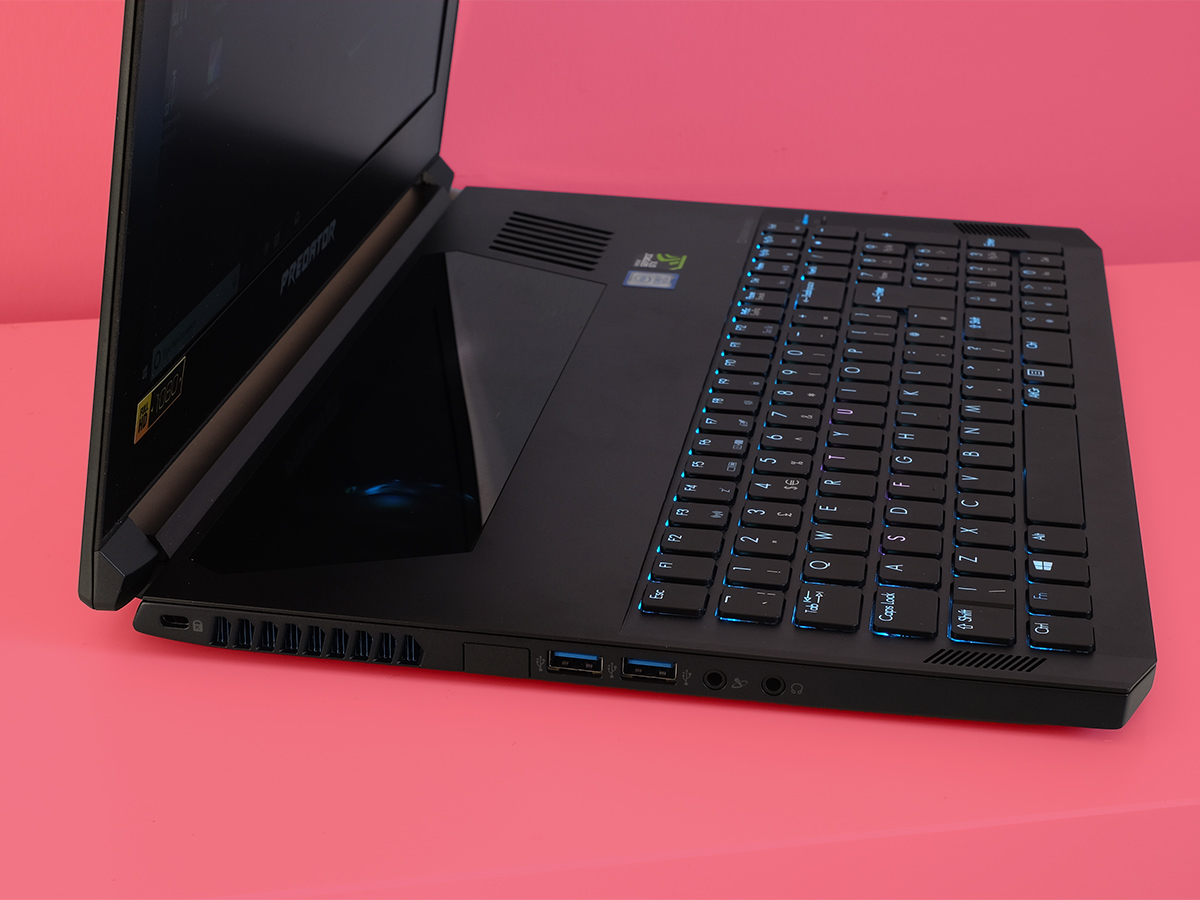 Battery life is predictably pretty poor too. Play a video, which shouldn't wake the GTX 1080 at all, and the Triton 700 lasts just 2 hours 3 minutes. That's not even enough for a Marvel movie. However, as the laptop isn't close to the peak of its power on battery, it's an issue that's easy to shrug off.
The speakers are good enough for casual gaming, as they have a good sense of stereo and at least a pinch of bass. Explosions even have some weight. The mids are emaciated and the treble a little rough, though, so you'll want to use headphones or speakers most of the time.
Now that all the fun stuff's out of the way, let's check out the connections. There are three USB3s on the sides, separate mic/headphone jacks, a single USB-C, and an Ethernet port. You also get an extra USB2, covered by a plastic bung – as if Acer is slightly embarrassed about including something so dated.
On the back edge sits the power socket, an HDMI socket and a Display Port. Hook it up to a TV or monitor and you can try games at 1440p or 4K to really test the GTX 1080 card. There's no SD card slot, because apparently you can't have everything. Even when you're spending over £2500.
Acer Predator Triton 700 verdict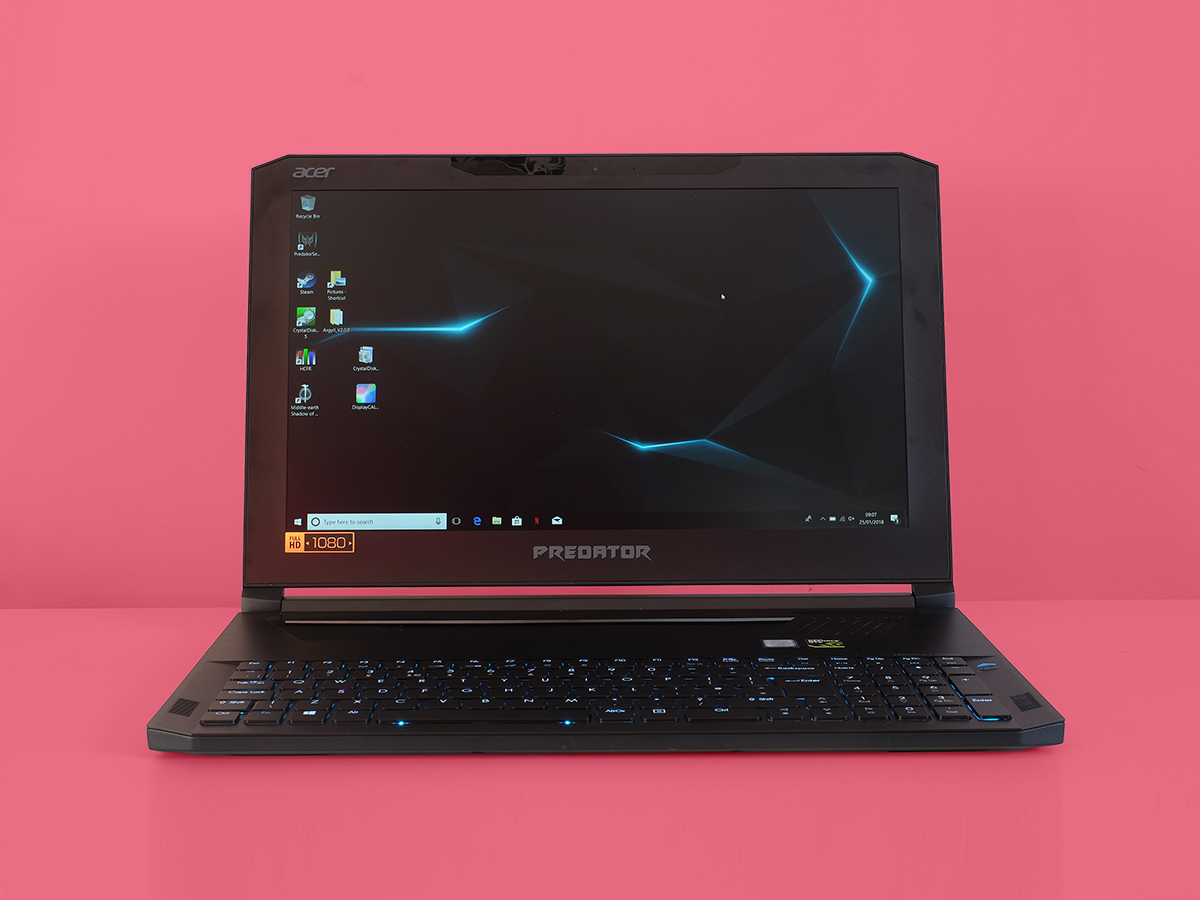 The Acer Predator Triton 700 is not for everyone. It's probably not the laptop for you, in all probability. It's expensive, the glass trackpad is little more than a fancy-looking ornament and getting used to the keyboard arrangement takes a while.
However, it's a great showcase for the latest graphics card tech, cramming desktop-grade power into a laptop under 20mm thick.
The Asus Zephyrus RX501 is a little more practical, jamming a trackpad onto the keyboard. However, the Acer looks better. And given how unusual both appear, a bit of extra style is worth celebrating.
Tech specs
| | |
| --- | --- |
| SCREEN | 15.6in, 1920×1080 IPS LCD w/ Nvidia G-Sync |
| CPU | Intel Core i7-7700HQ |
| MEMORY | 16GB RAM |
| STORAGE | 1TB PCI-E SSD |
| GPU | nVidia GeForce GTX 1080 |
| BATTERY | 3-cell, 4670mAh |
| OPERATING SYSTEM | Microsoft Windows 10 |
| DIMENSIONS | 393x266x18.9mm, 2.4kg |
Stuff Says…
A great high-performance, low-bulk gaming laptop. As long as you remember to bring a mouse
Good Stuff
Great gaming performance
Mechanical keyboard
Solid screen
Bad Stuff
u201cjustu201d 1080p
Pretty useless trackpad
Not cheap, is it?