Acer Swift 5 (2018) hands-on review
A 15in laptop half the weight of the MacBook Pro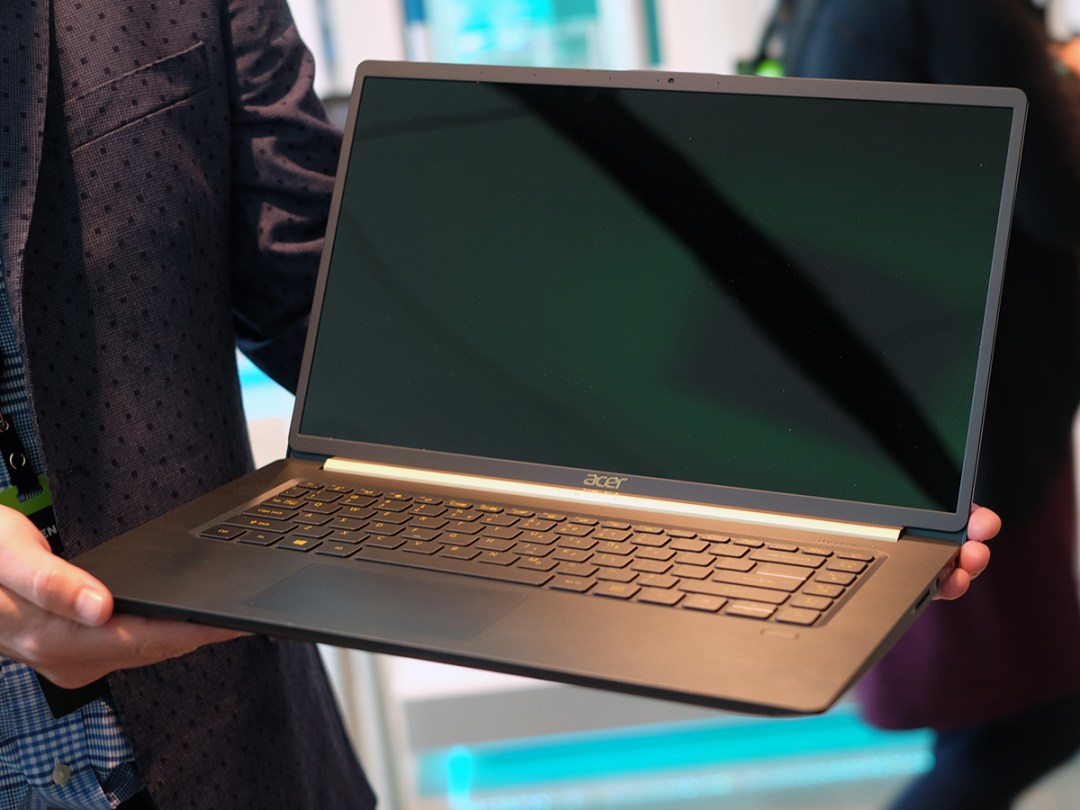 For the past couple of years laptop advice has been easy.
Want something portable? Buy one with a 13in or 14in screen. You don't want to lug around a 3kg 15in beast and typing on an 11-incher can feel akin to attempting a sonata on a tiny toy piano.
The 2018 Acer Swift 5 seems to have found the perfect middle ground. This is a 15.6in laptop that weighs under 1kg. That's just over half the weight of the 15in MacBook Pro and around the same weight as the 12in MacBook.
The obvious question: how the hell has Acer managed it? Is the Swift 5 empty or something? We went hands-on to find out…
Design: Slim it to win it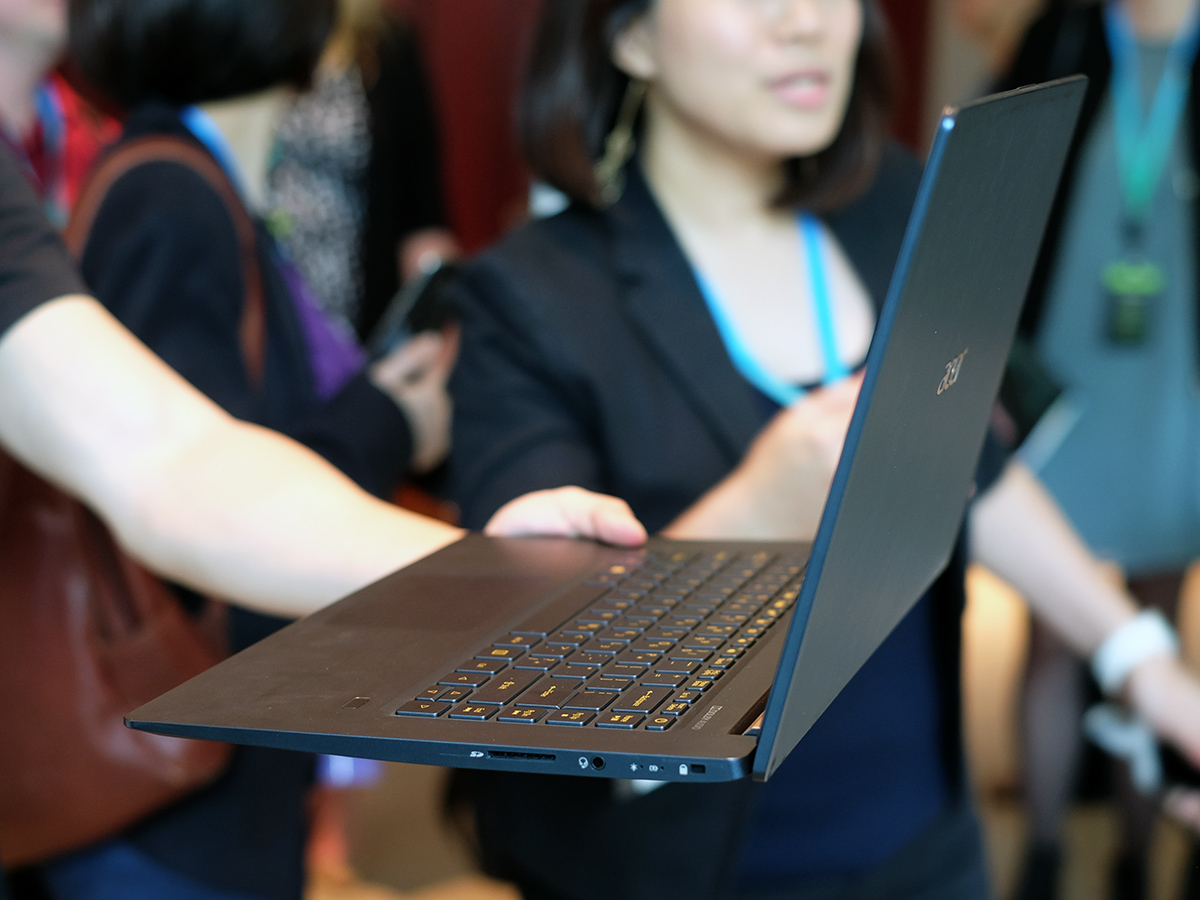 On paper the 15in Acer Swift 5 is a total show-off. In person, not so much, because any fancy bits are likely to make it heavier. However, when I first held it, my arm raised up in shock, like being handed a dumbbell made of cardboard.
This is a chiseled, lean, eat-chocolate-when-you're-dead laptop.
The key to getting a 15in laptop down under 1kg is in not using a normal aluminium alloy. Aluminium feels and looks great, but alternatives get you similar strength with much less weight.
Its top and bottom are a magnesium-lithium alloy, the Swift 5's inside a more familiar magnesium-aluminium alloy, for extra rigidity. Acer has used this kind of metal a bunch of times in its laptops.
The stinger is that these alloys do feel a wee bit like plastic, particularly when you first get your hands on them. They don't have the immediate cool, ultra-hard feel you get with aluminium or steel.
The screen also has just 5.87mm bezel to the sides, making the footprint small as well.
This is rapidly starting to sound like the ultimate student laptop. And starting at £899 it's far cheaper than a MacBook Pro 15, which starts at £1899 before you even think about adding the fancy OLED Touch Bar. Ouch.
Features: Fit for purpose
Despite being the lightest 15in laptop I've held, the Acer Swift 5 is made for the normal buyer. Like all the Acer Swift models.
It won't force you into using USB-C ports either, like some top-end laptops today. There's one Gen 2 USB-C 3.1 port, but you also get two normal USB 3.0 ports, an SD card slot and an HDMI. It's your mum's roast dinner of connections: not flashy but immensely comforting. Acer's Swift 5 won't judge you for still using that old hard drive you bought in 2005.
There's also a fingerprint scanner just below the keyboard keys.
The screen is a pretty standard HD-resolution 15.6in IPS LCD with a touch layer, although we'll have to see whether the touch model actually makes it to the UK.
It's the same deal with the specs. Acer will make this ultra-light stunner in versions all the way up to 1TB SSD storage with 16GB DDR4 RAM and an Intel 8th Generation Core i7. But we don't know if we'll be able to buy that spec here because the 15in Swift 5 won't arrive until end of 2018.
As we've already been tipped off that the Acer Swift 5 will start at £899, though, we know that model is likely to have 8GB RAM and, our best guess, a Core i5 CPU.
Early Verdict: Light yet substantial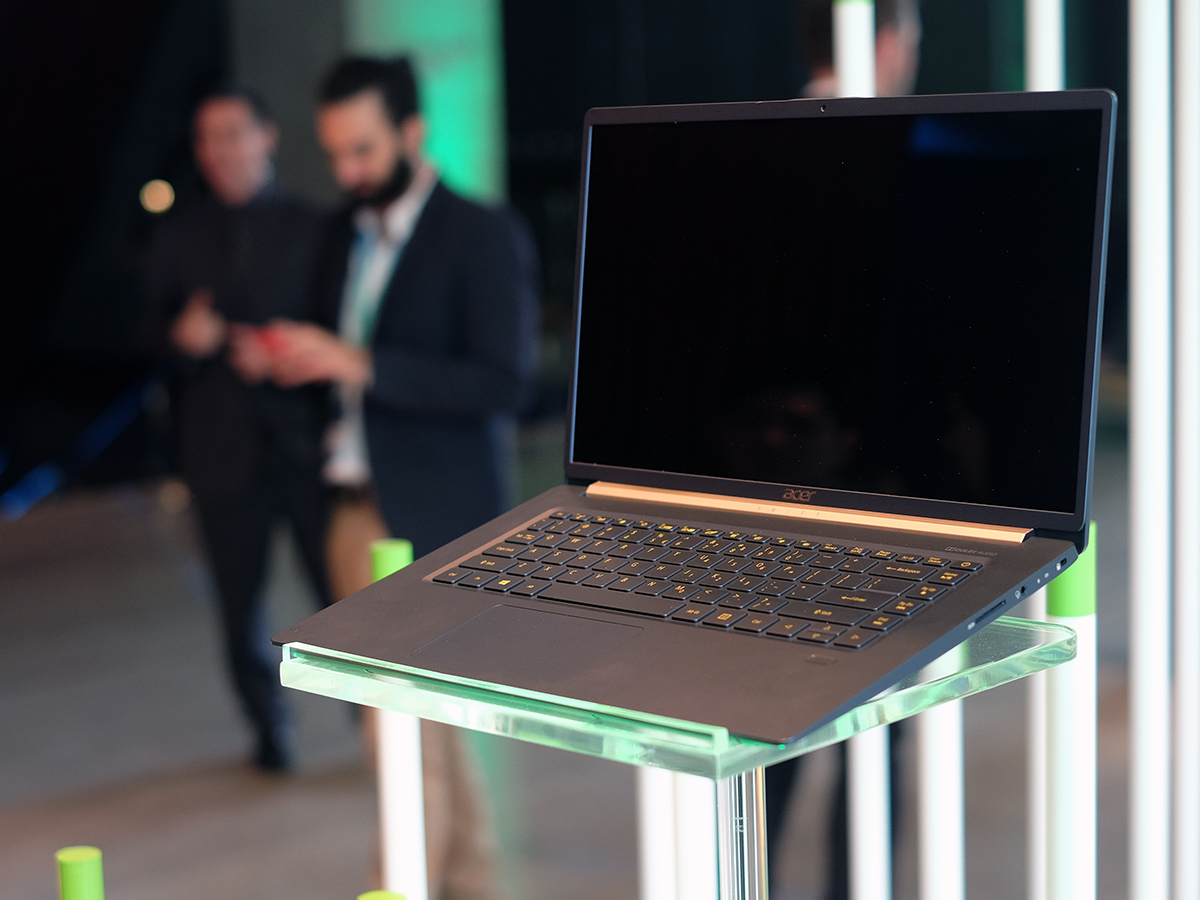 The Swift 5 possesses the sort of power that will let you do pretty much anything, besides playing games. There's no dedicated GPU, so while you can play Minecraft and Fortnite, the Swift 5 and The Witcher 3 aren't going to get along at all.
For that sort of action you'll want the Acer Helios 500 instead. This was announced alongside the Swift 5 and has an Nvidia GTX 1070 GPU, (up to) an Intel Core i9+ CPU and 17.3-inch screen.
However, as that laptop weighs 4kg we'll stick to the Swift 5 for our everyday runabout, thanks. We'll find out how it copes with all the tasks we throw at it once we get one in for a full review.