Acer Swift 7 (2019) review
It's the slimmest laptop in the world. But is it all style and no substance?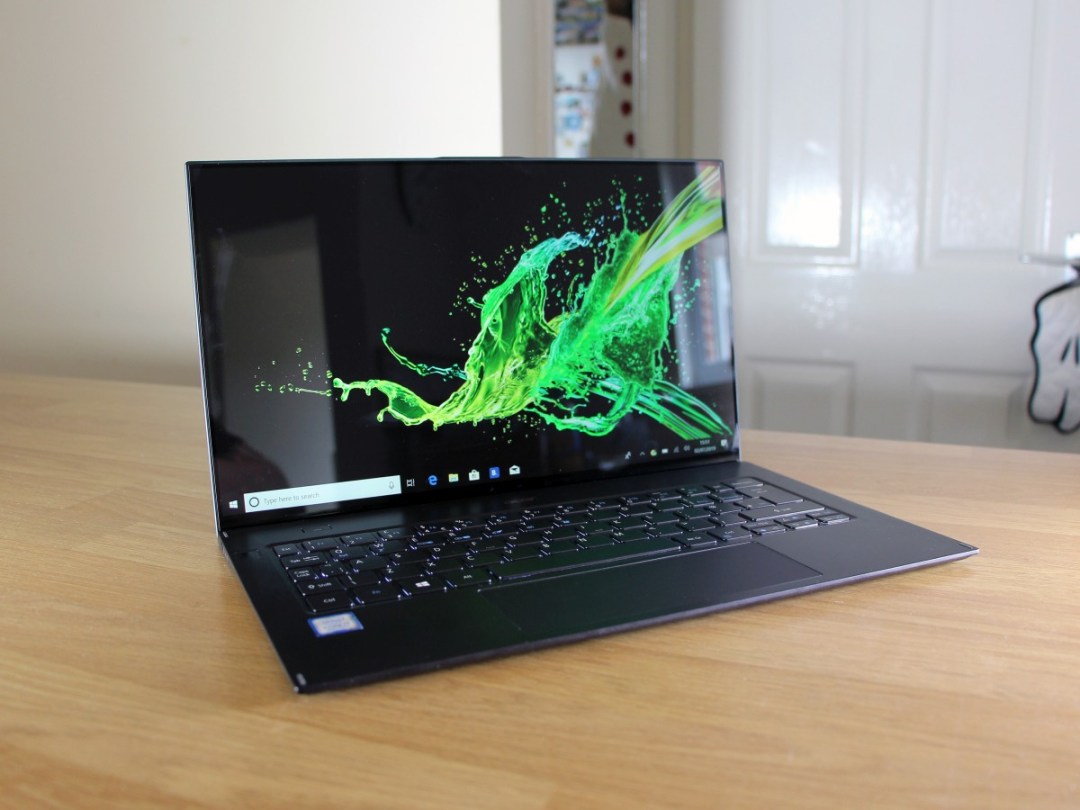 Laptop manufacturers love to make big, outlandish claims about their latest notebooks. After all, it helps them stand out in a busy market – and it looks good on spec sheets and adverts.
The latest company to make a bold statement is Acer, which says that its new Swift 7 is the slimmest laptop ever made. It isn't lying. The Swift 7 is just 9.95mm thick, which is an absurd, record-breaking figure – and it weighs just 890g, which also makes it one of the lightest laptops around. 
Those figures all look even better when compared with the Swift's rivals. On the Windows side of things, you're looking at a hybrid like the HP Spectre Folio – which was 15.2mm thick and weighed 1.49kg. Apple's most recent MacBook Air, meanwhile, weighs 1.25kg and is 15.6mm thick.
This is all well and good for getting attention, but our first question is clear: how has Acer built a machine with such impossible dimensions – and how many compromises have been made along the way?
Design & Build: Slim Margins
The frame of this machine is hewn from magnesium-lithium and magnesium-aluminium alloys, which improve strength and reduce weight. There's no drop-hinge, the screen bezels are tiny, and the edges are tapered to make them look even slimmer.
Acer has done some impressive design work here, and the Swift looks good too. It's simple and subtle, with matte black metal only interrupted by a couple of small logos. It compares well with the MacBook, which has brighter metal and thicker bezels. It's less extravagant than the HP, which was hewn from bright leather. The only visual mis-step is the lack of colour options – it's only available in black.
The design is initially fantastic. However, hands-on time illuminates this machine's inevitable compromises. Let's take the port selection. The Acer has a headphone jack and two USB Type-C ports, but only one supports Thunderbolt 3. Apple's machine has two Thunderbolt 3 ports. You get a dongle that adds HDMI and full-size USB, but there's no wired networking.
The Acer's webcam is installed in a pop-up mechanism above the keyboard. It's a smart idea, but it'll let callers see right up your nose – not ideal.
There's the build quality, too. The magnesium alloys used throughout feel pleasing, but the base and lid sections have too much flex and move too easily. The base creaks when it's twisted, and the tapered edges are even easier to move.
The Swift isn't as robust as the MacBook, which had metal that barely moved at all. The HP was also sturdier, with no panel movement and extra padding from the leather.
It's not a ruinous issue, but it's worth bearing in mind if you'll be using the Acer on the road. And, while it's easy enough to protect this machine with its included sleeve, that does somewhat hamper the 'slimmest laptop in the world' aesthetic.
Screen & Sound: Gorilla In the Room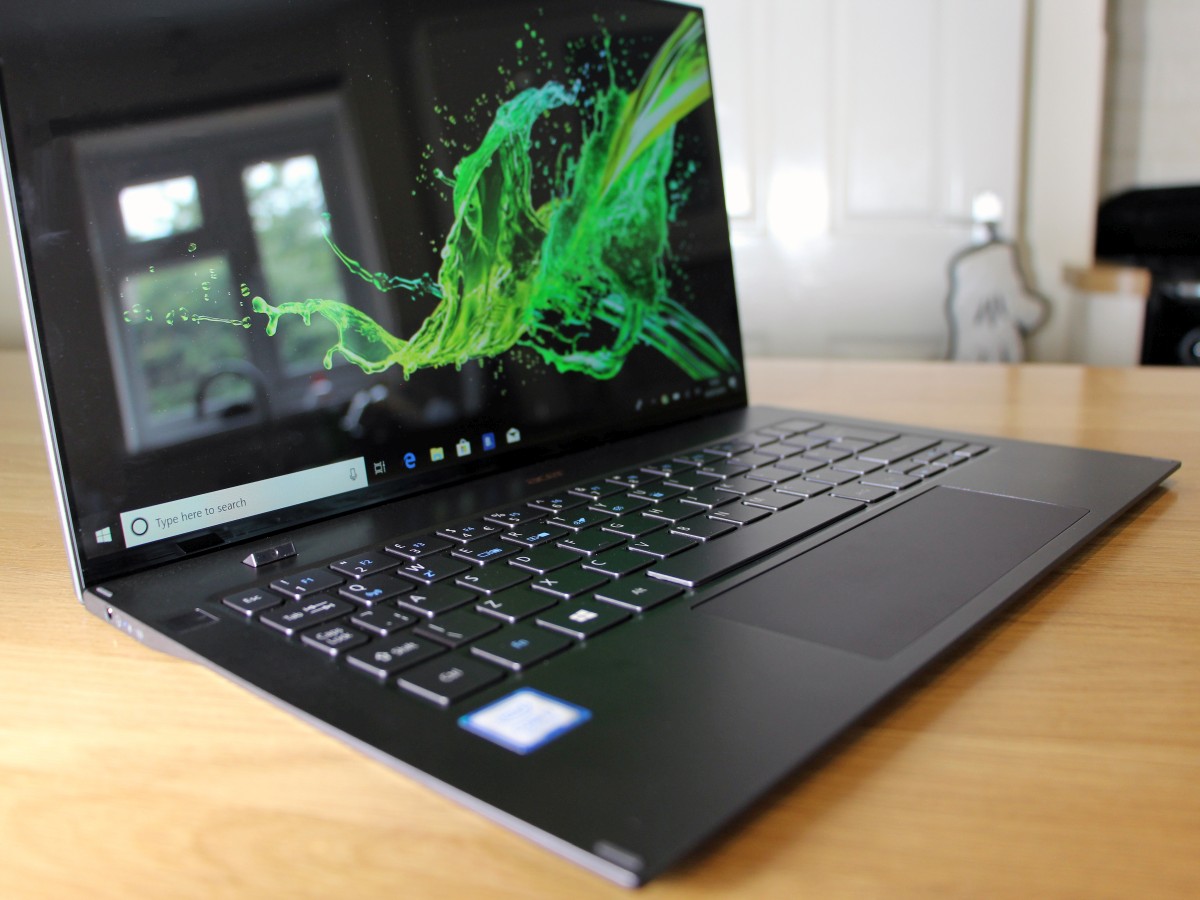 The Swift has a 1080p IPS panel with impossibly slim bezels. It's a touchscreen with Gorilla Glass 6. Those specifications are good: it's enough screen real estate for browsing, office work and for media, and the touch functionality works well.
However, Apple goes one further with its 2,560 x 1,660 Retina Display, which is sharper. Quality levels are good. The screen's brightness level of 317cd/m2 is excellent – high enough to continue looking punchy under office lights. The black level of 0.25cd/m2 is similarly impressive – it means that dark shades are suitably deep.
Contrast sits at 1,268:1, which is excellent: high enough to deliver loads of vibrancy and subtle tonal variations throughout. The colour temperature of 6,732K is great, the average Delta E of 1.53 is fantastic, and the screen rendered a solid 92.3% of the sRGB colour gamut.
That colour temperature is not wayward, so colours won't look too cool or oversaturated. That Delta E figure means they'll be rendered accurately. The gamut coverage level means this screen will render almost any shade you throw at it. There's easily enough quality here for web browsing, photo viewing and media playback – all of that will look excellent.
However, the MacBook is just as good, and it has a higher resolution. HP's machine was also better – it was superior in every benchmark and it also included a stylus. The speakers are underwhelming – quiet, tinny and with no bass. That's no surprise, but we'd prefer headphones or external speakers. Both rivals are better.
Performance: Core Issues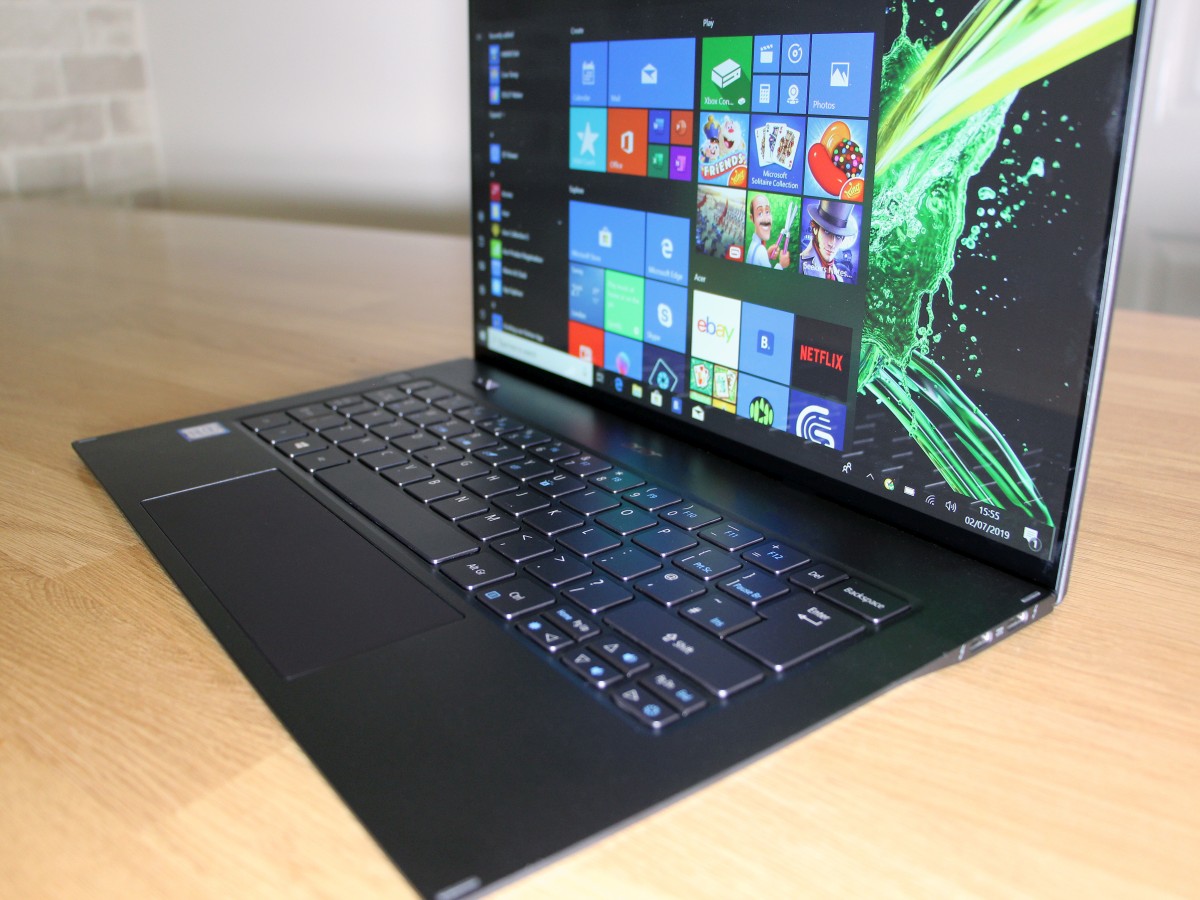 The Swift 7 is incredibly slim, with no moving parts, and so it needs modest components. Consequently, Acer has kitted this laptop out with a low-power Intel Core i7-8500Y.
The chip only has two cores that can address four threads – half as many as full-power chips. It has a low base speed of 1.5GHz, and a theoretical Turbo peak of 4.2GHz. It's the same chip as the HP, and it's a step up from the Core i5-8210Y in the MacBook.
Elsewhere, the Acer has 16GB of memory and a 512GB SSD, and it relies on Intel's integrated graphics. All of that is entirely fine and totally expected.
In terms of performance, don't expect much. The Swift has enough grunt to handle multi-tab web-browsing and browser-based applications, alongside Office tools. Media playback will be fine. You'll get basic photo editing done if you're patient. Happily, the Acer never had thermal issues – temperatures were fine, there's no noise, and the exterior only warmed up a little.
However, complex photo work, video-editing tools and tougher applications will barely run. You won't get any gaming done, either.
All three machines mentioned here perform similarly. In Geekbench's single-threaded test the Acer scored 3,525 points, which is almost 1,000 points behind the HP. In the multi-threaded test the Swift scored 5,069 points, which is about level with the HP and the Apple machine.
However, that multi-threaded score is about three times as slow as laptops with full-power laptop CPUs, like the Dell XPS 13 or the Apple MacBook Pro. You'll need that kind of hardware to get any proper work done.
Acer has crammed an impressive battery inside this machine. In a test that simulates web browsing and office applications, with the screen brightness at a normal level, the Swift lasted for just shy of ten hours – so normal usage will get you through a day away from the mains.
It's about level with the HP, but it's still a couple of hours behind the MacBook.
Keyboard & Touchpad: Pressing Issues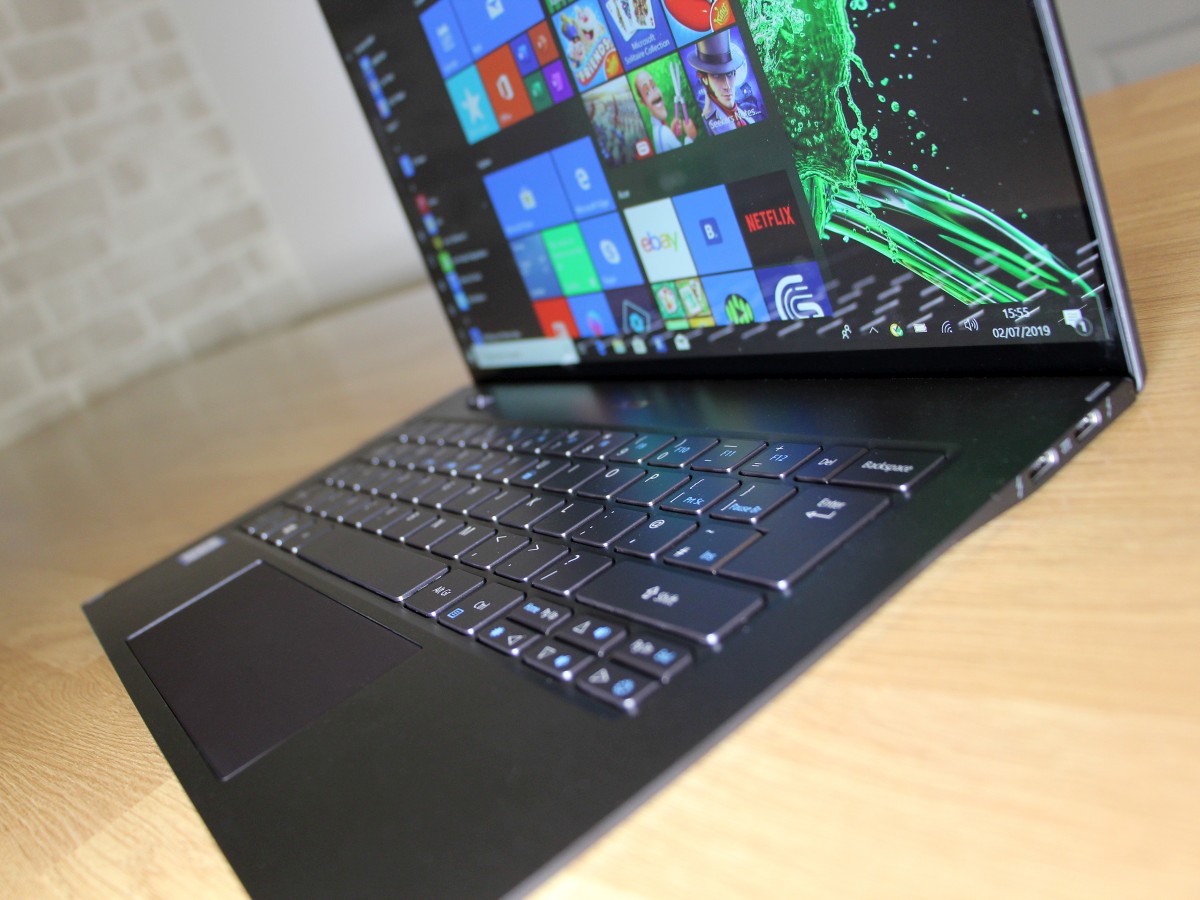 It's not surprising that the slimline Swift has a shallow keyboard. The buttons have little travel, and they're soft and quiet, without much of a snap when they bottom out.
The light, breezy typing action matches the Spectre, and it's not far off the MacBook – it's only a little crisper.
No matter which machine you use, the conclusion remains the same: keyboards like this are fine for casual typing, but a firmer unit with more travel is always better for serious work.
Acer has covered the trackpad with Gorilla Glass 3, and it's far wider than most laptop units. The surface is responsive and accurate, it has full gesture support, and it has a fast and reliable clicking action. We have no complaints here.
Acer Swift 7 verdict (2019)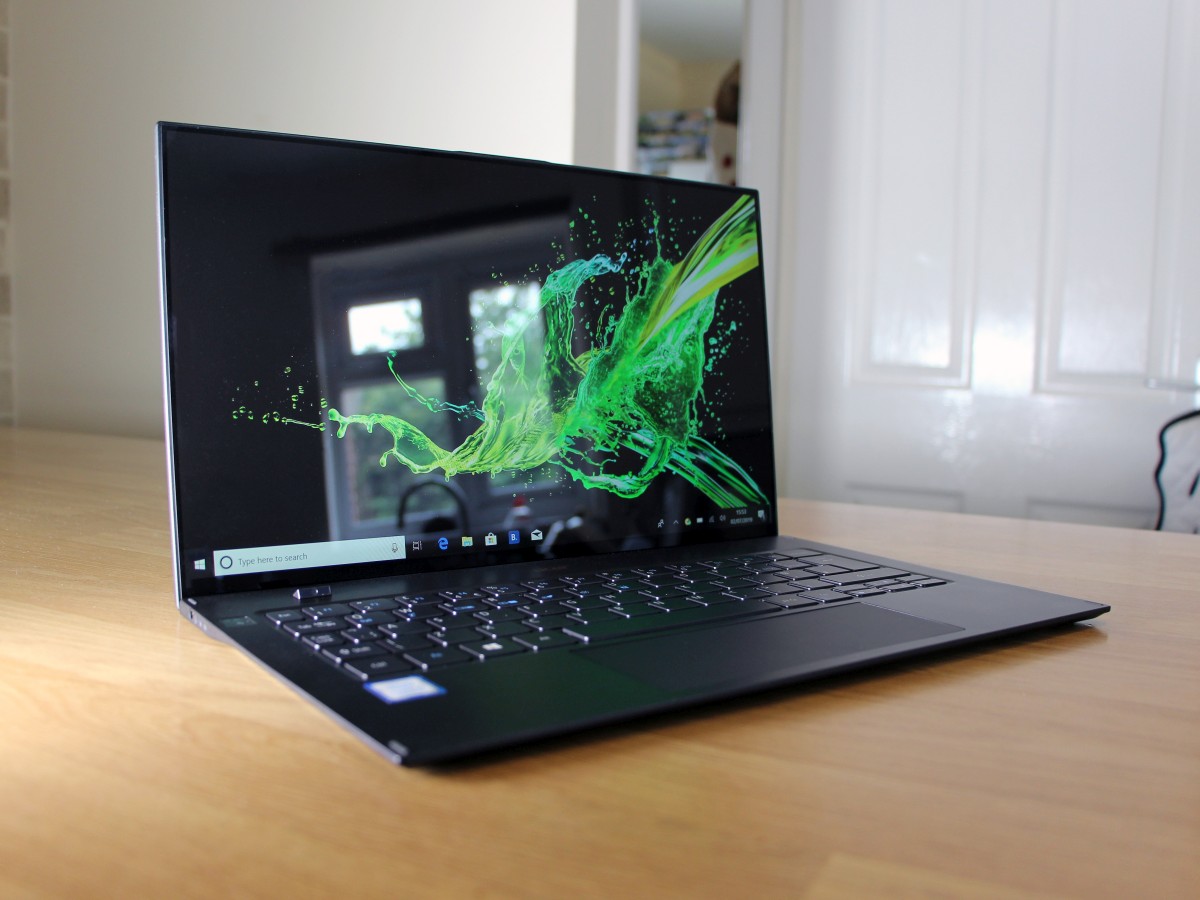 Acer claims that the Swift 7 is the world's slimmest laptop – and, with a 9.95mm body, we're not about to disagree.
It's a record-breaker, then, but is it a good laptop? Not always. It may be slimmer and lighter than its rivals, but the slim margins don't transform this machine. It also can't match the MacBook or the HP for build quality – so taking the Swift on the road is a gamble, and adding a sleeve removes the Acer's size advantage.
It has enough power for day-to-day tasks, just like rivals, and its screen quality and battery life are both good – although the Apple is better in both regards and the HP has a better screen. And, while the Acer's keyboard is fine for casual use, it's not snappy enough for proper work.
The £1,699 Swift 7 is also expensive. The HP is £1,499, and the two MacBook Air models cost £1,199 and £1,399. Acer may have built the world's slimmest laptop with the Swift 7, but the impressive dimensions don't deliver any real, practical advantages – and it's no better than rivals elsewhere.
Unless you want to spend extra cash for some record-breaking kudos, we'd consider something else.
Stuff Says…
The Acer Swift 7 breaks records with its slim, light design, but the cut-down exterior doesn't add practical advantages. Elsewhere it's good, but no better than rivals while costing more. It's a good talking point, but as a laptop it's no better than cheaper competitors
Good Stuff
Record-breaking
Slim design
Good screen quality
Decent everyday performance
Bad Stuff
A tad too flimsy
More expensive than rivals
Underwhelming keyboard