Acer Swift Edge review: a dream of a screen
AMD-powered 16in OLED laptop weighs next to nothing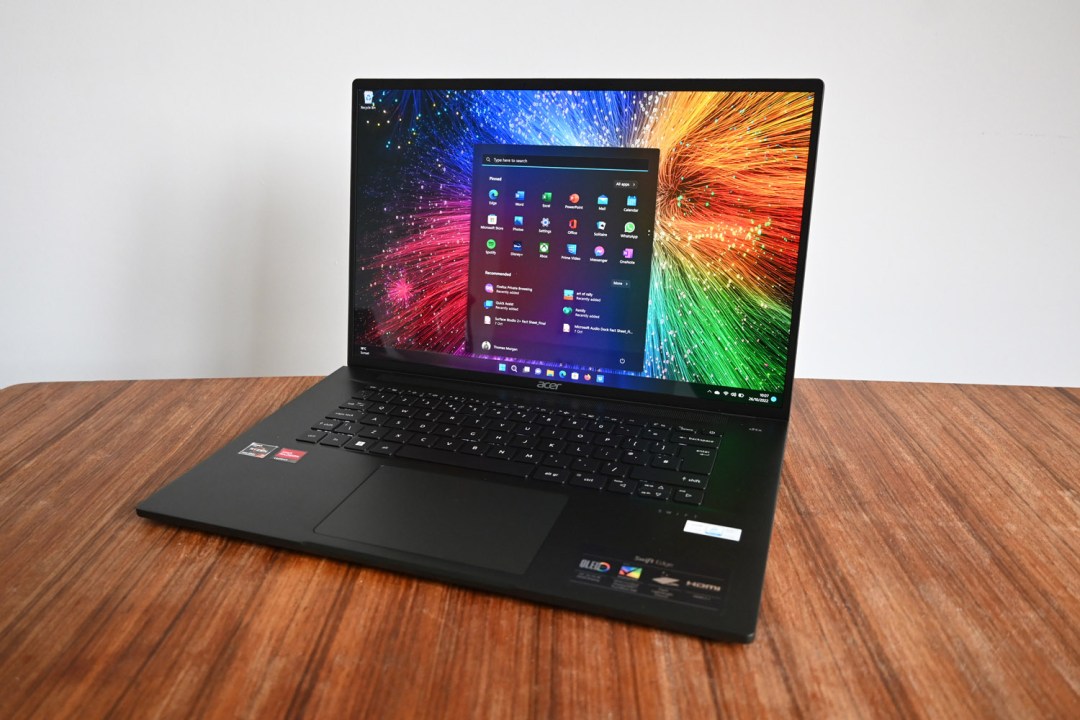 It might have a substantial 16in screen, but the Acer Swift Edge tips the scales at a mere 1.17kg – proving display size doesn't have to dictate a laptop's luggability. Those numbers should turn the heads of anyone who'd previously written off larger laptops for commuting or hybrid working because of their bulk – and weight is only part of the story.
There's a creator-friendly 4K resolution OLED panel, punchy AMD internals that should comfortably handle daily desktop duties, and the promise of all-day battery life. Add in a price that'll embarrass many Intel-powered alternatives with much smaller screens, and there's plenty here to like. On paper, at least.
Does it prove tempting enough in practice – or have sacrifices been made in the pursuit of a razor-thin chassis?
Design & build: won't weigh you down
Folded shut, the Swift Edge is a barely-there 14mm, and super-skinny screen bezels help keep the other dimensions in check. This is a compact laptop, despite its display, and will easily slip in a bag or backpack. The thing is so light you'll probably need to double-check it's there, even with the (similarly svelte) USB-C power brick in tow.
Acer has used magnesium-aluminium alloy to keep the weight down. The firm reckons its twice as strong as regular ol' aluminium, so you have to silence the part of your brain that links 'light' with 'flimsy'. It's sturdy in all the right places, with just a little bit of flex to the lid if you go looking for it. There's a lot more on the keyboard tray, which sinks under your fingers with very little effort, but that isn't all that surprising given how slim the laptop is.
It's so thin, in fact, there's barely enough room to contain full-size ports at the sides. Acer has done well to squeeze in an HDMI output alongside two USB-C ports, which also handle charging and support DisplayPort over USB. There are also two USB Type-A ports to save scrabbling for dongles, and a 3.5mm headphone port. It's a shame an SD card slot didn't make the cut, though, given how adept the display is at image and video editing.
We like that branding is kept to a minimum (once you peel off the stickers covering the wrist rest, anyway) and the all-black finish does a great job at hiding fingerprints. Speaking of, there's a fingerprint sensor built stealthily into the power button for quickly skipping the Windows lockscreen. It's fast, accurate, and unaffected by lighting conditions, so wins our vote over Windows Hello facial recognition.
Screen & sound: simply stunning
There's hardly a box Acer hasn't ticked with the Swift Edge's 16in display. It's a 4K panel, with a pin-sharp 3840×200 resolution that's perfect for photo editing as well as Netflix series binges. The OLED tech delivers perfect blacks, unmatched contrast and delightfully punchy colours. Response times are, for all intents and purposes, instant.
OK, gamers might thumb their noses at the 60Hz refresh rate, and it misses out on touchscreen support, but this is otherwise a fantastic display. The 16:10 aspect ratio can handle streaming videos just as well as spreadsheets, with HDR content living up to the DisplayHDR True Black 500 rating. Highlights are wonderfully bright, without stripping out detail from areas of shadow.
A peak 500 nits of brightness isn't to be sniffed at, either. It's fine to use in direct sunlight, even if the glossy screen finish can make reflections a little distracting. We weren't able to verify the claimed 100% DCI-P3 colour gamut coverage, but it certainly bodes well for any creative types looking to do colour-accurate work. The panel produces natural-looking hues, avoiding the unnaturally vibrant pitfalls of other OLEDs we've tested.
The downward-firing stereo speakers are a reasonable match to the display: there's a bit of unpleasant resonance when you really crank the volume, but at more sensible levels clarity is pretty good. Speech is clear for videos and vocals come through cleanly over music. Just don't expect much in the way of bass.
Keyboard & touchpad: pressing matters
Given it sits beneath a 16in screen, it's a bit surprising Acer has gone for a fairly compact keyboard layout for the Swift Edge. The function and up/down arrow keys are half-size, and some punctuation keys have also shrunk in the wash. There's ample room on either side of the keyboard tray, too, so this feels like a lot opportunity. Still, the alphabet keys are all full-size, with a clear white backlight that makes it easy to type in low light.
Naturally for such a skinny machine there's not a lot of key travel here, but everything bounces back into place quickly. As mentioned above there's a considerable amount of flex, but it didn't interrupt our flow while typing.
Our review unit had one letter that often failed to register presses, caused by a tiny loose screw. Once it was removed the key worked just fine, but there's no telling if this was down to our device being a pre-release sample or a sign of wider production issues.
We had no complaints about the touchpad, which is a sensible size while leaving enough space at the sides to rest your wrists while typing. The antimicrobial coating doesn't create any extra drag while scrolling with your fingertips, and it had no problem recognising multi-touch gestures.
Performance & battery life: AMD all the way
Intel has long had the lion's share of laptops, so it's great to see AMD putting up a strong fight with its latest Ryzen CPUs. Acer has gone for a Ryzen 7 6800U for the Swift Edge; the eight-core chip usually ticks along at 2.7GHz, but can turbo a whole lot higher when temperatures (and battery power) allow for it. 16GB of RAM and 1TB of NVMe SSD storage are on hand, along with a Microsoft Pluton security co-processor that should satisfy any IT administrators.
The combination is ideally suited to daily desktop tasks, running tens of browser tabs alongside work documents and streaming from Spotify while staying virtually silent. More demanding jobs like image editing are handled swiftly, too, with the internal fan creeping up to audible levels. Really push it, though, say with a 4K video render, and it approaches hairdryer-like levels. Such is the challenge in cooling a toasty chip in such a slim chassis. The same CPU in a thicker laptop will likely be faster.
General performance is on par with Intel's Core i7-1280P, seen in similarly-priced machines, with AMD coming out on top in certain tests but lagging slightly behind in others. Anyone who spends more time in Microsoft Office than rendering scenes in Autodesk Maya will be perfectly happy with the performance on tap. Even Acer's somewhat heavy-handed Windows install doesn't slow things down. We're sure it pockets a few pennies for pinning a link to Booking.com on the taskbar, but it means your first ten minutes are spent stripping out unwanted bloatware.
Expecting the integrated Radeon graphics to play games at the laptop's native resolution is unrealistic, but as long as you're prepared to drop to 1080p, it's a surprisingly capable chip. Forza Horizon 5 is perfectly playable at medium settings, and more demanding titles can post 30fps or better as long as you dial back the details. This isn't a gaming machine, though, and it gets mighty loud when asked to play modern titles.
The OLED display isn't especially kind to the battery, but AMD's efficient silicon goes a long way to make up for it. With the screen set to 50% brightness, we comfortably saw over nine hours of video playback away from the mains. This dipped south of seven when using it for everyday jobs, but that's still better than similarly-priced machines like the Lenovo Yoga Slim 9i. The Apple MacBook Air M2 remains the overall champ, but it can't match the Acer for sheer screen real estate.
Acer Swift Edge verdict
If portability is your top priority, the Acer Swift Edge is makes a strong case for itself. It's a 16in machine that weighs less than a 13in thin-and-light, which sure beats the regular visits to the chiropractor needed when carting around some similarly-sized rivals.
The 4K OLED display is absolutely gorgeous, battery life is very respectable and it gives up little on the performance front. Admittedly the Ryzen CPU would benefit from a little extra cooling, as would your ears (the fan really can get quite loud), and the keyboard isn't the best we've used, so it falls short of a perfect score.
Overall build quality is top-notch, though, and there's no shortage of connectivity. If your laptop never leaves your side while you're on the move, and you want as big a screen as possible, this absolutely deserves your attention.
Stuff Says…
A sumptuously slim laptop with a stunner of a screen. AMD power delivers on performance and battery life, too. The Swift Edge is purpose-built for hybrid workers who don't want to be weighed down by their tech.
Good Stuff
Practically as portable as a 13in thin-and-light
Gorgeous 4K OLED screen
Consistent performance and battery life
Bad Stuff
Some keyboard issues
Fair bit of pre-installed bloat
Fan can get mighty loud
Acer Swift Edge technical specifications
| | |
| --- | --- |
| Screen | 16in, 3840×2400 OLED |
| CPU | AMD Ryzen 7 6800U |
| Memory | 16GB RAM |
| Graphics | AMD Radeon 680M |
| Storage | 1TB |
| Operating system | Windows 11 Home |
| Connectivity | 2x USB-C 4, 2x USB-A 3.2, HDMI 2.1, 3.5mm headphone port |
| Battery | Up to 10.5 hours |
| Dimensions | 357x242x14mm, 1.17kg |