Advent Vega Tegra Note 7 review
You get what you pay for, right? Well the £140 Advent Vega Tegra Note 7 tablet begs to differ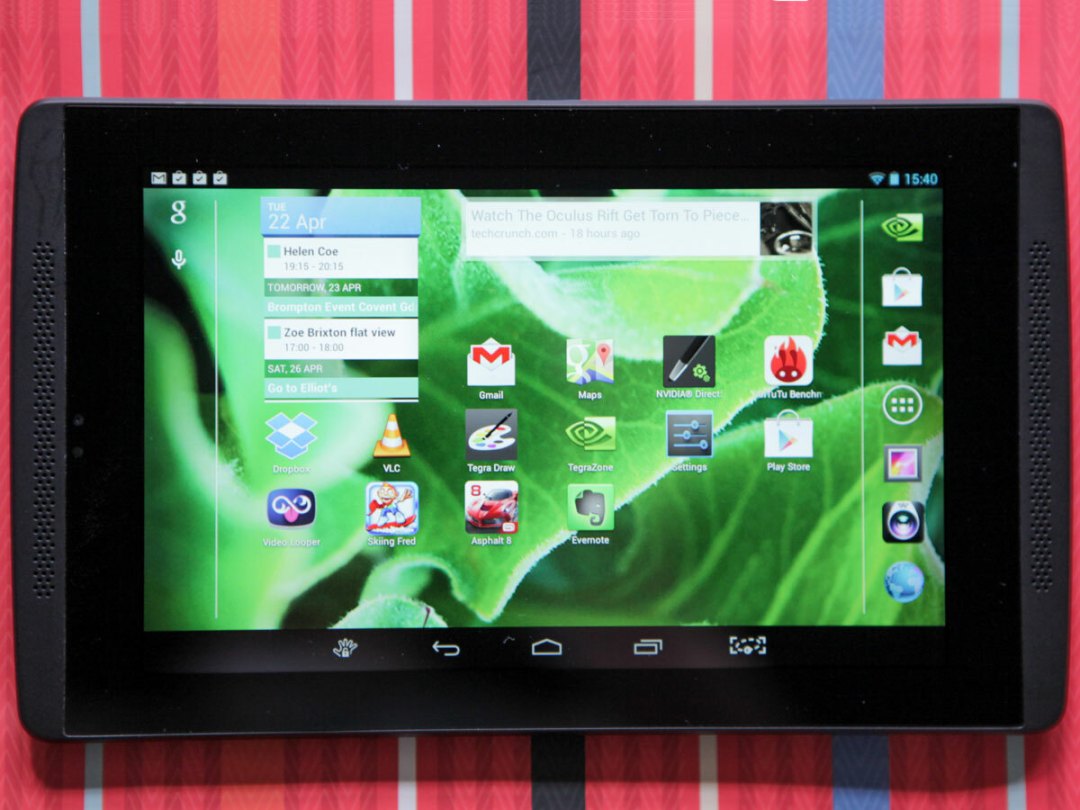 Built for speed, the Advent Vega Tegra Note 7 is the product of a union between PC World and Nvidia, and has the graphic card guru's zippy 1.8GHz quad-core Tegra 4 processor stuffed inside it.
A 72-core GeForce GPU is also thrown in to ensure a great gaming experience, and further enhancing its graphical prowess there's a micro HDMI port for easily hooking it up to a bigger screen.
It's one of the few tablets with front-facing stereo speakers, too, and its rubbery black plastic casing gives it a no-nonsense, utilitarian feel.
Tegra-tastic performance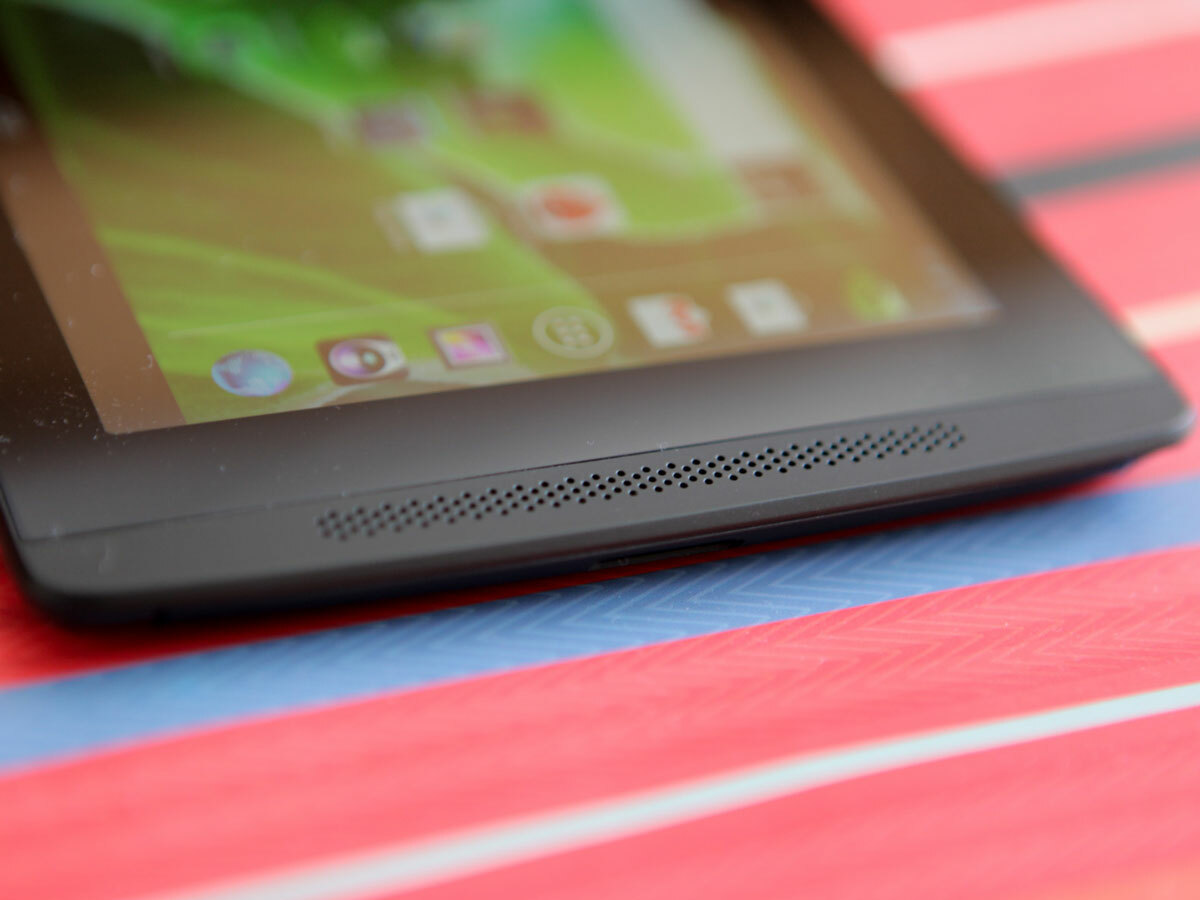 That Tegra 4 processor at the heart of this little tablet produces some astounding pace. Everything is done without the slightest hesitation, from instantaneous menu navigation and app opening to what the Tegra 7 is really geared towards – gaming.
The 33,998 score from performance benchmarking app AnTuTu certainly bears this out, trouncing the scores of similarly positioned tablets such as the Samsung Galaxy Tab 3 7.0 (10,350) and Kobo Arc 7HD (16,276). Even the all-conquering Google Nexus 7 (2013) only managed 19,948.
While that Tegra 4 processor brings all-round speed to the Note 7, its Nvidia heritage means that it's graphics and gaming where it really show off its pace.
Not all Android games need or can take advantage of the Tegra 4 chip, but thankfully the included TegraZone app roots out the most graphically intensive games on the Play Store. Download a speed-hungry title such as Asphalt 8: Airborne and you'll really see what it can do.
Stylus but no content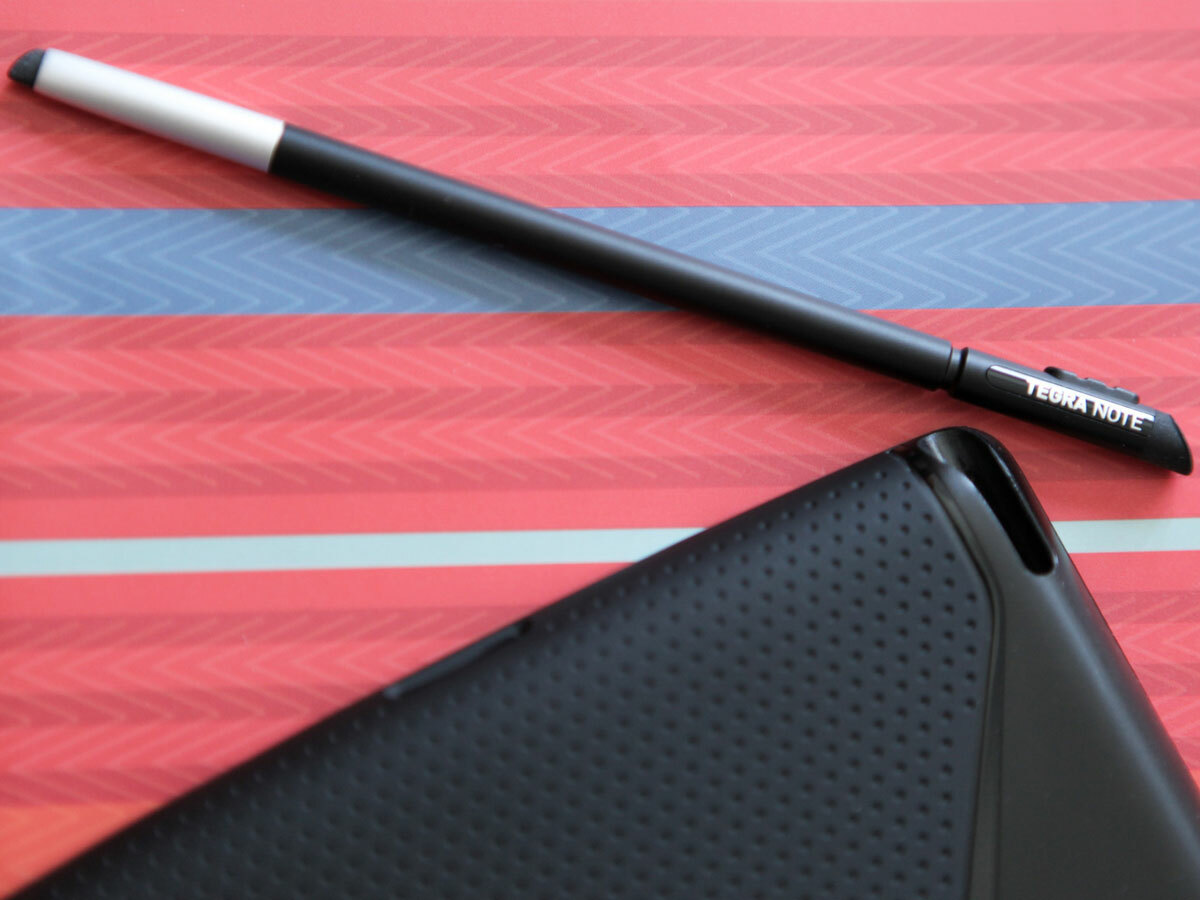 There's a passive stylus hidden in the body of the Tegra Note 7. It's nicely designed, with shaped rubber tips at either end, and handy if you like to poke rather than prod – or just want to change your wrist position occasionally.
We like the fact that when pulled from its slot, an extra screen button appears, allowing you to scrawl a selection around anything onscreen to save or share a screenshot. This works particularly well when used with apps such as Evernote. However the included Tegra draw software is extremely basic and the stylus allows for little in the way of artistic nuance.
Screen dream?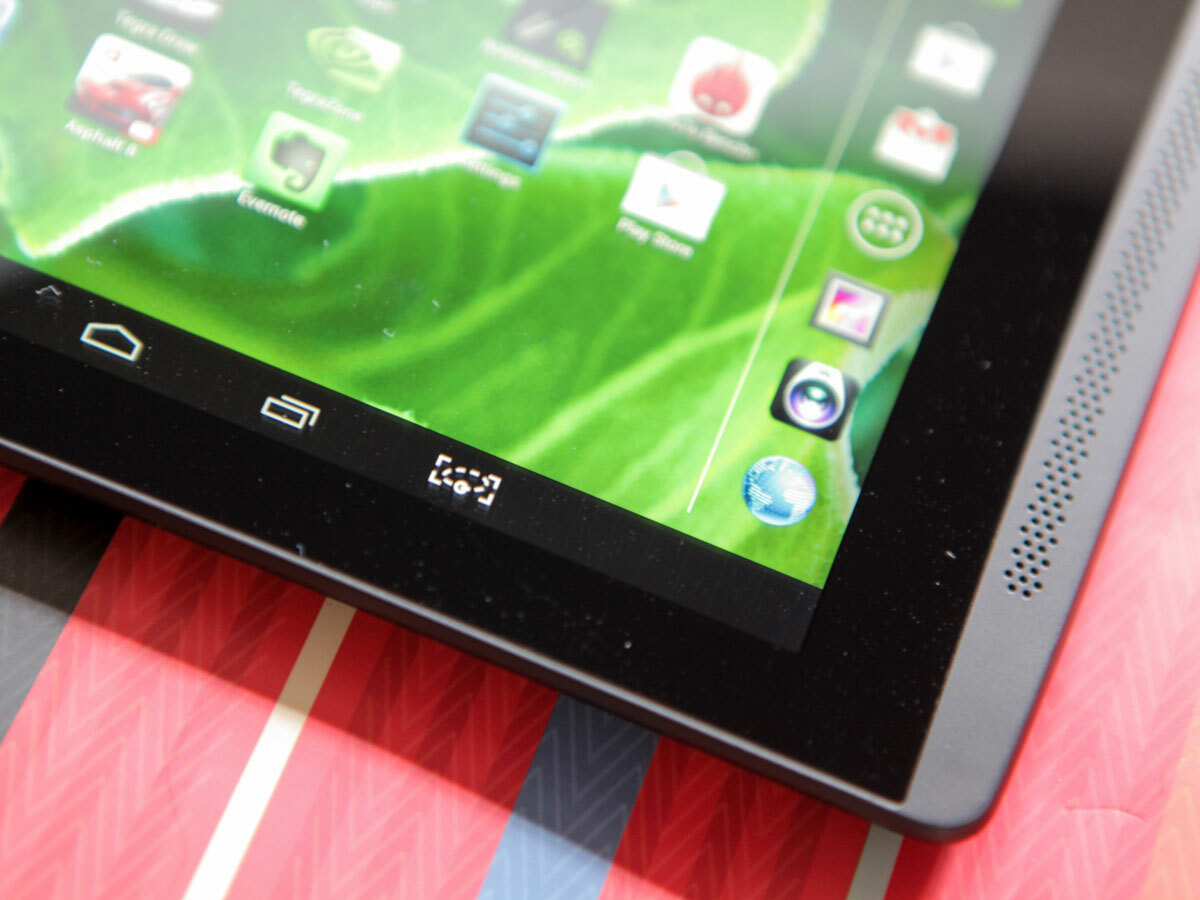 Nvidia's obviously had to cut a few corners in order to keep the price down, and the most obvious place where it's saved a few bob is on the screen.
We'd describe the 7in IPS LCD display as adequate, rather than great: its 1280×800 resolution equates to a pixel density of 215ppi, so a long way off the 323ppi you'd get on the 2013 Nexus 7.
To be honest, it's a fairly minor complaint at this price point – colours and brightness are good, as are viewing angles. We just wish it was a little sharper.
Your flexible friend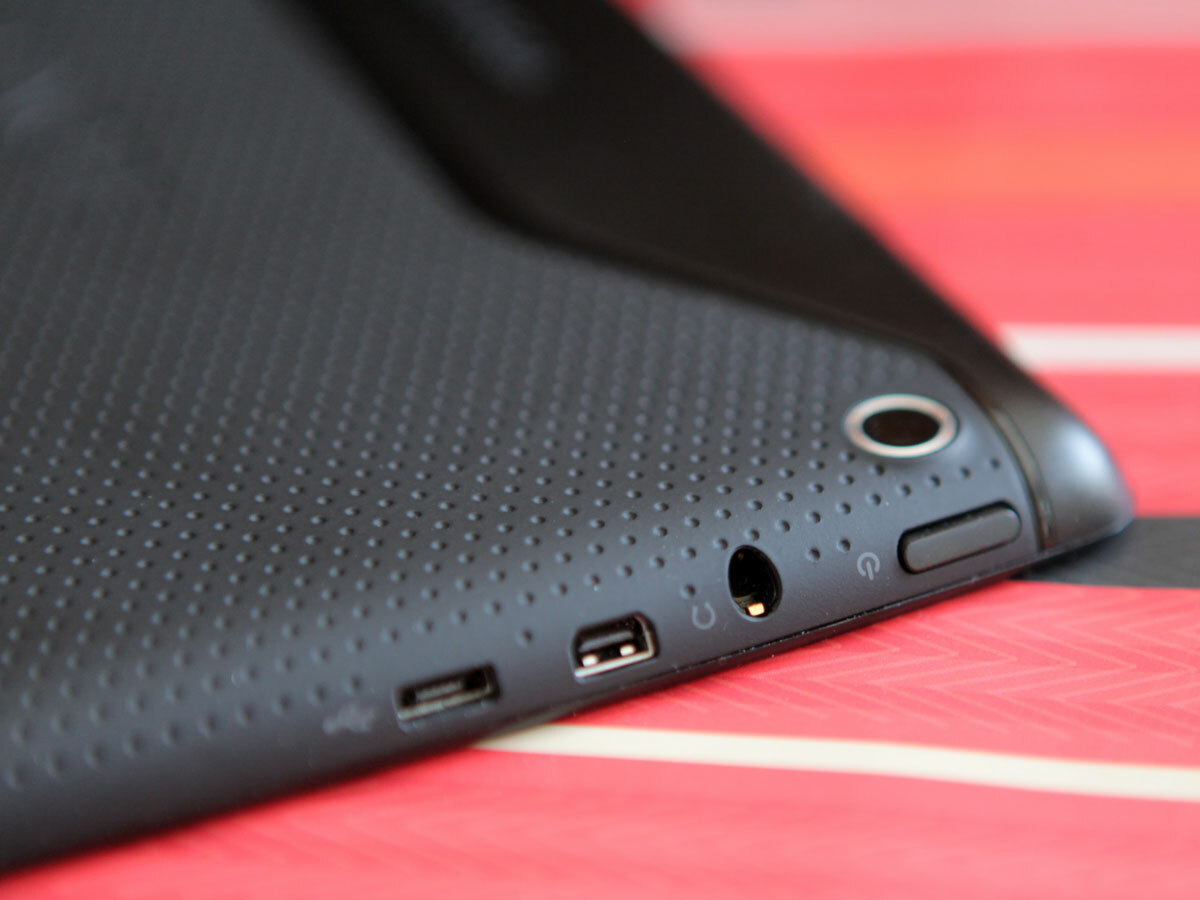 At this price, and with so much good stuff on the inside, it's not really fair to expect the outside to match.
The Tegra Note 7 gives away its price tag with its slightly flimsy build quality. A gentle twist reveals flexing and creaking, and that dual-texture black plastic back won't be to everyone's taste – though it does have a sort of butch, utilitarian feel that can be traced back to its gaming PC heritage.
Otherwise, it feels quite robust in the hand, and the external microSD slot and micro HDMI output are welcome additions.
READ MORE: The 25 best free apps for Android
Snap happy?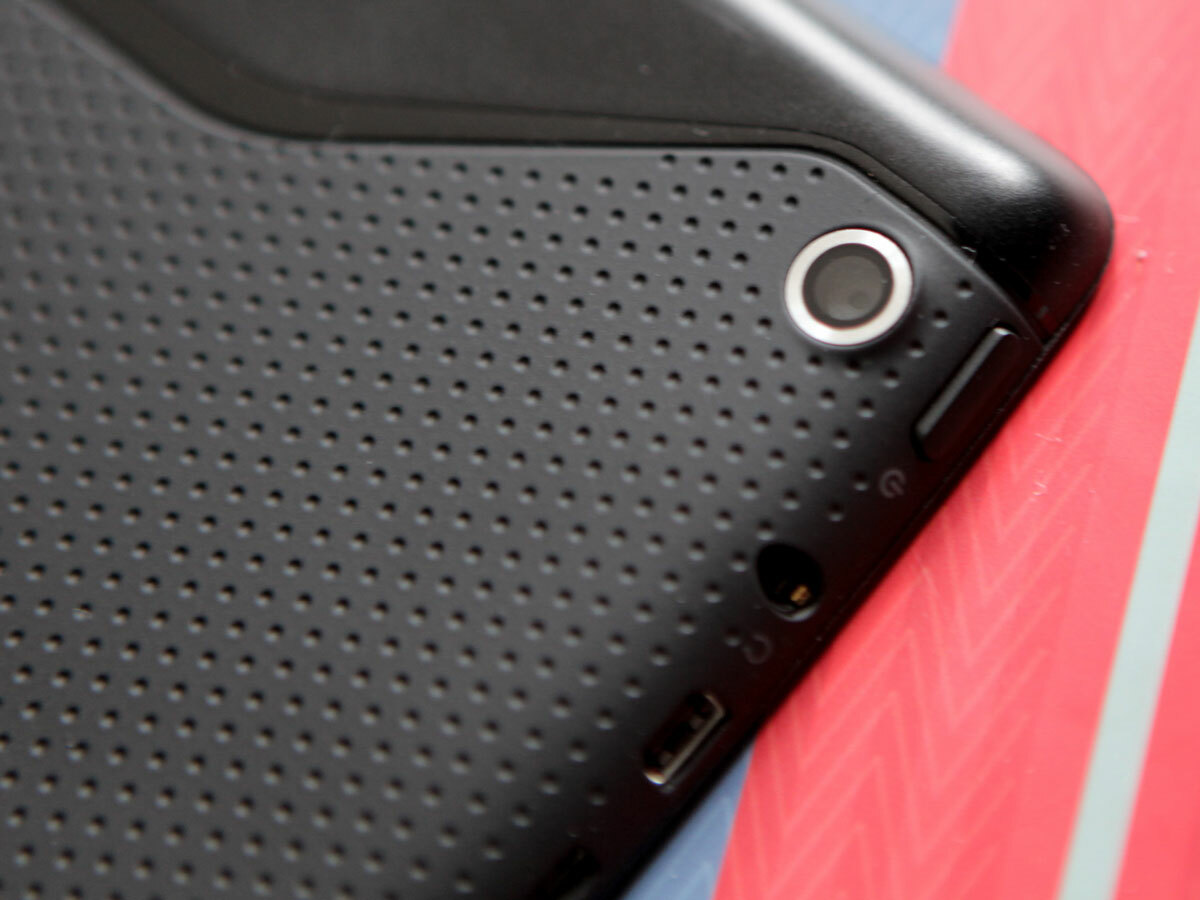 Where a similarly priced tablet such as the 7in Kobo Arc 7HD has only a front-facing camera for Skype duties, the Tegra Note 7 has both front- and rear-facing snappers. The one round the back is a 5MP effort which produces photos with reasonable detail in good lighting conditions, but the chances are you'll want to pull out your smartphone for a better snap anyway.
Lasting power
In our standard battery rundown test – playing 720p HD video on a loop with brightness at 50% and push notifications turned on – the Advent Vega Tegra Note 7 managed a very respectable nine hours and 15 minutes. Heavy gaming will of course make that figure drop dramatically, but unless you're doing that for hours at a time you'll get several days' worth of mixed use, thanks also to its highly efficient standby mode.
READ MORE: Android 4.5 preview
Verdict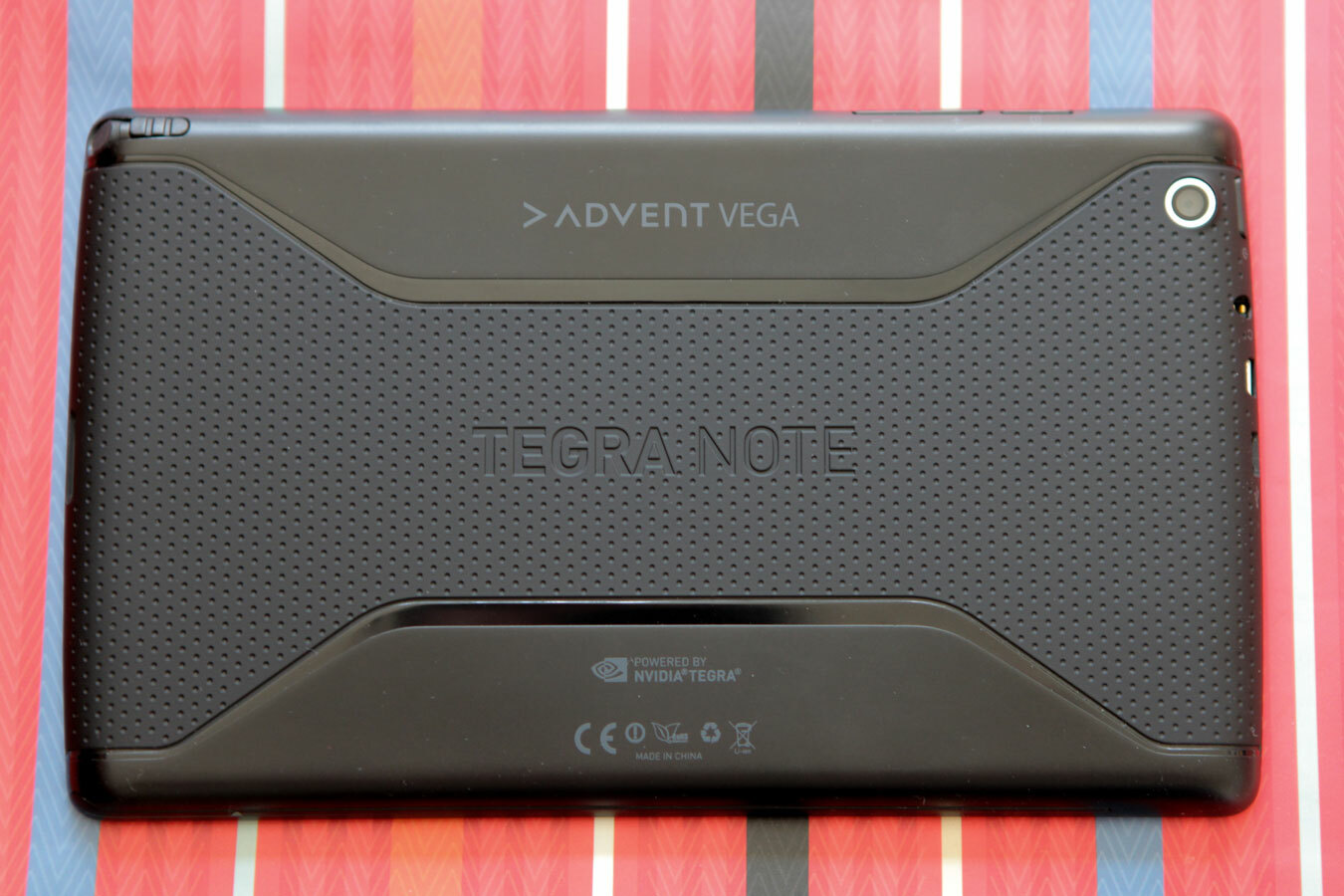 While its outward appearance may put some off, the Nvidia Advent Vega Tegra Note 7 is everything a bargain 7in tablet should be. Its screen and build quality could be taken up a notch, but we'd opt for the extra speed – and low cost – every time. In general use, plus for movie watching and gaming, it excels.
Overall this little tablet is spectacularly good value, serving up the kind of performance that just shouldn't be possible at this price.
READ MORE: The 10 best tablets in the world right now
Stuff Says…
With its lightning quick performance and low cost, this 7in tablet is outstanding value
Good Stuff
Lightning speed
Stylus included
Micro HDMI
Bad Stuff
Plasticky build
Slightly low-res screen